From exploring Everglades National Park to searching for the best Cuban coffee in Little Havana, here is our list of the best things to do in Miami!
Miami is a booming city and home to some of the best things to do in Florida. The seventh-largest in the US and the second-largest in the southeastern US, the so-called "Magic City" has long been a popular tourist destination.
Located at the southern tip of Florida, Miami is a world in itself when it comes to its international mixture of culture.
Various communities within the city are actually segmented by different Central and South American countries, giving Miami a feeling as close to anything you would get in visiting these countries themselves.
You can literally walk between Salvadoran, Nicaraguan and Cuban communities within just a few blocks, enjoying the cuisine and cultural contributions of each along the way.
There's also a posh, luxurious side of Miami that exudes wealth and leaves many either inspired or jealous.
South Beach, one of the most famous US beaches, boasts a variety of restaurants, clubs and shops where you could spend hours (and a fortune!) entertaining yourself.
Several professional sports teams also call Miami home. Between the sports, entertainment, bars, restaurants, museums and multi-cultural experiences, you will have no problem finding things to do in Miami Florida.
READ MORE: Check out our guide to the best things to do in Key West, Florida!
The Absolute Best Things to Do in Miami
With two US national parks and the entire Florida Keys within minutes of Miami, the city is a jumping-off point for outdoor activity.
Whether you are interested in taking an airboat through the everglades or simply want to relax on one of the many beautiful beaches in Miami, you can do it all.
Rent a SUP and paddle through various waterways surrounding Miami. Or see Miami from above either in a parasail or small airplane.
There are many ways that you can enjoy the city.
Rich in international culture and history, Miami boasts tons of museums, gardens and neighborhoods that offer different perspectives on life in the city. And you can extend your South Florida trip and head to nearby places like West Palm Beach for some rest and relaxation.
Whether you've come to try and see and do everything, or simply want a beautiful place to relax, start your planning with our list of 20 amazing things to do in Miami.
Read Next: Consider our itinerary for the best Miami to Key West road trip!
1) Sunbathe on the Famous Miami Beach
One of the most famous Miami attractions in the whole city is of course Miami Beach.
What is it exactly? Miami Beach is, well, one long beach.
Its most famous beach is South Beach, which is worth a visit if you can find a parking spot (a great time to catch an Uber!).
But there are plenty of other great beaches you can visit while checking out Miami.
Most will have lifeguards and their iconic lifeguard towers. Some will have vendors offering SUP, kayaks, and surfboards.
And none are so far that you can't usually walk across the street to find a bite to eat or a cold adult beverage to help you relax and enjoy the day.
Miami Beach is also framed by the Art Deco District, which adds a unique and artistic vibe to the area with its beautifully detailed architecture.
If you want to get away from the crowds try checking out Surfside Beach, North Shore Park Beach, or Bal Harbour Beach – all in North Miami.
Crandon Park is also a fun spot, full of green space and a few nice beaches framed with towering palm trees. Crandon Park is on an island, connected to mainland Miami by bridge.
Of course, the best beach is the one you find and enjoy so take your pick and have a great day!
Read Next: Check out our post on all of the best things to do in Florida!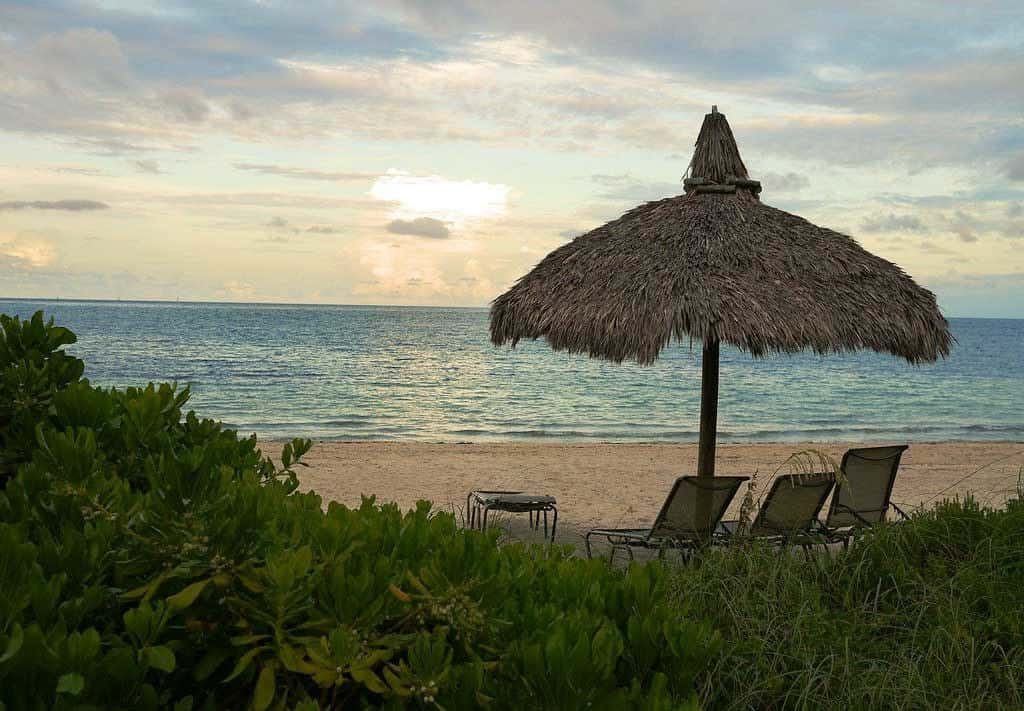 2) See the Everglades National Park on Airboat
Everglades National Park is a natural preserve of wetlands that hosts a diverse range of plant and animal species native to South Florida.
At over 1.5 million acres, the Everglades consists of slow-moving water that is prime property for mangroves and sawgrass marshes, which make great homes for species such as leatherback turtles, Florida panthers, and manatees.
The best way to see Everglades National Park is on an airboat tour. Airboats are flat-bottomed boats that are powered by – you guessed it! – air.
With large propeller fans strapped to the back, the boat is able to hover over the surface of the water.
This allows them to go quickly and efficiently over the marshland that would otherwise entangle standard boat propellers.
With this range, airboats can take you to see all sorts of wildlife – from alligators and bird species to manatees and turtles.
Everglades National Park is definitely one of the coolest places near Miami and should not be missed as a day trip when visiting the city.
3) Explore Biscayne National Park
Biscayne National Park is the second US national park in close proximity to Miami and deserves a visit in itself.
Although the park is formally located just under an hour south of Miami, when you stand on the banks and look south you actually stare into Biscayne Bay.
With coral reefs and islands, the marine features of Biscayne National Park are only accessible by boat. But you can access and explore the lagoon via kayak, SUP or simply walking various trails throughout the park.
If you are an avid diver, there are several shipwrecks that make up the underwater Maritime Heritage Trail.
With proper licensing and during the right seasons you can even go lobstering and also catch a variety of fish that you will often see on menus in local restaurants.
4) Hop-On and Hop-Off the Trolley
There are two trolleys that operate in the Miami area. One covers the Miami Beach area and the other downtown Miami.
The Miami Beach Trolley is a great way to see the city and is a fun and free way to go Miami sightseeing.
The Miami Beach trolley is free and runs 7 days a week from 8 am until midnight. With 4 routes, you can pretty much see all of Miami without spending much energy walking around.
Most Trolleys are on a 15-minute pickup schedule so you won't be waiting around long.
You can also enjoy the Miami Trolley for free as well.
With different routes through the city centre, you can see all of the top attractions without having to pay for transportation or parking.
Read Next: Be sure to read our post on all of the best day trips from Miami.
5) Paddle Around Miami
There are plenty of places to spend a few hours paddling around the waters of Miami on a kayak or stand-up paddleboard.
Whether you want to paddle out on the ocean on a calm day to look back on the city or want to cruise through the many canals and fancy homes along the waterways you will have plenty to see.
There are also places you can paddle alongside manatees and sometimes dolphins that join the scene.
If you really want to see Miami, plan a sunset paddle and wait for the lights of the city to come on.
Other popular places to paddle include Biscayne Bay, Crandon Park, Oleta State Park, and Key Largo.
6) Go Salsa Dancing
Get a feel for Miami's Latin American Culture by going out for a night of Salsa dancing.
Salsa dancing originated on the Caribbean islands of Cuba and Puerto Rico and is a fast-paced dance with Spanish guitar, African drum beats, and traditional Latin-style music and dance moves.
You don't have to be an expert or know how to dance to join in on the fun!
Some of Miami's hottest dance venues give lessons for those needing to learn how to move their hips. Salsa Mia, located above Mango's Cafe in South Miami Beach, offers fantastic dance lessons every night of the week.
Once you learn the rhythm of Salsa, go try out your new moves at the historic Ball & Chain bar in Little Havana.
You will be in for an unforgettable night of authentic, hot and steamy Latin dancing!
READ MORE: Plan a perfect trip to NYC with this 3 days in NYC itinerary!
7) Wander Through Little Havana
Cubans put Miami on the map in the 1960s when they flooded out of their homeland and began inhabiting Miami.
As Cuba was reshaped by Fidel Castro, hundreds of thousands of Cuban refugees took up residence in Miami thinking it would only be for a short while.
However, over 40 years later there are now well over 1 million Cuban natives that have shaped Little Havana, the portion of the city that has come to be a reflection of their own culture.
You can find delicious and authentic Cuban eats all over Little Havana. Plus there are Latin art galleries and museums honoring the culture.
Wander weekend markets, find a place to go salsa dancing or just keep your energy up with one Cuban coffee after another.
Little Havana is a tremendously diverse and colorful part of the city to explore.
If you want a really cool experience, join a walking food tour of Little Havana.
Or just treat yourself to a night out at any famous Cuban restaurant. Either way, be sure to get your fill of authentic Cuban food in Little Havana!
8) Let Your Inner Rebel Artist Be Jealous at Wynwood Walls
Wynwood Walls features street art at its finest. In what used to be abandoned factories, the world-famous Wynwood Walls are now filled with street art created by professional artists from all over the world.
Instead of letting an industrial space go to waste, there are now over 800,000 square feet of street art murals.
You could spend days checking out all of the art from over 50 artists representing 16 different countries in their art.
The location was so popular that it expanded, officially and unofficially, to include large murals all over the city of Miami.
If you happen to visit Miami during the second Saturday of the month you'll want to check out Wynwood Art Walk, which turns into a huge party with food trucks, live music performances, and drinks galore.
Check out this awesome buggy tour of the Wynwood Arts District on Get Your Guide!
If art inspires you, also check out the Art Deco District by Miami Beach. The Art Deco history in Miami dates back to the 1920's, when this colorful, detailed, fun style of design and architecture took off.
From the famous Wynwood Art Walk, to the Art Deco District and all the art deco buildings scattered around the city, there is always something unique and artistic to see.
9) Meander Through Vizcaya Museum and Gardens
The Vizcaya Museum and Gardens are the beautiful remnants of the early 20th-century villa owned by businessman James Deering.
As a conservationist, Deering set aside vast portions of his 73-hectare property to help preserve the south Florida ecological system.
Today, formally a museum and gardens, the property consists of approximately 20 hectares that are full of various gardens and native hammocks.
The villa contains 70 rooms full of antiques and unique architecture.
Aside from being the meeting area for several US presidents, Vizcaya Museum has also been featured in numerous movies and photos as it is one of the most photogenic places in all of Miami.
If you love art and design, the Venetian Pool in Coral Cables is another cool place to check out, and it's a 20-minute drive from the Vizcaya Museum. The Venetian Pool is a public swimming pool carved out of coral rock, and boasts Mediterranean-style architecture.
Hours: Wednesday – Monday 9:30 am – 4:30 pm
Cost: Adults ($25), Children ($10)
Address: 3251 South Miami Ave
10) Take a Day Trip to Key Largo to Dive/Snorkel John Pennekamp State Park
John Pennekamp State Park is just over an hour south of Miami on Key Largo.
A Florida State Park, Pennekamp is your first and closest opportunity to Miami to dive or snorkel pristine coral reefs.
If you are not interested in the underwater world of the park you can rent kayaks, canoes or SUPs and paddle around the 70 nautical square miles of the preserve.
Or you can hike inland and view all sorts of Florida wildlife in their native environments.
Key Largo is also a popular spot for deep sea fishing. From Miami or from Key Largo, you can book a trip on a charter boat to head out into the Atlantic Ocean for some amazing deep sea fishing, if that interests you!
READ MORE: Plan your trip to Key Largo and add these awesome things to do!
11) Wander Through the Coral Castle
The Coral Castle is a tribute, much like the Taj Mahal, to its creator's long-lost love.
Over the many years of the magnificent castle's existence, it has been compared to such famous structures as Stonehenge and the Great Pyramids, because no one knows how Edward Leedskalnin built the castle and carved the statues on property.
At just over 5 feet tall and weighing only 100 pounds, Ed, a native of Latvia, carved and built the Coral Castle by himself, using only hand-made tools, from 1,100 tons of coral rock.
A remarkable feat in and of itself! Tour the beautiful castle and sculpture garden, and stand in wonder of this mysterious coral rock structure that has baffled scientists and engineers since its completion in the 1950s.
This national historic landmark is one of the coolest things to see in Miami Florida!
Hours: Thursday through Sunday, 9 am – 6 pm (close at 7pm on Fri/Sat)
Cost: Adults 13+ ($18), Kids 7-12 ($8)
Address: 28655 South Dixie Highway
12) Shop Your Way Through the Bayside Marketplace
Along the waterfront of Biscayne Bay, you'll find the number one most visited Miami attraction.
The Bayside Marketplace is a two-story open-air festival center with over 150 shops, several eateries, and live exotic music daily that's sure to enlighten your senses.
The marketplace has an open container policy so grab your favorite adult beverage, shop to your heart's content, and catch a live Latin music performance!
The Bayside Marketplace is also where you can catch a ride on the Miami water taxi to the Miami Beach Marina or Key Biscayne.
13) Rent a Bike & Get Around the City on Your Own
Although Miami is a relatively large metropolitan city, one of the best ways to explore the area is by renting a bicycle and meandering on your own.
Most of the top Miami attractions are relatively close together in the city center.
And in Miami Beach, everything is even closer.
Having a bike would allow you to explore on your own, so you can ride north to the less crowded beaches if you want.
Or you can ride around the South Beach area, checking out the nearby green spaces of South Pointe Park or Bayfront Park.
You can even bike to Coral Gables, a small city in Miami Dade County. Here you'll find the famous Venetian Pool as well as the Fairchild Tropical Botanic Garden.
Whether you choose to travel far or just cruise around central Miami, renting a bike is an efficient and fun way to get around.
14) Be Blown Away by South Beach at Night
South Beach is a show in itself, particularly at night. While Hollywood has glamorized this stretch of Miami Beach, no doubt the glitter will rub off on you if you spend any time there at all.
The two-lane A1A becomes constricted into one-way as fancy shops and restaurants line the road.
Shop at places like Zara or Sephora if you want to feel like that Hollywood star.
Or grab a bite at any number of delicious restaurants between the beach and the road.
On nights, particularly weekends, you can expect to see some of the most expensive cars, glamorous clothes, and an ambiance that will make you feel like you hopped back in time to the days of Miami Vice.
Even if you don't have the cash or desire to spend in South Beach, no doubt just watching the night unfold will be an event in itself.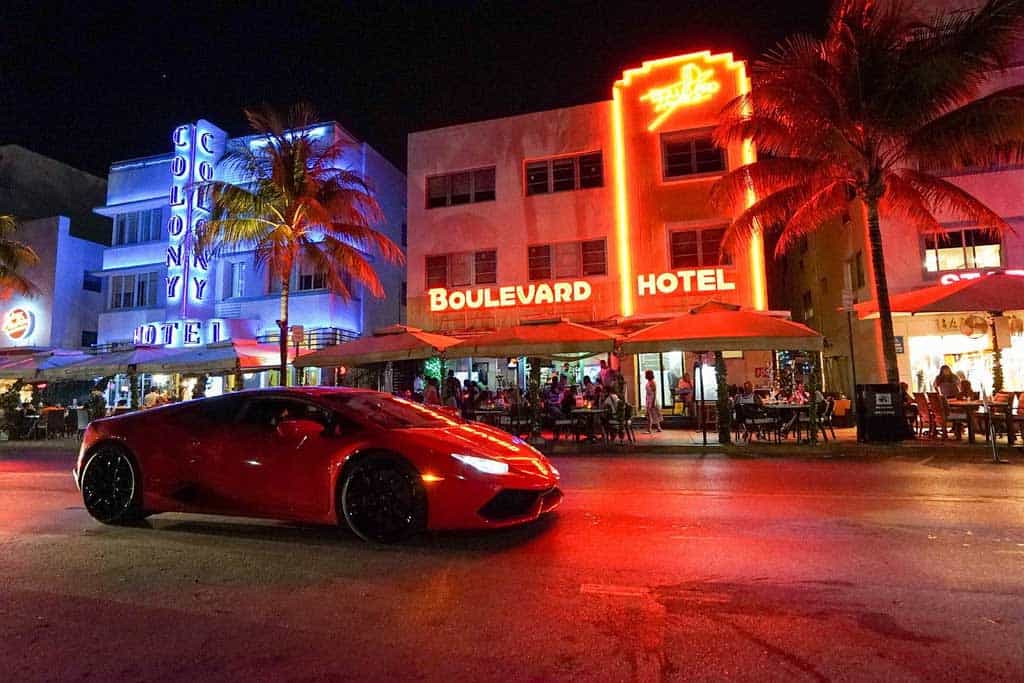 15) Enjoy the Perez Art Museum
Miami's premier contemporary art museum, the Jorge M. Pérez Art Museum Miami strives to be the best modern art gallery of its kind.
Showcasing international art collections from the 20th and 21st centuries while specializing in art from the Americas, the Caribbean and Africa, the museum believes that viewing and learning about art better enriches and changes the lives of those who perceive it.
With over 2,000 works of art on display in the gallery, there is something to inspire even the youngest of souls at the Perez Art Museum!
There are several other museums to check out in Miami, though the Perez Art Museum and the Vizcaya Museum are definitely the most popular.
If you love museums, also check out the Gold Coast Railroad Museum, the Patricia Frost Museum, the Art Deco Museum, and the Miami Children's Museum.
Hours: 11am-6pm / Closed Monday-Wednesday
Cost: Adult $16 / Seniors, College Students, and Youth (7-18) $12
Address: 1103 Biscayne Blvd
16) See Miami from Parasail
Parasailing is a unique and popular way to see Miami. As you strap into a giant parachute-like sail, a motorboat will pull you many tens of metres up into the air.
From there the world passes slowly below you as you are able to look out not only over the ocean, but also see the Miami skyline below.
As Miami Beach is surrounded by water, there are plenty of companies that will take you out and around South Beach.
You can also parasail the pristine Biscayne Bay. This is definitely one of the more adventurous Miami activities not for the faint of heart!
17) Dream Big on a Millionaire's Row Cruise
Millionaire's Row is a sort of museum to the once rich and famous of Miami.
During the 1980s and 1990s, the stretch of land on Miami Beach was the equivalent of New York's Central Park West. Lavish homes and villas lined the water's shore.
Megayachts, while still prevalent, were even more numerous in the water along Collins Avenue.
Today the area has transitioned into a more modern neighborhood full of high rise condominiums and hotels.
Much of the glitz and glamour of the 80s and 90s has passed. But this is still a stretch of Miami Beach that will have your head turning at the beautiful architecture, magnificent yachts and the thought of the celebrities who have or do reside in them.
Such names include Gloria and Emilio Estefan, Julio Iglesia, Liz Taylor, Shaquille O'Neal and Will Smith among others.
You may also recognize homes used in various movies as well.
While you can walk or take the trolley, the best way to view Millionaire's Row is on a cruise.
18) Take a Trip to Key West
Key West is a beautiful day trip from Miami and a great way to see a part of the country that few visitors take the time to see.
While Miami's beaches are spectacular in their own right, Key West and the islands between it and Miami boast the tropical colors and ambiance that makes the Caribbean envious.
If you're driving yourself, plan to spend a few days in Key West itself as there are plenty of awesome things to do to keep yourself entertained.
But if you want, it is possible to catch a roundtrip tour from Miami so you can take in the colors of the houses, people and water of Key West.
You're sure to enjoy this experience as much as any other in Miami!
READ MORE: Be sure to check out these 20 things to do while you are in Key West!
19) Have a Great Time Out at The Wharf
If you aren't sure what to do in Miami, consider starting at The Wharf as your one-stop shop for entertainment in Miami.
The Wharf is located along the Miami River and is central for exploring many other attractions in the city.
However, you can always count on delicious food, frequent live music and performances and a bustling nightlife.
Grab a drink and watch the yachts and boats cruise through and up to The Wharf. Enjoy a game of oversized checkers or Jenga while snacking on munchies from food trucks and waiting for the sun to go down.
You could spend all day at The Wharf enjoying the leisurely Miami atmosphere, or simply show up around 10 pm when it turns into an all-out party.
20) Enjoy a Professional Sporting Event
Miami Florida is known for its professional sports. From the NBA's Miami Heat to the NFL's Miami Dolphins to the MLB's Miami Marlins the city has professional sports covered throughout the year.
There is also the Florida Panthers hockey team (yes, hockey in Florida!) and a slew of soccer programs.
So regardless of what time of year you plan to visit Miami, you can expect to have the chance to take in a professional game or two.
Or, planning your visit around a game gives you the opportunity to try and do everything else on this list of things to do in Miami Florida!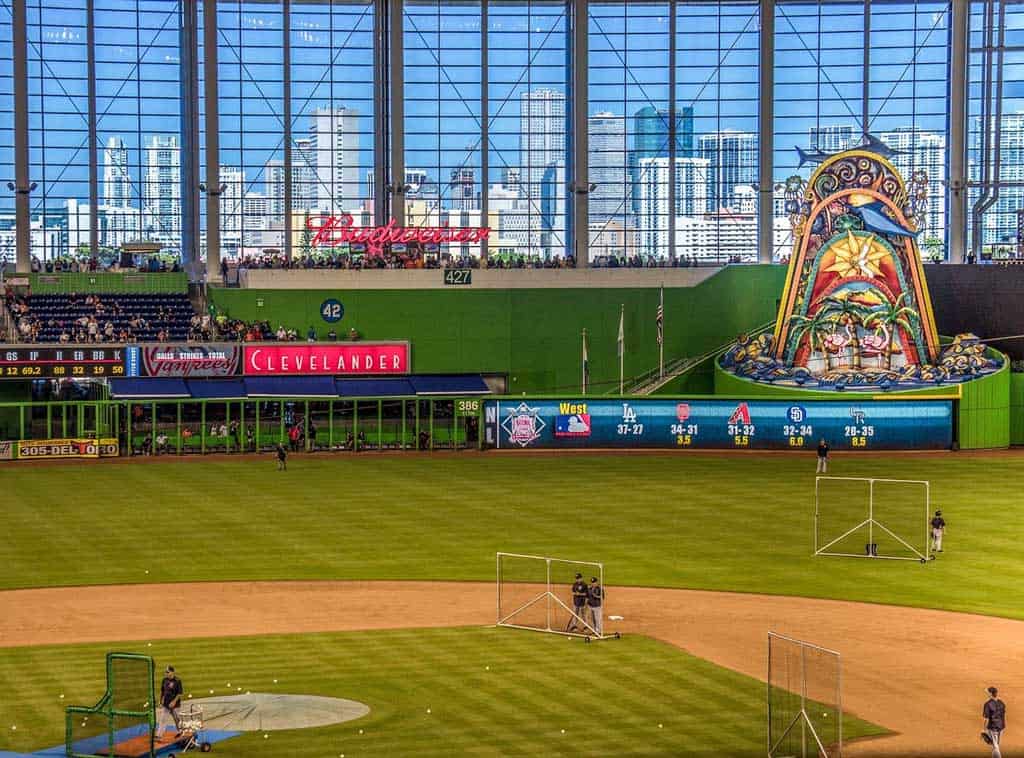 Miami Travel Guide
Now that you know what to do in Miami, we want to help you make your other plans as well by sharing the best accommodations and places to eat in the city.
Best Accommodation – Where to Stay in Miami Florida
Miami is a major metropolitan US city that offers as wide a range of accommodation as it does things to do.
There is lots of easy and straightforward transport from Miami International Airport as well, so getting around should be no problem.
Generally, the prices for hotels in Miami will be higher than in other US cities due to the high demand and overall ambiance of the city.
But whether you want to stay right on Miami Beach or more centrally located in the city, the options are virtually endless.
With a handful of affordable hostel options and tons of mid-range accommodations available you are certain to find the perfect place to spend your evenings.
Of course, if you're looking to spend a special weekend away in Miami there are also some great luxury options as well.
Here are a few of our recommendations for where to stay in Miami.
The Best Hostel in Miami – Freehand Miami
Freehand Miami Hostel is located a 5-minute walk from Miami Beach and isn't far from the bustling nightlife of South Beach. It's a 30-minute walk or a 10-minute bike or Uber ride to South Beach.
So you can easily enjoy the party scene, but you'll still find a bit of peace and quiet at the hostel.
With shared dorm rooms starting at USD$25, you can save your budget for exploring Miami or enjoying the South Beach nights.
This hostel has a lot of great reviews and has a very social vibe with a pool, bar, and comfy common area.
Just minutes from the beach and a variety of restaurants, you'll enjoy your stay at the Freehand Miami Hostel – even if you're not planning a whole lot of partying.
Best Budget Accommodation for Couples – Catalina Hotel and Beach Club
When it comes to affordable accommodations for couples, it's hard to beat the Catalina Hotel and Beach Club.
If you want to be in the heart of all of the Miami Beach action, this hotel puts you there. Plus it has two pools, two restaurants and a bar with free daily happy hour.
The view is hard to beat as well, as a rooftop lounge area and pool provide some spectacular overlooks into the beach and beyond.
Just minutes walking distance from all of the best things to do in Miami Beach, you'll certainly enjoy your stay at the Catalina Hotel and Beach Club.
Best Mid-Range Hotel in Miami – The Copper Door B&B
Centrally located in Downtown Miami near Bayfront Park, The Copper Door B&B is a great option for mid-range accommodation.
Each room comes with a flatscreen TV, air conditioning, WiFi and a delicious breakfast. You are just minutes from the beach and most other Miami attractions can be reached in any direction from the B&B.
There are also plenty of restaurants in the area so you won't need to wander far from your room if you don't want to.
Best Luxury Hotel in Miami – Novotel Miami Brickell
OK, so Miami has a LOT to offer by way of luxury accommodations. So if you're looking for a really nice way to spend a few days in and around the city, we recommend the Novotel Miami Brickell.
A main feature of the hotel is its unique rooftop pool and bar with a weekly movie night under the stars.
Centrally located in downtown Miami Florida, the Novotel will afford you the ability to walk or catch a ride to virtually any Miami attraction of interest.
The hotel also has an on-site restaurant. But you will be close to all sorts of fantastic dining options when you stay here.
Best Restaurants in Miami
Although a staple of traditional Florida eating includes a variety of seafood and fresh fruits and vegetables, Miami offers up every kind of international cuisine you can imagine.
You'd be a fool not to try Miami's version of authentic Latin American food, particularly Cuban.
But whatever budget and whatever mood you're in, here are a few of our favorite places to eat in Miami Florida.
Budget – El Mago de las Fritas
Although it is located just a little outside of Little Havana, El Mago de las Fritas offers authentic fritas, better known as a Cuban version of the hamburger.
If you're feeling up for the Cuban version of a hotdog, you will also find the tastiest perros in Miami Florida. This place is definitely your first stop for affordable, authentic Cuban food.
Mid-range – Steak Brasil Churrascaria
Brazilian steakhouses are known for their excessive and borderline gluttonous presentation of savory meats.
Steak Brasil Churrascaria offers some of the best sirloin and lamb you can ask for at a fraction of the price of other chain steakhouses.
And you can't go wrong with a caipirinha to go along with your meal.
High-End – The Matador Room
If you're looking to splurge on the finest cuisine in Miami you don't have to go further than the Matador Room on Miami Beach.
Known for the 32 oz prime-aged Ribeye for two, the restaurant also features plates of delicious fresh seafood of snapper, grouper, lobster, shrimp and octopus or a range of pizzas from which to choose.
DISCLAIMER: Some of the links in this article are affiliate links, which means if you book accommodation, tours or buy a product, we will receive a small commission at no extra cost to you. These commissions help us keep creating more free travel content to help people plan their holidays and adventures. We only recommend the best accommodations, tours and products that ourselves or our fantastic editorial team have personally experienced, and regularly review these. Thanks for your support, kind friend!