Wondering what activities and attractions you can't miss in the Venice of America? Our guide to the best things to do in Fort Lauderdale is just what you need!
Nicknamed the "Venice of America," Fort Lauderdale, Florida is famous for its lively nightlife, tropical beaches, fresh seafood, Latin-inspired cuisine, historic districts, and upscale shopping.
Just a short drive from Miami, Fort Lauderdale is rich in culture, history, natural beauty, and much more. One step into this lively city proves to be an experience you'll never forget.
From shopping at Las Olas Blvd and surfing at the nearby beach to checking out the unique museums, to exploring further attractions in the Fort Lauderdale area, there are so many fun things to do in this thriving Florida city.
Our list of the best things to do in Fort Lauderdale compiles all the best tourist attractions in the area. We also explain why these attractions are so popular – and why you don't want to miss out on exploring the natural tropical paradise that is Fort Lauderdale!
Check out our complete guide to the best things to do in Florida, for more ideas in the Sunshine State!
The Best Things to Do in Fort Lauderdale, Florida
These top Fort Lauderdale attractions include fun things to do for families, couples, or solo travelers.
Enjoy a world-class performance at the Broward Center For The Performing Arts, see rare species of butterflies and birds at Butterfly World, or enjoy a peaceful stroll down the Riverwalk Fort Lauderdale. There is so much in store for you when you visit Fort Lauderdale!
1) Spend A Family Day At Fort Lauderdale Beach Park
Offering all the desirable accommodations, Fort Lauderdale Beach Park presents a scenic atmosphere right on the beach. With public BBQs, picnic tables, outdoor showers, and more, you have everything you need here for a day of fun.
Perfect for taking the family to play for the day, this park is the best place to maximize the fun for a vacation well-spent. Bring food to cook out on the grills to re-energize for the day. From hot dogs and burgers to grilled chicken, kabobs, or pineapple – whatever suits everyone's fancy!
Try your hand at volleyball on the sand beach courts for a friendly volleyball game. Or bring a basketball to play H-O-R-S-E or a competitive game while the food is cooking on the grill.
After everyone is full, lay back and relax on the beach as the kids play and the adults try to keep up!
Address: 1100 Seabreeze Boulevard, Ft. Lauderdale, FL 33315
Hours: 5 am – Midnight
Cost: $4 an hour for parking
2) Explore Downtown Fort Lauderdale, Florida
Intertwining a flashy yet irresistible charm, downtown Fort Lauderdale, Florida, is home to many of the best things to do in the area.
The famous Las Olas Blvd within downtown is full of prevalent shopping options, trendy restaurants, and eclectic art galleries. First, buy a book or newspaper at Bob's News and Books.
This newsstand has remained a survivor of the electronic era and was founded more than 50 years ago. Then, tour the Historic Stranahan House Museum, holding the history of the city's founding.
Get glammed up to experience Fort Lauderdale's notorious nightlife downtown. If you like to dance, Revolution has some of the best music, though if you're more into jazz, then Mango's Restaurant is the ticket. Join this Party Bike Bar Crawl to discover the best bars and restaurants in the city on a pedal-powered party bar crawl.
3) Enjoy Some Much-Needed Retail Therapy At Las Olas Boulevard
The place to go to for all things retail therapy, Las Olas Boulevard, is settled perfectly in the heart of Fort Lauderdale.
Take your time strolling along the boulevard, lined with tropical palm trees, name-brand stores, local boutique shops, cute cafes, upscale restaurants, and charming art galleries. There are plenty of options to choose from.
It's not hard to spend half a day at Las Olas Boulevard, where luxury and Florida's tropical charm intertwine. If you're looking to buy some souvenirs, this is the top place to go while visiting Fort Lauderdale.
4) Learn The Impact Of Archaeological Discovery At The Bonnet House Museum
Located on the National Register of Historic Places, the Bonnet House Museum is dedicated to preserving and educating others on South Florida's founding history.
History previously taught us that Ponce De Leon discovered Florida in 1513 on his quest for the Fountain of Youth. However, compelling evidence from authors Brian Schmitt and Todd Turrel revealed hefty evidence that this was not the case.
Instead, European explorers reached Florida before Ponce De Leon. This was further proved when archaeological evidence was discovered, pre-Ponce De Leon, in 1984 at Bonnet House Museum.
Whether you're a history buff or nature enthusiast, Bonnet House Museum intrigues all with its pristine oceanfront setting and impactful nuggets of Fort Lauderdale's history.
Those looking for more history and museums can head over to Old Fort Lauderdale Village afterward, which is a historic neighborhood also on the National Register of Historic Places.
Address: 900 N Birch Rd, Fort Lauderdale, FL 33304, United States
Hours: 11 am – 3 pm Tuesdays – Fridays, 11 am – 4 pm Saturdays and Sundays, Closed Mondays
Cost: $25
Looking for more beach towns in Florida? Check out our list of the best things to do in Destin!
5) Reserve A Seat At The Broward Center For The Performing Arts
A large multi-venue well-known for its outstanding entertainment, the Broward Center For The Performing Arts is ranked among the world's top ten most visited theaters!
Hosting more than 700 performances yearly, the Broward Center offers a stunning setting in downtown Fort Lauderdale overlooking the New River.
The venue hosts various performances, including ballet, opera, lectures, Broadway musicals, concerts, workshops, plays, and multicultural events. Dedicated to the arts, this venue also has one of the largest arts-in-education programs found in the nation.
The world-famous performing arts center is guaranteed to have you sitting on the edge of your seat and praising the top-notch entertainment. It's no wonder it's on our list of the top things to do in Fort Lauderdale!
Address: 201 SW 5th Ave, Fort Lauderdale, FL 33312, United States
6) Step Back In Time At The Fort Lauderdale Historical Society
The Fort Lauderdale Historical Society, now named History Fort Lauderdale, shares and preserves exceptional collections of artifacts detailing local history.
The campus of History Fort Lauderdale includes historic buildings settled perfectly on the New River, offering a step back into the beginnings of Fort Lauderdale. The buildings include the Ivy Cromartie Schoolhouse Museum, the King Cromartie House Museum, and the History Museum.
The Ivy Cromartie School Museum preserves an 1899 one-room schoolhouse with wooden desks and McGuffey readers that date back to the school's founding.
The History Museum presents continually changing visual arts exhibits paired with pioneer history, Seminole, transportation, archaeology, and military exhibits in a 1905 New River Inn.
Finally, the King Cromartie House Museum is a step back in time, preserved perfectly as if the family will one day return, featuring antique toy, doll, and furniture display collections.
Address: 219 SW 2nd Ave, Fort Lauderdale, FL 33301, United States
Hours: 10 am – 3 pm
Cost: $10
7) Soak In The Sun At Las Olas Beach
Continue your journey from Las Olas Boulevard to Las Olas Beach, a small yet trendy beach that tops the list of best things to do in Fort Lauderdale.
Exuding a quaint charm, Las Olas Beach is notorious for its crystalline waters and fine, clean sand. Enjoy swimming in the Atlantic Ocean and sunbathing in that heartwarming Florida sunshine. This is easily one of the best Fort Lauderdale beaches!
If you don't have the equipment, rental options are available for beach chairs and water sports activities. Across the street are numerous restaurants and bars to satiate your appetite and shops to buy souvenirs.
Try this guided snorkeling reef tour to discover the colorful reefs and local marine life for a more active and adventurous activity to make the most of your trip to Fort Lauderdale!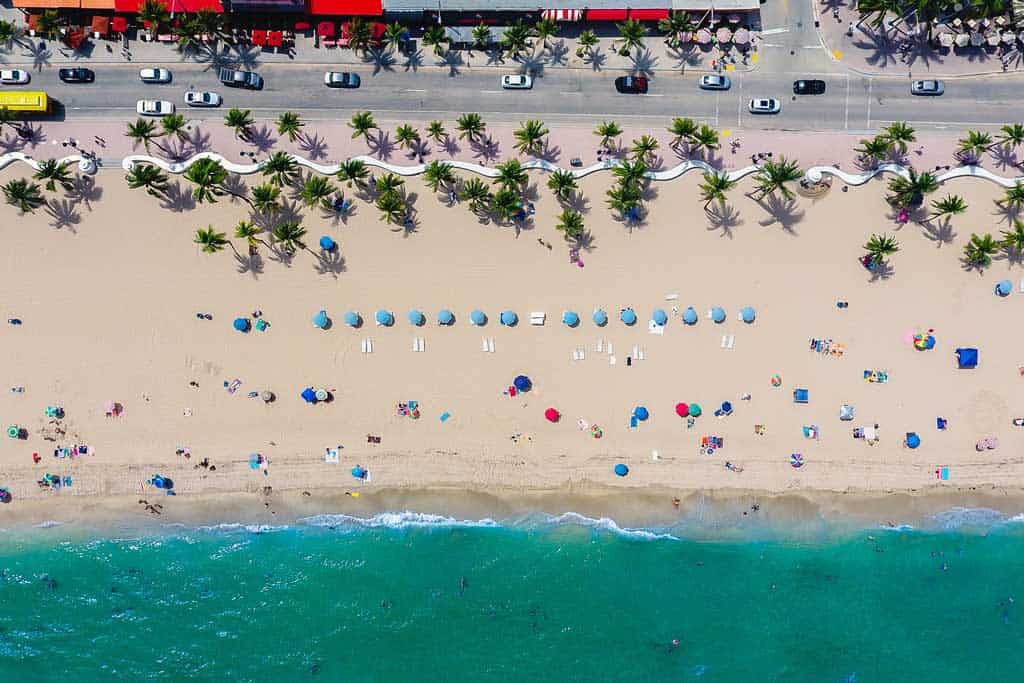 8) Step Into The Upbeat Atmosphere Of Flagler Village
Home to numerous art studios and galleries, Flagler Village is a residential neighborhood in downtown Fort Lauderdale that was once a neglected industrial warehouse district.
Now one of the best things to do in Fort Lauderdale after its rejuvenating rebirth in the 2000s, this area has transformed into an upbeat and eclectic district that draws in tourists and locals seeking trendy shops, great food, fantastic attractions, and an artsy vibe.
Check out Little Wynwood, similar to Miami's Wynwood, teeming with decorative street art murals. Plus, the many different shops and eateries to fill up with, including Notorious Creamer and The Poke House.
Head to one of the many breweries, such as Khoffner Brewery & Cidery or Invasive Species, for fresh brews and a lively atmosphere.
Or, if you're more inclined, step into one of the cocktail bars, like Roxanne's Liquor Bar & Kitchen or Here & Now Modern Tapas Craft Cocktails, for a trendy atmosphere and innovative cocktails.
Make sure you stop in Miami while you're down in Southern Florida! Here is our list of the best things to do when you get there!
9) Stroll Through The Refreshing Flamingo Gardens
Stretching across 60 acres, the Flamingo Gardens is less than 30 minutes from Fort Lauderdale in Davie, Florida.
This wildlife sanctuary and botanical garden features more than 3,000 species of exotic and rare plants and trees. It is also home to one of the largest collections of Florida native wildlife, from flamingos and alligators to bobcats and eagles.
The Flamingo Gardens are one of the oldest botanical gardens in South Florida, initially established as an orange grove.
Within the gardens are 18 of the largest trees in Florida, and one of the largest of its species, the Champion tree. And a stroll through the Flamingo Gardens includes opportunities to peer at specially themed gardens, including a butterfly and hummingbird garden.
10) Escape The Hustle & Bustle Of The City At Hugh Taylor Birch State Park
Named Fort Lauderdale's "Central Park," Hugh Taylor Birch State Park offers an oasis away from the hustle and bustle of the city.
From sightings of gopher tortoises to easy boat access to the Intracoastal waterway, the picturesque park exudes a wild yet peaceful allure that draws in locals and tourists alike. Rentals are available for biking, kayaking, and paddleboarding.
So, whether you wish to hitch a ride out on the water, relax under the shade of palm trees, or hike on the trails, like the Coastal Hammock Trail, Hugh Taylor Birch State Park is the place to do it, adding it to our list of top things to do in Fort Lauderdale!
Address: 3109 E Sunrise Blvd, Fort Lauderdale, FL 33304, United States
Hours: 8 am – 6:30 pm
Cost: $4-$6 for vehicles, $2 for walk-ins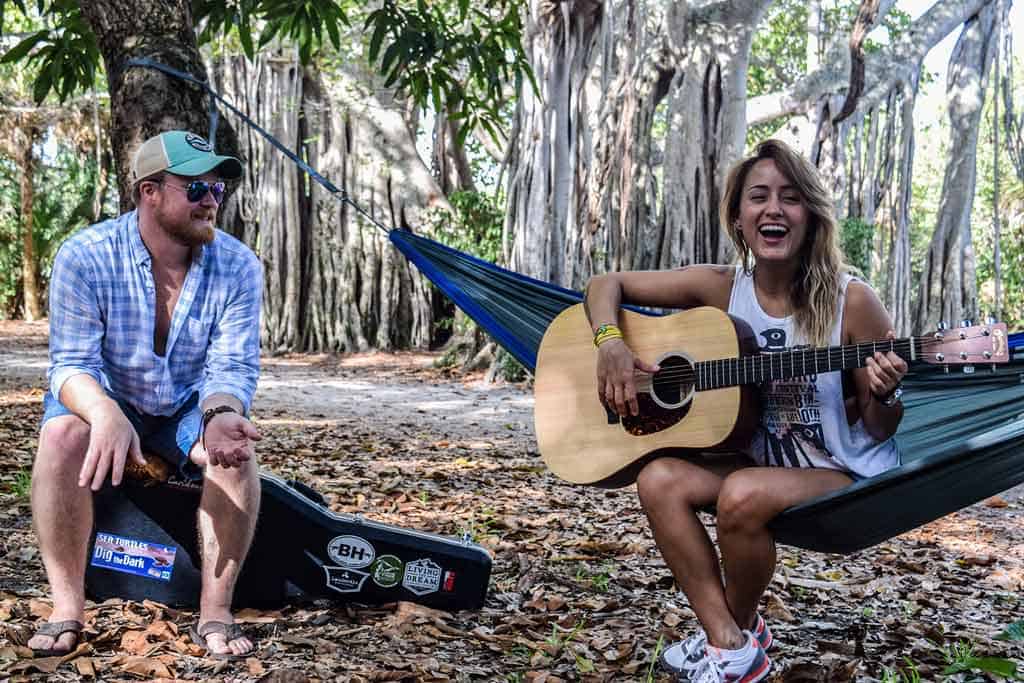 11) Take The Kids To The Museum of Discovery and Science
The Museum of Discovery and Science (MODS) contains hundreds upon hundreds of interactive exhibits that engage the mind and encourage curiosity to learn.
Take the kids to explore the aviation-themed exhibit and maker space, The Hangar. Scour the physics Science Park and Sprouting STEM Early Childhood Learning Lab for interactive engagement.
Dig for fossils in the same room as a massive prehistoric megalodon and saber-toothed cat. Feel the force of hurricane winds in the Storm Center.
Head to the two-story indoor and outdoor habitat for North American river otters as they play and fluidly swim through the waters. Watch a film in the AutoNation IMAX 3D Theater, the biggest screen in South Florida, stretching to six stories.
Address: 401 SW 2nd St, Fort Lauderdale, FL 33312, United States
Hours: 10 am – 5 pm (Opens at 12pm on Sundays)
Cost: $19
12) Walk Amongst Exotic Species Of Butterflies & Birds At Butterfly World
A short thirty-minute drive from Fort Lauderdale, Butterfly World is the largest butterfly park in the world.
Located in Tradewinds Park in Coconut Creek, Florida, the indoor butterfly park has more than 20,000 butterflies fluttering around and feeding from blooming flowers. These butterflies are sourced from all parts of the world.
And though Butterfly World is dedicated to its butterflies, it also features other exciting attractions, such as the Bug Zoo, butterfly museum, and Free-Flight Aviaries, where you can marvel at hundreds of exotic birds as they flit about. There are also lots of cool tropical and subtropical plants to admire.
Butterfly World is one of the best things to do in Fort Lauderdale. Its streaming waterfalls, refreshing botanical gardens, and displays of exotic and vibrant-colored plant, animal, and bug species are a rewarding experience.
Address: 3600 W Sample Rd, Coconut Creek, FL 33073, United States
Hours: 9 am – 5 pm
Cost: $32.50
Check out our guide to the best things to do in Key West, a popular trip from Fort Lauderdale!
13) Experience The Best Of The Best At The Seminole Hard Rock Hotel & Casino
Established in Hollywood, not far from Fort Lauderdale, the Seminole Hard Rock Hotel & Casino is where you can find all things luxury, placing it on our list of the best things to do in Fort Lauderdale.
Reserve a room at the Hard Rock Hotel, featuring music-themed suites and rooms so you can live like a rock star. Sink back and relax with a refreshing drink in hand in a shaded cabana at the pool.
Test your luck at the casino, offering a selection of more than 3,000 slots, a new 45-table poker room, and 200 table games, including live dealers and popular games such as mini-baccarat, blackjack, and Ultimate Texas Hold'em.
Choose from a selection of contemporary and fine-dining restaurants within the hotel. Bae Korean Grill presents a deluxe Korean barbecue dining experience with top-notch Shinpo grill tables and authentic culinary options.
Join the Hard Rock Live crowd for a premier show of A-list celebrity and entertainer performances, or experience Fort Lauderdale's touted nightlife at DAER Nightclub, boasting the best live events and top producers.
Address: 1 Seminole Way, Hollywood, FL 33314, United States
14) Visit Fort Lauderdale Fire And Safety Museum
A unique historic attraction in Fort Lauderdale is this fascinating fire and safety museum.
Set in a 1927 firehouse that has been converted into an educational center, this non-profit museum serves to educate visitors about the history, service, dedication, and traditions of the city's heroes.
Locals come here to take classes and learn about safety, awareness, and preparedness for natural disasters. This is important in Florida, which is prone to hurricanes!
So if you're looking for a unique and educational stop on your tour of the city, check out the Fort Lauderdale Fire and Safety Museum!
Address: 1022 W Las Olas Blvd, Fort Lauderdale, FL 33312, United States
Hours: 10 am – 2 pm on Saturdays
Cost: By donation
15) Catch A Thrill On An Airboat Ride Of Gator-Infested Waters At Everglades National Park
Just outside Fort Lauderdale is the magnificent Florida Everglades, home to Everglades Holiday Park and Everglades Wildlife Sanctuary.
At Everglades Holiday Park, you can hop aboard for a thrilling, professionally guided airboat ride across the wetlands and tour the alligator park to see Florida's famous reptiles. Airboat tours last one hour, winding and soaring through the wetlands and native Florida landscapes.
The park's world-famous Gator Pit hosts live alligator presentations run by the Gator Boys Alligator Rescue Team. The presentations offer informational tidbits about these lethal reptiles, paired with exhilarating stunts and tricks to keep it entertaining.
An Everglades airboat adventure is one of the best things to do in Fort Lauderdale! You can also book an Everglades airboat tour in Get Your Guide which includes a guided nature walk so you can learn about the local wildlife.
Address: 21940 Griffin Rd, Fort Lauderdale, FL 33332, United States
Hours: 7 am – 6:30 pm
Cost: Visit the website for a full list of prices, they vary based on the attraction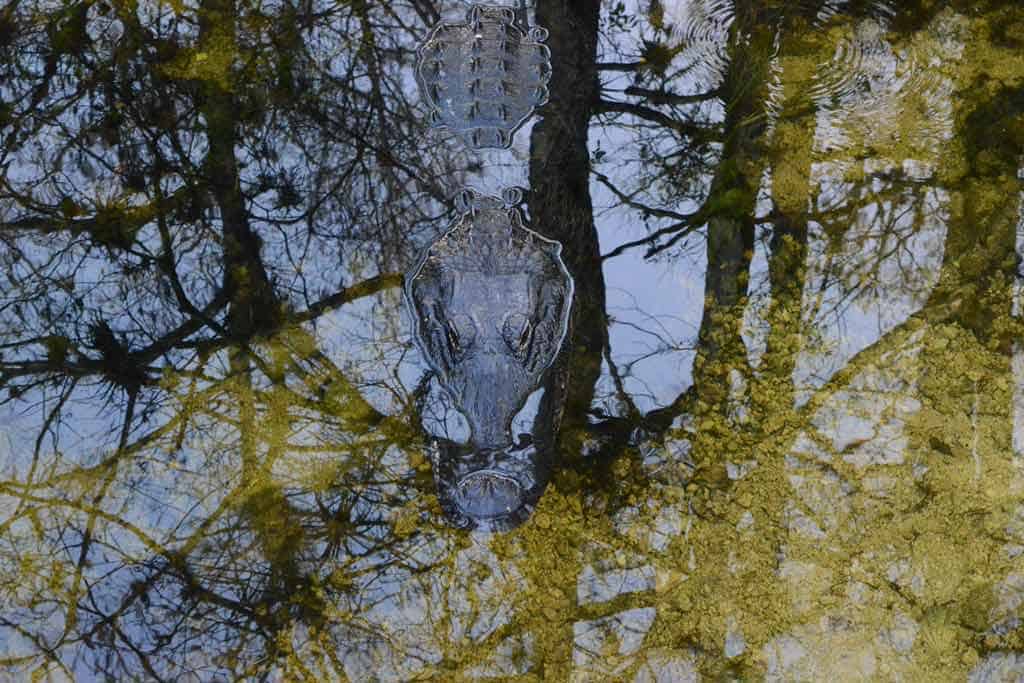 16) Peer At World-Renowned Pieces At The NSU Art Museum
Located in the arts and entertainment district downtown, the NSU Art Museum is a world-class museum with a recognized and exceptional collection of artwork. 
Designed by reputed architect Edward Larrabee Barnes, the modernist building is an iconic landmark in the city. It highlights the largest collection of drawings and paintings by American realist William Glackens. And that's not all!
The museum also features the largest collection of post-WWII avant-garde Cobra artists from Amsterdam, Brussels, and Copenhagen in the United States. Plus, a significant renowned collection of Cuban and Latin American art.
Address: 1 E Las Olas Blvd, Fort Lauderdale, FL 33301, United States
Hours: 11 am – 5 pm Tuesday – Saturday, 12 pm – 5 pm Sunday, Closed Monday
Cost: $12
17) Take Your Pick Of Numerous Attractions At Xtreme Action Park
The largest entertainment venue in Fort Lauderdale, Xtreme Action Park welcomes all ages to have a blast!
Go up against family, friends, and strangers to test your skills at laser tag. Brave the Ropes Course Adventure. Aim to win by crossing the finish line first at Go Kart Racing. Next, test your balance at the Roller Skating Rink while jamming to hip music. Finally, try out Virtual Reality Games and VR Escape Rooms for a refreshing new experience.
Experience a vast world of attractions and fun by visiting Xtreme Action Park, National Family Entertainment Center Location of the year!
For more ideas, check out our Ultimate 2-Week Florida Road Trip Itinerary!
18) Enjoy A Refreshing Stroll Along The Fort Lauderdale Riverwalk
The Downtown Riverwalk District is home to the Fort Lauderdale Riverwalk, one of the city's most memorable and scenic walks along New River.
Considered "Florida's Most Beautiful Mile" by many, the Fort Lauderdale Riverwalk's picturesque waterfront traverses amongst trendy boutique shops, adorable cafes, and upscale restaurants.
The Fort Lauderdale Riverwalk extends from the Historic District to the Arts & Science District, displaying many of the city's alluring attributes.
Along the path are other appealing attributes, including shaded picnic spots, a charming butterfly garden, intimate gazebos, and views of Fort Lauderdale's waterways.
19) Bask In Florida's Tropical Charm Down The Hollywood Beach Broadwalk
Exuding an "Old Florida" charm, Hollywood Beach is a neighborhood in Hollywood, Florida, not far from Fort Lauderdale, that offers an undeniable charisma that attracts people from all over the world.
The historic Broadwalk stretches less than three miles along the sandy beach, lined with 30 shops, more than 50 restaurants, and three parks. The breathtaking coastal scenery does wonders to rejuvenate and refresh from life's stressors.
Take your time strolling down the newly renovated path or, if you're feeling more active, go for a jog along the beach or rent a bike to ride down the bicycle lane.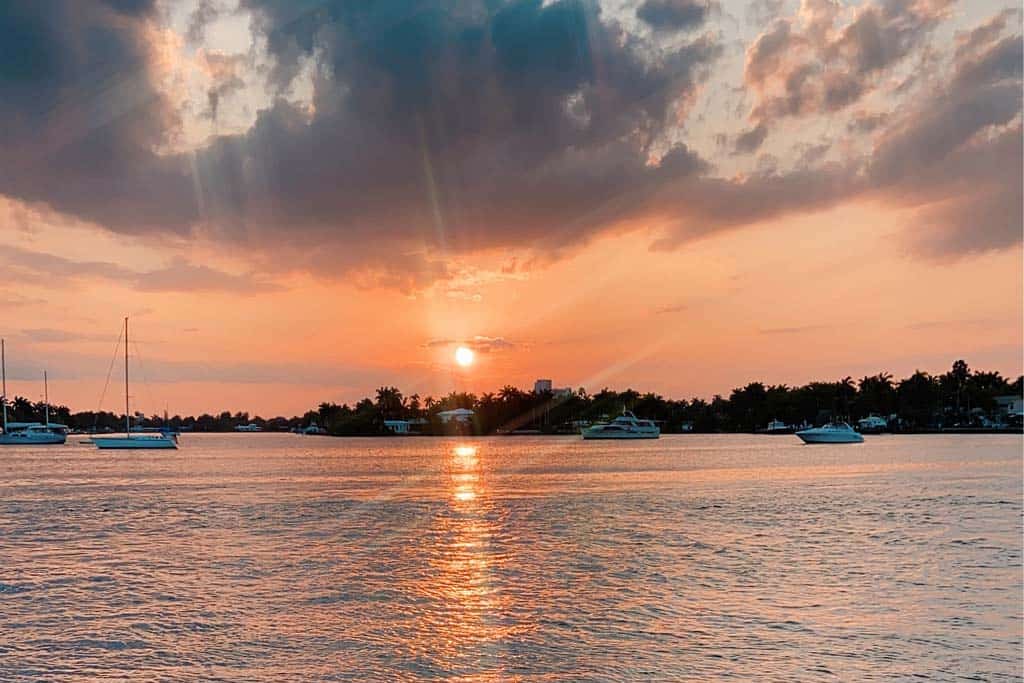 20) Traverse The Venice of America On A Riverfront Gondola Tour
Experience the Venice of America by gondola with Riverfront Gondola Tours!
Offering private and dinner tours of Fort Lauderdale's expansive collection of canals and waterways, Riverfront Gondola Tour boasts top-designed, ultra-comfortable American gondolas to sit back and relax into.
The tour lasts 90 minutes, winding through the channels, the exceptional ride passing by upscale yachts and millionaire mansions for the ultimate sightseeing experience of Fort Lauderdale.
The American gondolas are electric, so there are no distracting noises, smelly fumes, or buzzing vibrations, making these gondola tours completely eco-friendly. The dinner cruise option involves a dinner selection from Casa Sensei restaurant.
The meal is served on the boat right before departure to exude an intimate and romantic experience along the gondola tour!
Tour company address: 1200 E Las Olas Blvd, Fort Lauderdale, FL 33301, United States
Read next: 24 Exciting Things To Do In Orlando, Florida
21) Ride The Jungle Queen Riverboat
Since 1935, Jungle Queen Riverboat has been considered one of the best things to do in Fort Lauderdale for its exuberant atmosphere, top-notch service, and fabulous entertainment.
Jungle Queen Riverboat is the longest-running tourist attraction in Fort Lauderdale, sailing the waterways for more than 80 years!
A big part of the boat tour takes passengers down Millionaire's Row to see these enigmatic and upscale architectural designs of some of the most expensive homes in Florida. On this row of ultra-rich people are big names such as Michael Mann, creator of the hit show Miami Vice and heir of Kohl's department stores.
On the Jungle Queen Riverboat, expert guides will wow you with decades of experience and knowledge as the boat cruises down the Intercoastal Waterway. Combine this with a refreshing drink, and it's the best time ever!
Where to Stay in Fort Lauderdale, Florida
Now that you know the best things to do in Fort Lauderdale, Florida, let's check out the best places to stay!
Best Hostel in Fort Lauderdale, Florida
Hollywood Beach Hostel offers a desirable location downtown for an affordable price! This top-rated hostel presents beachy decor with an outdoor courtyard with sun lounges to relax in, free WiFi, and daily housekeeping service for a comfortable stay in Fort Lauderdale.
Best Mid-Range Hotel in Fort Lauderdale, Florida
At Comfort Inn & Suites Fort Lauderdale West Turnpike, you're guaranteed friendly service and desirable accommodations! This hotel is only ten miles from Fort Lauderdale Beach and 16 miles from the Fort Lauderdale Hollywood International Airport.
It has other great features, such as an outdoor pool and hot tub, spacious king suites, an accessible fitness center, and Grab & Go breakfast.
Best Luxury Hotel in Fort Lauderdale, Florida
Presenting beachfront luxury, the Four Seasons Hotel and Residences Fort Lauderdale is luxury on the beach, the waves lulling you to sleep every night. The modern style reflects the yacht club lifestyle that the surrounding area is notorious for, paired with top-notch service and undeniable luxury.
DISCLAIMER: Some of the links in this article are affiliate links, which means if you book accommodation, tours or buy a product, we will receive a small commission at no extra cost to you. These commissions help us keep creating more free travel content to help people plan their holidays and adventures. We only recommend the best accommodations, tours and products that ourselves or our fantastic editorial team have personally experienced, and regularly review these. Thanks for your support, kind friend!