Having grown up in Florida, I have plenty of experience with what to do here. Whether this is your first or fifth visit, this is my expert guide on the best things to do in Orlando, Florida.
Located in the literal center of the state of Florida, Orlando has become a major tourist attraction thanks to its accumulation of theme parks and other entertainment.
It is a great place to bring kids and an even better place to BE a kid all over again!
It's likely you won't have the time to be able to experience all that Orlando has to offer.
In fact, many people find they must choose their favorite theme park and purchase a multi-day pass just to see and do all that the park has to offer.
However, we're giving you a list of 25 things to do in Orlando that includes, but is not limited to, theme parks. So pick your favorite – Disney, Universal Studios, and Epcot, just to name a few – and plan a day or two there.
But then get ready for all of the other exciting things to do in Orlando!
READ MORE: Check out my brand new 3 days in Orlando itinerary to help you make the most of your trip!
The Best Things to Do in Orlando
While the trend is to get swept away in all of the action-packed theme parks and activity centers in Orlando, you can also find yourself tucked away in quieter parts of the city where you can kayak or standup paddleboard, sit on a park bench and enjoy a nice water fountain show, or wander museums.
But if you've got the energy and the interest you can keep busy every waking minute as you race around trying to see and do all of the Orlando activities.
Whether you want to stick to the traditional theme parks or explore other Orlando staples such as Medieval Times, LEGOLAND, or Ripley's Believe It or Not, there are plenty of options.
You can also catch a Las Vegas-style show, or get the adrenaline pumping with indoor skydiving or epic water slides.
Whatever you decide to do, start building your itinerary from our exciting things to do in Orlando!
The best way to get around is to rent a car and explore on your own! We recommend Rental Cars, which has the largest range of vehicles for the best value on the market.
1) Have a Happily Ever After at Disney's Magic Kingdom
A trip to Orlando is not complete without visiting Disney World's Magic Kingdom!
The Magic Kingdom is the epicenter of Disney World and earned the nickname "The Most Magical Place on Earth" for bringing smiles to children's faces through making their favorite fairytale characters come to life.
It is by far the top thing to do in Orlando and year after year it is the most visited theme park in the world!
There are six different themed lands to get lost in, all centered around the magnificent Cinderella's castle.
Try and find your favorite character in each area and don't forget to stop at the most popular attractions in the park, like Splash Mountain and Thunder Mountain in Frontierland, Pirates of the Caribbean in Adventureland, Haunted Mansion in Liberty Square, Space Mountain in Tomorrowland and the famous It's a Small World in Fantasyland.
A visit to Disney World is sure to bring joy and a happily ever after to everyone who enters. 
SPECIAL DEAL: If you want to save money on entrance to the theme parks, my local tip is to purchase the Orlando CityPASS beforehand so you can access their exclusive discounts.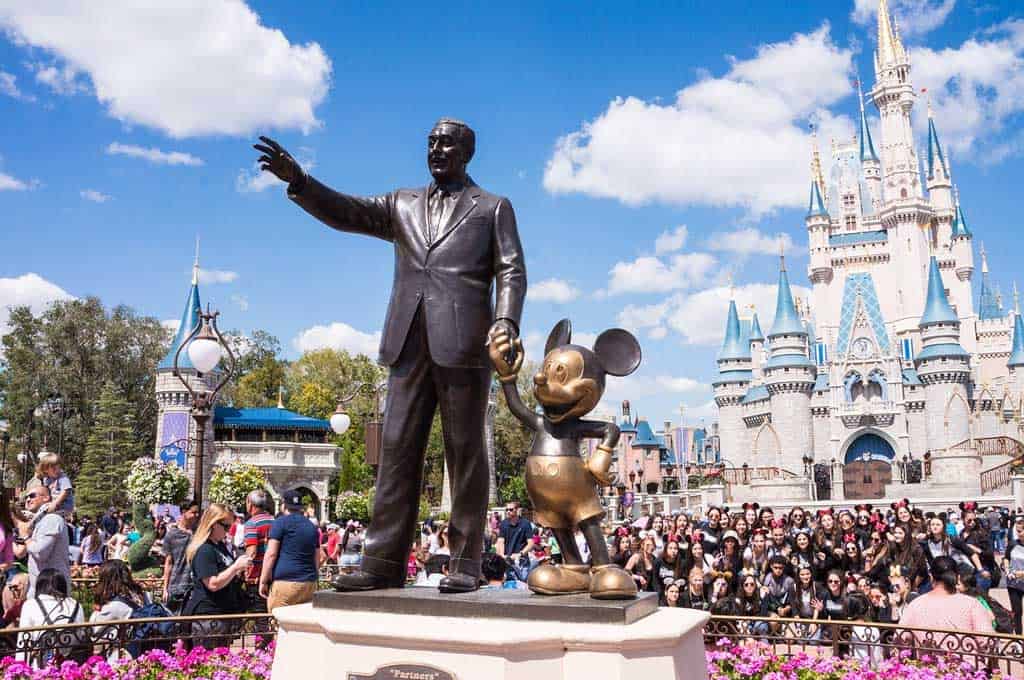 2) Day Trip to Kennedy Space Center
A short 1-hour drive East of Orlando is NASA's primary launch center, the John F. Kennedy Space Center.
The center has over 700 buildings and facilities sitting on 144,000 acres. This is where the launch operations for the Apollo, Skylab and Space Shuttle programs were performed.
A few of the most important buildings include the Vehicle Assembly Building, where rocket components are vertically stacked to prepare for launching, the Launch Control Center, where launches of spacecraft are managed, the astronaut dormitories, the Space Station Processing Facility and the Visitor Complex.
You can book a tour to visit the entire center, plan your visit around a rocket launch, or just visit the Kennedy Space Center Visitor Complex.
The line up to get in can be really long, so we recommend buying an official 'Skip the Line' ticket to get you in immediately.
The Visitor Complex is a museum and IMAX theatre with interactive exhibits and rocket artifacts and memorabilia.
All in all, a trip to the Space Center should be on the top of your list of Orlando Sightseeing!
---
3) Watch an Orlando Magic Basketball Game
A rather fun and unique Orlando activity is to watch the Magics play professional basketball at the Amway Center.
The Orlando Magic's have been playing professional basketball since the 1980s and have been at the top of their division for many seasons.
The season usually runs from October to April. If you happen to be town during basketball season then watching a Magic game should not be skipped! Check the schedule here.
And if you're not into basketball, their mascot Stuff the Magic Dragon is one of the most entertaining mascots in the NBA.
4) Learn How Chocolate is Made at the Chocolate Kingdom
Learn how chocolate is made from the beginning as a cacao bean all the way to the delectable finished product, a chocolate bar.
Go on an interactive adventure tour through the Chocolate Kingdom factory where you'll see a Cacao Tree and the beans used to make chocolate, a mystical chocolate river, the factory where the chocolate bars are made and you may even meet a prince and his dragon sidekick!
You may even get to make your own chocolate treats to take home and enjoy.
But being so delicious, you may devour it all before leaving the factory!
READ MORE: Check out my other blog post, detailing what to do in Key West for an epic time!
5) Experience an Earthquake at WonderWorks
WonderWorks is an entertaining yet educational center the entire family will enjoy.
Inside the upside-down building, there are over 100 interactive math, space and physics exhibits created to entertain, yet teach at the same time.
Experience what a massive earthquake or hurricane would feel like, lay on a bed of nails, feel the sensation of weightlessness and perhaps even endure a ropes challenge course!
When you visit you'll see why WonderWorks is one of the top Orlando attractions and let your imagination run wild!
Address: 9067 International Dr, Orlando, FL 32819
Hours: 9am to midnight, 7 days a week
6) Meet Your Favorite Lego Characters at Legoland
If you have younger kids in your family then a visit to Legoland is right up your alley!
Geared towards families with kids aged 12 and under, Legoland is an interactive theme park inspired by Lego building bricks and characters.
With more than 50 rides, shows and attractions with education and learning in mind, yet still fun for the entire family.
Among the many attractions are several roller coasters, though none too extreme for a child.
As well as miniature cities built from lego blocks, a simulated medieval royal joust, lego Ninjago an interactive 3D ride and even a driving school where kids can earn a driver's license!
There is also a waterpark for those hot summer days, though entry is only valid with a separate ticket purchased.
7) Enjoy International Cuisine at Epcot
Epcot is considered to be the adult's theme park of Disney World, but there are still attractions that will excite even the younger generation.
It is a very unique and beautiful park centered around celebrating the achievements, innovations and cultures of mankind, much like a world's fair.
Buy a Disney park hopper's pass and in between exploring the more popular parks, visit Epcot for lunch or dinner and enjoy tasty international cuisine at one of the many incredible restaurants located in the park.
Or if exploring a more sophisticated theme park is your style, spend your entire day admiring the beautifully manicured landscapes, learning about different cultures and sampling international dishes and of course enjoying the few rides like Mission: Space, Test Track and Soarin' Around the World.
8) Cheer On Your Knight at Medieval Times
Prepare to be entertained at this ultimate family-friendly dinner show!
Watch jousting, sword fighting, medieval-style games, dancing horses and amazing falconry all from the comfort of your seat while indulging in a delicious 4-course meal.
Arrive early so you can explore the castle grounds and museum.
Once the show is ready to start, you'll receive your knight's colors and be sat in his section.
Yell and Cheer on your knight to victory and you may be thrown a flower from the Queen when your knight wins a round!
Address: 4510 W Vine St, Kissimmee, FL 34746
Price: $36.99 per person
9) Take in the Orlando Skyline at Lake Eola Park
Take a break from the hustle and bustle of the crowded amusement parks and go on a leisurely stroll in Lake Eola Park.
Located in the middle of downtown Orlando, Lake Eola is the perfect place to enjoy Orlando's skyline while in a peaceful setting.
Go to relax and walk on the paved .9 mile path that meanders around the lake, or plan to see a concert or play at the Disney Amphitheatre.
You can even join the elegant swans on the water in your own swan paddle boat!
Whatever you end up doing at the lake, enjoy!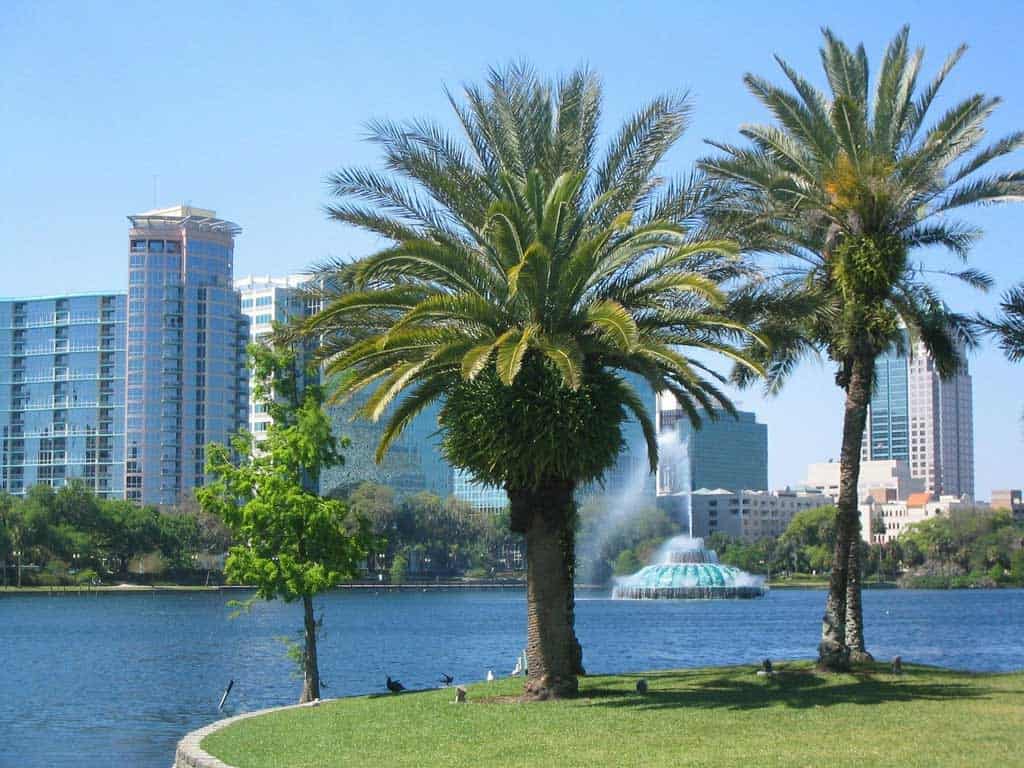 10) Fulfil Your Need For Speed at iDrive NASCAR
Home to the fastest state of the art electric go-karts in Central Florida, iDrive NASCAR offers you the experience to race down their indoor track at speeds of up to 45 mph.
With twelve twists and turns, a harrowing s-curve and three hairpins, your driving skills will be put to the test and will leave you
If you don't have the need for speed, try your luck at the 60 game arcade and bowling alley or grab a refreshment at the restaurant and bar.
Address: 5228 Vanguard St, Orlando, FL 32819
Hours: Mon-Thurs, 12pm-11pm. Fri-Sun, 11am-12am
11) Wander around International Drive
International Drive is considered to be the Main Street of Orlando.
Most of the top Orlando Attractions can be found on I-Drive along with great shopping, top restaurants, bars and nightclubs.
You could walk a stretch of the icon road but at 11 miles long we suggest taking the hop on hop off the trolley.
It's worth buying a multi-day pass and the trolley will take you to the best museums and entertainment venues like WonderWorks, The Wheel at Icon Park and Pointe Orlando a shopping and entertainment district with 19 restaurants and bars.
With so much to see and do on I-Drive, you are sure to get your fill of entertainment.
12) Ride the Movies at Universal Studios
If you're not into fairytales and happily ever afters then Universal Studios is the perfect place to visit.
A theme park revolving around movies and television, you'll find your favorite characters come to live in thrilling 3.D. rides, simulators and rollercoasters.
From Transformers and Revenge of the Mummy to Harry Potter's Diagon Alley, your adventurous side will be satisfied at Universal Studios.
If you are a Potterhead, to enjoy both of the Harry Potter worlds you must purchase a two-park ticket to both Universal Studios and Islands of Adventure.
13) Free Fall at iFLY Indoor Skydiving
Have you always wanted to try skydiving but too afraid to jump out of a plane?
Now with state of the art wind tunnels, at iFly Indoor Skydiving, you can experience the thrill of free-falling without having to jump out of an airplane.
It's so similar to real skydiving that the experts use it for training! A vertical wind tunnel in a glass dome creates a cushion of air on which you float.
Anyone from ages 3 to 103 can safely enjoy the thrill of flying at iFly.
14) Drink Butterbeer at Islands of Adventure
Islands of Adventure is the sister park to Universal Studios.
With the addition of the Wizarding World of Harry Potter to both parks, the parks are now connected by the Hogwarts Express train.
But you will need a two-park ticket to experience both Harry Potter Worlds, Hogsmeade in Islands of Adventures and Diagon Alley in Universal Studios.
Don't forget to grab a tall frosty glass of butterbeer while there!
Besides the Wizarding World of Harry Potter, Islands of Adventure is known for being home to some of your favorite Marvel Superhero characters like Spiderman, X-Men and Captain American.
A favorite ride amongst most who visit is the Hulk Rollercoaster. It has year after year been ranked as one of the top Roller Coasters in the world!
Even though there are a few high-speed roller coasters in the park, Islands of Adventure wanted to be known for being little kid-friendly, therefore there is an entire world geared towards the little ones, that is Seuss Landing.
There are also several kid-friendly attractions scattered throughout the park, like the Pteranodon Flyers and Camp Jurassic in Jurassic Park.
15) Soar Above Orlando in a Hot Air Balloon
Experience Orlando and Disney World in an even more magical way by taking flight into the clouds at sunrise in a hot air balloon.
Your tour guide and pilot has everything covered, so relax and enjoy taking in the sights of Orlando's attractions, beautiful orange groves and Florida's wetland landscapes.
After your magical 1 hour flight, you'll get a glass of champagne to toast to your journey above the treetops!
---
16) Paddleboard/Kayak Around Wekiva Island
While in Orlando it's a must to leave the busy city and experience the real Florida by getting in touch with nature.
And what better place to do that then at Wekiva Island!
Splash in the cool, crystal clear water of Wekiva Springs and explore the area by kayak or paddleboard.
You'll experience why this is one of the best outdoor activities in Orlando Florida!
By paddleboard or kayak, you'll get to see Florida's natural flora and fauna, plus an abundance of wildlife like alligators, river otters, turtles, a variety of birds and herons and perhaps maybe even a bald eagle!
After your paddle out on the water, make a pit stop at the Tooting Otter craft beer and wine bar for a refreshing drink and grab a snack at the Without a Paddle Cafe.
17) Rock Out at Hard Rock Cafe in Universal City Walk
Universal City Walk is a great entertainment complex with fantastic restaurants, gift shops and stores, great nightlife and is home to the largest Hard Rock Cafe in the world.
Best of all, there is no entrance fee to enjoy the area and if you drive there, parking is free after 6 pm!
One of the top things to see in Orlando is the Hard Rock Cafe, and for a good reason.
If you're craving a delicious cheeseburger to chow down on the Hard Rock is the place to go!
Or, if you are just interested in the rock and roll memorabilia then walk around and take a look.
They have the largest collection of rock and roll relics than any other Hard Rock and you'll such mementos as Elvis Presley's suit worn in Viva Las Vegas, Pete Townsend's, of The Who, Gibson Les Paul guitar and Buddy Holly's black sunglasses.
If you time your visit right you could even catch an awesome rock concert at their live large concert venue!
Address: 6050 Universal Blvd, Orlando, FL 32819
18) Be Amazed at Ripley's Believe It Or Not!
If want to experience bizarre and weird artifacts and stories then a visit to Ripley's Believe It Or Not is most likely on your must-do list.
Robert Ripley traveled worldwide to collect oddities, bizarre events, and unusual artifacts that can't been seen anywhere else.
Inside you'll see and interact with 100's of exhibits that will amaze you, make you laugh and even learn something new!
Everyone, young and old, will be wowed at this incredible odditorium!
READ MORE: See the original Ripley's and do other awesome things in St. Augustine in our expert guide!
19) What to Do in Orlando – Relax in the Stunning Harry P Leu Gardens
Minutes from downtown Orlando a botanical oasis can be found.
Relax and enjoy the 50 acres of lush tropical gardens and ponds at the Harry P Leu Gardens.
In 1961, Harry P Leu deeded the gardens and house to the city of Orlando and the home on the property is now considered a national historic place.
Go for a stroll on one of the many trails in the garden and admire the many varieties of beautiful camellias and 200-year-old oak trees that shade the area.
The purpose of the garden is to show and teach visitors to appreciate and understand plants.
And there are a tonne of plants to see and learn about on this massive and beautiful property!
20) Observe Orlando on The Wheel
Soak up Orlando's incredible sights on the massive observation wheel at Icon Park.
A relatively new activity in Orlando opening in 2015, The Wheel has quickly become a top tourist attraction.
And for good reason. The wheel is a very unique ride, using a ski-lift capsule design that's stabilized driven, making it ultra-smooth and the first wheel of its kind.
At 400 feet tall it is massive and rotates 30 climate-controlled capsules from the bottom to the top and back down again in 22 minutes.
Go for a ride and enjoy the views or spend a little extra and indulge in a craft beer or a glass of wine while you ride!
It books out really quickly, so I recommend you buy your ticket in advance.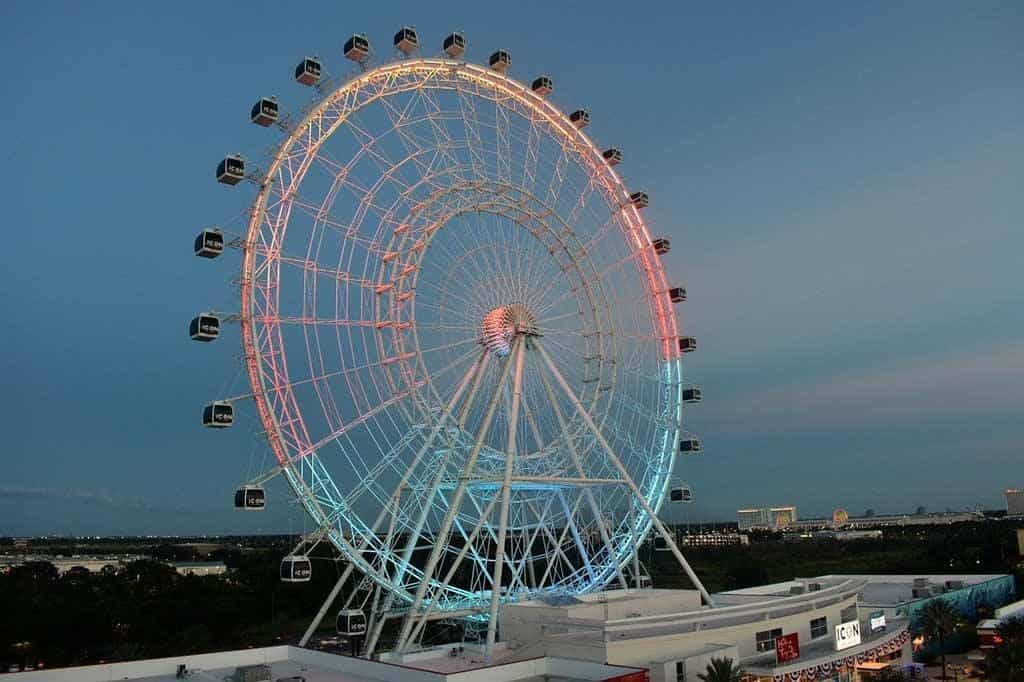 21) Shop For Souvenirs at Disney Springs
Much similar to Universal's City Walk, Disney Springs is an outdoor shopping and entertainment venue.
Recently redesigned and expanded, there is much more to see and do here than in years past.
There are four separate areas each with their own theme: Marketplace has an American craftsman style where you can find the popular Rainforest Cafe and Earl of Sandwich.
The Landing has a nautical theme with a marina and boathouse where you can rent amphibious automobiles that cruise around Lake Buena Vista.
Town Center is the central business district with Spanish revival architecture and is situated around the "springs" with many stores to shop in.
And the West Side has a 1950's vibe and is home to the AMC Pleasure Island Theatre.
By far one of the most popular tourist destinations in Orlando, Disney did it right and there is plenty to see and do here for everyone in the family!
22) Visit the Orlando Science Center
A traditional museum offering experience-based opportunities and hands-on learning exhibits in science and technology, the Orlando Science Center is the perfect place to leave the fairytale world and amusement parks behind.
This museum is huge with four floors of interactive exhibits, an observatory, labs and workshops and two theatres.
It's an award-winning museum that must be on your list of things to do in Orlando!
A great center for small kids and big kids alike with so many science-based activities to experience like Florida's diverse ecosystem, a dinosaur fossil dig and an amazing kinetic zone and STEM gallery!
23) Walk Around Downtown Orlando
Get away from the tourist traps around Disney and I-Drive and head on down to Downtown Orlando where you'll find plenty of things to do with a lot fewer tourists.
Rent a bike at the Juice Bike Share or just walk, and don't forget to grab a map from the downtown Orlando Information center so you can take yourself on a self-guided tour of the area.
Look for the 9 contemporary art sculptures scattered about downtown.
If you're there on a Sunday make sure to stop and check out the great market at Lake Eola Park.
Explore at night and you can catch a comedy show at SAK Comedy Lab, or have dinner and a movie at the fancy Cobb Plaza Cinema Cafe.
You'll be sure to find something to do that suits your fancy in Downtown Orlando!
24) Be Captivated at Blue Man Group
Rock out, laugh until your stomach hurts, and dance till you can't anymore at the incredible Blue Man Group show.
It's a wildly entertaining show with no dialogue and captivates the audience with lights, sounds, and interactive choreography and physical jokes.
The show is so loved that it's performed at venues worldwide and even does traveling tours.
But it's really hard to describe in words what Blue Man Group is. Therefore you must go see and experience it for yourself!
You and your family will leave delighted and with memories, they'll never forget!
READ MORE: Do you love taking photos? Check out our guide to the best travel photography tips for all levels!
Orlando City Guide
Now that you know what to do in Orlando, we want to help you make your other plans as well by sharing the best accommodations and places to eat in the city.
Best Accommodation – Where to Stay in Orlando
Orlando has plenty of accommodation options at any budget and any time of year.
Because summer tends to be the peak season for tourism you can expect that rooms will fill up quickly then.
So book in advance if you plan to visit Orlando during the summer. Throughout the year you will find everything from hostels to hotels and themed resorts to luxury suites.
Getting around Orlando is relatively easy. But expect traffic no matter where you drive. So it is best if you can find accommodation near the Orlando attractions that you want to experience the most.
Of course, as a big city with tons of things to do in Orlando, it's likely you'll end up either driving across town at least once or spending all of your time in one area and planning to come back another time to experience the rest!
The Best Hostel in Orlando – BHostels International Drive North
Although hostels are few and far between in Orlando, the BHostels on International Drive North is your best bet.
Centrally located on famous International Drive, you can catch public transportation in any direction to explore the many Orlando attractions.
The hostel has WiFi, towels and linen and an outdoor pool to enjoy.
And with plenty of restaurants and bars around you are sure to stay content during your visit.
---
Best Budget Accommodation for Couples – Westgate Town Center Resort
Just minutes from Disney World and Universal, the Westgate Town Center Resort's central location to the top Orlando attractions is just the beginning.
Spread out and relax in a fully furnished townhome complete with a kitchenette, television and WiFi.
Some rooms even come with a jacuzzi spa option to complement the two pools and fitness center the resort offers.
As most people visit Orlando to run around to all of the attractions, your stay at the Westgate Town Center Resort will give you a chance to recharge and refuel for long busy days of having fun in Orlando!
---
Best Mid-Range Hotel in Orlando – Quality Inn And Suites
If you want to be centrally located both to the heart of Orlando and most of the theme parks in the city, then Quality Inn and Suites is a great way to save time and money on transportation.
Competitively priced for the area, the hotel has a pool, WiFi and fitness center and it offers complimentary breakfast.
Although Disney is approximately 30 minutes away, the hotel also offers shuttles there and to Universal. You can also catch the trolley from the hotel every 20 minutes.
---
Best Luxury Hotel in Orlando – Gaylord Palms Resort and Convention Center
The Gaylord Palms Resort and Convention Center is the gold standard of luxury accommodations in Orlando.
Located just a mile from Disney, it is the jumping off point to all sorts of fun and entertainment in the city.
However the hotel itself also boasts tons of activities as well.
From pools and spas to nightly entertainment and even its own beachside play area, a stay at the resort is an event in itself.
You can also enjoy fine dining at the on-site steakhouse and breakfast and a kitchenette is provided with each stay.
Best Restaurants in Orlando
Orlando has become a melting pot of culture. Thus the choice of cuisines in the city will reflect the variety of its residents and their pride in their home countries.
While you can expect to find every kind of chain restaurant – from fast food to sit down – you'll be doing yourself a favor to try something different from another part of the world.
Of course, like many metropolitan areas you could spend every day dining in different places and still not have enjoyed all of the best that Orlando has to offer!
But here are a few of our recommendations to get you started!
Budget – Q'Kenan
For an inexpensive and authentic taste of Venezuela, check out Q'Kenan Restaurant.
Pulled pork arepas, shredded beef empanadas and sweet plantains are a staple of the restaurant and well worth a trip, especially if you are staying or passing near the Walt Disney World area.
Mid-range – Bosphorous Turkish Cuisine
International cuisine at it's best can be found at Bosphorous Turkish Cuisine.
A rare find, this restaurant will treat you to an authentic Turkish experience starting from Turkish coffee to kebabs, falafel and grilled lamb, among so much more.
High-End – La Luce
La Luce is a high-end Italian dining at it's finest. Serving up traditional Italian and Tuscan dishes, you'll be pleased to enjoy braised lamb shank or duck bolognese.
Indulge yourself in a dessert of tiramisu or biscotti to put the dining experience over the edge.
DISCLAIMER: Some of the links in this article are affiliate links, which means if you book accommodation, tours or buy a product, we will receive a small commission at no extra cost to you. These commissions help us keep creating more free travel content to help people plan their holidays and adventures. We only recommend the best accommodations, tours and products, and regularly review these. Thanks for your support, kind friend!