From diving the third-largest coral barrier reef in the world to bar hopping down quirky Duval St here is our list of the best things to do in Key West Florida!
Key West is the southernmost city in the United States and a top tourist destination in South Florida boasting some of the best things to do in Florida.
Known for its tropical breezes, tranquil turquoise waters, and laid-back Caribbean vibe, the small island is a mecca for outdoor enthusiasts with a multitude of things to do.
Although just 6.4 kilometres long and 1.6 kilometres at its widest, Key West Florida is full of quirky salty locals that call themselves "Conchs" and has a very unique history.
There are rumours that pirates used the island as a smuggling point in the 1700s. You can also sense that there is a strong Caribbean and Cuban influence in Key West.
Standing here, some say you can even see the lights of Havana on a clear night.
Whether you want to relax on a tropical island, explore the natural beauty and wildlife of the famous Florida Keys, or you want to hop between world-famous bars, these are our recommendations for the best things to do in Key West!
The Best Things to do in Key West
From kayaking and fishing to snorkelling and diving, Key West has much to offer to any outdoor enthusiast.
And the backdrop of sunny and clear blue skies and turquoise water makes the exploration even more spectacular.
But there is also a unique culture and rich heritage to the island as well.
You can explore quirky neighborhoods on foot, bike, or trolley and can grab a bite to eat at any number of restaurants in downtown Key West.
From the white sand of Higgs Beach, to the historic landmarks at Fort Zachary Taylor, to the opportunities for outdoor exploration, here is our list of 20 fun things to do in Key West!
Read Next: Check out our post on all of the best things to do in Florida!
1) Visit the Southernmost Point of the USA
Well, you've made it this far. Now, why not go as far south as possible?
By far one of the most popular attractions and photographed places in Key West is the Southernmost Point.
At the corner of South and Whitehead street sits a large painted anchored buoy erected in 1983 by the city that reads, Southernmost Point Continental United States and 90 Miles to Cuba.
Before the buoy was placed here there was only a simple wooden sign marking the landmark.
Now thousands of tourists flock here every year to get their picture taken in front of the colourful landmark.
And you can't come to Key West Florida without stopping to snap a photo. Just know that at popular times of the day there will be a line to get your picture.
Try and arrive in the morning when the crowds are fewer. Or, go at night for a unique view.
Close by to this landmark you'll also find the Key West Garden Club, home to beautifully landscaped tropical gardens, and the Key West Butterfly and Nature Conservatory. It's worth checking these out while you're in the area!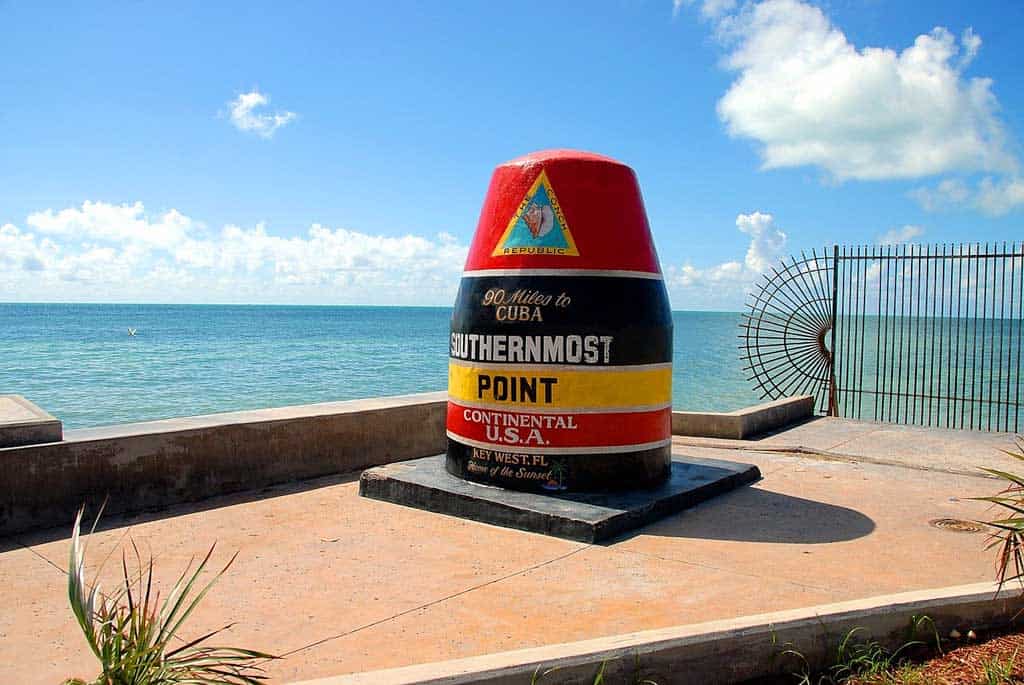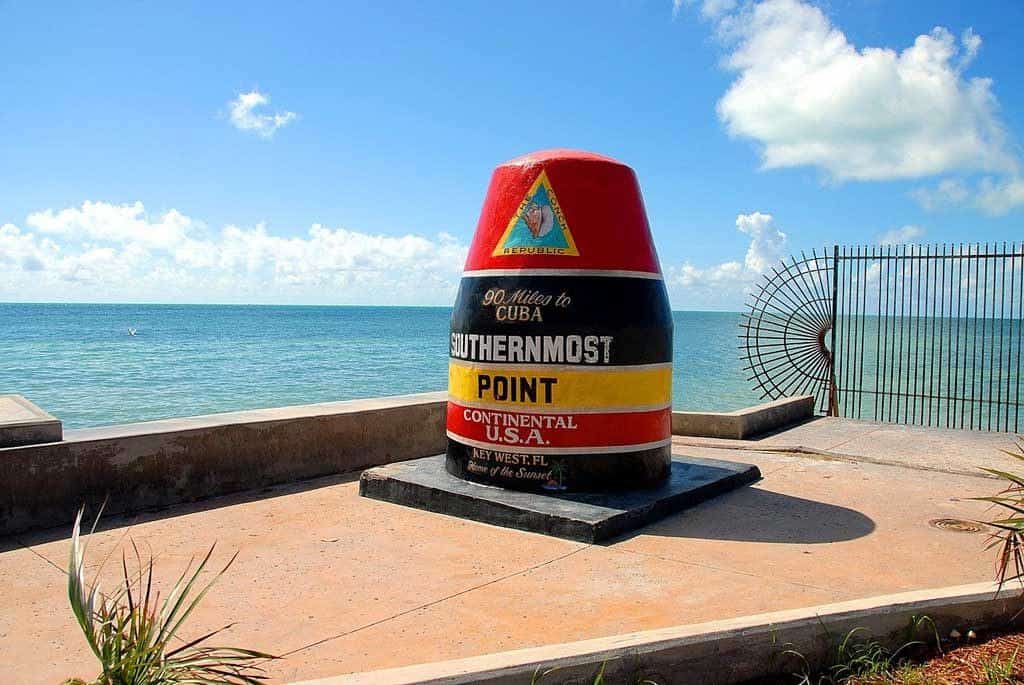 2) Walk Around Town and Take in the Unique Streets and Historic Buildings
Key West is known for being quirky. This is as true for its buildings and architecture as it is for its people.
The Key West Historic District, which centres on the famous Duval Street, is an eclectic collection of houses of all shapes, sorts and colours.
The Hemingway Home is an iconic house nestled into the Historic District. You can also tour the Key West Oldest House and Museum. This is, you guessed it, the oldest house on the island, built in 1829.
But all around you will find a uniquely Key West look and feel throughout the town.
The Key West Lighthouse is also a famous landmark, so be sure to check it out while sightseeing in the Old Town!
Another historic landmark is the Harry S. Truman Little White House. Sometimes just called "Truman's Winter White House", President Truman spent his winters here during his presidency. So it served as a sort of second White House. Near the White House is Truman Annex Park, a lovely shaded garden area.
READ MORE: Enjoy another historical Florida city with 20 amazing things to do in St. Augustine, Florida.
3) Rent a Bike and Find Things to do in Key West on Your Own
If getting around on your feet is taking too long, one of the best ways to see the Key West attractions is by renting a bike.
Rent a beach cruiser to take your time riding from one part of Key West to another. Or pedal a little faster and use the bike as an efficient means of transportation.
Key West itself is only a few miles from one end to the other and you might find more reasonable accommodations on the north end. Thus a bike will be a great way to transport you around the island.
You can bike across the island, from the Key West International Airport to Fort Zachary Taylor State Park, in just 25 minutes.
Of course, there are plenty of side streets, fun detours, and places to stop along the way.
But do remember that operating a bike on the streets is the same as operating a motor vehicle and you are subject to the same laws (don't drink and bike!).
Read Next: Check out our post on the best day trips from Miami.
4) Image How Life Once Was at the Hemingway House
Across from the Key West Lighthouse sits a beautiful two-story house with several windows and a wrap-around balcony.
From 1931 to 1939 the famed author Ernest Hemingway lived here and to this day nearly fifty polydactyl cats, most descendants of Hemingway's cat Snow White, inhabit the home and garden.
A few of Ernest Hemingway's best novels were written when he resided here: The Snows of Kilimanjaro and To Have and Have Not, just to name a few.
You can tour the entire house and tropical gardens, including playing with a few of the very unique cats that roam the property.
Look for the Cuban water jar that fills the urinal bought by Hemingway from Sloppy Joe's bar, it is now a fountain.
And you may spot the penny that Hemingway pressed into the cement surrounding the pool after finding out that his wife paid $20,000 to have it built in the backyard.
Cost: Adult $17 / Child (6-12) $7
Hours: 9am-5pm
Location: 907 Whitehead St.
5) Join the Mallory Square Sunset Celebration
Every day in Key West Florida, beginning around two hours before sunset, the Mallory Square sunset celebration commences.
Located in the northwestern part of Key West, this public square is famous for its festive street performers and the best chance to catch a truly unique sunset.
Food stalls and vendors line the square along with many unique and entertaining performers and live music bands.
Grab a frozen margarita and wander the square to round out your day.
If you watch the sunset from Mallory Square there is a chance that you can see the elusive "green flash" that happens on the horizon.
Whether you're interested in evening entertainment or in beautiful sunsets, spending the evening here is one of the most fun things to do in Key West Florida.
Mallory Square is also near the Key West Aquarium, the Key West Museum of Art and History, the Key West Shipwreck Museum, and the Mel Fisher Maritime Museum. So there is plenty of Key West history and culture to be found here before the sunset starts.
Read Next: Be sure to check out our Miami to Key West road trip itinerary when planning your trip to Key West!
6) Catch a Sunset Anywhere
So you don't have to cram yourself into Mallory Square to experience a truly remarkable sunset.
As the southernmost point in the US, and jutting out into the Straits of Florida, Key West sunsets are pretty spectacular wherever you find yourself at the end of the day.
Mallory Square will give you the most unobstructed views of the setting sun. But the sunsets in Key West paint the sky in all sorts of colours that will make views absolutely breathtaking.
So find yourself a quiet place on Smathers Beach, catch a sunset cruise around the island, or simply take in the view from your hotel. The Key West Historic Seaport, not far from Mallory Square, is another great sunset spot.
You can't go wrong with a Key West sunset!
7) Sit (or Play!) on the Beach
Although Key West sits at the end of a string of rather remarkable tropical islands, this island is not known for picturesque white sandy beaches like its counterparts.
However, there are a few places you can go to get a little sand in your toes while admiring the turquoise waters surrounded by coral sand and Key West tropical forest.
Smathers Beach is the largest beach on the island, at just over a half-mile in length.
Higgs Beach Memorial Park is another family-friendly sandy beach. Higgs Beach also houses historic landmarks and a small pier.
An equally popular beach can be found at Fort Zachary Taylor State Park.
Fort Zachary Taylor State Park includes a civil war fort as well as lots of green space and beaches.
Catch your own fish (or lobster, during the season) and enjoy a BBQ at the beach. Or take a cooler and some cold drinks and let the day escape you as you sit and relax.
Any of these beaches are great for water activities such as standup paddleboarding, kayaking, snorkelling, and swimming.
So whatever you do at the beach in Key West Florida, enjoy it!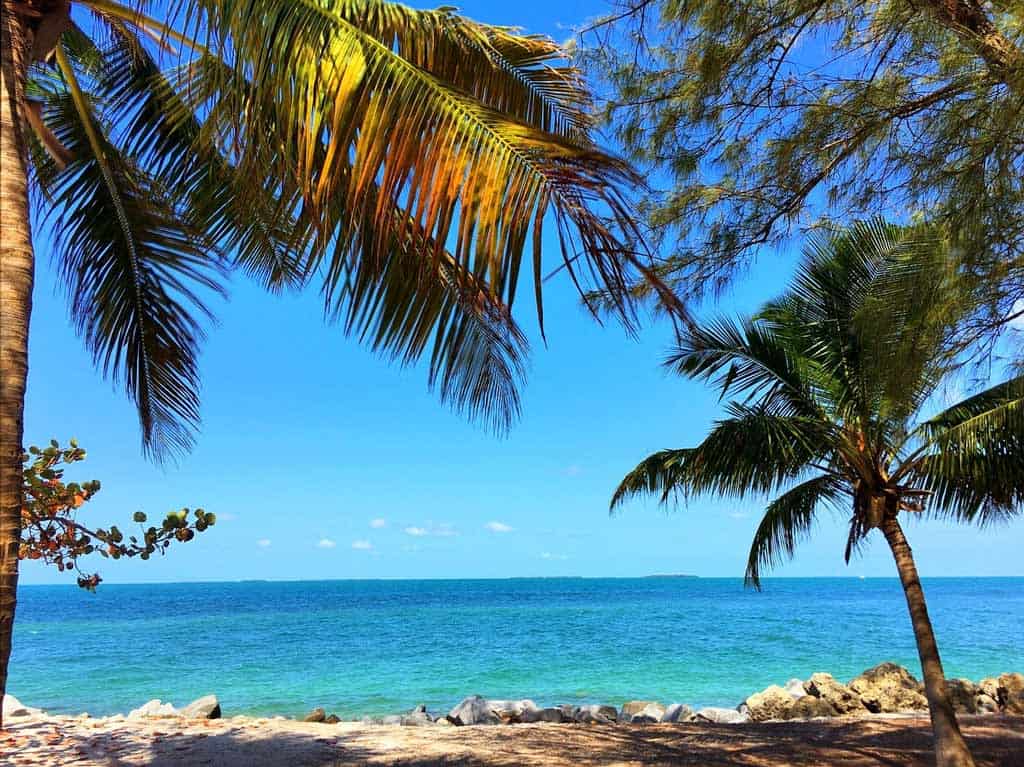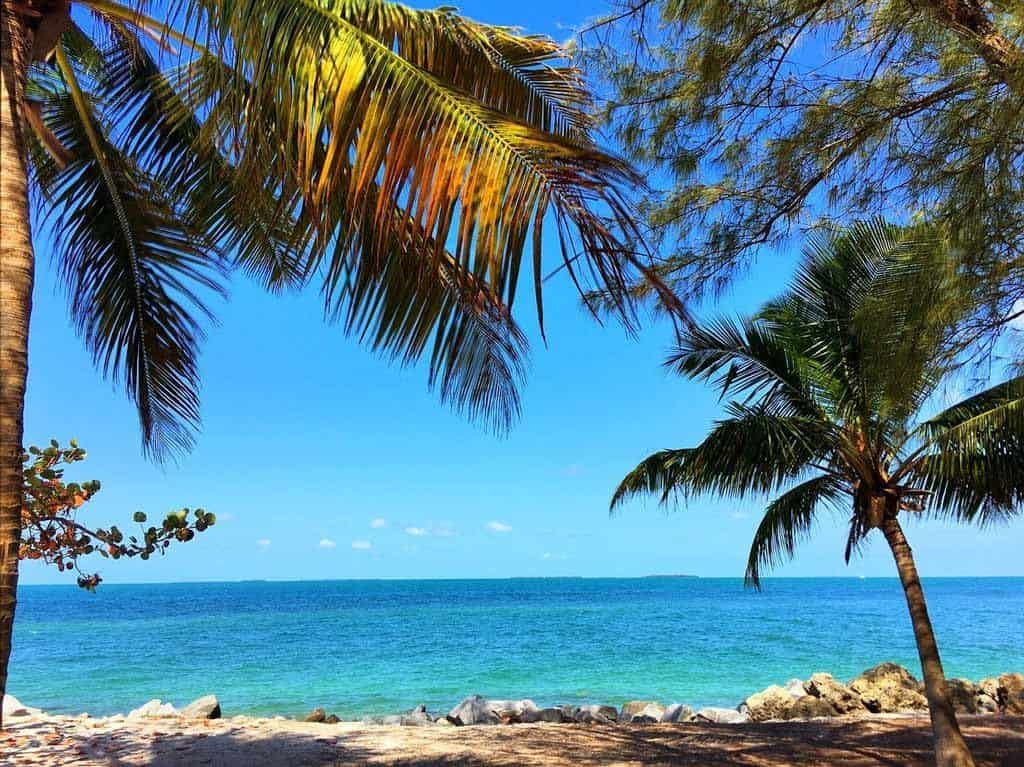 8) Bar Hop Down the Famous Duval Street
If you're not into the bar scene, you can still find tonnes of great things to do in Key West.
However, if you do enjoy throwing a cold one back or sipping on a frozen daiquiri, then you will have an enjoyable time bar-hopping through some of the country's most iconic bars.
Ernest Hemingway, famous for his drinking, frequented Sloppy Joe's Bar and put it on the map for tourists years later.
But a walk (or stumble) down Duval Street will leave you with so many options you'd have to spread your bar hop into several evenings!
A few of the more popular bars include Hog's Breath Saloon, Green Parrot Bar, and Captain Tony's Saloon.
However, if you're into the trendier chain bars, you can't go wrong having a margarita in Jimmy Buffet's Margaritaville or stopping in at Fat Tuesday or Hard Rock Cafe.
READ MORE: Plan the perfect 3 days in New Orleans!
9) Shop for Quirky Souvenirs
Sure you can purchase iconic souvenirs like seashells, postcards, and colorful knick-knacks for the refrigerator.
But Key West Florida is also known for having shop windows full of quirky and eye-catching gifts for tourists – particularly t-shirts and hats.
Rather than to promote Key West with simple designs, you can find more elaborate ones such as: "Work sucks, I'm moving to Key West," "What happens in Key West… gets posted on Facebook" and "Key West: A Sunny Place for Shady People."
But if you're looking for the quintessential Key West souvenirs, you may want to consider purchasing Key Lime pie (made from local limes that come from, you guessed it, the keys!), or Cuban cigars (not made IN Cuba, but BY Cubans that will hand roll them in front of you).
You can also pick up less dramatic shirts and hats from most of your favorite bars and restaurants to prove that you were there!
10) Day Trip to Bahia Honda State Park
If you're wondering about top things to do in Key West Florida, you might be surprised to learn that one of them is to take a short day trip to Bahia Honda State Park.
If you drove south to Key West then you would have passed Bahia Honda and definitely would have noticed.
The park is located just south of Marathon Key and the famous 7-Mile Bridge. From Key West, Bahia Honda is a beautiful 45-minute drive.
Here you can truly expect the magic of the Florida Keys with its shallow, sandy beaches and crystal clear water.
Rent kayaks and/or snorkel gear and investigate the shoreline.
Although you'll want to make sure they are in season and that you have the proper license, lobsters are plentiful in the waters around the park.
As are a variety of fish which you can catch from shore.
This is also a pristine beach park where you could simply lay out in the sunshine and catch some rays.
By far this is one of the best day trips from Key West Florida.
Cost: $8 per vehicle
Hours: 8 am – Sundown
Address: 36850 Overseas Highway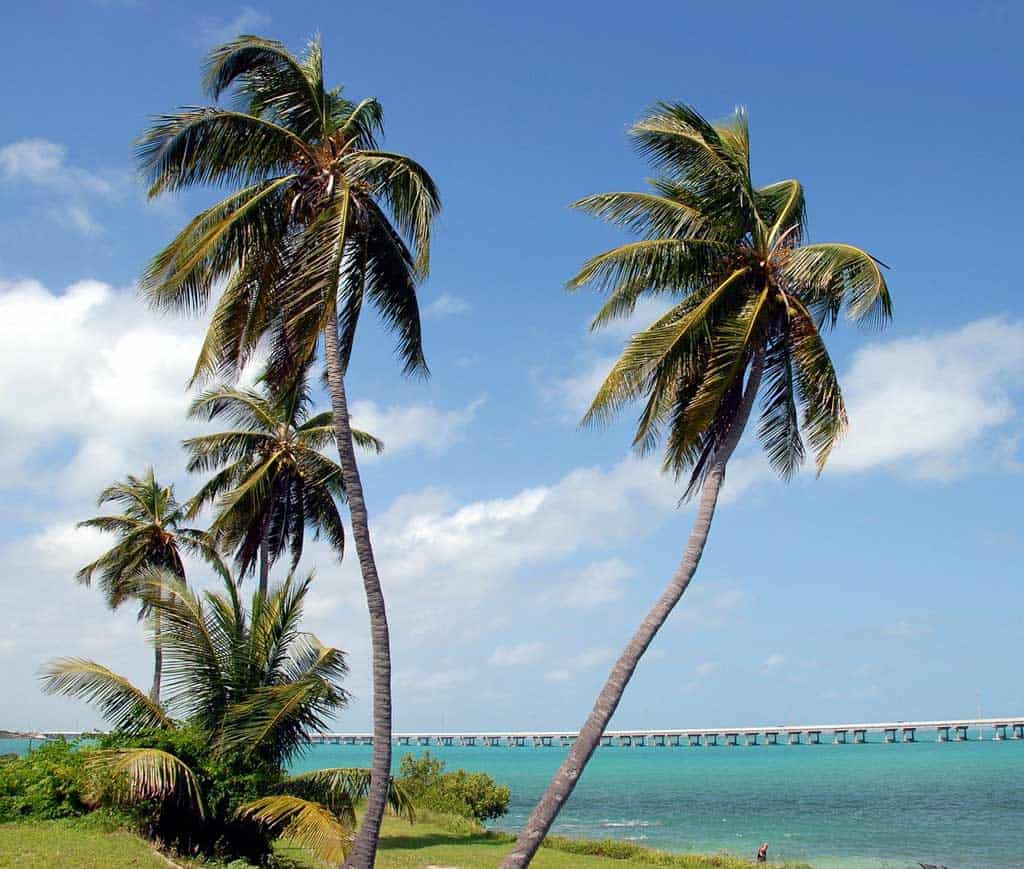 11) Try Your Hand at Sailing
As an island, Key West Florida offers all sorts of options when it comes to exploring the waters around.
One of the most fun ways to do this is to either rent a sailboat or hop on a tour and wander around the Florida Keys.
If you are confident in your sailing abilities, you can rent small sailboats for reasonable rates in a variety of places around the island.
Or if you're better suited for land, you can take a variety of sailing tours. Of particular interest are guided tours that include sunset and drinks.
While Mallory Square on Key West is the closest you can get to a perfect sunset on the island, you can enjoy the evening colors a little closer to the setting sun aboard a sailboat.
You can also find sailboat tours that will take you to the islands that surround Key West.
This is one of the best Key West activities to show you places many people will not get to see!
12) Get Underwater as you Snorkel or Dive
The United States' only living coral barrier reef is found in the waters around the Florida Keys.
As such, there is a plethora of marine life to explore within the underwater world.
If you are dive certified, you can find many opportunities to dive around Key West and the surrounding islands.
Or if you'd prefer to snorkel, you can catch a ride out to the reef with a number of tour operators.
There are also a handful of companies in Key West Florida that offer dive certification.
So if you haven't seen enough from snorkeling the surface or you have always wanted to become dive certified in one of the most beautiful seas of the world, then plan to spend a few extra days taking in the Key West sightseeing in between classes and dives!
If you want to see some marine life but you're not big on snorkeling, you can also check out the Key West Aquarium. Getting in the water yourself is definitely more thrilling, but the Key West Aquarium is a safe and easy alternative.
13) Take a Scenic Day Trip to the Dry Tortugas National Park
Just under 70 miles west of Key West Florida, the Dry Tortugas offer a unique day trip from the island.
As one of the US National Parks, the Dry Tortugas offers some of the most incredible combinations of natural beauty and history.
First discovered by the explorer Juan Ponce de Leon, the islands were named for the many turtles they found in the area.
As a strategic location between the Straits of Florida and the Gulf of Mexico, the Dry Tortugas National Park is home to Fort Jefferson.
This civil war fort is the largest brick structure in the Western Hemisphere (although it is unfinished, even with over 16 million bricks). Fort Jefferson is a National Historic Landmark that was constructed during the Civil War.
Whether you visit the Dry Tortugas to check off another incredible US National Park, want to read up on the history of the strategic location, or can't wait to see all of the wildlife preserved in the waters surrounding the Dry Tortugas National Park, this day trip from Key West shouldn't be missed.
Check out the website for more info on Dry Tortugas National Park!
14) Go on an Epic Fishing Trip
The Florida Keys are home to some incredible varieties of fish.
Whether you're interested in catching dinner, or simply want to catch and release, you have plenty of opportunities to fish in Key West Florida.
Bottom fishing with "party boats" is a popular and affordable way to spend either a half or full day on the water in the Florida Keys. The boat ride itself is worth the fee.
However, if you do enjoy fishing then expect to catch a variety of snapper, grouper, Jack Crevalles other reef fish.
You can also charter a private boat and head out into the blue water in Hemingway-esque fashion in search of the great and elusive sports fish such as marlin and sailfish.
Remember they call it "fishing," not "catching," so enjoy your day on the water regardless of whether you catch fish, or just a buzz!
15) Hop-On and Hop-Off the Trolley
If you're wondering the best way to see all of the best Key West attractions during your visit, the hop-on-hop-off trolley is your ticket to getting around.
With 12 centrally located stops that provide access to over 100 Key West points of interest, you can either use the trolley as a way to hustle you to your next point of interest or you can sit back and relax and take in the sights of the island.
Parking can be bothersome on a Key West vacation, so the trolley is also a great alternative to spending more time trying to park than actual sightseeing in Key West.
There are one and two-day Old Town trolley tours options so you can spread out your time and exploration of the island.
16) Hang Out on Duval Street at Night
This street doesn't quite have the reputation as Bourbon Street in New Orleans. But it's getting there!
With dozens of restaurants and bars packed together on this 1-mile street that runs the width of the island, you are sure to get your fill of entertainment.
You could spend the day shopping or people watching, stopping into Margaritaville for an aptly named "Cheeseburger in Paradise."
Or you could start at Mallory Square at sunset with a frozen daiquiri in hand and find that you'll never be more than a few steps away from a refill as you wander from bar to bar down the iconic street.
Considered the backbone of Key West nightlife, this street can be as memorable (or not memorable) as you want it to be!
17) Take a Cruise
OK, so if you're looking to cruise FROM Key West you might be disappointed.
Other than a handful of smaller day trips around the island, you don't have many cruise options from the Florida Keys.
However Key West Florida is a target destination for many cruise lines travelling through the Caribbean.
You can cruise from nearby places like Miami and Fort Lauderdale or even catch a cruise from Galveston, Texas that offers a stop in Key West.
Sure, you won't have more than a few hours to try and cover as many places on this list as you can.
But if you have the opportunity to stop in Key West during your cruise it is sure to make you want to come back for more!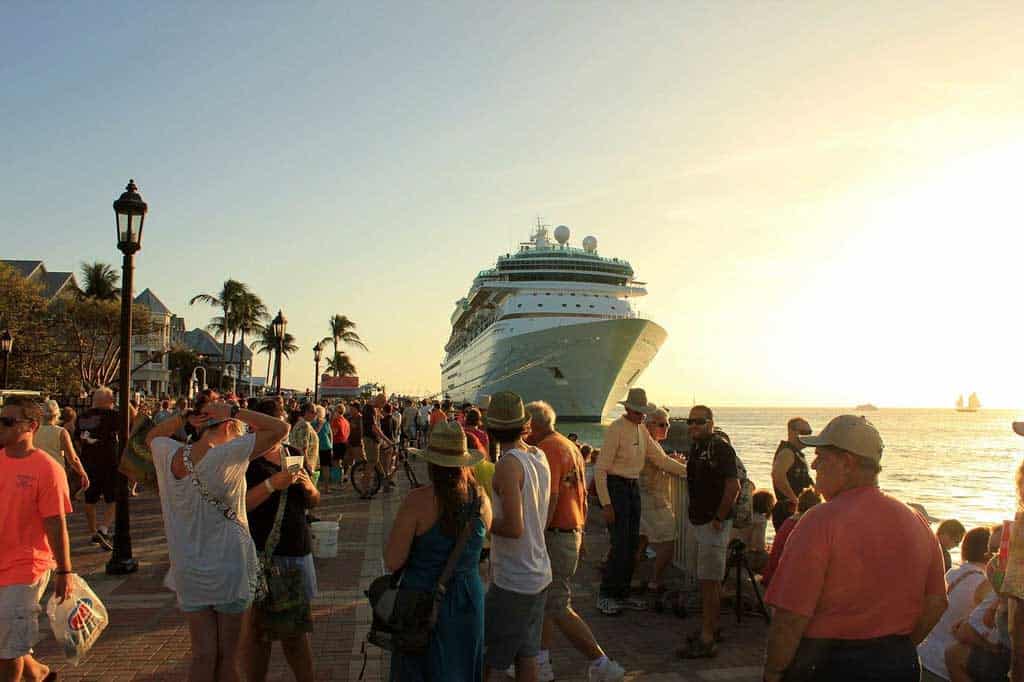 18) Find Treasure at the Mel Fisher Maritime Heritage Museum
Sure, like many people, as a child you might have wanted to be a famous treasure hunter.
But chances are somewhere in life you fell off that track and moved on to bigger and better things.
Well, in reality, there's probably nothing much bigger or better than discovering precious gems, gold, and silver in sunken treasure ships that are hundreds of years old.
And that is exactly what Mel Fisher did for nearly his entire life.
Most famous for discovering a $450 million cache of treasure aboard the 1622 wreck of the Atocha, Fisher combined his love for lost treasure with a deep respect for the world's oceans.
The Maritime Heritage Museum features a trove of treasures as well as an active conservation lab in which you can actually see and sometimes touch items recovered from wrecks.
You'll also see a variety of artifacts on display from a handful of wrecks, such as the Henrietta Marie, Santa Margarita and his key discovery, the Atocha.
Cost: Adult $17.50 / Child (6-12) $8.50
Hours: 10am-4pm
Location: 200 Greene Street
READ MORE: Plan your trip to New York City with this 3-day NYC itinerary!
19) Rent Jet Skis
If you're looking for activities in Key West that show you a different side of the island then you may want to consider renting jet skis.
While there are plenty of protected areas in the surrounding waterways, such as mangrove islands, to explore at reduced speeds there are also plenty of open spaces to crank it up to full throttle.
But if playing fast and hard is not your thing, you can use a jet ski to take you to many areas that most people will not see when they visit Key West Florida.
Pack a lunch and head out to any number of smaller islands surrounding Key West.
Or ride around to the northwest part of the island to steal the best view of the sunset from spectators at Mallory Square.
Whether going fast or taking it nice and easy, a jet ski is a fun way to get around Key West, literally!
20) Kayak Through the Mangroves
If you really want to slow things down and step up the outdoor adventure, one of the best activities in Key West is kayaking.
You can rent kayaks at a number of places around the island for as little as a few hours or up to a few days.
You'll find the water very inviting, mostly clear and warm throughout the year. So use the kayak to find your own place to snorkel.
Head to some of the lesser-visited fishing spots in the Florida Keys.
Or take your camera or binoculars and search for wildlife as you paddle in and around the mangroves of Key West Florida.
Any experience you could want in a kayak is yours when exploring Key West. Are you a kayak enthusiast? Check out these great places to kayak in the Florida Keys.
Key West Florida City Guide
Now that you know what to do in Key West, we want to help you make your other plans as well in the Florida Keys. Here are some of the best accommodations and places to eat on the island.
If you are basing yourself in Miami, then you can do a round trip tour to Key West here.
Best Accommodation – Where to Stay in Key West
Key West is a very popular tourist destination in the US and as such accommodation is a bit pricey.
Additionally, as a small island, there are only a limited number of places to stay in on and around the island.
However, if you plan it right you can enjoy your time and not spend a ton on your accommodations.
Summer and Fall are the least popular times to visit Key West because of the hot and humid tropical climate and hurricane season which runs from June through September.
Winter and Spring are Key West's peak seasons, in part due to the temperate weather at that time of year.
Expect accommodation prices to be nearly double (and completely booked) during the busy season than during the offseason.
As such, plan accordingly and book well enough in advance so you can have a great time while visiting Key West Florida!
The Best Hostel in Key West – Not Your Average Hotel
Centrally located in the Historic District of downtown Key West, Not Your Average Hotel offers great accommodation options at a fraction of the cost of hotels in the area.
With three pools, a hot tub, and plenty of lounge space you can relax in the hostel before heading out to Duval Street.
Expect great service and the kind of amenities you'd find in most top-notch hostels around the world.
Best Budget Accommodation for Couples – Douglas House
The Douglas House is an adults-only hotel and great for couples looking for a central and affordable place to stay in Key West Florida.
With a swimming pool and plenty of lush, tropical plants surrounding the hotel you will feel as though you are in paradise.
Step outside the hotel and you are just a few steps away from everything that Key West has to offer within its Historic District.
Best Mid-Range Hotel in Key West – 24 North Hotel
Located a few minutes drive from the Historic District of Key West, the 24 North Hotel offers affordability and value in your stay.
You have access to a pool, restaurant, Starbucks and poolside bar in addition to standard amenities such as WiFi, flatscreen televisions and great views from your room.
To make up for being a few minutes from the heart of Old Town, the hotel offers free shuttle service to Duval Street so you can get to all Key West's attractions easily.
Best Luxury Hotel in Key West – Southernmost House Hotel
The Southernmost House Hotel offers an exquisite stay in the heart of Old Town Key West.
Just feet from the most southern point and landmark, all of Key West's attractions are right outside the hotel.
Fort Zachary Taylor State Park, the Truman White House, the Key West Butterfly and Nature Conservatory, and more are all within a short walk from the hotel.
Inside the hotel enjoy a pool, room service, bar and private beach. Staying here will make leaving to explore Key West Florida quite difficult!
Best Restaurants in Key West Florida
Key West's food is an eclectic mixture of flavors and cultures. With seafood on nearly every menu in town and heavenly key lime pie on every dessert menu, you are sure to find plenty of options to satisfy whatever mood and budget you might be in.
And all around the Key West Historic Seaport, the Historic District, Mallory Square, and other popular areas, there is an abundance of bars and restaurants to choose from.
Budget – Garbo's Grill
Garbo's Grill is an airstream food truck located just a block from the sunset celebration spot.
Offering meals on the lighter side, enjoy either fish or shrimp tacos or Korean BBQ burritos and a tasty glass of sangria or cold draft beer.
Mid-range – Margaritaville
Jimmy Buffet coined Margaritaville in a song with the same name years before it sprung into life as a destination restaurant in Key West.
Now Key West's margaritas are almost famous, for which the restaurant derives its name.
And, no doubt, the tastiest and most sought after item on the menu is the iconic "Cheeseburger in Paradise."
High-End – Latitude's Restaurant
Latitude's Restaurant on Sunset Key, just off the coast of Mallory Square, is luxurious oceanfront dining at its finest.
You have to catch a short boat ride from Key West to enjoy their delicious meals.
But one taste of the key lime pie after your meal, and one look at the view of the Atlantic Ocean, and you'll be making reservations to return.
DISCLAIMER: Some of the links in this article are affiliate links, which means if you book accommodation, tours or buy a product, we will receive a small commission at no extra cost to you. These commissions help us keep creating more free travel content to help people plan their holidays and adventures. We only recommend the best accommodations, tours and products that ourselves or our fantastic editorial team have personally experienced, and regularly review these. Thanks for your support, kind friend!