We had arrived in Sen Monorom, in the Mondulkiri province of Cambodia, with wide eyes and adventure activities in our sights. We had been researching things to do in the area and had come across a multitude of waterfalls, hikes and awesome motorcycle rides to take part in. However there was one thing that intrigued us the more we got closer to Sen Monorom – elephant tours.
We have always opted to not ride elephants due to our own personal beliefs (and scientific research) that shows this can be quite harmful for the creatures and promotes unsustainable tourism. We understand that elephants have been used by trainers, known as mahouts, for thousands of years for war, transportation and agriculture, but this is not our culture. For us as foreigners to ride an elephant, it is more about the 'wow' factor and to get some photos, ignoring any damage to sustainability and harm to the animals. We do not want to take part in any activity that could potentially be irresponsible, but we had heard about some different and unique experiences in Sen Monorom.
Sen Monorom And Its Elephants
The area is famous for its elephant population. There are an estimated 83 captive elephants in Cambodia, and 54 of these are in the Mondulkiri province. There are approximately 260 elephants across the country.
The most famous organisation in Sen Monorom is the Elephant Valley Project, part of the Elephant Livelihood Initiative Environment (E.L.I.E.) company. Started by Jack Highwood in 2005, the EVP has a great reputation for rescuing abused elephants from around the province and bringing them to their sanctuary. They also claim to help benefit the local Bunong communities by providing healthcare and high employment opportunities for the villagers. They don't allow people to ride their elephants, instead only allowing you to view them from afar as they go about their daily business. This sounded exactly like the kind of eco-tourism organisation we wanted to check out. We planned to make the EVP one of our first destinations when we arrived in town.
There are now a number of companies in Sen Monorom all offering similar services, including being able to go on an elephant tour with a local mahout from the indigenous Bunong minority group. We started our on-the-ground research once we got to town, but quickly became jaded with what was (or wasn't) happening between the companies in town.
Competition is fierce, and there is a huge smear campaign between all the restaurants, cafes and tour companies in Sen Monorom. One of the first things we had heard after parking our motorbikes at a coffee shop was how the Elephant Valley Project is destroying the livelihoods of the local ethnic people, rather than supporting them. Rumours of them 'saving' the same elephants since the day they opened were rife. We were even told of the expensive mansion the owner was building up in the mountains, funded by the high cost required to take part in a tour with them. Yet despite all of this we were never provided any concrete proof, outside of a few home made flyers and petitions.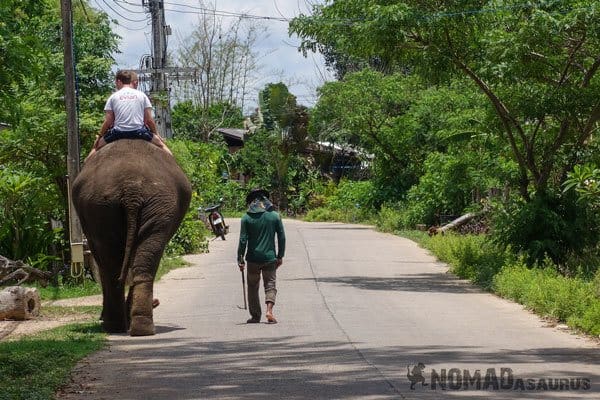 Hearing all this, we then started asking about the other tour companies in town. We heard the exact same stories. It appeared that there was no support offered between anyone. Of course when there is competition, you may expect some unsavoury comments between opposing companies. But this was a part of what seemed to be the entire culture in Sen Monorom. No one wanted to work together. We couldn't walk into a restaurant, bar, cafe or hotel without someone bad-mouthing an elephant tour company. It was leaving strong doubts in our mind.
Deciding we needed to hear the Elephant Valley Project's side of the story, we stopped by their office. A very friendly Australian worker was more than happy to tell us all about their services, history and how the funds are dispersed. We enquired about the negative criticism they were receiving and she took the higher ground – refusing to throw back insults towards any other company. We admired this, and decided to join her for a coffee.
The price they were charging to spend a small amount of time with the elephants was incredibly high in comparison to similar tours in Thailand. However you could receive a small discount if you 'volunteered' there. The volunteer work involved farming and cutting down plants – actually spending less time with the elephants than a full-paid tour. She explained how the costs were divided, yet in our own minds it didn't add up – especially for a non-profit organisation. We don't mind paying more for a worthwhile enterprise, especially if it is a sustainable project, yet something wasn't quite right. We left feeling better about the company, but still not entirely convinced.
The controversy kept coming for the rest of our time in Sen Monorom. There was no way we could confirm or deny any of the accusations of the lack of support to the indigenous Bunong people, or how sustainable any of the other organisations were, such as the Mondulkiri Project.
We spent our last two days checking out waterfalls and riding our motorcycles around, contemplating who to support. In the end we decided to not choose anyone. As much as we would have loved to spend some time with the elephants in their natural, yet somehow artificial environment, we couldn't feel comfortable with who we would give our money too. Obviously some good work is being done by most of the companies involved in elephant tours in Sen Monorom, but how much irresponsible action really takes place? We didn't want to fund a company where we couldn't be sure of how ethical their intentions are.
Leaving Sen Monorom we can't accurately confirm any of the negative and positive comments thrown around about the Elephant Valley Project, the Mondulkiri Project, or with any of the smaller tour companies in town. But we felt more comfortable not taking part in such a controversial and possibly unsustainable activity.
Update – Our good friends Jane and Stephen recently visited Sen Monorom and wrote about their own personal experiences with the elephant sanctuaries there. Read their article to get some new information.
[box type="info" size="large" style="rounded" border="full"]Have you done an elephant tour in Sen Monorom, or anywhere else? What are your opinions on it?[/box]