It might just be the best adventure hotspot in Czech Republic – Here are the best things to do in Jeseniky Mountains.
We fell in love with Czech Republic after our first two weeks travelling around the country.
The delicious food, friendly people, spectacular scenery and, of course, the best beer in the world helped make the place one of our favourites in Europe.
Our time was spent hanging out in Prague, wandering the fairy tale city of Cesky Krumlov and hiking in Bohemian Switzerland, and we couldn't be happier.
Here's our video of our time in Cesky Krumlov
When we were invited back to Czech Republic to attend the Colours of Ostrava music festival, and explore all the best things to do in Ostrava, we jumped at the opportunity!
Learning about the history of coal mining in Ostrava was interesting, and Colours was one of the best music festivals we had ever attended. But we couldn't wait for the second part of our trip!
Don't miss our epic article on the absolute best things to do in Prague!
The Best Things to Do in Jeseniky Mountains
The Jeseniky Mountains are known for being the adventure capital of the Czech Republic.
With mountain biking, zip lines, skiing, snowboarding, hiking, rock climbing, horse riding and plenty more, there is no shortage of adventurous things to do in Jeseniky Mountains.
But besides the heart-pumping activities, there are also a string of cultural excursions, great food and drinks and relaxing opportunities that make this place perfect for everybody!
We only spent 3 days exploring the region, and in our opinion, we could have easily spent a month here!
While touring the area with the Jeseniky Tourism Board we got a chance to experience some of the most popular and unique attractions available. We highly recommend getting in touch with them (and especially Andrea the director) to help out with logistics if you don't have your own car for exploring.
Make no mistake, a trip to the Czech Republic is not complete without a visit to its most epic location.
So here is our list of what to do in the Jeseniky Mountains!
Experience the Best Mountain Biking in Czech Republic
With impressive mountain ranges and glorious pine forests, it's no wonder that being out in nature is one of the best things to do in the Jeseniky Mountains.
Seeing as we have a bit of an addiction to adrenaline, we were very excited to hear that the Jeseniky Mountains are home to the best mountain biking in Czech Republic!
We used to be heavily into mountain biking in Canada and Australia, and are desperate to get back in the saddle at every chance we get.
The Rychleby Trails are the most famous in the Černá Voda area, and have a full information centre, bike rental facility, cafe, jump track and campground on site.
Alesha did some riding around the beautiful countryside, while I pedalled 6km uphill with our guide and hit up the most iconic trail they have – "Superflow".
The trail was perfectly built with jumps, drops, berms and bridges. Pumping and pedalling at high speed through the pine trees was easily one of the funnest experiences I've had in Europe.
While many of the trails are designed for experienced mountain bikers they also have some tracks for beginners. There is even a mountain biking school to help give you the skills and confidence to work your way up to being a pro!
Marvel at the Dlouhé Stráně Hydroelectric Plant
The Dlouhé Stráně hydroelectric power plant is a true engineering masterpiece, and something that should not be missed when looking for things to do in Jesenik.
1350m above sea level, on the top of the Mravenečník Hill, the huge upper reservoir was constructed and really needs to be seen to be believed.
Water flows down through pipes into the power station during the day and charges the turbines. At night, when power consumption is lower, water is pumped back up into the reservoir.
Tourists can tour through sections of the Dlouhé Stráně hydroelectric power plant with a guide, and there is a video to show how the modern marvel was built (it is only in Czech language, but the images and video are nice).
Well worth stopping off at if you want to know what to do in Jeseniky Mountains.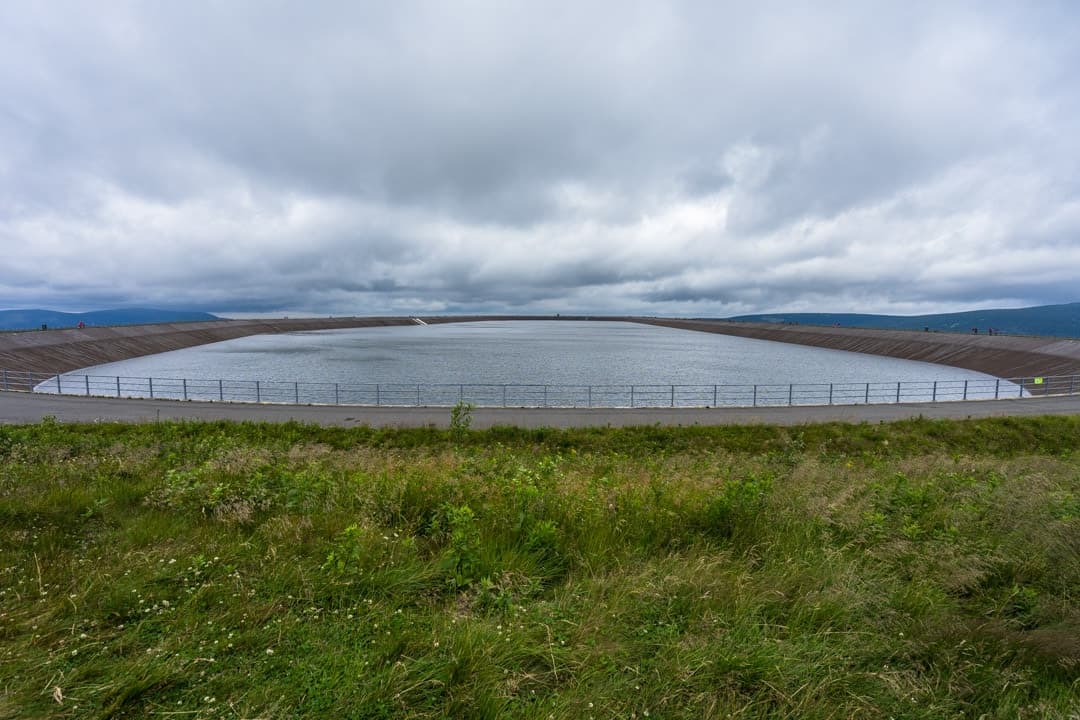 Ride A Scooter Down Kouty Resort
Once you've made it to the top of the mountain at Dlouhé Stráně, the best way to get down is to rent a scooter and ride!
Kouty Mountain Resort, which is where Dlouhé Stráně is actually located, has tonnes of incredible adrenalin activities year-round. In winter you can go skiing and snowboarding, and in summer there is mountain biking, hiking, frisbee golf, and downhill scooter riding.
At first it seems a little sketchy to be hitting high speeds on these two-wheeled contraptions, but trust us – it is a lot of fun, and totally safe as long as you take precautions (like use the brakes)!
It's also a very scenic way to get down the mountain, as you watch the scenery change from alpine to pine forests.
Go Hiking
You can't come all the way to the Jeseniky Mountains and not spend at least a few hours hiking in the wonderful countryside.
There are literally hundreds of hiking trails darting off around the place, and many of them are very well marked.
None of it is very strenuous, so hiking in Jeseniky Mountains is a perfect activity for people of all ages and skills.
We set off from the Kraličák ski resort and wandered through the trees for a few hours, but you can find hiking tracks all over.
Pick up a map from the tourism office.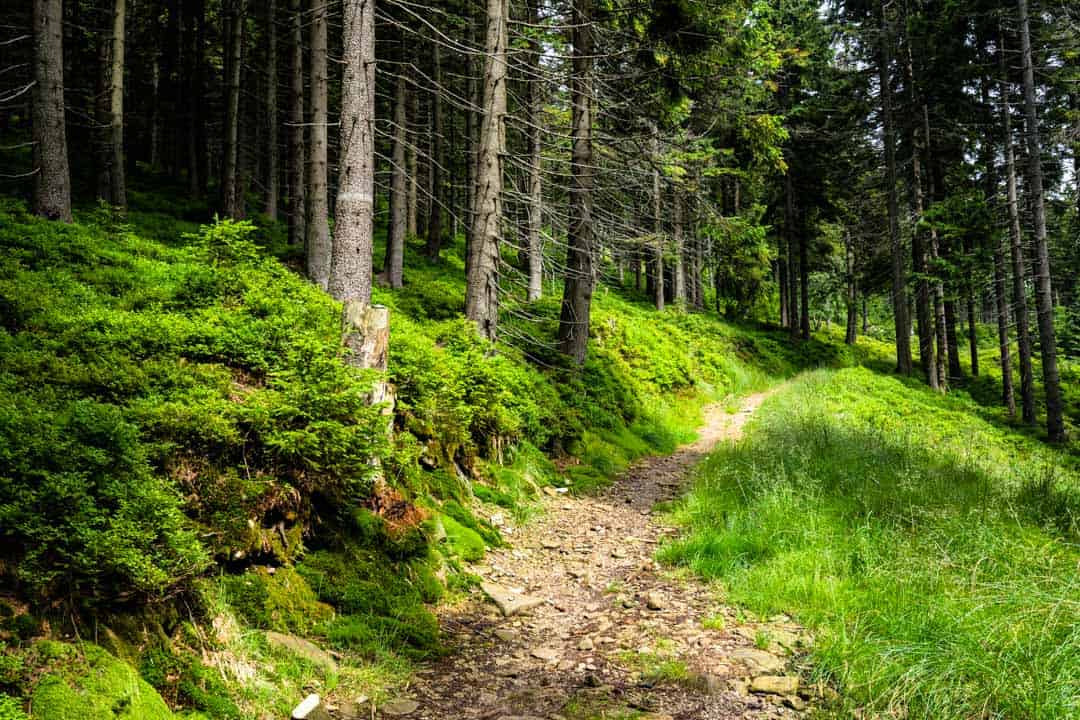 Visit The Famous Velké Losiny Paper Mill
One of the most popular things to do in Jeseniky Mountains is explore the world-famous Velké Losiny paper mill.
In this beautiful heritage building, paper has been handmade for centuries using traditional processes. It is in fact one of the oldest paper mills of its kind still operating in Europe!
The entire place has been turned into a museum to showcase some of the finest examples of paper made in the area (check out the huge papier mâché dragon!) and all the awards they have won from around the world.
The finest paper made in the facility is still used by heads of state and for documents of national importance. Very cool!
Grab an audio guide and wander around to get an amazing insight into how paper is made there.
Drink Absinth at the Bairnsfather Distillery
That's right – absinth.
One of the absolute best absinth distilleries, not just in Czech Republic but in the entire world, is located right in the Jeseniky Mountains.
Absinth has been used for years as a creative tool for artists, writers and designers, and one man has been developing a strong reputation for his high quality liquor.
Kyle Bairnsfather from the United States was the first person to sell absinth on the internet and has a rich history of making the product.
When the original founder of the distillery Martin Sebor sold 50% of his company to Bairnsfather, Kyle saw an opportunity to stay in the Jeseniky Mountains that he loved so much and focus on a quality product.
Over time Bairnsfather Absinth has attracted attention from the likes of the Czech president and Johnny Depp.
We loved exploring his property learning about the different techniques used in making good, high-quality absinth. And of course we loved tasting some of his finest liquor as well!
Kyle Bairnsfather doesn't offer scheduled tours of his distillery, but if you are interested head to his website and drop him an email.
Eat Delicious Food
Czech cuisine is delicious. We're just going to put that out there for the world to know.
Known for being quite "heart"y, Czech food often revolves around delectable meat. Big slabs of beef, veal, chicken, pork and lamb are a staple, and usually come dripping in tasty sauce or gravy.
Throw in a side of vegetables and mashed potatoes and you've found a winning combination!
Almost every meal we ate in Czech Republic had us wanting to fall into a food coma due to the size and deliciousness of it all (washed down with plenty of world-class beer of course).
Luckily in the Jeseniky Mountains, there are plenty of activities to help you work the meal off.
Our favourite restaurants were Chata Paprsek near Staré Město and Pension Kovárna in Horní Lipová.
Have a Beer in the Holba Brewery
No trip to Czech Republic is complete without sampling their famous beer, arguably the best in the world.
One particular drop in the Jeseniky Mountains is favourite among locals, and quickly wins fans for all who travel to the region.
The Holba Brewery is situated in Hanušovice and was founded in 1874. The beer's motto is Ryzí pivo z hor, which translates as "Pure beer from mountains". With that kind of slogan you know it's going to be good!
If you can't get enough of drinking the beer in all of the restaurants in pubs you can try to book in for a brewery tour like we did!
Like the Bairnsfather Absinth Distillery, the Holba Brewery doesn't hold regular and scheduled tours. But you can always get in touch to see if they can squeeze one in for you, or drop the local tourism board an email.
Zip Down a Mountain Roller Coaster
Imagine sitting on a small plastic chair and flying down two rail tracks at breakneck speeds – welcome to the bobsled, or mountain roller coaster, in Dolní Morava!
This has to be one of the most exciting things to do in Jeseniky Mountains: An adrenaline-pumping activity that is accessible to people of all ages and skills!
Zipping down the mountain using a lever to brake, the two tracks of the Dolní Morava bobsled rises up to 6m above the ground and loop around 360 degrees in certain sections.
How fast are you willing to push the limits of the bobsled?
The cost is only 80CZK per adult, or 60CZK for kids up to the age of 12.
Climb the Controversial Sky Walk
Also located in the Dolní Morava resort area is a development that has split local opinions in two.
The Sky Walk, a twisting and soaring coaster-like walkway on top of the mountain, offers impeccable views over the Jeseniky region.
When it was first approved locals were very vocal about its construction. Some loved the idea, others hated the obvious contrast against the natural beauty of the area.
Still that hasn't stopped thousands of people climbing to the top to appreciate the vistas.
If you're in the area make sure you climb to the top and judge for yourself.
The price is 290CZK (190 for children) including the chairlift ride both ways, or 190CZK (120 for children) for just the Sky Walk.
Fly Through a High Ropes Course
Dolní Morava just keeps on delivering with the action-packed activities!
If you've ever been on a school camp you may have had a go at a high ropes course. Basically this is just a collection of obstacles suspended in the air. Think tightrope walking, ziplines and swings.
The goal is simple: to get to the end.
At Dolní Morava Resort they have the epic Adrenaline Park, including a range of high ropes courses ranging in difficulty from very easy to extremely hard. This is perfect for kids (and adults) of all ages.
We tackled the Red Line, which is just below the hardest. It was a lot of fun, and we have to admit we had a blast flying through the trees like monkeys.
While you're at it try the Giant Swing! This is exactly what it sounds like – a 13m high swing!
Strap on a harness, get hooked up to the winch and be dragged to the dropping platform. Enjoy the experience of a short free fall and get that heart pumping!
Go Fishing and Catch Your Own Dinner
There's very few things more relaxing than sitting by the edge of a lake, sipping on a cold beer and throwing a line in trying to catch some dinner
Just up the road from the Králičák Ski Resort is a beautiful little lake that is filled with trout.
On our way back from a big day of exploring the best things to do in Jeseniky Mountains we stopped by and met a local guide for a spot of fishing.
To be honest we didn't have high hopes about catching anything at all. But sure enough after only a few minutes we pulled up our first fish, and over the next hour or so we reeled in a whole lot more (six trout of legal size in total).
Afterwards we took our fish back to our accommodation at Penzion Králičák and had the chef prepare a delicious, fresh dinner. Amazing!
Our fishing guide was hilarious and helped out with rigging the gear and giving some basic pointers.
If you are an experienced fisherman then get in touch with the Jeseniky Tourism Board for some more suitable tips.
Try to Find the Forest Bar
If you are looking for what to do in Jeseniky Mountains, but are more interested in a local atmosphere and something unique, then we urge you to try and find the Forest Bar!
Hidden up in the Rychlebské Mountains above the Horni Lipova village, the Forest Bar is a truly unique and special spot.
Open 24 hours a day, 365 days a year, and run by an enthusiastic and dedicated local, the Forest Bar in Jeseniky Mountains is a hand-built establishment with a range of drinks on offer.
Cold water springs flow into barrels where beers, soft drinks and energy drinks are stored.
But what makes this place so unique is that it is completely operated on an honesty system.
You simply grab a drink from a barrel and leave the correct money in a box (there is a menu with drink prices to reference). There is no bartender or manager keeping an eye on things, so it is up to the patrons to stick to the rules.
The owner replenishes the stock throughout the day and loves to have a chat with the hikers who hang out at his bar.
It is definitely worth stopping by the Forest Bar in Jeseniky Mountains during your time in the area!
Go Horse Riding In The Hills
After all the horse riding in Mongolia we did we think it's such a beautiful way of exploring the countryside in a new destination.
If you are also a big fan of riding horses then definitely consider it as one of your things to do in Jeseniky Mountains.
Whether you want to go out for 1 hour or 1 week the amazing tour operators in the area can help plan an epic itinerary for you.
We only spent 90 minutes on the horses but managed to see a sensational part of the Czech countryside.
Check out the local tourism board to book your horse riding adventure.
Relax in the Thermal Spas
Deep beneath the surface of the Jeseniky Mountains region are a collection of thermal springs.
For centuries people have studied the medicinal benefits of these hot waters, and eventually found a way to make the most of them – thermal spas.
They say a trip to Jeseniky Mountains is not complete until you have bathed in their thermal waters, and we have to agree.
Even though Alesha and I aren't the biggest spa type of people, we did enjoy relaxing in the soothing waters after a big day of exploring.
The most popular thermal spas in Jeseniky Mountains are the Priessnitz Spas (which also have beautiful gardens and surroundings) and Therme Losiny.
Where to Stay in Jeseniky Mountains
There are hundreds of options when choosing the best hotels in Jeseniky Mountains, and luckily most of them are of a high standard and reasonably priced!
We were lucky and had the tourism board help us choose where to stay in Jeseniky Mountains, and as a result we got to experience some of the best accommodation in the area!
Penzion Kraličák
Penzion Kraličák is quite a sight, and not just because it is the highest accommodation in the area!
The intriguing architectural design of the guesthouse really stands out from the crowd, and is another place in the Jeseniky Mountains that divides opinions of the locals. But for us – we loved it!
Inside the rooms are spacious and comfortable, and the staff are very friendly. Definitely try the food in the restaurant! It is divine!
There is free wifi throughout the property.
The location is also brilliant for those who want to check out the Kraličák Ski Resort summer hiking options, or cross-country skiing and downhill in the winter.
Book your accommodation at Penzion Kraličák, book direct through the hotel's website.
Kouty Apartments
We spent one night in Kouty Apartments, which is perfectly situated at the base of the Kouty Ski Resort, home to the longest ski slope in Moravia!
Our 1 bedroom apartment had all the amenities you would need for both short and long stays and was very comfortable.
Book your accommodation at Kouty Apartments on Booking.com
Terezka Chalet
On the main road at the base of the Dolní Morava Resort is a quaint and comfortable accommodation called Terezka Chalet.
More set up for couples and families, this apartment-style hotel is a great place to stay if you want to tackle all the awesome adventure activities that Dolní Morava has to offer!
Disclaimer: We were invited to explore the Jeseniky Mountains with the support of Visit Jeseniky and their partners. All thoughts, opinions and high levels of adrenaline experienced are of course our own.