Don't spend all your time in the city! Enjoy the best day trips from Toronto in our ultimate travel guide!
The largest of Canada's cities sandwiched between the provinces of Quebec and Manitoba is Toronto.
Toronto is located in the province of Ontario and sees million, if not more, visitors a year from all around the world.
While there are an insane amount of things to do in Toronto if you've already been to the city once, you may be wanting to see and experience new sights.
So why not take a day trip from Toronto instead?
Hit the slopes at Blue Mountain and explore the Collingwood area. Adventure around Algonquin Provincial Park.
Or take in a day of beautiful scenery and wine tasting. There are so many amazing options.
As a hub for international flights, cross country train and coach lines, Toronto is a convenient spot for day trips as there is lots of transport running in and out of the city.
You'll never be far from a fun adventure, with lots of cool attractions just a short car ride away as well.
READ MORE: Check out my guide to the best things to do in Toronto!
The 9 Best Day Trips from Toronto
To help you decide where to head for the day, here is a list of the 9 best day trips from Toronto.
From the famous Niagara Falls, to Blue Mountain Resort, to Algonquin Provincial Park, Caledon and the Grand River, cottage country, and more, there are so many amazing day trip ideas in this corner of Canada.
1) Niagara Falls
One of the most iconic day trips from Toronto, and maybe even one of the most iconic places in Canada, is Niagara Falls.
Located on the Niagara River, a series of 3 falls make up the infamous Niagara Falls which also spans across the border into New York.
Not only are the falls incredibly beautiful but the Niagara area sees millions of tourists every year from Toronto and around the country.
Niagara Falls is less than a 2.5-hour drive from Toronto by car, or you can hop the train or bus from Union Station for this day trip from Toronto.
What to Do in Niagara Falls
A classic and must-do activity when you visit Niagara Falls is to get out on the boat and go right up to the falls on the river.
If you are visiting Niagara Falls without a car and fancy a trip organized for you, book this Toronto day tour that will pick you up and drop you back off.
This is an awesome adventure going out on any of the multiple boats, including Maiden of the Mist which will get you up close and personal with the rushing falls.
For a different, and maybe drier, view of Niagara Falls head out for a ride on the Hornblower Funicular.
Built to take passengers down to the boat dock, if you aren't riding the Hornblower you can still take a ride in the cable car which will take you to the Riverside Patio.
Take in the spectacular view all with an ice-cold pint and a great lunch.
READ MORE: Check out our brand new guide to all the best things to do in Niagara Falls after our most recent visit.
Or there is the Rainbow Bridge which boasts the best views of the bridge off the water.
This bridge is also the border between Canada and the United States and if you have your passport you can actually walk across onto the American side of the falls too.
A visit to Niagara Falls is not complete without visiting Clifton Hill, known as 'The Street of Fun at The Falls.'
While this is a whimsical and entertainment hub that appeals to kids, there is so much more for the big kids to take advantage of too.
Wander through the streets taking in the bright lights and fun buildings.
There's a go-kart track, a dinosaur-themed mini-golf course, Madame Tussauds wax museum and the very cool Ripley's Believe It or Not odditorium.
Plus this is where the Niagara SkyWheel is, which is worth a ride if you love to see a place from up high!
For a bit of outdoor fun head to the Botanical Gardens. The gardens also feature a butterfly conservatory.
Stroll through the stunning gardens admiring all sorts of local and tropical flora and definitely keep your eyes peeled for butterflies.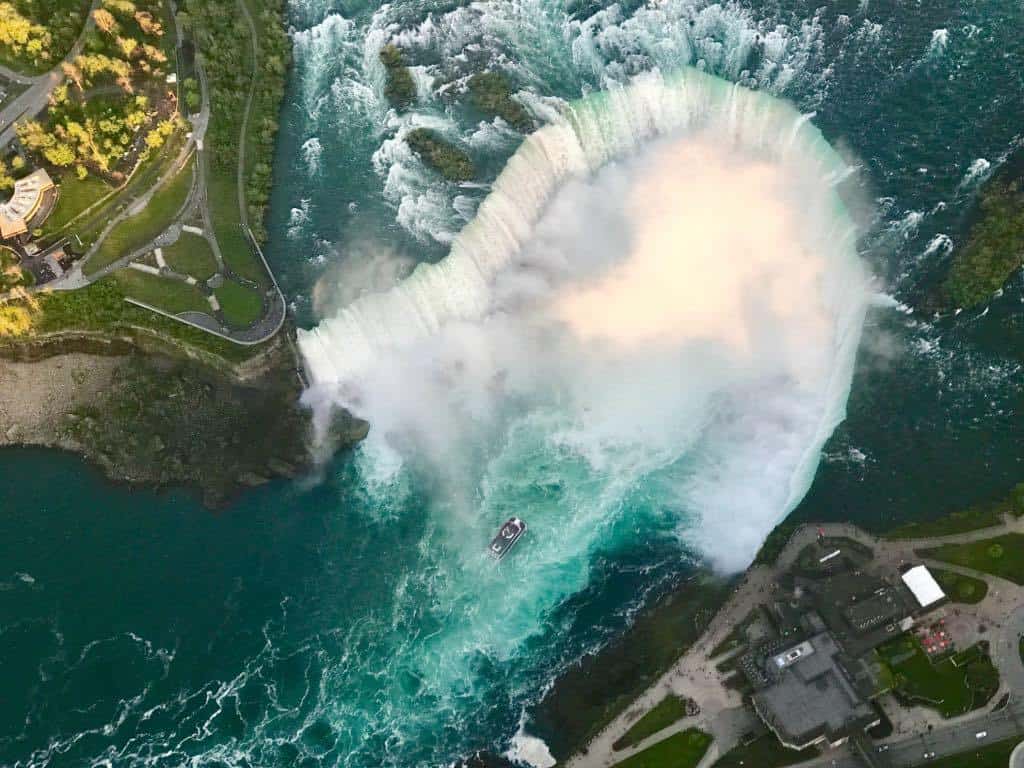 2) Toronto Islands
A chain of 15 Islands in Lake Ontario makes up the beautiful Toronto Islands, another one of the area's best day trips.
Located just offshore from downtown Toronto this might be the quickest spot to get to on a Toronto day trip.
Accessible by the Toronto Ferry system, visitors can hop on a boat and watch the CN tower get smaller as they get closer to the islands.
The Islands are a hot spot in the summer for swimming and kayaking as well as just enjoying the sunshine.
And don't worry if you're visiting during the winter months because there are tons of skating opportunities and cross country ski trails to check out too!
What to Do on the Toronto Islands
Being on an island means your're surrounded by water, of course. So what better what to enjoy it than by getting out for a paddle on Lake Ontario.
There are kayak and canoe rentals that you can take advantage of either on the island or from the city centre.
This tour from Canoe Toronto takes you out paddling in a canoe at sunset.
Explore the islands on the water and get a whole new view of the city from across the river. Or maybe test out the stand-up paddleboards for rent, or a SUP yoga class too.
For something equally as relaxing opt for a bike rental to cruise around the islands.
As car-free islands, you won't have to dodge any other vehicles on the road which is such a bonus.
When summer ends the Northern Hemisphere slips into its coldest season, that doesn't mean you can't visit the islands.
The lagoons around the Toronto islands freeze up nicely making them perfect for skating. Just keep an eye out for signs stating if the ice is thick enough for skating.
Or strap skis to your feet and take to the dozens of cross country ski trails on the islands.
You'll cruise through the forests to witness the most beautiful snow globe view back towards the city.
Grab your camera and head out to the island just before sunset for the most amazing views. As the sun sets over the city the buildings all seem to twinkle and the sky lights up beautifully.
Photography enthusiasts will love a visit to the Gibraltar Point lighthouse at Hanlan Point.
The Gibraltar Point Lighthouse is one of Toronto's oldest buildings and is possibly haunted by the first lighthouse keeper who lived here.
Plus the surrounding area at Hanlan Point is lovely too, making it one of our top Toronto day trips.
READ MORE: Head across the border and check out these awesome things to do in Montreal!
3) Blue Mountain
One of the best day trips from Toronto for those looking to escape the city is definitely Blue Mountain.
This alpine ski resort just north of Collingwood was established in 1941 and has been in operation ever since.
Visitors can drive up or take the shuttle offered by Blue Mountain Village for a day on the slopes.
There is, of course, amazing skiing and snowboarding at Blue Mountain but also bike trails and beautiful day spas to take advantage of.
And if you happen to visit in Summer you can enjoy the hiking trails, mountain biking trails, scenic caves and even a gondola ride with spectacular views.
What to Do in Blue Mountain
First things first, get yourself on the slopes! No matter if you're a professional double black diamond skier or a first-time snowboarder, there is a run for everyone up at Blue Mountain.
For those just starting out, you can sign up for lessons and get fitted for all the gear you'll need to get out on the hill.
For avid skiers/snowboarders, there are 43 runs to choose from all over the hill. And don't forget to check in for some apres-ski drinks in the chalet after your snow session.
If you aren't up for skiing/boarding why not check out the snowshoe trails that surround the mountain. Want a bit more activity than that, there are also hike 'n tube.
Hit the trails on your way up, and sit in an inflatable tube and slide your way back down, what could be more fun?
Or maybe you'd love an evening of skating, then head to Woodview rink for amazing views and a lap or two around the rink.
Should you not care for winter sports, or you just managed to fit your trip on the shoulder/summer season, there is still tons to do at Blue Mountain.
Hop on the Ridge Runner Mountain Coaster, taking riders down the 1,085-meter track all the way down the mountain at up to 40m/hr.
The Timber Challenge is an awesome rope and treetop challenge for anyone looking to get a little competitive and take in the views.
The runs normally covered in the snow make for great mountain biking and hiking trails which are open all throughout summer spring and fall too.
And if you just want to take in the views without the sweat, opt for a ride on Blue Mountain's gondola.
Those who hike up from the bottom, you need an Explorer Pass to take the gondola down. The pass is around $25. Depending on the time of year.
The Blue Mountain Village also has lots of nice cafes, pubs, and restaurants for grabbing some food after a fun day trip of exploring.
The best way to get around is to rent a car and explore on your own! We recommend Rental Cars, which has the largest range of vehicles for the best value on the market.
4) Caledon
Less than an hour's drive from Toronto is the small town of Caledon, another beautiful day trip option.
While this town is still quite rural there are tons to be discovered here and the perfect quick day trip from Toronto if you're looking for somewhere close.
Opt outside by visiting several different conservation areas and National Parks.
Stroll around the charming town centre stopping in at cute shops along the way.
And Learn about Ontario's rising craft cider scene by visiting a local cidery.
What to Do in Caledon
Craft beer is all the rage, but did you know that craft cider is gaining in popularity too? Want to find out more, check out Spirit Tree Cidery Estate.
This community centred cidery is a great spot to take in a cider tasting, grab some treat from their on-site bakery or sit in for lunch.
The orchards that surround the cidery are beautiful and a great place for a wander too.
A can't miss stop near Caledon are The Cheltenham Badlands.
One of the most beautiful geological sites was actually closed in 2015 and reopened in late 2019 after the area was being mistreated by visitors.
Now there is a new viewing platform that looks over the incredible red clay hills and a boardwalk surrounding the area so visitors can get a good look but still keep the site intact.
Another gorgeous spot for a nice hike is the Belfountain Conservation Area.
The suspension bridge here brings the most beautiful views, not to mention the lookout, the flower gardens and some pretty cool hidden caves.
Albion Orchards and Country Market are a great place to spend an afternoon as you stroll through the beautiful orchards.
You'll be able to not only pick your own apples but see trees tapped for maple syrup and get your hands on delicious locally crafted honey too.
The Alton Mills Arts Center is a unique place to find local and handcrafted artwork, all in a resorted old mill.
This community center is a hub for local artists, as well as housing a heritage building on site there are also a few walking/hiking trails that surround the property and are beautiful.
Outdoor enthusiasts who want to extend their day trip even further could also consider going tubing, kayaking, or rafting on the Grand River, which is just 30 minutes from Caledon.
The Grand River is a major river in eastern Canada and is perfect for outdoor adventures. The closest town to Caledon for accessing the Grand River is Grand Valley.
Whether you want to venture to the Grand River or just enjoy town, Caledon is easily one of the best day trips from Toronto!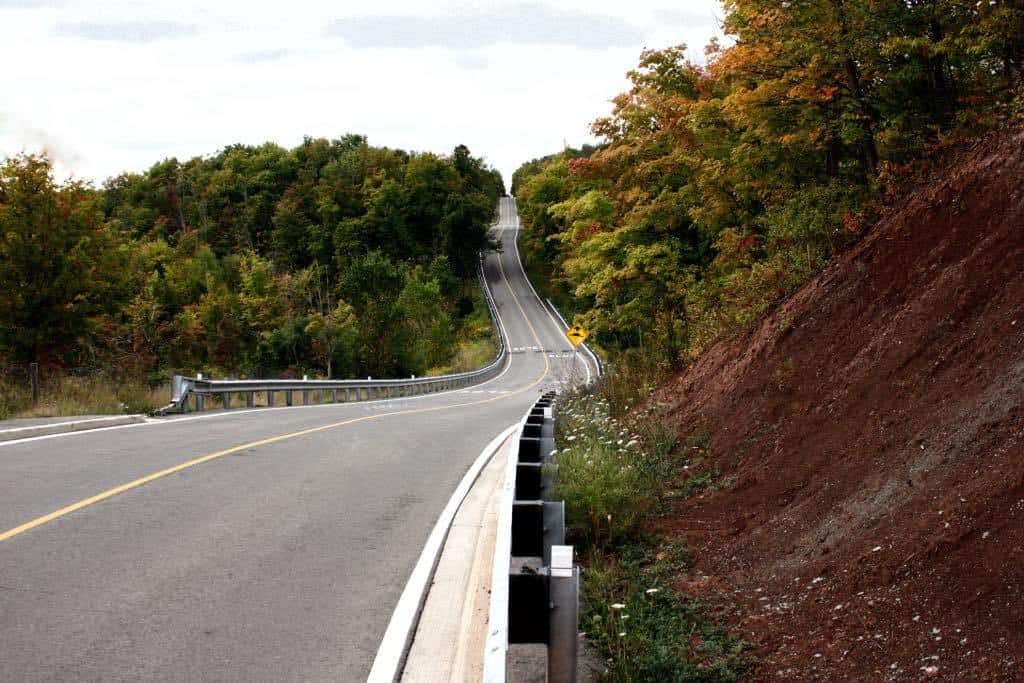 5) Wasaga Beach
Possibly the most popular day trip from Toronto in the summer months for Torontonians is Wasaga Beach.
The town runs along the longest freshwater beach in the world and is just over an hour away from downtown Toronto.
Summer in Canada is such an amazing time of year to visit and Wasaga Beach really has everything you could want for a summer day trip from Toronto.
There is the beach and the boardwalk with all the shops, restaurants and bars you could hope for.
But Wasaga Beach is also a Provincial Park with lovely walking trails to be enjoyed too.
There are rivers to be paddled, mini-golf courses to be visited and even scenic caves to be discovered.
What to Do in Wasaga Beach
Pack your swimsuits, grab your flip-flops, pack a picnic and head down to the beach.
The most iconic part of Wasaga is definitely the sandy beach and no trip would be complete without spending a few hours on it.
The beach stretches on for miles and so there's tons of space for a game of frisbee, a little privacy and even kite flying, which is really fun on a windy day.
After your beach session head to the Boardwalk and Main Street Market.
There's karaoke on Tuesday evenings, open-air movies on Wednesdays and just a cool and relaxed place to hang out after a day on the beach.
Head out to the Nottawasaga River for a day out on the water.
Visitors can rent canoes, kayaks and even stand up paddleboards here and it's a great way to explore this part of Wasaga.
There are huge series of wetlands here to explore and you'll get some pretty fantastic views from the water too.
The Nancy Island Historic site is a great place to learn a little Canadian history. This national historic site also has a great 2km walk through the woodlands where you'll be able to spot some beautiful birds.
For more information on the park visit their website.
For those adrenaline junkies out there you'll be happy to find the Wasaga 500 go-karting track.
Take to this 1-mile long high-speed race track and race your friends at speeds up to 50km/hour.
If you need something even more adrenaline-boosting, book in for a skydive with Skydive Wasaga Beach.
Head up into the clouds and descend over the beautiful sandy beaches of Wasaga for a one of a kind skydiving experience with an experienced crew of divers perfect for any thrill seeker.
If you're visiting in the winter, bundle up and make for the countless snowshoe or cross country ski trails available throughout the park.
Or book in on a snowmobile tour with fantastic guides to show you the winter wonderland that is Wasaga.
6) Muskoka
If you picture a Canadian postcard that doesn't have mountains on it, then surely you picture a gorgeous lake and some fantastic looking deck chairs.
Chances are the lake on that postcard is in Muskoka.
A 2-hour drive from Toronto and the most picturesque lake country you can imagine.
These types of places in Canada are known as "cottage country". Locals have summer cottages here and even celebrities have been known to buy homes here to escape the Hollywood life.
Enjoy canoe and kayak adventures, a downtown area with a beautiful boardwalk and so many awesome outdoor activities for nature lovers to enjoy.
While there is a bus service that goes from Toronto to Gravenhurst, the largest town, the trip takes a little longer than you'd like for a day trip, so having a car is a huge plus for this Toronto day trip.
What to Do in Muskoka
Gravenhurst is a the bottom of Lake Muskoka and is the most charming lakeside town.
One of the must do's when visiting this part of Muskoka is to head off on a steamship. These boat trips will take you cruising around the lake and give you the best views.
Also worth a visit is the Discovery Center to learn more about the history of the region and the lakes.
Wander along the lovely downtown boardwalk and stop in for lunch or a pint at Sawdust City Brewing with their gorgeous outdoor patio.
Of course, getting out onto the lakes is a must in Muskoka too. Rent a canoe in town and head off to explore Ragged Falls, a 4-hour return journey to the gorgeous falls.
Or just paddle out on the Muskoka River for an afternoon of silence and beautiful views or do some fishing.
If you want a beach day, head to Clevelands House Waterpark for some sunshine and a huge inflatable watercourse to enjoy.
Or set off for White's Falls and do some swimming here. The falls have created a natural waterslide here which makes for the perfect summer afternoon of fun.
Muskoka is known as cottage country so why not take a stroll around and admire the beautiful homes before making for the trails.
The Huckleberry Rock Lookout trail follows a rocky and wooded trail about 3 km before reaching the viewpoint which will blow you away.
The Oxtongue Rapids trail takes hikers along some gorgeous white water rapids and through the beautiful forest that runs parallel to the river.
The trails in the area are perfect for spotting wildlife too.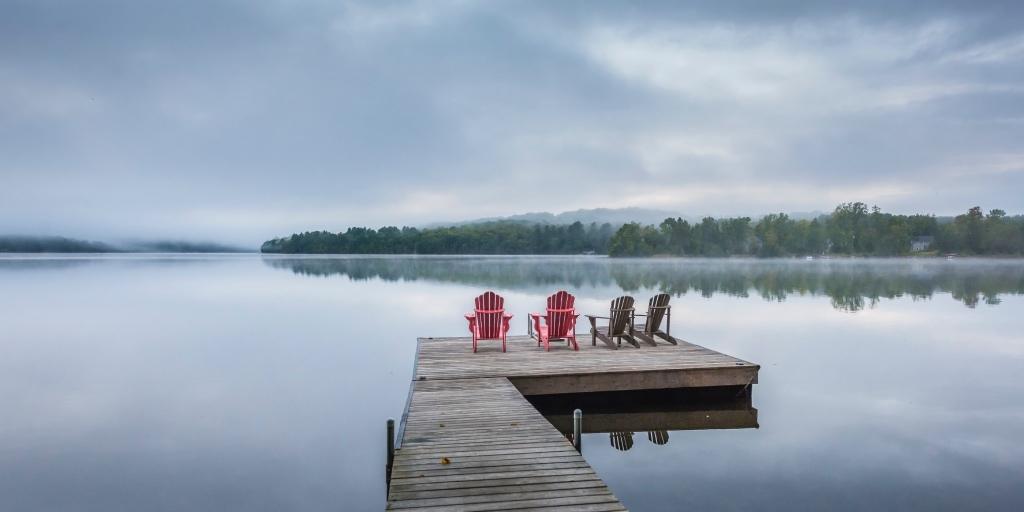 7) Niagara on the Lake
Less than 30 minutes away from the iconic Niagara Falls is the often overlooked Niagara on the Lake.
This picturesque town is well worth the day trip from Toronto, especially if you're already planning to go to Niagara Falls.
While it's a relatively small town, there is so much to be enjoyed in this corner of the Niagara Region.
One of the main reasons people tend to visit is because Niagara on the lake is also known as wine country too.
Take a wine tour, or three, visit the lovely independent shops, take a ghost tour or just stroll through the quaint streets admiring the beautiful homes.
What to Do in Niagara on the Lake
With over 20 wineries on offer, and some that have been around for several decades the region is a hot spot for wine lovers.
There are Toronto day tours to book that will take guests to several wineries in the region with an additional and beautiful lunch stop too.
Alternatively, you can rent bikes in town and do a self-guided tour of Niagara on the Lake without a guide.
Be sure to stop into Two Sisters Winery, Jackson Triggs Estate and Peller Estates just to name a few. And if you want to try something truly Canadian head to Inniskillin Wines to try the infamous ice wine.
The historic centre of Niagara on the Lake is perfect for those wanting to get a little taste of history.
Be sure to charge the camera because this 18th century, British inspired design of the houses and buildings is absolutely beautiful.
Wander down to Queens Royal Park at the lakeside for lovely views and the perfect place for a picnic after hitting up the pop up markets.
Head deeper into the town and you'll find the Niagara Apothecary. Stepping through the doors here will have you feeling like you've stepped back in time.
Next to the wine and scenic views Niagara on the Lake is best known for the Shaw Festival. This is a non-profit theatre festival that takes place every year from April until October.
Offering up nearly a dozen plays across several different stages in town. Found in 1962 and putting on plays to cater to everyone's tastes and tons of other theatre-related activities to take part in during the festival too.
Or maybe join onto a Ghost Tour at Fort George. Known as Canada's most haunted town because of the war that was fought in the area, there are tons of spooky history to be enjoyed.
Niagara Falls and Niagara on the Lake are two absolute gems of southern Ontario and should not be missed!
8) Algonquin Provincial Park
This is the perfect Toronto day trip for nature lovers looking to escape into the great outdoors.
Algonquin Provincial Park is one of the largest parks in southern Ontario and is home to over 2,400 lakes. The entire provincial park distance itself covers over 7,650 square kilometres.
Easily accessible by car and for those without wheels there is the Algonquin Provincial Park bus which runs through the year (except for winter). Details can be found here.
There is an arts centre, an outdoor theatre, a logging museum and countless mountain biking trails, hiking trails, lakes, streams, and rivers to explore in the provincial park.
What to Do in Algonquin Provincial Park
The Algonquin visitors centre will most likely be the first stop for many taking this one day trip from Toronto.
Not only will you be able to get all the information you need to have a fantastic day out, but there are also great exhibits to see and a gorgeous lookout.
To see some incredible art from local artists and crafters pop into the Algonquin Art centre too before heading on your way to the trails.
Hiking is one of the obvious draws to this provincial park and there are tons of trails to choose from. Nature lovers will be in heaven.
Centennial Ridges is a 10km trail with the most spectacular views out over the forest, especially in Autumn with all the vibrant colours.
If you're looking for something with a lower level of difficulty make way for Beaver Pond trail which is only 2km long.
The trail leads past 2 ponds that are inhabited by beavers, and the perfect spot to see wildlife, including moose.
Hardwood Lookout is anything but hard and the views from the top are simply beautiful.
There are dozens of trails here and information on all of them can be found at the Visitors Center.
Fishing is a huge draw for visitors coming to Algonquin Provincial Park and with 1 200km of streams and lakes, you'll be able to find over 50 different species of fish here.
Trout is the number one catch here and the best time is in the Spring and Summer.
If you don't fancy casting a line out, opt for a day out in a canoe. There are a few outfitters where you can rent canoes if you don't have your own, and Opeongo is a great and easy paddle to start with.
Or for a trip across the park look into the Kawawaymog to Kiosk route for some incredible views and easy paddling.
No matter what trail or what lake/river/stream you choose they are all beautiful.
9) Rattlesnake Point Conservation Area
Located near the town of Milton in Ontario, Rattlesnake Point is another one of the best day trips from Toronto.
Home to some of Ontario's most beautiful nature and hiking, this eco tourism area is popular among wildlife and nature lovers visiting this corner of Canada.
The area is owned and operated by Conservation Halton Foundation, and you can find all the info you may need about the area on their website.
The Rattlesnake Point distance from Toronto is just 63km, which is about a 45 minute drive. It's a super easy and accessible day trip from the city.
What To Do In Rattlesnake Point
Rattlesnake Point Conservation Area is an outdoor adventure lover's dream.
From mountain biking and rock climbing, to hiking and camping, there is so much to do out here in the wilderness.
Rattlesnake Point and the nearby Mount Nemo have some excellent rock climbing for people of all skill and experience levels.
Book a lesson or rock climbing tour with the highly rated local company, On The Rocks.
But the hiking trails are definitely the highlight of the area. With lots of different trails that take you through the native flora and fauna, there is so much natural beauty to see here.
From thousand year old cedar trees, to unique rock formations and cliffs, to turkey vultures and other unique birds and wildlife, this wilderness area is full of life.
The Buffalo Crag Trail is 3.2km long and has some of the best views. It passes the Pinnacle Lookout and ends at the Buffalo Crag Lookout, both of which are stunning.
The Bruce Trail towards Nassagaweya Canyon is a long, more challenging option. At 7.2km long, this trail winds through the cliffs of the Niagara Escarpment and is also a popular spot for rock climbing.
For any of the hikes in the Niagara Escarpment, autumn is the best time to go because the colorful leaves make the views look even more breathtaking than usual.
Rattlesnake Point is often called one of the most beautiful places in southern Ontario.
DISCLAIMER: Some of the links in this article are affiliate links, which means if you book accommodation, tours or buy a product, we will receive a small commission at no extra cost to you. These commissions help us keep creating more free travel content to help people plan their holidays and adventures. We only recommend the best accommodations, tours and products that ourselves or our fantastic editorial team have personally experienced, and regularly review these. Thanks for your support, kind friend!