Your complete guide to the best things to do in Calgary, Canada. Whether you want to see the famous Stampede or fish in the Bow River, you'll be blown away at what to do in Calgary!
Calgary is Alberta's largest city by population and is a young, hip and vibrant city with numerous skyscrapers and art lined pedestrian walkways.
Yet it still exudes an old west feel, Calgary wasn't given the nickname "Cowtown" for no reason!
It is a big city with a small-town feel, rich in old western history.
However, it also maintains a culturally diverse identity as over 120 languages are spoken throughout the city.
The city sits at the confluence of the Bow and Elbow Rivers.
Just 50 miles to the east of the Canadian Rockies. It is the stepping off location for the exploration of many of the beautiful Canadian National Parks – such as Banff and Jasper.
Calgary was founded in the mid-nineteenth century as Canada was solidifying its national identity.
A fort bearing the city's name was built in 1875 to protect fur traders, farmers and ranchers who were beginning to populate the region.
Despite the city's proximity to unimaginable natural beauty, ironically, the oil and energy industry remains the greatest contributor to the city's economy and has led to the development of the city throughout recent history.
The Canadian Pacific Railway is even headquartered in Calgary, so you can catch a scenic train around North America before or after your stay.
Whether you're interested in understanding the rich and beautiful history of the region, or you just need a few days to settle into metropolis life to ground yourself before exploring the Great Outdoors, there are tonnes of incredible things to do in Calgary!
READ MORE: Don't miss the best things to do in Banff when you're travelling Alberta!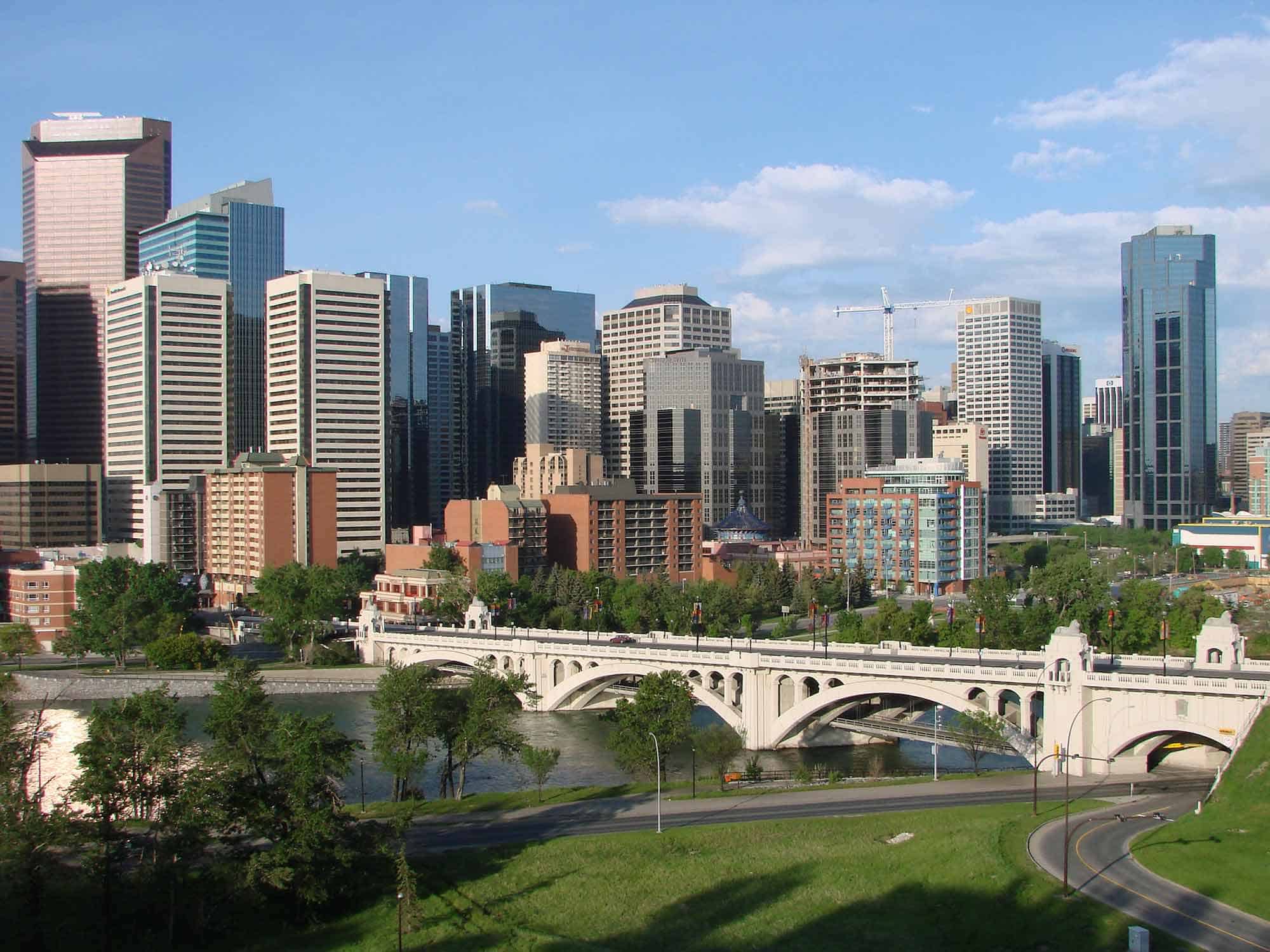 The Best Things to Do in Calgary
As the gateway to spectacular beauty in both national and provincial parks, Calgary is often the first stop for those interested in exploring Alberta's natural beauty.
With Banff less than an hour and a half away, you could easily make day trips from Calgary to the interior parts of Banff, Kootenay and Yoho National Parks.
Or you could hunker down in the city and explore its many city parks.
But if you're looking for a bit of culture and entertainment, there are also plenty of museums, restaurants, bars and sporting events to keep you entertained during your stay.
The Heritage Park Historical Village and Fort Calgary are some of the coolest historical sights in Canada, for those who love history.
Depending on the time of year you plan to visit, you might even catch the famous Calgary Stampede that takes place annually in July.
Regardless of your interests, plan to build out an awesome itinerary from our list of incredible things to do in Calgary!
1) Visit the Yamnuska Wolfdog Sanctuary
For years we had driven right past the sign for this place and said, "We should stop by one day."
On our most recent visit to the city, we finally did. And boy are we glad we took the time, because it instantly became our absolute favourite attraction in Calgary!
The Yamnuska Wolfdog Sanctuary located in Cochrane was founded in 2011 by Georgina De Caigny, a local who got her first wolfdog in 2009 and soon realised that there was very little information out there about these beautiful yet misunderstood creatures.
A wolfdog is essentially any domestic dog (often huskies) that has wolf blood in it. They are large, gorgeous creatures, but can have a wild temperament and need different levels of care to normal dogs.
Many people would purchase, breed or adopt wolfdogs thinking they'll be great house pets, and soon realise that the amount of work they need to properly look after is way more than expected.
As a result many are abandoned or given up for adoption again. Georgina discovered this firsthand, which is why she opened up the Yamnuska Wolfdog Sanctuary.
Visitors are welcome to come walk around the 160-acre property and see the rescued wolfdogs.
The wolfdogs live in large enclosures, so you cannot approach or pet them. But volunteers are always on hand to answer questions, and if you time your visit with the feeding sessions it's a fascinating opportunity to learn more about the animals.
There's a lot more to the sanctuary than what we have just written, so make sure you stop off here on your trip to Calgary and be amazed at the incredible work Georgina and her team are doing to raise awareness and protect these stunning wolfdogs.
2) Take a Self Guided Walking Tour Through Heritage Park Historical Village
The Heritage Park Historical Village is one of the top Calgary attractions.
Travel back in time as you walk through the park's four main areas – Heritage Town Square, 1900's Living Historical Village, 1880's Pre-Railway Settlement, and 1860s Fur Trading Fort and First Nations Encampment.
Take a ride on an authentic steam train through the 1900s Living Historical Village and enjoy an ice cream cone at the town's ice cream parlour.
Visit the homes and businesses of the first settlers in Western Canada during the 1880's Pre-Railway Settlement.
Learn the history of a diverse group of people that travelled through Calgary in the 1860s Fur Trading Fort and First Nations Encampment.
You will be entertained by costumed interpreters and involved in over 200 interactive and hands-on exhibits and attractions.
Lots of fun to be had and history to be learned by all at Heritage Park Historical Village.
Cost: $26.50 (16-64) $20.70 (65+) $18.95 (7-15) $13.65 (3-6)
Location: 1900 Heritage Drive SW
Hours: Saturdays and Sundays 10 am to 5 pm.
Book your tickets in advance on Get Your Guide.
3) Take in Breathtaking 360 Views from the Calgary Tower
One of the more popular ways to see the city is from the top of Calgary Tower.
The tower stands a stagger 190.6 meters tall and from its observation tower, you can see as far as the Canadian Rockies.
Originally named the Husky Tower until 1971, upon the completion of the tower in 1968, it was the tallest structure of its kind in North America.
Ride one of the two elevators to the top or you can try to conquer the more than 800 steps to the main floor.
On the observation deck, you can enjoy the 360-degree views of the entire city of Calgary.
There are also two restaurants – Ruth's Chris Steakhouse and Sky 360 – where you can get a drink or a bite to eat.
Or you can head to the nearby Stephen Avenue Walk, a pedestrian mall full of bars and restaurants.
Cost: $18 (13-64) $16 (65+) $9 (4-12) FREE (3 & under)
Location: 101 9 Ave SW
4) Take a Walking Tour with a Local of Downtown Calgary. 
There is a lot to see in Calgary. One of the best ways to explore the city is by taking a customized walking tour with a local.
Your guide can meet you where you are staying or any area of town you'd like to see.
Tour the popular Stephen Avenue, a pedestrian-only section of the city that's full of shops, restaurants, food trucks, art and entertainment.
Look for the famous statues throughout downtown – the Wonderland Sculpture, Famous Five, Family of Horses, Sitting Eagle, Family of Man and the Tree Sculptures plus many others.
5) Be Amazed at Glenbow Museum
There is something fascinating to be found by history buffs, art lovers and world culture enthusiasts at the Glenbow Museum!
Established by philanthropist Eric Lafferty Harvie in 1966, it is one of the top things to do in Calgary by both locals and tourists.
Containing everything from modern art by Canadian artists to the history of the Plains Indians and first settlers, the Glenbow Museum has truly a diverse collection of artifacts and exhibits to explore as well as interactive exhibits.
Plan to spend at least 2 to 3 hours touring this large and thorough museum.
You are guaranteed to gain a fuller understanding of Canadian history when you visit!
Cost: Adults $18 / Senior (65+) $12 / Student $12 / Youth $11 / Child (7 & under) Free
Hours: Monday – Saturday 11am – 8pm, Sunday 11am – 6pm
Location: Glenbow at the Edison, Second Floor, 150 9 Ave SW (The museum is under renovations and has plans to relocate. Check the website for updates!)
READ MORE: 17 amazing things to do in Quebec City
6) Witness the World Famous Calgary Stampede
The Calgary Stampede is one of the most famous Canada attractions!
Held annually for 10 days in July, millions of people from around the world come to attend the Calgary Stampede, the world's largest rodeo.
There's more than just a rodeo to enjoy. There are fair rides to thrill you, chuckwagon races, live music and agricultural events.
The Stampede's sole purpose is to entertain its visitors, educate and preserve the history and culture of the Old West, and they do it well!!
If you're visiting Calgary in July, this is an event that you don't want to miss!
Cost: $23 (13-64) / $15 (65+) / $14 (7-12) General Admission does not include the afternoon rodeo or nightly chuckwagon races
Dates: July 8 -17 2022 (exact dates vary each year)
Location: 1410 Olympic Way SE
7) Eat a Picnic Lunch at Prince's Island Park
One of the best things to do in Calgary is to simply enjoy a nice easy day at Prince's Island Park.
Arguably the most popular park among the many city parks in Calgary, Prince's Island Park is accessible by walking or biking via the Peace Bridge.
The park itself is 20 hectares of nature and a pathway that allow you to traverse the entire island on foot or bike.
It is dog-friendly most days (except during large events) so it's a great place to get exercise in addition to relaxing for a nice picnic lunch.
Prince's Island Park does have a full-service restaurant if you don't want to pack your own lunch.
And if you're visiting at the right time you might even be able to take in one of the many festivals and events held in the park throughout the year.
Hours: 5 am – 11 pm
Address: 4th Street & 1st Ave SW
READ MORE: Check out our complete guide to travelling in Canada!
8) Visit the Calgary Zoo
The Calgary Zoo is more than just a place to see animals. It is a zoo dedicated to the care and protection of endangered species.
The zoo is operated by a not-for-profit, the Calgary Zoological Society, and is one of just a few zoos in Canada that is accredited by the Association of Zoos and Aquariums.
Recognized as one of the world's top zoos for animal conservation, the Association of Zoos and Aquariums considers the Calgary Zoo to be one of the top zoos in the world!
Home to over 1,000 different types of animals, from the endangered Giant Panda Bear to the tiny Black-Footed Ferret.
Animal welfare is the number one priority at the Calgary Zoo and you will find that all habitats meet the highest standards of the creatures well being.
Whether Calgary is just a stopping point on your way to the National Parks or you're here for a longer stay, make sure you plan a visit to this animal paradise!
Hours: 9am – 5pm
Cost: Adult $29.95 / Senior (60+) $27.95 / Child (3-17) $19.95
Location: 210 St. George's Drive NE
9) Be Entertained at Spruce Meadows
Spruce Meadows is a sports complex and park started by the Southern family in 1976 and is one of the best outdoor equestrian venues in the world.
Dedicated to organizing and hosting equine showjumping tournaments of all levels, celebrating the horse, and the breeding and training of top sport horses.
You can find more than just showjumping in the park.
There are plenty of family friend activities to see and do on an event day.
You can even visit the stables and see some of the horses that will be competing!
Hours: 9am – 6 pm
Location: 18011 Spruce Meadows Way SW
10) Explore Head Smashed in Buffalo Jump 
Just a short drive away from Calgary, you'll find a UNESCO World Heritage Site that is world renown for being the largest and most preserved Buffalo jump in North America.
The jump dates back 6,000 years and was in use for over 5,500 years.
Where the plains meet the foothills of the Canadian Rockies, you will be led by a Blackfoot guide who will interpret the plains buffalo culture.
Through several indoor and outdoor exhibits, you will learn about the aboriginal Plains People who were clever hunters and used the 11 meter high cliff to kill the buffalo and then skillfully processed the carcasses.
Hours: 10am – 5pm
Cost: Adult (18-64) $15 / Senior (65+) $13 / Youth (7-17) $10
Location: #785 (paved) Fort MacLeod, Alberta
READ MORE: If you love adventure, check out this list of the best hiking in Banff!
11) Get a Rush at the WinSport & Downhill Karting at Skyline Luge Calgary
Are you ready for Calgary's ultimate gravity-fueled thrill ride?!
Voted as one of the best Calgary activities, you will race down a 1,800-meter track, one of the longest in the world, with over 50 twists and turns!
Ride a ski chairlift to the top of the track and then get ready to hurtle down the racecourse.
The karts are easy to control and is fun for all ages. Canada Olympic Park is where you'll find WinSport and Downhill Karting, and it's a great place to visit with the whole family.
Cost: Prices vary depending on what activities you choose. Full price list available on website.
Hours: Weekdays 3pm – 7pm / Weekends 10am – 7pm (Currently closed but reopening May long weekend. Check the website for updates!)
Location: Winsport Canada Olympic Park 88 Canada Olympic Road SW
12) Watch a Flames Hockey Game at the Saddledome
If you are wondering what to see in Calgary that you can't see in other places, check out a hockey game.
The Calgary Flames are one of three professional hockey teams in Calgary, but the largest as they are part of the NHL. The Edmonton Oilers are another local favorite in Alberta.
Their last Stanley Cup victory was in 1989. But win or lose, you're sure to see some exciting action at the Saddledome!
The NHL hockey season last from October until April so there are plenty of opportunities to watch any number of the 41 Flame home games.
Tickets are reasonably priced, so even if you aren't a true fan of hockey you can still have an exciting evening before heading out for the night!
If you're a real sport fan, you can even check out Canada's Sports Hall of Fame during your stay in Calgary.
Address: 555 Saddledome Rise SE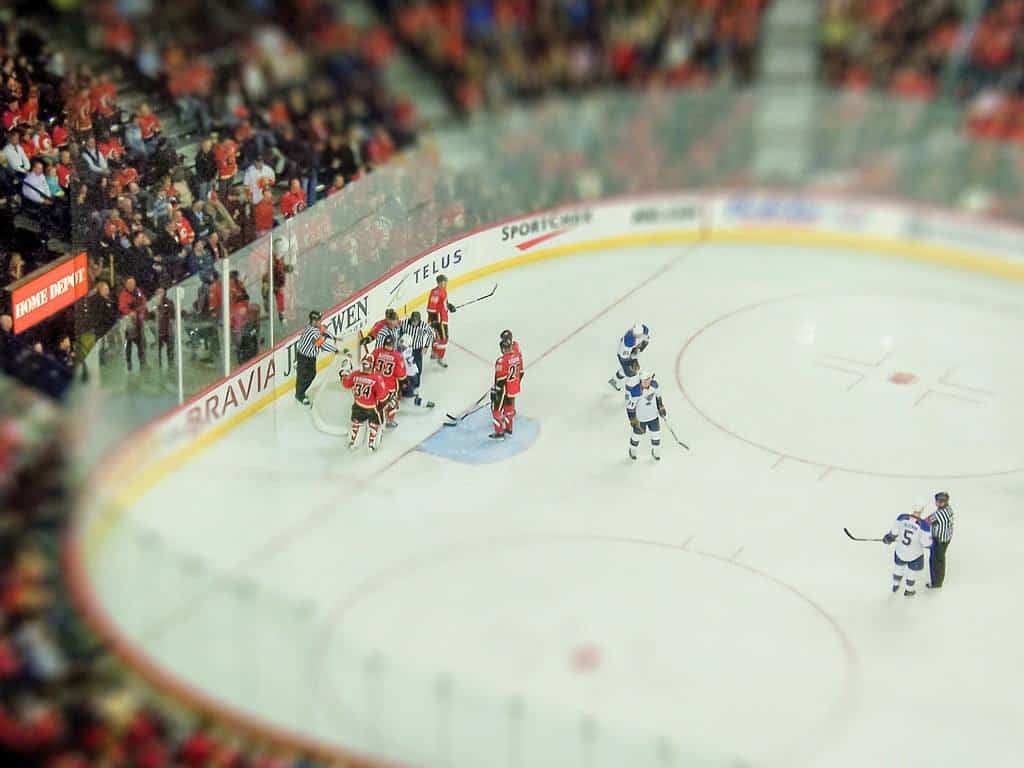 13) Ride a Roller Coaster at Calaway Park
A Calgary attraction that certainly stands out at the top of the list of adrenaline-pumping activities is a visit to Calaway Park.
The park features 32 rides as part of the largest outdoor amusement park in Western Canada.
If you're not at all interested in the rides but are obligated to visit thanks to your partner, there's also great fair-style food and drinks and a variety of games you can play without stepping foot on a ride.
But if roller coaster rides are your thing, be sure to check out "Chaos," "Storm," "The Vortex," and the "Dream Machine."
You are sure to have a blast at Calaway Park!
Cost: Regular (3-49) $49.95 + GST, Fifty Plus (50+) $39 + GST, Children under 3 FREE
Hours: Summer Daily 10 am – 11 pm, Fall – Spring Weekends Only 11 am – 6 pm (Check specific hours HERE)
Address: 245033 Range Road 33
14) Take a Step Back in Time at Fort Calgary
Fort Calgary is an important piece of the history of Western Canada.
In 1875 the North West Mounted Police ventured to where the Bow and Elbow rivers meet and there built a fort called Fort Brisebois on Blackfoot territory.
Fort Calgary was originally built to control the illegal American Whiskey trade and create alliances with indigenous peoples.
A year later the fort was renamed Calgary by Colonel James MacLeod after Calgary House, a castle located in Scotland.
At the park, you can tour the grounds and barracks of where the original fort lay and learn the history of how Calgary was founded.
Fort Calgary is a National Historic Site, and is a cool insight into Calgary's history.
Hours: Weekends 10am – 5pm
Cost: $10 (Youth 17 & Under and Indigenous peoples FREE)
Location: 750 9 Avenue SE
15) Fish the Bow River
Grab your fishing pole or hire a fishing charter. If you love to fish then the Bow River is where you need to be!
Being one of the world's top three trout streams, the Bow River attracts the best fishing anglers worldwide to its waters.
Find the right fishing hole in the crystal clear water, cast your line, and relax in the peaceful scenery while you wait for that huge trout that is sure to nibble on your line!
16) Take The Big Rock Brewery Tour
Big Rock Brewery is one of Canada's larger breweries with its head office and largest brewery located in Calgary.
Founded in 1985, the brewery features 10 year-round beers, 5 ciders and a handful of seasonal brews.
You can tour the brewery in Calgary and taste samples of the beers.
Learn the process from beginning to end as a trained beerologist walks you through how the beers come into existence.
Taste for yourself the excellence on which the company prides itself!
Hours: Mon – Sat 10 am – 5 pm
Cost: $25
Address: 5555 76 Avenue SE
Tours are temporarily unavailable as of April 2022, but you can enquire on their website about future tours!
17) Day Trip to Banff National Park
When you've run out of interest in Calgary sightseeing, it's time to plan a quick day trip into the Canadian Rocky Mountains.
Banff National Park is a jewel not only for Canada but also for the world.
Known for its uniquely blue glacial lakes and rivers, tall mountains and diverse wildlife, Banff National Park is worth its own trip at some point in your life.
But since you're in Calgary, go ahead and take the short 130 km drive to Banff to check it out for yourself.
With only one day to explore Banff, you're going to be hard-pressed to see very much of it. Spend the day doing outdoor activities like hiking, mountain biking, rock climbing, or just enjoying the views.
But you definitely want to make sure to check out the most famous spots of Lake Louise, Johnston Canyon and Lake Moraine.
You can plan tonnes of hikes or simply pull over wherever you'd like to enjoy the beauty of the Rocky Mountains!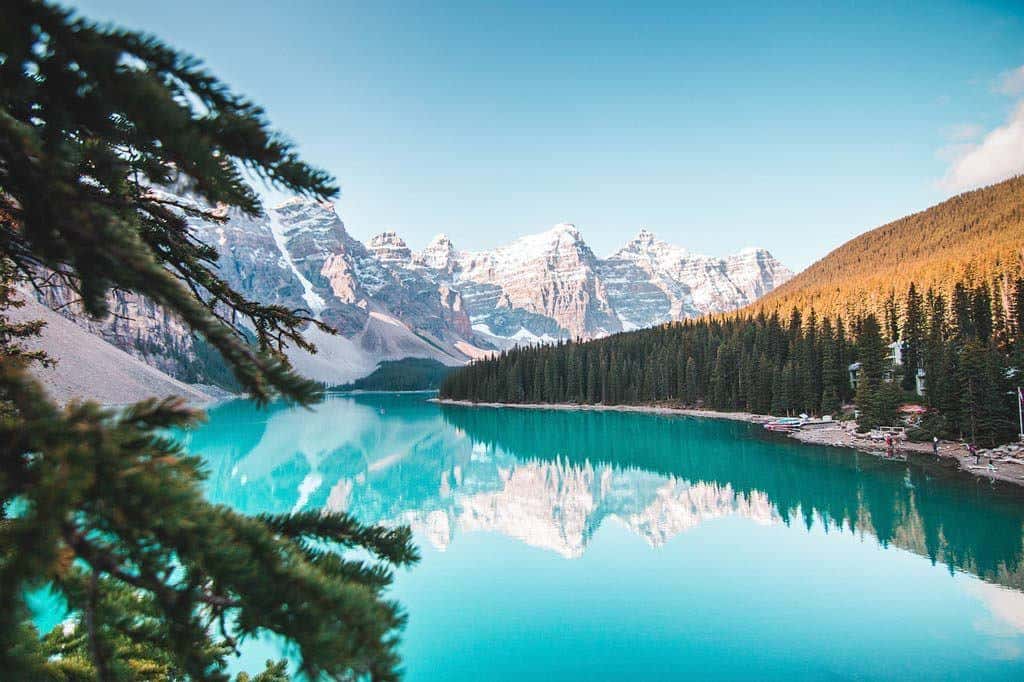 18) Visit Studio Bell – The Home of the National Music Centre
If you're looking for something to hear in addition to the many things to see in Calgary, plan a trip to the Studio Bell at the National Music Centre.
Studio Bell at the National Music Centre is a musical museum that features a collection of instruments, hosts a variety of performances and offers tonnes of educational opportunities to the public.
As a venue, there are almost daily concerts and events so be sure to check out the schedule in advance of your trip.
You can also check out the Canadian Music Hall of Fame at the National Music Centre in Calgary.
Cost: Pay what you can, with suggested price being $15
Hours: Saturdays and Sundays 10 am – 5 pm
Address: 850 4 Street SE
19) Take a Leisurely Stroll Through One of Calgary's City Parks. 
Easily one of the top things to do in Calgary is to enjoy one of the many public parks the city has to offer.
Calgary boasts over 8,000 hectares of parks within its city limits.
And there are over 800 km of trails and parkways for walking, biking or otherwise moving through the city's green space.
The city parks department takes great care of the parks and does a fantastic job of updating you on areas that might be closed due to weather or maintenance.
Some of the most popular parks to visit are Fish Creek Provincial Park, Bowness Park, Nose Hill Park and Edworthy Park and Douglas Fir Trail.
20) Enjoy the Nightlife and Music Scene at The Blues Can
If you are wondering what to do in Calgary at night and you dig blues music then there is no better place in Alberta to enjoy some good music than at The Blues Can.
Located in the historic Inglewood section of town, the Blues Can offers daily live shows each evening. The venue also boasts a classic southern dining menu to go with the atmosphere.
Grab a bite to eat. Enjoy a tasty cocktail or two. And relax as the blues musicians take you to a different place and time with their tunes.
Calgary Travel Guide
Now that you know what to do in Calgary, it's time to find out where to stay and where to eat in this major Canadian city.
Here's our short travel guide to help you with the best Calgary attractions and activities.
Best Accommodation – Where to Stay in Calgary
If you are wondering where to stay in Calgary, don't worry, you have plenty of options!
Whether you are looking to save a little cash by staying in hostels or budget hotels or want to splurge on a special occasion, you can find a whole range of options in Calgary.
Canada, in general, is a fairly expensive place to travel.
So if you are used to third world prices as you travel, be prepared to spend a little more for your accommodation.
Calgary is not as friendly to the backpacker as other cities, so your options with hostels are limited.
But reasonable budget and mid-range hotels are not much more if you don't mind spending a little more for a room.
The Best Hostel in Calgary – Wicked Hostels
Rated high for friendly staff, cleanliness and location the Wicked Hostel is a great deal for the budget-savvy traveller.
One of the most secure accommodations in all of Canada, Wicked Hostel required valid ID to stay in the hostel.
The list of amenities is enormous, with key points being incredibly fast WiFi, breakfast (featuring both Nutella and Vegemite options) and a free laundry service.
There are also free business services such as the use of computers, document printing and scanning and free international calling.
Expect free towels, secure luggage storage and parking during your stay at the Wicked Hostel.
With rooms ranging from USD$27 – USD$32 for 4-8 person mixed/male/female dorms, you can expect great value considering all the amenities Wicked Hostel has to offer.
Enjoy the fun atmosphere. Make friends. And even go on pub crawls and attend other events with staff from the hostel.
Best Budget Accommodation for Couples – Best Western Plus Suites Downtown
Exceptional value for its location and amenities offered, the Best Western Plus Suites Downtown is a great option for any couple seeking both comfort and accessibility during their stay in Calgary.
Each room comes with free WiFi, bathtub, kitchenette and an included breakfast for two.
But you can opt for a room that has a private jacuzzi spa as well.
The rooms are spacious and accommodate comfort as you can spread out and enjoy your stay in Calgary.
Expect a clean, comfortable experience and friendly staff to make your stay more pleasant.
When you stay here you are just minutes away walking to a variety of attractions, restaurants, pubs and transportation at the city centre.
All rooms are around USD$100, making it an incredible value when you are looking for a place to stay in Calgary.
Best Mid-Range Hotel in Centro Motel
Although located 9 km from downtown Calgary, the Centro Motel is one of your best options for mid-range accommodation in the city.
With rates as low as USD$45 for a room, you can't beat the price in terms of the amenities.
Each room includes free WiFi and breakfast and comes with a flatscreen television and mini-refrigerator. There is a business centre in the hotel offering services to help keep you connected if needed.
Additionally, the boutique hotel is consistently rated high for its service, location and cleanliness.
And the staff at the hotel are hard to beat in terms of friendliness and helpfulness.
Best Luxury Hotel in Calgary – Hotel Arts
The Hotel Arts in downtown Calgary sets the standard for exceptional value in luxury hotels.
A stylish boutique hotel set in the perfect location allows you to combine your desire to explore the city with a chance to return to your hotel room and feel relaxed.
One of the few hotels in Calgary offering a pool, the hotel also offers valet service, a bar, fitness centre and two restaurants.
If you don't feel like going out for a meal, room service is also available.
You're likely not going to find friendlier or more helpful staff and the spacious rooms will leave you wanting for nothing.
Each room offers a flatscreen TV, free and fast WiFi and standard amenities such as toiletries, coffee/tea and a safe to make your stay more enjoyable.
You can also upgrade your stay to a luxury suite for a private balcony/terrace view and a sweet bathrobe.
No doubt if you are looking for comfort and luxury in your stay in Calgary, the Hotel Arts will provide you the best value by far.
Best Restaurants in Calgary
Downtown Calgary is full of delicious options for place to eat while you enjoy your stay in the city.
From casual quick bites to luxurious fine dining experiences you can expect a range of dining atmospheres.
And because Calgary is full of international culture, you can choose between traditional Canadian menu options or a range of flavors from Europe, Asia and beyond.
It's possible to make Calgary a destination for the food alone!
Here are a few of our favorite places to eat in Calgary.
Budget – Gaga Pizza
Gaga Pizza is one of the most highly rated restaurants in downtown Calgary for value and deliciousness.
Grab a custom pizza or make your own as you are sure to not be disappointed either way!
Mid-range – The Eden
This cosy, family-owned restaurant in downtown Calgary feels a bit upscale but has reasonable prices.
They serve classic, Canadian bistro food with nice cocktails and a wide variety of drinks. People also love the trendy space, jazz music, charcuterie boards, and overall ambience of the place.
High-End – Bow Valley Ranche Restaurant
Spoil yourself at the Bow Valley Ranche Restaurant in a corner of Fish Creek Provincial Park along the Bow River.
Enjoy locally-sourced lunch, dinner or brunch menus featuring tasty plates such as oysters, elk, bison and the best quality beef.