From enjoying the beautiful waterfalls of the Niagara Escarpment to the hip art scene downtown, here is our list of the best things to do in Hamilton!
Hamilton is by far Ontario's most underrated city for travel.
Overshadowed by its big sister Toronto and the enchanting Niagara Falls just 72km to the east, most people who travel to the area have unfortunately never even heard of Hamilton.
But Hamilton is a small city that packs a big punch, full of natural beauty and vibrant city life.
Named after George Hamilton, a Canadian merchant, the city saw major growth when a canal was cut in Lake Ontario, making Hamilton a major port in 1832.
By the early 1900s the steel and manufacturing industry was booming with four major companies opening up shop in Hamilton, Stelco, Dofasco, Procter & Gamble, and the Beech-Nut Packing Company.
READ MORE: Check out our guide to the best things to do in Toronto!
Hamilton is located in the "armpit" of Ontario, where the western end of Lake Ontario meets the Niagara Escarpment.
Known for its steel manufacturing, which earned it the nickname "steeltown," Hamilton is much more than just an industrial city.
With the Niagara Escarpment, a UNESCO World Biosphere Reserve, running right through the middle of the city, and the south shores of Lake Ontario in the downtown area, Hamilton is an outdoor lover's paradise.
Yet, the city offers something for everyone, as there is also a hip art, music and food scene right downtown.
With over 100 waterfalls located throughout the city, most along the Niagara Escarpment and the famous Bruce Trail, there are plenty of outdoor activities and hiking to be done in Hamilton!
Hamilton is also becoming known for its excellent restaurants and art galleries lining its vibrant downtown streets.
With so many things to do in Hamilton Ontario so close together, it's a great reason to choose Hamilton as a better stopover before visiting Niagara Falls instead of the overly crowded and busy Toronto.
The Best Things to Do in Hamilton, Ontario
Although Hamilton is more of an industrial city, there are plenty of things to do in Hamilton that combine nature, history and culture.
Like many Canadian cities, Hamilton offers several museums, gardens and parks to enjoy within its city limits.
You could easily spend a day or two checking out places such as the Canadian Warplane Heritage Museum, Dundurn Castle and the Art Gallery of Hamilton.
Or you could spread out your trip with more leisure by strolling through and picnicking at parks such as the Royal Botanical Gardens and the Bayfront Park.
But some of the top Hamilton attractions are a series of waterfalls throughout the area.
Whether you want to hike to see as many of the 100+ waterfalls in the area as you can or want to make a day trip to visit the famous Niagara Falls, you will certainly get your fill in exploring the beauty that each fall offers the city.
Here is our list of fun things to do in Hamilton!
1) Explore the Many Waterfalls of Hamilton
With over 100 waterfalls and cascades located throughout the city of Hamilton, it's plain to see why the city earned the nickname "City of Waterfalls".
The Niagara Escarpment, the very same region that the renowned Niagara Falls is on, provides the best landscape for waterfalls.
Most of these waterfalls are very accessible and a few are even right in town! You can find several while hiking the popular Bruce Trail as well.
Plan to see the spectacular Webster's Falls and Tew's Falls on the same day as they are both located within the Spencer Gorge Conservation Area.
Webster's Falls is the largest of all the falls in Hamilton with a 30-metre crest. Tew's Falls is the tallest at 41 metres. They are highlights of Ontario and the Spencer Gorge Conservation Area.
The other most popular falls are Albion Falls and the Devil's Punchbowl Falls.
Albion Falls is a beautiful 19-metre cascade falls and is a short hike off the Bruce Trail.
While there make sure to stop to see Buttermilk Falls just 1 minute up the road.
Devil's Punchbowl Falls is the most unique waterfall out of the group and is a 37-metre ribbon waterfall that flows over a horseshoe-shaped cliff with colourful layers of stratified rock segments.
It is possible to do the last three waterfalls in one day.
With so many waterfalls located so close together, you could spend an entire day exploring several of your favourites.
Or spread out your waterfall hikes over a few days while you tour different parts of the city!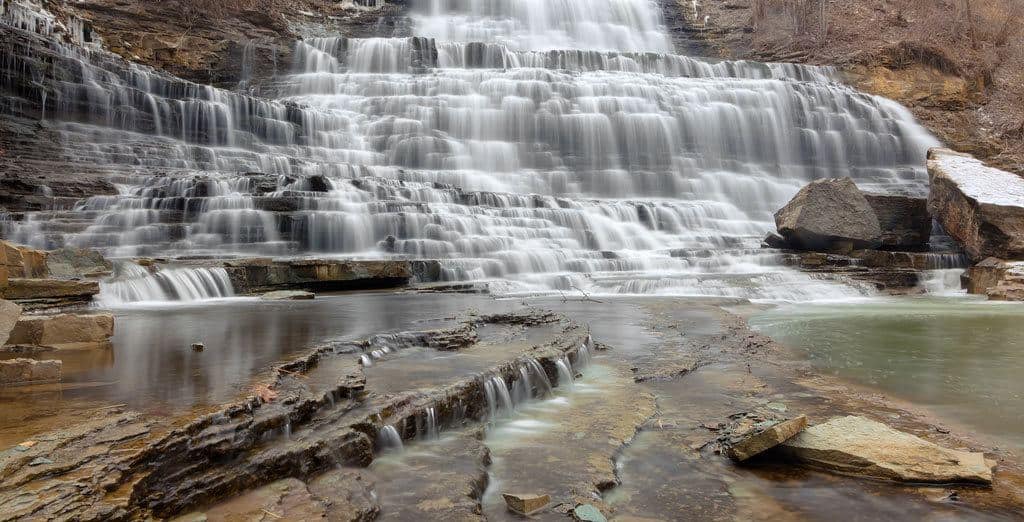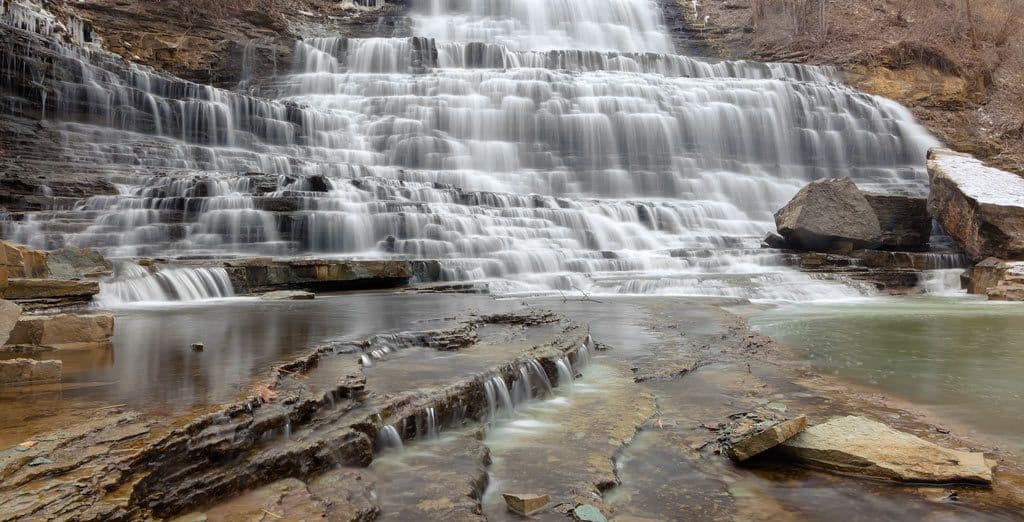 2) Board Canada's Only Tribal Class Destroyer HMCS Haida
Canada's most famous warship is docked at pier 9 right in Hamilton Harbour.
A Canadian National Historic Site and the only Tribal Class Destroyer in existence is now a museum that you can board and explore!
The HMCS Haida served in World War II and the Korean and Cold Wars.
Go on a self-guided tour and imagine yourself as a crew member as you explore each deck or pay a little extra to go on a guided tour.
There is much to see and learn whilst on the ship in the Hamilton Harbour so make sure to add one of the best Hamilton attractions to your list!
Cost: Adult(18-64) $4.25 / Senior(65+) $3.75 / Youth Free
Hours: 10am – 5pm
Location: Pier 9-658 Catharine St N
READ MORE: Plan your trip to Canada with our Canada Travel Guide!
3) Walk Through Time at the Dundurn Castle
A National Historic Site of Canada, Dundurn Castle is a neoclassical mansion built in 1835 by architect Robert Charles Wetherell and owned by 1st Baronet, Sir Allan Napier MacNab.
At over 18,000 square feet with forty rooms, this enormous mansion took three years to build!
MacNab, known to throw extravagant parties, once entertained the likes of King Edward VII and Sir. John A. MacDonald.
Experience what it was like to live in the mid 19th century as you tour ornately decorated bedrooms and halls to the underground slave quarters and beautifully landscaped courtyards.
You will quickly learn why this is a must-see Hamilton attraction when you visit this historic landmark!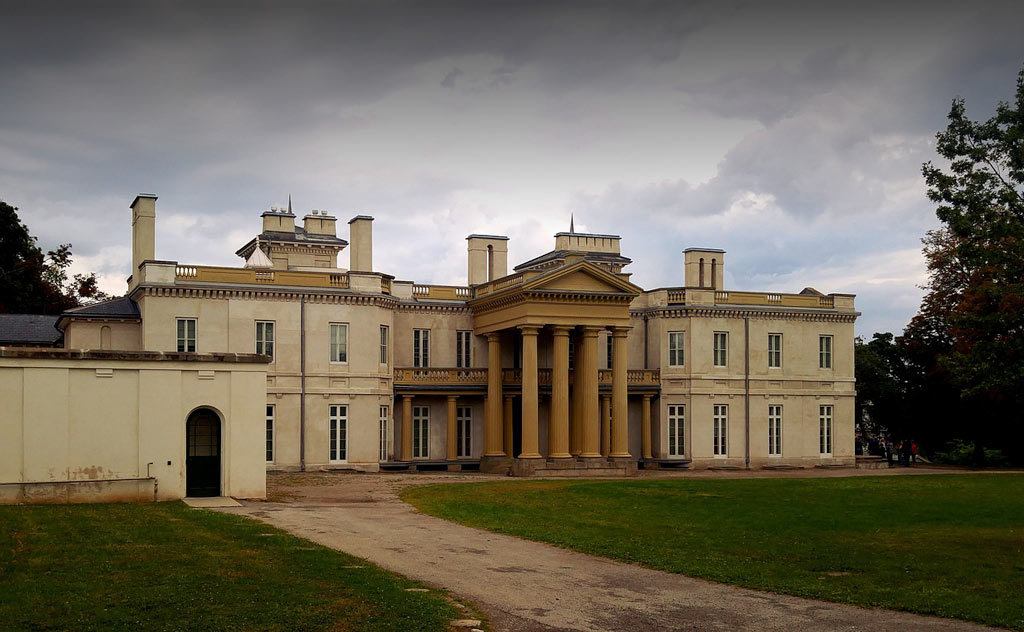 4) Visit the Canadian Warplane Heritage Museum
Have you ever wanted to fly in a vintage aircraft or experience what it's like to fly a fighter jet into battle?
All of this and more can be seen at the Canadian Warplane Heritage Museum, where around 50 various aircraft are housed.
Get up close to a Lancaster bomber, only two left in existence, and other war jets and helicopters that have been used by the Canadian Military from World War II to the present day. The Canadian Warplane Heritage Museum has so many artifacts and old aircrafts that it's actually mindblowing.
Whether you are an aviation buff or would just like to learn the history of aircraft used in the military, there is something for everyone to enjoy at the Canadian Warplane Heritage Museum.
Without a doubt, if you're a history lover the Canadian Warplane Heritage Museum is one of the best things to do in Hamilton. The Hamilton Military Museum is another cool place to check out for history lovers.
Cost: Adult $16 / Senior(65+) $14 / Student $14 / Youth(6-12) $11 / Child Free
Hours: 9am – 5pm, closed Mondays and Tuesdays
Location: 9280 Airport Road, Mount Hope
5) Get Lost in the Beauty of the Royal Botanical Gardens
One of the best things to see in Hamilton is by far the Royal Botanical Gardens!
Not just for the flower lovers, the Royal Botanical Gardens is way more than just a garden.
With over 27km of walking trails tucked into over 1,100 hectares of nature preserve, there is much to be seen and enjoyed by everyone.
It is also Canada's largest botanical garden and a National Historic Site!
In the 1,100 hectares, you will find Hendrie Park, which is a cultivated garden.
You will also find a collection of herbaceous perennials at Laking Garden.
And the Arboretum is popular as a lush English garden.
There is also a rock garden, fishway, nature interpretive centre and the RBG Center with large indoor gardens.
Cost: Adult $19.50 / Senior(65+) $16.50 / Youth $16.50 / Child(4-12) $11.50
Hours: 10am-5pm (some sections open until dusk)
Location: 680 Plains Road West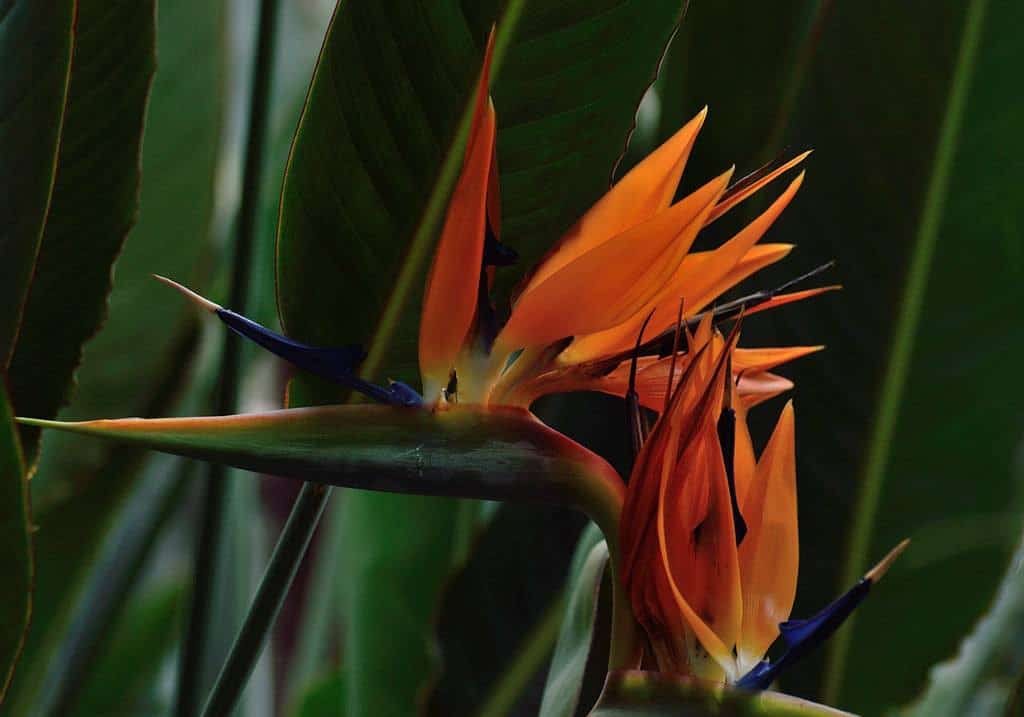 6) Look at Art at the Oldest Art Museum in Southern Ontario: The Art Gallery of Hamilton
The Art Gallery of Hamilton is one of the oldest and largest art museums in Canada.
This art gallery houses a magnificent art display of over 10,000 pieces!
With close to 300,000 visitors every year, this is one of the top things to do in Hamilton.
From historical Canadian and contemporary paintings to historical European art, you will notice right away that this is one of the most impressive art displays in all of Canada.
Whether you are an art buff or just spending time gawking at the beautiful displays, you will definitely leave the Art Gallery of Hamilton feeling intrigued and inspired by what you have seen!
Cost: $15 adults, $12 seniors, students and kids FREE (Thursdays admission is free for everyone!)
Hours: Thurs – Sun Open at 11am, close at 8pm on Thursdays, 6pm on Fridays, and 4pm on weekends
Location: 123 King Street West
READ MORE: Plan a trip and check off these 17 things to do in Quebec City!
7) Go On a Pub Crawl in Hess Village
If you're looking for some of the best things to do in Hamilton once the sun goes down, a stroll through Hess Village will give you a little bit of everything you could ask for.
A walk through Hess Village will lead you past historic buildings that have been turned into fantastic pubs, restaurants, cafes and art galleries.
Find plenty of delicious things to eat as you stroll through and people watch.
The cobbled street has been turned into a pedestrian-only walkway from Main St to King St West.
The Trendiest hot spot in town, on Hess St you will find great entertainment, fun company and great food.
For a listing of bars, restaurants and the latest events taking place during your visit, be sure to check out Hess Village's website.
8) Take a Stroll Along the Waterfront at Bayfront Park
One of the favourite Hamilton activities among the locals is walking or biking the pathway along the harbour.
A wide asphalt path winds through the beautiful Bayfront Park for approximately one and a half km to the nature sanctuary at Cootes Paradise.
There is also a lower walking path near the water's edge.
You will walk past lush native trees, shrubs and wildflowers, under archways and along the waterfront brimming with wildlife.
In the upper area of the park, there is a large green space and grass amphitheatre.
With all of the green space and scenery, this would make for a perfect spot for a picnic lunch as well!
Hours: 24hrs
Location: 200 Harbour Front Dr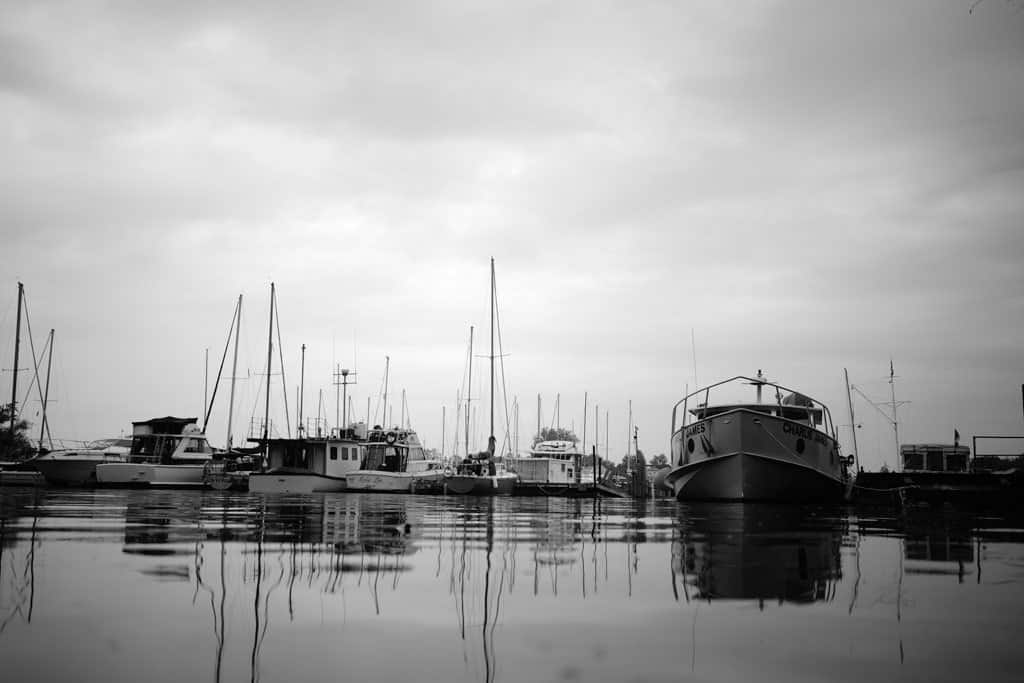 9) Attend a Lively Festival at Gage Park
Many of Hamilton's annual festivals are held at the city's historic city park.
If you are travelling to Hamilton in the summer, attending a festival here is a must-do affair!
The most popular festival held at Gage Park is the Festival of Friends. It is the largest annual music and arts festival of its kind in Canada, and it's free to attend!
Over 250,000 people attend the 3-day music festival every year.
Other festivals held at the park include the Rib and Craft Beer Fest, It's Your Festival and the Poutine Feast.
Location: 1000 Main Street East
10) Hike the Famous Bruce Trail Along the Niagara Escarpment
The Bruce Trail is the longest and oldest public footpath in Canada and spans 900km from the Niagara River to Tobermory.
The Iroquoia section of the Bruce Trail, which starts near Hamilton, is 122 km long.
Hike the entire length over several days, or pick out a shorter trail and just go on a day hike.
There is an abundance of beautiful scenery and nature to be seen all over the Niagara Escarpment.
You will see ancient cedar trees, beautiful lakes, waterfalls of all sizes and you may even come across a rare meromictic lake or a 15th century Iroquoian village.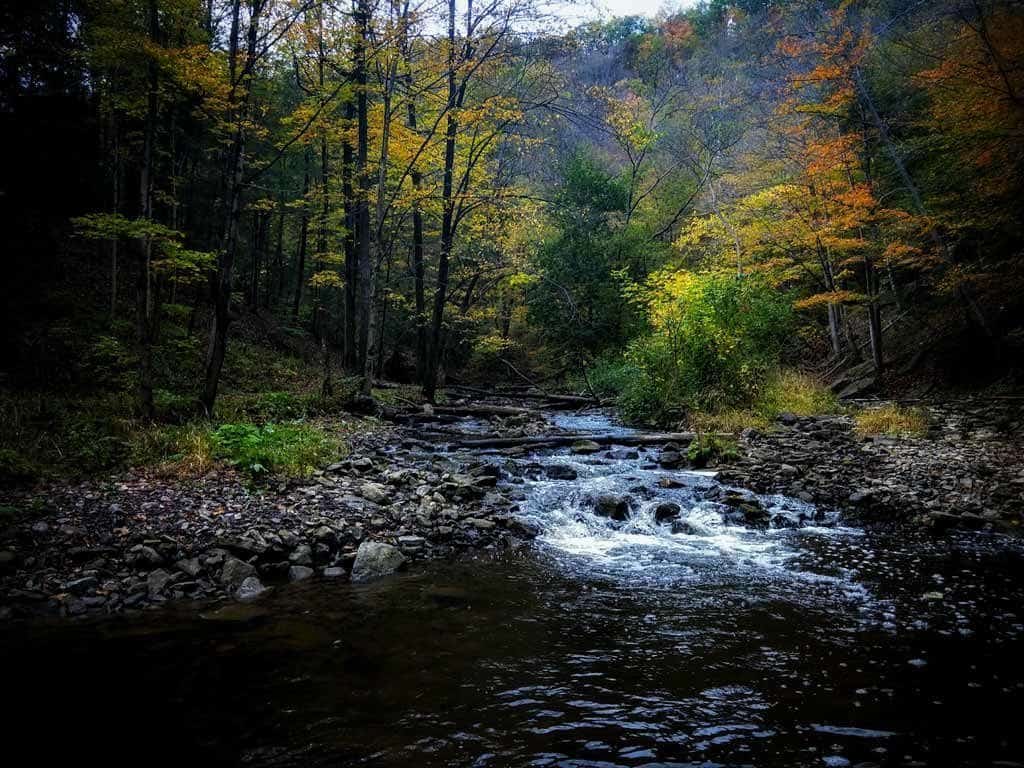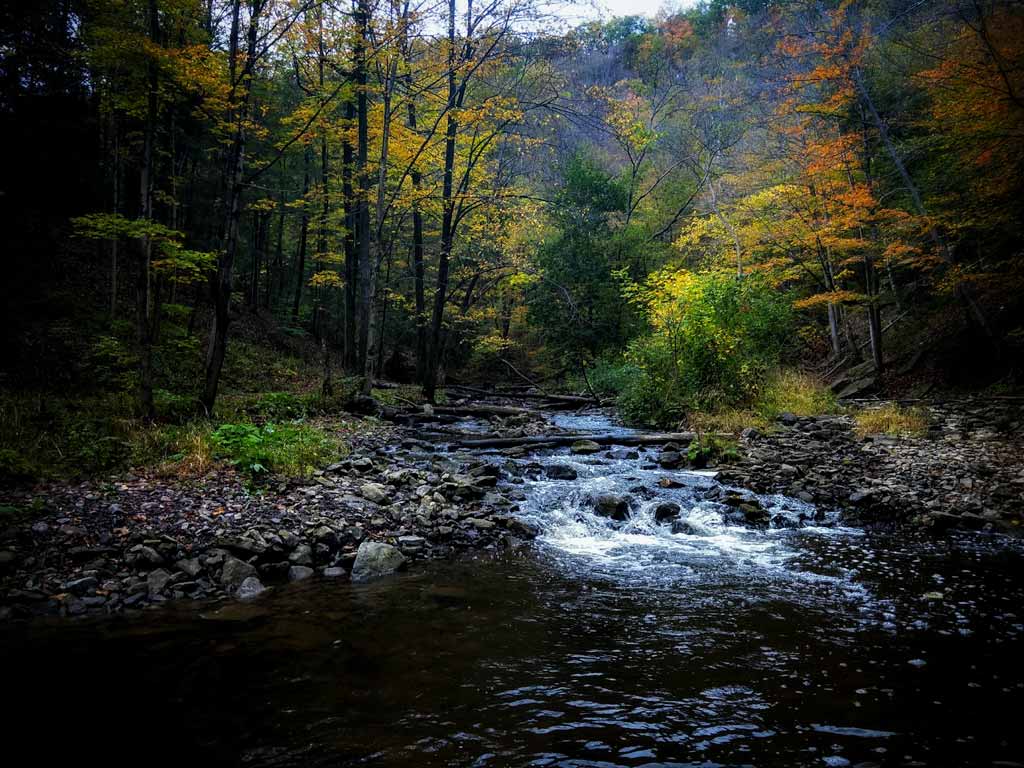 11) Take a Day Trip to Toronto
If you want to take a break from all of the Hamilton attractions and head into the city, Toronto is a short drive away.
Sure, Toronto is a city with plenty of amazing things to do on its own. But if you're interested in picking and choosing what to see in Toronto then you can make a nice day trip from Hamilton.
Whether you want to spend the day visiting museums like the Royal Ontario Museum or the Ontario Science Center, or you are interested in catching a professional sporting event during hockey, baseball or basketball seasons, you can easily spend a day wandering the city.
Maybe you want to catch up on your shopping at Kensington Market or the St. Lawrence Market? Or perhaps you are interested in visiting historical locations such as Casa Loma or Fort York?
As Toronto is located just under an hour from Hamilton you can easily make a day trip to knock off whatever might be on your bucket list for the city without having to spend too much time in the hustle and bustle.
Hamilton Travel Guide
Now that you know what to do in Hamilton, here's our guide to where to stay and where to eat when in the city.
Best Accommodation – Where to Stay in Hamilton
Although the city is not necessarily a top tourist destination, there are plenty of options so you won't be left wondering where to stay in Hamilton.
Hamilton is not as friendly to the backpacker as other cities, so your options with hostels are limited.
But reasonable budget and mid-range hotels are not much more if you don't mind spending a little more for a room.
There are also tonnes of options for renting out rooms or entire homes with Airbnb.
Being just outside of the main city of Toronto, prices for accommodations in Hamilton tend to be lower than in Toronto and are reasonably priced compared to other places in Canada.
The Best Hostel in Hamilton – Hamilton Guest House
Hamilton Guest House is Ontario's first backpacker's hostel and it is the only hostel located in Hamilton.
You can't beat its location, right in the heart of downtown Hamilton.
And on a backpacker's budget, this is about as close to the action as it gets.
With options that range from 4-bed co-ed or female-only dorms to private double bedrooms, you can rest in whatever comfort suits your budget.
Rooms are reasonably priced, starting at USD$25 for dormitories and $45 for private accommodations.
With a shared lounge, Hamilton Guest House is a great place to meet other travellers. All rooms include free WiFi and towels and linens.
You can also expect to have hot coffee and tea, lockers for your valuables and a full self-catering kitchen.
Best Budget Accommodation for Couples – Super 8 by Wyndham
Although located on the outskirts of downtown Hamilton, the Super 8 by Wyndham is one of your best options for budget accommodation in the city.
With rates as low as USD$78 for a room, you can't beat the price in terms of the amenities.
Each room includes free WiFi, continental breakfast and a flat-screen TV. There is also a fitness centre, hot tub and a restaurant and bar on site.
Additionally, the hotel is consistently rated high for its service, location and cleanliness.
Only a five-minute drive from the airport and a short drive to downtown, the hotel's location is central to all the top sightseeing spots in Hamilton.
Best Mid-Range Hotel in Hamilton – Staybridge Suites Downtown
After a full day of Hamilton sightseeing you'll want to come back to a comfortable hotel with a welcoming environment and Staybridge Suites Downtown offers all of that and more.
When you stay here you are just minutes away walking to a variety of attractions, restaurants, pubs and transportation in the city centre.
The hotel offers spacious suite-style rooms with a full kitchenette, couch and a large flat screen tv so you can spread out and enjoy your stay in Hamilton.
Expect a clean, comfortable experience and friendly staff to make your stay more pleasant.
With a free breakfast buffet offered, an indoor swimming pool, theatre room, fitness centre and planned evening social's three times a week, you may never want to leave the hotel!
Rooms start out at around USD$108, making it an incredible value when you are looking for a place to stay in Hamilton.
Best Luxury Hotel in Hamilton – Best Western Premier C Hotel by Carmens
The Best Western C Hotel is an exceptional choice when it comes to accommodations and great service.
Hamilton's only boutique luxury hotel offers the conveniences of home in a luxurious setting with an Italian theme.
All of the rooms are large suites with a whirlpool bathtub, large LCD TV, free WiFi, mini-fridge and microwave, bathrobes and complimentary breakfast.
The hotel also has an indoor swimming pool and hot tub, on-site restaurant and bar, a fitness centre and a rooftop terrace creating one of the most relaxing experiences you can have in Hamilton.
All of this in a convenient location close to shopping malls, top attractions, Hamilton Harbour, and all that Hamilton has to offer makes Best Western C Hotel by Carmens the best value by far.
Best Restaurants in Hamilton
Hamilton has recently become a top foodie destination with top chefs moving in from Toronto and opening trendy new eateries downtown and across the city.
Whether you want to eat classic Canadian fare, fancy European cuisine, or dishes with an Asain flair, you will find it in Hamilton.
From top-notch restaurants to casual eateries there's no shortage of one of a kind places to eat at in Hamilton.
Budget
Offering delicious soups to warm up your belly, you can't go wrong with choosing The Burnt Tongue as your next lunch spot or as a cure for a late-night hangover.
Pair your bargain-priced soup with a delicious grilled cheese or salad. Whatever you choose, you can't pick wrong at The Burnt Tongue!
Alternatively, the Hamilton Farmers Market is a good budget option. You can pick up fresh produce to cook yourself or grab some yummy snacks at the Hamilton Farmers Market.
Mid-range
You won't find a classically prepared cheeseburger at Hambrgr. But you will find a wildly creative burger sourced from local farmers.
Try the Mowie Wowie, a pulled pork sandwich with pineapple jam, or the Chef Smash, a weekly created hamburger.
And if you aren't a meat-eater, no worries! There are plenty of vegan dishes to choose from.
High-End
Without a doubt, Quatrefoil is the top luxury restaurant in Hamilton. Featuring a French-inspired menu, you can expect fresh seasonally-prepared meals served in a historic restored home.
DISCLAIMER: Some of the links in this article are affiliate links, which means if you book accommodation, tours or buy a product, we will receive a small commission at no extra cost to you. These commissions help us keep creating more free travel content to help people plan their holidays and adventures. We only recommend the best accommodations, tours and products that ourselves or our fantastic editorial team have personally experienced, and regularly review these. Thanks for your support, kind friend!