If you're looking for the perfect 'how to spend 3 days in Vancouver itinerary' you've come to the right place!
One of the best cities in all of Canada, Vancouver sees millions of visitors every year to admire some of the most stunning scenery in the World.
British Columbia is home to the Rocky Mountains. And those mountains are greeted by the Pacific Ocean in Vancouver, gifting you with the best of both worlds.
With a laid back vibe, incredible entertainment and food scenes, Vancouver boasts some of the most picturesque views in the country.
From the North Shore mountains to the chilled out vibe of Kitsilano, Vancouver has dozens of neighbourhoods to be found no matter what it is you're looking for.
The city has a fantastic public transit system, which will make your visit so much easier. Travel by bus, SkyTrain and even SeaBus services to get you anywhere you want to go.
Even some of the city's best hiking trails can be reached without the need for your own vehicle. This is a huge bonus, especially when doing your best to keep your budget in check.
A saying often used by many Vancouverites is "West Coast. Best Coast" and you'd be hard-pressed to disagree with them after checking out this itinerary for 3 days in Vancouver.
Plan your trip to Canada with our comprehensive Canada Travel Guide.
Enjoy This Perfect 3 Days in Vancouver Itinerary
Vancouver, where the mountains meet the sea and where every scene looks like something straight from a postcard.
With a variety of awesome activities to be done, you could be skiing in the morning, cycling the seawall after lunch and exploring historic and trendy Gastown by night.
From Stanley Park, to Granville Island, to Grouse Mountain, to the nightlife and more, here is the perfect Vancouver itinerary that covers all the highlights of the city.
To find out what cool things to do for 3 days in Vancouver scroll on!
Vancouver Itinerary Day 1
Start the first of your 3 days in Vancouver itinerary by grabbing a coffee and takeaway breakfast from any nearby cafe. Vancouver knows how to do coffee on a whole other level!
You'll need the fuel to get you moving straight towards one of the city's most visited locations.
10 am – Stanley Park
Visited by over 8 million people every year, Stanley Park is one of the most popular places to check out in downtown Vancouver. And for good reason too.
Located at the northwestern edge of downtown Vancouver, it is easily accessible from the centre of everything.
Covering over 405 hectares, this is a public park like no other you've experienced before.
Stanley Park starts at the corner of Denman Street and West Georgia. From here you'll hit the path that will take you nearly 6 miles from end to end.
Hit up a bike rental shop and grab some wheels to take you along the paths or take in the views on foot.
Alternatively, sign up for a guided bike tour to get an insider's view of what makes Stanley Park so special.
The paths are well marked with tons of cool spots to stop along the way including Brockton Point Lighthouse, Stanley Park Tea House, and the Stanley Park Boat Club.
The whole park is well signposted with tons of off-shooting trails to discover.
One of the best views is definitely from Prospect Point out over the beautiful Lions Gate Bridge.
To check out the map of Stanley Park visit the website here.
If you carry on the whole way along the seawall you'll hit Third and Second Beach.
While they may not have original names, these beaches make for an awesome swim/rest/picnic spot.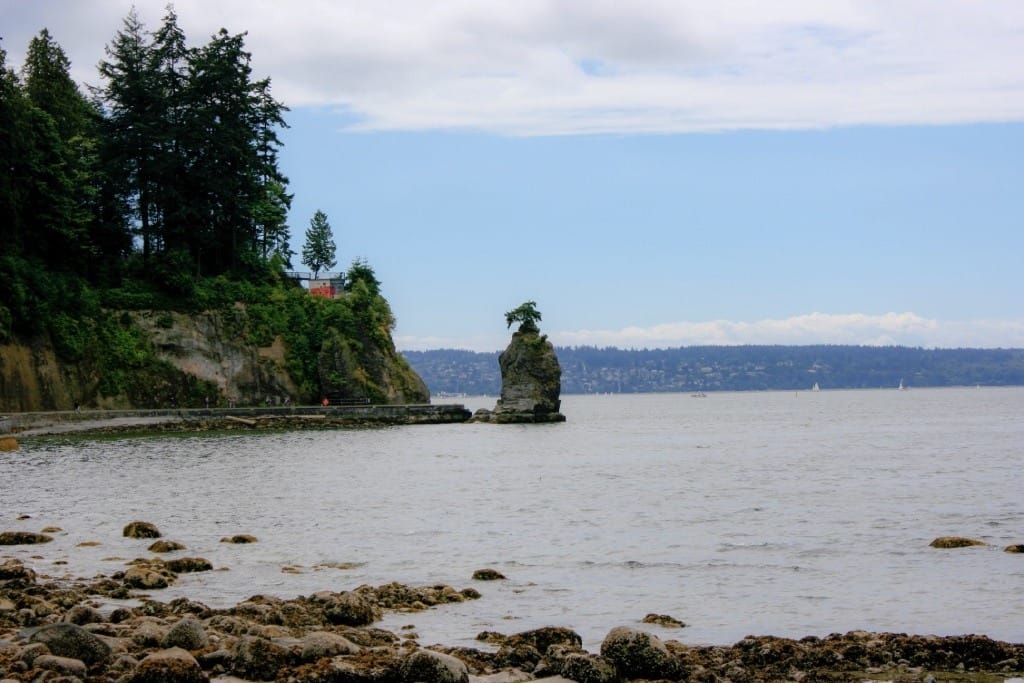 2 pm – Granville Island
You'll finish off your adventure in the West End where you can grab a bite at any of the numerous restaurants.
Or you can carry on to Granville Island on the cutest little rainbow coloured ferry.
Granville Island Public Market is home to 50 different vendors and stalls ranging from fresh fish, produce, cheesemongers, baked goods and so much more.
Granville Island Public Market is a perfect place to grab a bite, and maybe even some treats to take home for later.
Granville Island Brewery is a must for any beer lover, with awesome tours of the brewery, a great menu and a range of tasting flights to enjoy too.
This is the kind of place you'll find buskers and street performers on every corner. Expect this to be true more so on sunny days, making it the perfect kind of place to sit on a patio and watch the world go by.
You can even rent kayaks and paddleboards to take out on the water around Granville Island.
After enjoying Granville Island, grab the ferry back over to the West End or head over to False Creek if you're in the mood to check out the Science Center.
Or if you've taken your bike on the ferry the cycle path around False Creek is another beauty to explore.
As the sun starts to set you'll want to get a front-row seat to the show at Sunset Beach.
6 pm – Sunset Drinks at Sunset Beach
Perfectly named for the incredible sunsets that happen, this beach is a great place to post up with a picnic and watch the sky explode.
If you fancy good drinks to go with your sunset head to Cactus Club Davie Street.
Located right on the beach you'll get all the views while enjoying a fabulous drink before heading to the entertainment district, aka Granville Street.
It's time to end the first day of your Vancouver itinerary with a bang.
7 pm – Dinner (and More Drinks) on Granville Street
This street in Vancouver is home to a ton of clubs, pubs, music venues and theatres.
A few must-visit venues include The Orpheum, Commodore Ballroom and the Vogue Theatre.
There are tonnes of places to eat as well, so find any restaurant that takes your fancy and grab a seat.
READ MORE: Be sure to check out all the top things to do in Vancouver on your trip!
Vancouver Itinerary Day 2
You're ready to start your second day exploring downtown Vancouver. Hope you got some sleep and didn't party too hard at The Roxy!
9 am – Robson Street to Main Street
The second day of your 3 day Vancouver itinerary is going to be jam-packed so you should definitely stop into Abode for one of Vancouver's best breakfasts first.
Located right on Robson street this is a great place to start the day off.
10 am – Shopping, Beach Hopping & A Game
As one of the biggest cities in Canada, Vancouver plays host to some pretty impressive shopping opportunities.
Most of which can be found along Robson Street in the heart of the city.
This is where most visitors will find themselves at least once during their 3 days in Vancouver.
From unique souvenir shops to independent boutiques and of course the big shopping centre with several floors of everything you can imagine.
11 am – Grab a Bike and Head to the Beach
After spending some time browsing or window shopping it's time to make for VanCity Bikes to grab a bike and head to the beach.
While summer may not last all year round that doesn't mean that you have to skip the beaches.
Canada's west coast is famous for its mountains but you may be surprised to hear that it is also home to dozens of beaches too, all of which have spectacular views.
As a super cycle-friendly city, you'll be able to rent a bike and cruise over the Burrard Street Bridge, stopping to catch the view over Burrard Inlet and carrying on to Kitsilano.
Known as Kit's by Vancouverites, this laid back neighbourhood is home to one of the best beaches in the city and the longest swimming pool in Canada.
Kitsilano Beach and Kitsilano Swimming Pool are right next to each other so if you don't fancy swimming in the ocean just head for the pool.
Tons of volleyball nets are set up on the beach, and there is a huge green space parallel to the shore great for picnics and BBQs too.
Cruise along the bike path from Kits east towards Jericho Beach for a quieter vibe and a great place to watch fireworks on Canada Day.
Nearby you'll also find Locarno Beach, Spanish Banks and Acadia Beach.
Even if the weather is not super warm, these are all great places to check out the views and go for a walk.
These beaches can also be reached by public transit and on foot if cycling isn't your thing.
Stop into The Namm for a fantastic vegetarian feed to fuel you up before heading to one of the prettiest places in the city.
3 pm – Queen Elizabeth Park
Situated on the adorably named Little Mountain sits 130 acres of gorgeous greenery known as Queen Elizabeth Park.
Named after Queen Elizabeth herself for an impending visit in 1993, the views here are definitely fit for a queen.
The park is free to enter and has tons of trails to explore, a cool waterfall in the middle, a conservatory and even tennis courts.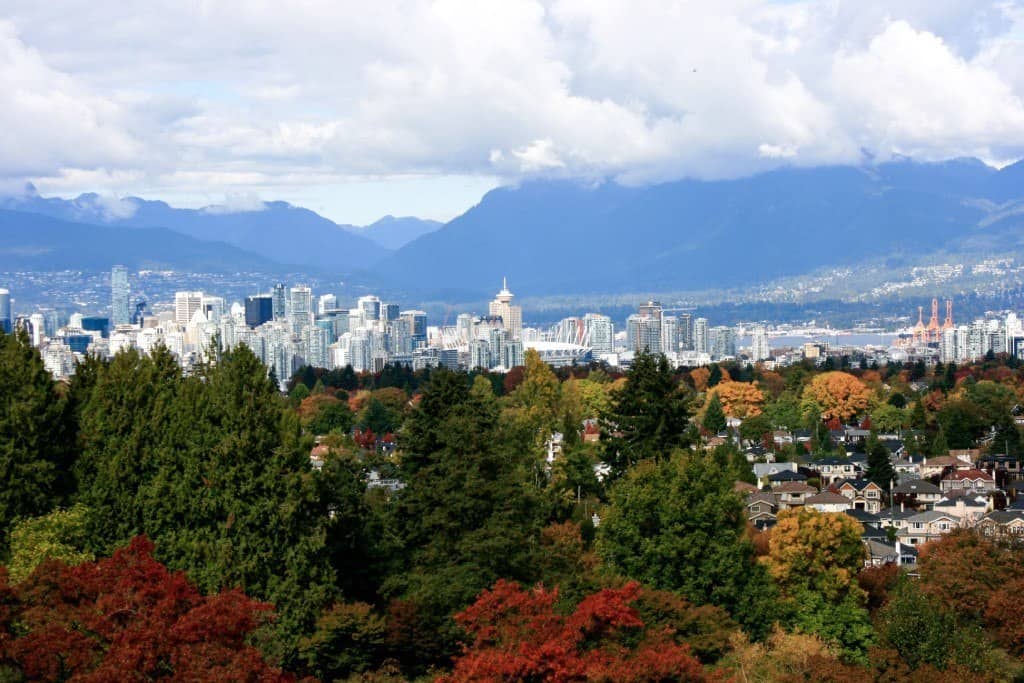 The views here are gorgeous year-round, and especially lovely in Autumn when the leaves start to turn golden and red.
If you've already been to Queen Elizabeth Park then head next door (and then some) to VanDusen Botanical Gardens instead.
Both are gorgeous options, and not too far off from Main Street.
4 pm – Wander Main Street
The dividing street between the west side of downtown Vancouver and East Vancouver, this is one of the city's hot spots for shopping and dining experiences.
Check out Smoking Lily, an independent boutique or Assembly of Text for all your quirky stationery needs.
For a fun night of drinks, The Cascade Room has a 1950's theme with a vintage drinks menu to fit.
6 pm – Dinner and a Game
Dinner at Burgoo is always a good idea for amazing burgers and legendary mac & cheese.
To cap off night 2 of your 3 days in Vancouver make for either BC Place for a Whitecaps soccer game or Rogers Arena for a Canucks hockey game.
Check out this site to find tickets. If your budget doesn't allow for watching the game live, head to The Sportsbar Live! for drinks and a great atmosphere.
If you're not into sports, see what events or concerts are on at the Vancouver Convention Center in Canada Place.
READ MORE: Explore the area around with these day trips from Vancouver!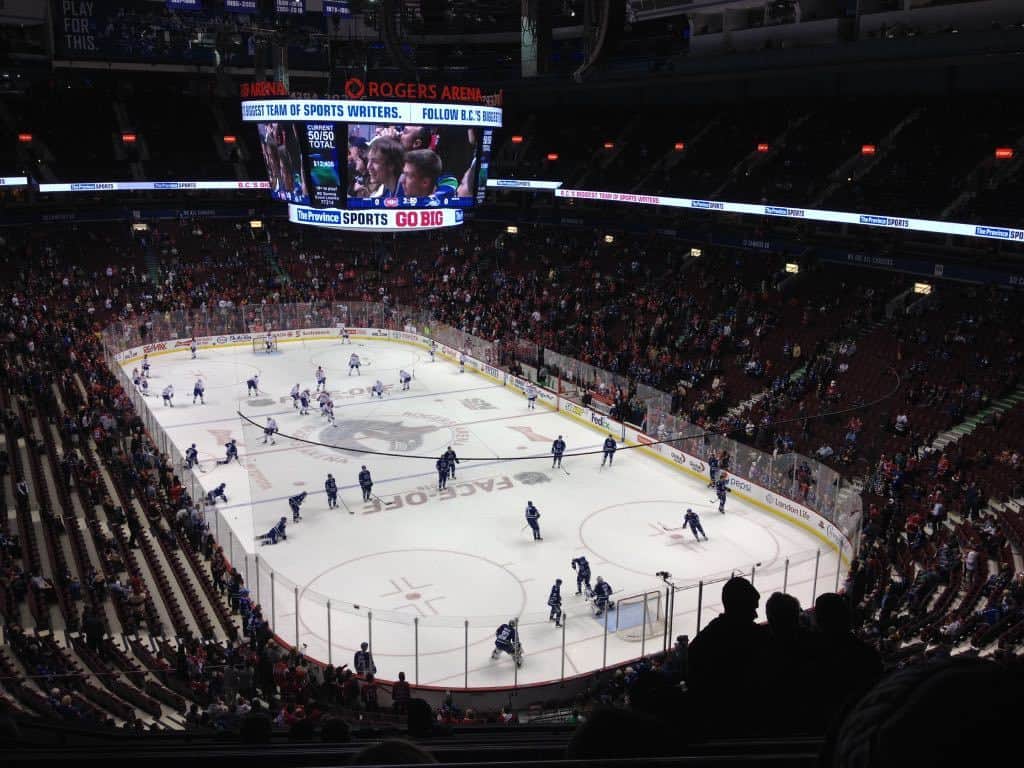 Vancouver Itinerary Day 3 – North Van to Gastown
If you think you've exhausted your list of what to do in Vancouver in 3 days, you're wrong!
There is still 1 full day left on your 3 Days in Vancouver itinerary and you best believe the best is definitely saved for last!
9 am – Head Over to North Vancouver
3 Days in Vancouver are definitely not complete without a trip to the mountains.
With incredible mountain ranges surrounding the city, you'll be able to see them no matter where you are.
But the best way is to get up close and personal with them. Why not hop on the SeaBus to North Vancouver, the quickest way and the most scenic way to get there.
From Waterfront Station near Canada Place to Lonsdale Quay is a gorgeous ride and you'll be able to kick the day off at the Lonsdale Quay Market.
With over 80 different vendors, from jewellery to fresh produce, massage therapy and so much more it's a hub for everything you can imagine in North Van.
And just a few blocks away is Waterfront Park, the perfect place to take your finds from the market for a nice picnic and to soak in the views.
READ MORE: Check out this post on the best things to do in Victoria on your next trip.
Or if you want a nice place to take your coffee and go for a stroll, Tilford Gardens ticks all those boxes.
Three acres of themed gardens, sculpture gardens and beautiful views will be sure to make your last morning in Vancouver so much better.
And now into the mountains!
10 am – Capilano Suspension Bridge Park
Once you're in North Van your hiking options are seemingly endless. Suspend your senses at the Capilano Suspension Bridge Park.
The bridge itself stands at 140 meters long and 70 meters high. Up here you'll get some of the best views possible while exploring treetop walks, beautiful forests and so much more.
Buy your ticket to the Capilano Suspension Bridge Park ahead of time here.
If you're trying to stick to a budget though, Lynn Canyon Park is for you!
This park is home to an equally impressive suspension bridge, but not nearly as high or long as Capilano and is free to visit.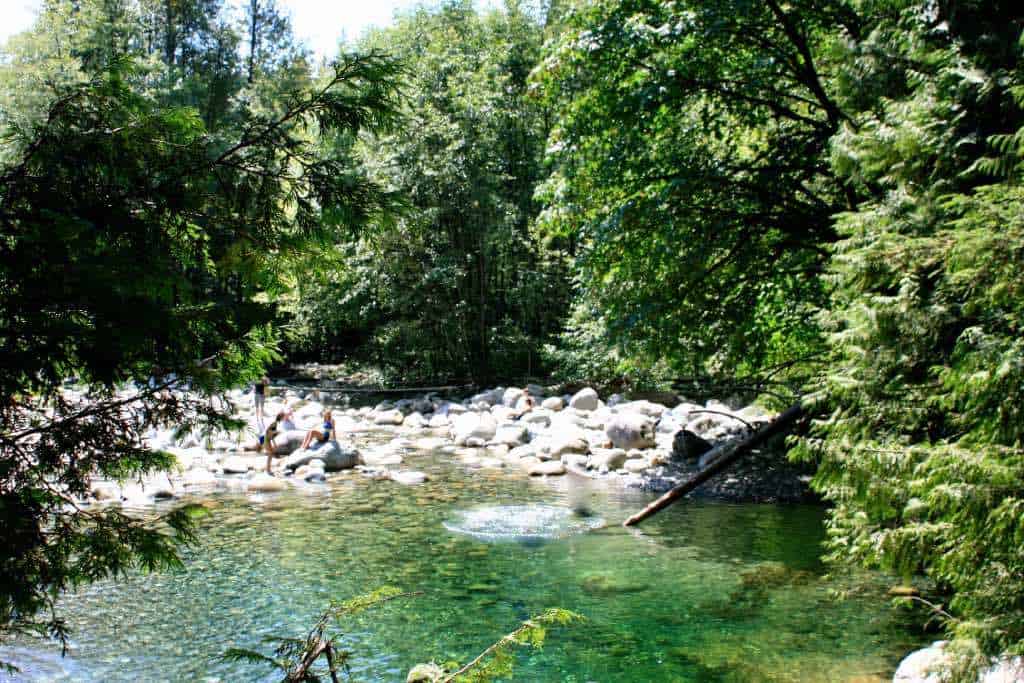 The park is full of incredible trails, waterfalls and beautiful pools to admire or take a swim in.
For waterfall lovers, Norvan Falls is best visited in the summer so that you can go for a dip in the falls after your hike.
Or maybe Quarry Rock in Deep Cove is what you're after. There really are an endless amount of trails to enjoy, to see the full list click here.
For winter visitors this side of the city is where you'll find the best mountains to hit the slopes.
12 pm – Make Your Way to the Mountains
Mt.Seymour offers 23 runs throughout the ski/snowboard season and with a rental shop on-site, you can just rock up and hit the slopes.
There are also dozens of snowshoe trails on this mountain which is perfect for anyone looking for a slower pace to the afternoon.
The best view for snowshoers, or hikers in the summer, is up Dog Mountain.
On the clearest of days, you can see all the way out to the Islands and then some, well worth the climb to get there too.
Grouse Mountain is another great option that is also open year-round for skiing or hiking.
Other fun things to do at Grouse Mountain include riding the Grouse Mountain Gondola or hiking the intense Grouse Grind trail.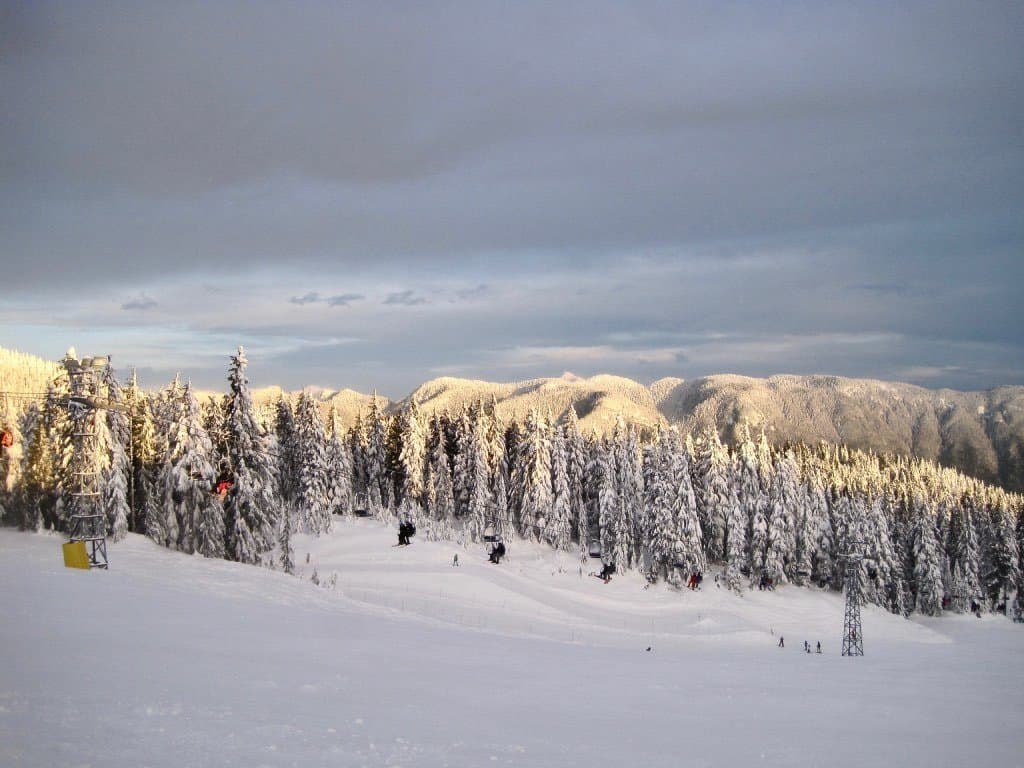 6pm – Drinks and Dinner in Gastown
After a full day in the mountains hop back on the ferry to Waterfront Station where you'll be just steps away from historic Gastown.
The oldest and possibly most charming neighbourhood, Gastown has cobbled streets, gorgeous architecture and seems to be dripping in twinkling lights.
The neighbourhood is famous for the beautiful steam clock in the middle of town which chimes and lets off steam every 15 minutes. Hearing this gives you a feeling of being in a different decade.
The streets are lined with tons of galleries, boutiques, souvenir shops and restaurants making it the perfect place to spend the last night of your itinerary for 3 days in Vancouver.
Tacofino, The Flying Pig and SteamWorks Brewery are perfect spots for that last dinner. And for a nightcap be sure to visit Six Acres or The Portside Pub.
If you're super hungry, and want a super cool experience to finish your Vancouver travels on, sign up for this walking food tour of Gastown.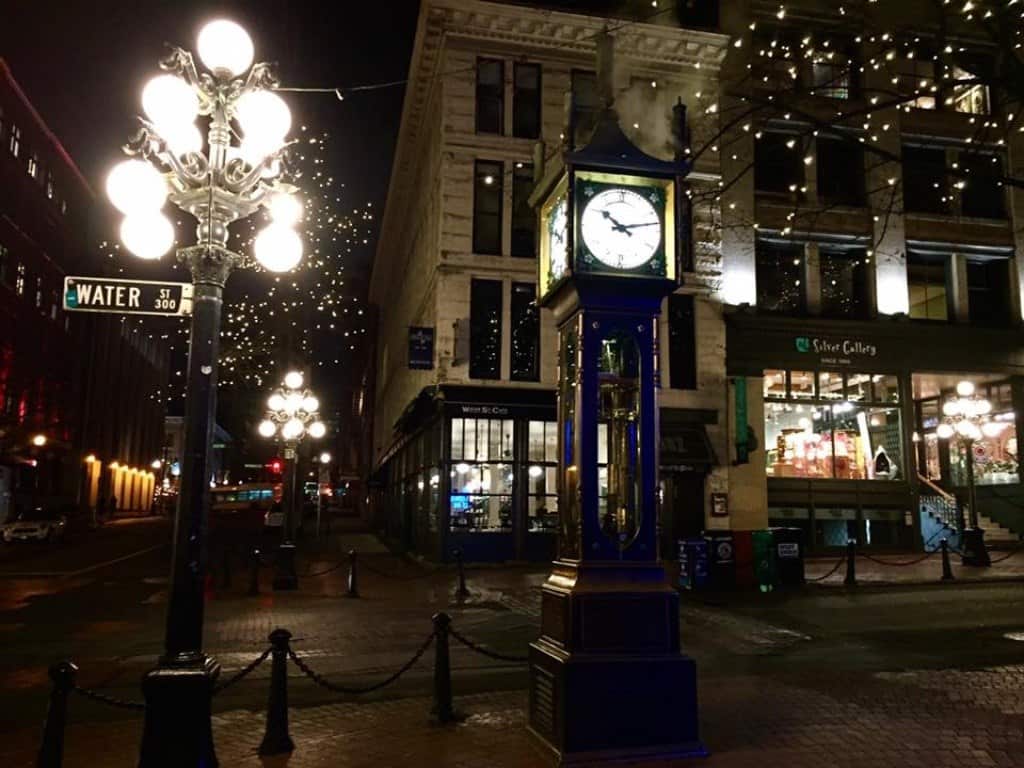 Vancouver Travel Guide
Now that you know the best things to do in a Vancouver Itinerary, here are some more travel tips. We'll help you figure out the best time to visit, how to get around, where to stay and what to eat when visiting Vancouver.
When to Visit Vancouver
Planning your 3 Days in Vancouver itinerary you'll definitely want to make sure you fact in the time of year depending on what you want to do.
Home to the mildest winter weather in all of Canada, Vancouver is a great city to visit year-round.
That being said, some seasons are better than others.
Winters are mild, but also the wettest season in this city. While a little rain never killed anyone it does sometimes make it difficult to enjoy outdoor activities such as hiking.
When rain falls in the city, there is a good chance snow is falling on the mountains so it's great for any skiers/snowboarders planning a visit.
May – September boasts the driest weather, June and July being the hottest and busier months of the year.
Spring and Autumn are also known to be quite mild and while some days are rainy, it won't be nearly enough to keep you from enjoying your 3 days in Vancouver itinerary.
Getting Around Vancouver
If you're wondering how to get around when visiting Vancouver in 3 days there are a few options.
Most of the city is connected on the bus and the Skytrain lines connecting downtown Vancouver to the Vancouver International Airport, the North Shore mountains, and even out to Surrey.
Translink services tons of destinations including the SeaBus which will get you over to North Vancouver in the most scenic way.
The transit map is broken up into zones and the fares relate to which zone you're travelling.
A day pass can be purchased for $10.50 which allows you to ride the SkyTrain or the bus for an unlimited amount which will make it so easy for you to get around and explore.
For more information on transit visit the Translink website here.
Getting around the downtown core is best done on foot as traffic can be quite hectic, plus the views are better while walking than from any bus window.
When the weather is good the best way to get around to all the beaches and the seawall is definitely by bike, if you don't have your own there are dozens of rental shops around to choose from.
If you like doing those red hop-on hop-off bus tours, you can purchase your ticket here.
The best way to get around is to rent a car and explore on your own! We recommend Rental Cars, which has the largest range of vehicles for the best value on the market.
Where to Stay in Vancouver
When it comes to exploring Vancouver in 3 days, you'll want to know you have a great place to rest after a day of sightseeing.
Tons of factors come into play when making the decision, mountain view or ocean view? A quiet neighbourhood or right in the heart of the city? Rooftop spa or free breakfast?
A cozy romantic hotel suite, a dorm room to save some cash or maybe a room with a view of Coal Harbour and your own fireplace.
You'll never be far from something incredible no matter what neighbourhood you choose to stay in either.
Whatever you're looking for and whatever your budget might be Vancouver definitely has something for everyone.
The Best Hostel in Vancouver – Samesun Vancouver
Samesun Hostel is located in the vibrant entertainment district of Granville Street in the heart of the city.
Start your stay off right with free breakfast, share your favourite Vancouver moments with free wifi, meet tons of other people at the onsite bar, The Beaver and enjoy tons of different events each night.
Fun fact – The Samesun Hostel is where the founders of this website, Alesha and Jarryd, met way back in 2008!
Best Budget Accommodation for Couples – Atrium Inn
If you're looking for the best place to stay for you and your other half for your 3 days in Vancouver itinerary head to the Atrium Inn.
Beautiful decor and spacious rooms will leave you hard-pressed to leave the hotel, but you'll feel extra lucky with how close to the action this hotel is. The perfect place to sleep in and have breakfast in bed too!
Best Boutique Hotel in Vancouver – The Burrard Hotel
Super funky and located right on Burrard Street, the Burrard Hotel is one of the trendiest spots to stay in the entire city.
One of the first hotels in downtown Vancouver, it has since been fully renovated to be hip, modern and high-end, but keeping to its roots and keeping the design from the 1950s.
Check out our full review of the Burrard Hotel here.
Best Restaurants In Vancouver
An itinerary for 3 days in Vancouver would not be complete without a few good meals to fuel your adventures.
You'll find every cuisine to please any palette in this city and everyone's wallet too.
Budget: The Warehouse Granville
If your 3 Days in Vancouver itinerary needs to be done on a strict budget look no further than The Warehouse Granville.
With the entire food menus under $6.00, this is the perfect place for anyone with a strict budget looking for a good feed, and in the heart of the entertainment district too.
Mid-range: Twisted Fork Bistro
In the heart of Gastown is the Twisted Fork Bistro. The cozy atmosphere is rivaled only by the menu of Canadian bistro fare with a French twist.
With brunch served daily and a perfectly matched drinks menu it would be a crime to miss out on a meal here.
High-End: Five Sails Restaurant
With gorgeous views of the water and mountains, this fine dining restaurant is one of the best in downtown Vancouver.
They have lots of high-quality meat and seafood dishes as well as a high tea available. This restaurant is located inside the Pan Pacific Hotel in Canada Place.
DISCLAIMER: Some of the links in this article are affiliate links, which means if you book accommodation, tours or buy a product, we will receive a small commission at no extra cost to you. These commissions help us keep creating more free travel content to help people plan their holidays and adventures. We only recommend the best accommodations, tours and products that ourselves or our fantastic editorial team have personally experienced, and regularly review these. Thanks for your support, kind friend!