Get out of the city and have an epic time with this list of the best day trips from Vancouver!
Vancouver is one of the biggest cities in Canada and one of the most visited in North America.
Boasting the best of both the mountains and the ocean, Vancouver has been ranked as one of the most livable cities in the country over the last several years.
This big city is full of incredible things to do, experiences to be had, views to see and restaurants to enjoy. But what if you want a little bit more?
You're never far from an awesome adventure when you arrive in Vancouver.
From the famous Sea to Sky Highway, to the Capilano Suspension Bridge Park, to the nearby hot springs and mountains around British Columbia, here are some of the best day trips from Vancouver.
The Best Day Trips from Vancouver
Head out for a day of skiing in Whistler or go chasing waterfalls in Squamish. Or ride the Sea to Sky Gondola in between the two and enjoy the views over the Howe Sound.
Pack your bags and head to any number of Provincial Parks, or catch a ferry ride to the islands. Or soak in the Harrison Hot Springs and marvel at Bridal Falls.
This gorgeous city is a must-visit. But when you're looking for a little escape from the city check out these 8 awesome day trips from Vancouver.
READ MORE: Don't miss out on this epic 3 days in Vancouver itinerary!
1) Whistler
When it comes to Vancouver sightseeing you'll see all the beautiful views on your way to Whistler.
The Sea to Sky highway connects Vancouver to Whistler with 120km of the most incredible scenery on offer in British Columbia.
Whether you're driving or catching a ride on the Greyhound bus your head will be up in the mountains in no time at all.
And if you want an extra special way to get you Whistler you can book in on a floatplane and see it all from above.
Or you can ride the Sea to Sky Gondola from Squamish up to Whistler and enjoy the dramatic views of the Howe Sound along the way.
If you're visiting in the off-season there are countless trails to be explored, mountain biking to be done and patios to be enjoyed.
Of course, Winter is best for your skiing and snowboarding needs but also prime time for snowshoeing, skating and even winter hiking too.
What to Do in Whistler
One of the venues for the 2010 Winter Olympic Games, Whistler offers some of the most incredible terrain for winter sports.
First and foremost, Whistler and Blackcomb mountains have over 200 runs for skiing and snowboarding on over 8,100 km of skiable terrain.
The views are some of the best in the country and can also be enjoyed by those who may not be interested in skiing/snowboarding.
The Peak 2 Peak Gondola connects Whistler's Roundhouse Lodge to Blackcomb's Rendezvous Lodge and is the perfect way to experience the beauty of the mountains all year round.
After a day on the slopes, you might be on the lookout for something relaxing to do.
Scandinave Spa is the perfect place to visit to treat yourself. This Nordic Inspired Spa also has a Finnish sauna, a thermal waterfall and massage treatments on offer.
The spa's relaxing and idyllic environment is the perfect place to soak away the potential ache of the slopes before checking out any number of amazing bars and restaurants for an apres-ski session.
There is so much more than just hitting the slopes and pampering yourself in Whistler village.
For starters, no matter the season you'll find tons of hiking trails to take advantage of. Head to the Whistler Train Wreck trail which starts at Jane Lake Road.
You'll follow a marked trail through the forest, past beautiful waterfalls and out to a site where train cars have been painted and left after wreckage in the 1990s.
Cheakamus Lake is one of the best trails in Whistler boasting gorgeous views and very little elevation gain too.
Or maybe you want to check out some gorgeous waterfalls?
Definitely make a stop at Brandywine Falls which is easily accessible from the parking lot and gorgeous even in winter when the falls freeze over.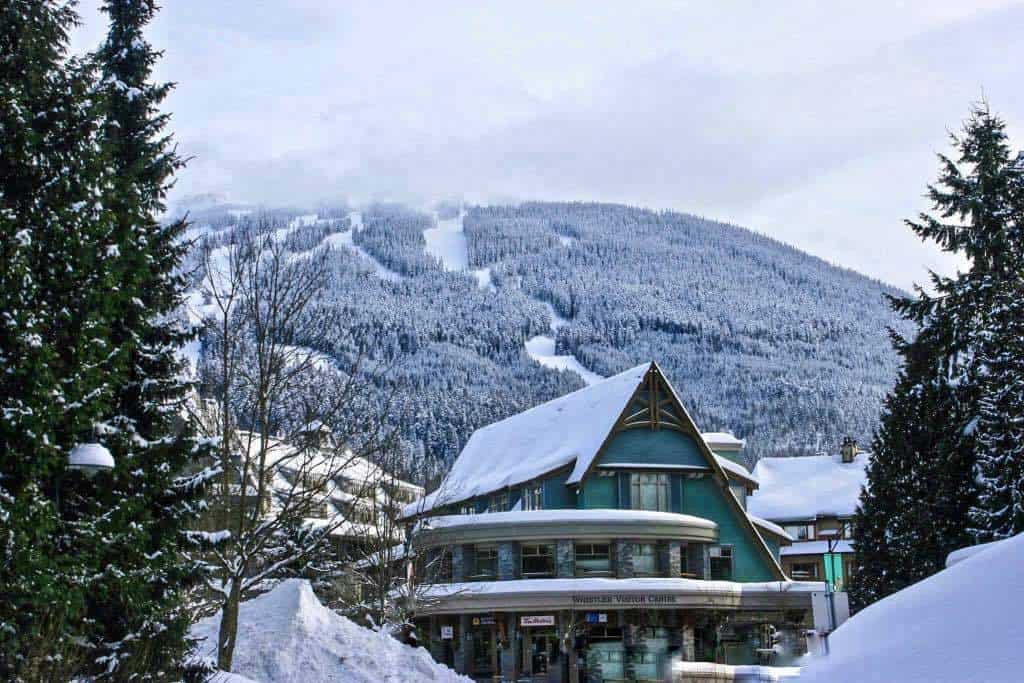 2) Sunshine Coast
Why not escape the Vancouver mainland for the islands one day?
Even in the winter months, the Sunshine Coast lives up to its name benefitting from 4-6 hours of extra sunlight a day.
Whether you're on foot or have your own car, you can catch a ferry ride from Horseshoe Bay and in 40 minutes you'll be stepping foot on the coast.
This recreation destination is a favourite for locals for its endless supply of things to do and views to be seen.
There is hiking, swimming, canoeing, and kayaking for all those outdoor enthusiasts.
There are farmer's markets, distilleries, and award-winning restaurants with a West Coast flare for anyone wanting to treat themselves on this fun day trip.
What to Do on the Sunshine Coast
One of the draws for visiting the Sunshine Coast is the amazing scenery to be found. Princess Louisa Provincial Park surrounds the picturesque Princess Louisa Inlet and a must-see spot.
This 6km long fjord is home to steep towering walls of granite growing out of the water and the equally impressive Chatterbox Falls at the end of the inlet.
These falls are even more impressive in the rain, so if you get bad weather, still add this to your list of Vancouver day trips not to be missed.
If you're a sunset chaser then check out Half Moon Bay. This is also a great spot for anyone who is keen on diving, and a perfect picnic spot with a lovely view.
Smuggler Cove Marine Park, Ruby Lake and Soames Hill are all places perfect for hiking and swimming (when it's warm enough) in beautiful blue waters.
The Sunshine Coast has 4 breweries and 1 cidery all of which are hugely community based and focus on small batch production.
Be sure to visit Townsite Brewing, The Bricker Cider Company, and TapWorks just to name a few.
Not only great beers and ciders on offer but also awesome food menus and all with gorgeous settings and fantastic patios to enjoy the views.
Being on the coast you're of course in for some amazing seafood, but what's better than the classic fish & chips lunch after a day of hiking or beaching hopping?
Head to Sharkey's Fish Locker in Roberts Creek for locally sourced, wild and organic meals that compliment the setting perfectly.
For more foodie favourites check out some of the markets along the coast including The Coast Berry Farm, Gibson's Public Market and The Powell River open-air market.
Don't despair if you find yourself on the coast when the rain does hit.
This is actually the perfect time to do a little waterfall chasing. The rain adds to the beauty of the forests and gives the waterfalls that extra spray.
Blackwater Creek is great for hiking or mountain biking through incredible forests and through a stunning gorge.
Langdale Falls is a quick trail at less than 1-hour return and takes you to a stunning set of falls over 40 meters tall.
Cliff Gilker Park is a hiking-only area with over 7 km of trails to be explored. To find out about all the trails on the coast check out the Sunshine Coast website here.
The best way to get around is to rent a car and explore on your own! We recommend Rental Cars, which has the largest range of vehicles for the best value on the market.
3) Joffre Lakes or Garibaldi Provincial Parks
There's a serious abundance of Provincial parks in British Columbia, and they are all stunning.
As you head out of Vancouver along the Sea to Sky highway past Squamish and Whistler you'll hit the first of the beautiful parks, Garibaldi Provincial Park.
Head a bit further north and you'll find Joffre Lakes Provincial Park. It might take an early wake up to make the drive up to either park but it will totally be worth it.
Joffre Lakes is located in Pemberton just north of Whistler and where you'll find 3 of the most beautiful lakes in the country (and maybe even the world).
Accessible in both summer and winter, by snowshoes, and even has a campsite at the top of a glacier if you fancy coming back for a longer trip.
Garibaldi Provincial Park can be found just off the Sea to Sky highway and covers nearly 2,000 square km of land.
Both are beautiful and can each be reached in one day out of downtown Vancouver.
What to Do in Joffre Lakes or Garibaldi Provincial Parks
Driving from Vancouver Garibaldi Provincial Park is the first you'll see. The first several km of the trail may seem like they stretch on forever through the dense forest but don't give up.
You'll have the option at a fork in the trail to cut through to the lake or go through Taylor Meadows to the lake which is the suggested route.
The Meadows are full of incredibly vibrant alpine wildflowers that bloom in early summer and into autumn.
All the trails are well marked and there are maps along the way to guide you to Garibaldi Lake.
Laying eyes on this turquoise coloured alpine lake will be love at first sight for most and you'll likely snap tons of photos to show off when you get home.
While this park is perfect for a day trip from Vancouver if you have the time and the experience. This trail also intersects with 2 multi-day hikes to Black Tusk or Panorama Ridge from Garibaldi Lake.
Joffre Lakes Provincial Park has 3 insanely gorgeous glacial lakes to be explored. The first within minutes of the parking lot.
It's best to get here early as the parking lot is relatively small and although you can park on the side of the road, after 10 km return you probably won't want to be walking back to your car.
The hike will take you along switchbacks from the first lake as you climb up through the trees and you'll be able to spot the second lake through the trees too.
That second lake is likely the most impressive of the 3 with its insane blue colour.
Fed from a massive glacier, swimming here is not for the faint of heart. But it's a good way to kickstart your heart to continue onto the 3rd lake which takes you past an epic waterfall.
Past the 3rd lake is also where the campsite is if you are interested in turning your day trip into a longer one.
4) Victoria
The capital city of British Columbia and probably one of the most beautiful cities with a small-town vibe.
Victoria is the biggest city on Vancouver Island and a lovely day trip out of Vancouver and very much accessible by everyone.
While the quickest way to Victoria is by seaplane, it may not be in everyone's budget.
Instead, you can get a ferry ride on foot or with your car from Tsawwassen (Vancouver) to Schwartz Bay (Victoria).
Public transit goes from downtown Vancouver to the ferry and from Schwartz Bay to central Victoria.
The capital city of British Columbia is full of history and you'll feel as if you've been transported to another time just walking around the city.
But be sure not to miss the awesome outdoor activities including Butchart Gardens and Beacon Hill Park.
Victoria is also home to some of the most colourful areas in the province so be on the lookout for all the colours of the rainbow no matter where you go.
What to Do in Victoria
The Inner Harbour in Victoria is a hub of activity and a beautiful place to explore as a first stop.
Live music, arts and craft vendors, and painters displaying their art along the boardwalk create a lively atmosphere, not to mention the beautiful boats docked here.
The British Columbia City's Parliament buildings look over the inner harbour and can be mistaken for a castle any day. Check out the Royal British Columbia Museum and Archives to learn more about the city's history and culture.
If you're looking for another castle worth checking out there is also Hatley Castle. Often used in TV series and movies and was once a military base and now a museum.
Craigdarroch Castle is a national historic site and said to be one of the most haunted buildings in Canada.
Open to the public, visitors can walk through and get a sense of what life was like in the 1800s and find out all the haunted history.
Finding colour in Victoria is the opposite of finding a needle in a haystack. It's everywhere! Fisherman's Wharf is one of the most vibrant of all with dozens of brightly coloured houseboats and restaurants.
Pop down to Fisherman's Wharf for a wander along the boardwalk or fish & chips and be on the lookout for playful harbour seals that come up to see what all the fuss is about.
Lower Johnson Street is full of independent shops and is not only charming but also painted in lovely pastels and vibrant colours.
Not far off you'll find Canada's oldest Chinatown. Victoria's Chinatown is a National Historic Site and a beautiful part of Victoria's history.
Lanterns line the streets leading away from giant red and gold gates and FanTan alley is mesmerizing no matter what time of day you visit.
Butchart Gardens is one of the top things to do in Victoria and receives over 1 million visitors every year.
Beacon Hill Park is a fantastic place to go for a walk not far from downtown. Covering over 200 acres of land you'll find walking trails, a mini-golf green, multiple gardens and even a petting zoo.
If you are hoping to escape the city parks and get out into nature in a big way head for Goldstream Provincial Park.
The trails take you through the beautiful forests and you'll find tons of waterfalls along the way too.
Most trails lead to Goldstream Trestle which is an abandoned railway crossing above the Niagara River.
It is advised not to cross the trestle but the views from the top of this trail are incredible without setting foot on it. Also, consider taking a short drive north to explore the beauty of Hornby Island.
You could also book a whale watching tour during the ideal months of April to November.
READ MORE: Include these 7 top things to do in Victoria to your day trip!
5) Bowen Island
While Bowen Island may technically be part of the metro Vancouver area, you'll still need to get a ferry ride over.
Regular BC ferry services from Horseshoe Bay to Bowen Island go throughout the year and is one of the quickest islands to reach from the city.
This quick Vancouver day trip is perfect for those looking to explore on a time crunch.
At just 12km in length, Bowen Island may be small in comparison to other islands nearby but it's full of great things to do.
The perfect place for kayaking, hiking and spotting wildlife, but also an island with great restaurants and offers an amazing yoga facility.
What to Do on Bowen Island
Looking for something special to do to celebrate or maybe just want a unique dining experience?
Why not opt for dinner and a cruise to Bowen Island. You'll get incredible views of the Howe Sound and be treated to an incredible meal once you reach the island.
Something a little more special than just taking the ferry across on your own.
While most likely wouldn't immediately think of Bowen Island for dining options there are some truly fantastic places here.
Branch & Butter is a tiny shack turned awesome snack bar and restaurant right on the pier as you get off the ferry.
The perfect place for gourmet ice creams or post-hike tacos, they even have an adorable boutique next door full of locally sourced goodies.
There are a handful of hiking trails across Bowen Island all with amazing views and opportunities to spot some wildlife.
Dorman Point takes less than 2 hours round trip and is the best way to get a feel for the island.
There are some steep sections but you'll come through the trees and at the top be gifted with stunning panoramic views across the Queen Charlotte Channel back to Vancouver.
Mt.Gardener is the island's tallest mountain and can be quite challenging at 10 km return.
Amazing views await you at the top but it should be noted this is not for beginner hikers.
For something a bit more laidback head for the Killarney Lake Loop which is shaded by beautiful fir trees and circles around a gorgeous lake.
If yoga is something that you love, check out Nectar Yoga. While this is a yoga retreat centre / B & B they also offer community yoga classes at times and offer day treatments and tarot card readings in a tranquil and picturesque setting.
Or perhaps you're looking to get out onto the water for the afternoon, sea kayaking is the perfect way to do just that.
Kayaks can be rented at a shop right on the pier by the ferry terminal and they even offer paddleboards as well to get a whole new perspective of the island from the water.
6) Chilliwack
Less than 120km east of Vancouver is Chilliwack, an often-overlooked city but one perfect for a one day trip from Vancouver.
Driving is your quickest option and gives you more freedom once you reach the city. But Greyhound buses do operate from Vancouver to Chilliwack daily as well.
Surrounded by stunning mountain ranges and the Chilliwack Lake Provincial Park and more, there are tons of outdoor activities to enjoy.
Museums and cultural centres are at your disposal to really get an understanding of the city and how it came to be.
Not to mention the always-growing food and craft beer scene is some of the best in the province too.
What to Do in Chilliwack
One of the most iconic parts of Chilliwack to be explored is definitely Bridal Veil Provincial Park.
The most sought after destination in the park is definitely the Bridal Falls themselves, and the easiest to access too.
Just a short distance from the parking lot and there you are, close enough to feel the crazy spray on your face from Bridal Falls.
If you want to keep the adventure going there are several other hiking trails that fork off from the falls that can be enjoyed as well.
If you really want to get out into nature make your way to Lindeman Lake.
The loop trail here is less than 4km roundtrip taking you through the lush forests and has some pretty photo-worthy lake views too.
For the best views in Chilliwack be sure to check out Mount Cheam.
This relatively intermediate hike takes you up through beautiful meadows with gorgeous views of the valley below until you reach the summit.
Once at the top marvel at all you can see over the Fraser Valley and panoramic views of Chilliwack.
If your visit happens to bring you to Chilliwack in April you'll be one of the lucky people who get to visit the Tulip Festival.
You'll be able to see the vibrant coloured rows of tulips from the highway which should convince you pretty quickly it's worth checking out too.
A trip to Klassen farms is a must to pick up snacks to fuel up on your day trip from Vancouver.
The farm has been a local establishment for years and offers a u-pick set up where you can go in and pick your own blueberries to take away.
Nothing fresher than that! Or maybe you fancy some locally made cheese from Smits & Co W Farm or organic and delicious honey from Chilliwack River Valley Honey.
The region is ripe with produce and the locals pride themselves on giving visitors the best of the best to take home with them.
Adrenaline junkies, don't despair Chilliwack has got the perfect afternoon already planned out for you.
Head over to Chilliwack River Rafting for a day of amazing fun on the river. From May through July visitors can gear up and get strapped in for any number of adventures in white water rafting.
With several different trip options, whether you're a first-timer or a seasoned pro on the rapid the team here will have you loving every minute of this wet and wild experience.
Some of their trips offer hiking stops and lunch stops or if you prefer more time on the rivers that's doable too.
No matter the weather this is the perfect way to experience Chilliwack.
READ MORE: Plan your trip to Canada with our Canada Travel Guide.
7) Harrison Hot Springs
For an unforgettable day full of hot springs, enjoying nature, and relaxing, visit Harrison Hot Springs.
Located just a 1.5 hour drive west of downtown Vancouver, this small resort town is surrounded by nature and has plenty of fun activities.
At the southern end of the beautiful Harrison Lake near Echo Island, this spot boasts all the natural beauty of the Fraser Valley in British Columbia. The hot springs are set just next to the lake, with plenty of mountains and forest in the background.
The stunning waterfall connected to Fraser River known as Bridal Falls is near Harrison Lake as well so you can combine the two into one visit.
What to Do in Harrison Hot Springs
Of course the best thing to do here is enjoying the warm, natural mineral waters of the hot springs.
The Harrison Hot Springs Public Pool is the best way to access the mineral rich waters of the spring. It is located at the cross of Hot Springs Road and the Esplanade Avenue.
The water is pumped in directly from a natural spring, and cooled to a comfortable temperature at around 100 degrees Fahrenheit/38 degrees Celsius. Currently, the Harrison Hot Springs Public Pool is closed due to COVID, but only temporarily. It will be reopening soon, so check the website for details.
Any guests staying at the Harrison Hot Springs Resort can still use the private hot springs reserved for guests. The Harrison Hot Springs Resort has five mineral springs pools as well as spa treatments.
Soaking in the hot springs isn't the only attraction in Harrison Hot Springs, believe it or not. The hot springs are perfect for relaxing after a day exploring all the nature that surrounds the resort town.
When you visit in the summer months you can go hiking and mountain biking in the mountains of the Harrison River Valley. You can also sunbathe on the beaches of Harrison Lake or go kayaking in the water.
In the winter, the Fraser Valley fills will fresh snow and you can cross country ski or snowshoe. So although the summer months are probably ideal for visiting Harrison Hot Springs, you can come at any time and enjoy the peaceful, natural beauty of the area.
This is one of the best day trips from Vancouver for those who want to have some fun in nature and then area themselves to a soak in the healing hot springs afterward.
Bridal Falls is nearby as well. Spilling into the Fraser River, Bridal Falls is an easy stop from here or from Chilliwack. The hike to Bridal Falls is short and easy, though it may be closed during the winter months.
But if you're visiting this area in summer, Bridal Falls is an amazing stop before or after heading to Harrison Hot Springs.
8) Squamish
Surrounded by some of BC's most breathtaking mountains, Squamish is a must-do day trip from Vancouver.
Located just 65km from Vancouver on the Sea to Sky Highway, Squamish is often overlooked by travellers who head straight for Whistler.
However, the gems to be discovered here are incredible.
This side trip from Vancouver can be done by car along the Sea to Sky Highway, or by Greyhound Bus.
Tackle the infamous Chief, taste some locals brews and definitely chase some waterfalls while you're here.
What to Do in Squamish
The best day trip from Vancouver to Squamish will definitely include a trip to the Sea to Sky Gondola.
A 10-minute ride in a cable car known as the Sea to Sky Gondola takes you nearly 900 meters above sea level with views out over the Howe Sound that will blow your mind.
Multiple viewing platforms make this a photographer's dream. The Sky Pilot Suspension Bridge also boasts one of the best views in the area, and you can even hike up to the suspension bridge from the parking lot if you're feeling ambitious.
While there are tons of hikes in Squamish, the most iconic is definitely The Chief. This intermediate hike will take you an 11 km round trip and all 3 peaks can be done in a day.
The trail is pretty intense with even a ladder section. But the views from the top are like nothing you've ever seen before.
For something less intense checkout Alice Lake and The Lions Bay Loop.
There is lots of amazing eating and drinking in the area as well which you can enjoy after hiking and enjoying the views on the Sea to Sky Gondola or the suspension bridge.
Pop into The Howe Sound Brewery for a post-hike pint or two after tackling the trails.
This homegrown brewery opened in 1996 and offers some really fantastic craft brews and a great food menu too.
Every Saturday you'll find the Squamish Farmers Market set up, bringing you over 60 vendors of local produce and crafts and a great place to stock up on snacks for an adventure.
Match Eatery & Public House is a great spot for lunch and has an epic view of The Chief too.
Squamish is also a great place if you want to try out some adrenaline-inducing activities. Check out mountain biking, rock climbing, white water rafting and even kiteboarding.
The Squamish Adventure Center is the best place to find out more about any of these activities and figure out just how many epic things you can do in a day.
And for waterfall enthusiasts, you'll want to be sure to get to Shannon Falls.
A part of the Provincial Park you'll be able to get a glimpse of the falls as you drive into the parking lot from the highway.
Within minutes you'll hear the spray and on an especially rainy day, you'll even be able to feel it too.
Great picnic areas are at the base of the falls too and a trail exists to hike up to the top of the falls but it is quite intermediate if you want to attempt it.
Bonus Day Trips Close To Downtown Vancouver
An amazing thing about Vancouver is all the nature that lies close to the city centre. If you check out our list of things to do in Vancouver, you'll notice there are lots of day trips into nature that are super close to downtown Vancouver.
Some of these attractions are technically part of Vancouver, but you could dedicate a whole day to enjoying them. So here are some quick day trips from downtown Vancouver that you can reach by public transport or just by driving a short distance from the city centre.
Grouse Mountain: Just a 20-minute drive from downtown Vancouver, Grouse Mountain is one of the best day trip ideas in the area because it is fun during all seasons. Ski, snowboard, hike, visit the local wildlife refuge, ride the sky gondola, and more in the North Shore Mountains near North Vancouver.
Capilano Suspension Bridge Park: The Capilano Suspension Bridge Park is just over a 10 minute drive from north Vancouver. It's one of the top attractions in this area of British Columbia. Walk across the iconic, 140-meter-long Capilano Suspension Bridge over the river, and enjoy the nearby forest hiking trails.
Deep Cove: Referred to by locals as The Cove, this postcard looking part of Vancouver is truly a great escape from the big city life without even really leaving the city. Spend your day in Deep Cove hiking, kayaking, wandering or indulging in great food and drink, this part of the quaint seaside city has it all.