Wollongong is a charming coastal city in Australia that doesn't get as much attention as it deserves.
Located just one hour south of Sydney along the Grand Pacific Drive, Wollongong has all the best elements of Australian natural beauty and culture.
There are enough restaurants, bars, shops, cafes, and attractions to make Wollongong classify as a city, but it has the residential feel and relaxed atmosphere of a small beach town.
It has two amazing beaches, ocean pools, a few nature reserves, a biking trail along the coast, and two mountains nearby. So you can go surfing, cycling, and hiking all in one day!
READ MORE: Don't miss our ultimate round-up of the best places to visit in Australia!
There's an art gallery, live music venues, a shopping mall, and weekly street markets. You can also find the iconic Sea Cliff Bridge, two lighthouses, and the largest Buddhist temple in the Southern Hemisphere.
There are so many things to do in Wollongong that appeal to everyone, whether you're looking for entertainment and culture, or natural beauty and adventure.
It's also an extremely accessible place to visit. If you have a car, just head south of Sydney along the stunning Grand Pacific Drive and over the Sea Cliff Bridge.
If you'd rather not drive, you can just jump on the Southern Trail Line from Sydney. The journey is only an hour and goes directly into Wollongong Train Station.
Once you arrive, you can start exploring all the best Wollongong attractions!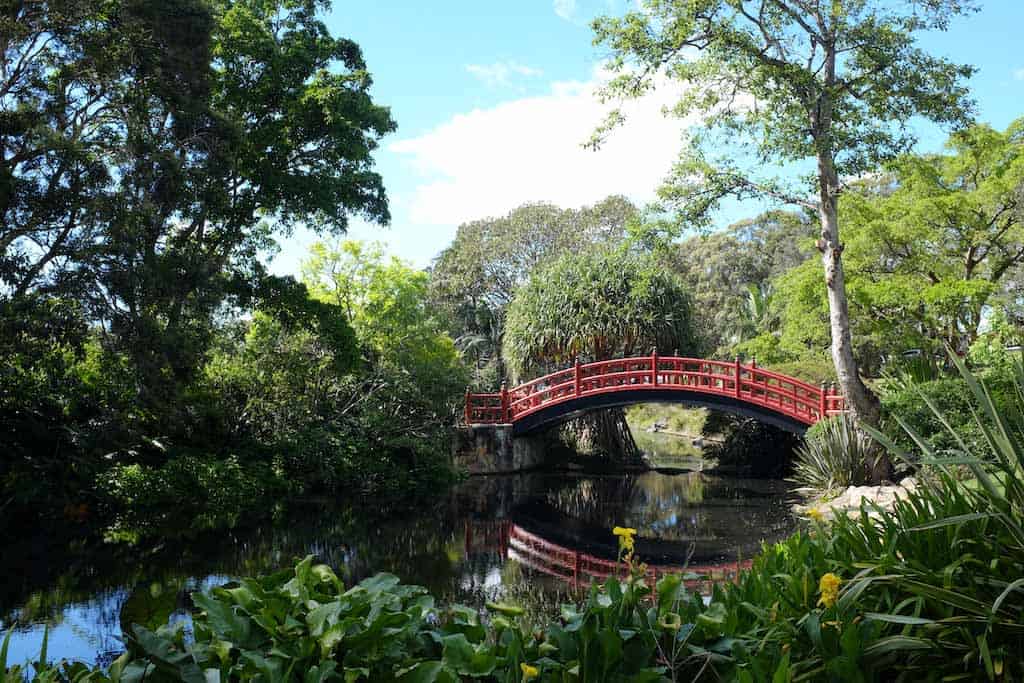 The Best Things To Do In Wollongong
Wollongong is quite small, so a 2-3 day weekend trip from Sydney is perfect.
If you want to take more day trips to the surrounding areas of Wollongong, you could even stay for up to a week and visit nearby areas like the Blue Mountains, the Royal National Park, or the Southern Highlands.
You could also head south to enjoy attractions like the Illawarra Fly Treetop Walk, Port Kembla Beach, Lake Illawarra, Budderoo National Park, or Jamberoo Action Park.
So for anyone wondering what to do in Wollongong, Australia, there is no shortage of attractions and activities in this beautiful coastal city of NSW!
Here is our list of the 20 best things to do in Wollongong!
1. The Grand Pacific Drive, Bald Hill Lookout, & Sea Cliff Bridge
If you're driving from Sydney to Wollongong, you can do so along the Grand Pacific Drive. This coastal route from Sydney to Kiama is so gorgeous, and you'll pass lots of scenic lookouts. Bald Hill Lookout is the best one, which overlooks Stanwell Park beach.
After Bald Hill Lookout, continue driving until you reach the famous Sea Cliff Bridge! It's a massive, white bridge that curves away from the seaside cliffs and sticks out over the Pacific Ocean. So when you drive across it, you feel like you are flying over the sea.
It's one of the coolest spots along the Grand Pacific Drive. The Sea Cliff Bridge has a little pedestrian walkway next to the road so you can walk along it as well.
After passing the bridge, you'll drive through lots of charming beach towns until you can turn off the Grand Pacific Drive to Wollongong.
2. Check out the Wollongong Art Gallery
Whether you're an art enthusiast or not, visiting the local art gallery is one of the best things to do in Wollongong.
This small but entertaining art museum is full of paintings, photographs, and other pieces from talented local artists. Lots of the art depicts scenes from the surrounding areas, so it's a cool insight into the local culture, scenery, and wildlife.
The Wollongong Art Gallery is located right in the town centre, and only takes about an hour to explore but it's a fun activity especially for a rainy day.
Address: 46 Burelli Street, Wollongong, NSW 2500
Hours: Tuesday through Friday from 10 am to 5 pm, Saturday and Sunday 12 pm to 4 pm
Cost: Free!
3. Stroll Through the Wollongong Botanic Garden
One of the best Wollongong attractions is the Botanic Gardens.
This huge green space is free to enter, so even if you're not interested in all the plants you can just come relax in the gardens and read or have a picnic.
There are so many cool things to see at the Wollongong Botanic Garden, including rainforest and desert sections full of native and exotic plants.
The Wollongong Botanic Garden also has a small pond and stream with an adorable Japanese bridge and a beautifully landscaped rose garden.
Address: Murphys Ave, Keiraville NSW 2500
Hours: Open every day from 7 am to 6 pm
Cost: Free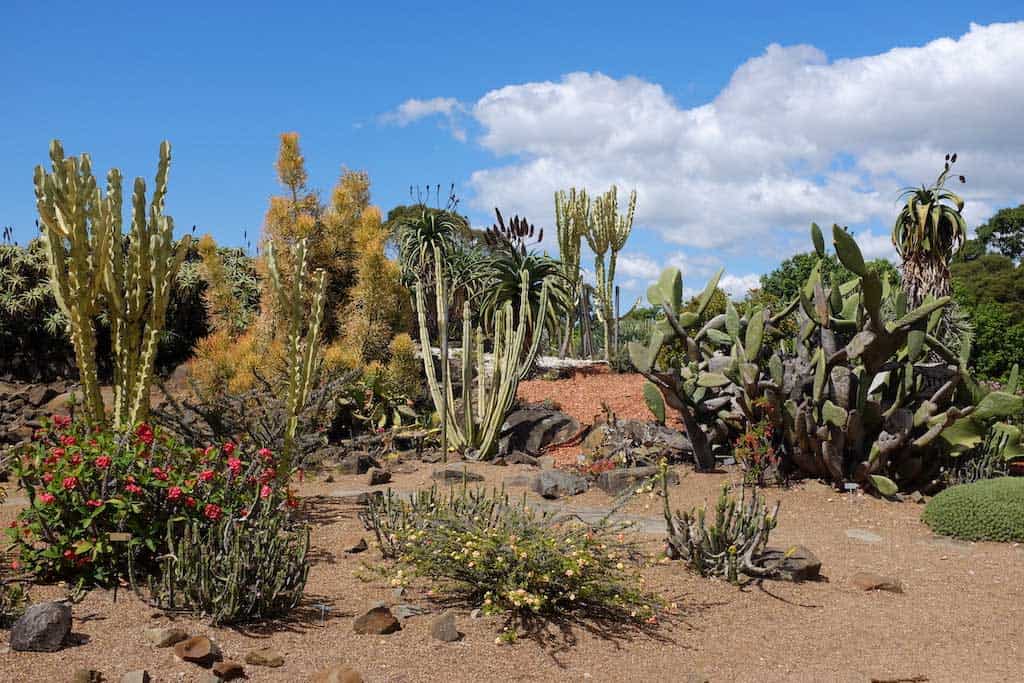 4. Shop at the Forager's Market
Every Friday morning, the main pedestrian street of Wollongong fills up with an incredible local market.
This is the Forager's Market, where you can shop for fresh fruits and vegetables, homemade pastries, desserts, and bread, trendy clothes and accessories and a whole bunch of other products.
All the vendors are well-loved locals who run small businesses, so shopping here is a nice way to support the community and pick up some interesting souvenirs.
So if you're in town on a Friday, this is one of the top things to do in Wollongong.
Address: Crown Street, Wollongong NSW 2500
Hours: Every Friday from 8 am to 2 pm
5. Go for a Run or Bike Ride Along the Cycleway
One of the best things to do in Wollongong is going for a bike ride along the Cycleway. This long pedestrian-friendly strip of sidewalk runs from Wollongong Harbour and up the coast all the way to the town of Thirroul.
The whole trail is 17 km long, so this is a great way to get some exercise and explore the small towns along the coast.
There are also some nice cafes right on the beach along the cycleway, like the North Break Cafe in Woonona, Olive's Cafe in Bellambi, and Ruby's Cafe in Bulli.
You could also further explore Thirroul when you arrive up there. The Sublime Point Lookout is a steep hike, but it offers a panoramic view of the entire Wollongong area.
For bike rentals in Wollongong, visit:
Boomerang Bikes
Address: 2-14 Cliff Road
Hours: Visit their website for contact information.
Simple Cycles
Address: 316 Keira Street
Hours: 9 am to 6 pm, closed on Sundays (visit the website for more info)
READ MORE: Check out the perfect 1 day in Sydney itinerary!
6. Learn to Surf at North Wollongong Beach
Wollongong has two beaches right in the city center.
North Wollongong Beach is an amazing place for swimming, sunbathing, and learning how to surf.
If you've never learned to surf but always wanted to try, the waves here are small and easy so it's a great place to learn.
There are a couple of surf schools with experienced local instructors who can teach you the basics.
Pines Surfing Academy is located right on North Wollongong Beach.
Australian Surf Tours is based in the town of Thirroul about 20 minutes north of Wollongong, but they host surf lessons in the entire Wollongong area. (AST is temporarily closed due to the pandemic. Check their website for updates!)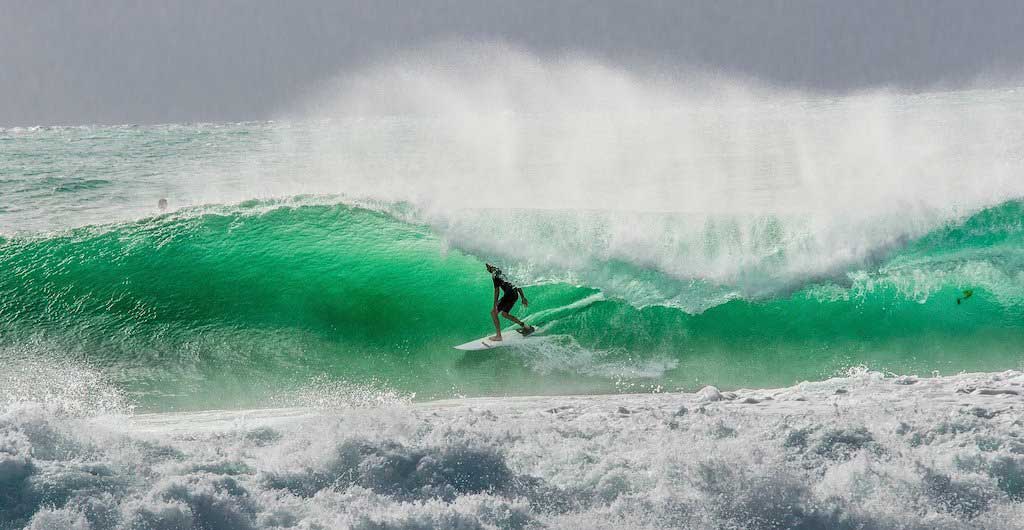 7. Hike Mount Kiera
The nearby Mount Kiera is one of the best things to see in Wollongong.
It's pretty incredible that this coastal city has its own mountain, so hikers and lovers of the outdoors will not be disappointed here!
The Mount Kiera Ring Track is a 5.5km loop that trails around the mountain. The walk takes between 3 and 5 hours depending on your fitness level.
Visit the official NSW National Parks website for more detailed information.
If you're not up for hiking, you can also drive to the top of Mount Kiera for an amazing lookout point over the landscape.
For more hiking opportunities, check out these awesome walks in the Royal National Park just up the road. It's only a 30-40 minute drive from Wollongong to the Royal National Park, making it an amazing excursion from the city.
8. Explore Puckey's Estate
Those looking to explore nature without going as far as Mount Kiera can visit Puckey's Estate, a nature reserve between North Beach and the next town north of Wollongong, Fairy Meadow.
Mout Kiera is only about a 15-minute drive away from the city centre, but Puckey's Estate is around 5 minutes away. You can even walk there from central Wollongong, as it lies right on the Cycleway.
Once you reach Puckey's Estate, enjoy a couple of hours exploring the bush and walking, running, or biking along the woodland trails.
You can also emerge from the forest and walk along the inlet, or see the sand dunes that line the ocean.
9. Sky Dive
What better to enjoy the coastal scenery of Wollongong than by jumping out of a plane?
Believe it or not, sky diving is actually one of the top things to do in Wollongong.
There is a very reputable sky diving company in Stuart Park near North Beach, and they are constantly taking adrenaline-seekers on jumps.
You can fully trust their equipment and their guides, but this activity is definitely not for the faint-hearted!
10. Check out Nan Tien Temple
For a fun and insightful day trip from Wollongong, drive about 20 minutes away to the town of Berkeley, NSW, and check out the Nan Tien Temple.
This is actually the largest Buddhist Temple in the Southern Hemisphere, which is quite unexpected! Australia isn't a Buddhist country, but this temple is extraordinary.
Nan Tien Temple includes a large main temple and courtyard, a towering pagoda, a gift shop, museum, tea room, classrooms and retreat spaces, and a landscaped garden.
So if you're looking to see something majestic when you visit Wollongong, the Nan Tien Temple is the perfect place to go.
Address: 180 Berkeley Rd, Berkeley NSW 2506
Hours: 9 am to 5 pm, closed on Mondays
Cost: Free
11. Eat Ice Cream on a Hot Sunny Day
Australian summers can be scorching, so you'll need to cool down on a sunny day.
After swimming in the sea, head into town and treat yourself to ice cream.
Here are some delicious ice cream shops in Wollongong that feel like absolute heaven on a hot day.
Normie's Ice Cream and Gelato
Address: The pink van parked up at Flagstaff Road near the Lighthouse
Hours: Not specified but they're there almost every day!
Gelatissimo
Address: Shop 2/219 Crown Street
Hours: 1 pm to 8 pm
Cold Rock Ice Creamery
Address: 3/22 Market Street
Hours: 12 pm to 9 pm (closes at 10 pm on weekends)
Wendy's Milk Bar
Address: 200 Crown Street
Hours: Monday to Saturday 9 am to 5:30 pm, Sunday 10 am to 4 pm
READ MORE: Check out these great day trips from Sydney!
12. Drink Tea on a Rainy Day
When it's raining, ice cream and swimming don't seem that appealing. Luckily, Wollongong has a charming little teahouse called Ziggy's House of Noms where you can relax during inclement weather.
This Asian style teahouse has a long list of loose-leaf teas, matcha and chai lattes, coffees, and more heartwarming drinks.
You can also order dumplings, noodles, and other delicious foods to warm you up.
Address: 3/163-169 Keira St
Hours: 11 am to 2:30 pm, 5:30 pm to 8:30 pm, closed on Mondays
Cost: Between $4-$6 for a drink, between $10-$20 for a meal
13. Visit the Eat Street Markets
For more food adventures in addition to ice cream and dumplings, the Eat Street Markets is one of the most enjoyable Wollongong attractions.
Every Thursday evening, Crown Street fills up with food trucks selling everything from Indian curries to Greek wraps to Ethiopian dishes to handmade pasta to sugary churros and more.
Tea lights fill the trees along the street, and street musicians serenade you while you eat. This is definitely a must-have experience in Wollongong.
Address: Crown Street (same location as the Friday Forager's Market!)
Hours: Every Thursday from roughly 5 pm to 9 pm
14. Go to the Cinema
Another one of the most enjoyable Wollongong activities is going to the cinema.
Whether you're looking for entertainment on a rainy day or something fun to do in the evening after dinner, the movie theatre in Wollongong is always showing the best new films.
Treat yourself to some popcorn and get cozy!
Greater Union Cinemas Wollongong
Address: 68 Burelli St, Wollongong NSW 2500
Cost for tickets: Varies depending on day and time, check their website for details!
15. Swim in the Rock Pools
The local rock pools are some of the most beautiful things to see when you visit Wollongong.
Whether you visit at low tide to soak in the serenity, or at high tide to witness the wild waves tumbling over the edges of the pool, the rock pools are a truly beautiful addition to the Wollongong coastline.
You can swim laps if you're feeling ambitious, or just splash around and dry out on the rocks afterwards.
There are some small and shallow rock pools up on the headland near the lighthouse, and there are deeper ones called the Gentlemen's Baths located just to the south of North Beach. There is also an official swimming pool with lanes for swimming laps near Wollongong Harbour.
Both are incredible scenic spots, especially at sunrise or sunset. Come here for a quick dip during the day or to just absorb the stunning coastal views.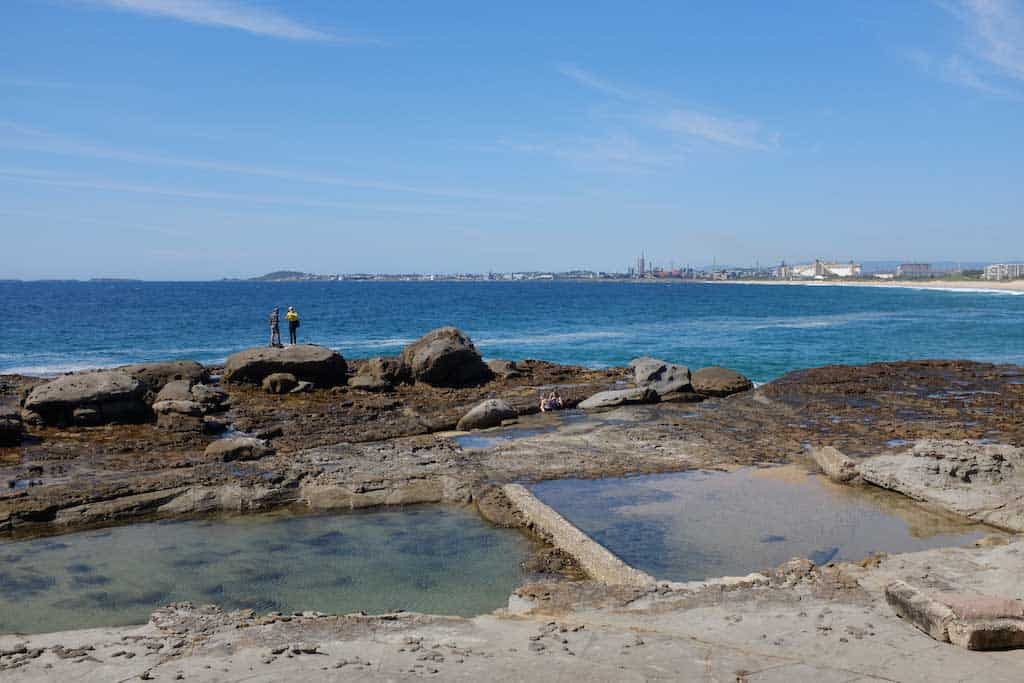 16. Sunbathe at Wollongong City Beach
Spending some time at City Beach is one of the best things to do in Wollongong.
This is the city's biggest beach, stretching for 3.1 kilometers along the coast. There are lots of fun waves here for swimming, bodyboarding and surfing, and the water is a brilliant shade of sapphire on a nice day.
The sandy portion of the beach is super wide and long, so it's perfect for lying out in the sun or going for a long walk.
On weekends, the beach gets quite lively with locals playing sports and blasting music.
There are also a few cafes and restaurants right next to the beach if you get hungry!
17. Eat Brekkie at a Local Cafe
Cafe culture is strong everywhere in Australia, and Wollongong has some particularly great cafes.
Most of them open early and close around 2 or 3 pm, so breakfast is the best time to visit.
Whether you're in the mood for something savoury, like smashed avo on toast or a bacon and egg roll, or something sweet like an acai bowl, a homemade pastry, or yogurt with muesli and fruit, there is no shortage of delicious food options at the local cafes.
They all serve incredibly high-quality coffee as well.
Here are some of the top cafes in Wollongong:
Diggies Cafe
This trendy cafe is located right on the North Beach Pavilion. Grab a smoothie and stroll along the beach!
Address: 1 Cliff Road
Hours: 6:30 am to 3 pm every day, closes at 8 pm on weekends
Quotes Cafe
This tiny cafe in the town centre has adorable quotes plastered all over the walls; perfect for Instagram shots.
Address: 91 Crown Street
Hours: Monday through Friday 7 am to 2 pm
Opus Coffee Brewers
This traditional cafe serves its delicious coffee in gorgeous homemade ceramic mugs.
Address: 118-120 Keira Street
Hours: Monday through Friday 6 am to 2:30 pm, Saturday and Sunday 7 am to 2 pm
Lettuce B. Frank
This health-conscious cafe has lots of vegan and gluten-free breakfast and lunch options.
Address: 337 Crown Street
Hours: Monday through Friday 6:30 am to 3 pm, Saturday and Sunday 7 am to 2:30 pm
READ MORE: Plan your trip to Australia using our travel guide with everything you need to know!
18. Hike Mount Kembla
Believe it or not, there are actually two mountains in Wollongong! This city has it all.
Mount Kembla is just south of Mount Kiera, and you can see both of them in the distance while driving into Wollongong.
Mount Kembla is a bit bigger than Mount Kiera, but it's not as popular to climb.
However, it also has its own Ring Track that trails around the peak. This trail is marked as a Grade 4, meaning previous bushwalking experience is recommended.
The loop is 5.3 kilometres long and can take between 2 and 4 hours.
This is an amazing way to immerse yourself in nature and maybe see some local wildlife like echidnas or cockatoos. It's also free!
Visit the NSW National Parks website for more information about the hike.
19. Hang out at the Illawarra Brewery
For anyone who likes beer, socializing, and an ocean view, head to the Illawarra Brewery.
This is the perfect place to come on a weekend afternoon, or on a weekday evening for some casual drinks and hearty pub food.
There are plenty of craft beers to choose from at the Illawarra Brewery, and they often have happy hours and theme nights on for guests.
You can also get fancy grazing boards to snack on while you sip.
Address: Eastern Terrace of the Win Entertainment Centre, Crown Street and Harbour Street
Hours: Monday through Friday 11:30 am to 8 pm, Closes at 12 am on weekends
20. Watch the Sunrise at the Wollongong Head Lighthouse
In any coastal Australian town, sunrise is one of the most beautiful and pure times of the day.
The streets are quiet, the sky is colourful, and the atmosphere is promising.
One of the best things to do in Wollongong is to watch the sunrise at the lighthouse. There are actually two lighthouses in the city, but the biggest one is located on Flagstaff Hill. The smaller one is Wollongong Breakwater Lighthouse, located in Wollongong Harbour.
Up on Flagstaff Hill, you get incredible sweeping views of the entire coastline. You can also see the mountains in the background. The sunrise from Wollongong Harbour isn't bad either, so you can pick your spot.
This is the best spot to see the sunrise, so try to get up early one day and witness it.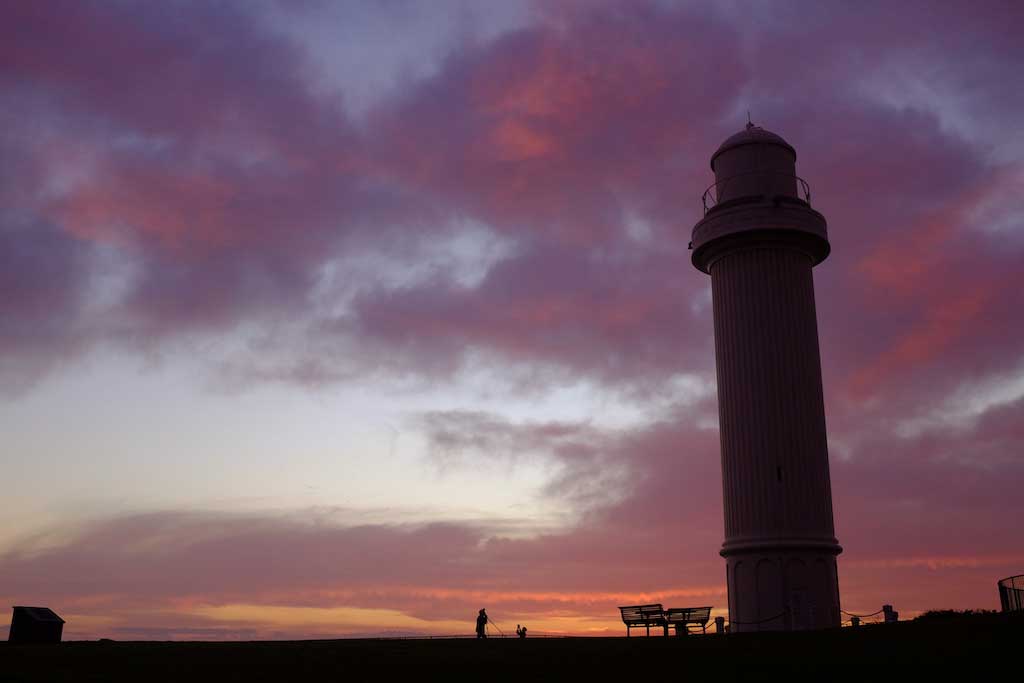 Wollongong Travel Guide
Now that you know what to do in Wollongong, here are some of the best accommodations and places to eat in the city.
Best Accommodation – Where to Stay in Wollongong, New South Wales
Anyone wondering where to stay in Wollongong will be happy to know, there are lots of options!
There are some lovely hotels in Wollongong located super close to the beach. The budget accommodation options are more limited, but there is at least one great cheap hostel.
The Best Hostel in Wollongong – Wollongong Backpackers Kieraleigh
This big, cozy backpacker hostel feels more like a home than a hostel!
It has a beachy decor, friendly staff, and is within walking distance to the town centre and to the beach.
A dorm bed costs around 27 AUD per night.
Best Budget Accommodation for Couples – Wollongong Surf Leisure Resort
Located in North Wollongong near Stuart Park, this is an affordable and private place to stay for couples travelling on a budget.
This budget resort is close to the beach and gets great reviews based on the amazing customer service.
Best Mid-Range Hotel in Wollongong: Coniston Hotel
This four-star hotel is quite affordable, especially when you consider the quality you get. The rooms are crisp and clean with refreshing, modern decoration.
It is close to the train station and town, though it is a little far from the beach so this is an ideal place to stay if you have a car!
Best Luxury Hotel in Wollongong – Adina Apartment Hotel
For travellers who want their own gorgeous apartment in Wollongong, this is the best place to stay.
Even though this hotel is walking distance from the beach and town, there's a pool, hot tub, sauna, and restaurant on-site so you have the choice of going out or staying in.
Best Restaurants in Wollongong
Wollongong has so many restaurants of all different price ranges and cuisines. You can splurge on fresh seafood and wine or find a flavorful Thai curry for less than 20 AUD, and both are delicious!
Budget: Thai Gong Restaurant
Thai Gong Restaurant is a small and humble local restaurant that sells authentic Thai dishes for under 20 AUD. Visit at lunchtime and the prices will be even cheaper!
Mid-range: Kneading Ruby
For heartwarming food and great wine, head to Kneading Ruby. This place specializes in Italian cuisine, and the homemade pizzas are incredible.
High-End: Steamers Bar and Grill
One of the best restaurants in Wollongong is Steamers Bar and Grill. Located right next to City Beach and the Wollongong Harbour, this classy and modern restaurant has ocean views, specialty cocktails, and plenty of mouthwatering dishes and desserts.
DISCLAIMER: Some of the links in this article are affiliate links, which means if you book accommodation, tours or buy a product, we will receive a small commission at no extra cost to you. These commissions help us keep creating more free travel content to help people plan their holidays and adventures. We only recommend the best accommodations, tours and products that ourselves or our fantastic editorial team have personally experienced, and regularly review these. Thanks for your support, kind friend!