There are a lot of incredible places to visit in Japan, and while most first-time travellers tend to check out the same spots that feature in most travel guides and blogs, there's so much more to the country than Tokyo, Kyoto and Osaka.
Located to the northeast of Tokyo on the island of Honshu (Tōhoku Chihō literally means the "North East Region") this spectacular area is filled with rolling mountains, sensational coastal adventures, an abundance of traditional temples and culture, and quite a few foodie delights as well!
We'll be the first to admit that we didn't really know much about the Tōhoku region before we came to Japan, but once we arrived we quickly realise just how much there is to see and do here.
Why You Should Travel to Tohoku
After our own travels to many of the most popular cities in Japan, we headed into the region with an itinerary based around checking out nature and learning about the recovery of the 2011 tsunami disaster.
We had an incredible time, and much to our surprise, we didn't really come across any other foreign tourists, even though we were there in peak season.
So natural beauty and off the beaten path? No wonder we loved it.
Once you learn about all the amazing things to do in Tohoku, you'll be looking to jump on a train there immediately as well.
Whether you are into active adventures, chilling out in an onsen, or wandering through centuries-old temples, you'll find plenty of reasons to visit Tohoku.
READ MORE: Check out our complete guide to travelling in Japan!
The Coastline is Stunning
Japan's east coast is home to some of the most lovely vistas in the entire country.
With wide coves punctuated by steep cliff headlands, limestone caves and even some white sand beaches, no trip to the region is complete without spending some time by the sea.
If you want a very cool experience, definitely rent a kayak and check out some of the small islands around the Miyagi prefecture!
You can get one (and stand up paddleboards) from the Oshima Paddle Club on Oshima Island.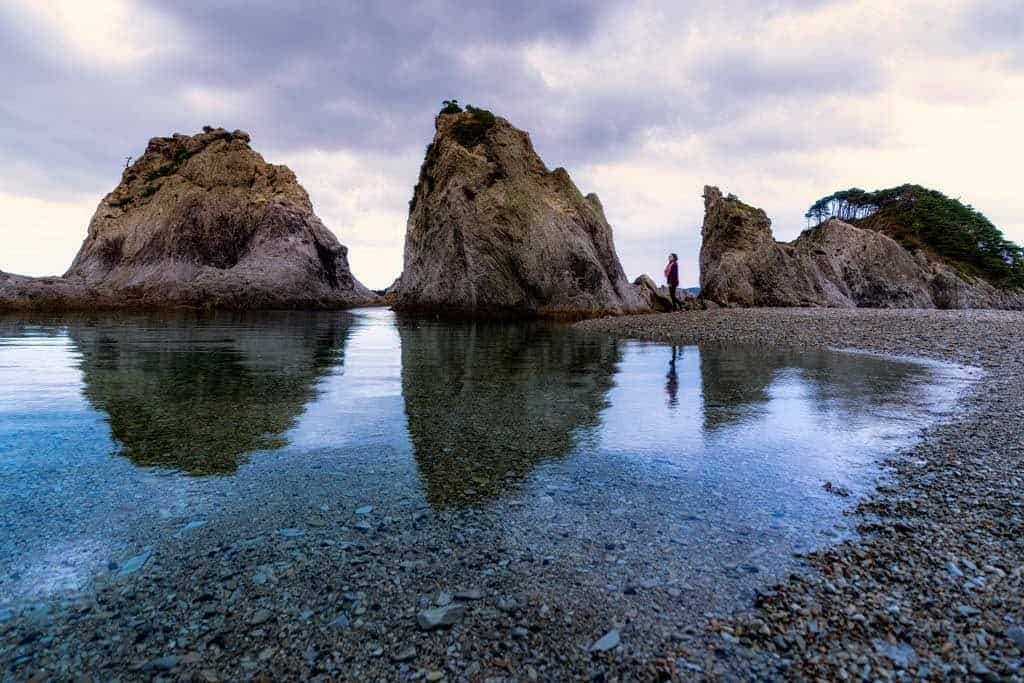 You Can Relax in Fantastic Hot Springs
No trip to Japan would be complete without spending some soaking in an onsen, and luckily the region of Tohoku has plenty.
An onsen is a Japenese natural hot spring, and due to the high level of volcanic activity in the country, you can find them everywhere.
There are both outdoor onsens, which are often turned into lovely recreational areas and set in nature, and indoor onsens, that you can find in hotels and bathhouses.
Most public onsens require you to be naked, and males and females are separated into two different sections.
Some of the best ones in the Tohoku region are Miyamaso Takamiya in Yamagata, Osawa Onsen Sansuikaku at Hanamaki Onsen and Minami Sanriku Hotel Kanyo in Miyagi.
There are Amazing Cave Systems to Explore
Tohoku, Japan has some of the country's best cave systems, and many of them are easily accessible to the public.
The Ryusendo cave is perhaps the most famous, with twisting boardwalks and steep stairs allowing you to get deep into the limestone caverns.
There are lights strung throughout, and a river flowing through, adding to the mystic beauty.
The Abukumado cave is the largest one in Tohoku, and well set up for tourists.
For those feeling adventurous you can even add on a 'Expedition Course' in Abukumado, to get you away from the crowds and deeper into the cavern.
If you want more of a challenge, check out the Rokando cave, which forces you to crawl through tight spaces and past underground streams.
Visit Some of the Old, Unique Temples
Japan is home to thousands of historic temples and shrines, with places like Nara and Kyoto having some of the most iconic ones.
Tohoku has more than its fair share though, and during your travels in the northeast, you'll have the chance to visit quite a few of them.
Don't miss a trip to Matsushima Zuiganji Temple, one of the 'Scenic Trio of Japan', in Sendai.
Our personal favourite was the Godaidō Temple in Matsushima, a 400-year-old small timber temple on a little island.
Learn More About the 2011 Tsunami
While the natural attractions should be the main reason people travel to the region, it is the devastation of the 2011 tsunami that struck the coast that Tohoku is most famous for these days.
The city of Fukushima is in Tohoku, and the meltdown of its nuclear reactor has been well documented.
If you are anything like us, you vividly remember the heart-wrenching scenes of the tsunami striking the Japanese coastline, destroying everything in its path.
Being the worst-affected region in Japan after the tsunami, the reconstruction effort was enormous, and now nearly a decade later, much of the coastline has been restored to its former glory.
You will find tsunami memorial museums and galleries paying homage to the tragic day all around Tohoku.
If you're really interested, Hotel Kanyo does a 'Tsunami Storytelling' bus tour, showing the new sea walls that are being built, and telling some of the more positive and heroic tales that came from the disaster.
Eat All the Delicious Food
It's no secret that one of the most popular reasons people travel to Japan is to eat copious amounts of delicious food.
Sushi, ramen, sukiyaki, udon, sashimi, takoyaki, okonomiyaki – the list of food you must try is almost endless!
Each region also has its own versions of famous dishes, meaning you could spend months travelling around Japan, and never get sick of the cuisine.
Tohoku is no different, and diving even deeper, each prefecture has its own delicacies you must try.
Walnuts are a common ingredient in Tohoku, so dishes like shiso maki being (walnut-miso stuffed shiso leaves) are popular for both domestic and international tourists.
Onigiri is a salty rice cake that makes for a great on-the-go snack, and Matsu no mi shira ae, kaki utsuwa (persimmons stuffed with fall fruits in pine nut tofu sauce) should make an appearance on your foodie bucket list too.
Don't miss out on the opportunity to do the Wanko soba challenge in Morioka.
Here it's an all-you-can-eat extravaganza of miniature bowls of Wanko soba noodles.
The waitress keeps dishing them out and you need to eat them as fast as possible.
I managed 120 bowls, Alesha got 60, but the world record is over 500 bowls!
Some of the Best Cherry Blossoms in Japan
Perhaps the only other thing that is as synonymous with Japan as sushi would be the cherry blossoms.
Every year in the spring, the cherry blossom trees come alive with gorgeous pink flowers, turning the cities and countryside into scenes reminiscent of a colourful painting.
The most famous place in Tohoku to see the cherry blossoms is at Hirosaki Park, where they hold an annual cherry blossom festival.
However you can see these trees in most places around the region.
Time your trip to Tohoku in April to witness this spectacular occurrence.
Can't Visit in Spring? Come in Autumn or Winter!
In case you can't make it to Tohoku in April, don't worry, because there are two other natural wonders that occur in autumn and winter that will be sure to blow your mind.
During October and November the trees turn vibrant shades of reds, oranges, purples and yellows, making a trip into nature absolutely jaw-dropping.
In the winter though another interesting phenomenon happens – something known as 'juhyo', or 'snow monsters'.
At the Zao Ski Resort in Yamagata, so much snow falls that the trees become frozen and take on ghostly shapes, completely cocooned in ice.
Take a gondola to the top to admire this gorgeous scenery.
The Countryside is Like a Postcard
Of all the great reasons to visit Tohoku, the one that made us fall most in love with the region has to be just how beautiful it is once you get out of the cities.
Head inland in Honshu's northeast and you'll find dense forests, raging rivers, towering mountains, jagged gorges, green pastures and picturesque rice terraces.
You can almost just point your camera in any direction, snap a picture, and have a postcard ready to send home to your family.
Some of our favourite spots were around the Nikka Whisky Distillery, Tono Furusato Village