Here is the ultimate list of the best things to do in Ostrava, Czech Republic!
Despite being the third largest metropolis in the Czech Republic, the vibrant city of Ostrava often gets overlooked by travellers on the typical tourist trail.
Such a shame, because there are so many awesome things to see in Ostrava!
From exploring underground coal mines to rafting down the Ostravice River, and even partying at one of the best music festivals in Europe, a visit to Ostrava is always going to be pleasantly surprising.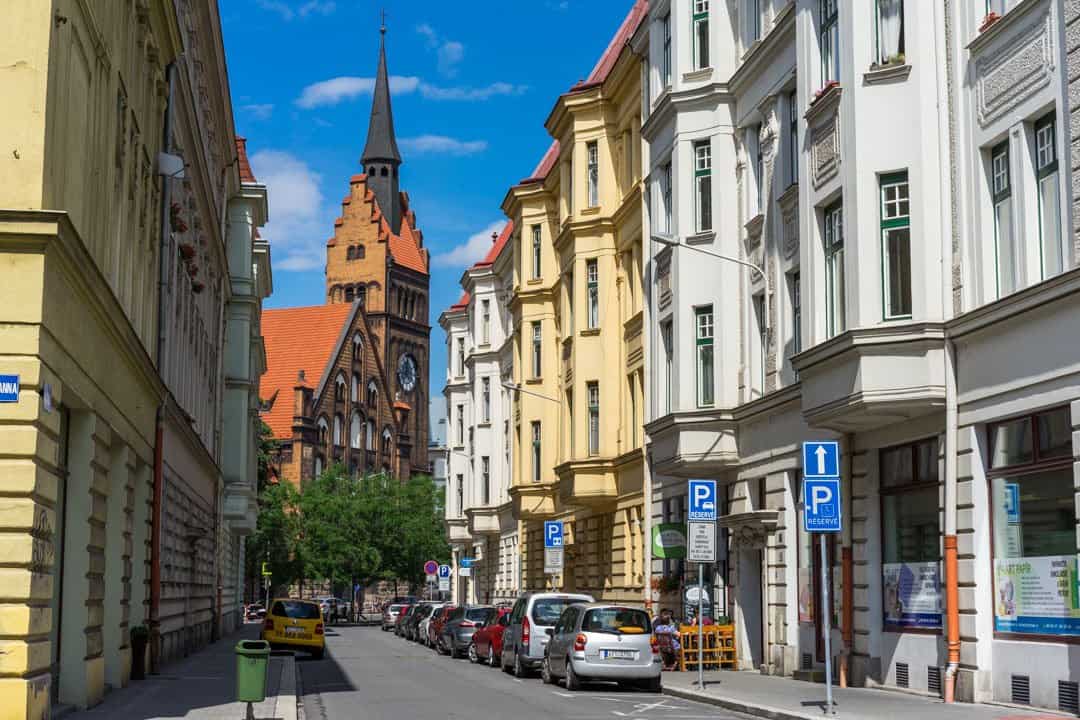 Developed on a strong industrial history of coal mining, coke factories and steel works plants, Ostrava was long known as a somewhat "dirty" city.
Over the last few decades the city of Ostrava has been working hard to clean up their image, and have created a bustling, attractive centre with a host of activities for visitors of all ages.
Whether you are coming for the world famous Colours of Ostrava music festival, or are just looking for somewhere to get off the beaten path in Czech Republic, make sure you check out all these awesome things to do in Ostrava!
The Best Things To Do In Ostrava!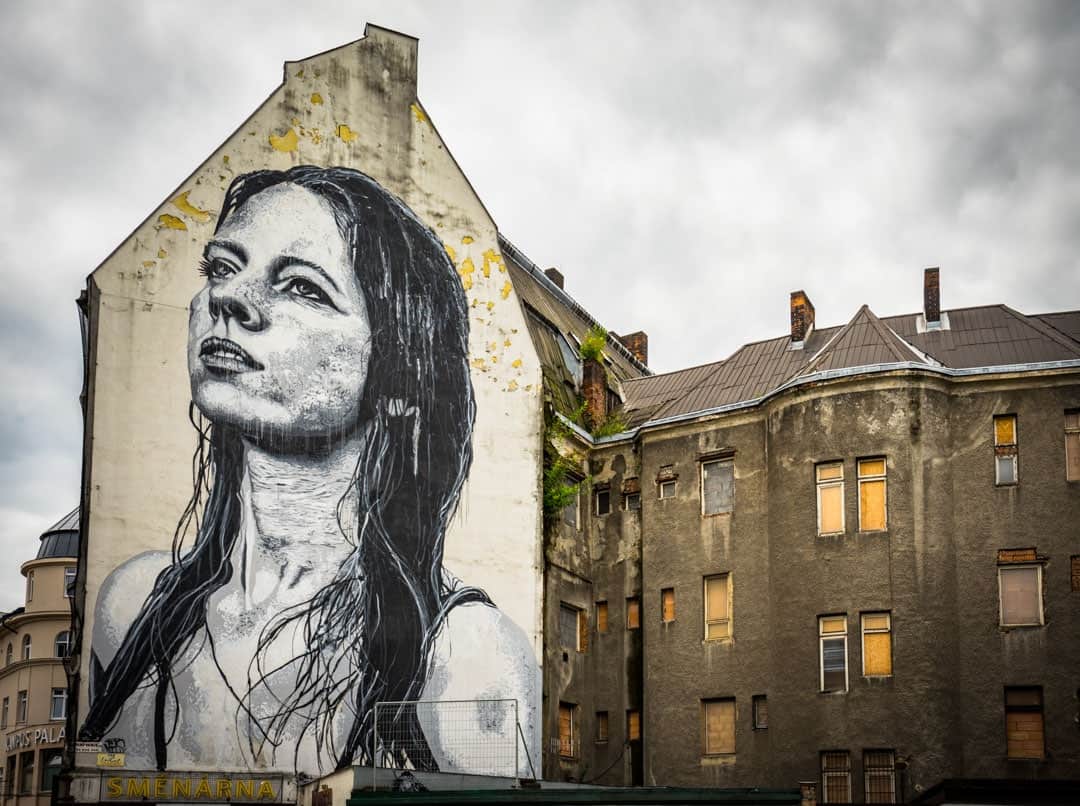 1) Dolni Vitkovice
Ostrava is best known for its expansive coal mines, blast furnaces and steelworks factories, and the most famous one is Dolni Vitkovice.
Located right near the city centre, Dolni Vitkovice is a national monument, beaming with corroded industrial architecture, fascinating museums and art installations.
Construction began in 1828, and over the years it became one of the largest ironworks facilities in the country. It eventually closed in 1998 and is now the most popular out of all Ostrava tourist attractions.
The interior of the sprawling gasometer has been turned into an enormous performing arts venue.
The most famous icon of Dolni Vitkovice is the Bolt Tower, christened by the athlete Usain Bolt (although the name actually comes from its bolt shape). A tour up the blast furnace not only offers an interesting insight into the industrial workings of the facility, but also epic views over the entire complex.
Dolni Vitkovice is where the famous Colours of Ostrava festival is held every year. If you are not here during the festival though a visit to Dolni Vitkovice is still one of the best things to do in Ostrava.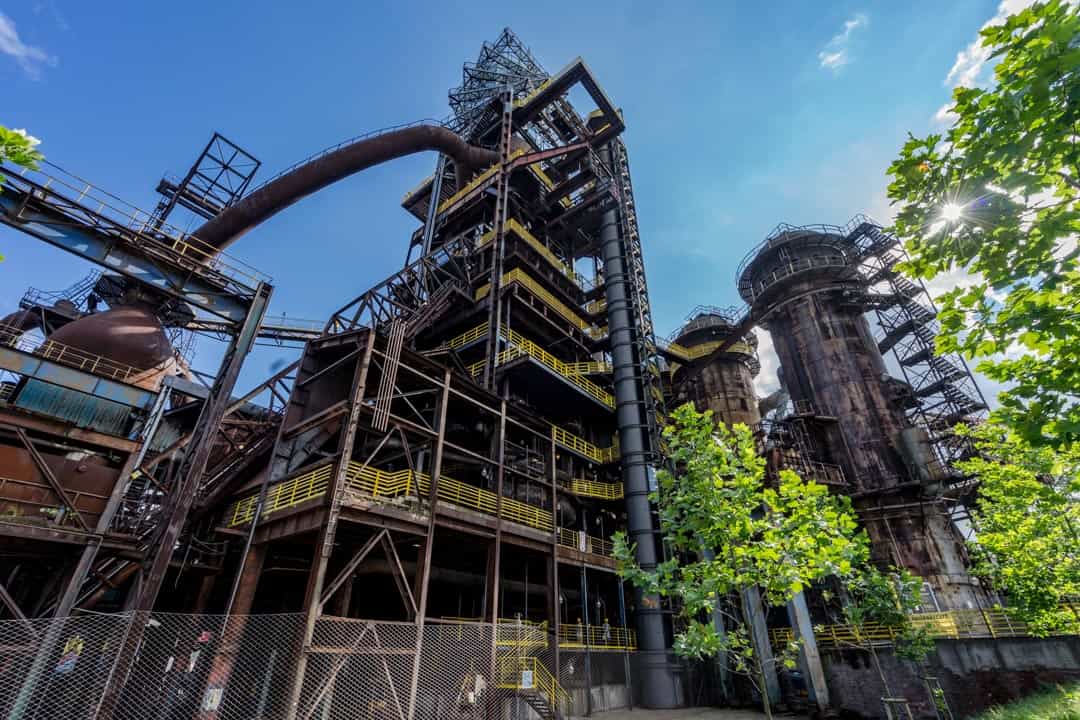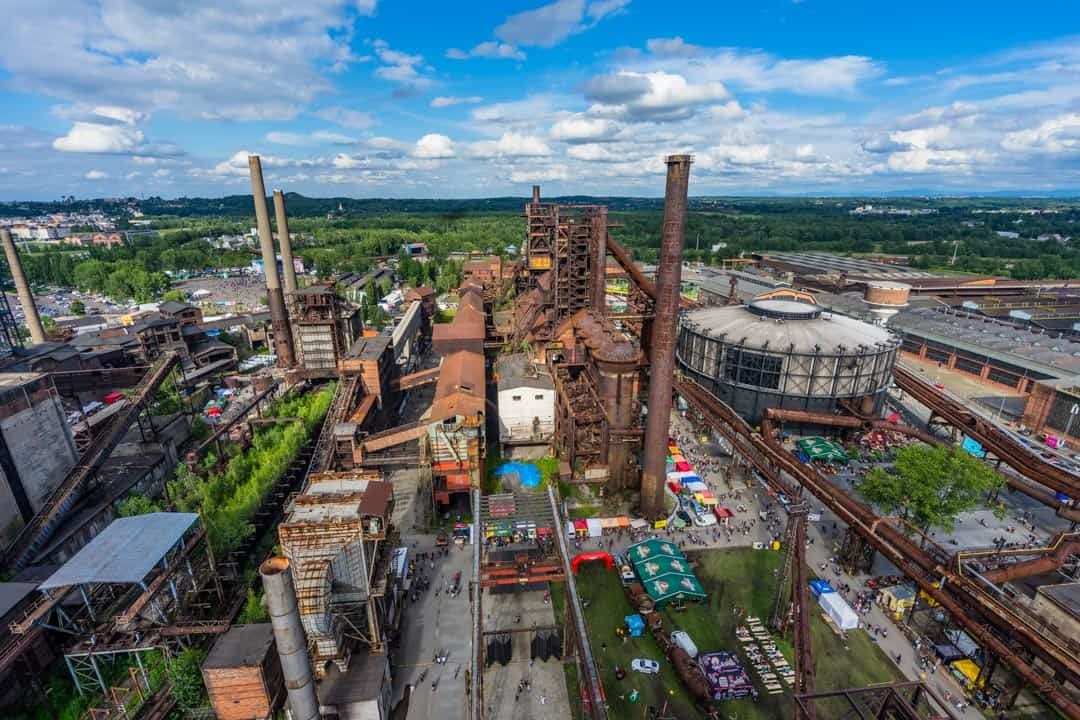 2) The New City Hall Viewing Tower
The New City Hall in Ostrava is home to all the information you could ever need in the region. And besides having the friendly staff give you more things to do in Ostrava then you could ever handle, a great activity is to climb to the top of the Viewing Tower for unrivalled vistas over the city.
This is the tallest viewing tower of any city hall in the entire Czech Republic.
Besides a place to collect information you can also pick up some souvenirs and free wifi to catch up your emails. Once you've done that, jump in the elevator and head to the top of the viewing tower.
On a clear day you can see many of the coal mines and blast furnaces in the area, and even into Poland.
Address: Prokešovo nám. 1803
Opening hours: 9 AM – 7 PM ( March – November); 9 AM – 5 PM (December – February)
Price: 40-50 CZK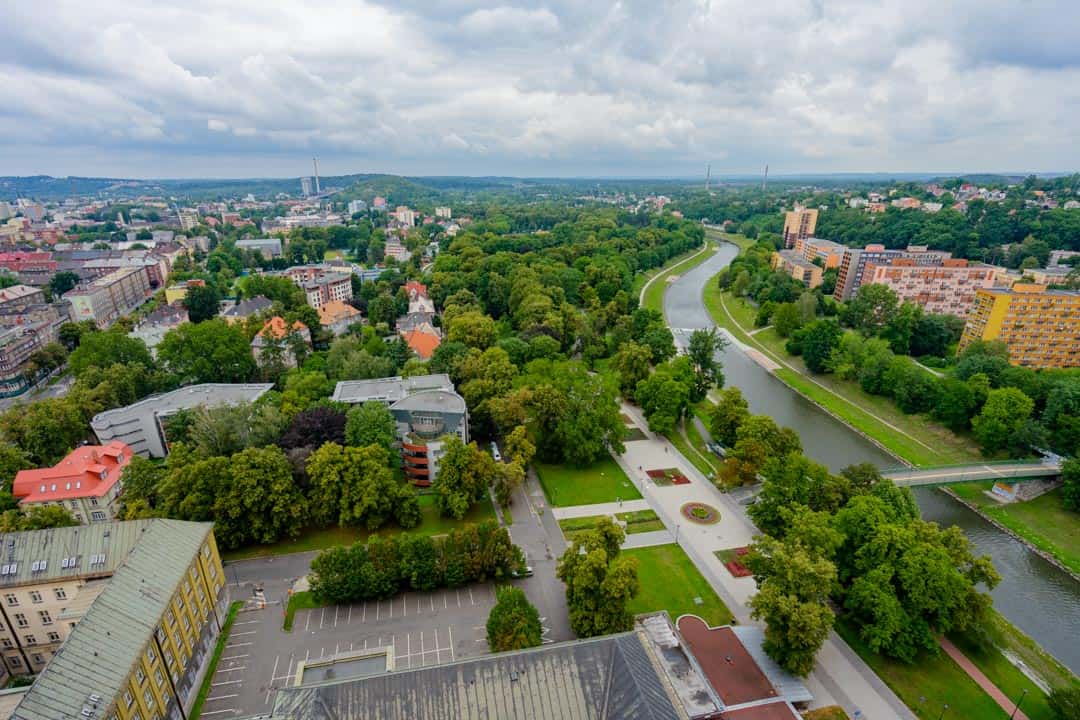 3) Landek Park – Mining Museum
The mining museum in Landek Park is the largest one in the Czech Republic. If you've ever wondered what it's like to explore an underground coal mine, here is your chance!
Located on the site of the former Anselm mine, this 19th century complex has been turned into an awesome interactive museum.
Check out our post all about the mining history in Ostrava.
The real highlight here is the chance to take a ride down an elevator shaft and into a publicly restored section of the underground coal mine.
Here a guide will walk you through the labyrinth and show you just how harsh conditions were for the coal miners. This is a fascinating insight into a world few get to see, and one of the most unique places to visit in Ostrava.
Address: Pod Landekem 64
Opening hours: every day from 10 AM – 6 PM
Price: 100 CZK for an audio tour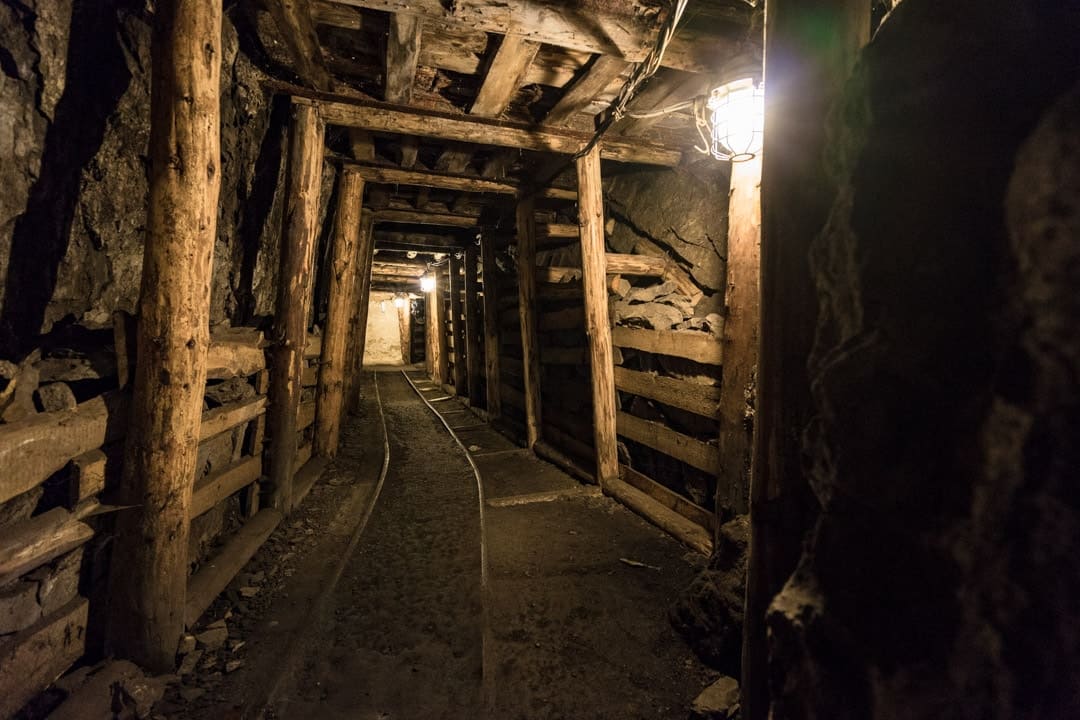 4) The Michal Coal Mine
When the Austrian state began digging two coal pits in Michalkovice in 1843, it started a chain of events that would help shape the region forever.
Since then the mine has seen copious changes that took it from being one of the most prominent facilities in Ostrava to being almost completely abandoned.
In 1995 the Michal Coal Mine became a National Cultural Monument and was nominated as a UNESCO World Heritage Site.
In 2000 the complex was opened to the public. Today visitors can take a guided tour through the control and surveying rooms, drilling sections, worker's changing areas and other standard operational points of the mine.
Everything has been restored to look exactly how the mine would have appeared when it was closed, complete with blueprints, tools and general accessories scattered about the place. One of the most fascinating things to do in Ostrava!
Address: Československé armády 413
Opening hours: every day from 9 AM – 3 PM
Price: 100 CZK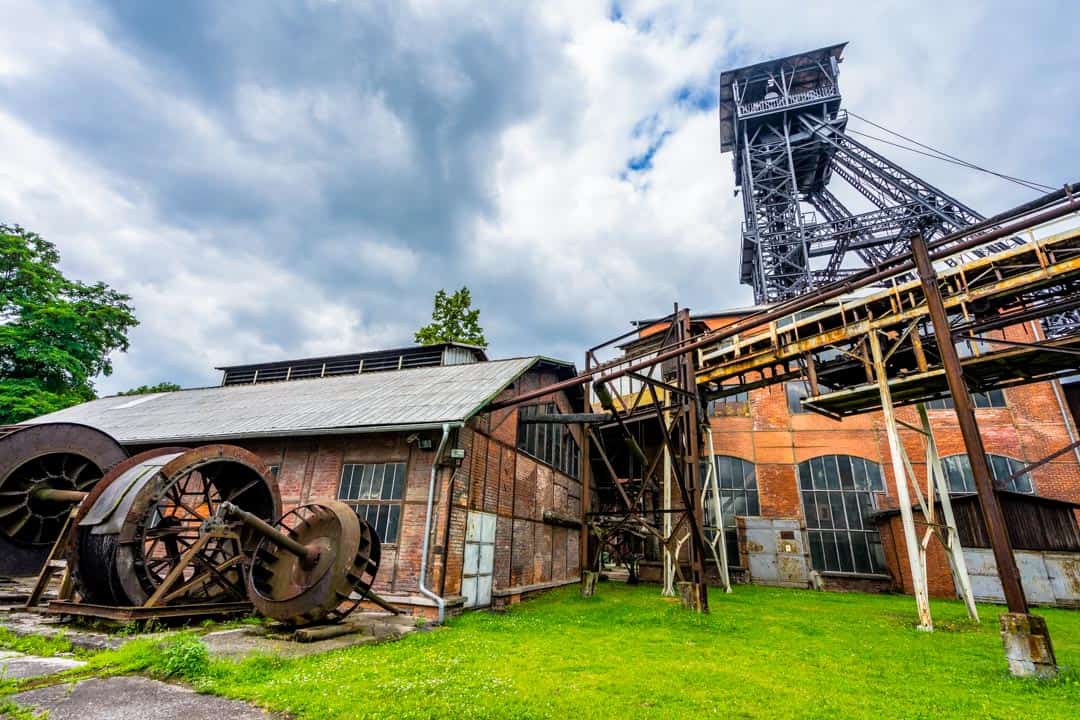 5) Visit The Ostrava City Museum
Located in a gorgeous 16th century villa, the Ostrava City Museum has some excellent exhibitions showcasing the diverse and captivating history of Ostrava.
Old clothing, weapons, photos and ceramics collected from around the region are expertly displayed throughout the museum.
During our visit there was a William Shakespeare temporary exhibition; a curious but appreciated point of interest.
Don't miss out on the intricate astronomical clock on your way out – a true masterpiece. It's a true Ostrava must see!
Address: Masarykovo nám. 1
Opening hours: Monday – Friday from 9 AM – 5 PM, Saturday from 9 AM – 1 PM, Sunday from 1 PM – 5 PM;
Price: 40-60 CZK
6) Svet Techniky – Science and Technology Museum
The Svet Techniky (Science and Technology) Museum is not only one of the best things to do in Ostrava with kids, it's also a lot of fun for adults.
Spread out over 3 floors this completely interactive museum is filled with hands-on activities designed to teach everyone about various disciplines of science in an entertaining way.
We spent hours wandering around, learning about physics, astronomy and biology and had an absolute blast doing it. Our tip – see if you can find the electric current drumming exhibit!
Each attraction is in Czech, English and Polish.
Address: Vítkovická 3004
Opening hours: every day from 10 AM – 6 PM
Price: 130-190 CZK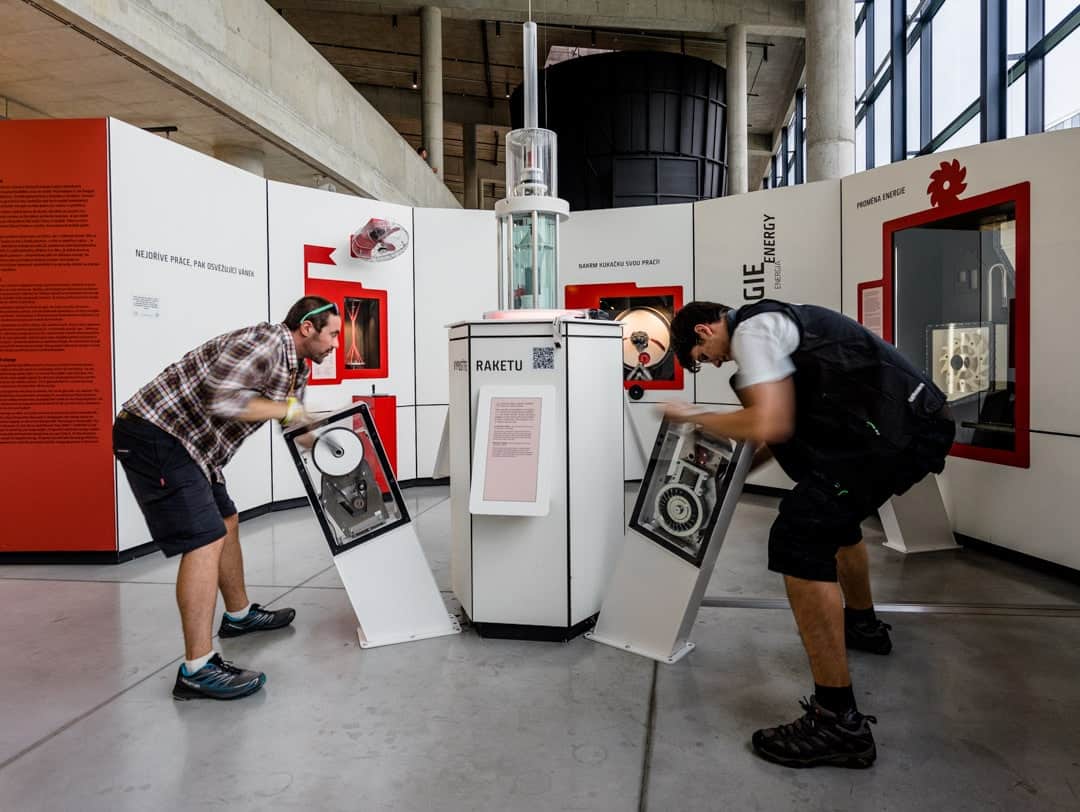 7) People Watch In Masaryk Square
The Masaryk Square is located in the heart of Ostrava and is a popular spot to grab a coffee and people watch for visitors and locals alike.
Named after the first president of the independent Czechoslovakia, there is a large statue of the Virgin Mary and St Florian (the patron saint of firefighters).
Kids run through the fountains in front of centuries-old Baroque buildings. The atmosphere is gorgeous, and a must-do activity in Ostrava.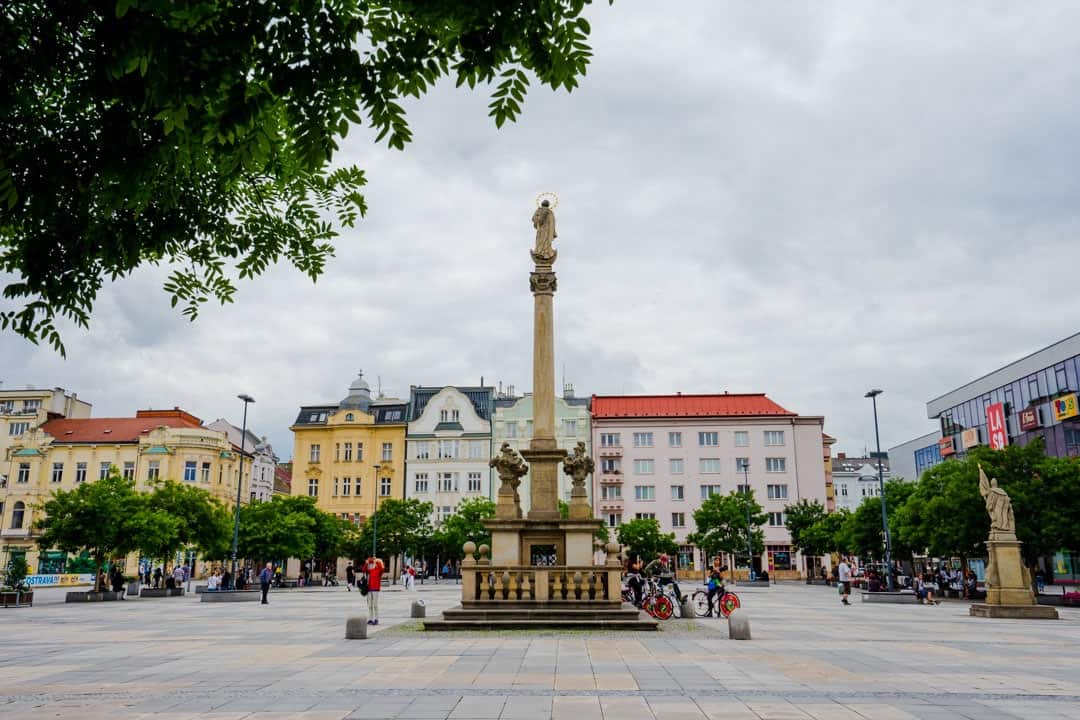 8) Ostrava Zoo
The Ostrava Zoo is the second largest zoo in the Czech Republic, and is one of the best things to with kids in Ostrava.
While many zoos around the world fail to put animal welfare as a high priority, this one meets European ethical standards in terms of wildlife protection and care. So you can feel good about taking your kids to this place.
You can find over 400 species of animals scattered throughout the zoo. Make sure you check out the African Safari and Amazonian exhibits.
Address: Michálkovická 197
Opening hours: every day from 9 AM – 4 PM (November – January), every day from 9 AM – 5 PM (February), every day from 9 AM – 6 PM (March, September, October), every day from 9 AM – 7 PM (April – August)
Price: 120 CZK (Summer season 1.4.-31.10.), 80 CZK ( Winter season 1.11.-31.3)
9) Silesian Ostrava Castle
Just outside of the downtown area is the Silesian Ostrava Castle, which was built by a Těšín prince in the late 13th century.
There is also an amazing 16th century tower that has been restored and the entire complex has been renovated, making it highly impressive and like stepping back in time.
The most interesting thing about the Silesian Ostrava Castle is that it has sunk by as much as 16m over time, due to mining tunnels collapsing deep underground. While this has almost ruined it over time, it's managed to survive til today.
You can even visit the Silesian Castle at night – a spooky attraction, especially for kids.
Address: Hradní 1
Opening hours: every day from 10 AM – 6 PM (closed on Mondays)
Price: 80 CZK
10) Walk Along The Ostravice River
One of the best ways to start or end the day in Ostrava is to take a relaxing walk along the Ostravice River.
Well-maintained paths run parallel to the river's edge, allowing you to make your way along much of the downtown area in serenity.
The city has been putting huge amounts of money into the development of the riverside to make it a worthwhile attraction, and today most of it is completely picturesque.
Grab a friend and a drink and take a stroll at dusk for one of the most chilled out and pretty things to do in Ostrava.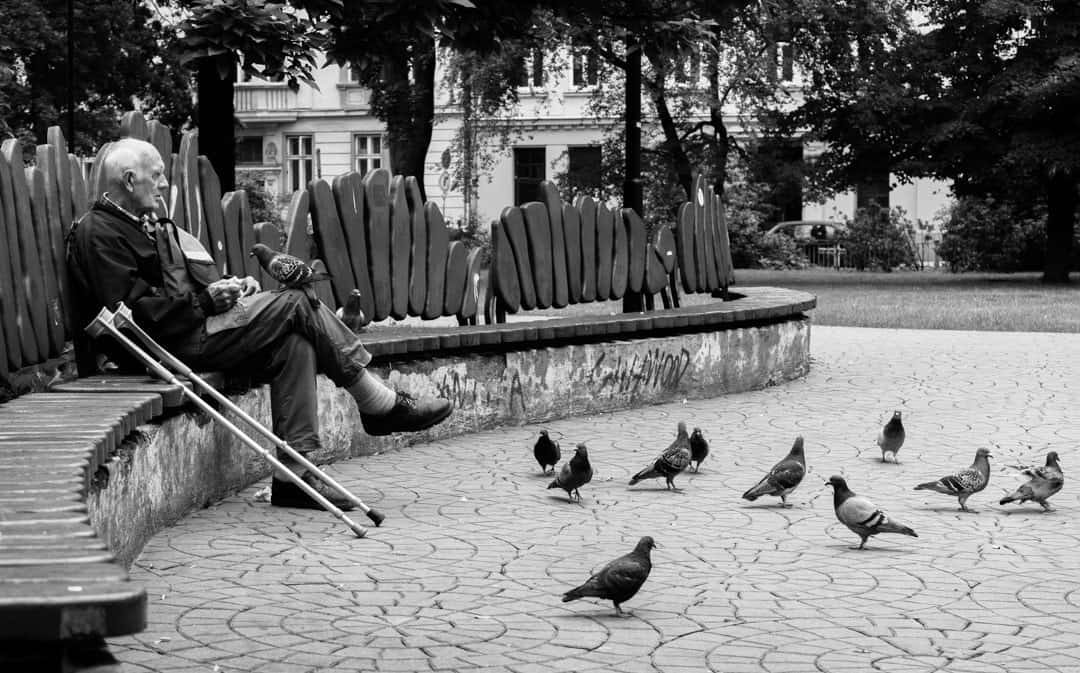 11) Hike The Slag Heap – Ostrava's Volcano
From 1920 to 1960 debris from mining was dumped on the Terezie-Ema slag heap, forming a large conical hill on the outskirts of the city.
Today this slag heap is nicknamed "Ostrava's Volcano", and is a popular hiking option for people who feel like being a bit active.
Reaching up to 315m above sea level it is a mellow hike that almost anyone with a basic amount of fitness can tackle.
High temperatures inside the slag heap means snow rarely builds up on the hill and a unique collection of flora has grown on its surface.
Reach it from the Ostrava city centre or the Ostrava Zoo.
12) Colours Of Ostrava
The biggest event on the Ostrava calendar is the 4-day Colours of Ostrava music festival.
Located in the sprawling Dolni Vitkovice industrial site, this massive festival was named one of the best music festivals in Europe for 2016 by The Guardian.
Over the years it has welcomed some of the largest names in the international music industry. But what makes Colours of Ostrava so unique (besides its epic venue) is the collection of local acts from around Czech Republic, Slovakia and Poland.
We had the privilege of attending Colours of Ostrava this year and we can honestly say it was one of the best festivals we have ever been to. Stay tuned for a full write up about our experience!
13) Party On Stodolní Street
The legendary entertainment district of Ostrava can be found on the famous Stodolni street, which is constantly cranking with over 60 bars, clubs, restaurants and cafes.
While the rest of the city is sleeping Stodolni keeps on bumping until the early hours of the morning. And while Prague might be more famous for the nightlife, Stodolni actually has the largest concentration of bars and clubs on a single street in all of the Czech Republic.
We'll be honest – you can't have the full Ostrava sightseeing experience without a night on the town on Stodolni Street.
Check out our ultimate destination guide all about travel to Czech Republic!
14) Go Rafting Down The Ostravice River
You know how we said taking a walk along the Ostravice River was one of the most relaxing things to do in Ostrava? Well if you want something a bit more action-packed you can rent a canoe or raft and head down the river!
Drop in to the new waterfront sporting complex and pick up an inflatable raft, then try to tackle the on-water slalom course.
It's not overly strenuous, and the water is very shallow so there's nothing to fear.
15) Hang Out In The Cafes
Ostrava has a huge selection of epic cafes and restaurants, and one of the best things you can do is simply hang out in them for hours at a time.
Grab a chair outside, or perhaps in a great garden, sip on a coffee and gorge yourself on world-class food.
It's a great way to relax after a big day exploring all the best Ostrava attractions. Our personal recommendations are to check out Hogo Fogo and The Dock.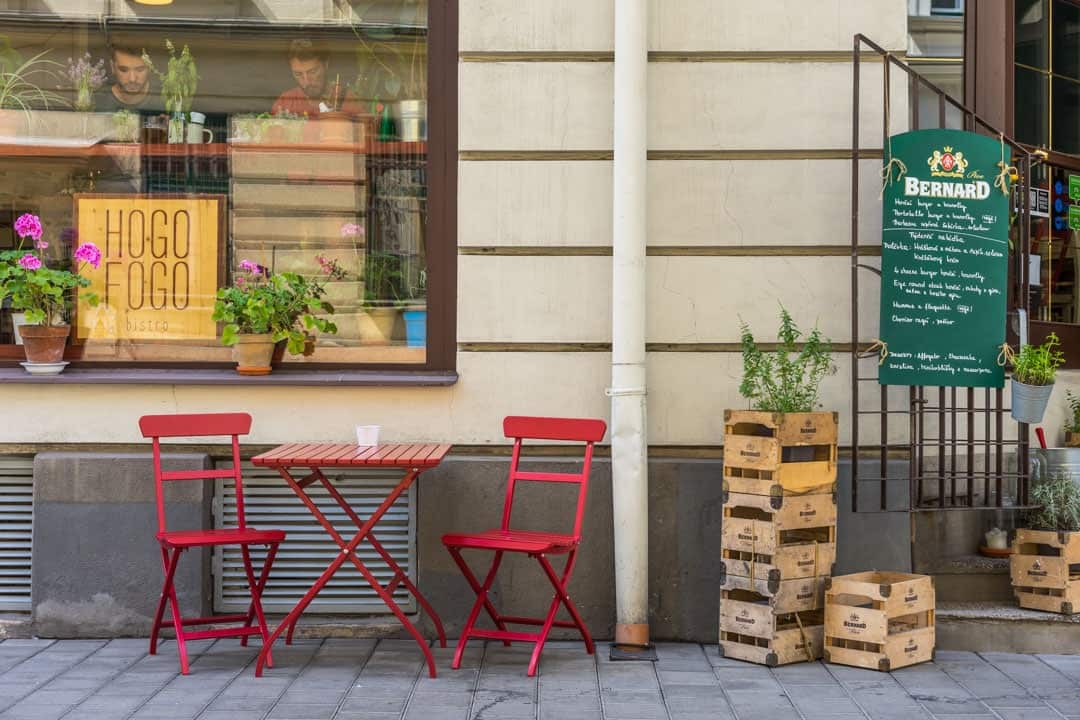 16) Drink The Best Beer In Ostrava
If a place claims to have the best beer in a town, we have to go there. And the reputation held by Restaurace U Rady definitely did not disappoint!
This bar and restaurant is right in the heart of the city and makes one of the best pilsners we have ever tried. It also has incredibly delicious Czech specialities.
Our only gripe is that we didn't discover this place sooner. Next time we come to Ostrava you will find us hanging out here.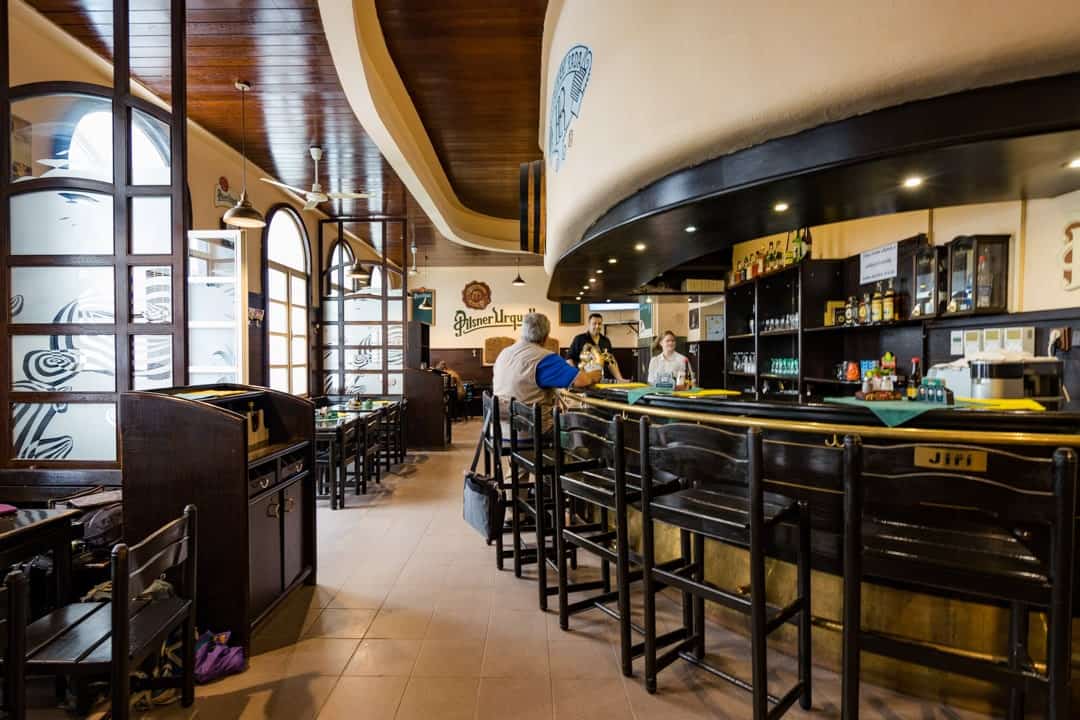 17) Watch An Ice Hockey Game At Ostravar Arena
Watching an ice hockey game in the Czech Republic is quite an experience, and Ostrava has a great hockey culture.
Even if you have never seen a game before you can still head down to the arena and join in the fun. Expect to see lots of excited people cheering their lungs out.
Stop by the Ostravar Arena or the information centre to check out the schedule for local teams, and see if you can make it to a match.
18) Be Amazed At The Antonín Dvořák Theatre
Czechs love to watch a good theatre performance, and the shows at the Antonín Dvořák theatre are phenomenal.
Situated in another gorgeous neo-Baroque building, the Antonín Dvořák theatre has impeccable decorations placed around the interior, which are worth a visit even if you aren't able to catch a performance.
Everything from ballet to opera to drama plays are staged here. Check out the website or drop in to the theatre to find out the program.
Address: Smetanovo nám. 3104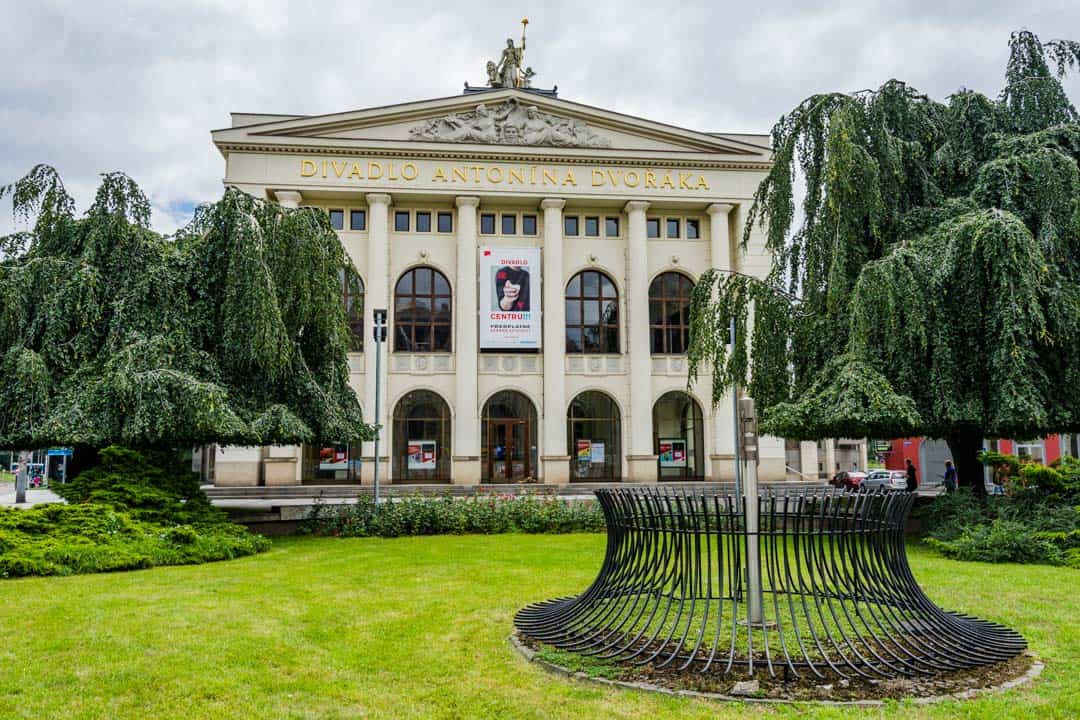 Ostrava Travel Guide
Now that you've know what to do in Ostrava, make sure to read the rest of our mini Ostrava travel guide! Here are our best tips on transport in Ostrava and where to stay!
How To Get Around Ostrava
Despite its size, Ostrava is a very easy place to get around. The public transport is excellent, and it is well-connected to the rest of the Czech Republic and Poland via the Ostrava train station.
Rent A Bike
Renting a bike is always a great way to get around in any city, and Ostrava is no different. There are great paths around town to explore and discover. You can rent a bike from Cooltour, close to the main square.
Trams and Buses
Buy a ticket for 20 CZK which will last you 30 minutes. The ticket machines are located near the stations or you can pay by card on the tram. Just make sure you validate your ticket, otherwise you may get a fine!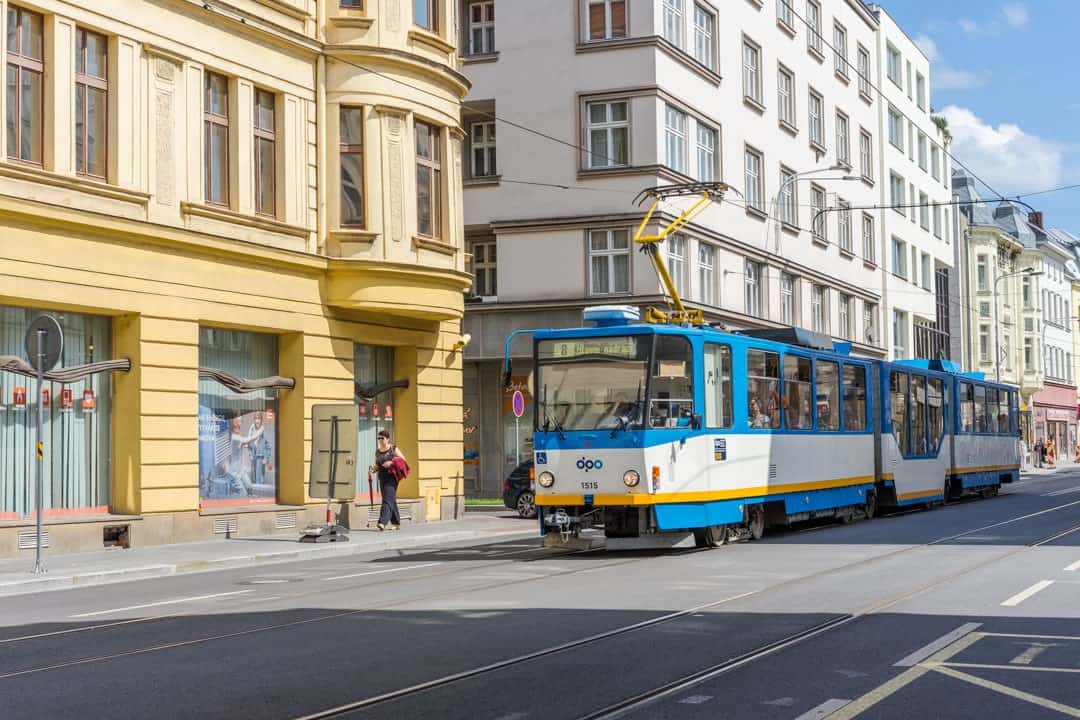 Where To Stay In Ostrava
Ostrava has a huge selection of accommodation options, from budget to high-end.
We stayed in the Mercure Hotel, which is known for being one of the best hotels in Ostrava.
Located in an beautiful Baroque building the Mercure is a perfect choice for business and luxury travellers. It is stumbling distance from public transport and the city centre, and is a great place to make a base in Ostrava.
The rooms are stylish and comfortable with all the amenities you could ever need. The wifi was lighting fast and the buffet breakfast is delectable.
And before you start worrying that the Mercure will break your budget, they have rooms for as little as 51 Euro a night. An absolute bargain for the quality you get.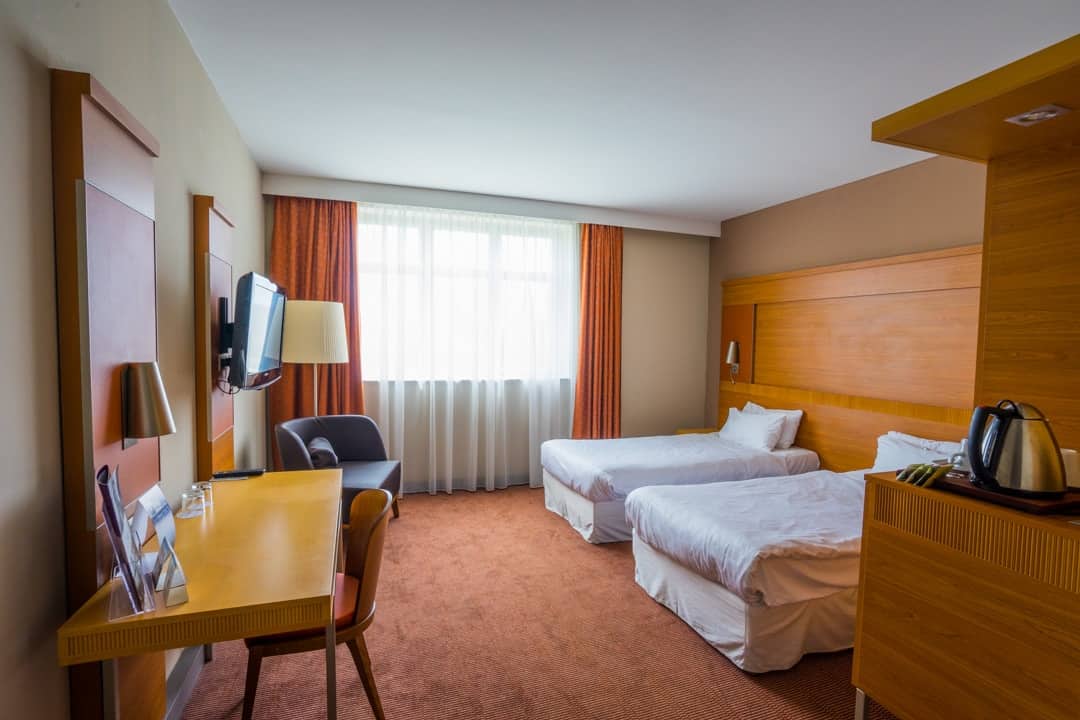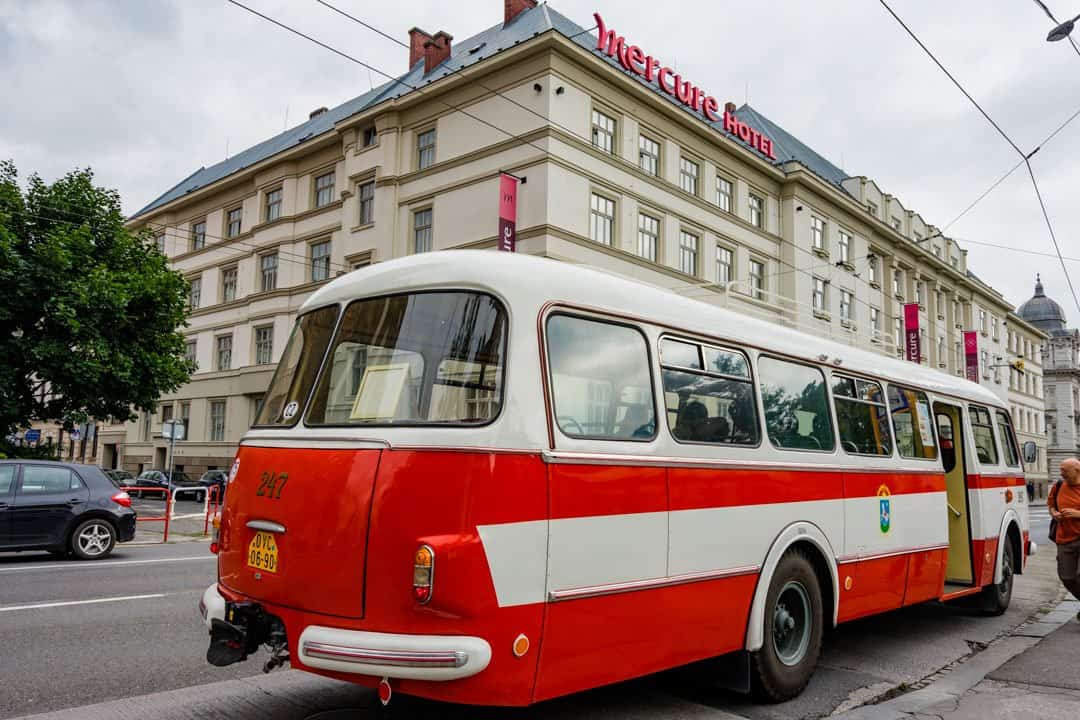 Have you ever been to Ostrava in the Czech Republic? Leave a comment below and let us know what your favourite things to do in Ostrava are!
DISCLAIMER: Some of the links in this article are affiliate links, which means if you book accommodation, tours or buy a product, we will receive a small commission at no extra cost to you. These commissions help us keep creating more free travel content to help people plan their holidays and adventures. We only recommend the best accommodations, tours and products that ourselves or our fantastic editorial team have personally experienced, and regularly review these. Thanks for your support, kind friend!