One of the best things to do in Czech Republic is to go hiking in Bohemian Switzerland National Park, in the far north of the country.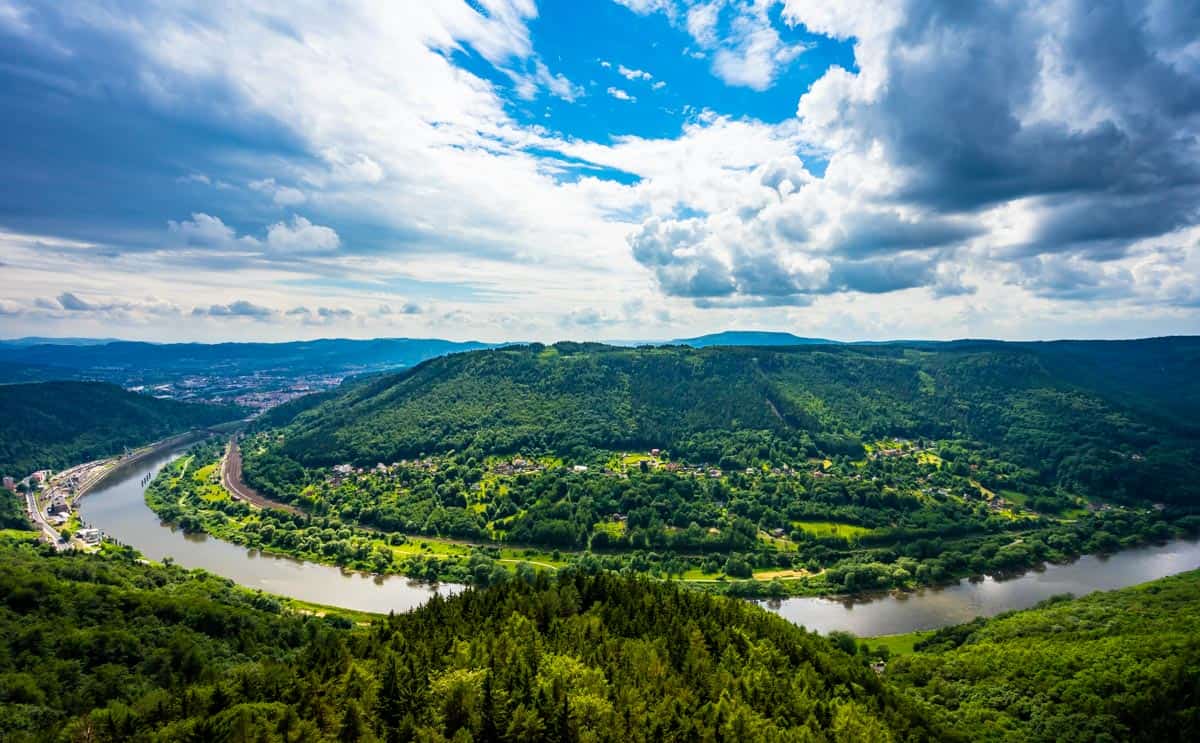 Before we had arrived in Czech Republic the only places we had heard about were the vibrant capital city, Prague, and the fairytale town of Cesky Krumlov.
The last thing that came to mind was trekking through valleys and dense forests in the north of the country.
So we were ecstatic when we found out there is some amazing hiking opportunities in the Bohemian Switzerland National Park, only two hours from Prague.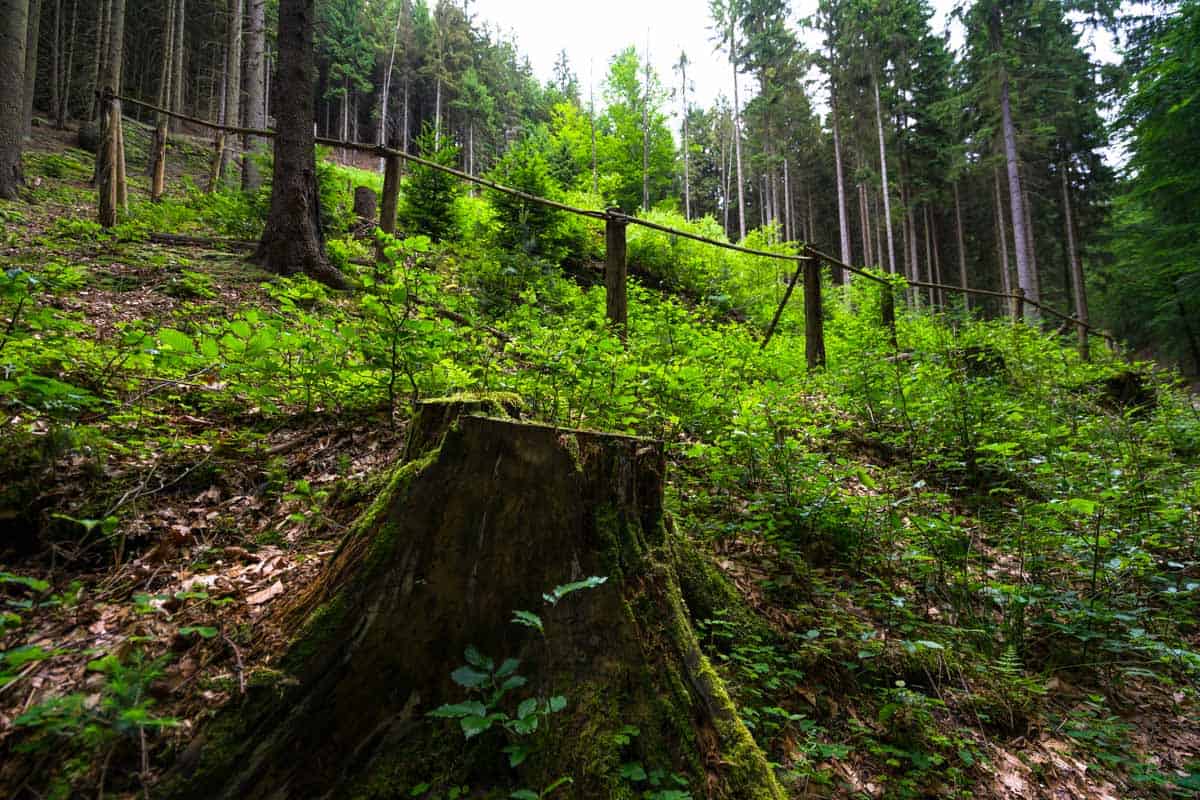 Also known as Czech Switzerland, the Bohemian Switzerland National Park is a sprawling region that has been protected since 1972, containing the Elbe Sandstone Mountain Range.
Comprised of sandstone peaks and pine forests it has developed a local reputation over the years for incredible rock-climbing and hiking.
As time has gone on now it attracts tourists from all over the world who want to escape the nearby cities of Prague and Dresden, and cast their eyes on Pravčická brána, the largest natural sandstone arch in all of Europe.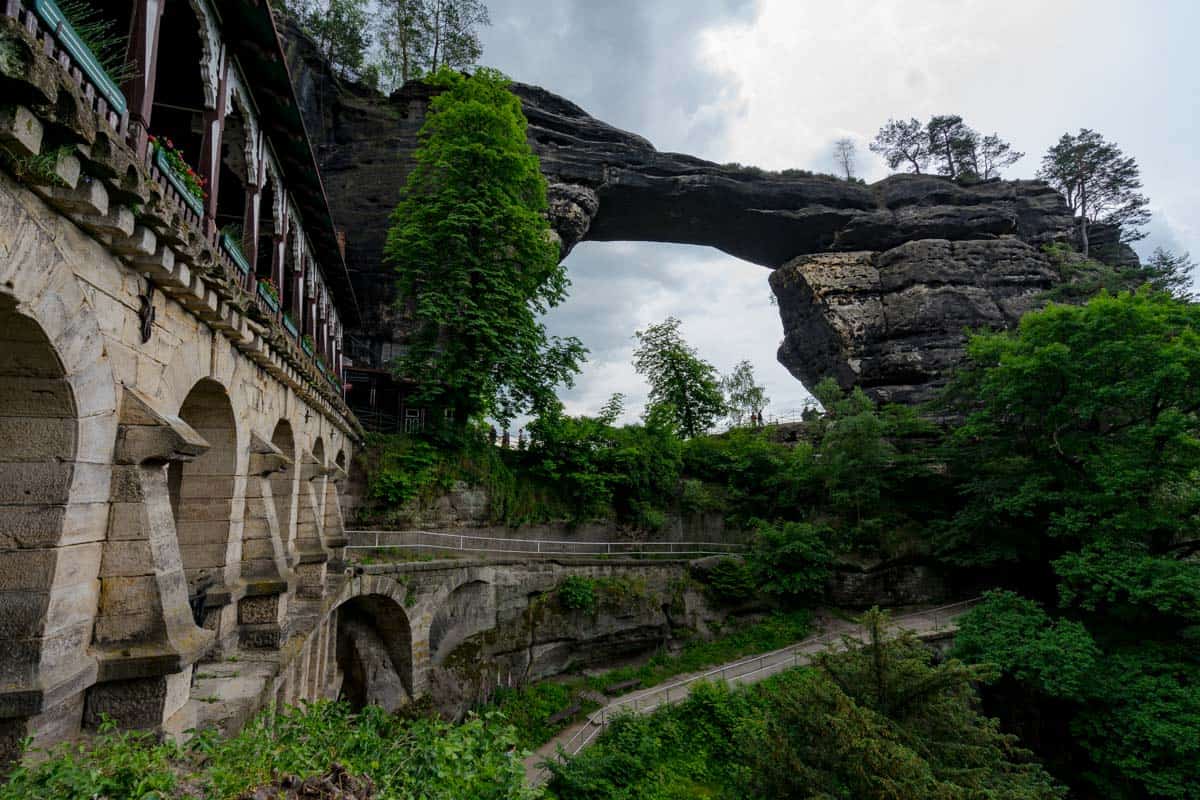 After 7 great days hanging out in Prague with our friends Michael and Randi from Just A Pack it was time to leave the city and see for ourselves what treasures lay in Bohemian Switzerland.
We had lined up a two-day hiking adventure with Vitek from the excellent Northern Hikes tour company, and on a cloudy Saturday morning he picked us up from town.
Getting to Bohemian Switzerland from Prague takes around two hours, but the time absolutely flew by as we chatted with Vitek about his life.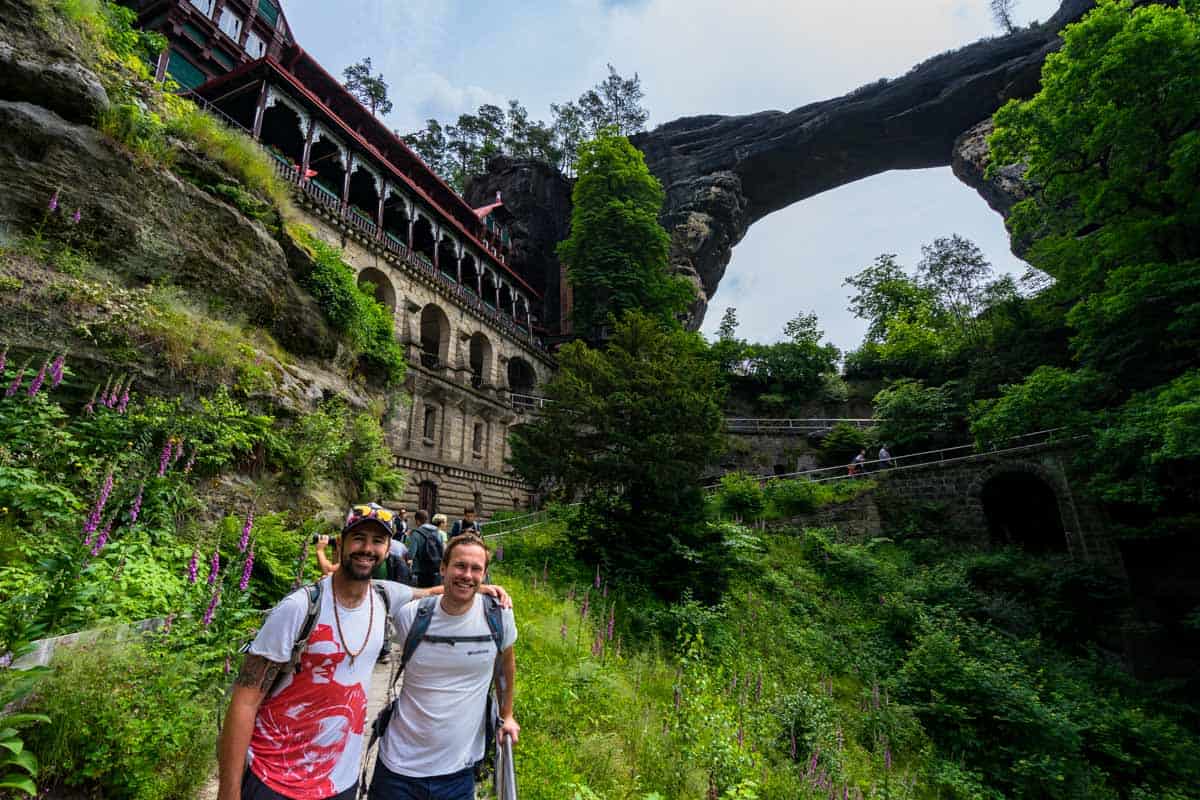 Having grown up in the magnificent region he had moved to the big city and was getting tired of his corporate career. He decided that life was too short to do something you do not love, and he disappeared into the Carpathian Mountains of Slovakia for a few weeks of solo trekking to clear his mind.
During his isolation in the mountains he had an epiphany, and decided to return to his homeland and start an adventure company.
Northern Hikes is still in its infancy, but Vitek's passion for the outdoors and showing tourists his backyard shines through as bright as a midday sun.
As we drove towards the Elbe Sandstone Mountains near the border of Germany we were getting more and more excited to get back to nature.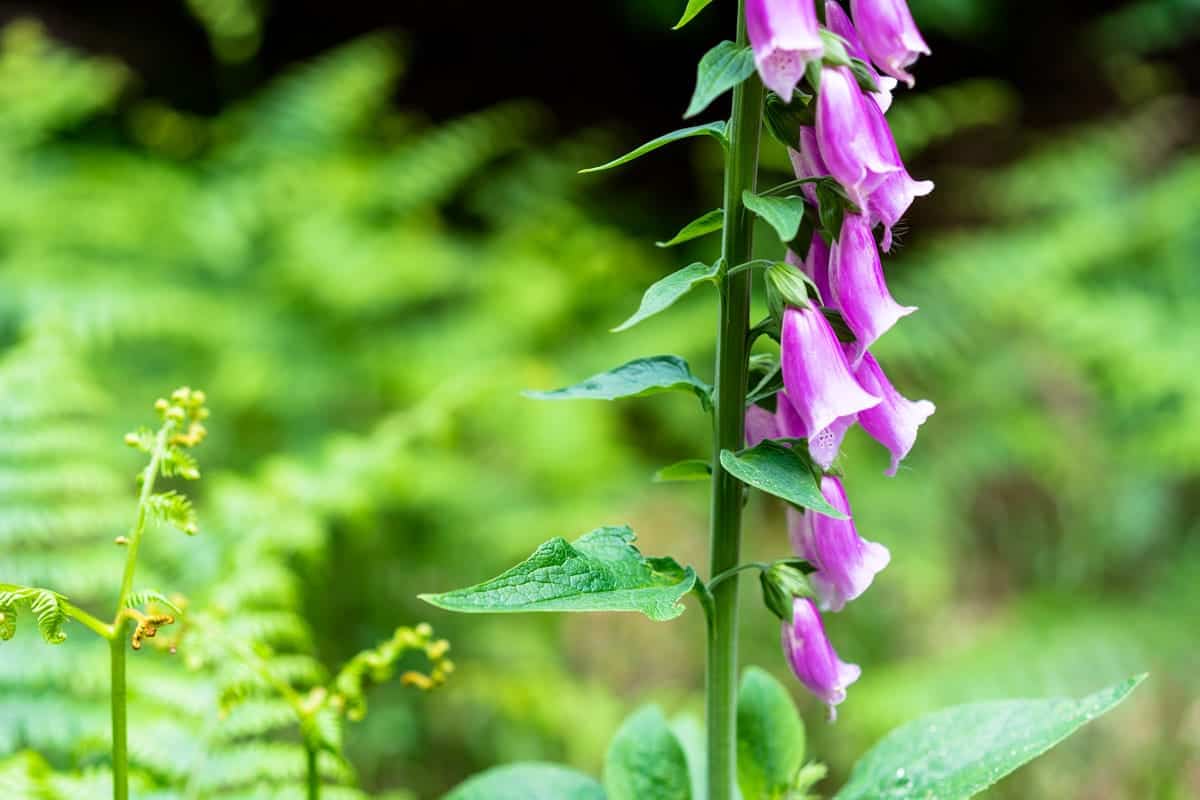 At 10am we pulled into the carpark of the U Fořta Hotel, the full-of-character, high-end accommodation in the area, and picked up our other two hikers – Brian and Ivette from The Travel Vloggers.
After a quick briefing from Vitek it was time to get into the woods!
We drove for a few minutes and parked at one of the trailheads to Bohemian Switzerland National Park.
Stocking up on water and snacks we headed off on a gentle climb on a well-worn path.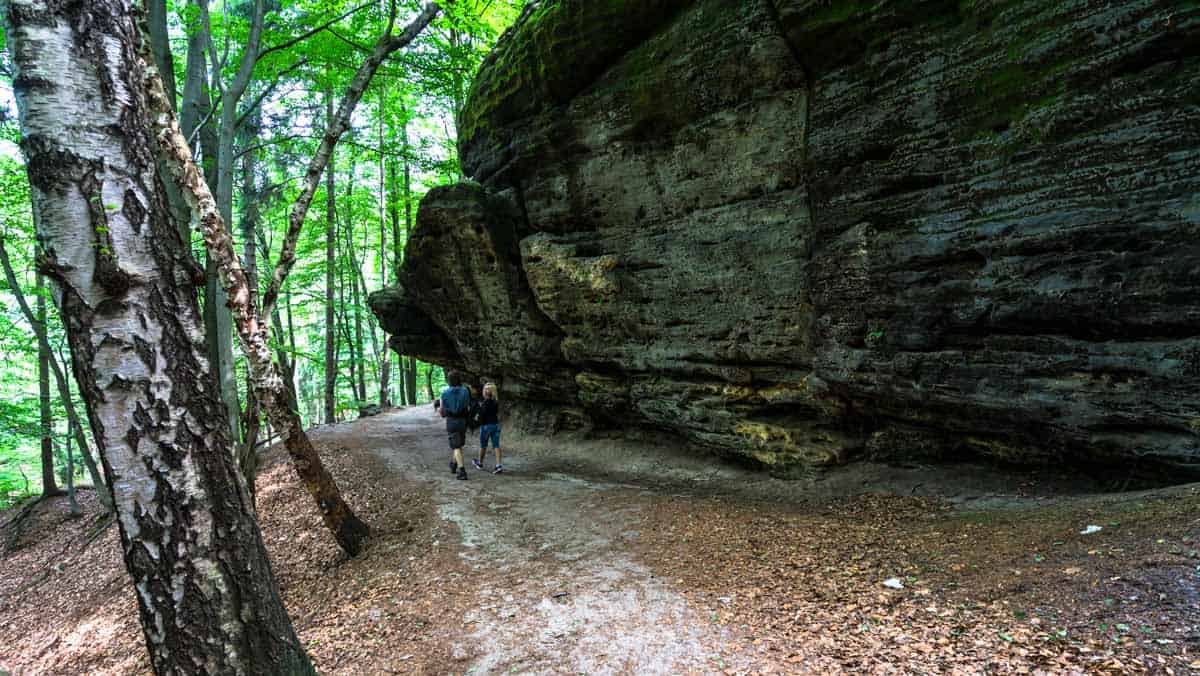 Paradise Found – Bohemian Switzerland National Park
Vitek had told us that the public trails in Bohemian Switzerland National Park were easy to navigate, and often busy in the summer. He was definitely right about that!
On this weekend though grey clouds had well and truly surrounded us. It meant that far less people were hiking in the area on those dates. Not going to lie – we were pretty happy about that.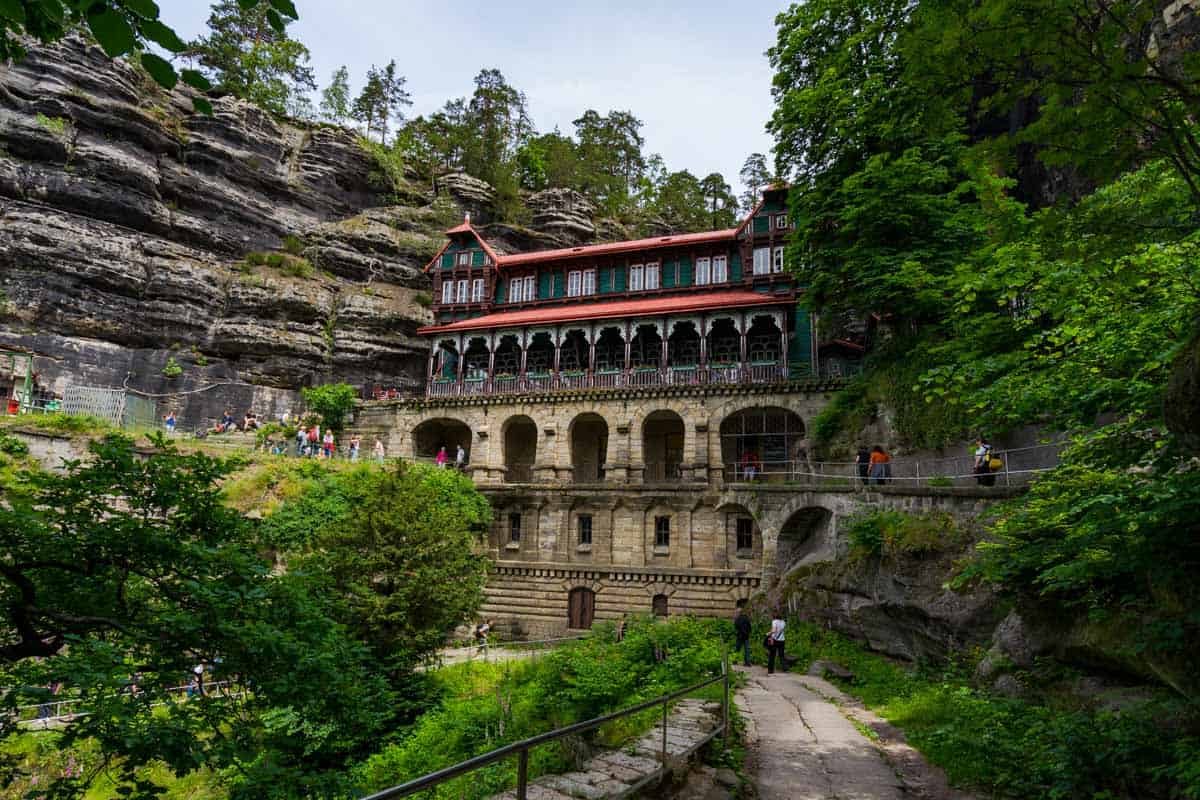 Walking and climbing through fragrant pine forests, Vitek stopped to tell us about the geology and history of the park.
The sandstone environment used to be part of a huge sea thousands of years ago. Over time rivers had carved away the unique landscape, leaving gorges, ravines, valleys and cliffs.
It was easy to see why people fall in love with the Elbe Sandstones!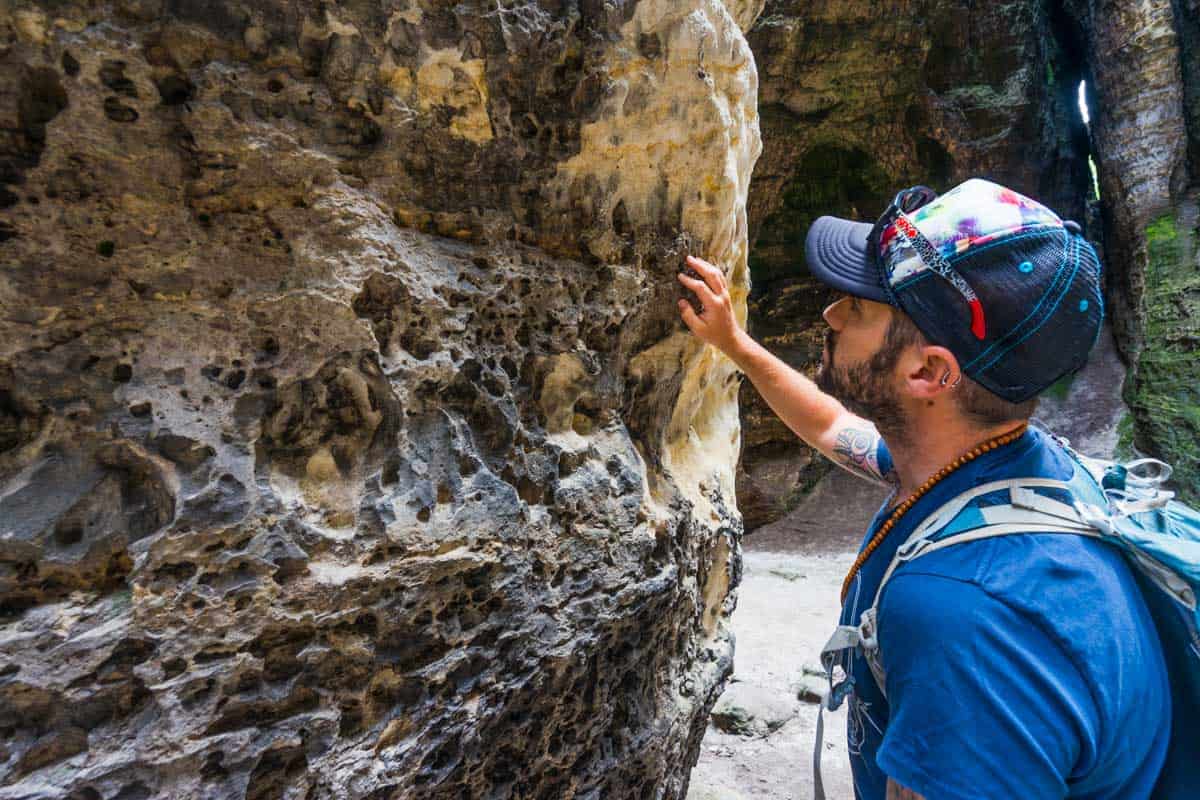 It didn't take long before we reached Pravčická brána – the largest natural arch in Europe.
Spanning 27m wide and 16m tall at its highest point, this captivating arch is a true spectacle.
A nearby chateau was once used as a hotel, but today it is a restaurant and a photography gallery (make sure you walk upstairs, as many people miss it).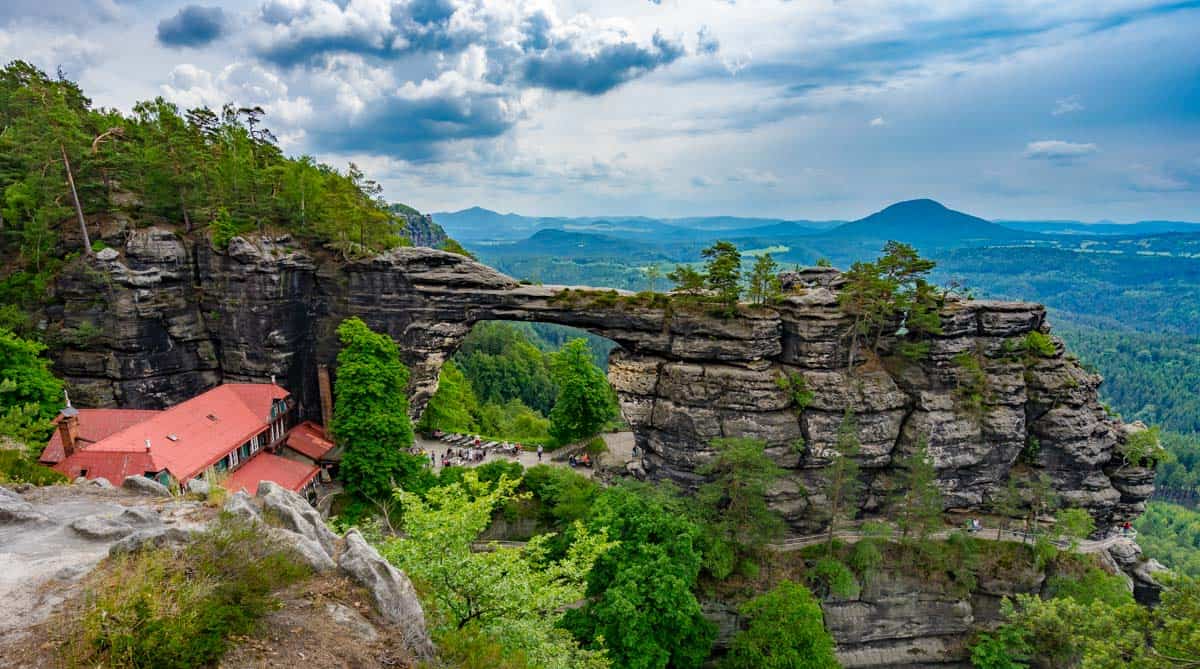 We climbed to one of the nearby viewpoints and were stunned at the serene beauty of the landscape as it stretched from the arch all the way around to the valley floor.
Pinnacles and cliffs jutted out of the forest all around us. Pine trees hung precariously from the sandstone. It was a mesmerising view.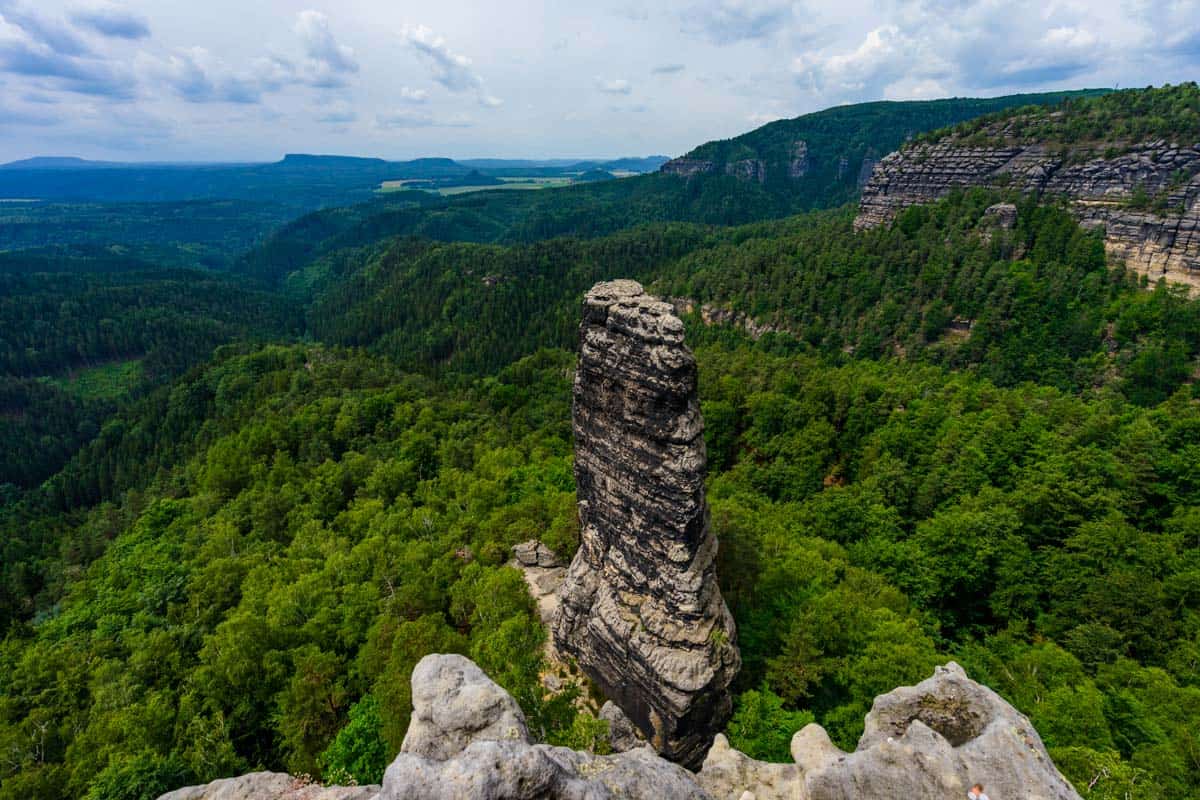 Afterwards we headed to a small bar underneath the arch and took part in a national pastime in Czech Republic – we drank some beers.
This was also the busiest place we came across in all of Bohemian Switzerland National Park. Patrons were scattered recklessly on tables sipping tasty pilsners and admiring the vistas.
Luckily Vitek knew how to get us onto some quieter trails, and before too long we were back on our own for the descent.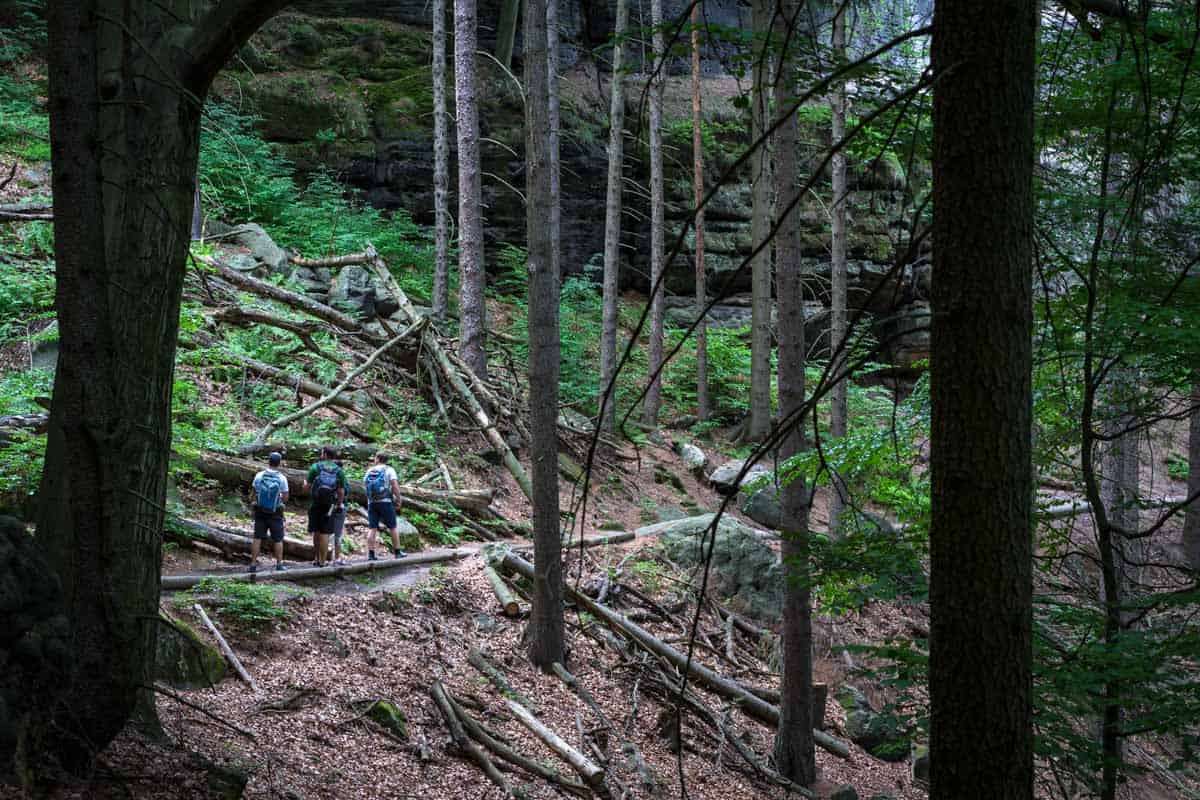 Passing beneath the forest canopy we soon arrived at the U Fořta restaurant, famous for having some of the best food in the region.
A "quick" lunch turned into 1.5 hours as we feasted on pork knuckle, goulash, cous-cous and, of course, beers. If there's one thing the people of Czech Republic do well it is drink and eat!
Sluggishly and a few kilos heavier we finally rose and trekked off to our final activity for the day – an idyllic boat trip through Edmund Gorge on the Kamenice River.
Deep in the gorge sunlight could barely penetrate through the trees, casting a mystical feel over the river.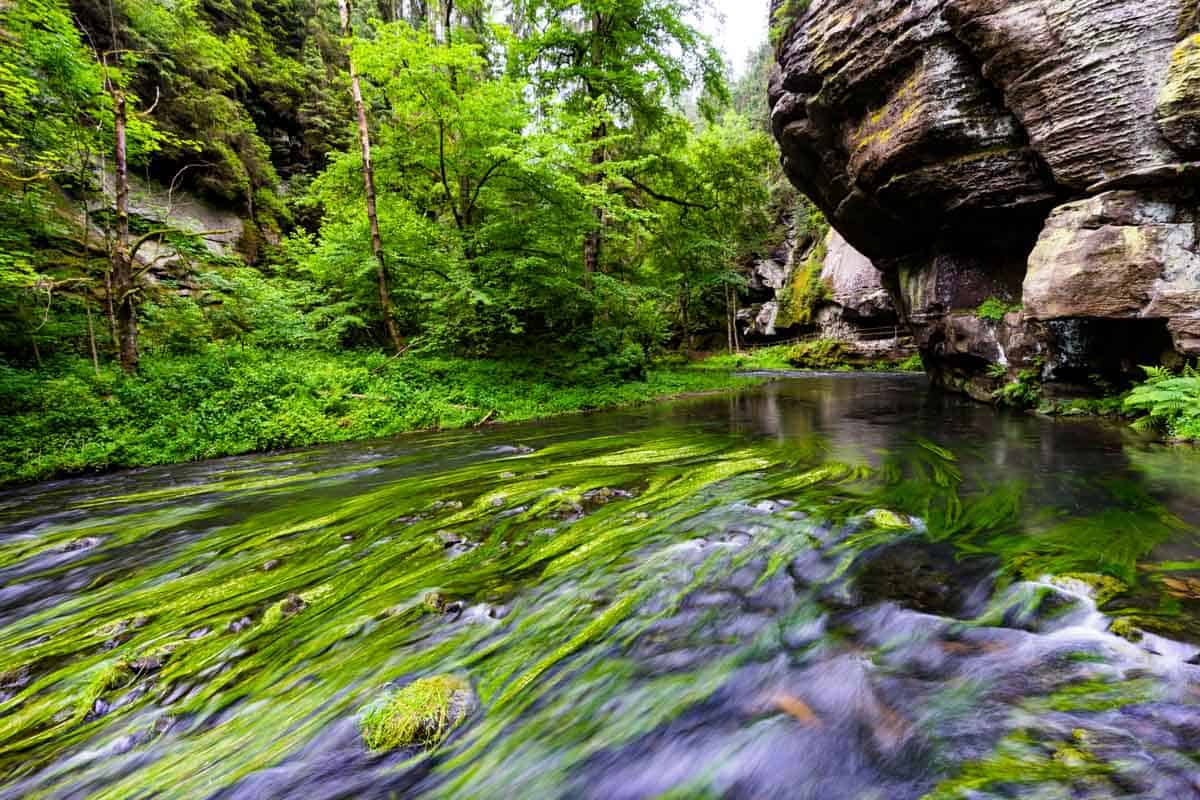 Along with the rest of the hikers funnelling into the Edmund Gorge we waited for our turn to board the regular boats, powered by smiling Czech men sporting long paddles.
The 20-minute trip was relaxing and pristine, and it started to sprinkle drops of rain as we neared the end.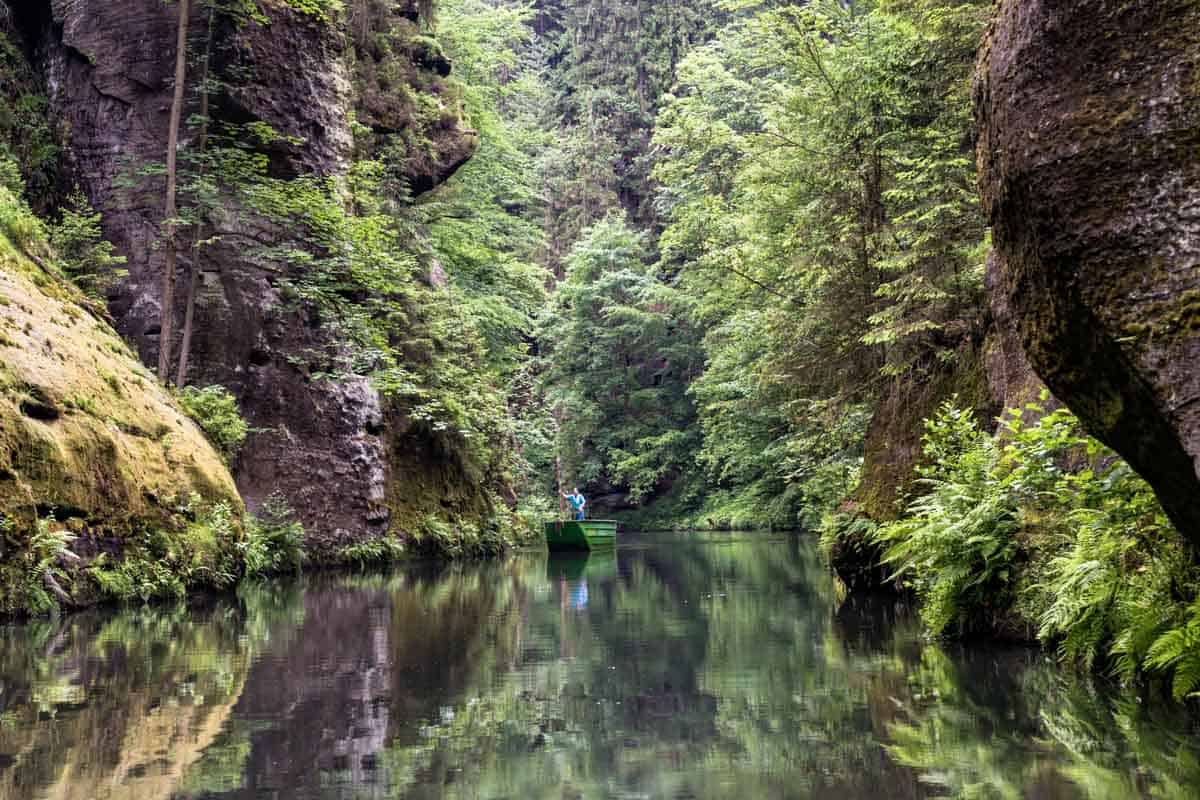 A short walk later and we were back at the van. Vitek drove Brian and Ivette to their accommodation, then took us to ours.
We were staying in the Hotel Zámeček in the České Švýcarsko village of Rynartice, about a 15-minute drive from U Fořta.
This picturesque and quaint village was straight out of a medieval fairytale. The sound of birds and the breeze formed the soundtrack to our Bohemian Switzerland.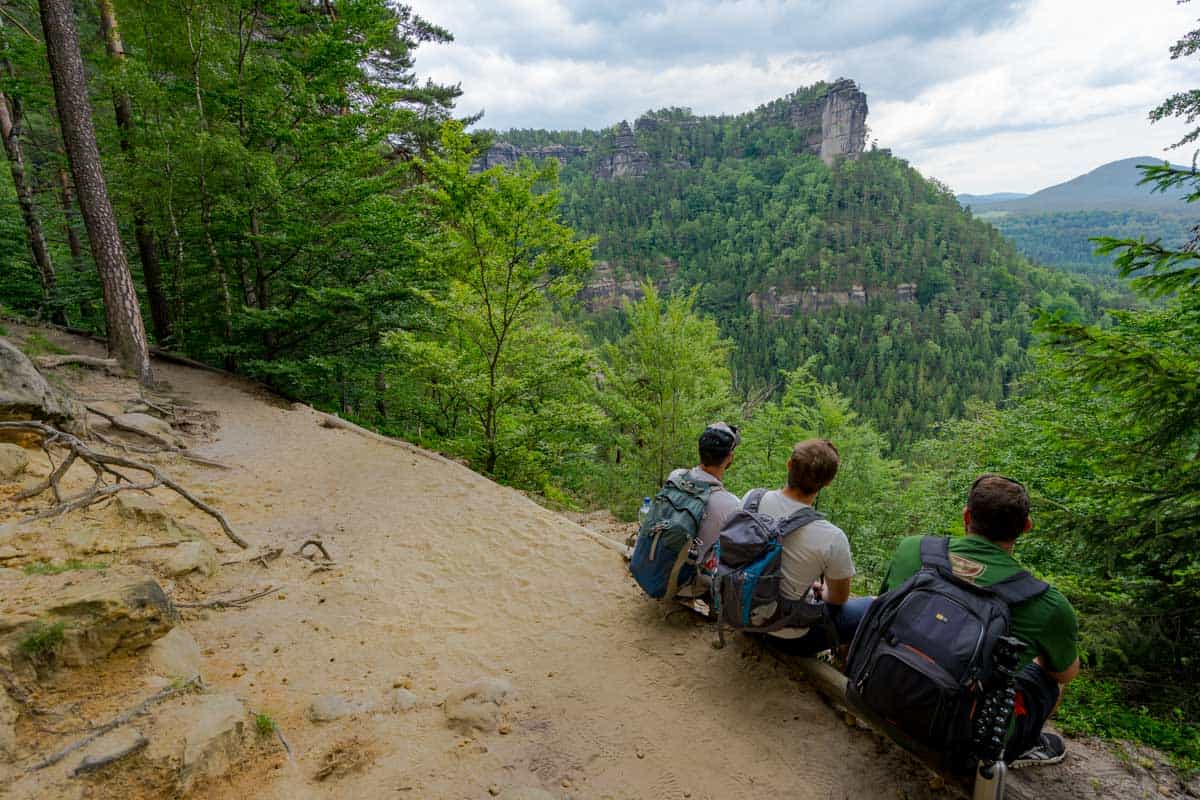 Hotel Zámeček was a large and imposing building, painted a pale pink and located up on a hill. The first impressions made us unsure of what it would be like.
However the inside was majestic and serene.
Our room was one of the largest we had ever seen. It actually took a significant amount time to walk from one end of the other. We're not even exaggerating.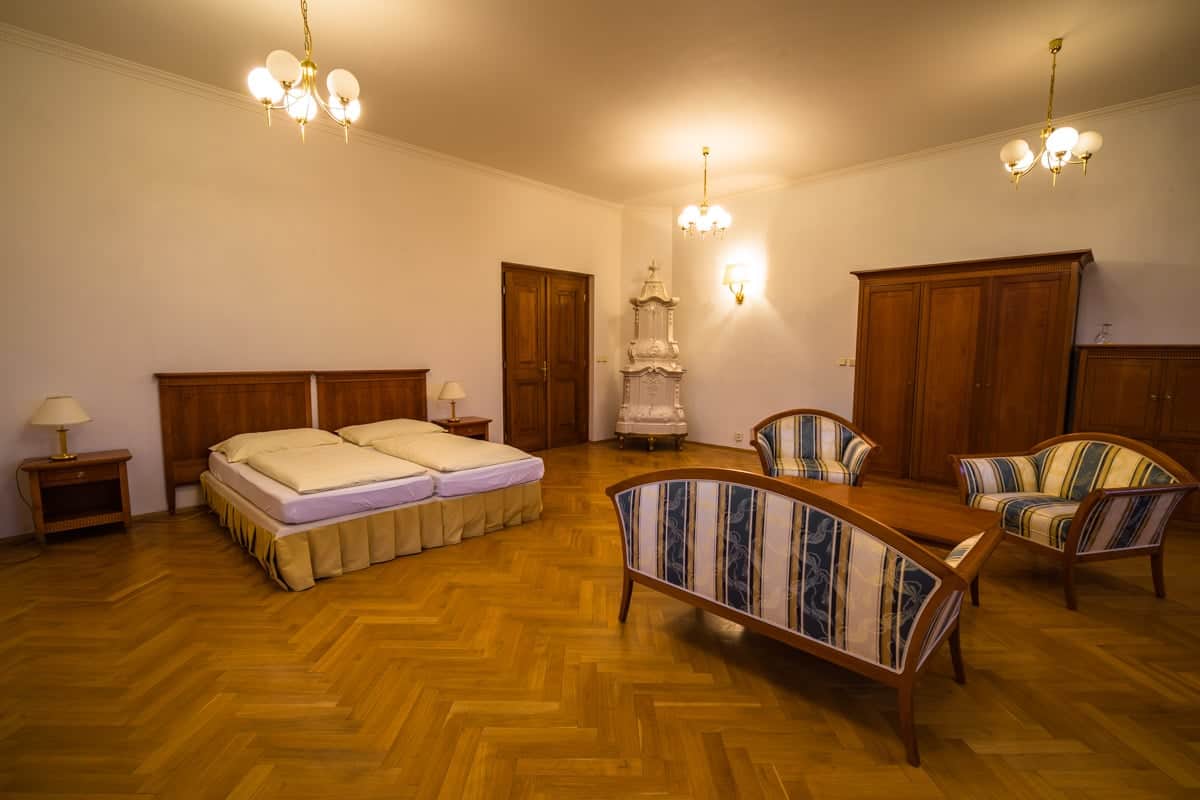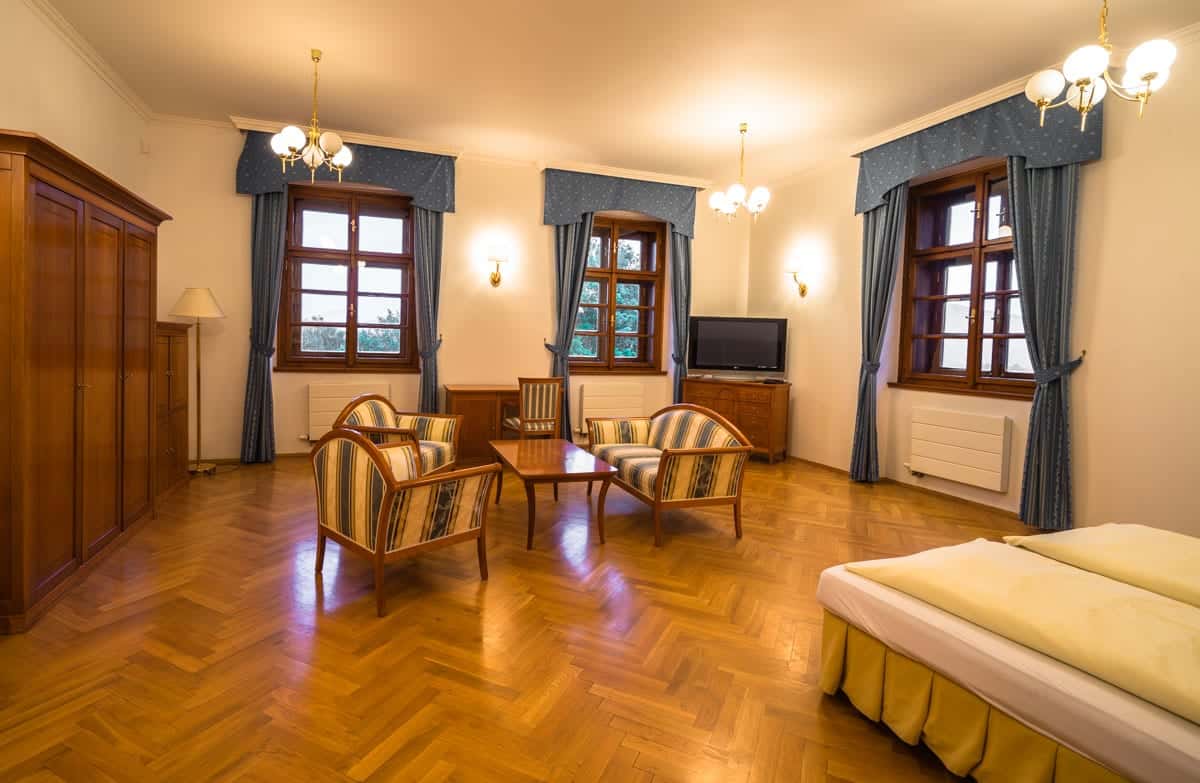 Once we were settled Vitek said his goodbyes. His guiding throughout the day had been dedicated and passionate, and his love for the area shown through in his positive attidude.
There was no wonder that he had grown Northern Hikes to be one of the most reputable and respected tour companies in Bohemian Switzerland.
He was due to drive back to Prague that night to pick up more clients, and he told us that his best guide would meet us in the morning. We knew we had found a true friend in Vitek, and that we would see him again in the near future.
Exhausted from the day, we headed off to sleep in absolute comfort in our private palace.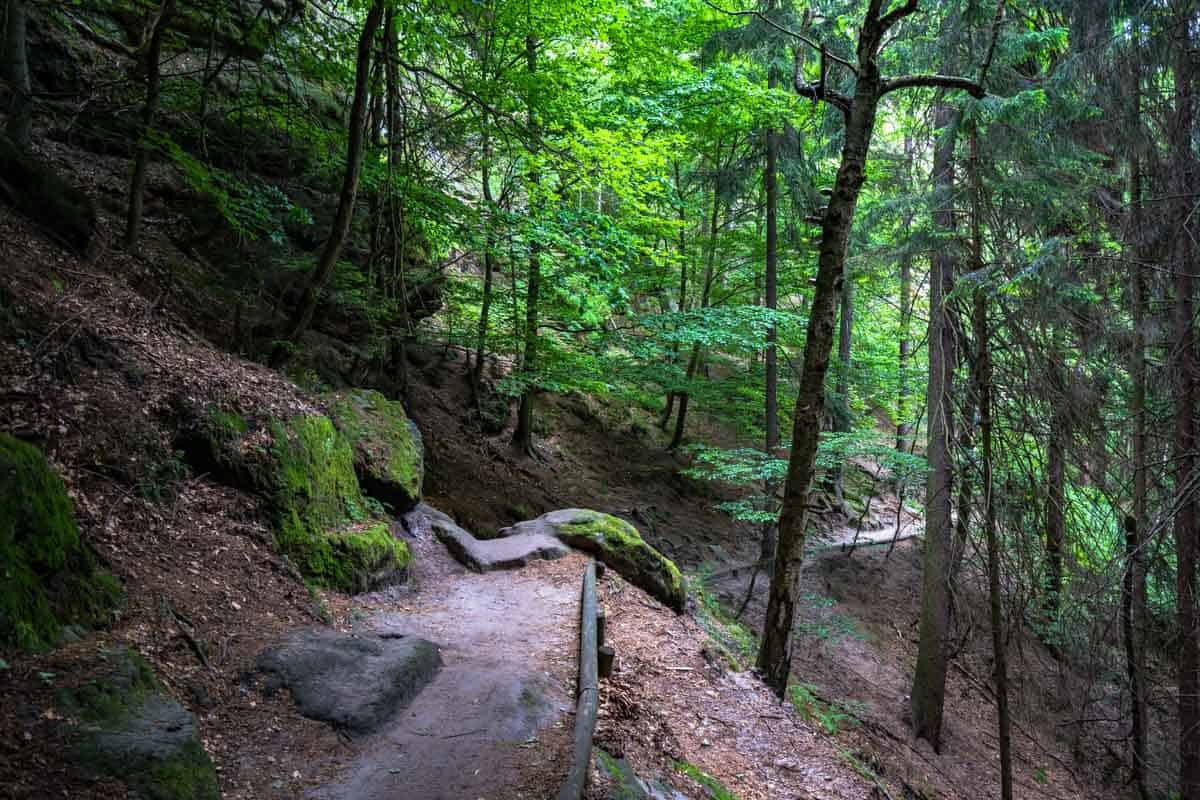 The next day we had a large breakfast at the hotel and then were picked up by Mirek, a jovial character whose passion for Bohemian Switzerland National Park almost surpassed Vitek's.
We went and collected Brian and Ivette then headed straight out to a different area of the park.
It was drizzly again that day and as a result there were hardly any hikers out again. Still, it didn't slow down Mirek's enthusiasm as he walked us though a labyrinth of sandstone pinnacles.
This was one of the most popular spots for rock climbers in all of Czech Republic and bolted routes were on most of the cliffs.
Mirek pointed out different formations as we wandered the trail, and eventually led us to a beautiful viewpoint high above the Bohemian villages in the area.
A quick lunch break (with beer, naturally) broke up the day and we headed off in search of a few more sensational vistas.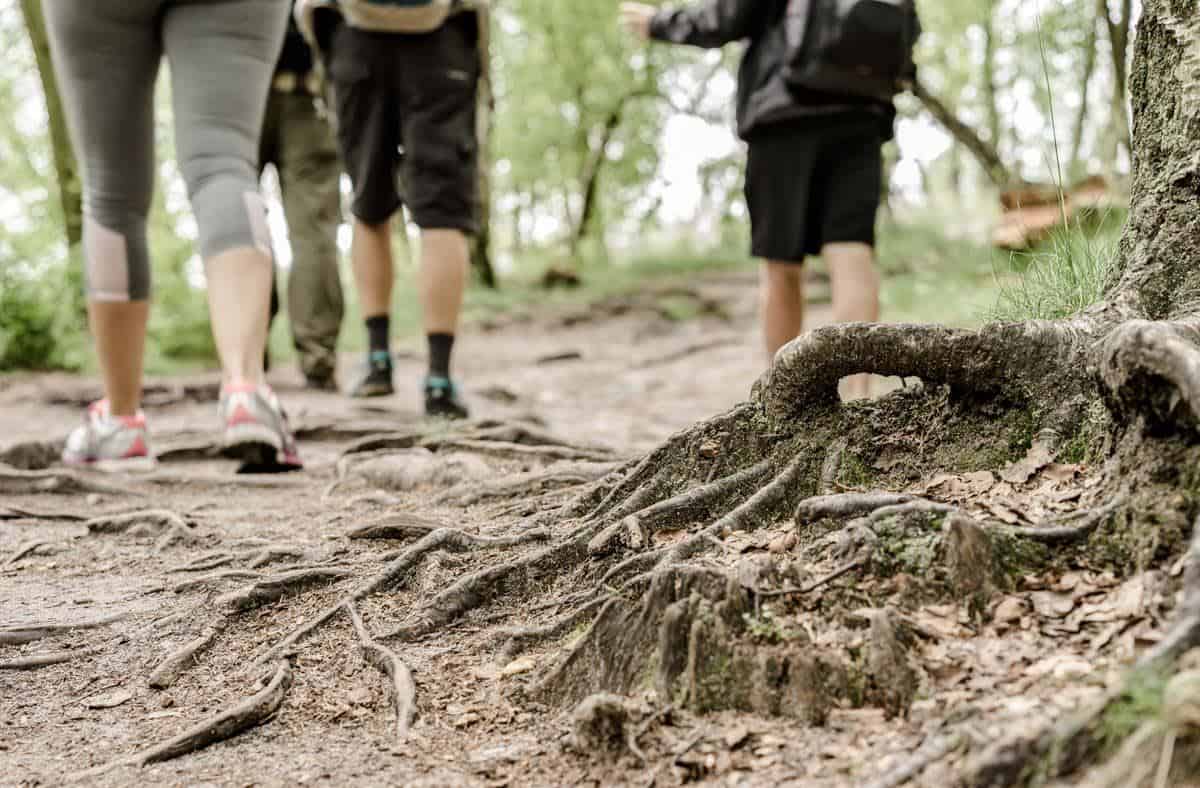 The majority of the hiking was now over, and we could drive to many of the spots. Still Mirek managed to find us places that were virtually empty.
When the sun finally broke through the clouds in the afternoon we were offered an insight into just how spectacular the region would be on a perfect day.
One spot had the Elbe River meandering between forested mountains, snaking its way to an unseen destination.
We made a note to ourselves to return.
The second day rushed by nearly as fast as the first, and eventually it was time for us to return to our hotel.
We said our goodbyes to Mirek, Brian and Ivette and passed out just after sunset.
In the morning we took a taxi to Děčín train station and made our way back to Prague.
The journey flew by and entering the city again was a bit of a shock after so much time in the gorgeous Bohemian Switzerland.
As much as we love Prague it was hiking in Bohemian Switzerland National Park that really made us start to fall for Czech Republic.
The passion of Vitek and Mirek and the professionalism of Northern Hikes gave us faith that this area will only continue to grow in much-deserved popularity.
When we return, and we know that one day we will, our first point of call will be the sandstone pinnacles in the north.
Our hiking in Bohemian Switzerland was done in partnership with Northern Hikes and Visit Czech Republic. All thoughts, opinions, kilometres walked and beers drunk are of course our own.
Save this Pin for later?