There is more than just drinking beer on this list of things to do in Prague, Czech Republic…But still some delicious Prague beer.
Prague is one of the most popular and beautiful destinations for travellers in all of Central Europe. With its medieval style, cheap cost of living, vibrant bar and restaurant scene and cranking nightlife it is easy to see why!
Everyone that visits the capital of the Czech Republic ends up doing the same things: Visit Prague Castle, wander the old town square, find the John Lennon Wall and hang out on the Charles Bridge. And there's nothing wrong with this.
But in our opinion, there are a lot more things to do in Prague than just the main tourist attractions!
We fell in love with the city and ended up returning no less than 5 times! Each time we tried to find some unique things to do in Prague.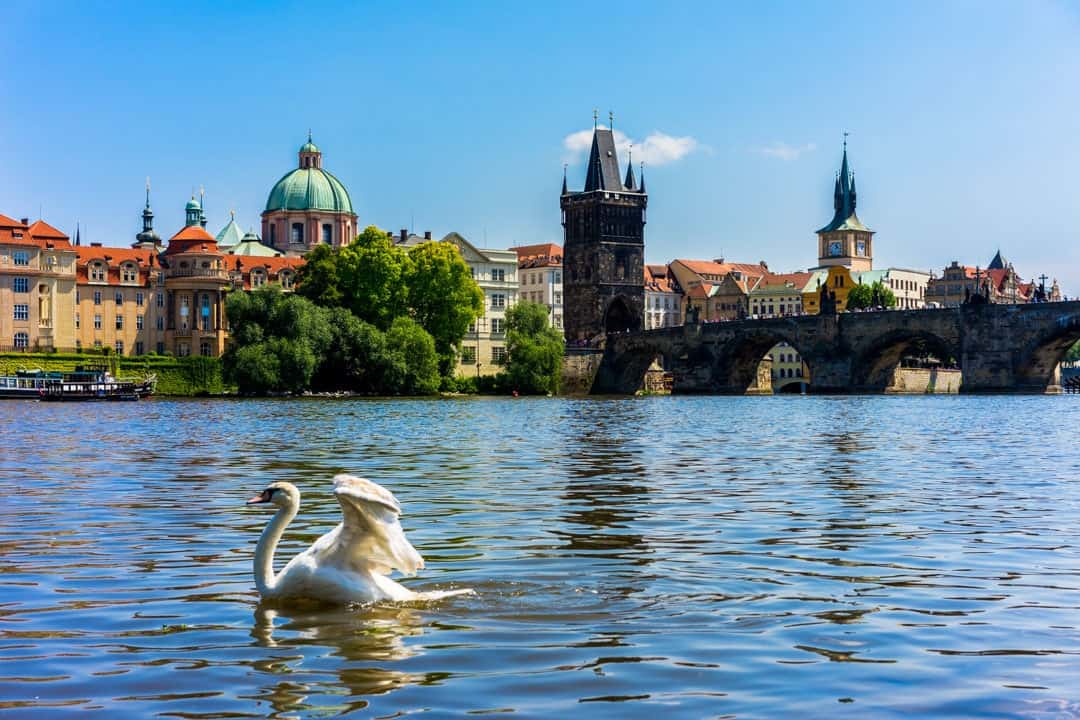 The Best Things to Do in Prague, Czech Republic
Naturally we did revert to a few of the same things that everyone checks out in the Czech capital. Because really, when looking for what to do in Prague you can't miss the Charles Bridge, Prague Castle or the Prague Astronomical Clock!
Fell in love with Prague? Continue your adventure and explore the rest of the country with our Czech Republic Travel Guide.
Still we hope that this list of 17 things of what to do in Prague will help you not just see the main tourist attractions, but also try to see a little bit of Prague off the beaten path. Many you can enjoy with a Prague beer in hand!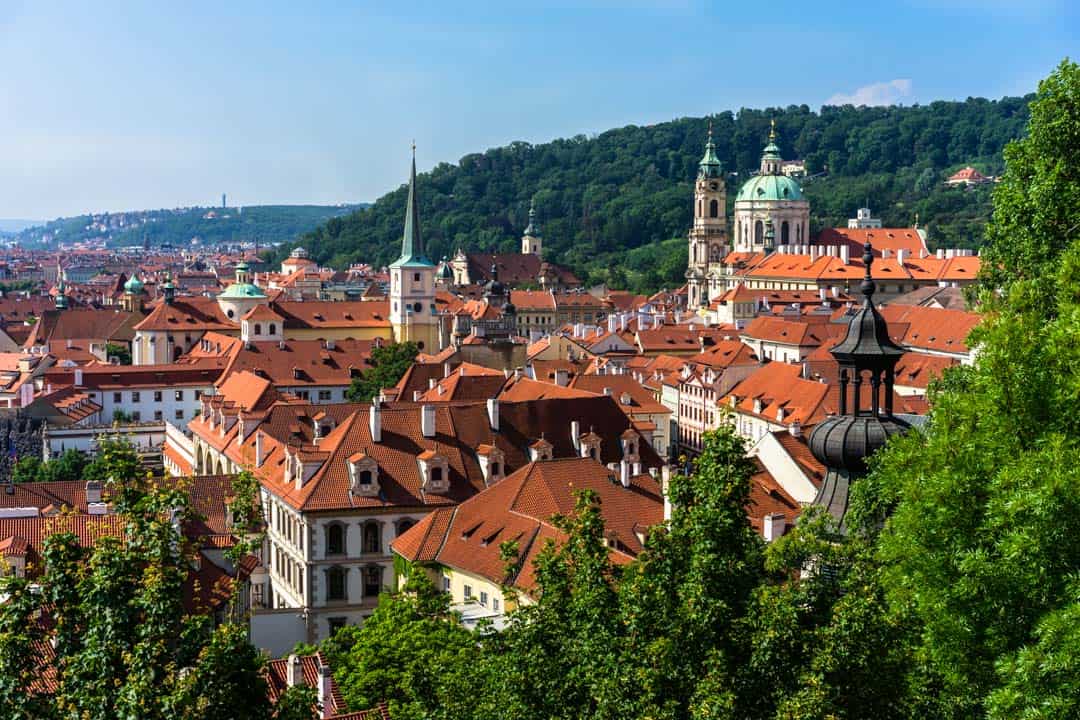 1) Mountain Biking In Prague
After checking out some of the best mountain biking in Czech Republic during our epic trip to the Jeseniky Mountains, we were eager for more!
We had no idea that the hills surrounding Prague were also home to a huge collection of mountain bike trails. But when we were put in touch with Filippo from Biko Adventures he convinced us to give it a go.
Turns out not only are there mountain biking trails in the city – they are simply epic, and one of the best ways to get off the beaten path in Prague!
From the office in downtown Jarryd joined Filippo and a couple of good friends to pedal around 40km through spectacular forests, secluded parks and down some gnarly terrain.
For hours we barely saw another soul, and Filippo was a spectacular guide. He showed us some hidden secrets of Prague and regaled us with stories of his own travelling adventures.
Rocky outcrops, narrow single tracks, small jumps, sudden drops and fast-flowing berms: everything you could ever want from a day in the saddle.
We did the Prague Parks tour, with a few gnarly detours thrown in for good measure. If you are an advanced mountain biker then Filippo and his team will sort you out for some hardcore adrenalin and technical riding.
But if you are just looking for something fun and unique during your time in Prague, we definitely recommend the tour we did.
If you'd like to visit Prague attractions on your own, you can also rent a bike with Get Your Guide.
2) Explore The Bohemian State Of Mind Tour
The free walking tours in Europe are some of our absolute favourite things to do, and is a great way to get to know a new city.
Prague's one is no exception of course, and you should definitely do it during your visit.
But in our opinion it's also the unusual, off the beaten path tours that make for the most fascinating excursions.
Cue Urban Adventure's Bohemian State Of Mind Tour in Prague!
Rather than wandering through the typical Prague tourist attractions, this unique tour takes you on an interactive journey through history and how recent attitudes developed amongst determined locals.
Starting in front of the Duke of Bohemia, the patron saint Wenceslas in the square of the same name, join a knowledgeable guide as they takes you through modern history.
Discover how various influences affected the political, architectural and artistic elements of Bohemia.
Details of the recent Velvet Revolution and exploration of the fascinating Bohemian neighbourhoods are just some of the highlights of this tour.
Naturally, in true Czech style, you finish the walk in an impeccable microbrewery.
Honestly it was one the most interesting and fascinating walking tours we've experienced. Highly recommended!
3) Prague's Old Jewish Cemetery
When you visit Prague you must visit the Jewish Quarter. Located only a few kilometres from Prague Old Town Square is the largest Jewish cemetery in all of Europe.
It might seem odd to add a cemetery to a least of what to do in Prague, but it's a fascinating place that is not only historical, but also very photogenic.
The Old Jewish Cemetery in Prague was first established in the 15th century and continued to be in use right until 1786.
Dive deep into Prague's Jewish heritage with this 2.5 hour guided walking tour to Jewish old cemetery, three synagogues and the Jewish museum.
While this wasn't the first Jewish cemetery in Prague, it is by far the largest and most important.
Some of the most famous Jewish Czechs in history are buried amongst the leafy, overgrown lot, including Rabbi Jehuda Liva ben Becalel and the historian David Gans.
If you have a few hours spare you should definitely wander through the twisting alleys of the Jewish Quarter and admire the elaborate tombstones encroached with creeping vines.
Location: You can find Prague's Old Jewish Cemetery on Siroka 23/3, with the entrance at Pinkas Synagogue.
4) Sedlec Ossuary – The Bone Church In Kutna Hora
This one isn't exactly in Prague, but instead a short train ride away. But still it can be done as a day trip from Prague, and should not be missed!
About one hour outside of Prague is the small and picturesque village of Kutna Hora.
Boasting a gorgeous town square and plenty of opportunities for exploring in the surrounding hills, Kutna Hora is a perfect place to escape the city if you want to get off the beaten path.
But the quaint town alone isn't what draws visitors to this part of the Czech Republic…
Only 1.5km from the village is a small Roman Catholic Church called Sedlec Ossuary. Designated as a World Heritage Site, this church is famous for a something that might surprise you.
The entire interior has been decorated with human bones – the remains of between 40'000 and 70'000 people that died during the Black Plague.
Intricate chandeliers, pyramids made of skulls and strings of human decorations adorn every piece of clear space in the church.
The story goes that a blind monk had a vision to dig up the human remains and display them around the interior. He employed the rest of his colleagues and developed amazing sculptures.
Whether or not this is true today we are left with one of the most unique things to do in Prague.
Location: Zámecká, 284 03 Kutná Hora
Opening hours: Between April and September: from 8 AM – 6 PM, in October and March: from 9 AM – 5 PM, between November and February: from 9 AM – 12 PM and from 1 PM to 4 PM.
Price: 90 Czech Koronas
READ MORE: Check out our South Bohemia itinerary for travel through the Czech Republic.
5) Enjoy The Best Sunset Spot In Prague At Riegrovy Sady
The people of Czech Republic drink the most beer per capita of any country in the world. And Prague beer is some of the best in the world.
So needless to say, drinking at sunset virtually anywhere in Old Town Square is a big part of the culture.
Always looking for an excuse to close the day with a cold pilsner in hand, we wanted to find the coolest, local spot to knock one back with the best views of the city.
We turned to our friends Michael and Randi who were living in the city to show us their local hotspots, and luckily for us they gladly did.
As it turns out, the best place to watch sunset in Prague is at Riegrovy Sady, one of the large parks close to the Žižkov TV Tower on the east side of the train station.
Every evening in summer excited locals flock to Riegrovy Sady to catch up with friends, drink beers, partake in the odd toke and have a merry time.
Not wanting to be one to miss out we did the same most nights we were in Prague.
There is a lovely grass hill with great views over the old town and the Prague Castle, and a sprawling beer garden close by. When the sun eventually goes down the garden is where a lot of people move to.
While other places in town are equally great to enjoy the sunset, such as Letna Park and by the riverside, we really loved the vibe at Riegrovy Sady.
It was an amazing place to appreciate Prague, off the beaten path from the rest of the tourists.
6) Wander Through The Prague Old Town Square
And topping the list of typical, tourist places to visit in Prague is an obvious one – check out the Old Town Square.
But even if you hate touristy areas, let's be honest: No trip to Prague would be complete without bumping shoulders with the crowds on the Charles Bridge or in this quadrangle surrounded by medieval, epic buildings.
Perhaps the most popular tourist destinations in the Czech Republic, and punctuated by the Gothic-style Church of Our Lady before Týn, the Old Town Square has been the main part of the city since the 14th century.
Besides the Gothic church, there is also Baroque architecture featured heavily around the perimeter. It really is one of the finest examples of a European square on the whole continent.
This comes with a word of warning though: If you come in the summer months the Old Town Square will be rammed with tourists.
Our recommendation is to snap your photos and quickly retire to the narrow alleyways that spider out from the square.
7) Love (Or Be Disappointed By) The Prague Astronomical Clock
Built in 1410 the Prague Astronomical Clock (called Orloj in Czech) is one of the absolute must things to do in Prague.
The clock itself should be admired and praised for its intricate details and the phenomenal work that went into its construction in the 15th century.
Mounted to the southern wall of the Old Town Hall, right in the Old Town Square, the clock represents the position of various, important astronomical elements such as the sun and moon.
It really is a true masterpiece and a stunning work of art. But the main reason everyone heads to the clock when wondering what to see in Prague is because of the hourly miniature parade that takes place.
Every hour on the hour the "Walk of the Apostles" takes place just above the clock. This is like a static puppet show that lasts for a few minutes.
Without taking away from the importance of this, as no doubt at some point in time it was very fascinating for the locals, today it turns into a scrum of people trying to snap photos of it every hour.
In our opinion it can be a little bit underwhelming. But still, if you are hanging out in the Old Town Square you may as well time your visit to the clock to catch at least one loop of the figures.
Book a tour to learn about Prague's history, wander through Old Town and climb the Astronomical Clock Tower (admission fee included) for some stunning views of Prague.
Location: Staroměstské nám. 1, 110 00 Josefov
8) Marvel At The John Lennon Wall
This evolving and living art gallery used to just be a plain old wall, with no discerning features at all. In the 1980s though that all started to change after John Lennon was murdered and his influence turned into inspiration.
Belonging to the Sovereign Military Order of Malta, who have allowed the graffiti to remain, this wall has been the location of many political protests and orders over the years.
While it is constantly changing under layers of new paint, the ideals always remain love and peace.
READ MORE: Consider travelling to Ostrava and add these great things to your itinerary!
On the 25th anniversary of the Velvet Revolution (17th of November 2014) the entire wall was painted white by a group of students, leaving only the phrase "Wall Is Over". Since then it has been brought back to life by aspiring artists.
Location: The Lennon Wall in Prague is on

Velkopřevorské náměstí, a 5-minute walk south from the Charles Bridge opposite of Old Town Square.
9) Hike Through Chotkovy Sady To Prague Castle
Sure, you could take the standard way up to Prague Castle via Petrin Hill. Or you could try something different and tackle Prague off the beaten path by hiking up through Chotkovy Sady.
To get to it all you have to do is walk along the river just past the Prague Castle then cut in towards the castle.
Wandering through the city park is a peaceful way to approach the iconic Prague Castle. Just follow the path, and when you see the castle looming on your left start to make your way up.
This isn't strenuous and is definitely something worthwhile to do in Prague in our opinion.
10) Delve Deep Into The Prague Castle
If you ever find yourself in a place that has the largest ancient castle in the world, you should probably go and check it out. And it just so happens that the Prague Castle is just that.
Founded sometime around 870AD, the Prague Castle today occupies about 70'000 square metres and is one of the most popular attractions in the city.
Prague Castle started off with humble beginnings, comprising just one small church. As time went on the exterior walls formed a protective barrier and many other buildings were constructed.
By far the most impressive structure in the Prague Castle is the St Vitus Cathedral, which was built in 1344. Its Gothic spires can be seen all over the city.
In terms of sheer beauty, the Prague Castle doesn't quite match to other more famous counterparts in the Czech Republic and around Europe. But it should still be considered an absolute Prague must-see when wondering what to do in Prague.
Entrance to Prague Castle is free, and you can easily wander around for hours without spending a cent.
However, if you want to gaze inside the St. Vitus Cathedral or any of the other watchtowers and museums on the premises this will cost you.
It is a little expensive, but how often are you going to get to visit the largest castle in the world?
If you love exploring castles and want to get a great experience and the most bang-for-your-buck, check out this cool 2.5 hour guided tour of Prague Castle and St. Vitus Cathedral (including entrance fee)!
Location: Hradčany, 119 08 Prague 1
Opening hours: The castle complex is open every day from 6 AM – 11 PM. Places, where tickets are required, are open every day from 9 AM – 4 PM.
Price: 350CZK (13 Euro) for full admission, or 175CZK (6.50 Euro) for students and seniors
11) Find The Dancing House
Also called Fred and Ginger, the Dancing House is the nickname given to the Nationale-Nederlanden Building in Prague.
Standing right next to the Vltava River on Rašínovo nábřeží, this curious office building was designed by the Czech architect Vlado Milunić with help from Frank Gehry from Canada.
The location of the famous buildings is of historical significance. An old house on this corner was bombed in 1945 and the devastating lot remained vacant until 1960.
A Dutch insurance company, Nationale-Nederlanden, purchased the lot and commissioned the architects to design a new house with an almost unlimited budget.
The Dancing House was their gift to the city of Prague.
For all avid architecture fans, don't miss to join an architecture tour to learn more about the building, its exhibitions and enjoy the views of the city from its rooftop terrace.
Location: Jiráskovo nám. 1981/6, 120 00 Nové Město
12) Have A Beer By The Vltava River
One of the coolest things about the Czech Republic is that you can drink in public. So if you are wondering what to do in Prague head on down to the Vltava River, grab a drink and mingle with the hundreds of young people doing the same thing.
There are dozens of pop-up bars sitting all along the paved shore, all offering delicious drinks at reasonable prices.
If you are looking for something more than jump on board one of the floating bars, often set up on boats, that are moored all along the Vltava.
On the weekends these really get cranking with locals and tourists alike. A great spot if you are looking for the best nightlife in Prague!
You can't have the full Prague sightseeing experience without a night out to one of their local pubs!
If you want to have a real unique beer experience, you can check out this awesome medieval dinner with unlimited drinks, including live music and a crazy, underground atmosphere!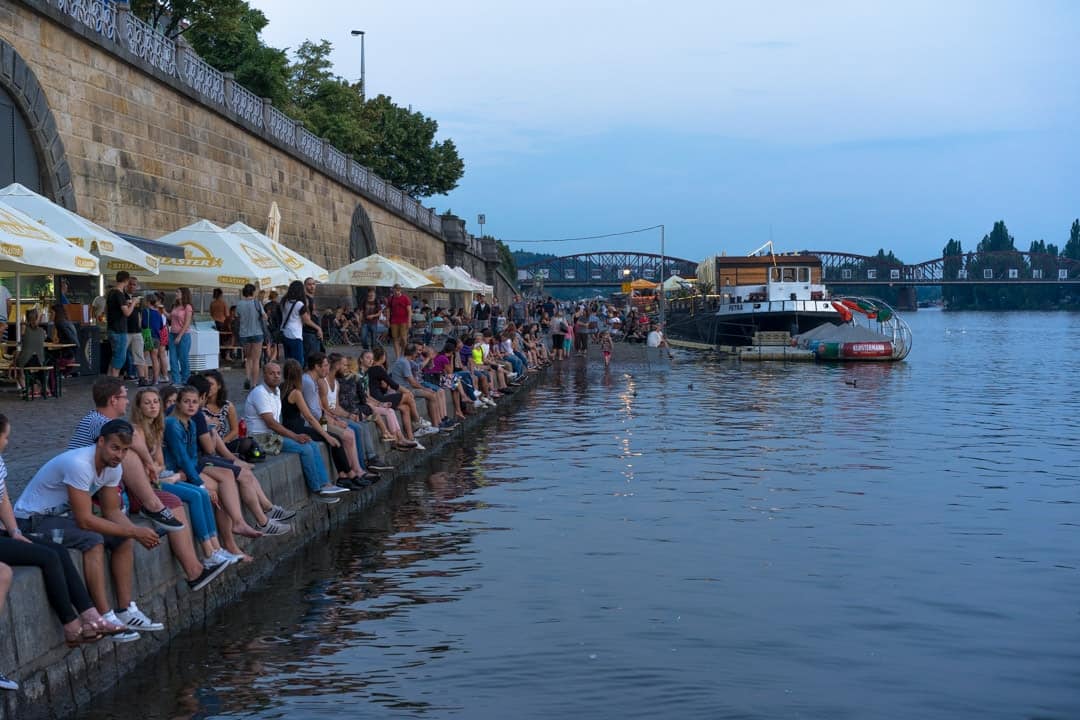 13) Scratch Your Head At The Franz Kafka Head
Franz Kafka was a Czech Republic writer and one of the most important writers of the 20th century. Much to the pride of the people of Bohemia he was born right here in Prague.
Best known for his literary masterpiece "The Metamorphosis", Kafka actually had very few of his novels published while he was alive.
Upon his death in 1924 from Tuberculosis, he asked one of his friends to destroy all the writings that he had put together throughout his life. His friend luckily ignored his request and instead published them giving Kafka full credit.
The controversial Czech artist David Cerny designed the 42 layer, motorised twisting replica of Kafka's head and had it installed outside the Quadrio shopping mall in Prague in 2014.
The moving face of Kafka really needs to be seen to be believed.
Due to Kafka's global fame, it's no wonder that the head statue is one of the more popular Prague tourist attractions. If you're an admirer of his work, book a tour with Get Your Guide to learn more about Prague through Kafka's eyes!
Location: Charvátova, 110 00 Nové Město
14) Catch The Sunset From A Million Different Spots
There are quite a few reasons to watch a sunset in Prague, but the most obvious one is because they are awesome!
We've already recommended heading to Riegrovy Sady for a few beers at sunset and that should definitely be on your list of what to do in Prague. But don't miss an evening down by the river as well.
With the spires of the St Vitus Cathedral protruding from the walls of the Prague Castle, the backdrop from the east side of the river during dusk is incredible.
Rays of light spiral across the sky and the vibrant hues in the river change majestically as day becomes night.
Seeing as you can drink out in public definitely grab a few pilsners and find a sweet vantage point to celebrate the end of the day.
15) Head To The Basilica of Saint Peter And Saint Paul
If you're the kind of person that loves churches, then be sure to head on over to the Cathedral Basilica of Saint Peter and Saint Paul.
The original church was built in the 11th century but suffered a catastrophic fire in the 13th century. Afterward, the cathedral received many makeovers until the current exterior was finished in 1903 in the neo-Gothic style.
In 2003 Pope John Paul II elevated the status of the church to a basilica, much to the delight of the devoted locals.
If you're planning a visit to the Basilica during your time in Prague make sure you head there in the evening to see it under lights, and to enjoy the amazing sunset from the nearby park.
Location: Štulcova, 128 00 Praha 2-Vyšehrad
16) Fall In Love With The Old Buildings
We have never been to a city that had us constantly craning our necks as much as Prague.
It honestly felt like every building was adorned with insane and intricate sculptures, the kind that you would expect to see in museums across the world.
When you look at the history of Prague it is easy to see why the architectural style has become as prominent as it is.
The modern-day Czech Republic has lived through millennia of fascinating history. From its Bohemian days as part of the Austria-Hungarian empire to the recent Czechoslovakia stronghold, one could spend years studying its story.
With so many influences and changes its no wonder that the capital Prague was on the receiving end of so many architectural movements.
From Gothic to Baroque to neo-classical, a traveller can find scores of different styles scattered throughout the city.
All you really need to do to appreciate this is to go for a walk and study the facades on each piece of aged construction.
Or if you are wondering what to do in Prague on a rainy day head inside the many galleries and museums around the city.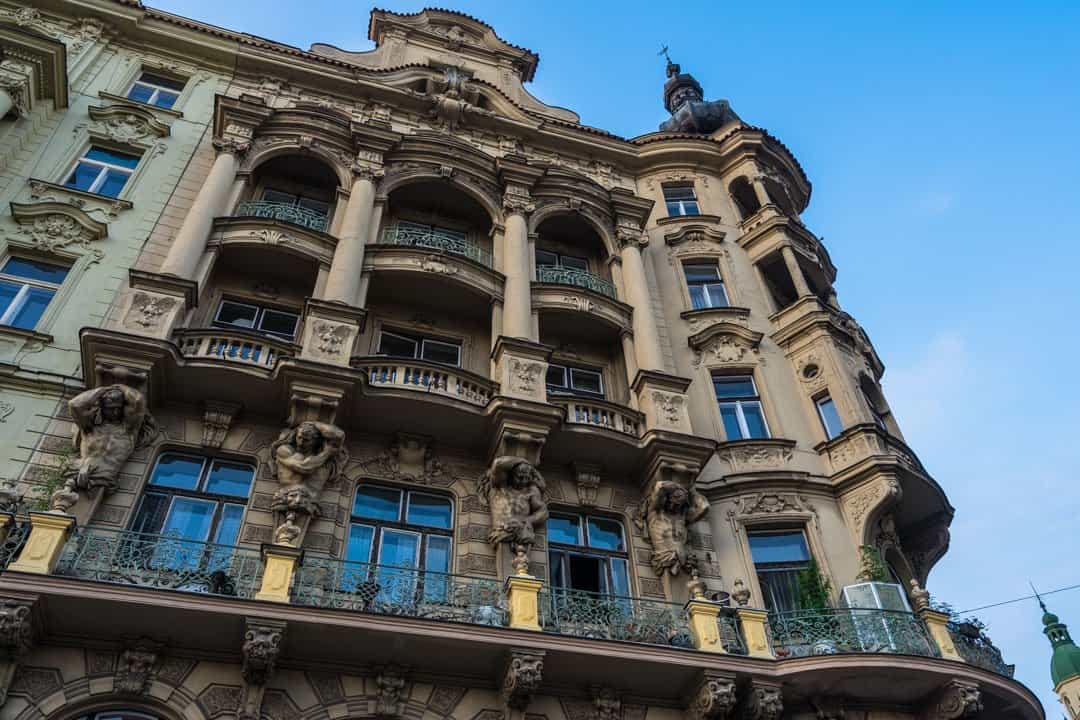 17) Find A New Angle On The City
Rounding off our list of great ideas for what to do in Prague is trying to find a new angle on the much-loved city.
Prague is a photographer's paradise, for obvious reasons. So unless you have a bit of time up your sleeve it can be easy to fall into the typical trap of shooting the exact same thing as every other person before you.
This city is seriously beautiful from any one of a million angles, and all it takes is a bit of artistic flair to find something that will help your photos stand out from the rest.
It goes without saying that dawn and dusk are the optimal times to get your best photos, but even if you are out in the middle of the day you can find something to capture.
The Cathedral Basilica of Saints Peter and Paul lit up at dusk.
Prague Travel Guide
Now that you have a good idea of what to do in Prague, you need to get on with booking your accommodation!
Not always an easy feat as sometimes there's a lot of research to be done, so we decided to help out and share our recommendations!
Where To Stay – The Best Hostel In Prague
Europe is famous for having the best hostels on the planet, and so when a backpacker travels around the region they are often spoilt for quality and choice.
Luckily we managed to find the best hostel in Prague on our final visit, and can't imagine staying anywhere else now!
Czech Inn is run by a crew of well-travelled individuals who know exactly what backpackers want. From the moment you walk in the door you feel at home, and the smiling faces of other travellers make friendly interactions a breeze.
The hostel is located in a great place, only a 20-minute walk from the Old Town but far enough from the mayhem to be able to breathe.
There is a whole collection of amazing cafes, bars and restaurants all around (including the famous Prague Beer Museum just down the road), and public transport is right on your doorstep.
Welcome To Czech Inn
The lobby area is a touch on the small side, but that just means it is a great place to engage with other travellers. The downstairs bar is dark and moody and gets cranking almost every single night – exactly what you want from a hostel bar!
Once you've grabbed your key from the awesome staff (who are a wealth of information) you have a choice of sensational dorms and private rooms to choose from – including the famous 6-bed loft.
We got to enjoy one of their private rooms, and without exaggerating it was better than some 4-star hotel rooms we've stayed in.
The bed was ridiculously comfortable, there was a sitting area, large windows to let in air and light and a super funky bathroom.
Of all the hostels we've stayed in around the world, we can honestly say the Czech Inn is one of the best.
READ MORE: Check out another guide on places to visit in the Czech Republic.
Save this Pin for later?

DISCLAIMER: Some of the links in this article are affiliate links, which means if you book accommodation, tours or buy a product, we will receive a small commission at no extra cost to you. These commissions help us keep creating more free travel content to help people plan their holidays and adventures. We only recommend the best accommodations, tours and products that ourselves or our fantastic editorial team have personally experienced, and regularly review these. Thanks for your support, kind friend!