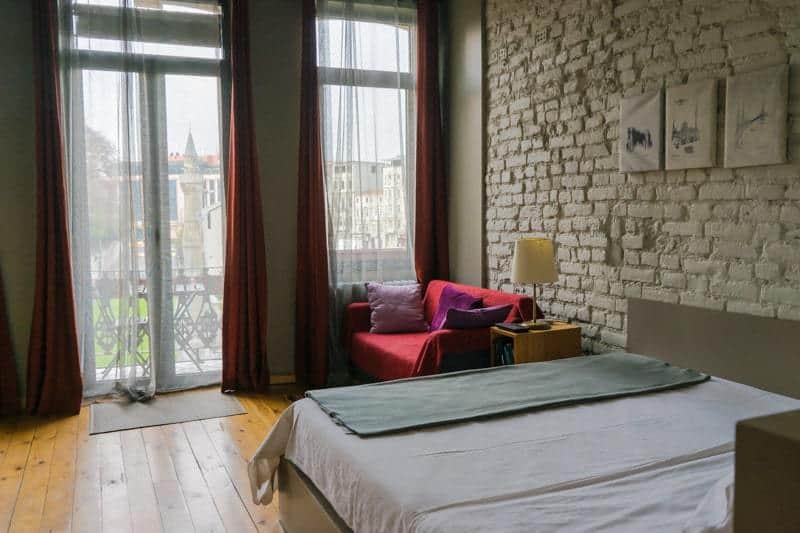 Very few cities on the planet have as much intrigue, history, appeal and attraction as Istanbul. Sprawling mosques, world class museums, cutting-edge galleries and a hip nightlife and restaurant scene blend together to ensure almost every visitor to Turkey's largest city is both captivated and entertained well beyond their stay. Whether you come for a day or a month, it is almost impossible to leave Istanbul without feeling a sense of awe. So when planning your holiday to Turkey's vibrant hub, it is only natural that you would want somewhere equally memorable to rest your head at night. There are literally thousands of accommodation options to be found in every single neighbourhood, so the choice can be truly overwhelming. Luckily we've done the research for you, and when it comes to finding the best boutique hotel in Istanbul, there is no better choice than Peradays.
Superbly located in the bohemian Beyoğlu neighbourhood and only a three-minute walk from the popular Istiklal pedestrian street, Peradays is an excellent launching point for exploring the best the city has to offer. Right in between both Taksim Square and Galata Tower, it allows you to enjoy a different side of Istanbul, away from the hustle and bustle of Sultanahmet, where many of Turkey's most famous attractions are situated. Metro stations, ferry terminals, bus stops and the famous Tünel are all within walking distance of Peradays, so getting around couldn't get any easier.
From the moment you walk in the door the warm smiles of the staff make you feel at home. Murat, Bora and Murat are the three cheerful partners at Peradays, and are well versed in catering to the needs of all travellers, whether you have found yourself in town for business or leisure. Their knowledge and passion of the city is unparalleled, and they can confidently help you best plan your time in Istanbul.
We had the pleasure of meeting Bora and one Murat during our stay, and it was their friendship and knowledge that really made Peradays stand out as one of the best boutique hotels in Istanbul. We would sit with them and listen to music with the other guests, trading travel stories and learning more about the fascinating city. Their ability to make every person that walked through the door feel completely welcome was a beautiful thing to experience.
Like one would expect from the number 1 rated B&B on Trip Advisor, the interior design is well thought out and exceeds expectations. The 9 suites of Peradays are bright and spacious with a chic-décor style, and are so enticingly comfortable that you may have a hard time leaving every morning. Our room came complete with a balcony, library, couch and cable TV, which quickly became our favourite place to kick back and unwind at the end of a long day exploring the city. Of course free, fast wifi is found throughout the hotel.
The unique furnishings were carefully placed throughout the suite, giving it real character. Some of the bathrooms are built with a full-panel glass window, allowing you to shower with a view out of the building if you would like. Our free spirits loved being able to stare out over the park below, but if you prefer more privacy, wraparound curtains block out all prying eyes.
The included breakfast is of the traditional Turkish variety, complete with olives, bread, cheeses, eggs, pancakes, fresh juice, tea and coffee. Each meal is delicately prepared with magnificent presentation, and it is not uncommon to spend an hour or more immersing yourself in the delicacies in the industrial-themed dining area. We actually arrived very early on the day of our check in, and Gulten the chef was expecting us with a full spread and piping hot coffee. A perfect introduction to Peradays and Istanbul!
For us an important aspect that makes a boutique hotel so incredible is having an area to chill outside of your suite. Sure it is nice to be able to stay in your own privacy, but we love meeting other travellers and getting to know the staff of where we stay. For this the downstairs area of Peradays is more than comfortable, and is like hanging out in a friend's living room. Upstairs is a beautiful terrace that would be the perfect place to enjoy a tea or cocktail on a mid-summer's evening. Unfortunately we timed our stay to be at the beginning of winter, so I guess we'll just have to come back in the future to make the most of the terrace!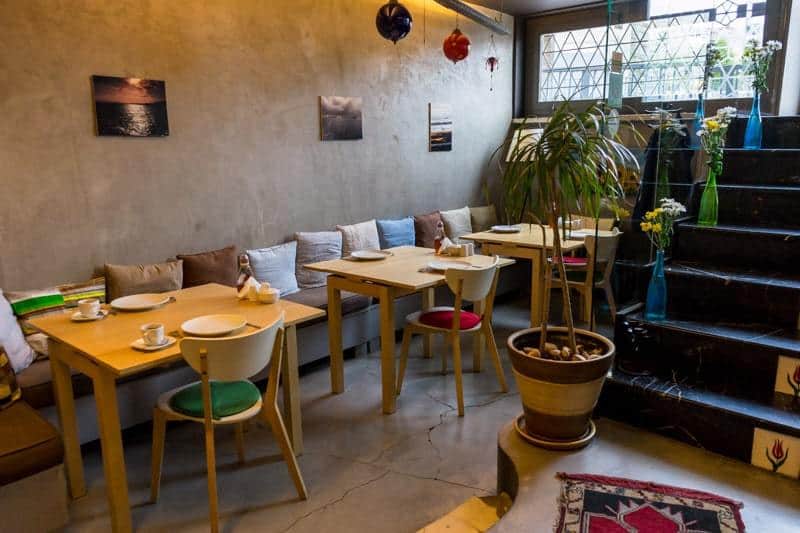 Even before we arrived it seemed that Peradays had everything you could want from a boutique hotel. But what first attracted us to Peradays (besides their sterling reputation) is their commitment to implementing environmentally-friendly practices into their hotel. Peradays uses energy-saving light globes, a gray-water system and encourages their guests to reuse towels (but of course this is up to the guest's discretion). We always encourage people to travel responsibly so it is wonderful to see hotels doing their part to help the environment as well.
Every day we would head out to explore the best that Istanbul had to offer, wandering through palaces and museums, in and out of galleries and simply getting lost in the majestic alleyways of the city. But having been on the road for as long as we have we loved knowing that we could return to whenever we want and feel like we were home. In this regard, Peradays excelled in every way.
Peradays is more than just a place to stay – it is an experience that will stay with you long after you leave the city. In a saturated world of stale accommodations and repetitive guesthouses, it was sensational to be able to enjoy what may just be the best boutique hotel in Istanbul. Bora, Murat and the rest of the staff really went above and beyond to provide the best service possible in every sense. The next time we find ourselves in Istanbul, and we know we will be back, we'll be stopping by Peradays again, and again, and again.
To book your impeccable stay at Peradays Hotel in Istanbul check them out on Agoda and Booking.com
As an added bonus if you contact them directly at [email protected] and mention you are a follower of NOMADasaurus, you will receive a 10% discount on your room. Additionally they will donate a further 5% to the Association For Solidarity With Asylum Seekers And Migrants.
[box type="info" size="large" style="rounded" border="full"]Our stay was covered by the amazing crew at Peradays. All thoughts and opinions are of course our own.[/box]