If you're looking for the perfect way to spend 3 days in Tampa, then you'll absolutely love this post! Here's my ultimate Tampa itinerary for any traveler.
Tampa is often overlooked in comparison to the more popular Florida cities of Miami, Key West and Orlando. But as it is in close proximity to each, visiting Tampa should be on your list when traveling to Florida.
The perfect 3 days in Tampa itinerary will include a mixture of both city culture and outdoor adventure.
You can sit by the Hillsborough River and enjoy a drink and people watching. Or rent a standup paddleboard or waterbike and see the city from the river itself.
Have a beach day along the Gulf of Mexico or throw your hands in the air and ride rollercoasters or water rides.
Of course, there is also plenty of history and culture to be found in Tampa Bay.
Ybor City, also known as "Cigar City" as it was once the heart of the cigar industry in the US, boasts a rich history full of international diversity.
Visit a number of different museums and art galleries. Or simply gawk at the massive yachts and cruise ships that port in Tampa.
There are lots of ways to enjoy Tampa Bay. And if you're planning a trip here this 3 days in Tampa itinerary is just the start of making the most of your time in the area.
READ MORE: Looking for other great things to add to your Tampa itinerary? Be sure to check out our post on all the best things to do in Tampa!
How to Spend a Perfect 3 Days in Tampa Itinerary
This Tampa itinerary breaks the city into 3 parts. The first part is the downtown area along the Hillsborough River. You'll have plenty to explore along the river.
The second part moves a little east into Ybor City. Full of history, culture and amazing eats, this part of Tampa Bay will make you want to come back for more.
While the final part of the city will be the adventure side – either north to adventure parks or west to beaches along the Gulf Coast.
We'll take you through each part during your stay, giving you the best of what to do in Tampa and loading you with lots of reasons to return.
The biggest tip we can give you though if you like to save money is to purchase the Tampa CityPASS before you come.
This ticket gives you access to a bunch of the best attractions around the city at a discounted rate. You can actually save 54% which is awesome.
SPECIAL DEAL: Save money on all the top attractions in Tampa with the official CityPASS.
Day 1 – Enjoy the Tampa RiverWalk
You can walk, bike, or take the Pirate Water Taxi through the activities on your first day in Tampa. They're going to be numerous, and you're going to spend a lot of energy enjoying yourself.
To begin day 1 of your 3 days in Tampa you'll want to make your way to the riverwalk.
The Tampa Riverwalk is a 2.6-mile pedestrian and bike trail that runs along the Hillsborough River in downtown Tampa Bay.
There are many parks, museums and public spaces to visit and the Tampa riverwalk is the perfect spot to enjoy the sunrise or sunset.
You can even follow the Tampa Riverwalk all the way to the waters of Tampa Bay, which is lined with a famous sidewalk called Bayshore Boulevard.
This 4.5-mile-long pedestrian walkway in South Tampa is perfect for strolling or biking at sunset or sunrise. It's a favorite among locals and tourists who visit Tampa Bay.
If your hotel doesn't offer a complimentary breakfast, then I suggest filling up on a delicious breakfast at Goody Goody Burgers located just southwest of the riverwalk in the neighborhood of Hyde Park to start your day.
Oxford Exchange is another popular cafe with a super cool interior and lots of delicious teas.
Then head down to the south end of the riverwalk where you'll find the first activity of this Tampa Bay itinerary.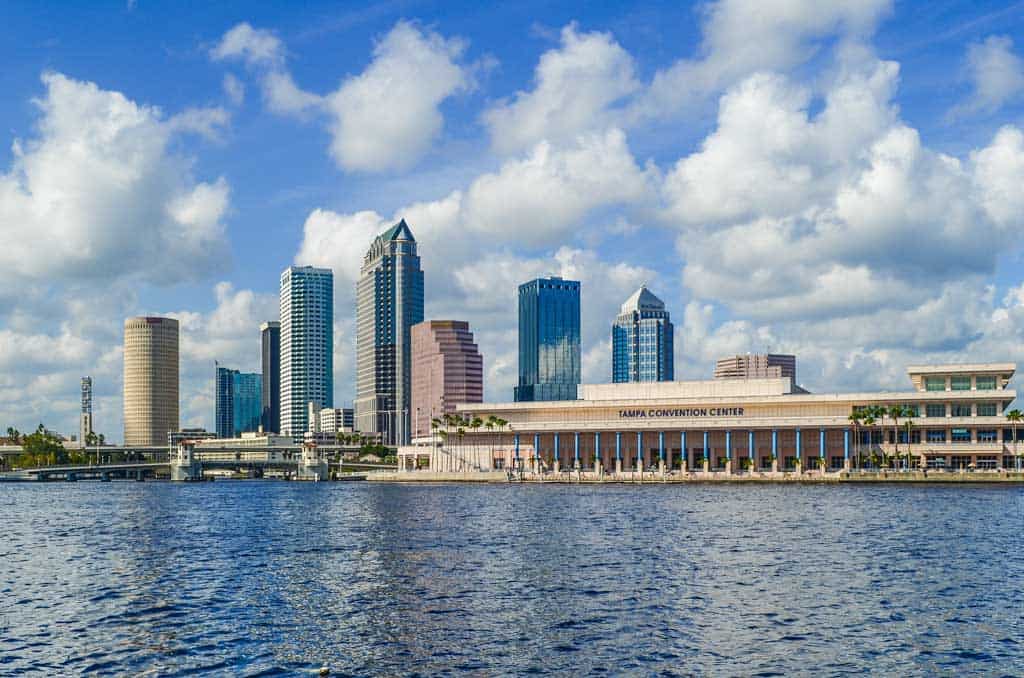 Tampa Bay History Center
The first stop on today's itinerary is the Tampa Bay History Center. If you enjoy history and learning about the area then this is a great museum to explore.
It is Tampa's premier cultural venue with fantastic interactive exhibits that engage and make learning fun and top-notch revolving galleries.
You could easily spend a few hours here learning about Florida's indigenous people, pirates, and European settlers who explored Florida's coast and Tampa's history and how it grew and changed to become the city it is today.
Cost: $14.95
Hours: 10 am – 5 pm
Address: 801 Water St.
Read Next: Check out our post on all of the best things to do in Florida!
Tampa Bay Water Bike
Then try your hand at riding a waterbike. It's easy and much like riding a normal bicycle except you're floating on the water by two pontoons.
You can rent a waterbike for as little as $30 and enjoy a unique way to explore and see downtown Tampa's waterfront and waterways.
This is a fun way to get outside in the sunshine when you visit Tampa!
Read Next: If you have a little more time in the area be sure to make some of these exciting day trips from Tampa!
Curtis Hixon Waterfront Park & Tampa Museum of Art
Next, enjoy the Curtis Hixon Waterfront Park as you make your way toward the art museums like Tampa Museum of Art and the nearby Florida Museum of Photographic Arts.
Sprawl out on the large green space and take in the riverfront views or leisurely stroll around the park. If you are here on a weekend you may end up seeing an arts and crafts show or music or food festival.
Once you've relaxed in the park, walk over to the skyscrapers of Tampa city and check out the Tampa Museum of Art. Be inspired by incredible works of ancient, modern and contemporary art from around the world.
The museum has been active for 100 years and houses one of the largest collections of Greek and Roman antiquities in the Southeastern United States. It also offers creative classes year-round.
Who knows, you may learn a new hobby or discover a new talent!
The Florida Museum of Photographic Arts is another fascinating art museum to check out, especially if you're into photography.
Cost: $15
Hours: 10 am – 5 pm
Address: 120 W Gasparilla Plaza
Water Works Park and Armature Works
Wrap up the afternoon at Water Works Park and Armature Works. Water Works Park is a great place to visit if you're visiting with kids.
The park has a large playground and splash pad, perfect for those hot summer days in cool off!
The green space and pavilion host concerts and festivals throughout the year so make sure to check the event calendar to see if an event is happening when you are here.
Once you've cooled off at Water Works, walk over to Armature Works for an early dinner.
Armature Works is the hip spot to hang out located in an old refurbished building that's now a food and community events venue.
Grab dinner at the Heights Public Market or any of the other food and drink venues. Whichever venue you choose to eat at you won't be disappointed!
There is even an outdoor area where they have movie nights on the lawn and every weekend there's live music or another social event.
You could also hit up Hyde Park Village, which is full of cozy restaurants and trendy bars. The Hyde Park Village Farmers Market is open on Sunday mornings, so you could always come back here one morning for some tasty local treats.
But don't lose track of time, just down the road is a stand-up paddleboard company offering sunset and evening paddles on the Hillsborough River.
Sunset Paddle with Urban Kai
Next, grab a SUP and head out on the Hillsborough River for a sunset or evening paddle.
Urban Kai has several SUP tours to choose from, or just rent a SUP for an hour or two and explore on your own.
They offer a happy hour sunset paddle for only $25 and it's a great way to meet others, be social and explore Tampa by water. There's even a yoga class or manatee paddle as well.
At this point in the day, you can either plan to retreat to your hotel to rest up for the next day in this busy Tampa itinerary or you can head out into the downtown area for a night on the town.
You are right in the middle of everything the city has to offer at night so enjoy your time out.
READ MORE: Use this itinerary to plan the perfect 3 days in Miami.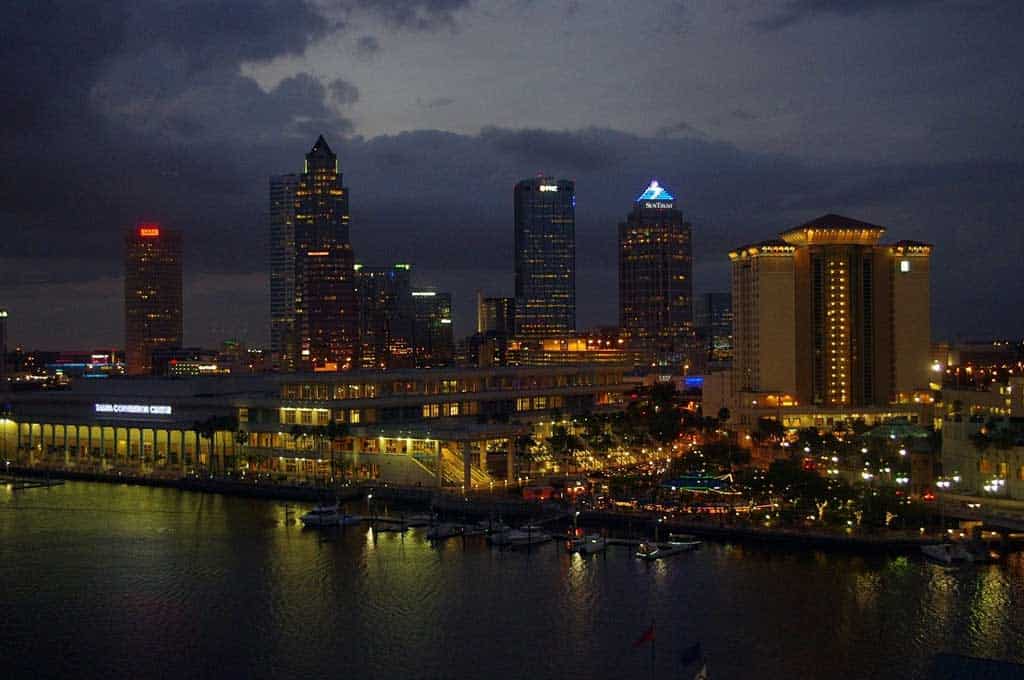 Day 2 – Explore Ybor City
Day 2 of your 3 days in Tampa itinerary will take you into neighboring Ybor City.
Grab a quick breakfast at your hotel before finding the nearest trolley station.
Tampa's free historic trolley will take you into Ybor City, and a visit to Tampa is not complete until you explore this little industrial town.
Ybor City is full of history and Cuban culture and as one of only two National Historic Districts found in all of Florida, visiting it is a truly unique experience.
Founded in 1886, it is Florida's first industrial town and is known for its great cigars, cultural melting pot, and amazing Cuban food. It is actually known as the Cigar Capital of the World!
With so much to see and do here, it's best to spend an entire day exploring this iconic neighborhood of Tampa Bay. Everything in Ybor City is within walking distance, which is convenient.
Take Pictures with the Wild Chickens
That's right, the chickens and roosters in Ybor City are quite famous.
So you must try your best to get a selfie with one or several of them, they run rampant everywhere!
These wild chickens are so loved that they are protected, and even have their own society and website!
Visit the Ybor City Museum State Park
A must-do in a Tampa Bay itinerary is learning about the history of Ybor City. For only $4, learning about the town's humble beginnings is a bargain.
Located inside what used to be the first Cuban Bread bakery in the U.S., you will see the original ovens used back in the 1920s and a beautiful Mediterranean-style garden.
On the tour, you will also get to step inside a historic casita where the first Cuban immigrants lived.
Visit the website for more info!
Cost: $4
Hours: 9 am – 4 pm, closed Mon & Tues
Address: 1818 E. Ninth Ave
Eat an Authentic Cuban Sandwich
Ybor City is home to the original Cuban Sandwich. And you can't come to Ybor City and not eat one.
Stop in for lunch at La Segunda for a delicious Cuban Sandwich made on freshly baked Cuban bread.
La Segunda has been baking bread, cookies and pastries since 1915 and is the largest producer of Cuban Bread in Ybor City.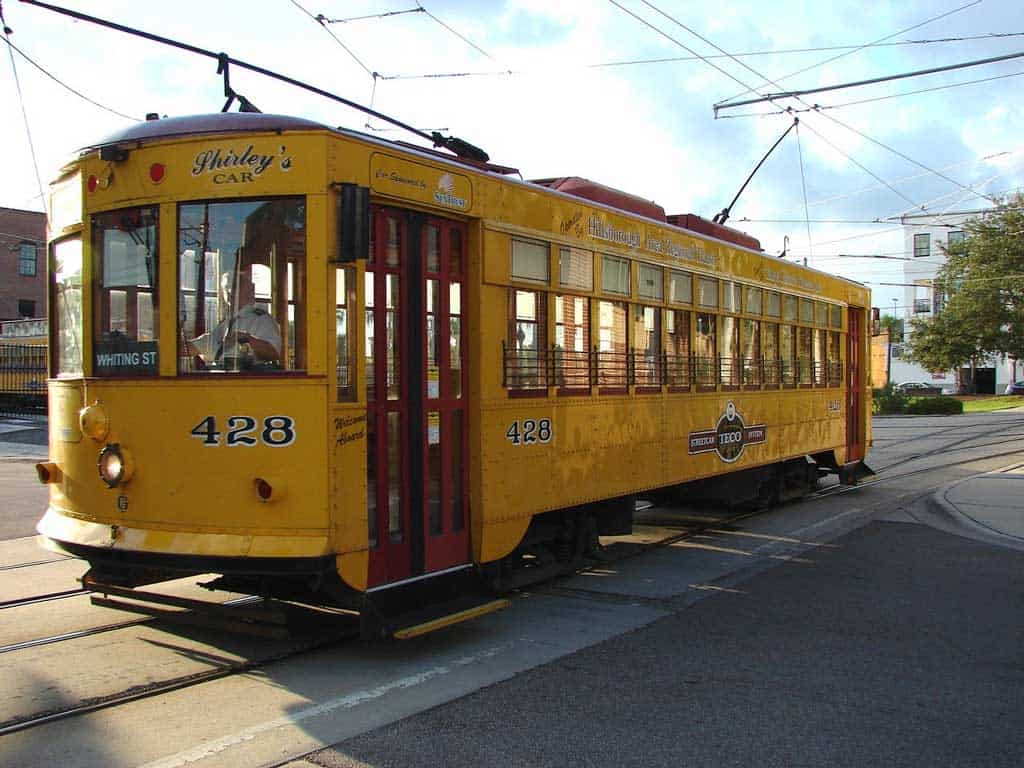 Stroll Down 7th Avenue and Watch a Cigar Being Rolled
Next, go for a stroll down 7th Avenue, once considered one of the 10 great streets in America.
There are many cute boutique shops, markets, art galleries, cafes and cigar shops you can stop in to browse and buy souvenirs.
Buy a hand-rolled cigar to enjoy and watch them be made at any of the cigar shops like Tabanero Cigars.
Go to Cuba Without a Passport
Jose Marti Park (Little Cuba) is a small park owned by the Republic of Cuba made in honor of Jose Marti who died in the fight for Cuban independence.
When you cross through the archway of the entrance to the park you are pretty much entering Cuban property.
Visit the park Monday-Friday from 8 am-1:30 pm and have your picture taken in front of the Isla de Cuba mural, and you can say you've been to Cuba without a passport!
Eat at Columbia Restaurant
If you haven't already filled up on Cuban sandwiches and pastries then you must stop for a meal at the historic Columbia Restaurant.
Opened in 1905 as a cafe serving the local cigar workers, it continued to grow and is now the oldest restaurant in Florida and the world's largest Spanish restaurant.
It serves up tasty Cuban and Spanish-inspired dishes like paella a la Valenciana and roast pork a la Cubana.
Make a reservation early for dinner and a captivated Flamenco show or eat in the cafe and enjoy live music by a local band.
Save room for drinks, as your next stop on this fun-filled Tampa itinerary is to a local brewery.
Sample Local Brews
Take your pick or choose to go to all three of these great breweries in Tampa Bay!
Tampa Bay Brewing Co is the oldest craft brewery in Tampa, which opened in 1995. They offer a wide variety of locally brewed craft beers and a full-on lunch and dinner menu all in a family-friendly atmosphere.
If you aren't into craft beers and prefer a great cider or mead then Cigar City Cider & Mead is the place to go!
They offer a wide selection of sweet and dry cider and meads made with 100% natural Florida-grown ingredients.
Want cider to go? They also cell their hard cider and apple pie cider in 6 packs!
Want to see how beer is brewed and then sample it? Then check out Coppertail Brewing Co. which produces four core beers and a number of special releases.
Tours are offered Thursday through Sunday for $7 including a beer to drink while touring, samples, and a souvenir pint glass.
The tasting room is family-friendly and they also offer tasty pub fare.
Wrap Up, or Start, the Night
At this point, you could head back to the River Walk or check out a sporting event.
Whether you're a football, baseball, or hockey fan Tampa Bay has you covered depending on the season you choose to visit.
You can watch the Tampa Bay Lightning play hockey at the Amalie Arena, the Tampa Bay Rays play a stand-up game of baseball at Tropicana Field, or the Tampa Bay Buccaneers play an exciting game of football at the Raymond James Stadium.
READ MORE: Use this itinerary to plan the perfect 3 days in Orlando
Day 3 – Choose to Play at the Beach or Busch Gardens!
The final day of your 3 days in Tampa itinerary will give you the option to have a fun Florida water day in one of several ways.
You can choose to check out the number one beach in the country that is Clearwater Beach, cool off at Adventure Island water park or get your thrill on some seriously fast roller coasters at Busch Gardens.
Adventure Island
Adventure Island is a large waterpark geared towards thrill-seekers and those wanting to relax as well.
There are over 10 water slides with fast twists and turns and straight down drops for the adventurists.
And you'll find a large wave pool and a half-mile lazy river for a more relaxing time.
If you happen to be travelling with kids, they will also love Adventure Island and enjoy playing at the Paradise Lagoon or Fabian's Fun Port and sliding down the kid-friendly water slides.
Make sure you buy your ticket in advance to save some time.
Busch Gardens
If roller coasters are more your style than relaxing at the beach, don't pass up on Tampa's most exciting theme park with some of Florida's best roller coasters and thrill rides.
With eight scream-inducing roller coasters and a variety of other rides, there's much fun to be had for everyone at Busch Gardens.
There are also rides that involve a good soak in the event you travel there in a likely hot Florida day!
A one-day advanced ticket is typically a lot more affordable than the popular Orlando theme parks like Disney and Universal.
Plus you can check out the Brew Club where you can sip on any number of 20 draft beers as part of the Anheuser Busch beer legacy.
If you have already bought the Tampa CityPASS, then entry is included to the Busch Gardens.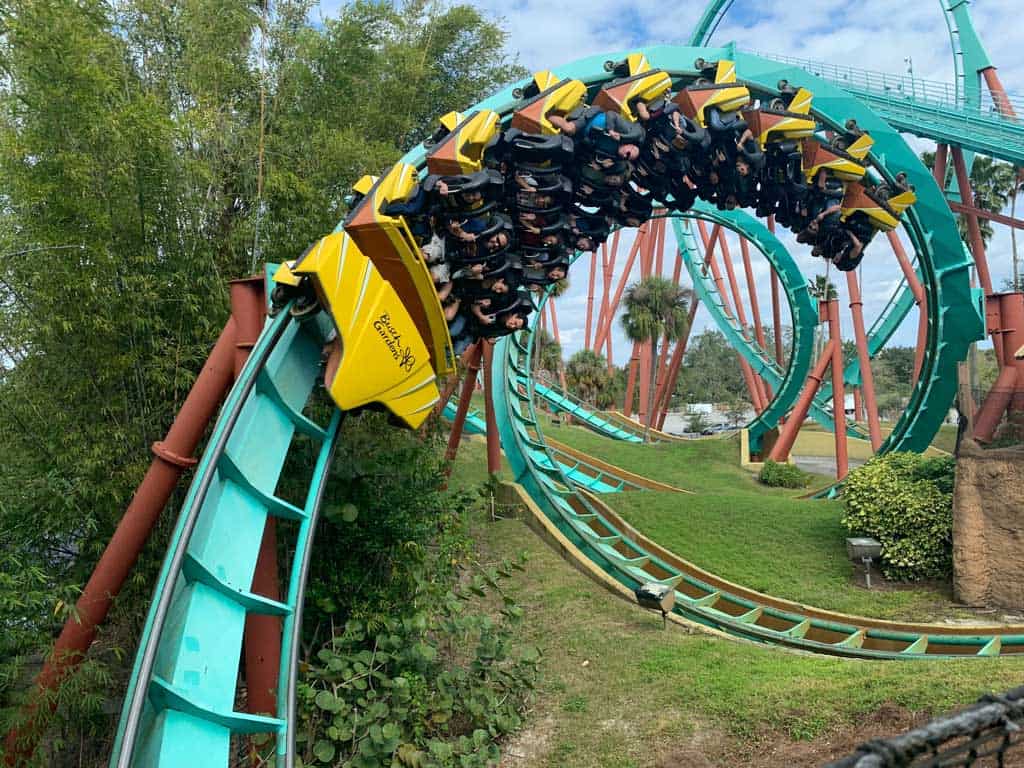 Beach Day
Recently named the number one beach in the USA, Clearwater Beach is a destination that shouldn't be skipped when visiting Tampa.
Clearwater Beach is a 4 km stretch of white sandy beach located on a beautiful barrier island along the Gulf of Mexico.
Tourists flock to the calm waters of the Gulf of Mexico to enjoy paddle boarding, swimming, parasailing or simply sitting on the beach to enjoy a sunset.
You can also check out Honeymoon Island State Park or Treasure Island for other beach day excursions within a half-hour drive of the city.
St. Pete Beach is another popular day trip from Tampa. Located a 45-minute drive from Tampa Bay, St. Pete Beach is one of the best spots for a beach vacation in Florida.
More popular among college students, St. Pete Beach is known for its fun bars and clubs that line the sandy shores. Downtown St Pete is also super fun for nightlife.
Even farther south is Sarasota Bay, which is just over a 1-hr drive from Tampa. There are lots of fun things to do in Sarasota, like enjoying the beaches, kayaking through the mangroves, and snorkeling in the lagoon.
Evening Back in the City
Wrap up the evening at Seminole Hard Rock Hotel & Casino where you can try your luck on the slots or gaming tables or catch an entertaining show.
There is almost always a comedian or musician in town and whether you win or lose at the tables or slots you are sure to have a good time at the casino.
READ MORE: Use this itinerary to plan the perfect 3 days in New York City
Tampa Travel Guide
Now that you know how to spend 3 days in Tampa, here is a little more information about when to visit the city, how to get around, where to stay and what to eat.
When to Visit Tampa
Much like the rest of Florida, Tampa has a hot and wet season and a dry and mild season.
The most popular time to visit, and perhaps the best is in the winter and spring when the weather is cooler and dry and there is no threat of hurricanes.
If you want to save money on hotels, plan on visiting October through December.
In the springtime, tourist season picks up and hotel prices soar.
If you plan to visit in the Summer from May-September, be prepared for hot and muggy weather with rain in the afternoons.
Your best bet will be to do outside activities in the morning and indoor shopping or touring museums in the afternoons when it's the hottest outside.
Getting Around Tampa
For being a rather large city, Tampa is still very walkable and bikeable.
If you just want to do things around town and the riverwalk then you could easily walk, rent a bike or uber to the top attractions in the city.
Tampa also has a free streetcar system that runs from downtown to the channel district and Ybor City.
There is also the Pirate Water Taxi that is similar to a hop-on hop-off tour. You buy a ticket and have the entire day to ride the ferry that can take you anywhere you'd want to go along the waterfront.
The best way to get around Tampa, especially for any day trips you might want to take to the beach, is by car.
If you rent a car, there are usually plenty of parking spaces in the area and most hotels offer private and secure parking if not valet.
If you're looking to take day trips to St. Pete or Clearwater Beach, a car is essential.
The best way to get around is to rent a car and explore on your own! We recommend Rental Cars, which has the largest range of vehicles for the best value on the market.
Where to Stay in Tampa
Like other Florida cities, Tampa offers a range of accommodations that will vary from boutique Florida-themed hotels to both budget and high-end chains.
For the purpose of these 3 days in Tampa itinerary, we're going to recommend that you stay as close to downtown Tampa as possible, along the Hillsborough Rivier.
Of course, the hotel selections on the River Walk will be amazing, but higher priced.
But staying anywhere between the Tampa International Airport and Ybor City will put you in the mix of things during your stay in Tampa.
Budget Accommodation – Emerald Homes Tampa Airport
Although located closer to the airport than downtown Tampa, Emerald Homes is a great value as a guesthouse option in Tampa.
Guests will have a room with a private bath, TV, air conditioning, coffee maker, and a private patio. There are shared kitchen facilities if you're looking to save on cooking.
You can also enjoy free and secure parking if you plan to drive in the area.
Mid-Range Accommodation – Holiday Inn Express and Suites Ybor City
Located just to the east of downtown Tampa in the Ybor City part of town, the Holiday Inn Express and Suites is your best mid-range bet for hotels in the Tampa area.
Guests receive amenities you would expect of the brand: quality breakfast, WiFi, flatscreen TV, pool, and fitness center.
Additionally, each room has a kitchenette with a microwave, fridge, and coffee maker so you can be ready to run out the door for a full day in your Tampa itinerary.
Luxury Accommodation – Aloft
Located downtown on the Hillsborough River along the Tampa River Walk, Aloft's location is among the first reasons to book your stay.
With balcony river views, a pool and fitness center, and an on-site restaurant and bar Aloft is your best choice for luxury accommodation in the heart of Tampa.
Best Restaurants in Tampa
Tampa has as much selection to offer in food choices as any city in America. With international flavors galore you can feast on fresh Florida seafood or enjoy the finer dishes from nearly any country in the world.
Here are a few of our recommendations for your 3 days in Tampa.
Budget – Eddie and Sam's NY Pizza
When you're running around the River Walk enjoying your time in downtown Tampa Eddie and Sam's NY Pizza is your best bet for a quick and affordable bite to eat.
Choose your favorite toppings or grab a slice of a specialty pizza, hero or even wings.
Mid-Range – The Columbia Restaurant
The Columbia Restaurant, in Ybor City, is about as good a Cuban meal as you will find outside of Cuba, or perhaps Miami.
Enjoy the signature 1905 Salad on the lighter side or, of course, you can't go wrong with their Cuban sandwich with a side of black beans.
High-End – Bern's Steakhouse
Looking to start your meal off with some fresh shrimp and oysters or want to give caviar a taste?
Bern's Steakhouse brings traditional Florida seafood and high-quality steaks together in a luxurious setting that won't leave you disappointed.
DISCLAIMER: Some of the links in this article are affiliate links, which means if you book accommodation, tours or buy a product, we will receive a small commission at no extra cost to you. These commissions help us keep creating more free travel content to help people plan their holidays and adventures. We only recommend the best accommodations, tours and products that ourselves or our fantastic editorial team have personally experienced, and regularly review these. Thanks for your support, kind friend!