Trying to find great activities and attractions in Waikiki? Our guide to the best things to do in Waikiki is all you need to plan the perfect trip!
Waikiki is famous for many things, like its white sand beaches. But more than that, Waikiki, Hawaii, is renowned for being the home of Duke Kahanamoku, the father of modern surfing.
It was on Waikiki that Duke Kahanamoku taught people how to surf, and it's also where he learned and modernized surfing.
People travel worldwide to bask in Waikiki's sparking turquoise waters, white sand beaches, and vibrant nature. Beachgoers are truly in heaven when visiting Hawaii!
Some notable spots that tourists and locals head to for spectacular scenery surrounded by nature include hiking at Diamond Head State Monument, surfing at Waikiki Beach, or strolling through Honolulu's oldest botanical garden, Foster Botanical Garden.
Waikiki is full of history, culture, and the arts. The city of Waikiki extends to Pearl Harbor, the site of the somber and impactful point in the history of the infamous air assault by Japanese Forces in 1941 that resulted in the United States' involvement in World War II.
The area of Waikiki, when Hawaiian royalty still ruled, was once a retreat for royalty to surround themselves with flowing rivers and luscious nature.
Nowadays, Waikiki is a hot spot tourist destination dotted with skyscrapers, historical sites, and tourist attractions.
This list of the best things to do in Waikiki pairs cultural, historical, and recreational activities so that there are diverse options to take on during your memorable vacation in Waikiki!
READ NEXT: Check out our list of the best things to do in Honolulu for more ideas.
The Best Things to Do in Waikiki
When searching for what to do in Waikiki, you need to follow this list detailing the best things to do in Waikiki.
From spending a beach day at the world-famous Waikiki Beach and Royal Hawaiian Beach, to sailing in a canoe, snorkeling, surfing, hiking, or learning the hula, here you'll find the best attractions and activities in Waikiki to experience during your trip!
1) Go For A Beach Day At Waikiki Beach
One of the best things to do in Waikiki, the world-famous Waikiki Beach, has risen to fame thanks to its spectacular views of Diamond Head. It's also where tourists and locals can find the famous bronze statue of Duke Kahanamoku on Kalakaua Avenue.
Sparking turquoise water and white sand greets all who come to Waikiki Beach. The area of Waikiki is where world-renowned surfer, Duke Kahanamoku, rose to fame to become the father of surfing.
Many local and out-of-town surfers travel to Waikiki Beach to bask in great waves, while non-surfers come to the stunning shores to sunbathe, spend time with family and friends, and swim in the clear waters.
We highly recommend joining this eco-friendly whale-watching cruise to discover Humpback whales as they migrate to the refreshingly warm waters of Hawaii.
The double-deck Catamaran features a viewing platform to peer over the clear waters to highlight these outstanding mammals' enormity.
2) Observe The World Of The Sea At Waikiki Aquarium
Founded in 1904, the Waikiki Aquarium is the second-oldest operating public aquarium in the United States.
Part of the institution of the University of Hawaii at Manoa, the aquarium is considered one of the best things to do in Waikiki. The award-winning aquarium is located next to a living coral reef.
In addition, it has been designated as the Coastal Ecosystem Learning Center for the Pacific Island Region, dedicating its space to teaching others the importance of conservation and preservation efforts.
Homing more than 3,500 animals, from seahorses and Moon Jellyfish to Green Sea Turtles and Peppermint Angelfish, the Waikiki Aquarium is full of colorful tropical fish and other fascinating marine life.
Address: 2777 Kalakaua Avenue, Honolulu, HI 96815, United States
Hours: 9 am – 5 pm
Cost: $12
Read Next: Be sure to plan your time in Hawaii with out guide to the best Hawaiian itinerary.
3) Explore Hawaii's Culture & History At The Honolulu Museum Of Art
Featuring over 50,000 pieces in its expansive collection, the Honolulu Museum Of Art is reputed for its world-class art that includes consistently changing collections paired with the museum's favored permanent collection.
The museum's collection stretches across 5,000 years of history to represent all the major cultures of Hawaii.
A visit to the Honolulu Museum Of Art includes access to the Doris Duke Theatre, the Honolulu Museum of Art School, the museum's cafe, coffee bar, and shop for souvenirs to take home or gift to friends and family.
Address: 900 South Beretania Street, Honolulu, Hawaii 96814
Hours: 10 am – 6 pm Thursdays and Sundays, 10 am – 9 pm Fridays and Saturdays, Closed Mondays -Wednesdays
Cost: $20
YOU MAY ALSO BE INTERESTED IN: Check out our post on all the best things to do in Kauai.
4) Observe The Tragic Events At The Historic Pearl Harbor
A somber historical attraction in Waikiki, at Pearl Harbor, visitors can find the Pearl Harbor National Memorial that preserves the USS Arizona Memorial, USS Oklahoma, and USS Utah.
Other memorable points of interest include the Pearl Harbor Aviation Museum, the USS Battleship Missouri Memorial, and the USS Bowfin Submarine Museum and Park.
There are a variety of available tours that intertwine the opportunity to include all or select attractions during your visit to this renowned historic site.
Some notable appeals on these tours include walking through an airplane hangar that hones the battle wounds from the Pearl Harbor attack, visiting the USS Arizona Memorial, and listening to the stories of survivors of the tragic event.
For an impactful tour of these historical sites, we recommend visiting Pearl Harbor with a Pearl Harbor heroes full-day tour.
The 9.5-hour tour is a powerful experience that takes guests to Pearl Harbor to visit the USS Arizona Memorial and the USS Missouri while providing educational opportunities to absorb the attack's impact on Pearl Harbor.
Address: 1 Arizona Memorial Pl, Honolulu, HI 96818, United States
Hours: 7 am – 5 pm
Cost: Free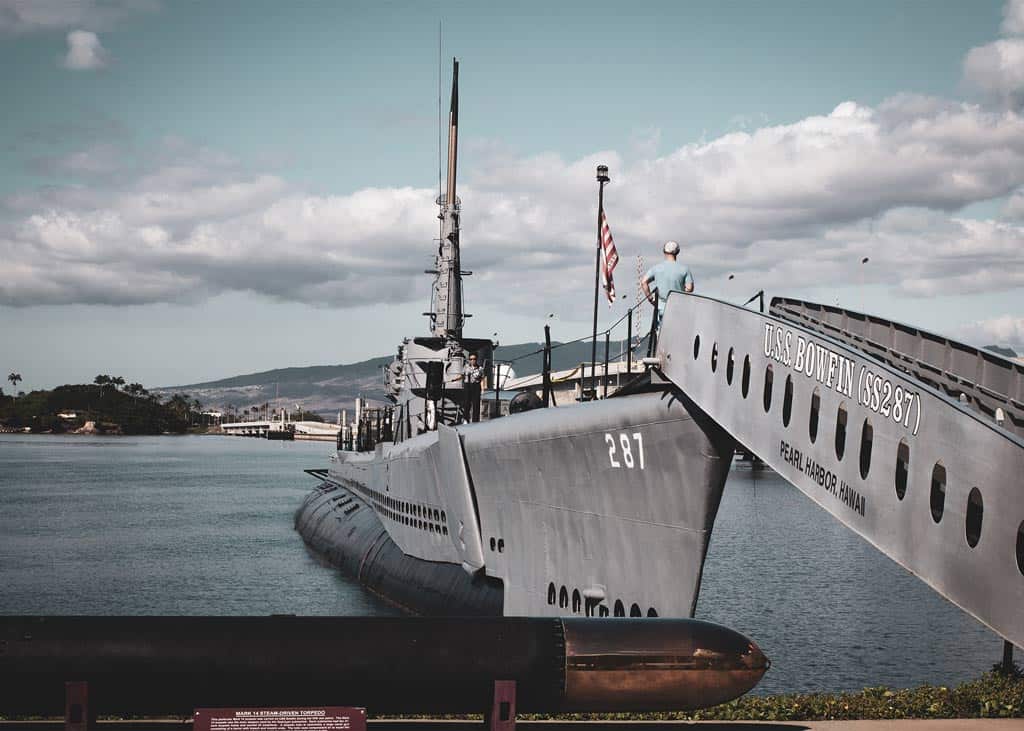 5) Take The Kids To The Honolulu Zoo
The only zoo in the United States established by grants from a sovereign monarch, the Honolulu Zoo, sometimes referred to as the Waikiki Zoo, is a 42-acre zoo constructed in the royal Queen Kapi'olani Park.
The last king of Hawaii, King David Kalakaua, fondly known as the "Merrie Monarch," gifted the royal lands to the people of Hawaii in 1876. And in 1877, the king dedicated Kapiolani Regional Park to his consort, Queen Kapiolani.
The Honolulu Zoo presents specially constructed habitats and more than 1,230 animals and 905 species.
One of the top family-friendly Waikiki activities, the Honolulu Zoo is an excellent place for all ages to see endangered animals like the komodo dragon, Sumatran tiger, black rhino, and nene while exploring native species of plants and animals that are culturally significant to Hawaii.
Address: 151 Kapahulu Ave, Honolulu, HI 96815, United States
Hours: 10 am – 3 pm
Cost: $19
6) Shop Until You Drop At The Royal Hawaiian Center
A renowned shopping mall in Waikiki, the Royal Hawaiian Shopping Center is the perfect place for some shopping R&R.
You definitely want to take advantage of this elevated, luxury shopping experience. It's located on the famous Kalakaua Avenue.
The Royal Hawaiian Center exudes the spirit of Aloha and homes over 90 top retailers and high fashion houses, along with renowned fine dining restaurants that combine Hawaiian flavors and international cuisine.
We recommend heading to Mai Tai Bar, a beachfront bar known for its festive umbrella cocktails and lively Hawaiian music for drinks and great Aloha vibes!
Address: 2201 Kalakaua Avenue, Honolulu, HI 96815, United States
Hours: 11 am – 9 pm
READ NEXT: Catch a flight back to the west coast and check out all of the best things to do in Los Angeles!
7) Eat, Read, And Bask In The Views Under The Iconic Banyan Tree
A famous landmark and attraction of Waikiki, the Banyan Tree was planted in 1904. In the present day, the tree canopies over the courtyard of the Westin Moana Surfrider, a hotel in Waikiki Beach.
The Banyan Tree has risen to 75 feet, its branches stretching over 150 wide to encompass the hotel's courtyard.
In 1901, the Westin Moana Surfrider was the first hotel built on the strip of land on the coast of Waikiki Beach and is now home to a signature landmark of the area.
Address: 2365 Kalakaua Avenue, Honolulu, HI 96815, United States
8) Walk The Waikiki Wall At Kuhio Beach
Frequently referred to as "Kuhio Ponds" for the two concrete walls, termed the "Waikiki Wall," that extend out into the ocean, Kuhio Beach is a magnificent spot in Waikiki popular for snorkeling, bodyboarding, swimming, and sun tanning.
Many locals and tourists come to this beach to walk the Waikiki Wall to take in the sparkling waters of Waikiki from above.
Here visitors can find three significant landmarks. They include the Duke Kahanamoku Statue, the Prince Kuhio Statue, and the Stones of Kapaemahu.
The Stones of Kapaemahu commonly referred to as the "Wizard Stones," refers to four legendary men who came to Hawaii from a faraway land. These men, Kinohi, Kapaemahu, Kapuni, and Kahaloa, were famous in Hawaii for their healing powers and great wisdom.
The beach was named after Prince Jonah Kuhio Kalanianaole and is sometimes referred to as Prince Kuhio Beach. Born in 1871, the prince's home originally stood where the park now exists.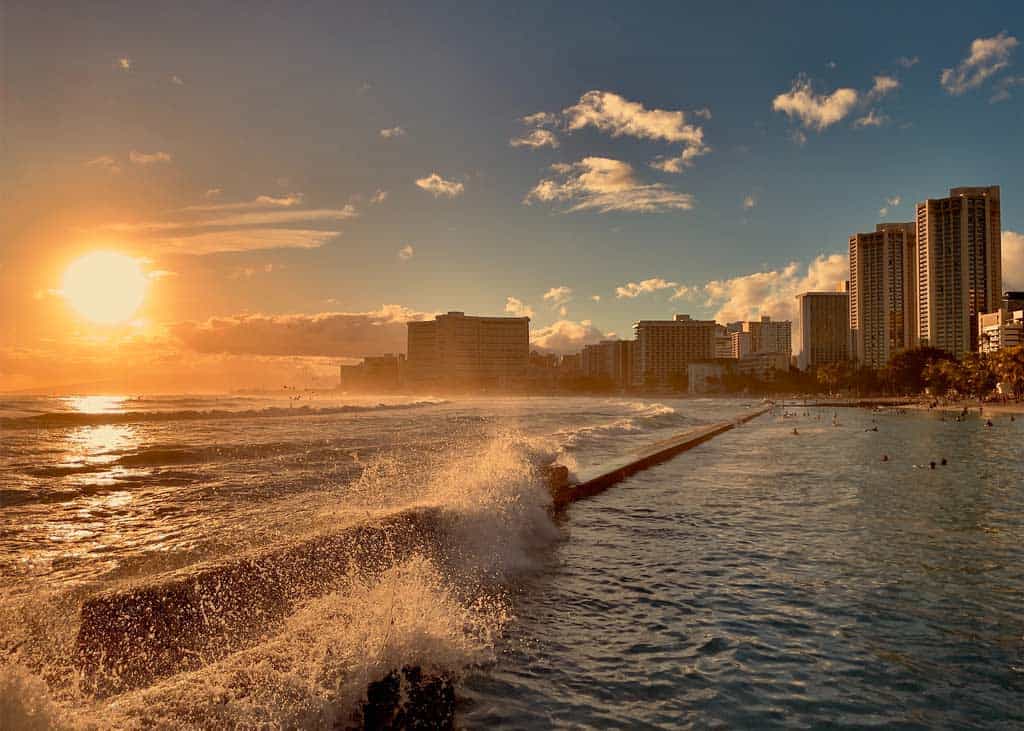 9) Join An Unforgettable Hawaiian Luau
Stop by the Hilton Hawaiian Village for an unforgettable Hawaiian luau during the Waikiki Starlight Luau!
Dedicated to celebrating the colonial heritage of the Pacific Islands, the celebratory luau combines live music, hula dancing, island-inspired luau feasts, and a thrilling production of Voyages Across The South Seas, paired with fire knife dancers and traditional Tahitian, Samoan, and Hawaiian dance.
The magical experience is under the stars, surrounded by culture, heritage, delicious Hawaiian cuisine, and unrivaled entertainment.
Kuhio Beach Hula is another popular show located at Kuhio Beach. Or learn the dance yourself with free hula lessons at Waikiki Beach.
This is one of the most fun things to include in your Hawaiian vacation.
Read Next: Read this post so that you don't miss out on all of the best places to visit in Hawaii.
10) Explore Waikiki in an Outrigger Canoe
One of the best outdoor adventures in the area is sailing the ocean on an outrigger canoe.
Book a tour with a reputable local company and enjoy the scenery of central Waikiki from the water.
The outrigger canoe is a modern, updated version of the traditional boats that ancient Hawaiians used for traveling and fishing.
This is another one of the most fun things to do in Waikiki!
11) Picnic At Kapiolani Park
Kapiolani Park, also known as Queen Kapiʻolani Regional Park, is the largest and second-oldest public park in Hawaii.
Found near Kuhio Beach Park, Kapiolani Park is home to some of the best Waikiki attractions, including the Honolulu Zoo and the Waikiki Shell.
In addition, plenty of outdoor recreational opportunities are available at this park thanks to the tennis courts, archery range, soccer fields, and the three-mile jogging course.
Locals and tourists stop by Kapiolani Park frequently to enjoy the great outdoors or the free concerts held every Sunday by the Royal Hawaiian Band hosted at the Kapiolani Bandstand.
Address: 3840 Paki Ave, Honolulu, HI 96815, United States
Hours: 5 am – 12 am
Cost: Free
12) Take A Beach Day At Duke Kahanamoku Beach
Forming part of the renowned Waikiki Beach, Duke Kahanamoku Beach can be found in front of the Hilton Hawaiian Village and near the Duke Kahanamoku Lagoon.
The lagoon is open to the public, so even if you're not a guest of the resort, you can still enjoy the manmade lagoon to swim, tan, or hang with friends and family.
This beach is a more hidden beach away from the busier beaches of Waikiki.
A crafted break wall separates the ocean side to form a safe cove and the lagoon, Duke Kahanamoku Lagoon. Various equipment rental options are available, ranging from paddle boats and kayaks to stand-up paddle boards and beach chairs.
Just outside the break wall, there are awesome surfing waves as well.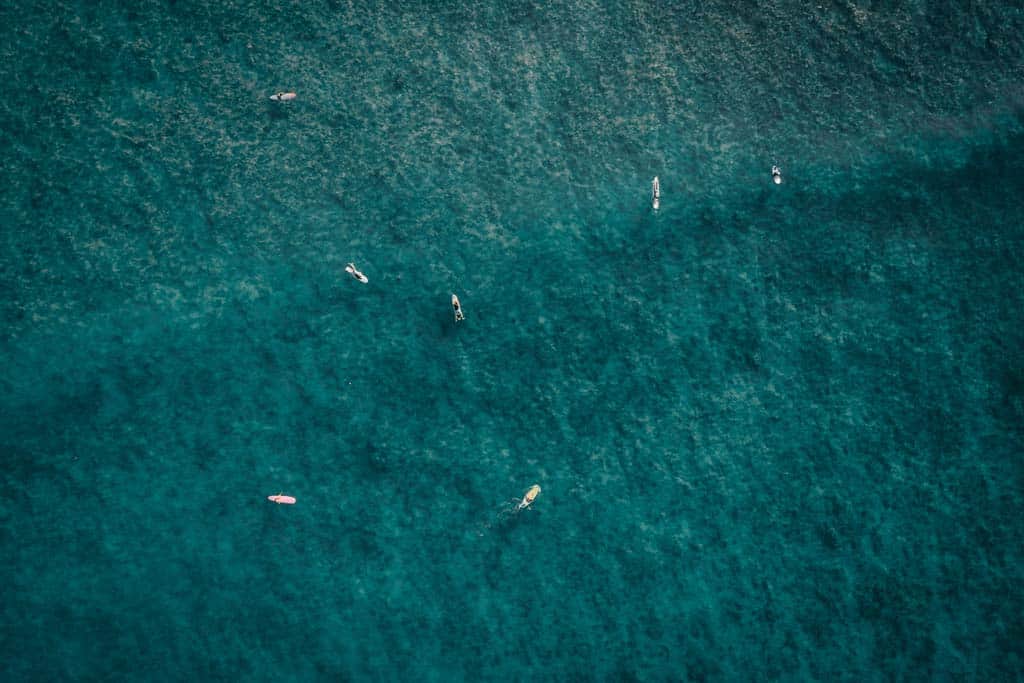 13) Tour The Filming Location of Jurassic Park At Kualoa Ranch
A 4,000-acre private nature reserve and cattle ranch, Kualoa Ranch also functions as a filming location and famous tourist attraction. At Kualoa Ranch, guests can step into the world of Jurassic Park on the Jurassic Adventure Tour!
The 2.5-hour tour takes guests to the iconic filming locations of Jurassic Park, Jurassic World, and Jurassic World: Fallen Kingdom in Ka'a'awa, Hakipu'u, and Kualoa Valleys.
First, point out the 60-foot walls of the Indominus Rex's paddock and the dinosaur cages and bunkers used in the movies. Then, relive the iconic moment of the Jurassic Park franchise where the "galli…galli…gallimimus are flocking this way!" scene was enacted!
Throughout the tour, guests will avail panoramic views on open-air custom vehicles to obtain unrivaled views of the legendary movie franchise Jurassic Park.
Address: 49-560 Kamehameha Hwy, Kaneohe, HI 96744, United States
Hours: 7:30 am – 4:30 pm
14) Enjoy Retail Therapy At The Ala Moana Center
Popularly known as Ala Moana, the Ala Moana Center is the eleventh-largest shopping mall in the United States and the world's largest open-air shopping center.
Great for souvenir shopping or simply finding items to remember the trip, this shopping center hosts over 350 shops and restaurants for a diverse array of shopping and dining options.
Live concerts, fashion shows, and hula shows are often held at the Ala Moana Center State, one of Hawaii's most well-known public amphitheaters.
Prepare to savor plenty of worthwhile shopping retail therapy, dine on delicious local and international cuisine, and enjoy a show.
Address: 1450 Ala Moana Blvd, Honolulu, HI 96814, United States
Hours: 10 am – 8 pm
15) Take The Kids To Swim At Magic Island Lagoon
The Magic Island Lagoon is a famous spot for beginner and experienced snorkelers, extending to Ala Moana Beach Park and downtown Waikiki.
The manmade peninsula homes a shallow lagoon and large seawalls. This design makes it safe for beginners to swim and snorkel here, though it is always crucial to take safety precautions.
Locals and tourists will often take their kids to swim in the lagoon or picnic under the shady trees surrounded by the spectacular views of Magic Island Lagoon.
Address: 1201 Ala Moana Blvd, Honolulu, HI
READ NEXT: 21 Best Things To Do In San Francisco, California
16) Explore Downtown Honolulu
Only 15 minutes from Waikiki, downtown Honolulu is a famous area of Hawaii known for top attractions such as the Iolani Palace, a restored 19th-century royal residence, the Hawaii State Art Museum, the Aloha Tower, Honolulu Harbor, the King Kamehameha I Statue, and the Kawaiaha'o Church.
There's no better way to explore Honolulu than by joining a walking tour.
Some magnificent attractions, like the Iolani Palace, built in 1882, still house the palace's original furnishings. Or observe the King Kamehameha statue, honoring Hawaii's first king that united all the islands of Hawaii.
This is a highlight of visiting Waikiki, and you can even stay late for a fun night out on the town.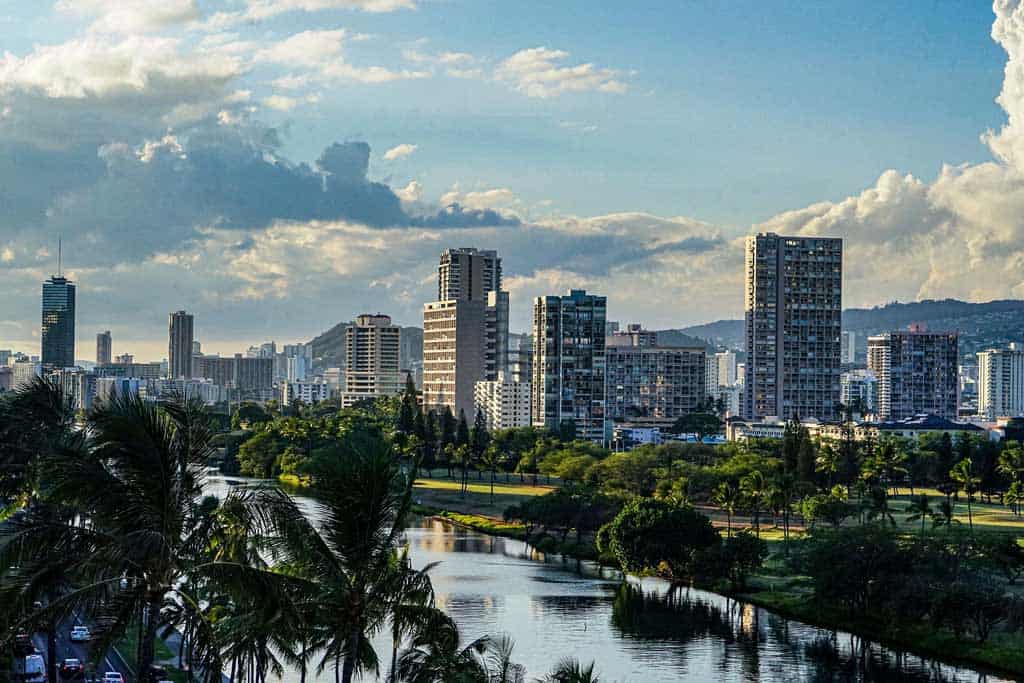 17) Watch The New Aloha Stadium Grow From The Ground Up
Previously home to the University of Hawaii's Rainbow Warriors football team, the Aloha Stadium has been Hawaii's largest outdoor arena for 47 years. It also hosted major artists like Michael Jackson but has since been closed down due to aging and weathering issues in the structure.
The cost of health and safety repairs paired with law compliance issues is costly, so instead of repairing the old stadium, it was decided to rebuild a new stadium.
The plans for the new stadium involve constructing more than a stadium and building it to be a work, live, and play community for locals and tourists. It will be home to an entertainment district, a rail station, a hotel, the Aloha Stadium, and more.
Visit the website for updates!
Address: 99-500 Salt Lake Blvd, Honolulu, HI 96818, United States
18) Soak In The Views At Diamond Head State Monument and Beach Park
Visiting Diamond Head State Monument and the nearby beach park is easily one of the best things to do in Waikiki.
Formerly known as Kuilei Cliffs Beach Park, Diamond Head Beach Park is an iconic landmark park of Waikiki, Hawaii, formed from a volcanic eruption.
A short drive from Kapiolani Park, this Waikiki attraction is famous for its spectacular beach homes, surf swells, scenic views, the Diamond Head Lighthouse, cool tide pools, and the Diamond Head Trail hike that ends in rewarding views on top of the summit.
On this Diamond Head sunrise hike, follow your informative guide up to the top of Diamond Head State Monument to soak in panoramic sunrise views as it travels over Waikiki.
Then, head back to Bogart's Cafe for a refreshing acai bowl and a rewarding sweet treat of Malasada, or "Portuguese fried dough," at the bottom of Diamond Head.
Address: 3300 Diamond Head Rd, Honolulu, HI 96815, United States
Hours: 6 am – 6 pm
Cost: $1 for walk-ins, $5 per vehicle for parking
19) Find The Best Waves At The North Shore of Oahu
For all surfers, Oahu's North Shore is the place to find the perfect waves!
Oahu's North Shore seduces surfers from all over the world, offering a range of waves from the summer's gentle waves to the winter's towering ones.
The seven miles of the North Shore of Oahu is where the world's premier surfing competitions are held in the winter months, where waves are at their peak, the biggest event of them all being the Vans Triple Crown of Surfing.
Even though this famous spot in the Hawaiian Islands is known for big waves like Pipeline, there are also smaller waves for beginners as well.
You can take surf lessons here, and there are lots of great local surfing schools where you can get out in the Pacific Ocean with experienced instructors.
Looking for more beach destinations in the US? Here is our guide to the best things to do in Miami!
20) Stroll Through The Foster Botanical Garden
Honolulu's Oldest Botanical Garden, the Foster Botanical Garden, is an oasis in downtown Honolulu.
The 14-acre garden features a stunning array of native tropical plants and trees, some of which had been planted in the 1850s to begin the legacy of Foster Botanical Garden.
The garden hosts a variety of intriguing and awe-inspiring attractions, including the Outdoor Butterfly Garden, the Conservatory, the Prehistoric Glen Cycad Collection, the Palm Garden, and more.
Exploring this garden is definitely one of the best things to do in Waikiki!
Address: 180 N Vineyard Blvd, Honolulu, HI 96817, United States
Hours: 9 am – 4 pm
Cost: $5
21) Snorkel & Swim At Hanauma Bay
One of Hawaii's most popular tourist destinations, Hanauma Bay, offers the best snorkeling and swimming opportunities.
The clear and calm waters make it easy to see the marine life of the Pacific Ocean.
Hanauma Bay is also incredibly popular for its Green Sea turtles, referred to as Honu in Hawaii. The protected bay is a nursery ground for young turtles.
You'll also find an array of parrotfish that swim in Hanauma Bay's waters, making it an excellent opportunity to witness the glorious abundance of nature and wildlife of Hawaii.
Please note that interacting with wildlife in Hawaii is illegal. This includes touching or feeding any wild animals you come into contact with during your trip.
Be respectful of the sea creatures and coral reefs! As long as you treat the ocean life fairly, this is one of the best things to do when you visit Waikiki.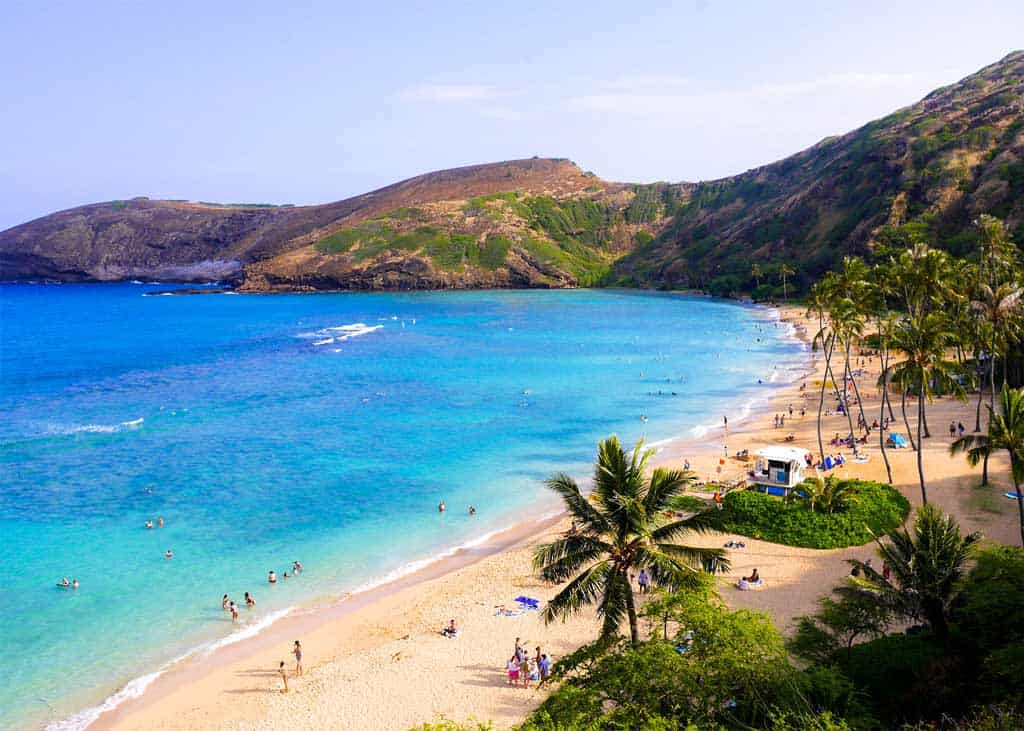 Where to Stay in Waikiki
Now that you know the best things to do in Waikiki, let's look at the best places to stay during your vacation!
Best Hostel in Waikiki
The Seaside Hawaiian Hostel is family-owned and operated in Waikiki, only minutes from all the best attractions, including Waikiki Beach.
This hostel has welcomed travelers worldwide for 20 years, offering a laid-back atmosphere that makes it easy to sit back and relax between adventures.
Best Mid-Range Hotel in Waikiki
Aqua Oasis is a casual and vibrant hotel four minutes from Waikiki Shopping Plaza and eight minutes from Fort DeRussy Beach Park. The hotel features a Japanese restaurant, karaoke lounge, outdoor pool, sauna, sun deck, shuttle service, and complimentary continental breakfast during your stay.
Best Luxury Hotel in Waikiki
A luxury hotel boasting spectacular views of Waikiki Bay, Halepuna Waikiki by Halekulani is only a 12-minute walk from Waikiki Beach, four miles from Diamond Head, and nine miles from Daniel K. Inouye International Airport.
The rooms at this outstanding hotel feature inspiring scenery of the bay, offering guests access to complimentary parking, a rooftop infinity pool, a hot tub, a fitness center, and an in-house casual restaurant and bakery for all-day dining.
DISCLAIMER: Some of the links in this article are affiliate links, which means if you book accommodation, tours or buy a product, we will receive a small commission at no extra cost to you. These commissions help us keep creating more free travel content to help people plan their holidays and adventures. We only recommend the best accommodations, tours and products that ourselves or our fantastic editorial team have personally experienced, and regularly review these. Thanks for your support, kind friend!