It's the coolest (hottest) city in the state, and once you discover all the incredible things to do in Hot Springs, Arkansas in our travel guide, you'll be booking a vacation asap!
When we announced that we were heading to Arkansas in the southern USA, almost everybody we talked to who had been there told us, "Whatever you do, don't miss Hot Springs National Park!"
Being big fans of word-of-mouth recommendations, we immediately put the beautiful town at the top of our list of places to visit in Arkansas. And it did not disappoint!
It was the first major stop on our Arkansas road trip and we ended up spending 2 nights here.
During that time we managed to tick off a lot of the tips we were told on what to do in Hot Springs, and left a few things for us to come back to in the future.
READ MORE: Check out our brand new guide to all the best things to do in Little Rock, Arkansas!
Famous for the natural hot springs that rise to the surface forming relaxing baths, the town of Hot Springs also boasts a curious and fascinating history steeped in wealthy visitors, politics gangster meetings and being a forerunner for the national parks system in the United States.
But is there more to do in Hot Springs, Arkansas than just chilling in hot water? Absolutely!
The Best Things to Do in Hot Springs National Park
In this travel guide we've put together our personal list of the best attractions, activities and places to check out for your next visit to Hot Springs.
Filled with natural beauty, therapeutic mineral rich water springs, bathhouse museums, microbreweries, gangster history and stunning gardens, we hope you'll be just as amazed with this gorgeous town as we were when we began our Arkansas road trip.
Let's get into the top Hot Springs attractions.
The best way to get around is to rent a car and explore on your own! We recommend Rental Cars, which has the largest range of vehicles for the best value on the market.
1) Visit the Fordyce Bathhouse Visitor Center
When you come to Hot Springs National Park, Fordyce Bathhouse Visitor Center should be your first stop.
With Hot Springs' history being steeped in bathhouses, it's only fair that you learn more about what put this town on the map, and the visitor's center is the best place to do it.
Now we'll be honest with you – We almost skipped this. We didn't think it was going to be that interesting, and were more keen on getting into the outdoors. But we actually found it fascinating.
It's not just a tourist visitor center but also a museum run by the local park rangers.
The museum showcases what the bathhouse rooms used to look like with information boards explaining each area. It is still exactly as the bathhouse was in the past.
The Fordyce Bathhouse Visitors Center has three main floors, two courtyards, and a basement to explore.
On the top level of the museum is a display room with information about how the hot water exists and why. Many people think it is from volcanic activity (we did), but it is not.
Down in the basement there is a display that shows how the hot water is pumped into the bathhouses. It is very impressive to see what technology they had back then compared to what they have today.
Other than being a bathhouse museum, the Fordyce Bathhouse Visitors Center is also the Hot Springs National Park Visitor Center.
There are rangers stationed here to help visitors with information about Hot Springs National Park. Whether you want to go hiking, biking or bird watchings, they are there to help.
Address – 369 Central Ave, Hot Springs
Opening Hours – 7 days a week – 9am – 5pm
Price – Free – there is no charge for the museum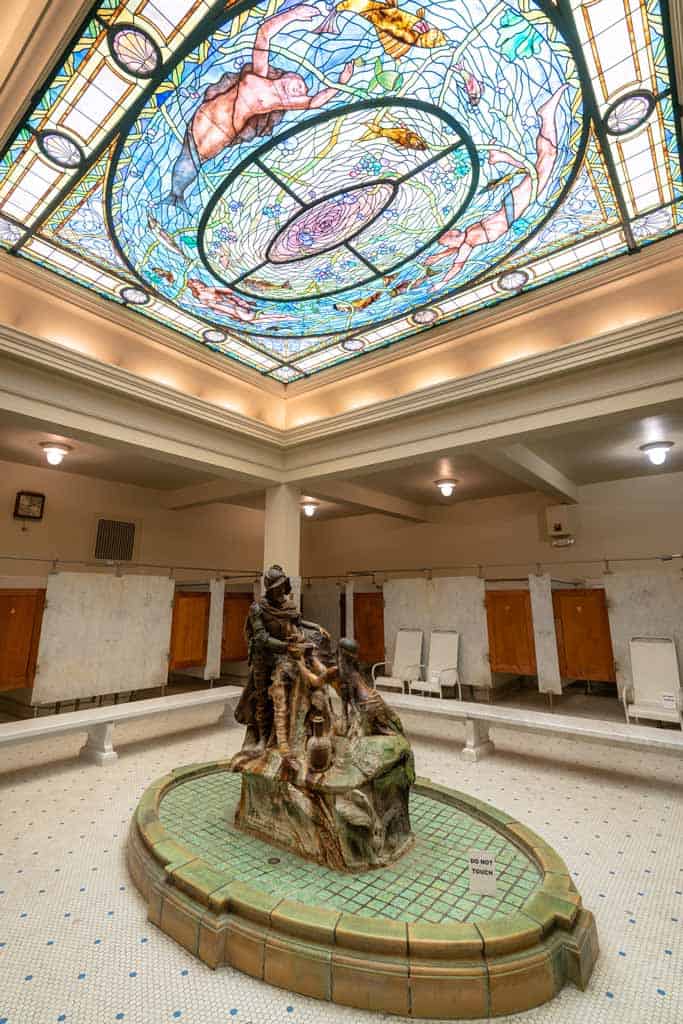 2) Walk the Bathhouse Row
After visiting the Fordyce Bathhouse Visitors Center, go for a walk down the historic Bathhouse Row and check out all the old buildings.
Walking down Bathhouse Row you will see 8 bathhouse buildings, which were all built in 1982 to 1923.
Some of the bathhouses are still operational, and if you want to bathe in the hot springs then your two options are:
Quapaw Bathhouse – A beautiful bathhouse that has a number of public and private pools to enjoy the water's soothing properties.
Buckstaff Bathhouse – A private massage and spa treatement facility.
The other 7 buildings are all used for different purposes.
Lamar Bathhouse – The National Parks office
Ozark Bathhouse – Hot Springs National Park Cultural Center
Fordyce Bathhouse – Tourist Information Center and Museum
Maurice Bathhouse – built in 1912, no longer operational
Hale Bathhouse – built in 1892, no longer operational
Superior Bathhouse – built in 1916, now a brewery.
Speaking of breweries…
3) Grab a Drink at Superior Bathhouse Brewery – The Only Brewery Inside a US National Park
When the town was designated as a national park in 1921, all but 2 of the bathhouses closed down.
Over the years the gorgeous buildings started to waste away, and a lot of debate fired up over what should be done with them.
Enter Rose, a young entrepreneur with a big vision.
Rose is the founder of Superior Bathhouse Brewery, and one of the nicest and most inspiring people you'll ever meet.
With a passion for creating beer, learning her craft in her basement, she came up with the idea to open her own brewery.
After years of planning, permit-acquiring and historical protection agreements, she opened up the first ever brewery inside a US national park.
Being the first brewery wasn't enough though. She had to make sure what she produced was exceptional, and along with the familiar, delicious recipes many of us know and love, she got experimental and creates a range of unique styles such as jalapeño-infused IPAs and dill pickle ales.
NOMADasaurus Note – Can confirm that they are divine.
Superior Bathhouse Brewery is absolutely booming now, and during the summer she has line-ups down the street for people wanting to come in and grab a drink and a bite to eat from their top-notch restaurant.
As massive lovers of microbreweries, we highly recommend stopping in.
Address – 329 Central Ave, Hot Springs
Opening Hours – 7 days a week – 11am – 9pm (except Friday and Saturday – 11am – 10pm)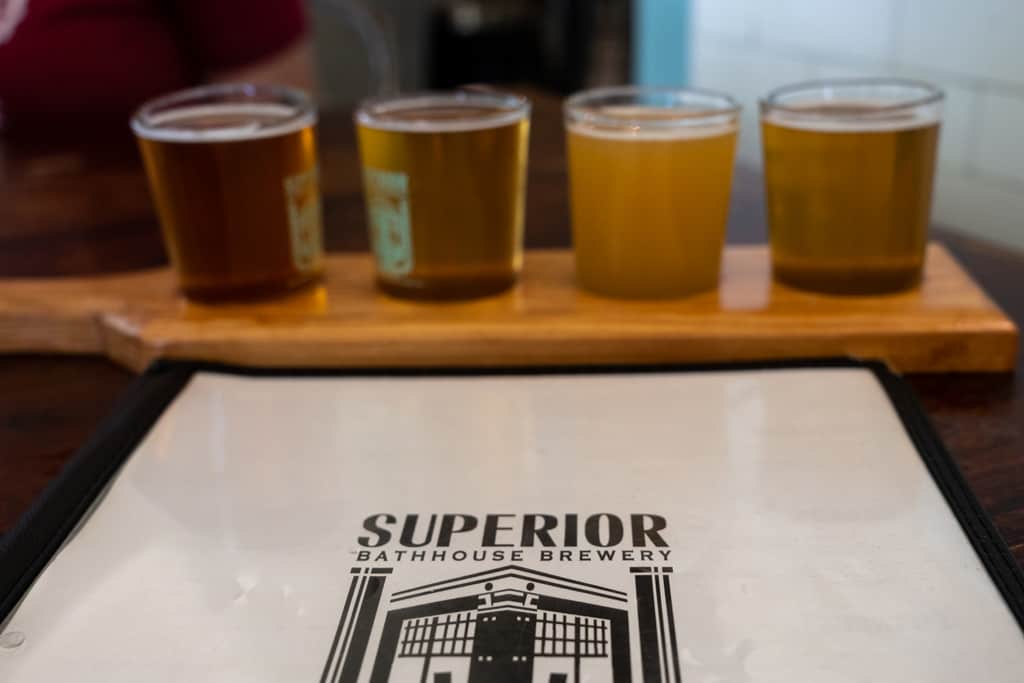 4) Wander Around the Garvan Woodland Gardens
One of the best things to do in Hot Springs Arkansas is to walk and relax on the grounds of the Garvan Woodland Gardens.
While there's plenty of spectacular natural wonders in the hills above Hot Springs, we were so enthralled by Garvan Woodland Gardens that we ended up spending the entire afternoon here.
The Garvan Woodland Gardens is a 210-acre botanical garden with lots of walking paths to enjoy.
To promote well being, the botanical gardens has walking circuits so you can either exercise in nature or sit and enjoy the stillness.
READ MORE: Traveling elsewhere on your US road trip? Check out our expert guide to all the best things to do in Nashville, Tennessee!
Not only is it beautifully set out, with plenty of spots to throw a picnic rug down and relax, but there's some mind-blowing architecture to be found amongst the forest.
The Anthony Chapel is one of the most unique churches we have ever seen, and seems like it's straight out of a fairytale. More on that below.
The beehive-shaped timber structures are also very cool to see.
The Gardens are about 30 minutes from Hot Springs, so make sure you keep that in mind when heading out there.
Address – 209 State Park Rd, Murfreesboro
Opening Hours – 7 days a week – 8am – 4pm
Price – $10 per person.
5) Enjoy the Views from the Hot Springs Mountain Tower
One of the fun things to do in Hot Springs National Park is to climb to the top of Hot Springs Mountain Tower and check out the view.
Hot Springs Mountain Tower is located on top of the Ouachita Mountains and is just on the outskirts of the town.
Standing at 1,256 feet above sea you can stand on the tower's upper observation deck and see for miles.
Don't miss this on our list of things to see in Hot Springs.
Address – Hot Springs Mountain Tower, 401 Hot Springs Mountain Dr., Hot Springs
Opening Hours – Hours depend on the month. Check their website.
Price – $8 for adults (12 & over) and $4.50 for children (5 to 11). Free under 5 years old.
READ MORE: See our detailed guide on the best things to do in Lafayette!
6) Enjoy A Thermal Bath
Since you are in the Thermal Bath capital, why not have a soak in one of the thermal bathhouses in Hot Springs.
Thermal Baths have been around for centuries and their health benefits are well documented.
Though I mentioned above that there are eight historic bathhouses, there are only 2 open for the public to bathe in Hot Springs.
Quapaw Baths
Buckstaff Baths
We spent an hour at the Quapaw Bathhouse and it was thoroughly enjoyable.
The Quapaw Bathhouse was opened in 1922 and still has all the historical charm you would expect in such a grand building. In fact it reminded us of the baths in Budapest, Hungary.
There are 6 public thermal pools, all with different temperatures, and a number of personal bathing rooms you can book if you prefer to a bit of privacy.
Research has shown that the thermal baths have anti-inflammatory, pain relieving, and antioxidant effects that can help one out with things like arthritis.
Another option is the Buckstaff Baths, which is significantly more expensive and more like a luxury spa.
We didn't personally go to this one, but we did hear good things from some of the locals.
7) Drink The Magic Mineral Water
When travelers visit Hot Springs, most eventually find out (if they didn't know already) know about the rich mineral water that you can drink from the fountains downtown.
In fact its so good that many locals will only drink this water, heading down daily with big jugs to fill.
The hot spring water is high quality and comes out hot or cold in different locations around the downtown area.
Here are the fountain locations so you can get some mineral rich water on your trip:
Libbey Memorial Physical Medicine Center on Reserve Street – in front of building
National Park Service Administration Building on Reserve Street – in front of building
Between the Hale and Maurice Bathhouses on the Bathhouse Row
Noble Fountain on Reserve Street
Dripping Spring between the Hale and Maurice Bathhouses
Shell Fountain on the Stevens Balustrade (between Fordyce and Maurice Bathhouses)
Outside the park boundaries at the Hill Wheatley Plaza on Central Avenue
8) Stop by the Gangster Museum of America
If you love gangster stories as much as Alesha does, you won't want to miss this audio visual experience that takes you back to the 20's, 30's and 40's.
When Hot Springs was growing in popularity, gangsters from all over North America headed here for vacations, often rubbing shoulders with wealthy celebrities and politicians…surprise surprise.
It became one of America's premier locations for organised crime syndicates to gather, relaxing in the mineral springs, gambling, smoking cigars and plotting their next big heist.
The museum is a great little setup with information on some of the most famous visitors, such as Bonnie and Clyde, Al Capone and John Dillinger.
You do a tour with a knowledgeable guide which will take you around the museum exhibits. There are video stories in each room to bring the stories alive.
Give yourself about an 1.5 hours to walk around and visit the museum.
Address – 510 Central Avenue, Hot Springs
Opening Hours – Sunday – Thursday: 10:00 AM – 5:00 PM, Friday – Saturday: 10:00 AM – 6:00 PM
9) Walk around Downtown Hot Springs
There's more to downtown than just Bathhouse Row, so grab your walking shoes and hit the pavement.
You'll find plenty of excellent cafes, bars and restaurants (check out Deluca's Pizzeria if you're feeling real hungry) scattered around town, as well as gift shops, galleries and museums.
Behind the bathhouse row is a beautiful brick path called The Grand Promenade, which is roughly 100 years old.
It is now used for parades and for the public to enjoy. Take a wander through this beautiful path and see an outside hot spring. Behind the Maurice Springs is a display, but there's no bathing in this one.
There are plenty of signs to read about the history of the area and the town of Hot Springs. You can check out the photos and see how much it has changed over the years.
Make sure you grab something to remember you visit to Hot Springs National Park from the gift shop.
10) Check Out the Street Art
While you're hitting the streets of downtown, see how many incredible examples of street art you can find.
What better way to make a plain old wall come to life than by having talented artists paint their creative works, and luckily here this is just what's been happening!
Over the last few years the Hot Springs' art community has been commissioned by the council and building owners to put some colour on their walls.
The most amazing thing is each art piece has a story or teaches one about the history here in Hot Springs.
From basketball icons to children playing brass instruments to native tribal men and women, each art piece can be read about on the on the Arkansas website.
11) Go Hiking
There are numerous trails around the Hot Springs area that are just waiting to be explored, so grab some snacks and get out and see the scenic Ouachita Mountains.
Many of the trailheads are conveniently located very close to downtown, including the Sunset Trail, West Mountain Trail and Gulpha Gorge Trail.
You'll find all kinds of views along the way, from woodland walk vibes to skyline vistas, bringing nature lovers all kinds of joy.
Stop by the Hot Springs National Park Visitor Center to get more information on the hiking trails.
12) Go Mountain Biking on the Northwood Trails
Need some more outdoor activities on your list of things to do in Hot Springs? Then why not add mountain biking to it!
The Northwood Trails are a 31.5-mile network that was voted the #1 mountain bike trail system in Arkansas by readers of Arkansas Outside Magazine.
These versatile trails are right in the backyard of downtown Hot Springs, so no need to drive anywhere, just ride from town.
The Northwoods Trails are for everyone, offering different levels and difficulties, perfect for families and thrill seekers alike. There are even some epic jump lines and downhill single tracks for the experienced rider.
The Cedar Glades Trails are 10 miles of trails on county property that connect with the other 21.5 miles of trails, making up the entire 31.5 miles of the Northwood Trails.
There are plans to expand the system to 50+ miles, so watch this space.
READ MORE: Heading west? Stop off to check out all the best things to do in Dallas on the way!
If you are around for a few more days ands want to do more mountain biking, check out the places below:
Womble Trail – Located in the Ouachita Mountain, Ouachita National Forest
Iron Mountain Trail – Located on the south shore of Lake DeGray
Ouachita National Recreational Trail – Located in the Ouachita Mountains, Ouachita National Forest
Lake Ouachita Vista Trail – Located on the south shore of Lake Ouachita, Ouachita National Forest
You can rent a bike though a number of companies in Hot Springs.
Hot Springs Bicycle Touring Company
Spa City Cycling
Parkside Cycle
13) Marvel at the Anthony Chapel Complex
The Anthony Chapel Complex is located in the Garvan Woodland Gardens and really is an extraordinary masterpiece.
This massive wood and glass complex was designed by architects Maurice Jennings and David McKee and built in 2006.
Hidden in the surrounding forest, the Anthony Chapel Complex towers into the canopy at 17.5 metres tall (57 feet tall). It is a grand sight to see.
When you walk through those enormous doors, you will see how the building is connected to the surrounding nature. The designers throughly thought about this when bringing their vision to life.
The chapel is located outside of the ticketed area for Garvan Woodland Gardens, so if you just want to see the chapel, you can do this for free.
The opening hours can vary as ceremonies are often booked at this chapel, and when they are they close the area to the public. We were lucky and got there just after a wedding rehearsal.
Address – Garvan Woodland Gardens, 550 Arkridge Rd S
Opening Hours – 9am-6pm
Opening Hours – 9am-6pm
14) Eat the Best Pancakes in Arkansas
Is there anything more American than pancakes for breakfast?
Ok, maybe apple pie and baseball. But damn, pancakes for breakfast are hard to beat.
A little diner in Hot Springs is famous for making the best pancakes in the state, so we had to check it out.
Appropriately named 'The Pancake Shop', you need to make sure you get here early as it gets jam-packed, especially in the summer and on weekends.
This amazing little family-owned restaurant serves up a variety of plate-sized pancakes (yes, plate-sized -they're massive), along with tasty coffee and some of the best freshly squeezed orange juice you'll ever taste.
Our waitress Jane, who was a delight, told us the secret, correct way to smother our blueberry pancakes in syrup. Turns out after years of having pancakes for breakfast on a Sunday morning, we'd been doing it all wrong.
So how do you do it? You'll have to stop by and grab some of the fluffiest pancakes in the US to find out.
We highly recommend this gorgeous diner for breakfast. Not only are the staff very welcoming, the pancakes are amazing.
Address – 209 State Park Rd, Murfreesboro
Opening Hours – 7 days a week – 8am – 4pm
Price – $10 per person.
15) Stay in a Treehouse
We absolutely love unique accommodations when we travel, and over the years one of our favourite styles has become log cabins.
There's just something homely about sitting by the fire in a log cabin, a hot beverage in hand while towering pine trees sway gently in the breeze outside the window.
If that sounds like your style too, then you have to stay at the Hot Springs Treehouses while you're in town.
Just 15 minutes from town, this small collection of stunning log cabins are nestled perfectly amongst the forest and are a peaceful respite from the busyness of what was once the tiny town down the road.
While the term 'treehouses' may be a little misleading – no, the cabins aren't built high in the trees but rather surrounded by them – it's still the nicest accommodation we stayed in all of Arkansas.
We spent two wonderful nights here in their Firefly Ridge Treehouse, a massive log cabin with fireplace, sitting area, large bed and the highlight, a hot tub on the back deck, and would happily stay again.
One day we'd love to live in a log cabin just like this in the woods somewhere. Who's with us?
Address – 148 Jubilee Trail, Hot Springs
Price – Starting from USD $250, Each cabin is a different price.
16) Get Outdoors in the Lake Catherine State Park
Lake Catherine State Park is located 12.5 miles from the town of Hot Springs. There are 2,180 acres of public recreation space to go hiking, swimming or just be in some beautiful nature.
The peaceful park is located on Lake Catherine, hence the name, but there are 4 other lakes in the Ouachita Mountain region.
There are many hikes for all levels. Some trails will lead to beautiful waterfalls where you can swim and relax. There are picnic areas and a playground too if you want to entertain the kids for a bit.
There is accommodation out here if you choose to stay in the Lake Catherine State Park. You can choose from cabins or pitch your own tent right by the lake shoreline.
There's more tha just beautiful waterfalls and lots of hiking to do here; you can also do some water activities such as rent a kayak, go out on a boat or go fishing from the shore.
This is a great little getaway from Hot Springs to be in some nature for the night.
Address – 1200 Catherine Park Rd, Hot Springs, AR
Opening Hours – 7 days a week – 8am – 5pm
Price – Free to enter the park. There is a fee for some activities.
17) Dig For Diamonds
This is slightly different to the other Hot Springs activities in that it's actually about 90 minutes from town, but we wanted to include it anyway as it's pretty unique.
In Arkansas, the Crater of Diamonds is the only diamond mine in the world where the public can come and search for diamonds. And if you find one, you get to keep it!
The biggest ever found was 40 carats, and somebody found a 2.68 carat diamond just a week before we got there! Crazy!
We tried our best but no diamonds for us, however we met some lovely people that told us about their own experiences here.
We met one man called David who comes here every year with his son. He's found diamonds every single year too, and he was kind enough to show us how he sifts the sand using his tools to find the precious rocks.
Better luck for us next time!
Address – 209 State Park Rd, Murfreesboro
Opening Hours – 7 days a week – 8am – 4pm
Price – $10 per person for entry, equipment rental on top of that. If you arrive late in the day, you can use your ticket for the following day.
18) Got Kids and Need More Activities in Hot Springs?
If you have children (or a big kid aka husband) with you and need some more activities to entertain them, check out these other Hot Springs sightseeing opportunities:
Mid America Science Museum
Pirate's Cove Adventure Miniature Golf
Magic Springs Theme and Water Park, complete with roller coasters
Maxwell Blade Theatre of Magic
Three Sisters Springs
Charlton Recreation Area for an outdoor attraction
The Underground Cave Maze
The Arkansas Alligator Farm and Petting Zoo
The Galaxy Connection museum
Hot Springs Travel Guide
Now that you know all the best things to do in Hot Springs Arkansas, it's time to share a few other tips to help you make the most of your time here.
Where to Eat in Hot Springs
Hot Springs is blessed with some great places to eat, some of which we've mentioned above, but we'll let you know a few more here.
Kollective Coffee and Tea
We had breakfast at Kollective Coffee and Tea in downtown Hot Springs, and holy moly it was divine!
With 'coffee' in the name, we were hoping that the brew would live up to our very high Australian expectations. Truth is the US isn't exactly known for great coffee, but these guys truly excelled. So good that we had two!
They also have the best damn bagels we had during our 2-week US road trip. If that alone isn't enough to bring you here, throw in a funky hipster vibe and friendly staff and you're guaranteed a winner.
Address: 110 Central Ave, Hot Springs, AR 71901
Deluca's Pizzeria
If you're hungry, and we mean really hungry, then swing by Deluca's for dinner.
They have a great range of wood-fired pizzas on the menu catering for all dietary requirements, and if you can't grab a seat in the art-filled restaurant, they do takeaway as well.
Address: 831 Central Ave, Hot Springs National Park, AR
Best Accommodation in Hot Springs
If you're looking for the best hotel in Hot Springs National Park, you have two options – Go luxury or go with character.
Best Luxury Hotel – Lookout Point Lakeside Inn
There's a reason this place takes the #1 spot for hotels on TripAdvisor: it's spectacular.
The Lookout Point Lakeside Inn is just 10 minutes from downtown and is situated in an impossibly beautiful location, surrounded by professionally managed grounds on the shores of Lake Hamilton.
The included breakfast is considered gourmet, and the rooms are spacious, comfortable and quiet.
Best Out of Town Accommodation – Hot Springs Treehouses
We spoke about how much we loved staying here earlier in the article, but let us reiterate. The Hot Springs Treehouses are superb!
Book a log cabin up in the mountains surrounded by trees and wildlife and thank us later.
No anymore fun, cool or unusual things to do in Hot Springs, Arkansas? Let us know in the comments below!
DISCLAIMER: Some of the links in this article are affiliate links, which means if you book accommodation, tours or buy a product, we will receive a small commission at no extra cost to you. These commissions help us keep creating more free travel content to help people plan their holidays and adventures. We only recommend the best accommodations, tours and products that ourselves or our fantastic editorial team have personally experienced, and regularly review these. Thanks for your support, kind friend!