There is a sub-culture for just about everything in the United States and when you start to research the Internet for certain ideas it's amazing what you'll find.
When I started to look for cheap or free places to camp in my van I discovered a whole community of likeminded souls who embrace the spirit of dispersed camping, aka Stealth Camping or Boon docking.
But I had no idea there were so many characters driving inconspicuous looking vehicles with a bed and a portable stove inside and using the cash saved on accommodation expenses for more exciting activities.
And a lot of disenchanted faux gypsies moving their office/lifestyle to the road in an effort to get out of the rat race and live a more varied existence a bit closer to nature.
It's officially a movement and you'll see some pretty sweet examples if you research 'van lifers'.
Whatever your motivation I guess it's up to the individual and what makes you smile. A comfortable mattress in a cheap van, a cooker and some country music gave me something to grin about for a couple months when I attempted some overland adventure travel through one of the worlds best road trip nations.
The idea behind having a Stealth Van is that it looks like your average tradesman or delivery van from the outside and can therefore be parked just about anywhere.
My house on wheels was a 1993 Ford Econoline van that I purchased for $500 from an ex rental company and if you can imagine one of those dodgy beaten up looking vans that all the crooks and baddies use in every American cop show then you get the idea. A double-edged sword though as anyone, good or bad, was reluctant to approach the vehicle for fear of being kidnapped with the exception of the entire Whitefish police department.
Perhaps in part in due to its political environment and the fact that it is relatively expensive, the US is not high on a lot of peoples overland travel destinations. Even taking the exchange rate into consideration though, in comparison to Western Europe and Australia I think the food, fuel and alcohol is cheaper, as are the insurance and registration costs. The road networks are second to none with barely any tolls and the continent has some truly dramatic and contrasting landscapes.
I purchased my vehicle 'The General' in Canada and had already done more than 8000 kms through Alberta, British Columbia, the Yukon Territory and Alaska camping in mostly legitimate campsites. They ranged from a $7 per night parking spot with a drop toilet to upwards of $45 per night for full hook up drive through lots designed for six-figure RVs requiring water, power, Wi-Fi and even satellite TV connections. But none of this is necessary or even preferable if you're prepared to rough it a little bit and venture even slightly off the beaten path.
By off the beaten path I mean anywhere on the 247.3 million acres of land that is administered by the BLM (bureau of land management) or the innumerable state forests that permit campers to pitch up for the night on the condition that they leave no trace, and tread lightly (info at blm.gov). Many of these lands are inaccessible for large RVs and some need to be hiked into so the rewards are often unique and isolated campsites without the crowds.
Then there are the National Parks themselves. An annual parks pass can be purchased for $80 and can accommodate two signatures (so you can pass it on to someone when your done) and is great value if you plan to visit three or more parks.
Some national parks in the United States are in danger of being loved to death with more than 325 million visitors to the nations 127 parks in 2016. Yellowstone, the worlds first National Park had 4.3million visitors alone and during peak times – June July August – campsites are booked months in advance.
Sometimes they run a lottery for overnight hiking permits for the most popular hikes. Its a similar story in all the major national parks in North America and places like Banff in Canada have overflow campgrounds to accommodate the ever increasing number of tourists.
Some sights are first come first served but that means arriving super early in the morning and staying put all day if you only have one vehicle. I attempted Yellowstone in September and even though the crowds were (apparently) decreasing the park had also decided to close some of its campgrounds due to bear activity or end of season closures.
So even if I wanted to, it would have been difficult to camp legitimately. All throughout the parks there are signs that say camp in designated areas only but these need to be conveniently ignored by the clever stealth camper.
Apart from official campsites within the park there are often hotels that usually occupy the most central and picturesque positions and have huge car parks to accommodate their guests. These car parks are your friend if your vehicle falls into the unassuming or discreet category.
Smack in the middle of Yellowstone N.P. is The Old Faithful Inn – An historic and beautiful structure built out of huge wooden logs and twisted bits of timber, like a movie set from a grand western.
The expansive foyer surrounds a monstrous four-sided stone fireplace where guests can barricade themselves against the sub zero temperatures outside amid comfortable leather chairs and soothing live music. The hotels namesake geyser – Old Faithful – sits 100m away and during the day buses bring hoards of tourists at specific times to watch its herculean clockwork eruptions.
But not many experiences compare to having the geyser all to your self and watching the thunder and roar and splash of this special phenomena by the light of the moon and a dazzling night sky.
Some parks like Arches N.P. in Utah are far from the light pollution of big cities and are open 24 hours a day to give you the chance to take photographs of the brilliant white stars splattered across the dark sky above its magnificent rock formations.
One memorable night was spent in awe of nature's power and beauty as a spectacular storm and lightning show intermittently illuminated Arches famous balancing boulder for me.
Rule no.1 of Stealth Camping is not to try and be stealth at all. In fact, its much safer and far less inconspicuous to park up for the night in the most obvious place possible, especially in major towns. Under a streetlamp and closer to some bathrooms is even better.
Another tactic I employed was to find a trailhead that had an overnight hike. Nearly all trailheads in the parks have a toilet and picnic benches for eating. If other cars are parked there overnight you are less likely to get hassled.
So once you have found your spot, your only other major concerns are eating and showering. I would try to have my main meal of the day in one of the day use areas or wherever I'm going to sleep before the sun goes down. It's just so much easier to clean up while its still light. This wasn't so much an issue in Canada and Alaska during the summer as the sun sets later the further you go north and in Denali N.P. in late July I think it didn't go down at all.
I was fortunate enough to have a 12V fridge in my van that kept some food for me but I also had an esky with ice at all times for a cold beer and some waterproof containers for food. If you are travelling light, a tube of condensed milk is a great substitute for fresh milk and sugar for your morning coffee.
The Old Faithful Inn had some of the best and hottest showers in all of the U.S.A. I think you can use them for a fee if you are not a guest but when I enquired with one of the rangers they just directed me to the second floor bathrooms. Maybe I looked (or smelled) like I needed one after a hard days hiking.
Instead of a traditional shower you can always soak your bones for a couple of hours in a natural thermal hot spring like the boiling river at Yellowstone or Miette Hot springs near Jasper. I must admit I'm a bit of a hot spring fiend and I stop at every hot spring I can find along my travels. I drove 50 miles out of Fairbanks in Alaska to get to Chena hot springs and it was nothing short of sensational.
Then there are Loves truck stops; a franchise gas station in the U.S. that I found had clean and spacious bathrooms for a fee. But if you really want to get back to nature you can always paint a 10ltr. water container black and leave it on your roof for a few hours to warm up in the sun. Perhaps top it up with some hot water from your kettle and then stand on a rubber mat and soap up while taking in the vast beauty of a Utah desert sunset.
If I deemed it too bold or risky to be camping illegally inside a park I would stealth my van in one of the quaint little towns just outside. If a town is big enough to have a Wal-Mart you are free to park your camper there for the night no matter what its size.
They welcome citizens of the road and even have special RV spaces set aside. Otherwise the car park of the local bar or casino will do just fine because after some buffalo wings and a couple of Budweiser's you don't really want to be driving anywhere anyway.
Of course if you need to do some washing and fancy some local company, a night or two at an air b'nb or with a couch surfing host is a great break from the confines of your vehicle. I must give a big shout out to my gracious host in the very cool university town of Missoula, Montana Genevieve Marie. Thank you so much for showing me around, giving me a place to paint the van and recover from my traumatic brush with the law.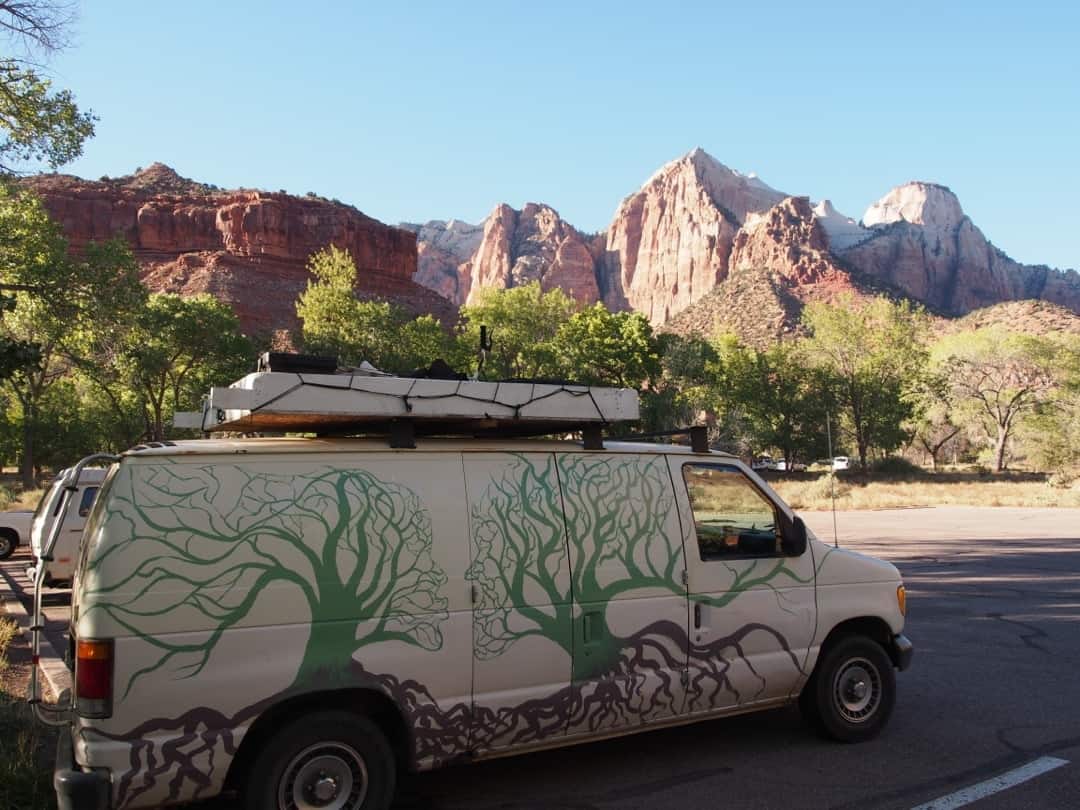 The diversity and unpredictability of the American landscape is often reflected in the individuals who occupy it. Like the young lady I met at the Million Dollar Cowboy bar in Jackson Hole, Wyoming who worked as a representative for Wyoming Whiskey.
We got to talking about how we both enjoyed outdoor pursuits and she told me she had an absolute epic photo to show me. The bartender, over hearing our conversation quipped –
'Is it Jesus riding a unicorn? Because that would be fucking epic'.
She whips out her phone and shows me a picture of her in front of the unmistakable silhouette of the Teton, pronounced Tea- (T)-On, mountains in the background, and her holding a rifle in one hand and the limp head of a dead black bear in the other.
How foolish of me to be trouncing around these mountains for days with my binoculars excitedly looking for live animals! Speaking of which it is highly recommended to carry a can bear spray (that's right- mace for Grizzlies) when you're hiking in bear country.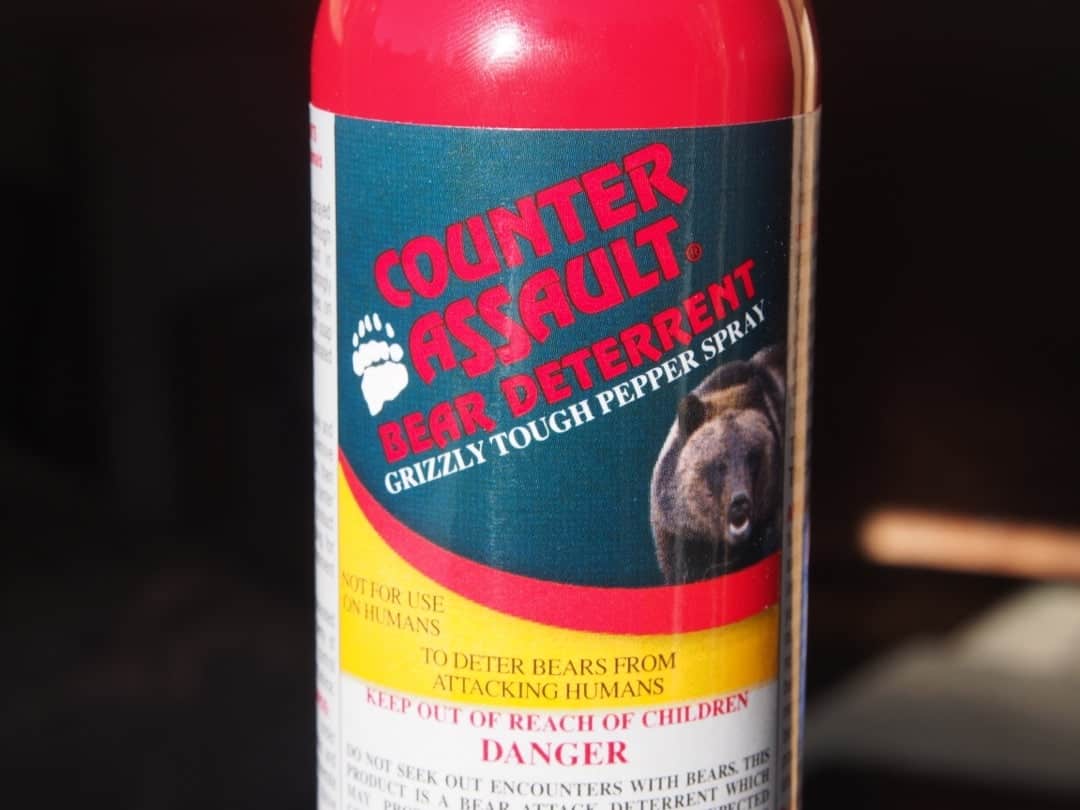 You cannot take the pressurized can on an aeroplane and the peace of mind will set you back about $40 in one of the small towns that service the parks. Don't bother asking the Ranger if you can borrow one of the thousands that get left behind every year, especially the crabby old woman at Maddison Ranger station in Yellowstone, because the answer is a very resounding no.
I'd heard a number of strange rumours about the state of Utah (mostly from people who'd never been there) and its predominately Mormon population, specifically in regards to its liquor laws. Some people told me you couldn't even get a drink there. But since the winter Olympics in Salt Lake City in 2002 it seems as though it's just as easy to buy beer from the supermarket here as anywhere else. Just not hard liquor, you need to go to a special state run store for the good stuff.
Not only that but there are some great bars in places like Moab, Utah's adventure capital where its not uncommon to see ATVs driving up the main street and fully grown middle aged men dancing around at the local brewery in shorts with their long socks pulled up to their knees. Hard core mountain bikers!
Springdale is the little town that services Zion N.P. with its deep red and orange sandstone canyons carved over millions of years that can be hiked over, around and even through. Or as I found out, they use the same steep rocky terrain to host the worlds premier invitation only downhill mountain bike competition- 'Redbull Rampage'.
Upon my return from a side trip to the east rim of the Grand Canyon my picturesque little dispersed camping site in the tiny hamlet of Virgin, Utah was overtaken by hundreds of mountain bike mad enthusiasts. I was already super impressed by the hiking opportunities I had experienced in Zion including a walk up 'The Narrows' and an overnighter along Zion Canyon west rim.
But a couple of guys camped close by who admired my roll out kitchen set-up asked me if I needed a ticket for the event and the next day we were perched on the dusty outcrops that overlook the multitude of treacherous trails descending the rocky terrain. The chance to see this group of fearless cyclists perform big airs and backflips and throw themselves down the vertical canyon walls at close range made me completely re-evaluate my interpretation of the phrase 'big balls'.
It was a quintessential American extreme sporting event and an experience that I can highly recommend if you're into your adventure sports.
One of the only areas the U.S. and Canada are really behind everyone else is in the sale of pre-paid sim cards for your phone. Of course there are lots of places with free Wi-Fi but often you need data on the move for navigation. I love physical maps and can stare at them all day but sometimes they aren't practical, especially when you're driving or walking a city and these days you can use your smart phone instead.
One of my favourite resources is the app MAPS.ME. A friend put me onto it whilst I was riding a motorbike through Vietnam and now I use it everywhere I go.
Download the app for free and then download the map for the country or region you are visiting and it will pinpoint you on the map without using any mobile data and even when phone coverage is poor. I use it everywhere, even at home and it is especially useful when you stumble out of a bar in Russia after a few vodkas and none of the street signs are in English.
It may not be as comfortable as that resort hotel room but you'll wake up with a new view everyday and having your own wheels gives you the freedom to write your own schedule if you want, or even throw caution to the wind and roll with the coincidences and serendipities that the universe sends your way.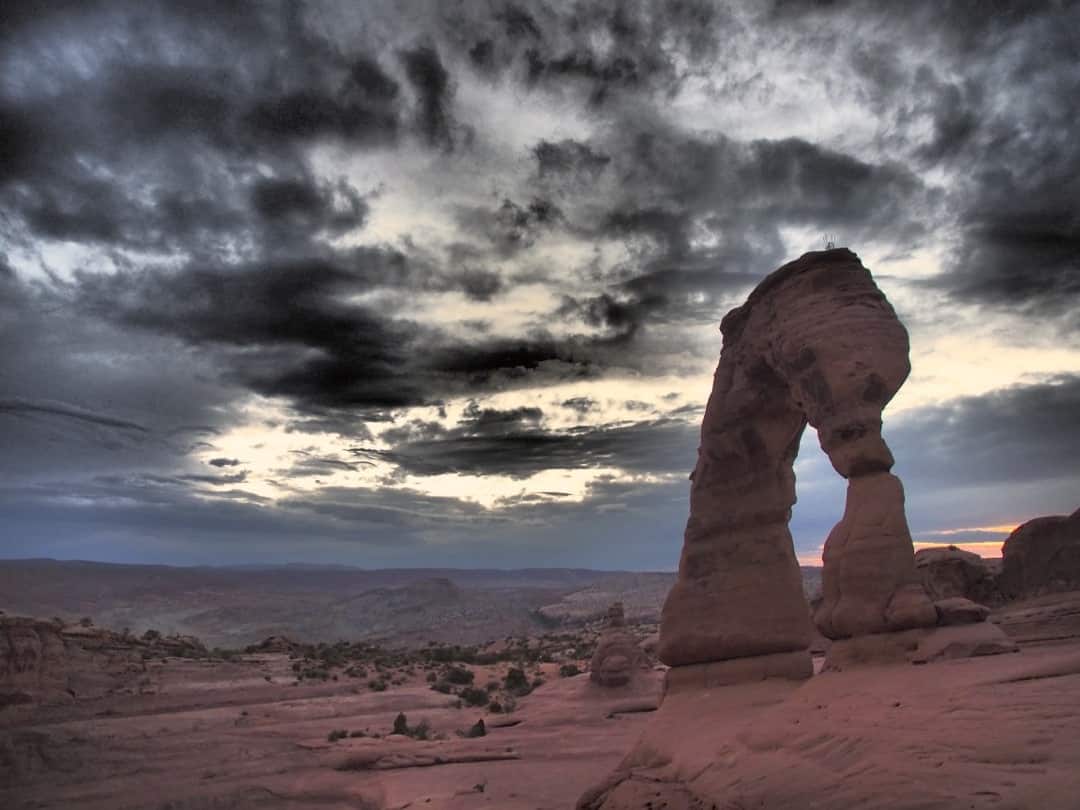 An open mind on the open road is a surefire recipe for adventure and I guarantee you'll see sights and meet people that are almost worth writing home about.
Useful resources for stealth camping in national parks in the U.S.
Harvest Hosts – free overnight camping at farms/wineries and agri-tourism sites.
Boondockers Welcome – free parking on private property
Overnight RV Parking – as the name suggests
Campendium – RV park reviews, photos, blogs and details of FREE Campsites.