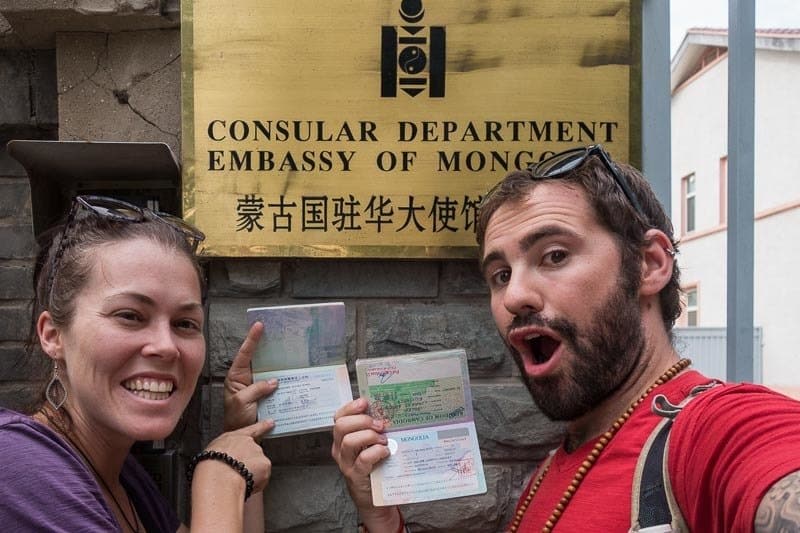 Getting a Mongolian visa in Beijing was perhaps one of the easiest visa applications we have ever done. We had no idea how to do this when we first got off of the train from Shanghai, but we were determined to do it ourselves without using an agency. Everything went smoothly and we were thankful that we did. For those who want to do this themselves, here is our guide for getting a Mongolian visa in Beijing, China.
Do I Need A Visa For Mongolia?
First of all, it is important to know that citizens of 42 specific countries do not need a visa to enter Mongolia for stays of up to 30 days. If you are one of these lucky people, you can visit Mongolia without having to apply for visa. For the rest of us, you need to jump in line just like we did.
NOTE – Countries applicable for visa-waivers in Mongolia constantly changes. Please refer to this website for latest information.
Mongolia Visa-Free Countries
Andorra
Argentine
Austria
The Bahamas
Belgium
Brazil
Bulgaria
Chile
Costa Rica
Croatia
Cyprus
Czech Republic
Denmark
Estonia
Finland
France
Gibraltar
Greece
Grenada
Hungary
Iceland
Ireland
Italy
Latvia
Liechtenstein
Lithuania
Luxembourg
Malta
Monaco
The Netherlands
Norway
Panama
Poland
Portugal
Romania
Slovakia
Slovenia
Spain
Sweden
Switzerland
United Kingdom
Uruguay
Where Is The Mongolian Embassy In Beijing?
The Mongolian embassy in Beijing is located at 2 Xiushui N St, Chaoyang. The visa application window is across the road from the Ethiopian embassy. See the map at the bottom of this post.
UPDATE
One of our readers told us that they found our directions confusing, and offered us this advice to find the Mongolian embassy, which does indeed seem easier:
"I'd recommend simply heading West out of Yong'anil metro station (it's the way you're facing when you take exit A1) along Jianguomenwai Dajie until you reach Ritan Lu. Turn right onto Ritan Lu and then follow it until you see Xiushui Beijie on your right. Turn onto Xiushui Beijie and follow it until you see the embassy on the left (white gate). Grand total of 2 turns and all clearly signposted. "
Here were our original directions:
To get there via public transport, take the metro to the Yonganli Station and take exit A1. Turn right at the T-intersection where the Silk Market is and take your first left behind the mall and through the small car park. Turn right at the end and follow it past the street parking. Take your first left and continue along past the American embassy. Take the first left and walk towards the end where the building with the DRC sign is. Turn right and walk another 50m. The visa application window is on your right.
You can also walk there in about 20 minutes from the Beijing Railway Station (maybe quicker if you don't get lost). There is a tourist information centre across the road from the train station if you need to ask for directions.
Opening Hours
The Mongolian embassy is open for visa applications from Monday to Friday, between 0900 and 1200.
Visa collection is between 1600 and 1700, Monday to Friday.
Be aware that the embassy is closed for all Chinese AND Mongolian holidays, including for the whole period of the Naadam festival (usually the 11th – 13th of July).
Website: https://mn.chineseembassy.org/eng/
What Documents Do I Need?
You do not need many documents to apply for a Mongolian visa.
Passport with at least 6 months validity.
One passport photo (4×3)
One photocopy of the information page of your passport.
One completed application form (you get this from the embassy).
Air/ train travel documents to Mongolia
A credit card to pay for your application. If you need to pay cash there is a bank not too far from the embassy where you can pay the fee, and then return with a receipt. As far as we know, the bank is the "Bank of China Jianguomen Waidajie". Make sure you have enough time to return with your receipt before the embassy closes, otherwise you will need to come back the next day.
How Much Does A Visa For Mongolia Cost?
The prices for getting a Mongolian visa went up on March 31st. The prices are now as follows:
Entry Visa For Student Or Work – 315RMB
Single Entry And Exit (30 Days) – 405RMB
Double Entry And Exit – 605RMB
Single Transit Visa – 225RMB
Double Transit Visa – 405RMB
Six Month Multiple Entry – 925RMB
One Year Multiple Entry – 1800RMB
Note – The 30 day single entry visa gives you 90 days to enter Mongolia from the date you receive it. The 30 days then starts once you cross the border.
The Process For Applying For A Mongolian Visa
If you need a passport photo there is a lady hanging around who has a van close by. She can take and print passport photos for you (we think the cost was about 50RMB for four photos, but don't quote us on this). She will also glue it onto the form for you.
Go up to the far left window and ask the lady for an application form. For the section on the form that asks for an address in Mongolia, either just write down a random hostel or do what the guys in front of us did – Write "Ulaanbaatar, Mongolia".
When you arrive at the Mongolian embassy there will most likely already be a line (unless you are very early). We arrived at 10.30am and there were about 10 people in front of us, most of them agents with many passports to process.
When you reach the window hand in all your paperwork. In our case the lady never asked us a single question. Not one. But don't expect this to always be the case. Have an itinerary planned in your head and be ready to quote it if she asks anything.
The lady will then tell you to come back in three working days to pick up your passport, excludiing the day you applied. We handed our passports in on a Wednesday and she told us to collect them on Monday. We asked if we could pick them up on Friday as we had a train to catch on Sunday (this was not true). They did not seem overly happy with this idea, but agreed that we could pick it up Friday. Definitely worth a shot.
Go to the second window and pay the visa application fee. Note that they only accept credit card at this window. You will then be given a receipt. Do not lose this, as you will need it to collect your passport later.
Special note – Although the embassy is meant to close at midday, they stayed open for us until almost 1pm due to the delay in processing everyone. We couldn't believe our luck, but don't expect this to be the norm.
When the day comes to pick up your Mongolian visa, head back to the embassy between 1600 and 1700. We got there at 1530 and there was one lady in line, but a lot of agents standing around. When it got to 1600 the agents pushed in front of us (typical Chinese culture), but this didn't matter as everyone moved through very quickly.
When you get up to the window hand in your receipt and they will give back your passport.
Double-check everything before you leave the embassy. The lady actually told us to do this anyway. If you find anything incorrect, you will need to have this fixed then and there, before you leave. You cannot come back the following day if you spot an error, so make sure you study all the details.
If everything is all fine, then you are going to Mongolia! Time to do a little happy dance!
[codepeople-post-map]