If you're planning a trip to Sarytag and Iskanderkul, Tajikistan, then this comprehensive travel guide will help you plan all the things to do, where to stay, how to get there and more!
Known as one of the most beautiful of the 'Stans in Central Asia, Tajikistan has slowly been cementing its place on the bucket list of adventurous travellers.
While not as popular as its neighbours, Kyrgyzstan and Kazakhstan, Tajikistan has a whole range of worthy attractions that are guaranteed to make your jaw drop.
From the fabled Pamir Highway along the Afghan border to the legendary Fann Mountains and even the bustling metropolis of Dushanbe, there's plenty to do in this natural wonderland.
Tajikistan is 97% mountainous, and has the highest water reserves in Central Asian countries with more than 1,000 rivers, 2,000 lakes and scores of glaciers.
No wonder it's mainly lovers of nature and adventure who flock here!
Having travelled all over the country, from 2015 right through to 2019, in my opinion, anybody planning a trip here should not miss one of the bluest glacial lakes in Tajikistan, Iskanderkul.
Iskanderkul and the nearby mountain village of Sarytag are a real jewel in the world of tourism.
Anywhere else in the world, these two places would have thousands of tourists visiting every single day.
But this is Tajikistan, and as such, there's a good chance that if you visit you will be one of a few people there.
Iskanderkul or Sarytag?
To help you with your travels to this gorgeous part of the country, I've put together this comprehensive travel guide to Iskanderkul, Tajikistan, with just about everything you would need to know.
I'll also mention the village of Sarytag, as it's only a short distance past Iskanderkul and well worth a visit.
Iskanderkul Lake
Iskanderkul is the biggest lake in the Fann Mountains.
Located in the north-west of Tajikistan, only a few hours from Dushanbe, it is one of the most beautiful glacial lakes in the region.
On the north slope of Gissar Range in the Fann Mountains, this triangle-shaped lake is at an altitude of 2,195m and spans a whopping 3.4 square kilometres with a depth of 72 meters deep.
Even the Tajik president thinks so highly of it, that he has a built himself holiday house there.
The lake's name 'Iskanderkul' means "Lake of Alexander", after the infamous Alexander the Great.
(Iskander is Persian for Alexander, while Kul is Turkic for lake.)
Legend has it Alexander the Great created the lake by damming the river in order to annihilate a village which had opposed him.
Whether that's true or not will never be known, but there may actually be a different story.
Scientists did discover that once there was an earthquake in the area, and a rockslide blocked the Sarytag river.
Their theory is that water pooled and Iskanderkul Lake was created. But you can believe what you want.
Today there are a couple of guesthouses you can stay in right by the lake, and there are lots of fun activities in close proximity.
Sarytag Village
If you want to explore more of this area do not just stop at Iskanderkul. Continue up the Sarytag River gorge and you will reach the small village of Sarytag.
As you pass Iskanderkul lake, you follow the road up the gorge, where you will be greeted with more vistas of high meadows and towering peaks.
It is up here where the picturesque village of Sarytag is located.
READ MORE: Check out my comprehensive guide to the Lakes Loop Hike in the Fann Mountains!
Sarytag was relatively unknown to travellers until some trekkers discovered that it made a great base for expeditions into the Fann Mountains.
In the last few years, it has started seeing perhaps just a few hundred people every season arrive to spend the night, or head into the surrounding peaks.
The 12 Best Things to Do in Iskanderkul and Sarytag
People say Iskanderkul and Sarytag are great day trips from Dushanbe, but I recommend you stay at least one night and enjoy the area.
There are quite a few things to do in Iskanderkul and Sarytag. From walking to 5 springs to visiting the Niagra Falls of the Fann Mountains, and of course lots of hiking.
This area has a little something for everyone. Here is a list of the best things to do in the Iskanderkul and Sarytag area.
Iskanderkul Waterfall
This waterfall is jokingly called the Niagra Falls of the Fann Mountains and is a must-see on any list of what to do in Iskanderkul.
It is 38m high and is fed by the Iskanderdarya river, flowing out of Iskanderkul lake.
It only takes about 15-20 minutes to reach the waterfall along a rocky path, just past the bridge as you enter the tiny village at Iskanderkul.
It is a forceful sight to see. Some people are not that impressed by it, but I personally thought it was worth the short walk out there.
Once you get to the waterfall there is a steel platform where you can take a good look at the gushing water from above.
You can also climb a little higher to take a photo of the waterfall and platform to get a perspective of just how massive the falls are.
Snake Lake (Zmeinoe Lake)
Snake Lake is a man-made lake with, umm, a lot of snakes lurking around.
I stayed high and looked at it from a distance. No way was I going near the edge knowing there are a lot of snakes.
This lake is small but has its charm. The oblong-shaped lake has trees growing at the far end with reeds growing all around the edge.
There was a couple of people that had set up residence there, so at least on our visit, we weren't the only people around.
Getting to Snake Lake in Iskanderkul is simple, as you can easily walk there from the village. Just follow the dusty road up the hill. There are also signs, and if you get lost, just ask a local.
There is a great viewpoint up there of Iskanderkul Lake, which really shows off just how turquoise it is.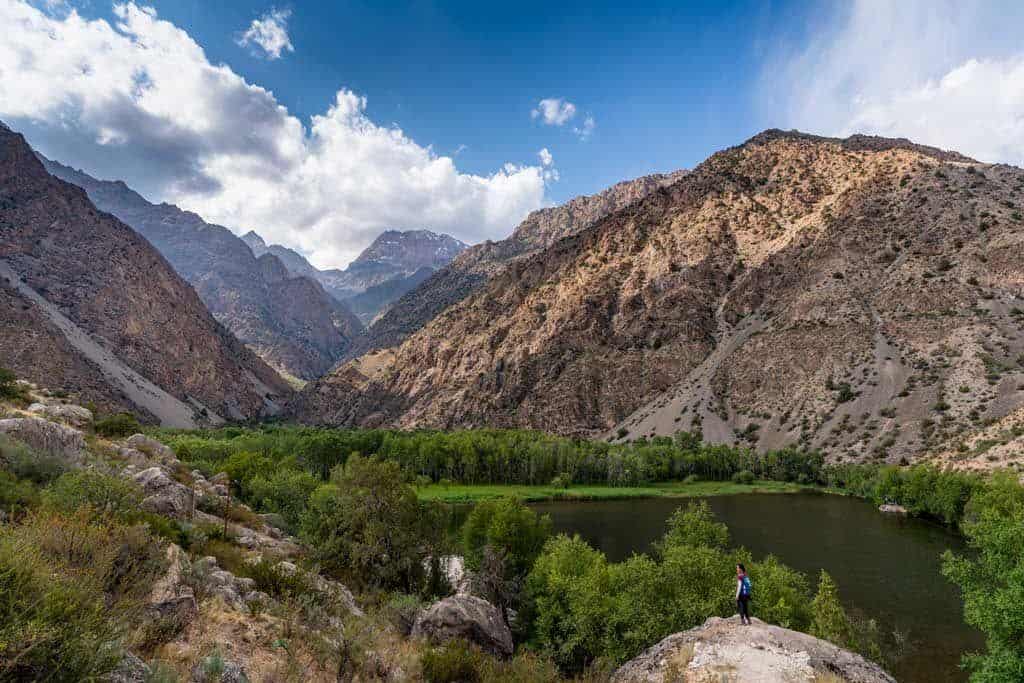 Visit the Five Springs
I never got to the Five Springs but it can be visited on the 'Hat of Alexander' hike, when hiking to Sarytag, or just walking around the lake.
To get to the Five Springs you follow the road that leads to Sarytag.
When you get to the other side of the lake you will come across the Five Springs, close to the president's house.
It is simple five springs which are great for taking a dip in, and whose waters are said to have healing powers.
Take a Boat Ride on the Lake
In an effort to become a complete lakeside resort town (don't worry, they still have a long way to go), you can now go on a boat ride around the lake!
Seeing the surrounding peaks rise around Iskanderkul Lake from the water is a fantastic thing to do.
You can book your boat ride for only 50 TJS per person from the Turbaza Resort.
They have a boat that fits about 10 people and will take you out for about an hour or so.

Hike around Iskanderkul Lake
There is a track that circles the lake and offers beautiful views of the water and mountains the whole way around.
You follow the road to Sarytag and when you reach the end of the lake you will get to a fork in the road, near the president's house.
Take the left road and you will cross over a bridge.
The trek continues from there on the left-hand side. This will follow the lake around and pop you out on the road that you came in by car.
From there follow the road back towards your accommodation.
The hike is about 19km with an elevation gain/loss of about 450m and should take you 8 hours.
Do take lunch, snacks, sunscreen, walking poles (if needed) and enough water for the day as there are no shops along the way.
Hike to Sarytag from Iskanderkul
To get from Iskanderkul to Sarytag you have two options – hitch a ride, or you can hike along the road.
When you get to the fork in the road past the lake, stick to the right (shorter road) and you will reach Sarytag.
Along the way you will pass the presidential holiday home and the Five Springs of wealth, health, fertility and love before passing through a cliff-walled canyon.
You slowly climb the road up to a high plateau where you will spot farms with many cows. Eventually, you will hit Sarytag village.
This hike following the road is 9.4km from the bridge in Iskanderkul, and should take you about 4.5 hours. There is an elevation gain/loss of 250m.
Hike the Hat of Alexander
When you are driving into Iskanderkul Lake you will see this iconic, knobbly-looking mountain across the other side of the lake.
This is called the Hat of Alexander, and you can hike up and around it if you're feeling up for a challenge.
The hike around the Hat of Alexander (2710m above sea level) will take you about 3-4 hours and is 12km long.
Walk towards Sarytag from Iskanderkul or towards Iskanderkul from Sarytag, there is a trail that follows around the lake heading towards the Hat of Alexander.
After 2.9km, you will reach a turn off to the left that will head up the mountain. Have lunch on the nearby mountain Chulbui.
Definitely ask your guesthouse for instructions on how to get there, as they may have a map for you.
I do recommend getting the free app, Maps.me, as a lot of the trails are on this app.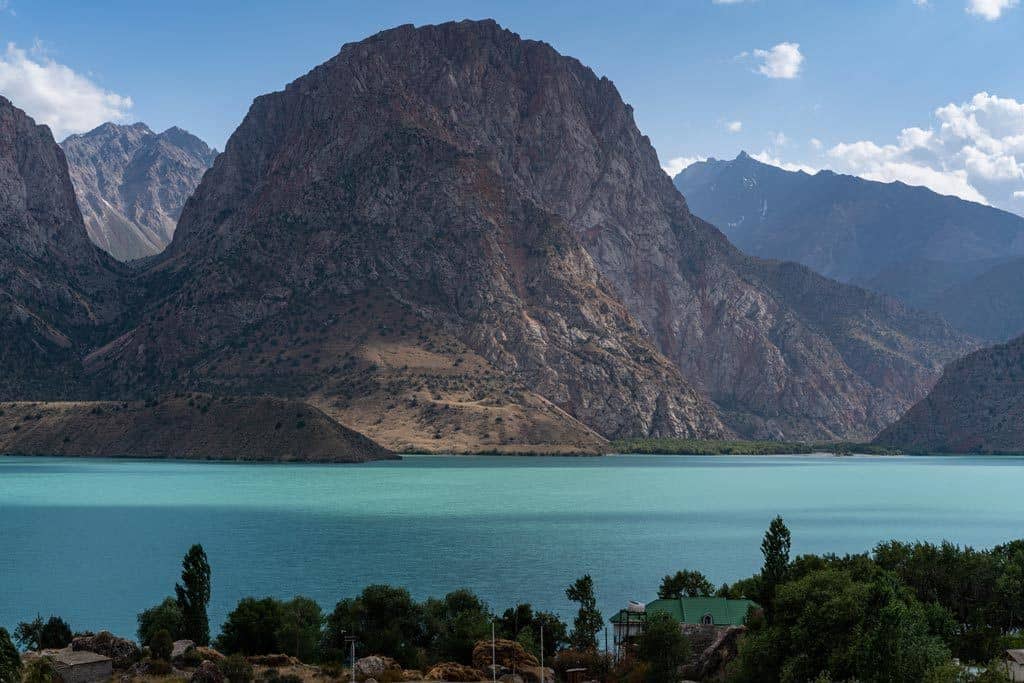 Bird Watching
This area is one of the best in the country for spotting wildlife. Half of the nature reserve is identified as an important bird area!
If you are lucky, you can spot Himalayan snowcocks, saker falcons, yellow-billed choughs, wallcreepers and more, so keep an eye out.
Definitely bring some binoculars with you if you're into bird watching.
Get Up for Sunrise
Do not miss getting up for sunrise by the lake! It's magical.
If you are in Iskanderkul, you will see the glassy water with the beautiful mountains reflected perfectly in the morning.
There is a jetty on the lake as well that you could mix it up with your photography.
If you are staying at Sarytag, you will be sitting in the valley of the mountains, and seeing each mountain light up with the sunlight is a wonderful scene.
Go on a Day Hike from Sarytag
From the town of Sarytag, you can hike following the Sarytag River just out of town.
When you get to another river shooting off to the right up the valley, follow it. It is called Arch River.
This trail will lead you up to Maslihattepe. (12–14 km, 4 hours one way). In two hours you will reach a place called Hafzak.
This is a great resting spot among a small field of nice birchwood trees. Continue up and you will reach Maslihattepe.
Many years ago, the oldest villagers would gather on this hill to discuss crucial issues. Now it is a place to hike and enjoy the view.
Do a Multi-Day Hike in the Area
There are many multi-day hikes to choose from in the Iskanderkul and Sarytag area.
It just depends on how much time you have.
If you are really up for an adventure you can link Iskanderkul to the Lakes Loop Hike (which I did in 2019), or all the way to Haft Kul (the Seven Lakes).
There are lots of camping spots along the way. You do need to carry everything with you, as there are no facilities or huts to stay in.
When you get to the Lakes area there is a little store where you can get a meal if you want.
Do be prepared with water filtration devices and your own tent with sleeping gear.
You can hire a donkey and porter if you want help carrying your gear for a reasonable price, or you can carry it all yourself.
Here are some suggested routes you may want to take.

Iskanderkul to Haft Kul (Shing & Marguzor)
Suggested route:
Sarytag/Iskanderkul – Dukdon Pass – Sarymat/Archamaidan Confluence – Munora Pass – Tavasang Pass – Kiogli Village – Marguzor (Lake #6)
Sarytag/Iskanderkul – Sarymat Pass – Tavasang Pass – Kiogli Village – Marguzor (Lake #6)

Iskanderkul to Artuch Alplager Camp
Suggested route:
Sarytag/Iskanderkul – Dukdon Pass (3810m) – Sarymat/Archamaidan River Confluence – Maloye Allo Lake – Bolshoi Allo Lake – Chimtarga Pass – Mutnyi Lake – Aluaddin Lakes – Aluaddin or Lauden Pass – Kulikalon lakes – Artuch Alplager

Iskanderkul to Vertical Alauddin Camp
Suggested route:
Sarytag/Iskanderkul – Dukdon Pass – Sarymat/Archamaidan River Confluence – Zimtut – Guitan Pass – Chukurak Lakes – Kulikalon Lakes – Aluaddin or Lauden Pass – Aluaddin Lakes – Vertical Alauddin

Please note, I did not do these hikes so I do not know the condition of the treks or any information about the routes.
A great website to check out is Going the Whole Hogg. They wrote a great post on the routes.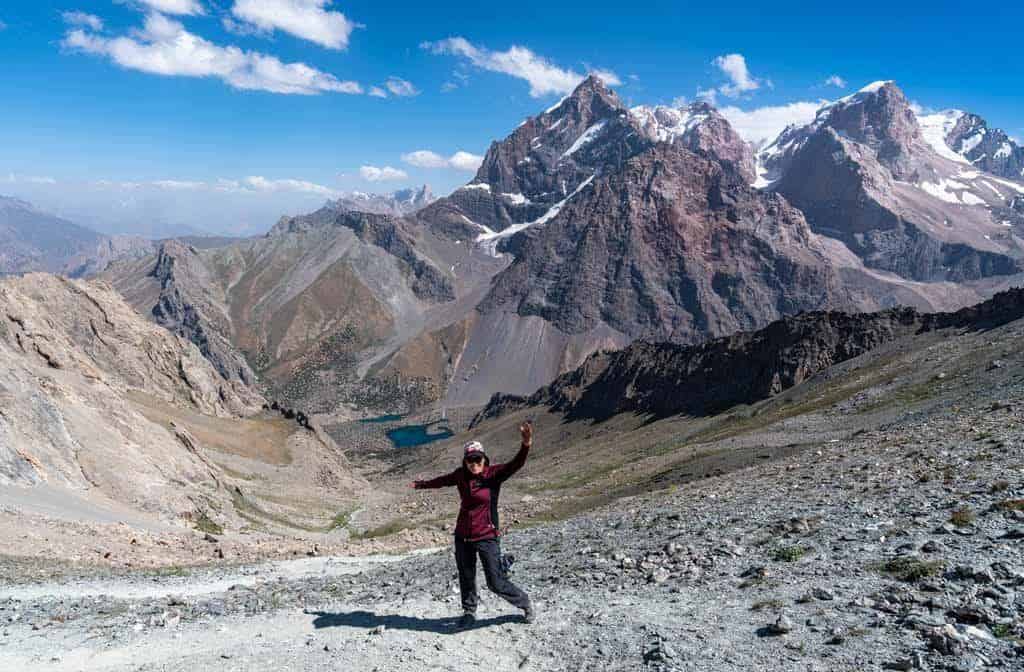 Relax by the Lake or in the Mountains
Whether you are in Iskanderkul or in Sarytag, take an afternoon to relax and take in the village life.
Go for a walk and meet locals or just sit by the lake under a tree and read a book.
Either way, just soak up your surroundings and where you are – it's absolutely beautiful.
Iskanderkul Lake Travel Guide
Now that you know all the best things to do in Iskanderkul Lake and Sarytag, I want to share with you some other great travel tips for the area.
From where to stay to when to go and more, here's my mini Iskanderkul, Tajikistan travel guide.
Best Time to Go to Iskanderkul
The best time to visit Iskanderkul and Sargtag is from late May until late September.
If you are going over high mountain passes, outside of that period it's potentially snowbound and inaccessible.
Where to Stay in Iskanderkul
There are a couple of guesthouses and accommodation options to enjoy in Iskanderkul and Sarytag.
Turbaza Resort
This is where I stayed when I was in Iskanderkul. It is a Soviet-looking accommodation with crazy murals on each outer wall.
There is a restaurant on site that supplies breakfast, lunch and dinner for 50 TJS each meal.
To be honest, the lunch and dinner are way better value than breakfast.
There was no menu so ask what will be the meal at the time. The food was ok but there are not many options in town.
There is a nice balcony area attached to the restaurant overlooking the lake. We had local dishes like plov. A twin-bed room with private bathroom was 150 somoni per person (USD$15).
The room was basic with a TV (no English channels), hot water and ok beds.
Towels and sheets were provided, but check you have sheets when you check-in.
Beds were a little hard but this is common in Tajikistan. If you have your own tent, you can pitch it here.
For 50 TJS per person, you can be right on the lake and wake up with a view.
The accommodation also had a boat to go out on the lake. It was 50 TJS per person for a ride.
Walk past the bridge and you will see the sign for the accommodation down the road.
You will see big white gates on the left. There is a newer section and an older section.
We stayed in the newer section. They are right next door to each other. The older section looked very run down.
WhatsApp Number – (3479) 93 339 95 95
This is the managers WhatsApp number where you can book your accommodation. He does not speak English so the messages may go through a translator first.
Shezok Guesthouse
This accommodation is near the bridge above a shop right on the lake. Rooms are very simple but clean with an outside toilet.
There is no heating so bring layers if you are there in the shoulder seasons.
The lady running it is lovely but does not speak any English, so do bring a translator book or app if you don't speak Russian or Farsi.
For the room only it is 60 TJS. If you would like room and 3 meals it is about 110 TJS per person.
The woman can help you organise a lift back to Sarvoda if you'd like.
You don't need to book online as there are a few options around the lake. If one guesthouse is full move on to the next.
Just don't have high expectations with the quality. It is very basic accommodation.
Local Tajik party goes may come to Iskanderkul for a weekend trip from Dushanbe. They usually stay at Turbaza Resort.
Where to Stay in Sarytag
The little village of Sarytag has a number of quaint homestays you can choose.
Again, they are basic, but have everything you would need for a comfortable stay here.
Shahboz Guesthouse
The most popular guesthouse in Sarytag, Shahboz Guesthouse is run by a lovely family who can't do enough to help you.
Their rooms range from dark and basic (on the toilet block side) to bright and spacious (on the valley side), but all are clean and come in traditional Tajik style.
The food the family makes is surprisingly decent as well.
The views from the huge balcony on the valley side are lovely, and the family is all too happy to keep providing copious amounts of tea for you to sit and enjoy.
A bonus of staying here is that they have a hot water shower and Western-style toilet that the guests can use.
When you first enter town, Shahboz Guesthouse is up on the left from the main road after you go over the bridge.
This is one place that it is recommended to book ahead, as it is the most popular guesthouse in Sarytag.
Dilovar's Homestay
Dilovar's Homestay is another option for good places to stay in Sarytag.
You can enjoy the lovely views of the mountains and walk to the river from the guesthouse.
Dilovar speaks English so he can help you with any information about the area.
Breakfast is included in the stay price but lunch and dinner are available at an additional cost.
We didn't get the exact prices, but expect it to be between USD$15-20 for full room and board.
There are no restaurant options in Sarytag. The family farm their own land so the vegetables are very fresh.
I was told the beds are not the most comfortable but this is hard to avoid as in Asia the beds are hard.
If you want to book here, or other places in Sarytag, get in touch with the guys at ZTDA Tourism.
Where to Eat in Iskanderkul and Sarytag
I have bad news for you – the dining options in Iskanderkul and Sarytag are slim.
That's not to mean you'll go hungry though, and the local homestays in Sarytag will provide decent breakfast and dinner included in your stay.
If you are staying at Turbaza Resort in Iskanderkul they have a restaurant on site.
How to Get to Iskanderkul and Sarytag
The drive into Iskanderkul itself is stunning. No matter which way you are coming from, Iskanderkul can only be accessed by the M34 highway.
You will come along the highway from either south (Dushanbe direction) or the north (Panjakent and Khujand direction) and reach the turnoff to Iskanderkul and Sarytag road.
This road is unpaved and very windy and bumpy the whole way to Iskanderkul. From the highway turnoff to the lake is 23km.
You will travel up the gorge of the Iskander River getting glimpses of the higher, snow-covered mountains of the Fann Mountain Range on either side.
The canyon becomes more dramatic as you get closer to Iskanderkul Lake with breathtaking views along the river's edge.
Transport from Dushanbe to Iskanderkul
Iskanderkul is located 134km from Dushanbe. There should be several shared taxis that leave from the cement factory stop going to Iskanderkul every day in the morning.
If they are not going directly there, you can get a shared taxi to the junction of Iskanderkul, where you can get a second shared taxi to get to the lake.
The shared taxis will only leave when they are full, so you may be waiting a while.
We suggest you get there early in the morning (around 7am). Earlier the better as this is when more locals will be leaving.
If you want the shared taxi to leave fast you will need to pay for the rest of the seats.
If you have a group, you can work out a price with the driver. Do barter fairly.
Ask to be dropped off at the intersection of Iskanderkul Lake to have more of a chance to get a car to Iskanderkul.
Between Dushanbe and Sarvoda you will go through the Anzob Pass and the Anzob Tunnel, also known as the 'Tunnel of Death'.
The Iranians are renovating the tunnel, so it shouldn't be nearly as frightening in coming years, but if you had long, dark, wet tunnels, maybe close your eyes as you go through it.
Transport from Sarvoda to Iskanderkul
A shared taxi from Dushanbe to Sarvoda is 50-80 TJS per person. When you get to Sarvoda asked to be dropped off at the Sarvoda Markets.
This is where the cars leave to head to Iskanderkul. From Sarvoda, you can get a shared taxi to Iskanderkul for about 250-300 TJS for the car or 50 TJS for a seat.
During the week it is not common for shared taxis to be going from Sarvoda to Iskanderkul but during the weekend there is more of a chance.
If you are a group, I'd suggest hiring the whole car and going as soon as you get to Sarvoda.
But do barter the price as you will be quoted an expensive tourist price. As for a solo traveller this price will probably be too expensive.
If you can not find a ride, walk to the intersection of the Highway and turn off to Iskanderkul.
It should be about a 30-minute walk from Sarvoda. From there you can flag down a car going towards Iskanderkul.
The price will be 50 TJS per person.
Transport from Panjakent
From Panjakent, if you are lucky you may find a ride all the way through to Iskanderkul or Sarytag. But do not count on this.
Your best option is to get to a shared taxi to Sarvoda. Look to be paying from 50 TJS per person.
From Sarvoda there may be cars going, if not walk to the intersection that goes to Iskanderkul and get a ride from there.
If your car is going on to Dushanbe ask them to drop you off at the intersection.
Where to go after Iskanderkul and Sarytag
Once you've finished exploring Iskanderkul and Sarytag, there are a number of other cool places in Tajikistan you can go.
Panjakent
Panjakent (also called Penjikent) is located in the northwest of the country near the Uzbekistan border.
You may come to this town to cross the border into Uzbekistan and continue on to explore Samarkand.
This border is now open to foreigners as of 2018 and can be easily crossed.
You can easily spend a whole day exploring Panjakent as there are a few things in town to check out.
The local bazaar is buzzing in the morning, and you can visit the site of Ancient Panjakent. This ancient site is the oldest in Central Asia.
The ruins are located on a high plateau above the current city.
It is a great spot for sunset and has a nice view of today's Panjakent.
Being close to Samarkand (across the border), the Fann Mountains and the Fergana Valley, it is one of the most visited areas in the country by travellers and an ideal base for trekking.
From Panjakent, do check out the Lake Loop Hike and Seven Lakes (Haft Kul).
Khujand
Khujand is located in the far north of the country on the west side near the border of Kyrgyzstan.
Khujand is Tajikistan's second-largest city and situated on both sides of the Syr Darya River at the mouth of the Fergana Valley.
The city is one of the most ancient in the region, as it was founded 2300 years ago.
Khujand has a colourful history, being at different times under the rule of Persian, Arab, Mongol and other empires. This city has seen a lot.
It was once the farthest northern cities of Alexander the Great's empire (around 329 BC) and was part of the Khanate of Kokand before being annexed by the Russian Empire in 1868.
Unfortunately, most of these invaders demolished the city, and as a result few ancient treasures remain.
You can visit the museum and learn more about this history or just go for a stroll in the park where you will see friends and family hanging out enjoying each others company.
You can get a nice view overlooking the city at the medieval citadel near the river in the centre of town.
If you are crossing the border into Kyrgyzstan this will be your final town in Tajikistan.
Dushanbe
Dushanbe is the capital of Tajikistan and you may have already been here if you flew into the country.
If you have come from the other direction then this city may be your next destination.
Dushanbe is a buzzing metropolis now, with gorgeous city parks, interesting museums and galleries, and lots of good restaurants and bars to enjoy.
The new bazaar is fascinating, and it serves as a great place to stock up on supplies (and wifi) before heading off to more remote parts of Tajikistan, such as the Pamir Highway.
Fun fact, did you know Dushanbe means "Monday" in the Persian language?
The city was built on the site of a Monday market, which is how it got its name.
Packing List
What to bring to Iskanderkul Lake and Sarytag? Well this all depends on what you are doing.
If you are hiking, you will need some hiking gear. You are up high in the mountains so one minute it may be sunny and hot, the next minute it could be raining and chilly. You never know.
The most important thing to bring with you is good quality, light hiking clothes and warm gear that you can layer properly.
As they say, "Dress for the hour, not for the day".
We personally use and recommend the brand Kathmandu, as they offer high quality and technical clothing for all conditions.
Good hiking boots – Goretex is waterproof and lightweight. Make sure you have worn them in before going hiking though.
Trekking poles – These were very useful as the terrain can be rocky and steep. (You can rent them from Visit Alay)
Two t-shirts – One for trekking during the day, and one for wearing at night.
Trekking pants – this is to protect you from the sun and bushes.
One lightweight fleece or packable down jacket.
One lightweight waterproof/windproof shell jacket.
Thermal top and pants – We recommend merino wool. Great for the evening and the night for sleeping.
Water purification tablets or SteriPEN
Three pairs of socks – One for trekking, one for wearing at night, and a spare pair in case your trekking ones get too wet. You'll really want to look after your feet on this trek!
Sandals to wear around camp.
Any medication you need, as well as bandages in case you get blisters or cut yourself. If you have a travel first aid kit keep it with you. Don't forget diarrhoea
A 1L water bottle, preferably with a wide mouth for filling up out of rivers and streams. I recommend another litre bottle as days can be very warm.
Headlamp or torch.
A good camera to take lots of photos!
Portable battery pack to keep your phone/camera charged. Electricity is rare and by solar and generator.
Bring extra snacks for energy along the way – protein bars, nuts
Sunscreen – the sun is strong
Lip balm with sun protection
Hat and sunglasses
Towel, soap, wet wipes (biodegradable ones) and anti-bacterial gel
Silk liner – especially if you aren't using your own sleeping bag.
A 'Buff' bandana
Headphones – If you love music to keep you motivated while hiking
Coffee – if you are a coffee lover bring your own coffee as only tea is provided.
Interested in Doing a Tour?
If you want to visit Iskanderkul as part of a tour, there are quite a few options.
One of them is to join our legendary NOMADasaurus Tajikistan tour, which spends one night in Sarytag as part of the 16-day itinerary.
If you don't want to join a full group tour, but would rather just book a few days in Iskanderkul as part of an organised trip, another good option is to check out Pamir and Mountains Travel.
Our group in 2019 organised the Lakes Loop Hike with these guys and simple city tours around Dushanbe.
Our driver, Jamshed, had an amazing van and it was 4×4. You may be able to join an already set tour or if you have a group, you can organise a tour for yourselves.
DISCLAIMER: This publication is made possible by the support of the American People through the United States Agency for International Development (USAID) Competitiveness, Trade, and Jobs Activity in Central Asia. The contents of this publication are the sole responsibility of NOMADasaurus and do not necessarily reflect the views of USAID or the United States Government.