Check out our ultimate guide to exploring the South Island of New Zealand in winter, including food, wine, skiing, hikes, road trips, and more.
As cliched as it might sound, New Zealand is a winter wonderland. There are so many things you can during New Zealand's South Island in winter, it's just a matter of choosing your preference.
The South Island is without a doubt the most beautiful in New Zealand. But during winter, most activities and towns slow down, giving you the opportunity to explore without the worry of not finding accomodation or getting a seat at a restaurant.
Winter is a special time in New Zealand with Queenstown and Wanaka becoming the gateway to the slopes as certain produce becomes ripe for picking.
Though the North Island of New Zealand also has some great options for things to do in winter, we're focusing on the more rugged and wild South Island for this article.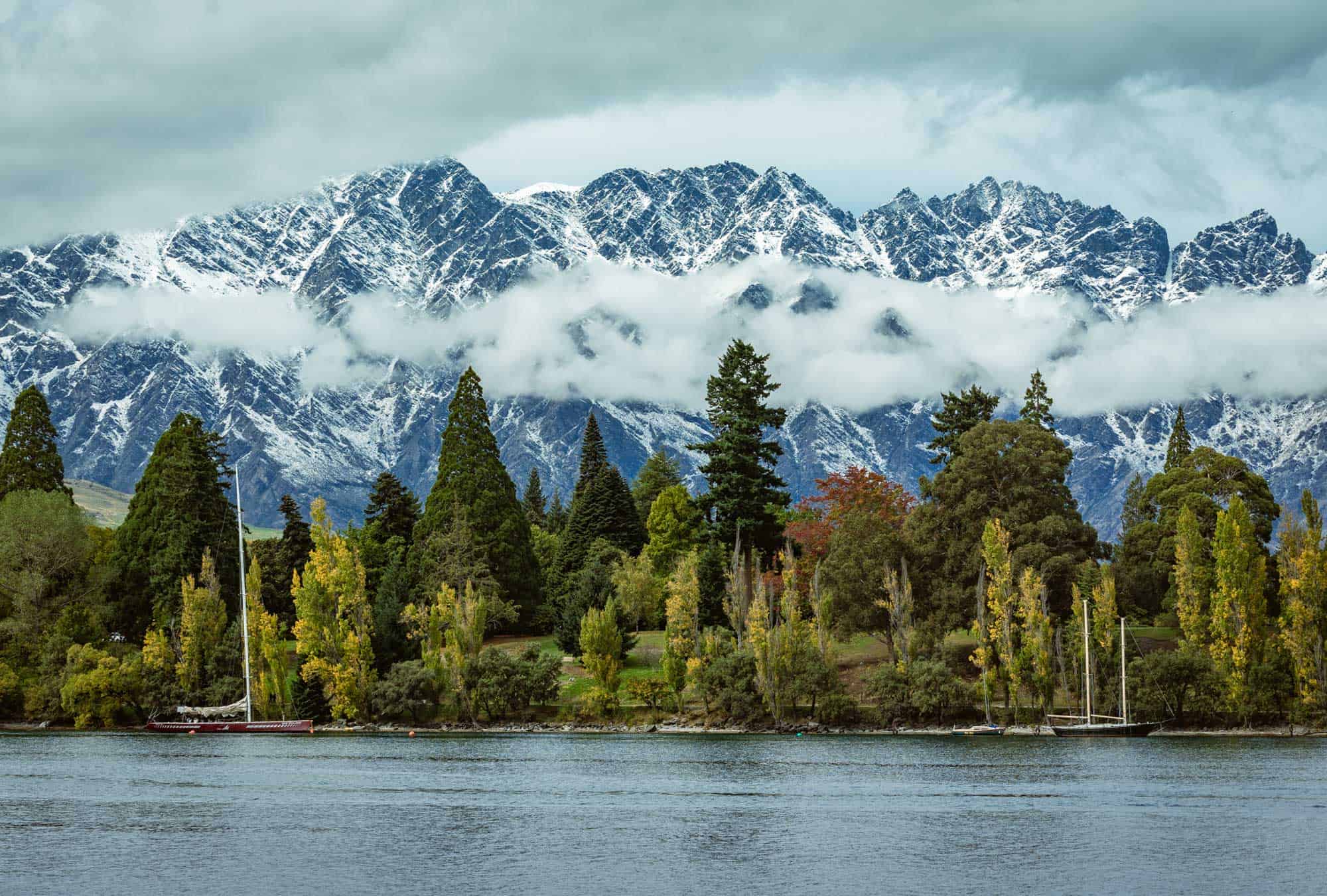 Things to Do in New Zealand's South Island in Winter
Although temperatures drop and the days get shorter, the South Island's scenery is as good as it ever was with blue-bird days, to drizzles of snow, to complete white-outs. Winter is a stunning time of the year to get out and explore!
Snow Sports in New Zealand's South Island
New Zealand is a mecca for snow sports with a huge variety of groomed slopes to stunning backcountry landscapes. The South Island comes alive during winter which spans from June to October, depending on where you go.
There is no shortage of slopes to shred in New Zealand, it just comes down to which one and where you want to strap on the boots. What makes the South Island so good for snowboarding and skiing is that everything is so close together.
You can board a morning session on Coronet Peak and finish the day on The Remarkables, it's just the perfect place to spend your winter days while in New Zealand.
Coronet Peak
Situated between Queenstown and Arrowtown, Coronet Peak is the perfect place to start your time off in the snow.
With some of the best groomed runs in New Zealand, Coronet Peak is the place to go if you want to take it easy while enjoying spectacular views of the Southern Alps and the rolling green hills of Queenstown.
Check out our guide to the best things to do in Queenstown.
Treble Cone
Treble Cone is situated only an hours drive from Mount Aspiring National Park near Wanaka. Those who head to Treble Cone seek more technical runs while runs are much steeper.
Treble Cone takes the cake for the best scenery as Lake Wanaka, Roys Peak and Mount Aspiring are all visible from the stunning ski fields of Treble Cone.
Cardrona
Only a 45 minute drive out of Wanaka is Cardrona and roughly the same from Queenstown. Cardrona is perfect for those who love a challenge with a snowboard park and lots of extreme runs.
Cardrona is also pretty chilled out for those who want to espace the chaos of Coronet and the Remarkables.
Don't miss our complete guide to the best things to do in Wanaka.
The Remarkables
Queenstown's famous mountain backdrop is world famous and for good reasons, but did you know that skiing and snowboarding is totally possible up there?
The Remarkables known to most as 'The Remarks' is a culmination of groomed runs and terrain parks situated under Double Cone Peak. The Remarks are only a 30 minute drive from the centre of Queenstown making it perfect for a day out on the slopes.
Mt Hutt
When you think of Christchurch, you might be thinking purely of coastal vibes, farm land and good food? Only 1.5 hours drive west from Christchurch, Mt Hutt ski field is at your doorstep. Mt Hutt has everything from bunny hills to experienced ski runs.
Temple Basin
High up on the Arthur's Pass, Temple Basin may look to be in an oddly strange place but it really couldn't be anymore scenic than this with Mount Rolleston directly across the valley.
Temple Basin is a quiet ski field but that gives you more space to yourself as most head to the more accessible Mt Hutt.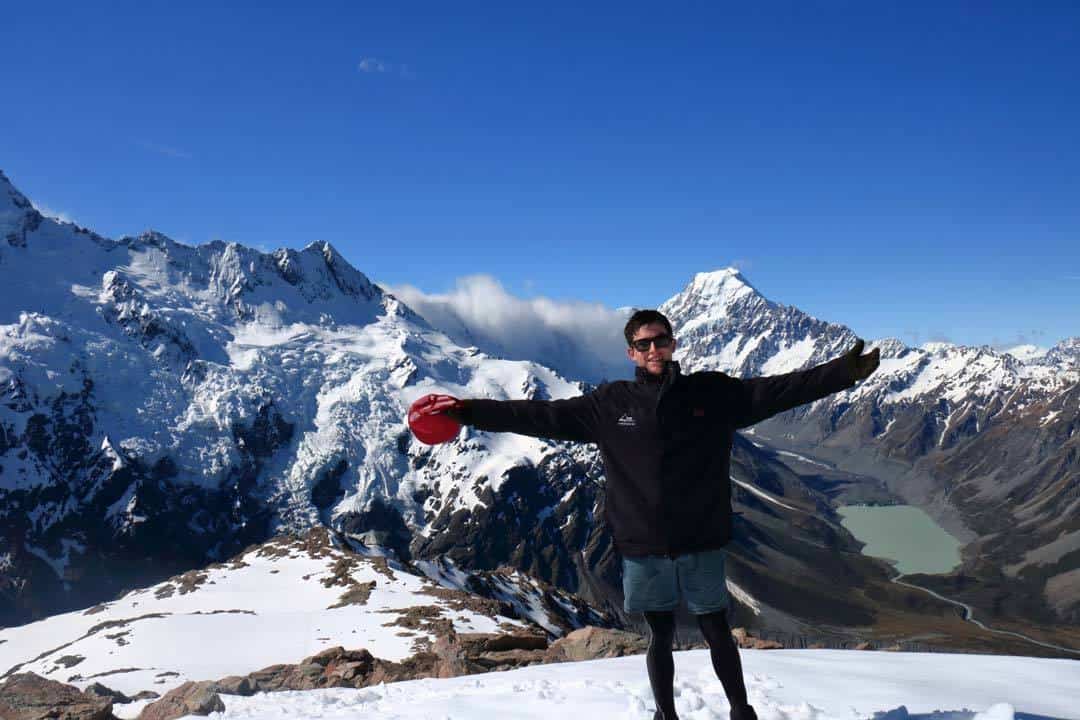 Food & Wine
If it's not skiing and snowboarding, its wine to enjoy in New Zealand's South Island in winter. New Zealand has some of the most famous vineyards in the Southern Hemisphere and the wine itself is just so delicious!
So the hard part is choosing where you want to go wine tasting.
Winter on the South Island brings things down a few notches in terms of crowds so if you enjoy a quite wine, there are plenty of places to choose from so I have listed the best wine regions on the South Island.
Wine
Malborough Region
Within range of Abel Tasman National Park, a mecca for hiking and kayaking comes the stunning Malborough wine region.
The Malborough region is not only one of the most famous wine regions in New Zealand but probably in the world and in close proximity to Christchurch and Wellington. One thing that wont let you down is choice of which cellar and vineyard to go to.
The Malborough region has over 600 individual growers who mostly grow Sauvignon Blanc grapes with various other grapes grown to give a plethora of options to keep you tasting all day long.
Like most regions in New Zealand, the Malborough region offers some of the finest foods and most of it can be eaten at cellar doors accompanying the vineyards. Book a full day wine tour to experience the best of the region!
Kawarau Gorge
From the slopes of The Remarkables ragged yet beautiful Kawarau Gorge is a wine drinkers paradise. I cannot think of a more beautiful place on the South Island to go wine tasting.
One moment you can be shredding the slopes of the Southern Alps and the next you could be bundled up next to a fire drinking some of New Zealand's most precious wines.
Kawarua Gorge is a short 30 minute drive from the centre of Queenstown heading towards Cromwell and Wanaka.
Food
The South Island of New Zealand is literally a place for foodies from vegetarian to everything in between. The further you sway from the cities, the better the produce gets.
Having travelled to New Zealand four times, I have had a pretty good chance to sample some of the finer foods on offer ranging from market food to restaurant food and here are the best places to getting the most salivating food on the South Island.
Motueka
The climate in Motueka and surrounds is just unreal considering where it is situated. Motueka is right at the tip of the Southern Alps and right next to Tasman Bay.
Motueka recieves just the perfect amount of rain and sunshine making it one of the best places to grow fruit, vegetables, dairy and a supply of seafoods.
To truly sample Motueka's finest produce the Motueka Sunday Markets offer an array of locally grown foods, wines and treats.
Central Otago
The Central Otago region is a haven for food at the complete opposite end of the island compared to Motueka. There really is no specific town in fact it's the whole area that produces a large amount of New Zealand's fruit supply with cherries, apricots, peaches, apples to name one or two.
It can get quite cold in the Otago especially on a winters day and the perfect fix is a gorgeous pie from one of the oldest bakeries in New Zealand, Jimmie's Pies located in Roxburgh. The top choice is an organic apricot and chicken pie, yum!
Akaroa
It's really hard to believe, but Akaroa is only a 3 hour flight from my home in Sydney, Australia and I am in foodie heaven! Akaroa is more than just being a very chilled out place for surfing, stand up paddle boarding and hiking, food is a big thing here for such a small place.
Akaroa is heavily influenced by France due to an early attempt at French settlement upon its shores with no success leaving traces of French history amongst this special town.
Along Akaroa's main street, there are so many places that all have a very French feel to them with bakeries, cafes and restaurants dotted everywhere you see.
Seafood on the Banks Peninsula is also some of the best on the South Island and can generally be sampled at local pubs or supermarkets.
If you want to get a coffee fix, you'll have zero problems doing so in Akaroa as the smell of roasted beans wafts down the main street.
Bluff is the furthest place south you can go on the South Island without driving into the Tasman Sea. Bluff is renowned for itss oysters and to celebrate this delicious cuisine, a festival is held at the start of winter.
The Bluff Oyster & Food Festival is one of the best food festivals in New Zealand, so if you happen to be adventuring around The Catlins, Fiordland or Rakiura get to this festival ASAP!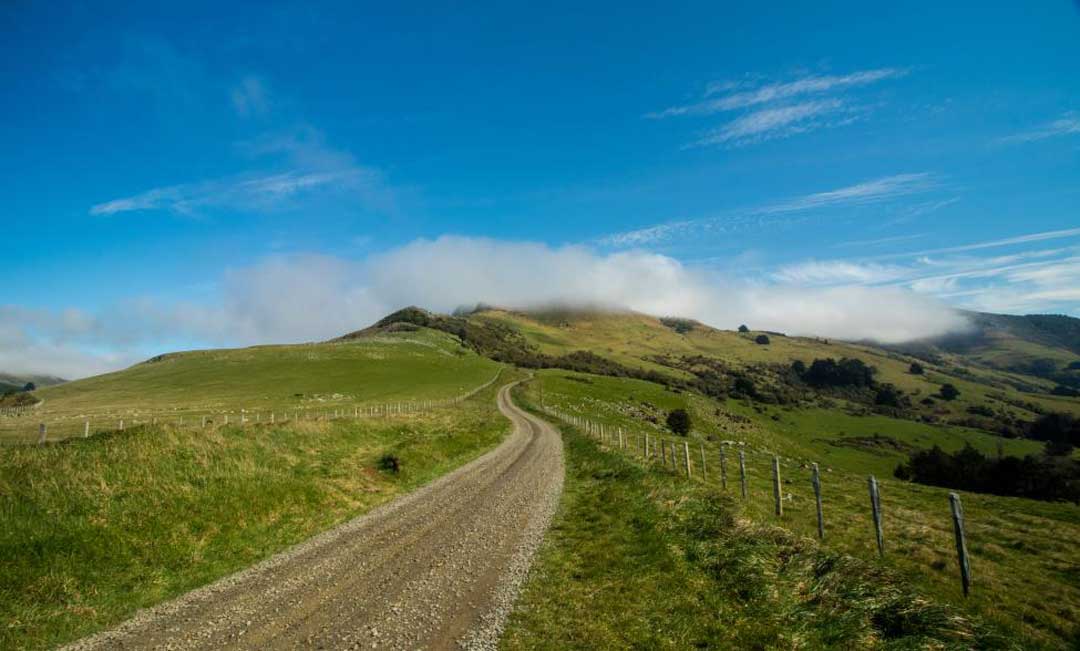 South Island Road Trips in Winter
Winter road trips in New Zealand can be just as fun as summer road trips! Why might you be asking?
New Zealand roads in the winter are so much quieter with fewer buses, cars, and motorhomes making it easier for you to get from one place to another, apart from Queenstown where it is busy all year round.
Depending on which New Zealand airport you fly into, there will be many choices on where to go and what to see.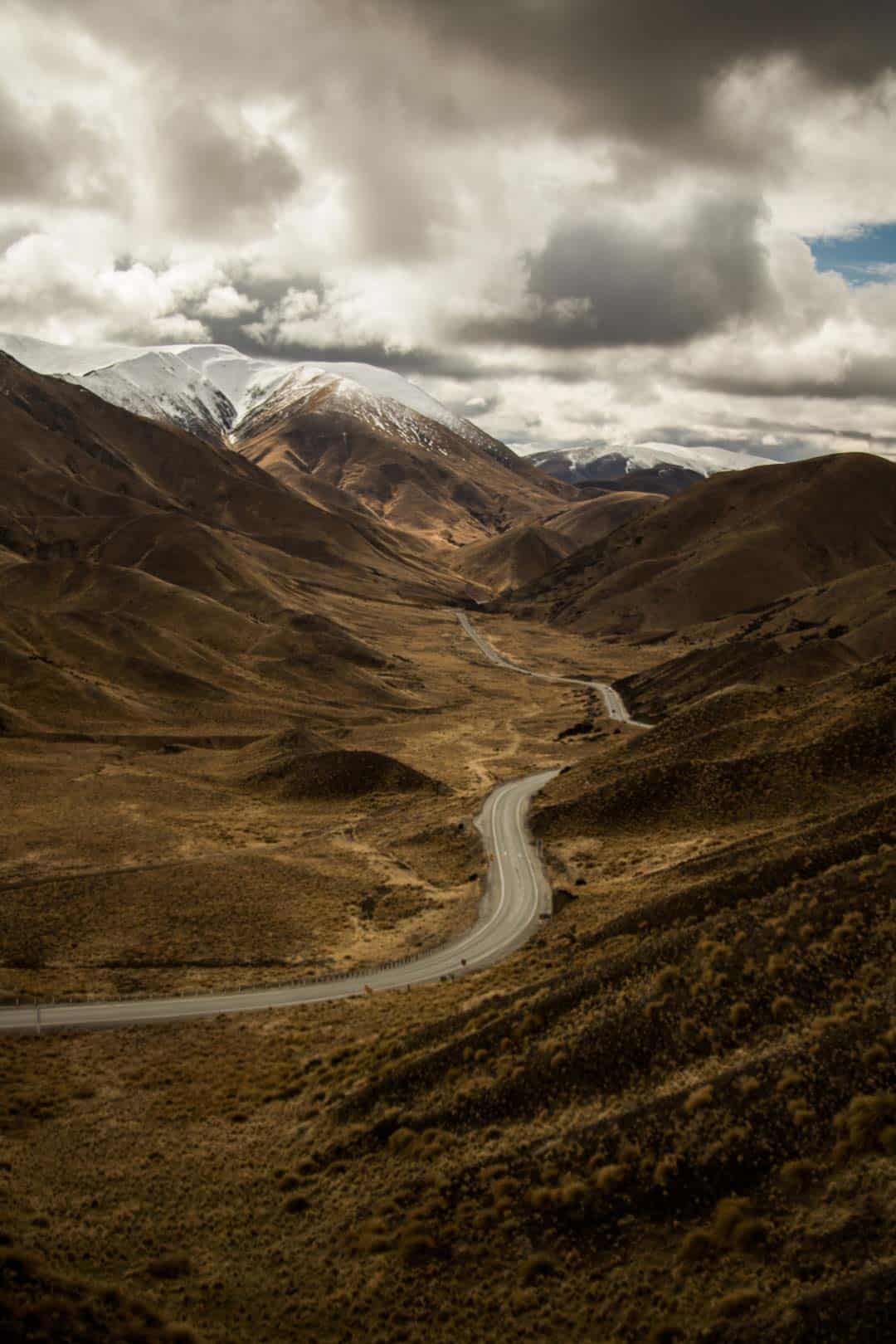 Road Trips from Queenstown
From Queenstown there are just so many options on where to go so for the start of your road trip, base yourself in Queenstown for the first 4 days. This will give you an opportunity to explore Milford Sound, Glenorchy, Central Otago and even the Catlins.
After Queenstown, head to Wanaka via Arrowtown and Cardrona over the Crown Pass and make way to Mount Aspiring National Park where Rob Roy Glacier can be hiked to.
Wanaka to Haast is one of the best and most scenic drives in the South Island with multiple locations to stop and visit waterfalls such as Thunder Creek Falls, Roaring Billy Falls and Fantail Falls.
Once you get onto the West Coast, landscapes drastically change as you exit the stunning Southern Alps. There are times where you can catch glimpses of The Tasman Sea and other times you will be driving through endless stretches of road which weaves and winds through lush native forests.
Knights Point Lookout is fantastic for 180 degree views of the rugged West Coast.
Fox and Franz Josef Glacier are one of the main reasons for visitors on the lower West Coast as the Westland Tai Poutini National Park remains to be one of the most rugged, untouched landscapes in New Zealand.
The Southern Alps tower above to over 3,000 metres creating vast slopes and mountains of native forests, glacial rivers and the iconic Fox Glacier and Franz Josef Glacier which is separated by a 30 minute drive meaning both can be visited in one day alone.
Book your visit to both glaciers via helicopter on Get Your Guide.
North of Franz Josef Glacier, the road continues through the sleepy farming towns of Whataroa and Hari Hari followed by the coastal town of Hokitika which is famous for its driftwood and greenstone.
Once you get to Kumara Junction, there are two choices on which road to take. There's Arthur's Pass which is one of the most scenic mountain passes on the South Island.
Or you can continue to drive up the West Coast to Punakaiki and end up in Kahurangi National Park or Abel Tasman National Park. So we have two options so here are both!
Arthur's Pass connects the West Coast to Canterbury via the strange but beautiful town of Otira, where theres a pub there with a really big statue of Gandalf and a dragon.
Otira onwards, you start the drive along the banks of the Otira River to the Otira Viaduct Lookout which is seriously an impressive piece of engineering given its location.
Kea are quite common around the town of Arthur's Pass especially at Devils Punchbowl Waterfall so be sure to go on the short hike which leads from the nearby town, but don't let your fingers get near them as they pack a punch with their beak!
The rest of the drive takes you past Craigieburn Forest Park where snowcapped peaks are everywhere you look followed by Castle Hill is actually a scene from The Chronicles of Narnia. From Springfield, the drive to Christchurch takes about 1 hour.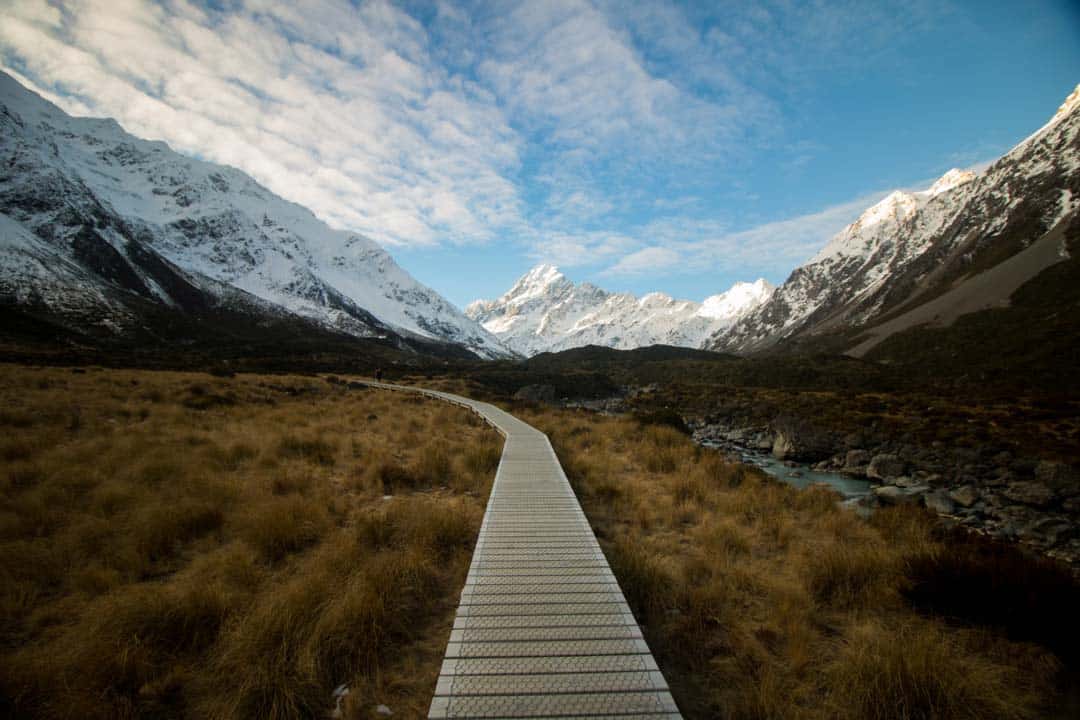 Flying into Christchurch
Flying into Christchurch certainly has its benefits if you are a beach kind of person and even if you love the mountains, everything is so close to Christchurch in fact you can see snowcapped peaks from many streets of Christchurch.
Deciding which way to go can be quite a dilemma, but not to worry, I have it all sorted. Get your engine started and cruise on to the mountain town of Methven which is in close proximity to Mt Hutt Ski Resort.
Keeping the mountain theme alive it's time to head to Aoraki Mount Cook via Lake Tekapo which is famous for its lakeside church, you'll find out why when you see some of the shots taken there.
The drive to Aoraki Mount Cook Village is roughly 2 hours via the edge of Lake Pukaki which is one of the most stunning drives when the weather is clear.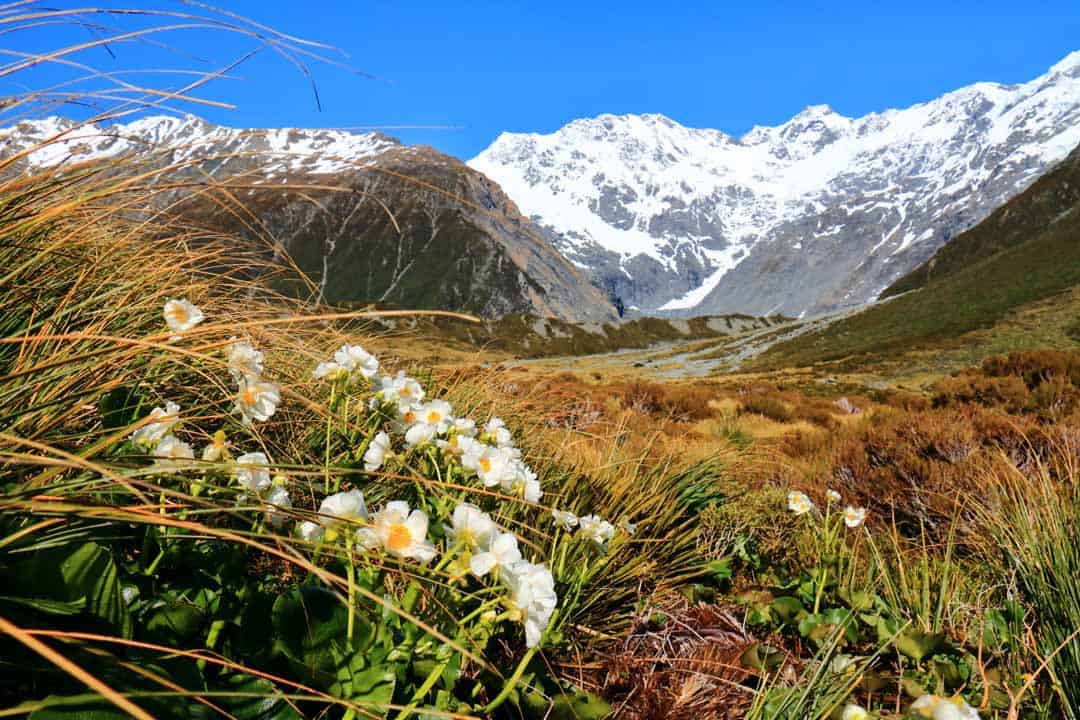 Once in Mount Cook Village, there are a multitude of walks and treks to undertake such as the Hooker Valley Walk, Tasman Glacier Walk and the Sealy Tarns Lookout walk.
Onwards to Twizel and the stunning landscape of Lindis Pass brings you to Tarras, Cromwell and onto Alexandra. To experience Central Otago, take highway 8 along the Clutha River.
Dunedin is one of the most unique cities in New Zealand in terms of its heritage and architecture and its close proximity to the Otago Peninsula which is just magical. I would highly advise doing the Sandymount Reserve hike for stunning views over the hills and coastlines of the Otago Peninsula.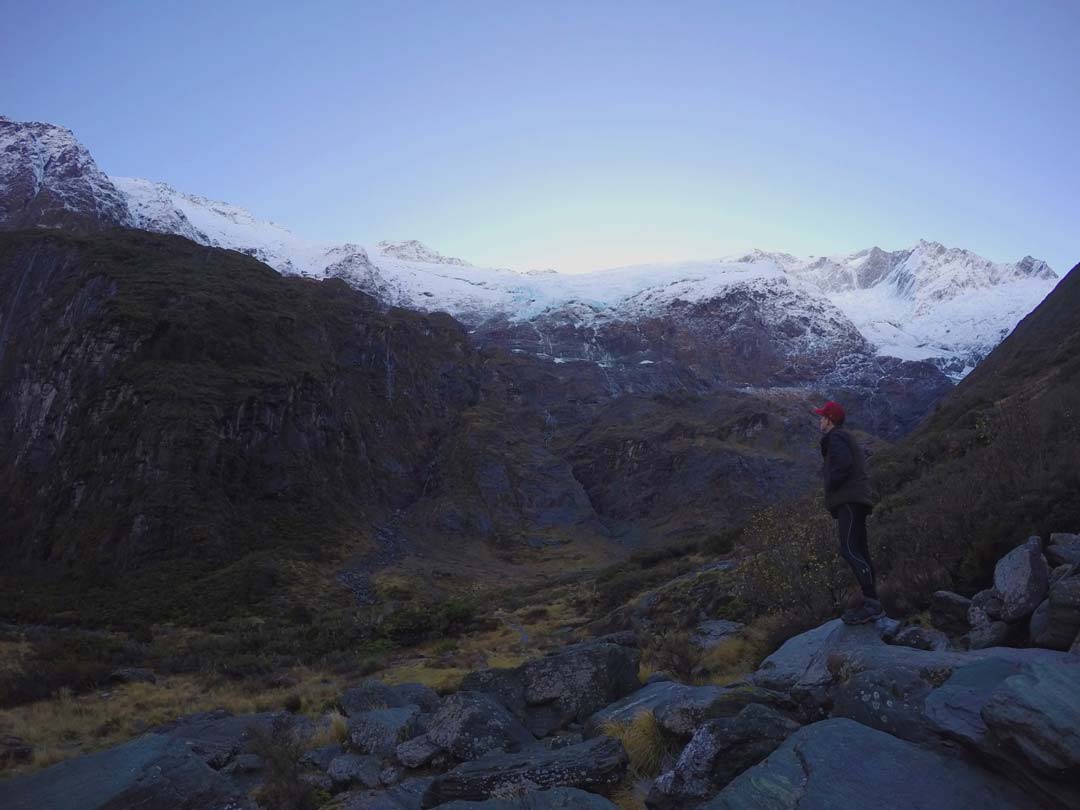 The Northern Winter Road Trip Option
Another fantastic option if you are based in Christchurch is the road north. Kaikoura is 2 hours north of Christchurch and offers some of the most unique views on the South Island with pristine beaches, seal colonies backed by the Kaikoura Ranges.
Kaikoura presents the opportunity to kayak with wild dolphins, hang out with wild seals or the opportunity to go hiking to Fyfe Mountain or higher in the Kaikoura Ranges.
Further north is Blenheim which is a gorgeous wine region just inland from the Cook Strait. Blenheim is the gateway to the Malbourough wine region where 148 wineries are based in the Wairau Valley, so there's always a pretty good chance you will find a drop that you prefer while in Blenheim.
Picton lies just beyond Blenheim to the north and is known to most as the port town which ferries you from island to island however there are a few things that you can do in Picton other than jumping on a ferry and fleeing north.
Picton is the best way to exploring the Queen Charlotte Sound and the hike known as the Queen Charlotte Track which can be hiked at this time of year due to the much calmer weather conditions at the top of the South Island. The Queen Charlotte Track begins at Ship Cove.
Picton to Nelson is about 1.5 hours drive through a few mountainous and forested areas. Nelson is a charming seaside town definitely worth at least 2 days to explore.
Nelson onwards you can opt to drive to Motueka and on to Marahua which is the best place to rent a kayak or start the Abel Tasman Coastal Track. Highway 60 heads straight up to Collingwood where Golden Bay and Cape Farewell can be explored from.
You could even take the ferry over to the North Island of New Zealand and continue your road trip north if you have time!
Best Winter Towns in New Zealand's South Island
Winter in the South Island, New Zealand generally means many small towns slow down. So there are fewer crowds, better parking, and cheaper accommodation.
There's just something about New Zealand towns in the winter especially those that have stunning mountain backdrops. Here's a list of the best towns to visit during winter in New Zealand.
Arrowtown
Not far from the hustle of Queenstown and a 20-minute drive from Coronet Peak, Arrowtown is perfect for escaping the sometimes crazy Queenstown, and you can do so by heading in for a delicious lunch or late afternoon drink at places like the Fork and Tap or the array of bakeries that Arrowtown has.
Arrowtown's rich history with gold makes this town a worth while visit with an eerie backdrop of conifers and snowcapped peaks.
Fox Glacier Township
Fox possibly has the best backdrop in the whole of New Zealand with lush forest covered mountains only a short flight from the peaks of Mount Tasman and Aoraki Mount Cook.
Fox is a smaller, quieter version of Franz Josef and potentially a lot better with a friendly community of locals, cafes and an all round good vibe which is quite a nice place to visit during the winter months.
Glenorchy
Glenorchy in winter, in fact any time of year, gets the award for best town in New Zealand. Glenorchy is just magical and the further you drive along the edges of the Richardson Mountains, the more you are taken away by the never ending scene of mountains, rivers and forests.
Glenorchy basically is the town that no one knows about and its only 1.5 hours out of Queenstown.
Motueka
Motueka is the place to go when you just don't want to be in the cold. Motueka's position on the map gives it perfect weather all year round and the chances of getting frost bite are pretty slim as the warm weather just keeps on keeping on.
Methven
90 minutes from Christchurch is the small ski town of Methven. Although Methven isn't quite situated amongst the mountains, it's pretty damn close with only a 25 minute drive to the slopes of Mt Hutt.
Methven has a knack for naming its pubs after colours with the Brown Pub and the Blue Pub which are often full of skiers and snowboarders after a long day of shredding up on the slopes of Mt Hutt.
If you are heading south to Queenstown or Wanaka via the inland scenic route, Methven will almost guarantee to have a bed for you.
Little Akaloa
If Christchurch doesn't do it for you, why not head out onto the Banks Peninsula to explore some of the little seaside towns such as Little Akaloa and Akaroa only 2 hours drive from the heart of Christchurch.
Little Akaloa doesn't offer much in terms of cafes and restaurants but it does offer quite beaches surrounded by rolling green hills.
It is the perfect place for a peaceful swim among the protected bay.
Oban (Stewart Island)
Oban is quite a distance from the snow-capped peaks of the Southern Alps but sometimes it's ok to change things up. Oban is the main town located on Raikiura (Stewart Island) and is known for being a quite fishing town with only a small population of people living there.
It is one of the furthest places you can go south which requires crossing the rough Foveaux Straight by ferry but once you are there you'll see why it's a must visit.
Oban is popular for spotting Kiwi's (the bird) and also a great place for spotting the Aurora Australis (southern lights).
Best Short Winter Hikes
A lot of huts during the winter months become inaccessible unless you are equipped with the right gear to access them such as crampons.
Hiking in winter is common in the South Island and can be quite breathtaking with fresh coatings of snow among rugged peaks.
Many of New Zealand's National Parks at least have 1 or 2 hikes open during the winter. Tracks and trails become less crowded giving you the opportunity to enjoy your surrounds without the hassle of being around other people.
Hooker Valley Glacier Walk
Distance: 8 kilometres
Start / Finish: Whitehorse Campground
Time: 4 to 5 hours return
Difficulty: Easy to moderate
This is the best easy hike you can do in Aoraki Mount Cook National Park without it being too strenuous. This return track takes you to the foothills of the 3,000 metre giant Mount Sefton as it weaves and winds its way along the Hooker River which requires various swing bridge crossings.
At the halfway point of the trail, be rewarded with stunning views of Hooker Glacier Lake, often filled with chunks of ice that has cracked off the Hooker Glacier while Aoraki Mount Cook becomes the centre piece to the landscape.
Kaikoura Peninsula
Distance: 8 kilometres return
Start / Finish: Kaikoura Peninsula Carpark
Time: (various finishing points)
10 minutes to Lookout Point
45 minutes return to Whalers Bay Lookout
1 ¼ hours return to South Bay Lookout
1 ¾ hours return to South Bay
Difficulty: Easy
Kaikoura hosts some of the best views along the east coast of the South Island which for some brings back memories of hiking coastal parts of Ireland.
Views of the Kaikoura Ranges are breathtaking as well as the views right down to Goose Bay and beyond the escarpment of the seabound cliffs to the north. The walk begins at the Seal Colony direct from the carpark.
Lake Matheson
Distance: 5 kilometres
Start / Finish: Café, 5 kilometres west of Fox Glacier township
Time: 1 to 1 ½ hours
Difficulty: Easy
Lake Matheson is possibly the most popular walk on the West Coast of New Zealand and is open all year round. Only taking 1.5 hours, the walk around Lake Matheson is a mix of trails through dense forest with a viewing wharf that often reflects the mountains of Aoraki Mount Cook and Mount Tasman.
Devils Punchbowl
Distance: 5 kilometres return
Start / Finish: Arthur's Pass township
Time: 50 minutes
Difficulty: Easy
This stunning hike is located at the bottom of Arthur's Pass and is a spot where Kea are commonly spotted frolicking around. Devils Punchbowl is an impressive 131 waterfall that consists of a shear drop into the abyss below.
Castle Hill / Kura Tawhiti
Distance – No set distance
Start/ Finish – Castle Hill 55km east of Arthur's Pass
Time – at own pace
Difficulty – Easy to moderate
If you are driving from the West Coast to Christchurch via Arthur's Pass, there's a good chance you will notice a hill covered in a multitude of rock formations that are famous for being a set on The Chronicles of Narnia movie.
The rocks are extremely weathered due to them being composed of limestone. There is no set walking track so feel free to go at your own pace or wander where you like.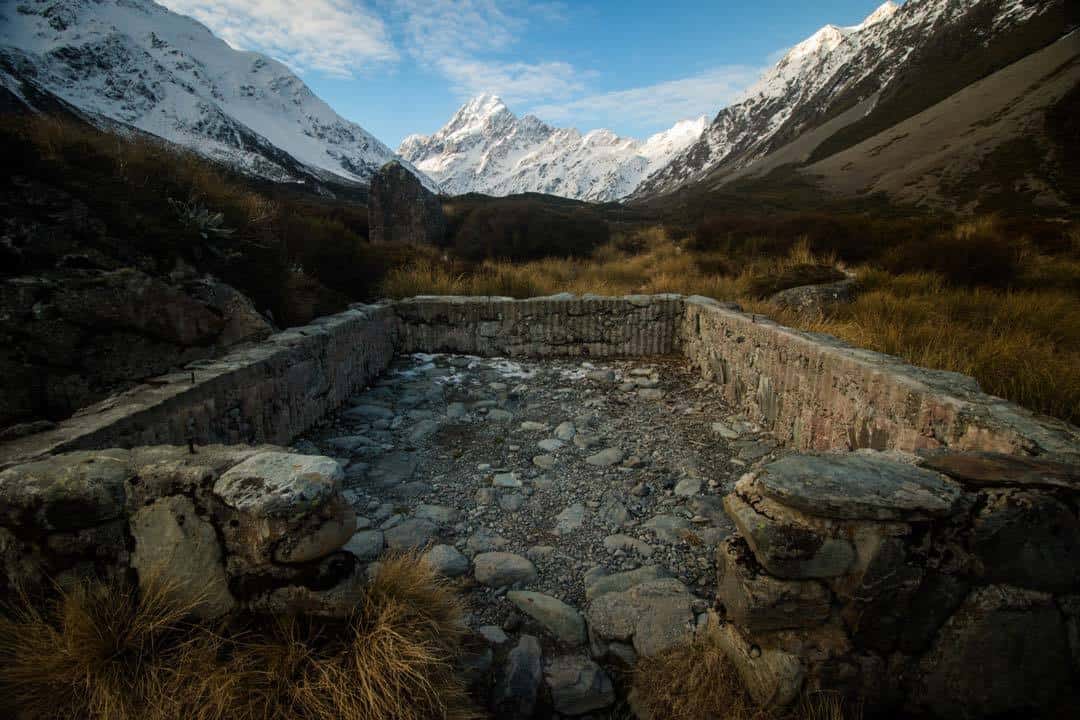 What else is on in the South Island during Winter?
The Queenstown Winter Festival is a whole lot of freezing cold fun and as you probably guessed, based in the adventure and adrenaline capital of New Zealand, Queenstown.
Events held at the winter festival can be fairly crazy with daring swims in Lake Wakatipu, dog sled races on Coronet Peak to music being played live on a stadium with the Remarkables as a backdrop.
Hot Pools fed from natural springs are also so relaxing in Winter. Onsen Hot Pools near Queenstown, Tekapo Springs Hot Pools near Lake Tekapo, and Hanmer Springs Thermal Pools near Hanmer Springs are some of the top hot pools to visit for a nice soak after adventure activities in the winter.
Stargazing can be an all year round thing but during winter, night skies tend to be a lot clearer making it perfect for stargazing and astrophotography.
One of the best locations to go stargazing is Aoraki Mount Cook National Park as it is situated in a Dark Sky Reserve where there are strict limitations to infrastructure causing light pollution.
It's a very big reserve coming in at 4,300 square kilometres so there will be no shortage of places to stop and enjoy the amazing Milky Way.
I hope you enjoyed my guide to exploring New Zealand's South Island in winter. Did I miss anything? Have any feedback? Leave a comment below and let me know.