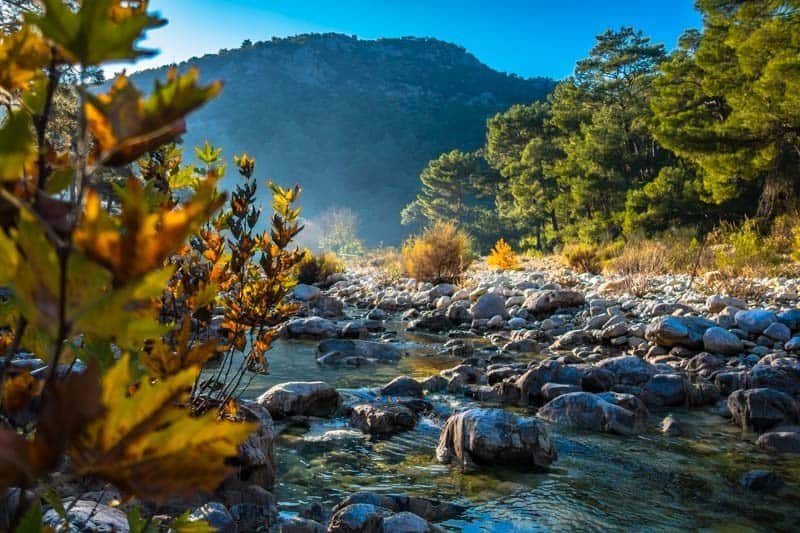 Another year was quickly coming to an end, and I found myself staring at a map and a calendar, trying to figure out where to place myself for a predicted evening of unrivalled festivities. For the first time in seven years I would be riding solo for the holiday season.
Alesha and I had made the decision to spend some time apart, and that left me up to my own devices. Drawing an imaginary line from my hostel in Kutasi, Georgia, I read out dates and placed my fingers in random towns across Turkey and the Balkans, forging my possible trajectory towards 2016.
Istanbul, Sofia, Bucharest, Skopje, Athens; these cities seemed as exotic to me as anywhere I had previously been. The choices of where could I be for New Years Eve was overwhelming, and I eventually turned to the powers of social media to help make my mind up.
I threw out the question to a selection of well-travelled and well-partied friends, hoping to have someone make the decision for me. It worked.
"If you're going to be anywhere in Turkey for New Years Eve, make sure it's Olympos."
It was a definite and solid answer from Bridgy, a good friend of mine from years back, whom I wholeheartedly trusted to send me in the right direction. He should know too – he worked as a tour guide in Turkey for years, and he liked to party. So without anything else to say on the matter, I knew I was going to Olympos for New Years Eve.
But where the hell is Olympos??
A quick bit of Google-powered research led me to the jubilant realisation that Olympos was known as a bit of a Mediterranean hippie hangout, with ancient Roman ruins, a wide sandy beach, rock climbing and a curious eternal flame, all surrounded by dense deciduous forest. It also was famous its tree house accommodation. I was sold!
By coincidence my good buddy Will from The Broke Backpacker was heading in my direction, on his own cross-continent overlanding adventure. We made plans to meet in Bulgaria and travel through to Olympos for the beginning of 2016. Our hope was to find a nature-inspired adventure, something that spending time in a city is hard to accomplish.
It had been some time since I had had an introspective awakening, and I hoped this jaunt would be just what I needed. We spent Christmas in Sofia at the happening Hostel Mostel (which incidentally is a kickass place), drinking wine with a raucous assembly of travellers.
When our plans for Olympos came up, our duo doubled in size (as these things tend to do when travelling) and soon our new quartet was drifting southwest towards the bottom of Turkey. Accompanying Will and I would now be a young Australian girl named Lilia, and an ex-British Marine by the name of Lord Disney. I shit you not. That is his real name. I couldn't make it up if I tried.
Keen to arrive in our hippie village and secure our accommodation, I separated from the group a day early and committed to a mammoth mission from Plovdiv in Bulgaria. 26 hours and four buses later I was finally in Olympos and its fabled sky-high accommodation, passing through Istanbul and Antalya on the way. I had read an Antalya travel guide and the place seemed quite cool, so I knew I would return in the new year.
I jumped out of the shuttle bus outside of Kadir's Treehouses and wandered in. A hand-painted sign greeted me, declaring, "I came, I saw, and stayed, and stayed, and stayed!" I looked around and noticed a collection of Turkish millennials splashing colours across planks of timber. Every wall, chair and table was adorned in tasteful graffiti. Clearly art was an important feature of Kadir's, and people tended to get "stuck" here. It's these kinds of places that I tend to fall in love with.
The affable manager, Gokhan, met me and gave a personal tour of the property, enthusiastically claiming there would be over a thousand people attending the celebrations on New Years Eve. With around 130 bungalows, treehouses and dorms, a restaurant, two bars and a fire pit, it was well set up to host scores of revellers. But this far out of summer, the place was almost empty – excluding the handful of artists and staff sprawled out.
I wandered the one-road village, explored its few supermarkets and stopped to watch some foreign climbers tackle bolted routes above the dried-out river. The town was all but deserted, with accommodations closed for the season and restaurants shut. I could see how in summer this place would be cranking. I reached the Roman ruins and turned around, back to Kadir's where the only people I had encountered, climbers excluded, were hanging out. The first evening went by in a hazed flurry of dinner, drinks and music by the fire with new friends, and saw us retiring close to sunrise.
Waking to a rainy day, it was all too easy to slip into a hungover state of laziness. Lord Disney had arrived late in the evening, and we spent most of the day perfecting the art of doing not much.
Will arrived late on the 30th, with his brother Alex in tow and accompanied by Lilia. The following morning we made plans for how the evening would play out. Kadir's was still more-or-less empty, and we had little hope that this massive party would eventuate. In the early afternoon we started drinking rum, and found ourselves in the only other hostel open at the end of the village. Beers, wine and more rum flowed, and our buzz was well and truly underway. As dusk turned to twilight, Will, Alex and I swore to stick to our original plan of nature-based escapades.
Kadir's hosts a large buffet dinner included with your stay, and we made it back just in time for it. Now the numbers in the restaurant counted about fifty, but was still well shy of the 1000 or so Gokhan had promised. It appeared that besides a long-term Spanish couple, we were the only non-Turks in the place. Even though the vibe was jovial, we decided to pack our alcohol and head towards the beach in our quest for nature, and perhaps another party.
The evening temperatures were dropping rapidly, and we found ourselves wandering the ancient Roman ruins trying to find shelter from the wind. We pushed on nearer to the beach but the mercury continued to drop. At this point Lord Disney and Lilia decided to return to Kadir's in search of warmth. Our remaining trio knew a fire had to be made, but we needed supplies and more suitable clothes. Alone in the dark, we trekked back towards Olympos.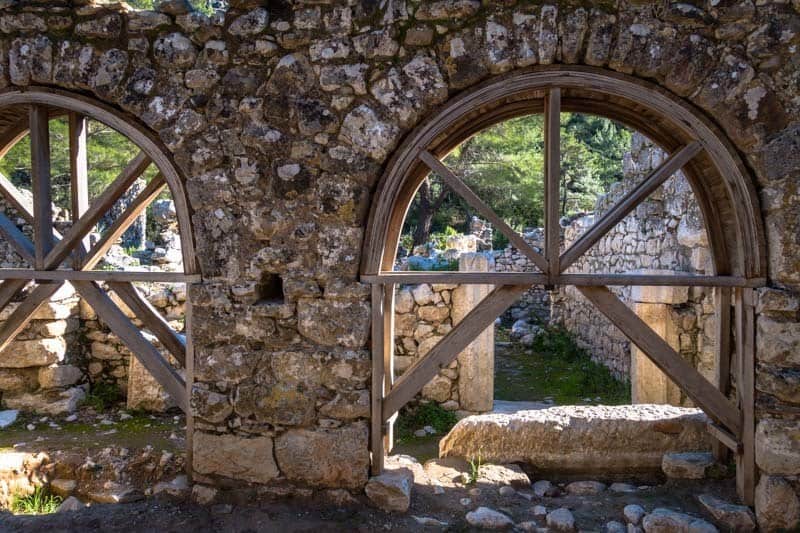 The village was lively, but far from pumping. We decided that the fire could wait, and we began to climb high into the forest above Olympos. The drifting waves of Turkish techno dissipated between the branches and soon we were in total silence. The higher we climbed the more in tune our senses became. The crack of twigs beneath our feet, the wafting fragrance of pine leaves, the shapes and figures of every individual tree coming to life as our eyes adjusted to the darkness; each sensation was heightened as we trudged determinedly towards an unseen summit.
At some point we realised the precarious position we were putting ourselves in, with no lights or protective gear to guide us as we clambered over jagged boulders. We found a flat stone to lie on, and instead made base and discussed with excitement what the New Year held for the three of us. Will declared with gusto that 2016 would be "our year", and in our confident sense of drunkenness we felt the same way.
Suddenly, as can only be described of fireworks, a kaleidoscope of rainbow flares scattered across the tinted sky. Faint cheers of joy echoed up the valley as people far below us celebrated the end of 2015. We had lost track of time and subsequently missed the countdown. But for us it did not matter. Perched on our high rock surrounded by the soothing yet wild nature, we were exactly where we wanted to be.
Once motivation had returned we scrambled back down the mountain and onto the dried riverbed. We remembered our plan of building a fire and returned to Kadir's to gather equipment. Just after midnight there was a noticeable increase in attendees, but no impressive numbers as we had expected. Sneaking into our room we packed our bags, grabbed some food and water, and got ready to depart once more. We decided to go for a walk to try and find Lord Disney and Lilia, and had no luck. In the restaurant there was perhaps a half-dozen people, but we noticed a stream of curiously dressed partiers wandering upstairs to the bar. In a last bid of hope, we followed. What we encountered was mesmerising.
Every square inch of space was teeming with intoxicated and ecstatic Turkish people, simultaneously foot stomping to "Cotton Eyed Joe". It was like the scene out of Fear and Loathing in Las Vegas, where a hallucinating Thompson walks through a casino bar, confronted with dinosaurs and monsters happily grooving to the throw of dice and cards. At Kadir's there were no monsters, but hundreds of costumed locals dancing and cheering, sporting face masks and glitter paint and frilly hats. Transporting from our solitary post on a rock high in the mountains and into this bedlam was intense.
We did a loop of the bar and instantly became separated. Guys shook my hands and girls danced with me. I was passed a bottle of unknown alcohol and took a heavy swig, much to the elation of the randoms who had passed it to me. I bumped and jived and twisted my way back towards the stairwell where I met up with Will. A conga line bounced past, and Alex was tagged onto the back of it. The party was wonderful, but on a level we were not prepared for. An older man grabbed my arm and started screaming in Turkish. I couldn't tell if he was angry or just drunk. I smiled and pushed past him, making a quick decision to exit. This party was cracking, but in our hearts we knew we had to be back out in nature, as we originally intended.
Lord Disney and Lilia materialised in our room just as we were exiting. They opted to stay and avoid the unnecessary frigidness of a winter's night. A trio once more, we skipped to the beach.
Through the millennia-old ruins and along a marked path we finally reached the river mouth. We climbed some rocks and found that our passage to the beach was blocked by the incoming tide. In our inebriated and freezing states, we found ourselves another ledge to sit on and listened to the splash of the nearby waves. The clouds cleared and we were rewarded with the mystical sight of the infinite Milky Way, stars darting across the canvas and our imaginations delving deeper into the vivid galaxy above. Nothing makes you feel more humble than staring into the night sky, and for what felt like an eternity, none of us uttered a word.
Disturbed by a bone-shivering breeze we hastily exited our exposed stone and delved deeper into the forest. We found ourselves towered by ancient churches and archways, with foreign script carved into glistening marble pillars. Stumbling across a clearing, we gathered fallen branches and kindling, piled stones into a circle and animatedly built our fire. As the flames grew in ferociousness our bodies tenderly warmed. Embers flew and danced into the night, pirouetting along with the wind. We sat hypnotised by the twirling inferno. Having satisfied our mission of building a fire, and having no idea what time it was, we let it extinguish and doused the cinders in water. We began to sober up, and with our energy levels dropping it was time to return to the party.
It was just past 4am when we returned, and thankfully for us the event was closing down. Taking this is a sign that we should do the same, Alex, Will and I went for a final walk into the evening.
For each of us in our own ways, 2015 had been a year of growth and change. We took turns talking about what we had learned, and became enthusiastic when we revealed what we envisioned for 2016. It may just be an arbitrary date that people use as an excuse to make changes in their lives, but for me at least, the end of 2015 came at a particularly welcome time. And with an invisible sun starting to creep towards the horizon, we returned to Kadir's and passed out in our beds.
The first day of the New Year was overcast but bright, and I woke feeling surprisingly rejuvenated. After breakfast I found myself back at the beach, sitting on the sand and staring out at the Mediterranean. I wondered how Alesha's New Year had been. Normally she would be my side, but not today. There was still three more weeks to pass before we would be reunited again. We have achieved a lot together, and 2015 had been both the most rewarding and testing year we had ever experienced.
I stared at the sea, trying to convince myself to take a dip, as I normally do at the start of a New Year. Instead I picked up a book and began to read, something I had not done in almost all of the previous year. I flicked through the pages, alternating between being completely engrossed in my novel and being tremendously deep in personal thought. A few chapters in I started to feel inspired, and picked up a notepad and pen; scribbling down the first story that leapt into my mind. The words flowed effortlessly and I began to get electrified thinking about what Alesha and I would achieve this year together. Inspired – I hadn't felt this in months. Perhaps 2016 was going to be our year…
A big thanks to Kadir's Treehouses in Olympos for hosting us during our stay. All thoughts and ramblings are of course my own.