Our ultimate guide to backpacking in Singapore on a budget.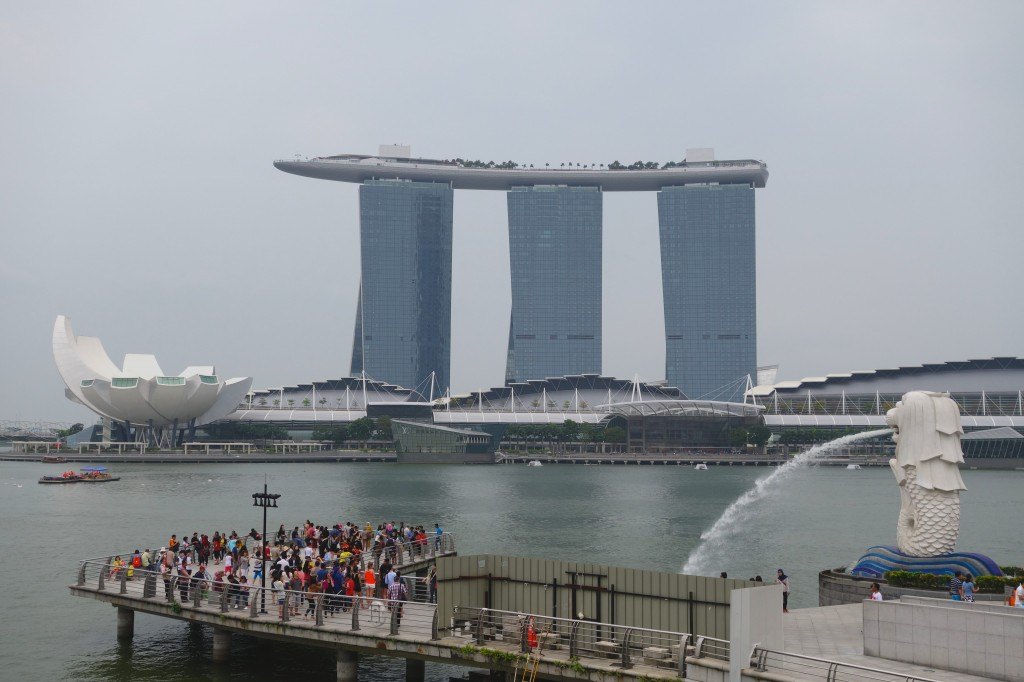 Backpacking In Singapore On A Budget
Singapore, the small island state in Southeast Asia, is renowned for its cleanliness, its food, and its expense.
For someone on a backpackers budget, it can be a difficult place to travel. "Luxury items", such as alcohol and cigarettes are extremely pricey.
But by budgeting carefully, you can easily go backpacking in Singapore on a budget for less than S$50 a day.
Cheap Accommodation In Singapore
Hostels in Singapore are quite expensive, especially when compared to the rest of SE Asia. However a dorm room can be found for as low as $20 a night if you look around.
Another great option for backpacking in Singapore on a budget is to CouchSurf .
For those who are new to the concept, Couchsurfing is a website that connects people who are looking for a place to stay in a local's house, for no monetary gain.
It is definitely worth checking out, not just to save money, but also to connect with amazing people and get insider tips on the cheap places to eat, drink and visit.
Our time Couchsurfing in Singapore was great, as it always is when we Couchsurf, and we can't recommend it enough!
One more option for those who travel with a tent is to register at one of the campgrounds found outside the city. Currently permits are free and you get the added bonus of being out in nature instead of in the city.
If you prefer your own space check out the options on Booking.com or Agoda.com. Or if you would love to stay in a local funky neighbourhood then check out our article on Katong Neighbourhood in Singapore. If you do enough research you can find some awesome deals.
Cheap Food In Singapore
Singapore is famous for its food, and rightly so. There is an amazing fusion of different culinary delights which have developed in this city. And the prices range from reasonable to astronomical.
The best way to eat cheaply when backpacking in Singapore on a budget is to buy at the many hawker centres scattered around the city. You can get delicious noodle and rice based meals from $2 upwards.
In Little India you can buy tasty, authentic Indian dishes for a couple of dollars. Chinatown offers its own large selection of food for a low price.
Of course you could always buy a loaf of bread and some peanut butter to save money, but you would miss out on a great highlight of Singapore!
Cheap Transport In Singapore
The public transport in Singapore is fantastic. You can get just about anywhere via the MRT (metro subway) and bus.
There is a MRT station in the airport to get you downtown. Fares range from $1-2 and the MRT in particular is quite fast.
If you are expecting to do a lot of touring around, you can purchase a tourist ticket for S$10 which allows unlimited travel on the MRT and bus network for the entire day.
If you are going to be backpacking in Singapore for a while it would be worth getting a SMRT pass.
Budget Activities In Singapore
The most famous things to do in Singapore are often quite expensive. The zoo, one of the best in the world, will cost you at least $25 (a lot more if you want to do the night safari or other options out there).
Sentosa Island has attractions like Universal Studios which is a must for some people. But for those backpacking in Singapore on a budget there is also a host of free things to check out.
The botanical gardens are beautiful and you could easily spend hours walking around admiring the gorgeous flora.
Gardens By The Bay is another impressive nature-based attraction that is mostly free. Walking through the different cultural areas of the city, such as Chinatown, Little India and Arab Street will take up an entire day.
There is also hiking in the national parks, museums, art galleries, and plenty of temples to hang out in.
How To Visit The Marina Bay Sands Hotel For Free
To get a great view of the city, go to the top of the Marina Bay Sands hotel. Just tell the hotel you are going up for a drink, take your photos and leave without purchasing any of the overpriced beverages. Make sure to get there before 9pm to avoid a cover charge.