Everything you need to know about how to get the Iran visa on arrival.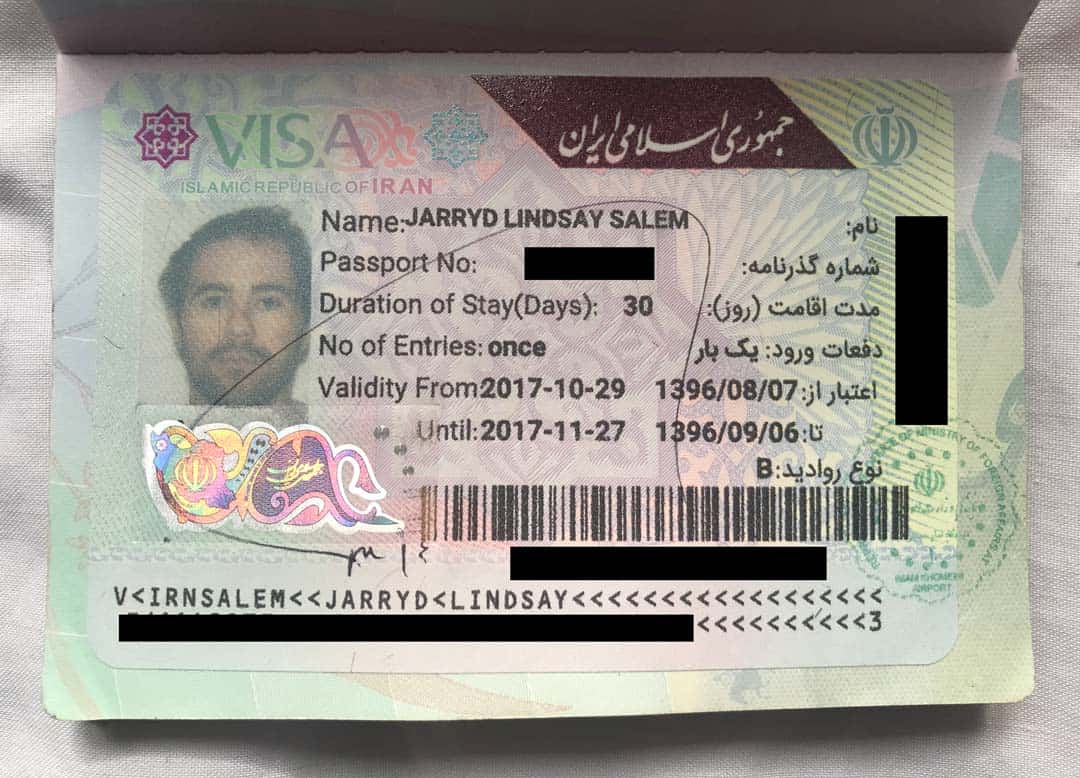 Since 2016 it has been getting easier and easier to apply for an Iran visa on arrival for citizens of most nations. The stunning, diverse and hospitable Middle Eastern country has been growing in popularity for tourists, and the government is now making it simpler for people to visit.
The Iran visa on arrival now makes the process less of a headache, avoiding the tedious 'letter of invitation', authorisation codes and embassy interviews that have been mandatory to acquire a visa for years.
These days it is completely possible for people to book their travels to Iran without much prior preparation.
We visited Iran in November 2017 and managed to collect our visas on arrival with no issues at Tehran airport. Here is our guide on how to get a visa on arrival for Iran.
What You Need To Get An Iran Visa On Arrival
There are a few things you need to have pre-organised in order to successfully apply for a visa on arrival in Iran.
Onwards transport.
Confirmed itinerary, or at the very least your first few nights booked at a licensed hotel.
Medical/travel insurance for Iran.
Besides the main three items above, you may also be asked for the following things to get your visa on arrival for Iran:
Passport photos.
Proof of funds to support your trip.
In our experience the only things we were asked for was proof of travel insurance and the first night's accommodation.
For the travel insurance you need to have "Islamic Republic of Iran" specifically outlined on your policy. We are with 1Cover, and had them email a new copy of our insurance policy that said, 'Countries Covered: Islamic Republic of Iran".
If yours just says 'Worldwide', 'Middle East', 'Asia' or something similar it won't be accepted and you will be forced to purchase insurance at the airport for 18 Euro.
Note – Check with your travel insurance to see if Iran is covered. Our friends who we travelled with normally use World Nomads, but World Nomads refused to cover travel to Iran based on government advisories.
For our confirmed itinerary we booked our first few nights at Iran Cozy Hostel, and they emailed us a letter (in English and Persian) saying we were confirmed to stay there. This was adequate when asked by the visa officer.
We weren't asked for our proof of onward transport, passport photos or proof of funds, but it's worth having these on you anyway.
Have them printed, not just saved on your phone.
The E-Visa For Iran
According to some sources it is 'mandatory' to complete an e-visa application before flying into Tehran. It takes at least 48 hours to be approved, and then you print off the form and show this to the visa officer.
We did not do our e-visa, and had no problems. The officer did ask if we already had it, and when we said no he just asked us to get in line.
Supposedly if you already have your e-visa it can speed up the process, so it doesn't hurt completing the form – but don't stress if you forget like us.
Click here to go to the Iran e-visa application website.
The Process To Apply For Your Iran Visa On Arrival In Tehran Airport
Once you get off the flight you will walk down the hallway and come across the visa section directly in front of you in the main hall.
Walk up to the officer (there was one standing outside the window) and wait behind the ropes. You will be asked where you are from, whether you already have your visa or if you have an e-visa. Answer his or or her questions with a smile. For us we had none of these, and said we wanted a visa on arrival.
You will be handed a small form to complete basic information (names, passport number, address in Iran, occupation etc) and another piece of paper with your visa cost. For us it was only necessary to complete one person's details on the form for both travellers.
Once you have this walk to the next window with the sign saying 'bank' on it. Wait in line and when it comes to your turn hand over the form and piece of paper with the price on it.
Pay your visa fee in cash (Euros or USD only, but the fees were quoted in Euro) then collect your receipt from the cashier.
Walk back to the original visa window and get in line with all your paperwork. Once you reach the front hand it over along with your passport and the officer will put it on a pile with many other passports before handing it through to the officers behind the window. Now you wait.
When your passport is ready your name will be called out. Head back to the officer and collect your passport, freshly decorated with a shiny Iranian visa.
IMPORTANT – Check the visa carefully for details and dates. If there is an issue (such as only being granted 15 days instead of 30 days) this is the only place you can fix it.
It took us about an hour of waiting to get our passports back, although we saw another person who had been waiting over three hours to get theirs. All you can do is be patient.
With your Iran visa on arrival now secured go through customs (where you will probably be greeted with a very warm "welcome to Iran"), then carry through to collect your bags.
Congratulations, you are now in Iran!
How Much Does The Visa On Arrival For Iran Cost?
For all nationalities eligible to apply for a visa on arrival in Iran, the cost is currently 75 Euros.
The only exception is for Australians. The cost for an Iran visa on arrival for Australian citizens is currently 145 Euros.
I Am From The USA/Canada/UK – Can I Apply For A VOA?
At the moment all passport holders from the USA, Canada and the UK must be accompanied by a licensed guide for all travels in Iran.
This essentially means that unless you hire your own private guide for your entire duration of your visit, you must join an organised tour.
Citizens from these countries may be able to apply for a visa on arrival, as long as they have an authorised letter saying they will be on tour, and their guide is waiting for them in the airport.
However we strongly suggest you have your visa already before travelling to Iran. The man who was waiting over three hours for his visa on arrival when we were in the airport was from the USA, and we can only imagine his delay was due to the officers calling a tour company to confirm he was actually booked on a trip.
IMPORTANT – If you are from the USA, Canada or the UK you must be on an organised, licensed tour to visit Iran, and they will assist with your visa application.
How Many Days Does The Iran Visa On Arrival Last?
Your visa on arrival for Iran now lasts for 30 days, and can be extended for another 30 days at an immigration office around the country.
Extending your visa is actually easier in smaller cities, so avoid Tehran, Esfahan and Mashad and instead look for immigration offices in other destinations.
The Lonely Planet Iran guidebook has good information on where you can extend your visa.
Where Can I Collect My Visa On Arrival In Iran
At the moment you can only apply for your Iran visa on arrival at the following international airports:
Tehran Imam Khomeini Airport
Tehran Mehrabad Airport
Shiraz
Esfahan
Mashad
Tabriz
You cannot apply for a visa on arrival at land borders, so if you're planning on overlanding into Iran you'll need to get your visa before visiting.
IMPORTANT – Check the latest information from the Iranian embassy in your home country to see if things have changed.
And that's it for our guide on how to get an Iran visa on arrival. Leave a comment below if you have found this article useful, or if you have any personal experience of your own. Happy travels!