Everything you need to know about the World Nomad Games in Kyrgyzstan – and where the next one will be held…
Dissecting lands that have transformed the shape of the modern world, the mountainous nation of Kyrgyzstan is steeped in centuries of history.
[box]UPDATE! If you're wondering when and where the next World Nomad Games will be held, we have some news for you. According to reports from our insiders, the next World Nomad Games will be in Antalya, Turkey, in 2020.[/box]
The Silk Road meandered through the peak-enveloped valleys and nomadic cultures thrived in the fertile lands. The empires of Ghengis Khan, Tamerlane and Alexander The Great wove their crusades across the plains, decimating villages as they went.
Through Soviet empires the landlocked country was oppressed in bitter control, freedom was limited and democracy failed.
The people of Kyrgyzstan have watched the sands of time blow across their beautiful land.
Today the country is facing a brighter future and the people of Kyrgyzstan are excited to see what lies around the corner for them. But with prosperity and diversity on the horizon, no one has forgotten the importance of their culture and history.
[box] Want an epic Kyrgyzstan experience? Check out our adventure and photography tours happening in August 2019! Only a few places left. Join now![/box]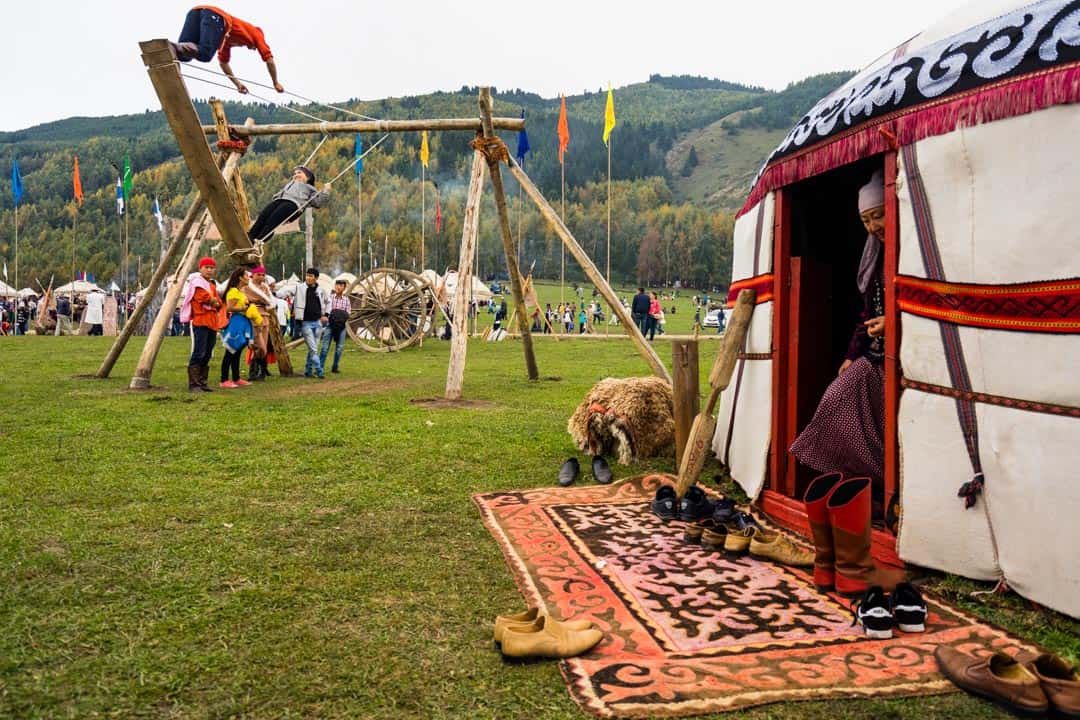 The World Nomad Games is a new event that has brought the personality of the Kyrgyz people to the forefront of the world's media. Nomadic sports, intelligence games, displays of strength and pure showmanship are all showcased in a festival that has been dubbed the "Olympics for nomads".
In 2014 the first World Nomad Games was held in Cholpon Ata on the shores of Issyk Kul, the second largest saline lake in the world. Kyrgyzstan gathered the world's attention and the success of the event was immense.
Two years later the second World Nomad Games was held once again in Cholpon Ata, attracting 1200 competitors from over 62 nations and being broadcasted around the world to over 800 million viewers.
From the 3rd to the 8th of September 2016 all eyes were on Kyrgyzstan, and we were among the lucky ones to be present.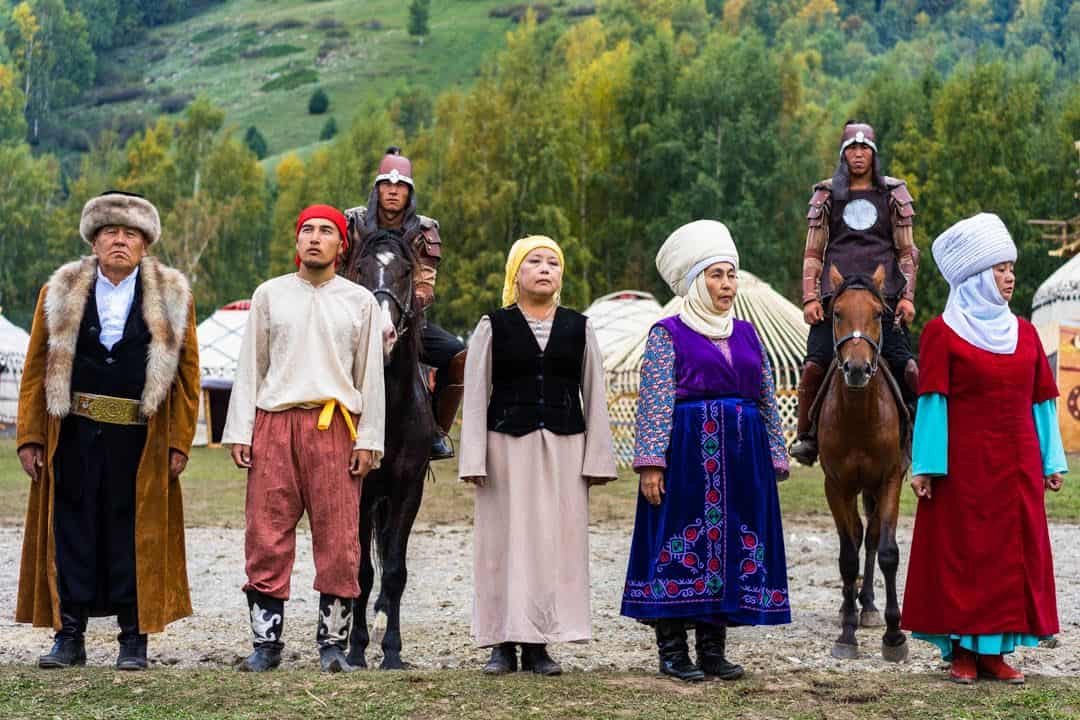 The sports were spread out over multiple venues. The horse events and wrestling being held at the main stadiums in Cholpon Ata, the cultural showcases, eagle and dog sports being at an ethno-village established in Kyrchyn Gorge and the intelligence games were located in other various hotels and resorts around Issyk Kul.
Right from the Opening Ceremony, a spectacle attended by elite VIPs such as the president of Kyrgyzstan and Hollywood star Steven Seagal, it was obvious that nothing would be done in halves.
Fireworks, horseback choreography, and insights into the local culture were displayed in impeccable performances. The crowd present were glued to their seats, enthralled with the festivities.
The next few days unfolded in a series of heats all leading to the coveted finals in each discipline. While we mostly enjoyed the atmosphere at Kyrchyn Gorge, witnessing things like Kok Boru, Er Enish and wrestling in Cholpon Ata was a special memory.
The cultural exhibits were colourful and captivating. The physical displays of skill and strength were simply mind blowing. Even the slower games such as Ordo managed to hold our attention for longer than we anticipated.
For five days we bounced between the venues, constantly in awe at what the World Nomad Games represented – resilience and unity in a land of recent turmoil.
The people we met were more than hospitable, welcoming us into their world with open arms. No matter where we went we were greeted with smiles and conversations. It really is the people that make Kyrgyzstan so amazing.
The five days at the festival came and went incredibly fast, and we couldn't believe it was over when we left. The closing ceremony, while not as exciting as the opening ceremony, left us wanting more.
While Kyrgyzstan is more known for its cultural and historic heritage, the mountainous terrain and incredible trekking opportunities, the World Nomad Games helped it establish its reputation as the most progressive and exciting destination in Central Asia.
The Sports And Games
16 different types of sports and intelligence games are played at the World Nomad Games, and each of them is cherished deeply by the local people.
There are 7 varieties of wrestling, including mas-wrestling, 6 involving horses, eagles or dogs and 3 intelligence games. Some are more spectacular to watch than others, but all are worth attending. Here is some information on some of our favourite sports.
Kok Boru
Kok Boru is by far the most outstanding and revered sport at the World Nomad Games. Similar to polo, this game involves two teams competing to throw an object into a round goal at each end of the field. The object: The headless carcass of a goat.
Known as Buzkashi in Afghanistan (the national sport there), Kok Boru is also the most controversial due to the rough use of a dead animal. But this game has been played for centuries, and the goat is awarded to the winning team to be cooked up in a feast, so nothing goes to waste.
Far and away Kok Boru is the most exciting sport there!
Er Enish
While Kok Boru is the most exciting sport, Er Enish is the most brutal.
This is essentially wrestling on horseback. Two warriors fight to throw the other off of their horse in impressive bouts of strength and agility. The skill needed to compete is insane, especially when considering just how tough it must be on man and horse alike.
Warning: This is not one for the faint-hearted.
Cirit
Imagine javelin on horseback and you've got cirit!
This Turkish sport has two teams battling each other, with points given for throwing long spears at your opponent. If you hit them or their horse you receive 4 points. If your opponent catches your javelin mid-throw they receive 3 points.
Alysh
Also known as traditional belt wrestling, Alysh is an exhilarating sport where players must throw their opponent onto the ground by grabbing a hold of the belt around their waist.
There were actually quite a few different disciplines of wrestling at the World Nomad Games, and unless you were a fanatic or paid attention you could be forgiven for getting them mixed up. But it was well worth catching a few different matches.
Salbuurun
Salbuurun is actually made up of various hunting styles, rather than just one sport.
Burkut Saluu is eagle hunting, where the bird of prey must track down and capture a target. Traditionally a live rabbit or fox, but at the World Nomad Games a stuffed animal is used instead.
Dalba Oynotuu is falconry, with the owner calling his bird from across a long field. The fastest time for the bird to reach its owner allows the team to be dubbed the winner.
Taigan Jarysh is dog racing and hunting, using a breed similar to a greyhound.
When Is The Next World Nomad Games?
The next World Nomad Games will be held in Kyrgyzstan in 2018, from September 2nd to the 8th. This will continue to be a bi-annual event.
After speaking to a few of the organisers there we asked where the 2018 World Nomad Games will be exactly located.
While we couldn't get a definite answer, many felt that the next games may actually move to a different region of the country.
Cholpon Ata does have the infrastructure to hold another event, and would be the logical place to hold it, but don't be surprised if the next one is near Osh or in another regional hub.
Tips For Attending The World Nomad Games
The first thing to remember is that the World Nomad Games is held in Central Asia, and as such the organisation is logistics may not be perfect. It is still a developing nation and while tourism is on the rise it is not perfect yet.
That being said having spoken to people who attended the first one in 2014 as well as the latest one in 2016, the improvements have been immense.
Information in English may be hard to find, so utilise the volunteers to help out.
Scheduling can change with no notice, so if you are determined to see a particular sport make sure you get there early, and half expect it to be delayed or cancelled. This is due to many different factors and is out of most people's hands so no point getting frustrated. Patience is a virtue.
Food is cheap and plentiful, but of varying quality. Visit the food vendors and restaurants that have the most locals at them.
Book your accommodation ahead of time (read our section on where to stay below).
Bring a face mask or bandana as it can get dusty with so much action around.
A Russian phrasebook will be hugely advantageous in communicating with locals.
Transport For The World Nomad Games
In theory there are public buses running between the venues, and the best people to speak about this are the volunteers.
Taxis are also readily available throughout the day. Our biggest tip is to agree on a price before you get inside a taxi.
Do expect prices to be slightly higher than you can get in places like Bishkek or Osh, but don't just settle on a blatant rip-off. If you simply jump in and drive away don't be surprised if your bill is more than 10x the normal price. If your Russian is pretty good you will probably get a better deal.
A great person to talk to is Aigul at Apple Hostel to see if there are any public buses to get around.
Where To Stay In Cholpon Ata
We stayed at the Kapriz Issyk Kul Resort, arguably the best accommodation in Cholpon Ata. This sprawling resort can host hundreds of guests in their bungalows, villas and comfortable hotel rooms.
The resort has a swimming pool, large restaurant, children's playground and a high security setup for anyone concerned at all about that side of things. The food served at Kapriz is quite good, although slightly higher priced than what you can get at restaurants in town
The villas are spacious with enough room for a family or a group of 6 people. Each one has a kitchen, three bedrooms, three bathrooms, living room and laundry. Wifi is available throughout the property.
The best thing about the place is the private beach right on the shore of Issyk Kul. On hot days in summer you can lounge about on beach chairs and swim in the clean (and cold) waters.
It is about 6km out of Cholpon Ata so a taxi is needed to get into town, but if you want comfort and seclusion this is the place.
Alternatively a great option (and better for backpackers or those wanting a social scene as well) is to stay at Apple Hostel.
Run by the affable Aigul, Apple Hostel is the most popular place to stay in the region for anyone on a budget or simply looking to have a good time.
Aigul and her staff can organise any tours and activities you want in the area and will steer you in the right direction for food and parties.
If you go tell her hello from Alesha and Jarryd!
Photos From The World Nomad Games
The World Nomad Games in Kyrgyzstan was one of the most photogenic and interesting events we have ever had the honour of experiencing. Whether you are a photographer or not you can't help but be snapping away at the gorgeous scenery, fascinating sports and beautiful people.
Here are some of our favourite photos from the 2016 World Nomad Games.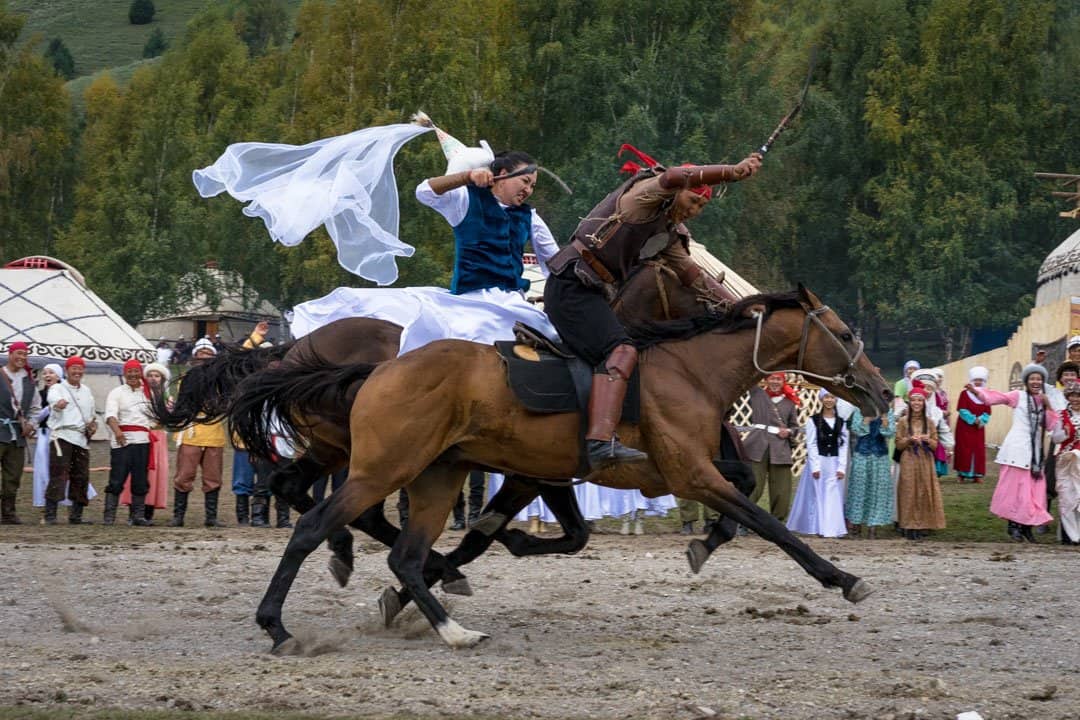 Pin This For Later!