Looking for the best boutique accommodation on Koh Yao Noi? Our Cape Kudu Hotel review will have you booking your stay in no time!
You could spend a lifetime visiting all of Thailand's 1430 tropical islands and still struggle to find a place as picturesque and laidback as Koh Yao Noi.
Situated in the Phang Nga Bay, part of the Andaman Sea and just a short longtail boat ride from Phuket, Koh Yao Noi is a rising jewel in the archipelago.
Coconut trees fringe white sand beaches, limestone karsts rise from the sea in the distance, buffalo wander between bamboo shacks and locals smile and wave in every village.
It's the kind of place you might go for a few days and end up falling in love, quitting your job and relocating permanently.
Having spent almost a year travelling around Thailand we have been lucky enough to experience a lot of incredible destinations in the Land of Smiles, but somehow Koh Yao Noi had eluded us until our most recent trip.
After flying into Phuket from Sydney we immediately left the airport and headed straight to Bang Rong Pier, navigating our way by speed boat to the secluded island just 45 minutes away.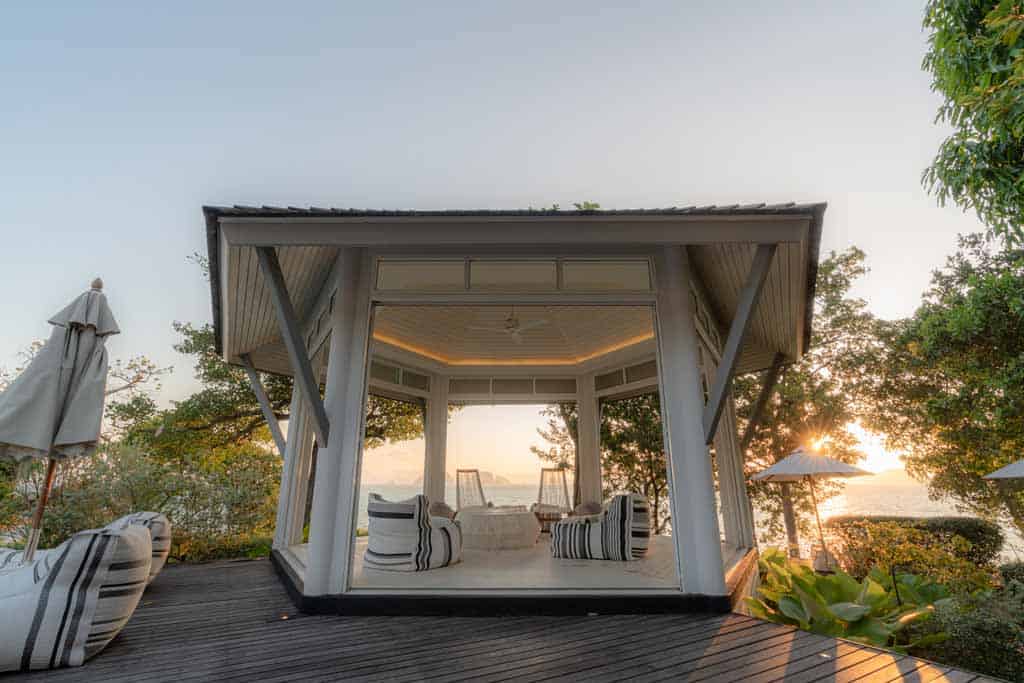 For the next 3 days we'd be exploring the island and its surrounds, all while staying in one of Thailand's best boutique accommodations, Cape Kudu Hotel located on the east side of Koh Yao Noi.
We kept the days busy wit island tours and Vespa rides, but the evenings were spent chilling by the pool and sipping cocktails in what would prove to be one of our all-time favourite Thailand hotels.
Boasting private pools, ocean views, great food and welcoming staff, there was a lot to love about Cape Kudu Hotel Koh Yao Noi, and if you're looking for a fantastic place to stay on the island, you'll be hard-pressed to find anywhere better than right here…
READ MORE: Check out our guide on the best activities in Thailand for couples!
Our Honest Cape Kudu Hotel Review
We've been fortunate enough to stay in countless beautiful hotels all around the world, but there really is something about a boutique accommodation in Thailand that always steals our heart.
Part of the Cape Kantary brand of luxury accommodations, Cape Kudu Hotel on Koh Yao Noi is no exception.
And considering the island is often skipped for more popular destinations such as Koh Phi Phi and Koh Samui, the pleasant surprise we got once we arrived only made us love this place even more.
During our 3 days here we managed to not only explore the island, but also make the most of the amenities, facilities and of course our private villa while we were there.
Wondering if this place really is the best accommodation to stay on Koh Yao Noi? Read on for our detailed Cape Kudu Hotel review…
Arrival and Check-In
The entire Cape Kudu experience began from the moment we arrived to the island.
We disembarked from our private speedboat at the pier and were met by some of the smiling staff from the hotel. They grabbed our backpacks, placed them in the back of the songthaew and asked if we'd like to transfer to the hotel by truck, or by something special.
Of course we couldn't say no to the mysterious offer, and after a quick drive to the main road we pulled up alongside a vintage 1950s Porsche Speedster.
"Here's your ride", the hotel manager Antoine called out. "Jump in!"
We excitedly stepped into the historic sports car, me taking the passenger seat and Alesha perching herself at the rear, with Antoine driving us down the quiet ring road towards Cape Kudu.
The Porsche drew a lot of looks from locals as we navigated the winding streets, and we chatted with Antoine as he pointed out various spots along the route – His favourite restaurants, good bars and picturesque beaches for sunrise and sunset.
Arriving to the hotel we pulled up outside the reception and were greeted by the friendly staff with fresh fruit juice for a welcome drink and cold, wet towels to refresh ourselves.
We sat down in the open-air lobby, enjoying the drinks and marvelling at the limestone karst islands dotting the horizon.
The front desk team at Cape Kudu took care of the entire check-in process, leaving us with nothing to worry about other than sipping on the welcome mocktails, and then transferred our bags directly to our villa.
The Rooms
Cape Kudu Hotel has a number of spectacular room types available, from single condo styles to a luxurious two bedroom villa, and even the standard accommodation (known as the 'Deluxe room') would be considered premium at any other resort.
All rooms come with comfortable facilities such as private outdoor areas, widescreen TVs with plenty of entertainment options (we even had a Google Chromecast in ours), air conditioning, tea and coffee, large bathrooms, safety deposit boxes, free in-room wifi and a minibar.
A step up from the Deluxe room gives you ocean views from your balcony, and above that are the incredible Pool Villas, that have their own private plunge pool.
If the 64 square metres of space in the Pool Villa isn't enough for you, book the Robinson Crusoe villa, which comes with a separate bedroom and a whirlpool bath.
if you're travelling with friends or family, the Baan Yu Yen villa is Cape Kudu Hotel's most luxurious suite, and delivers exquisite comfort and design that was architecturally-crafted to be more like a high-end home than a hotel room.
Priding itself with two private bedrooms, two ensuites, a large open terrace, separate living room, fully-equipped kitchenette and not one but two private swimming pools, this is one of the most spacious, magnificent residences available in the entire Phang Nga bay.
We personally stayed in the Pool Villa, and that's the room we'll focus on for the next part of our review of Cape Kudu Hotel.
Cape Kudu's Private Pool Villa
The outside of the villa is guarded with a larger, faded timber door that opens up to a small, garden courtyard, giving a sense of tranquil privacy before you even step foot inside the accommodation.
Stepping up to to the patio we opened our door and entered the bright, airy interior of the spacious condo.
At the entrance was a long work desk backing onto the plush king-size bed, complete with a pillow menu, with a large glass sliding door opening to a secluded deck.
On the righthand side was the coffee-making station and minibar, leading into the comfortable lounge room.
The separate bathroom was enormous, with a walk-in rain shower and bathtub.
The real highlight though was the personal plunge pool found right at the sliding door from the lounge room.
Shimmering blue amongst the foliage, the pool was completely fenced off from the rest of the hotel grounds, offering quiet privacy.
There was a complimentary Google Chromecast device supplied to us so we could connect our phones or computers to the large TV, but truth be told we never even turned it on.
The room's wifi was blazing fast, the air conditioning cold, and if we weren't so excited to be back exploring Thailand, we could have easily spent the entire duration of our stay sipping drinks by our pool.
The Hornbill Restaurant
The Hornbill Restaurant at Cape Kudu Hotel is a fantastic spot to grab a meal in the evenings, with its open-air design and views out over the limestone islands of Phang Nga Bay adding to the allure.
Breakfast
A large buffet hotel breakfast is served at the Hornbill Restaurant every morning, and the variety of dishes on offer is immense.
Choose from made-to-order eggs, fresh banana roti, a mix of Thai and Western spreads, an abundance of fruit and amazing coffee to go.
Dinner
If you feel like eating great food within the hotel rather than exploring the options around Koh Yao Noi you'll find some of the best meals on the island right here at Hornbill Restaurant.
The freshest seafood you can imagine is served up nightly, as is the standard Thai food (the curries are divine) and a selection of Western cuisine such as steak.
We ate vegetarian here, and are delighted to say that the meals were fantastic.
If you don't feel like sitting at the restaurant there's always the option of ordering room service too for some private dining.
Long Island Bar
Spoil yourself with one of the amazing cocktails on offer at Long Island Bar, dive into the diverse international wine selection or enjoy a local or imported beer as the sun sets in the distance.
Once a week the hotel also puts on a free Happy Hour for guests, dishing up their signature cocktails and mocktails. A great time to mingle with other guests or simply relax by the pool.
READ MORE: Don't miss all the amazing things to do on Koh Phi Phi while you're in the area!
Cafe Kantary
Next door to the hotel is Cafe Kantary, serving up what they claim is the best coffee in Koh Yao Noi, divine ice cream and gelatos and a huge array of sweets to mix up the dining options.
Unfortunately we discovered this place late on our last night so can't confirm whether their coffee really is as good as they say, but the ice cream was definitely superb!
The Pool
The crown jewel of Cape Kudu Hotel, if you can manage to leave your stunning villa, is without a doubt the sprawling infinity pool.
The social epicentre of the hotel, the pool is the place to be on those warm afternoons, lounging on a sun chair with a mojito in hand, idly chatting away to the staff and guests while soaking up the tropical island ambience.
With views straight out over the sea, you'll be forgiven for spending your entire stay right here.
The Facilities
Beyond the villas, pool and restaurant, Cape Kudu Hotel has a number of other facilities available for their guests.
There's the Cape Spa, a beautiful and relaxing space where you can treat yourself to therapeutic treatments and massages from the highly experienced staff.
A compact but fully-equipped gym is available for those who love to keep on top of their fitness when they travel, with treadmills, weights and rowing machines on hand.
The reading room with a pool table, drinks and a library is the place to hang on those rainy days, and the adjacent boutique has all kinds of souvenirs to purchase.
How to Get to Cape Kudu Hotel on Koh Yao Noi
Koh Yao Noi is located between Phuket and Krabi in the Andaman Sea, and making your way to the island from either of these places is very straightforward, with Phuket being the easiest and quickest.
From Phuket you need to head to Bang Rong Pier and take a public speed boat for 300THB to Manoh Pier on Koh Yao Noi. The trip takes about 45 minutes.
From Krabi you need to take a longtail or speedboat via Railay Beach, and then connect to Koh Yao Noi.
Once you're on the island it's a 15-minute taxi ride to the hotel.
Alternatively ask Cape Kudu Hotel Koh Yao Noi to organise your entire transfer from your hotel in Phuket or Krabi to save yourself the hassle.
When at the pier in Phuket make sure you wait in the Hospitality Lounge, where you'll find free snacks, drinks and an air conditioned sitting area.
READ MORE: Check out our experiences at one of Cape & Kantary's other fantastic resorts, our Cape Fahn Hotel Review!
What to Do on Koh Yao Noi?
As tempting as it can be to kick back and relax at Cape Kudu all day, we recommend getting out and exploring Koh Yao Noi and the surrounding islands.
Here are some of our favourite things to do here.
Book an Island Hopping Tour
Koh Yao Noi's location in Phang Nga at the edge of the Andaman Sea means its surrounded by spectacular limestone karst islands that are just waiting to be explored.
Head out for the day on an island hopping tour that goes to some of the most beautiful spots, such as Koh Hong with its breathtaking (literally) viewpoint, secret lagoon and great snorkelling.
We booked through the hotel for the great price of 2500THB (USD$75) for a private day trip, which included a delicious picnic lunch on our own private beach, local driver with his own longtail boat and an English-speaking guide.
If you'd like you can even organise a sunset cruise to add onto your tour.
Rent a Scooter and Ride Around Koh Yao Noi
The island itself isn't big, but you can't really walk everywhere. The best way to check out all the local spots is to rent a scooter and hit the quiet roads.
You'll find endless beaches, quiet fishing villages, rice paddies and lots of places to stop off and grab a bite to eat.
We were lucky enough to take Cape Kudu Hotel's vintage Vespa and sidecar for a few hours after our island hopping tour, and absolutely loved riding around the island in style.
Overall Impressions of Cape Kudu Hotel Koh Yao Noi – 9/10
Cape Kudu Hotel manages to blend a resort-style feel with personal touch, maintaining a sense of boutique quality without compromise.
Each aspect of the hotel has been meticulously thought out, from the way the infinity pool beckons over the sea to how the villas merge rustic chic with designer elements. It's luxury without the pretentiousness.
The restaurant offers delectable meals for even the fussiest eaters, and while not exactly the cheapest food in Thailand, the flavours and attention to detail make up for the price.
We loved our stay at Cape Kudu Hotel, and would happily return again
Our only gripe was that 3 days wasn't enough!
To book a villa at Cape Kudu Hotel you can find them on all major booking aggregators, but the best way to secure a room is to contact them directly.
Email: [email protected]
Phone: +66 (0)76 592 600
Address: 25/54, 25/55 Moo 5, Koh Yao Noi, Koh Yao, Phang Nga 82160
Disclaimer: Our visit to Koh Yao Noi was made possible thanks to our partnership with the Tourism Authority of Thailand. All thoughts, opinions and poolside cocktails consumed are, as always, our own.