Don't miss out on these fascinating things to do in Samarkand, Uzbekistan on your travels to this stunning Silk Road city!
Home to some of the world's most intricate and exquisite architecture, Samarkand in Uzbekistan has been rising in popularity to become a real tourism hotspot.
Famous for its mind-blowing Silk Road buildings, this large city is best known amongst historians for being the base for Timur's empire.
Also known as Tamerlane, Shuja-ud-din Timur was one of the world's greatest conquerors.
READ MORE: Check out our brand new guide with everything you need to know to travel to Uzbekistan!
Once known as Maracada, in the 4th century BC Alexander the Great took over the city on one of his campaigns, and thus started a long history of brutal wars and battles.
During the centuries it was controlled by the Central Asian Turks, the Arabs, the Samanids of Iran and the Khwarezm-Shah dynasty.
In the year 1220 Chinggis Khan stormed Samarkand, destroying it during his conquest across Asia.
It was later on when the Empire of Timur and the Mongols fought for control of the city in 1365 that Tamerlane finally took over.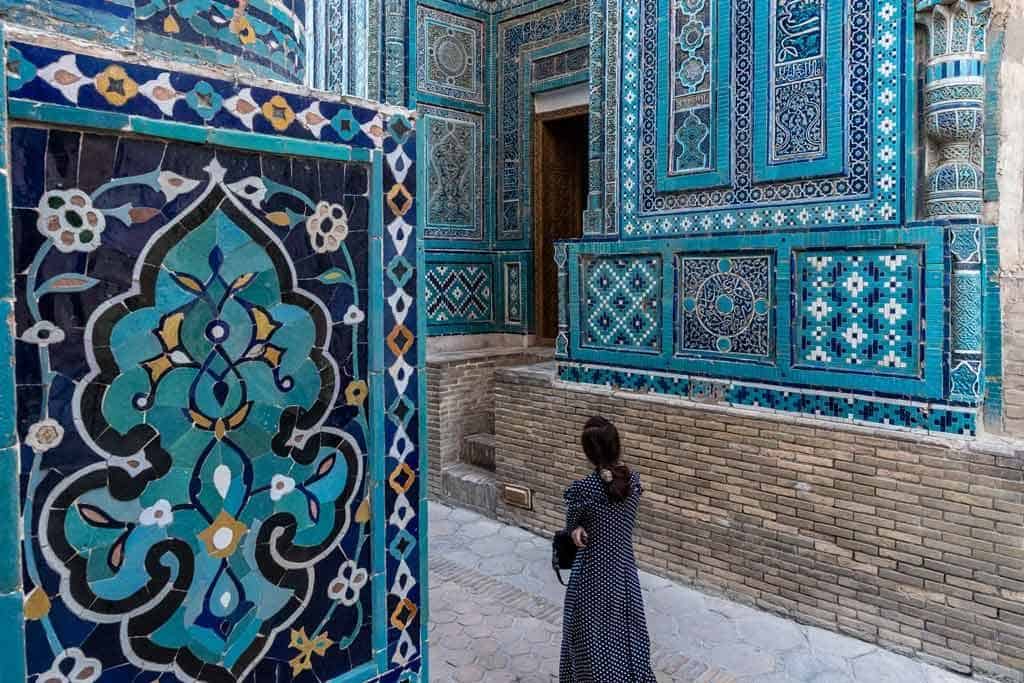 Amir Timur turned Samarkand into the main economic and cultural centre in all of Central Asia, building many of the iconic buildings that still stand today.
The buildings of Samarkand were considered so beautiful that in future years the Uzbeks and Russians couldn't bring themselves to destroy them during their own tough campaigns.
READ MORE: Here's our guide to the best things to do in Tashkent!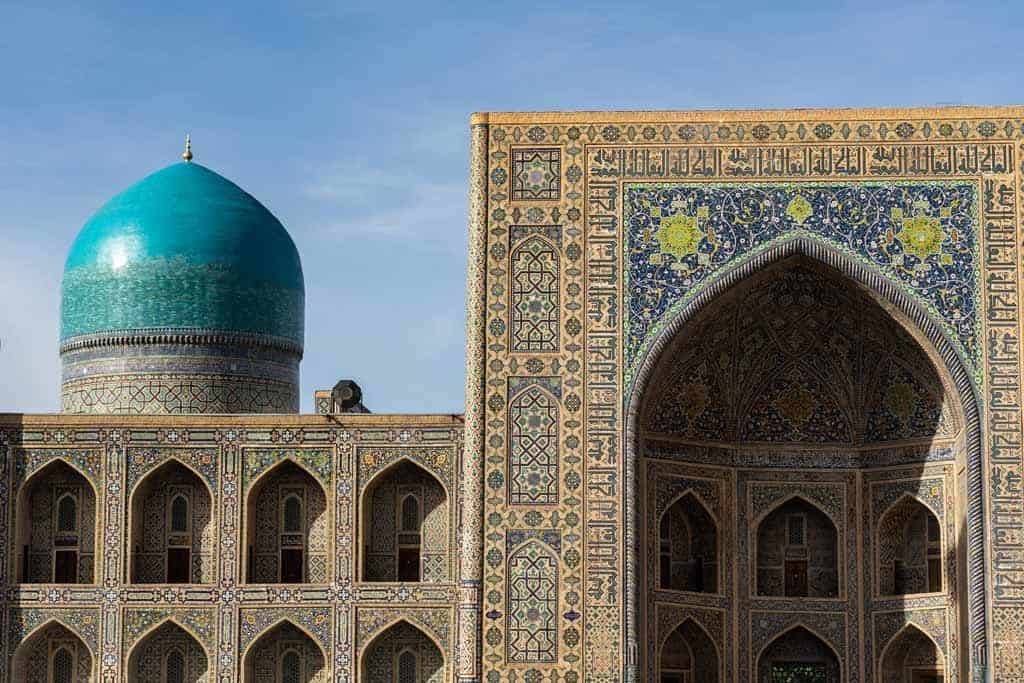 The Best Things to Do in Samarkand
Today, Samarkand is one of the best places to visit in Central Asia, and one of the real highlights of any journey along the Silk Road.
With mind-blowing buildings such as the Registan and Shah-I-Zinda, it boasts a rich history, but also has a range of awesome modern attractions to keep everybody interested.
It's worth getting a guide for at least a day so you can learn more about the history of Samarkand, and to dive deep into the current trends that have made it an Islamic centre for scholarly study in Central Asia.
Having visited twice, first in 2015 and again in 2019, I've decided to put together this list of the best things to do in Samarkand to help you plan your own trip here.
Visit the Registan
By far one of the most popular places to visit in Samarkand, the Registan was the very heart of the ancient city.
It has gained worldwide fame with its grand architecture, and no trip to Samarkand is complete without spending at least a few hours here.
There are 3 madrassahs (which means 'school' in Arabic) that all face the centre square.
Each madrassah has its own unique door, beautiful colourful tile work and 2 grand portals. In 2001, it was included in the UNESCO Heritage List.
The name "Registan" means a sandy place. Apparently, in the past, the centre square area was covered by sand.
People would gather in the square for important announcements, special events and also to watch more brutal events such as public executions.
There were trading rows around the square where artists and farmers sold their items.
In those days all the roads coming into Samarkand would lead to the Registan. It was a lively location where everyone would gather.
Today it is just as busy with tourists visiting independently or on a tour.
Our recommendation is to head there early or later in the day for better lighting for photos and fewer tourists.
The three madrasahs are Islamic schools of distinctive architecture. From left to right, we have Ulugh Beg Madrasah, Tilya-Kori Madrasah and Sher-Dor Madrasah.
The exterior of each building looks similar but the interior in each one is very different.
Each exterior is decorated and designed in the Greek Style. With beautiful blue, light blue and white tiles that are organised into geometrical and epigraphic ornaments, and are all are done against a terracotta brick background.
It is stunning to simply sit and observe each place come alive. Each madrassah has a dome with bright blue, white and rosettes.
If you are on the viewing platform looking at the Registan, Ulugh Beg Madrasah will be on your left, Tilya-Kori Madrasah will be in the centre and Sher-Dor Madrasah will be on your right.
Address – Corner of Registan & Toshkent
Opening Hours – 8am – 7pm (April – September) 9am – 5pm (October – March)
Note – If there is an event on in the Registan Square it may close earlier than expected
Price – 30,000 Som p/p
NOMADasaurus Tip – Check out our photos of Uzbekistan for ideas of where else to visit.
Ulugh Beg Madrasah
This Madrasah was built from 1417 to 1420 by Ulugh Beg during the Timurid dynasty.
Ulugh Beg was a scientist on the throne. He was a prominent astronomer of his times and was a big promoter of education, science and art.
It is a religious educational institution in Samarkand. It was among the best universities of the Muslim Orient in the 15th Century CE.
There are four walls surrounding a courtyard in the centre. In the walls are a mosque, lecture rooms and dormitory cells where students lived.
Today, on the ground level there are souvenir shops around the courtyard. There is one in the right-hand corner where you can enter the second level and look down on the courtyard and get some great photos.
Please do not sit down on the walls as they are trying to preserve the building.
Tilya-Kori Madrasah
Tilya-Kori Madrasah was the last madrasah to be built and was constructed between 1646–1660.
Tilya-Kori means covered in gold, and it is known as the largest and most glorious structure of the Registan Square.
This is referring to the lavish gild decoration of its mosque domed chamber. You will notice all the gold as soon as you walk in – the decorations are so grand.
In the 17th century, it was the largest mosque in Samarkand. Right up to the 19th century, this madrassah mosque was used by the people, but from the beginning of the 20th century, it served as a monument.
This Madrasah can be very busy at times but if you can find a quiet corner, do stay and observe the design as it is remarkable.
Sher-Dor Madrasah
Sher-Dor Madrasah was built on a place of ruins of Khanaka of Ulugh Beg between 1619–1636.
It was ordered by Yalangtush Bakhodur who was the ruler of Samarkand in the 17th century.
The name translates to "Madrassah of the Lions". It was named after the mosaic motif on the upper part of its entrance portal, known as 'Tiglon'.
You may have seen this before – Sher-Dor's Tiglon and the sun are printed on the country's 200 Som banknote.
It is located directly across from the Ulug Bek Madrasah. It is crazy to think there is 200 years difference between the buildings.
The Sher-Dor Madrasah is beautifully decorated with various patterns of climber flowers and quotations from the Koran in Arabic.
The layout of the madrasah is very similar to Ulug Bek Madrasah but is more modern.
The building has been restored many times and in 2001 the Sher-Dor Madrasah entered the UNESCO World Heritage List.
Bibi-Khanym Mosque
After you've visited the Registan, it's time to head over to Bibi-Khanym Mosque, one of the most important and top Samarkand attractions in the entire city.
The story goes that Tamerlane's wife ordered the construction of this beautiful mosque sometime between 1399 and 1405, after his successful campaign through India.
The architect fell madly in love with his wife, and delayed the building of the mosque. He kissed the lady on the cheek, leaving a burn on her skin, which angered Timur when he returned from India.
What happened after that, nobody knows, but the mosque still stands and over the years it has been restored carefully and in style with traditional Islamic architecture.
The interior is quite stunning, and the courtyard is wonderful. Well worth checking out on any list of what to do in Samarkand.
Address – Bibikhonim St
Opening Hours – 8am – 8pm
Price – 22,000 UZS p/p + camera fee 5,000 UZS
Shop at Siab Bazaar
Siab bazaar (also known as Siyob Bazaar) is the oldest and largest bazaar in Samarkand, and is literally next door to Bibi-Khanym Mosque.
Over time the bazaar has been modernised but still has its unique and interesting charm.
After you have finished visiting Bibi-Khanym Mosque, head next door through the massive arches and you will be in the bazaar.
You will be greeted with different smells and so many colourful fruits and vegetables that you won't know where to look.
This bazaar is where locals sell bread, fruits, dried fruits, grains, spies and more.
There is also a section for skilled artists where you can pick up a souvenir if you want.
If you are going to buy any fresh produce, make sure you ask the price first. If you have a guide with you, they may be able to help you barter.
I did see some prices were written on the fruits and vegetables so no bartering was needed. The bazaar is covered so you can visit in any weather.
The handicraft area is very impressive. Artists show off their skills and if you are lucky you can even watch engraving, carving or painting.
READ MORE: Head over to the border and check out what it's like to travel in Kyrgyzstan!
This is a very clean bazaar and the sellers are very welcoming. We got chatting to a few of them as they practiced their English.
If you do want to take any photos with sellers in it, please do ask first. This is their place of work and they are not a tourist attraction.
Address – Bibikhonim St
Opening Hours – 5am – 7pm (closed on Mondays)
Price – Free to enter
Shah-I-Zinda Necropolis Complex
This is one of my favourite places to visit and photograph in Samarkand.
The Shah-I-Zinda (which means "The Living King") Necropolis is a huge complex that was formed over 8 centuries (from the 11th to the 19th).
It houses various temples, mausoleums and ritual buildings. There are 11 mausoleums there which are grouped down a narrow medieval street.
They were built one after the other in the 14th and 15th centuries, and are the burial place of old royals and noble people.
There are many important people buried here, such as Kusam bin Abbas, a cousin of the Prophet Muhammad.
The story goes that he came to Samarkand with the Arab invasion in the 7th century and brought Islam to the area.
Legend has it that he was beheaded for his faith, but he didn't die. Instead, he took his head and went into a deep well where he's still living to this day.
People today go to the area where the deep well is located to pray. The room is beautifully decorated and should definitely not be missed.
The rich tilework and mosaics are different in each mausoleum, making it a top Samarkand points of interest.
After surviving for all these centuries, in 2005 the city did a massive restoration project.
All of the beautiful mosaics, majolica and terracotta work you see today is not original, but they have done a magnificent job in making it look how it would have all those years ago.
Do not miss this place and definitely give yourself enough time to explore. It is worth it.
You can walk through the graveyard on the side of the site after you leave and get a different view of Shah-I-Zinda Necropolis Complex. It shuts at 7pm so you can stay here for sunset.
Address – M-37
Opening Hours – 7am – 7pm
Price – 10,000 UZS p/p + camera fee – 7,000 UZS
Afrasiab Ancient Site and the Afrasiab Museum of Samarkand
The Afrasiab Ancient Site is one of the largest archaeological sites in the world.
What was once an ancient city is now just a cluster of dirt hills, but it is still worth visiting during your exploration of the best things to do in Samarkand.
The ancient city was occupied from 500 BC to 1220AD but destroyed by the Mongols in the 13th century.
Afrasiyab is the oldest part of the ancient city of Samarkand and covers 220 hectares.
If this is something that sounds interesting to you, definitely take a guide to explain the grounds and the history.
If you do walk around the site, wear proper shoes as the ground can be uneven and there are lots of hidden holes.
There is a museum located on the site. We didn't go into it, but it has 5 dedicated rooms for the different periods of life in the fort of Afrasyab.
The museum doesn't just have information about the settlement of Afasiyab, it explains the story of the founding of Samarkand.
In 1894, archaeologist excavated the grounds and found many different artifacts and many more have been discovered since then.
From swords to pottery to jewelry, there are over 20,000 unique artifacts displayed in the museum.
If you love history, this museum tells the story of life, culture and traditions of the people who lived in the area and in the different eras.
Through everything they discovered, the archaeologists were able to work out what Samarkand looked like in the ancient years.
Address – Tashkent Rd. Located near Bibi Khanaum Mosque
Opening Hours – 8:30am – 6pm
Pricing – 22,000 sum p/p + 20,000 sum if you want a guide
Hazrat Khizr Mosque
Located on top of a hill on the fringes of Afrasyab is the Hazrat Khizr Mosque.
Because of its location, you get a great view overlooking the city of Samarkand.
It has vistas of Bibi-Khanym Mosque, Shah-i-Zinda and Afrosiab from the minaret.
Once there was an 8th-century mosque in the same location but it was burnt to the ground by Chinggis Khan in the 13th century.
It was rebuilt in 1854 and restored in the 1990s. It is one of the newer and most beautiful mosques in Samarkand.
There are mixed reviews on this mosque as some say it is worth it and some say you are only paying for the view there and not much else.
If you are only after the views you can get nice ones from a park area just in front of the mosque and save your money.
I personally didn't go in and just took a photo from the outside.
Opening Hours – 8am – 6pm
Price – 12,000 UZS p/p
Gur-e-Amir Complex
If I had to choose three of my favourite Samarkand attractions, then they would be the Registan, Shah-I-Zinda Complex, and finally this one, the Gur-e-Amir Complex.
Gur-e-Amir means 'Tomb of the King' in Persian and is the final resting place of Timur himself, along with his two sons, two grandsons, and his personal teacher.
Tamerlane's grandson, Muhammad Sultan, was actually the reason Gur-e-Amir complex was built in the 14th century, as his sudden death meant he needed a place to be buried.
Amir Timur's body was at a smaller, nearby tomb, but eventually was brought the new complex.
The architecture here is stunning, and while it is considered to be quite simple compared to the other things to do in Samarkand, it really stands out as a special place.
Make sure you come back after dark when the entire exterior is lit up.
Opening Hours – 9am – 5pm
Price – 20,000 UZS
Ulugh Beg Observatory
This monument has a very significant position, on top of a hill on the outskirts of Samarkand.
It was built in 1420 by the Timurid astronomer Ulugh Beg, the grandson of Amir Timur.
It is a simple and small site but was very important for Ulugh Beg to carry out his astronomical observations and calculations.
In 1424, Ulugh Beg started building the observatory to support his astronomical studies at the madasah.
It was completed in 1429 and was considered by scholars to have been one of the finest observatories in the Islamic World.
Unfortunately after his death in 1449 the observatory was destroyed by religious fanatics.
For hundreds of years, the site remained underground and only a few knew it was there.
In 1908 it was rediscovered by an Uzbek/Russian archaeologist by the name of Vassily Vyatkin from Samarkand.
He discovered that the observatory could predict the eclipses and calculate the hour of the rising sun, measuring the length of the year, determined the tilt of the earth and recorded the location of up to 1018 stars.
All this accomplished 200 years before the telescope was even invented.
Today, you can visit this site and learn about the history of this place. I recommend checking out the museum.
Do read all the descriptions (they are in English) to understand the history of the place.
It explains the work Ulugh Beg did and some of his charts were saved to examine.
Next head over to the tunnels. This will give you a view of the archaeological excavation remains of a section of the "Fakhri Sextant".
Address – Tashkent Rd
Opening Hours – 9am – 6pm
Price – 20,000 UZS. Photos cost extra
Take a Break in One of the Parks
Want a break from all the mausoleums, shrines and mosques? Grab an ice cream and chill out in the park.
There are different parks located near many of Samarkand's attractions. You can take in the scenery or get chatting with some locals.
The parks are well maintained with great walking paths and are a nice way to break up the busy day.
My personal favourite is the one next to the Registan, making it one of my favourite things to do in Samarkand.
Khodja Abdi Darun Shrine
Not as popular as the other best things to do in Samarkand, Uzbekistan, but still worth a visit, is Khodja Abdi Darun Shrine.
This mausoleum has some beautifully decorated pillars, nice iwans and a pool in the centre of the courtyard.
Built in the 12th century, it undertook restoration works in the 15th and 19th centuries, and has been a functioning madrassah for over 400 years.
It is only 30 minutes or so to walk here from the Registan, so if you're looking to get slightly off the beaten path in Samarkand, this is the place for you.
Address – Sadriddin Ayniy Street, Samarkand
Price – Free
Imam Bukhari Mausoleum
Located 25km from the city, visiting the Mausoleum of Imam Bukhari is another one of top things to do in Samarkand.
The burial place of one of Islam's most prominent scholars, this complex houses not only the body of Imam Bukhari, but also mosques, a library and even a hotel for religious pilgrims.
Being one of the important Islamic sites in Samarkand, Muslims often visit Imam Bukhari's mausoleum as part of a small one-day 'Hajj', which also includes the mausoleums of Rukhabad and Shakhi-Zinda.
You can get our here by taking a taxi from the city.
Address – Hartang Village, 25km from Samarkand
Price – Free
Rukhabad Mausoleum
This mausoleum was built in 1380 by Amir Timur, and it is the oldest surviving monument in Samarkand.
Unfortunately though, there is not much to look at today. Still, it's made it onto our top list of Samarkand activities for a reason.
It was built over the grave of Shikh Burhaneddin Sagaradzhi, who was known for spreading Islam among the nomads of Eastern Turkestan.
This one dome construction looks very modest in comparison with Gur-e-Amir and Ak-Saray mausoleums which are nearby.
Rumour has it that the dome has a secret box with seven pieces of Prophet Muhammad's beard hair in it.
Address – Registan Square, Samarkand
Price – Free
Samarkand Travel Guide
Now that you know what to do in Samarkand, it's time to find out where to stay and where to eat.
We've put together this mini Samarkand travel guide for exactly that!
Where to Stay in Samarkand
There's no shortage of awesome places to stay in Samarkand, and being Uzbekistan's second-biggest city has meant you can find everything from budget backpacker hostels right through to 5-star hotels.
The Best Hostel in Samarkand – Amir Hostel
The Amir Hostel is great for a solo traveller or friends on a budget. It has dorm rooms available with lockers, curtains, light and power socket for each bed.
It has clean bathrooms, good breakfast, washing machines are available, a 24-hour reception desk, a shared kitchen and an outdoor relaxing area with a barbeque.
The staff are helpful and the location is central. You can walk to the main attractions from the hostel.
Dorm beds start at USD$8 per night
Best Accommodation for Couples – Hotel Bibikhanum
Right in the heart of Samarkand, Hotel Bibikhanum is arguably the best value hotel for couples in the entire city.
All rooms have a work desk, private bathroom and air conditioning, which is much appreciated in the high heat Uzbekistan is known for during the summer.
With a 24-hour reception desk, free wifi throughout the whole property and just steps from the city's best attractions, you'll absolutely love your stay here without breaking the bank.
Rooms start at around USD$60 per night
Best Luxury Hotel in Samarkand – DiliMah Premium Luxury
If you want to put a bit of luxury, check out the DiliMah Premium Luxury Hotel.
If you get a room on the top floor you will have some of the best views of Samarkand imaginable.
This hotel has a pool, 24/7 restaurant, great location, friendly staff and comfortable beds. What more could you want?
Rooms start from $120USD a night
Best Restaurants in Samarkand
Samarkand has a great restaurant scene, with lots of traditional Uzbek options, as well as international cuisines.
Check out these places:
Cafe Magistr – A budget restaurant, you'll find decent and cheap pizza and salads. Russian menu with pictures. Bostonsaroy St., 30/45
Bibikhanum Teahouse – A very beautiful local teahouse serving great Uzbek food. Try the pumpkin manti and draft beer. Street 22a
Platan – Very popular restaurant for locals and tourists. Good vegan and vegetarian options for those wanting to skip meat for a meal or two. Make a reservation. Pushkin 2, Samarkand
How to Get to Samarkand
Samarkand is well connected to other places in Uzbekistan with a great train network.
You can take a very comfortable and modern train from Tashkent to Samarkand, and one from there to Bukhara.
There's also an international airport here, servicing Uzbekistan Airways, Turkish Airlines, Aeroflot and more.
You'll find domestic flights, as well as direct connections to Moscow, St Petersburgh and Istanbul.
Buses are another option to get around from Samarkand to other Uzbek cities.
From Samarkand, you can now also cross the border into Tajikistan to Panjakent.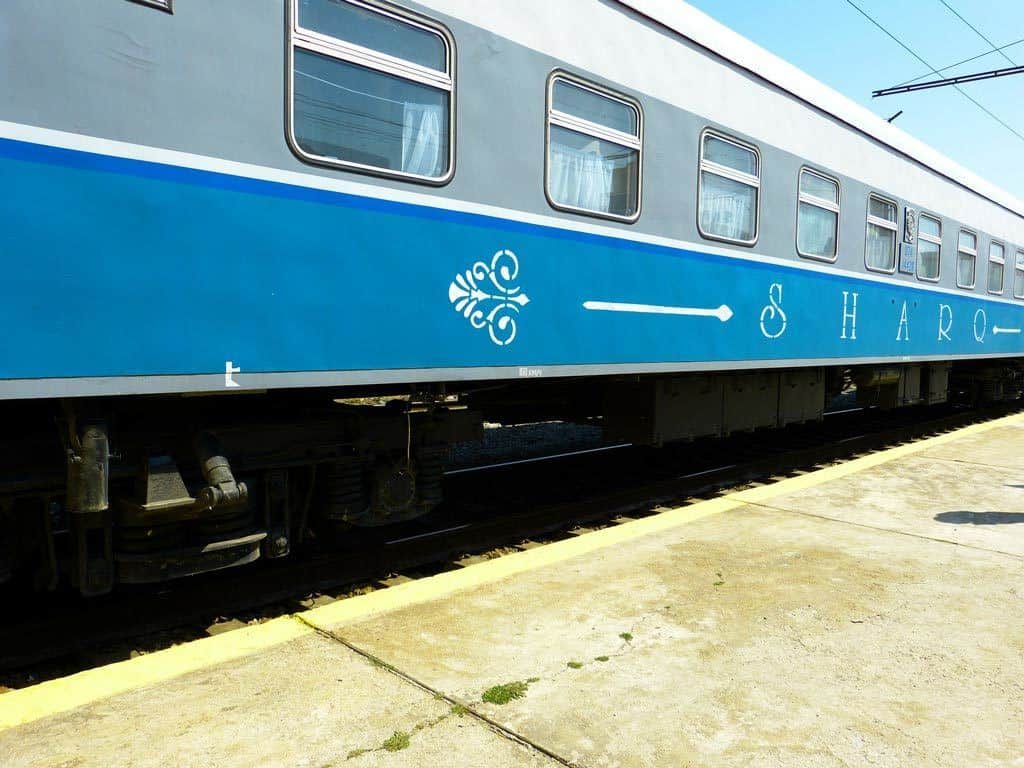 Where to Go Next?
After your time exploring the best Samarkand points of interest, you have quite a few options on where to go.
Tashkent
Tashkent is the largest city in Uzbekistan and it is the capital of the country.
There are many attractions here, from exploring the beautifully decorated metro stations to meeting locals while strolling through the park to visiting beautiful mausoleums and seeing the hustle-bustle at the local bazaar.
You could easily spend a couple of days exploring the city.
READ MORE: Check out our post on the best things to do in Tashkent.
Bukhara
Another one of Uzbekistan's most beautiful Silk Road cities, Bukhara is a must-see for anybody exploring the country's stunning architecture and history.
Buses and trains can easily get you here from Samarkand.
READ MORE: Check out our brand new guide to the best things to do in Bukhara!
Tajikistan – How to Get to Panjakent from Samarkand
Heading into Tajikistan after visiting Samarkand is a great option. As of 2018, the border crossing towards Panjakent is now open for foreigners to use.
When I crossed through this border in August 2019, the process was very smooth and the officials were very friendly.
If you need a visa for Tajikistan, it is very easy now and you can get an e-visa. No need to try and find your local Tajik embassy anymore!
There are money changers at the border or ATMs and banks available in Panjakent.
From Samarkand, make your way to Kaftarxona Bus Station which is east of the city.
Samarkand does not have any shared taxi apps so organise a taxi with your hotel or a shared taxi to the bus station (2000 – 3000 UZS per person).
From the bus station take a shared taxi (20,000 UZS p/p) or a marshrutka (5000 UZS p/p) to the border of Tajikistan.
You will be dropped off 1km before the border and you need to walk the rest of the way.
Once you cross into Tajikistan, you can get a shared taxi to Panjakent (10 TJS p/p) or straight to the capital city, Dushanbe (100 somoni p/p).
Panjakent will take 15 minutes to drive there and Dushanbe will take about 5 hours.
If you cross at this border, your first destination in Tajikistan would be Panjakent.
From here I recommend visiting the Seven Lakes (Haft Kul), or doing the Lakes Loop Hike.
DISCLAIMER: This publication is made possible by the support of the American People through the United States Agency for International Development (USAID) Competitiveness, Trade, and Jobs Activity in Central Asia. The contents of this publication are the sole responsibility of NOMADasaurus and do not necessarily reflect the views of USAID or the United States Government.