A comprehensive, first-hand travel guide to hiking the Lakes Loop Trek in the Fann Mountains of Tajikistan.
When we visited Tajikistan back in 2015, we never thought about hiking in the Fann Mountains.
After a month of exploring the Pamir Highway, and hanging out in Haft Kul, our visa days were running out and winter was fast approaching.
Most travellers to Tajikistan skipped this region anyway because it was out of the way. The closest border was Uzbekistan, and it had been closed to foreigners for years.
On my most recent trip in 2019 however, the border finally opened up, and I crossed from Uzbekistan into the Fann Mountains.
First thing I looked forward to doing was hiking in the Fann Mountains. The landscape is stunning and there are many treks to choose from.
I was travelling with a group, we chose the "Lakes Loop Hike" which is a 4-day loop over different mountain passes every day.
This hikes starts in the small town of Artuch Alplager, not too far from Panjakent.
We decided to do it in 3 days though, and get picked up at the other end at the Vertical Lodging instead of looping around.
A highlight on this hike is seeing the Kulikalon Lakes and Alovaddin Lakes.
The biggest one you see along the trail is Kulikalon Lake, which is means "Biggest Lake" funny enough.
Kulikalon is the second largest lake in the Fann Mountains after Iskanderkul Lake.
All of the lakes are linked by cascading streams, and it is a magnificent area and a winner if you are into birdwatching. You may even see an eagle is you are lucky!
This region is not accessible by road, so the only way to get here is by hiking or by riding a donkey.
I spent 3 days hiking in this area and this post will help you plan your hike and give you all the information you need to know.
How to Organise the Lakes Loop Hike
If you're looking for a bit of help or pre-planning for your trek, here are many ways to organise the Lakes Loop Hike in Tajikistan.
The best way is to simply travel to Panjakent and onwards to Artuch Alplager Guesthouse and ask there.
They have English-speaking staff that can organise the entire trip for you or just find a donkey and helper for you to hire.
If you are travelling during the busy season, or just want to have everything booked before you get there, try Pamir Tours.
There were 5 of us on the trek, and they organised a great trip for us, from the guide, donkeys and porter, right through to the transport at the end to Iskanderkul.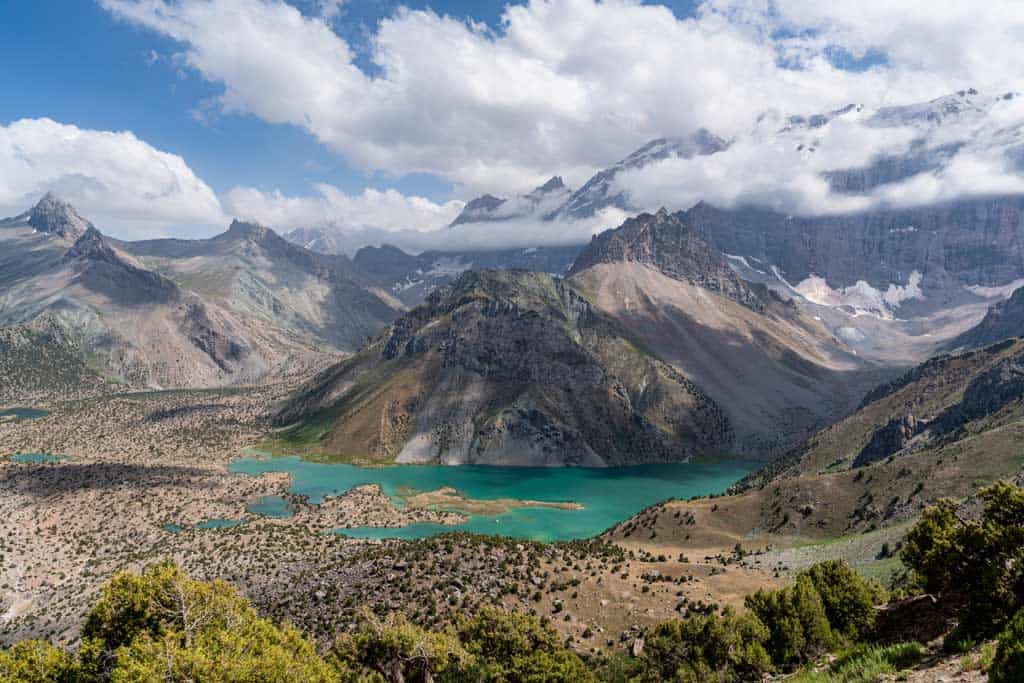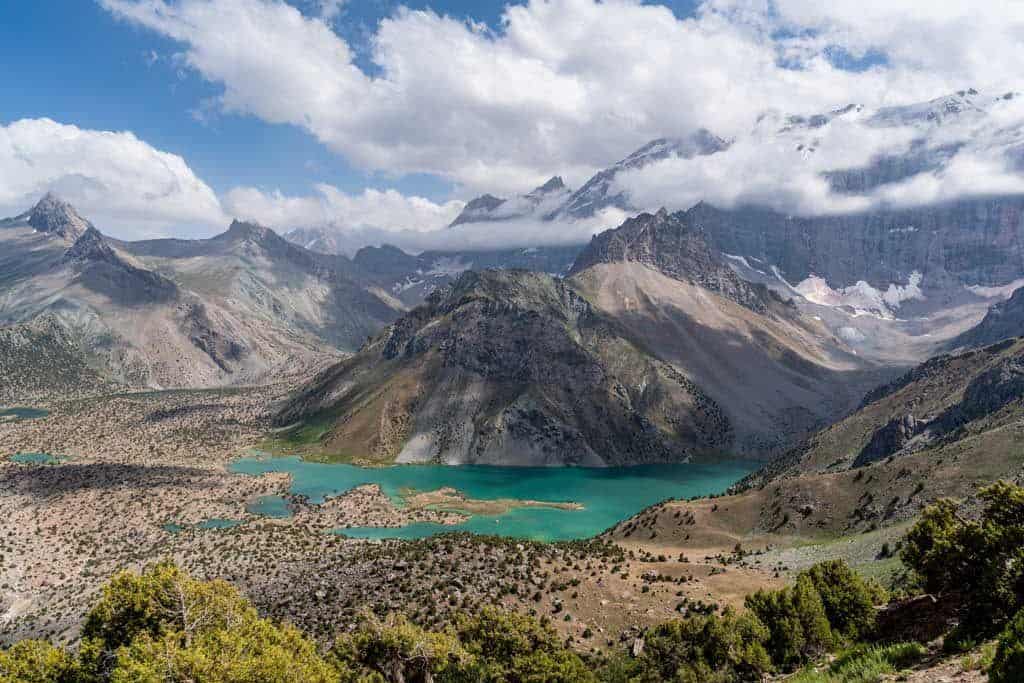 Independent vs Guided
This is a popular hike now and you will find you are not the only one on the trail.
We passed several people on the way. Some were doing this hike on their own, meaning they carried everything themselves, from tents to sleeping gear to food and water.
We also met some doing it in what I would call a 'semi-supported' way.
Basically by just hiring a donkey and helper to carry their heavy gear, but they would do their own cooking, set-up, etc.
Then we met people who were only carrying day packs and went with a tour company. In this way, they will carry everything, set up camp for you at night and cook your meals.
How you want to do it really depends on your trekking experience, strength, and budget.
Obviously doing it on your own is much cheaper, as you are just paying for food.
But you also have to be confident in finding your way along the trail, and know what to do if something goes wrong.
Semi-supported is great if you have some experience with cooking and camping, but don't want to carry everything on your back.
Fully supported opens up a whole different experience, as you have a guide to show you the way, cook your food and set everything up. It makes your trek so much easier, but of course, you pay for this premium.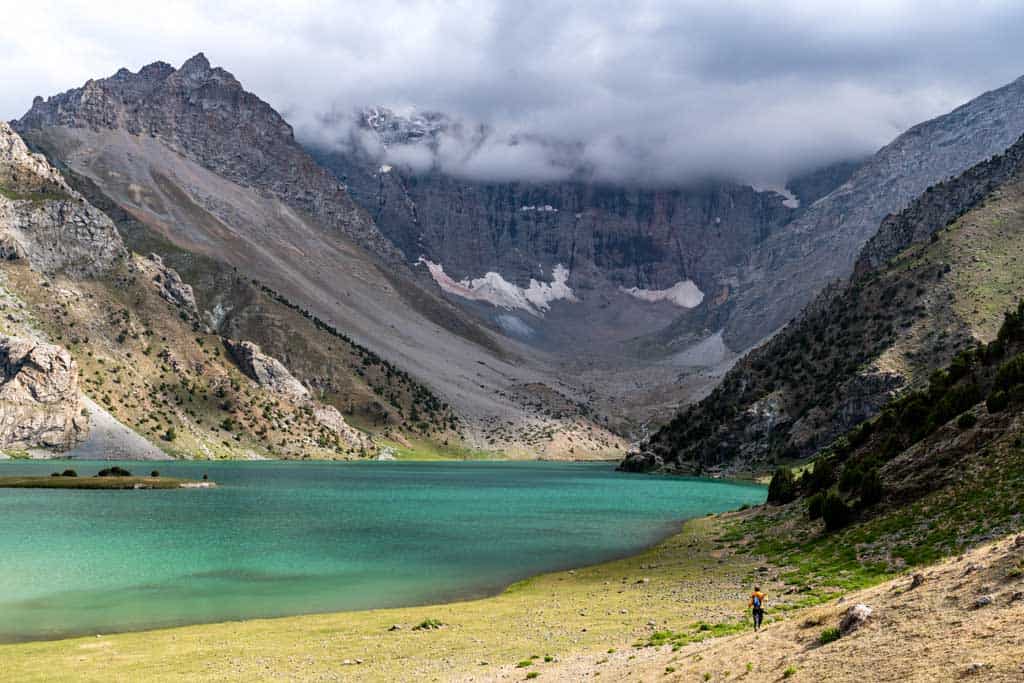 How Much Does it Cost?
The Lakes Loop Hike is one of coolest treks in Tajikistan you can do, and best of all it won't break the bank no matter which way you do it.
Here's an idea of how much it will cost for you, depending on your style.
Fully Independent
The costs for doing this hike fully independently is very low. All you need to pay for is food, transport and your campsite.
To do it on your own, you will have to bring cash with you to pay for your campsites, which is about 20 Somoni (USD$2) per night.
Surprisingly there is also a small convenience store at both lakes you camp next to, so if you want to pick anything up along the way (such as beer, snacks, food or even rent tents) make sure you bring extra food.
For the entire 3-day Lakes Loop Hike, trekking it fully independently, expect to budget USD$10 per day, plus your transport (prices found at bottom of this article).
If you're wondering what tent to get, check out our ultimate guide to backpacking tents.
Semi-Supported
Semi-supported means you can hire a donkey and helper (a guy to look after the donkey) to carry the heavier items, but you carry some of your stuff, set up your own camp and cook for yourself.
A donkey and the owner should be about USD$20 per day. This will take weight off your back, as well as giving an income to a local.
You can organise this in the guesthouse at the beginning of the trek. All other costs such as food, camping, etc are the same as above.
Guided Tour
If you're looking for the full package, it's easy enough to organise for the Lakes Loop Hike.
A complete guided tour includes pack donkeys and their helpers, a guide to show you the way, and they will also help set up camp and cook food for you.
It will also include all your snacks and food for the entire trek.
The price depends on how many people are in your group, and it gets cheaper per person if you can get 4 or more.
If you have any extra gear or bags that you want to leave behind, you can do so at the Artuch Alplager Guesthouse.
They'll put it in storage until you return, or deliver it to the other end if you are doing a one-way hike like I did.
Expect to pay around USD$50-100 per day, depending on your group size.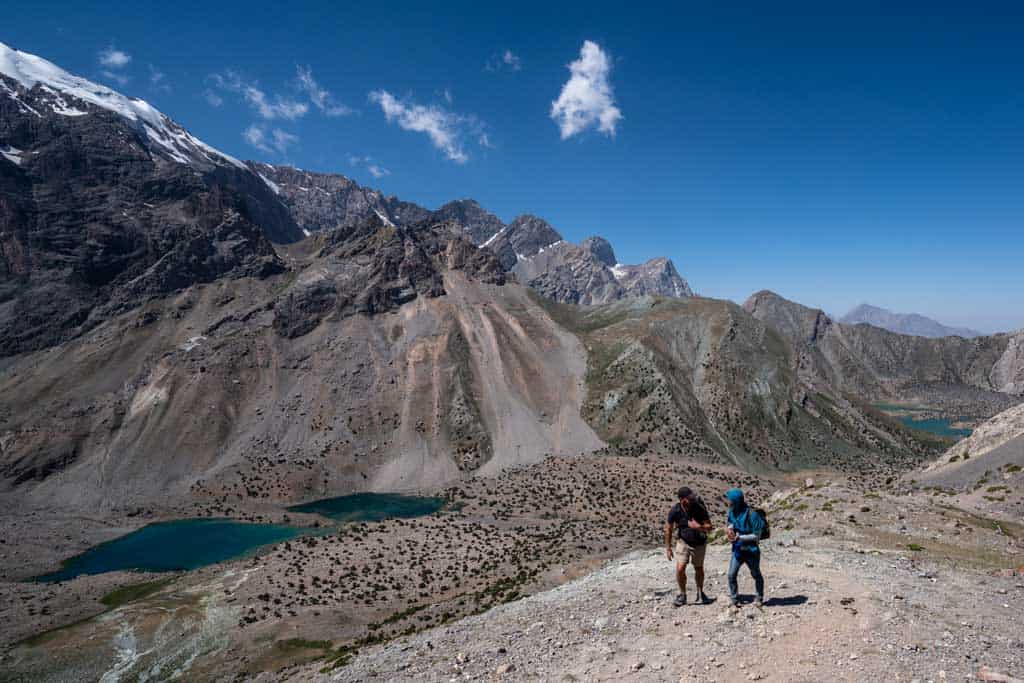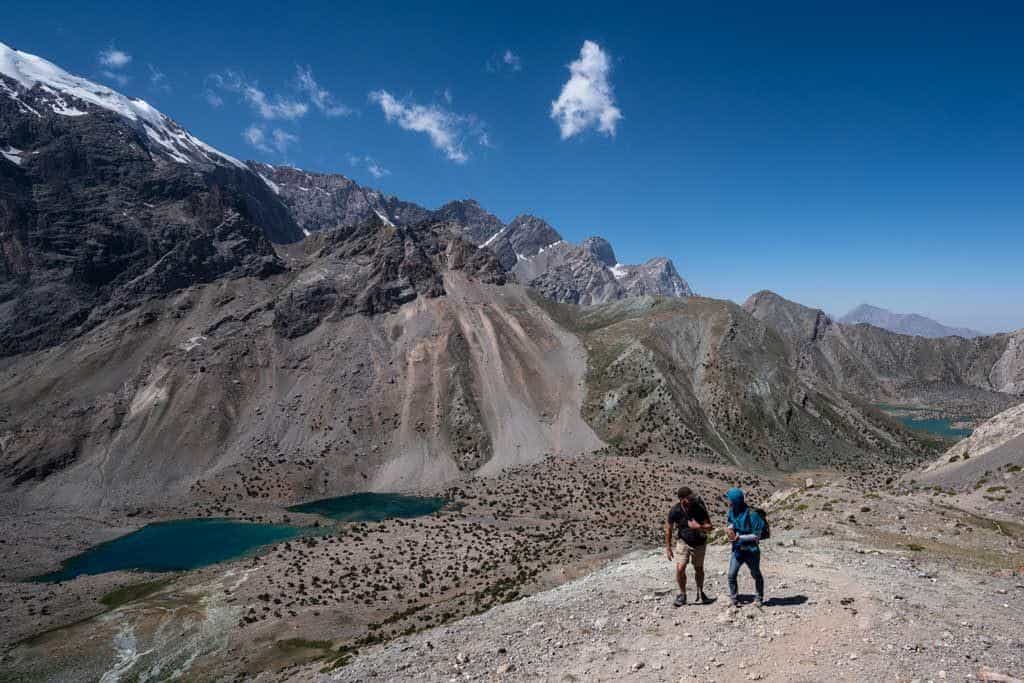 Getting to Artuch Alplager Guesthouse
If you are not on a tour and you are trying to find a way to Artuch Alplager Guesthouse, the best way is getting a shared taxi from the town Sarvoda.
If you are coming from Dushanbe the best option would be taking a taxi towards Panjakent. Let them know you are hopping off at Sarvoda.
You may have to stay the night in Sarvoda if no vehicles are going towards Artuch Alplagar Guesthouse.
The shared taxi may only take you so far and you may have to walk the rest of the way. Do be prepared for that.
Transport Prices
This is how much it will cost to get to and from the Fann Mountains and the various transport options. Whether you are coming from Dushanbe or Panjakant, here are a list of the average costs of transport in Tajikistan. Prices in USD and Tajik Somoni as of 2019.
Please note – Prices may change unannounced. This is just an estimate.
Dushanbe – Panjakent: $15/140 TJS
Khujand – Panjakent: $13/120 TJS
Panjakent – Artuch: $7/60 TJS (beginning of the track)
Marshrutka/Minibus
Dushanbe – Panjakent: $8/70 TJS
Khujand – Panjakent: $10/90 TJS
Panjakent – Artuch: $5/50 TJS (beginning of the track)
Private Car Hire
Dushanbe – Panjakent: $200/1820 TJS
Dushanbe – Sarytag: $180/1640 TJS
Panjakent – Artuch: $100/910 TJS (beginning of the track)
Khujand – Panjakent: $220/2000 TJS
Things to Know Before You Go
The Lakes Loop Trek in Fann Mountains is in the middle of nowhere, so you need to be prepared for remote wilderness.
I recommend using Artuch Alplager Guesthouse as a base for starting, organising and planning your trek.
It does get busy as this is where a lot of people stay, and the start of the track is located just near this guesthouse.
Here are my tips for the Lakes Loop Hike:
Bring a SteriPEN or water sterilisation tabs to filter your water. It's hard to find clean water along the way.
Charge all your devices before getting to Artuch Alplager guesthouse. There's limited power plugs there. You also may end up waiting to charge. Even better, get yourself a USB power bank.
Shower early or late. Unfortunately, this guesthouse built a lot of rooms for people but didn't bother with bathrooms. There are 1 shower and 1 toilet for 40 people in the main building. There is a squat toilet outside if you need.
Bring more cash than you think you need. There are small convenience stores along the way to buy snacks and beer at. If you are not a part of a tour you need to pay for your tent spot at each camp.
Bring snacks. Stock up in Panjakent or Dushanbe for the hike. Go to the markets and get nuts and dried fruits. Get some Snickers bars too. the extra sugar while you're hiking will be much appreciated.
There are toilets at the camps. They are squat toilets, so set your expectations. Also bring toilet paper as sometimes there is none.
There are no showers. If you are a clean freak maybe bring wipes if you want
Take your rubbish with you. There are no bins along the way. You need to take everything out with you that you brought in. If you hire a donkey or are on a tour you can put it on the donkey. Please do not litter.
If you are into photography, take a tripod. There are many photo opportunities along the way, rivers with flowing cascades, cool sunrise and sunset spots and astrophotography. Check out our article on the best travel photography tips for beginners.
Bring a pillow. Whether you are on a tour or not, an inflatable pillow is amazing and so comfortable after a day of hiking.
Leave early to get the best camping spots. It is first in, best dressed with the campsites. If you are on a tour the staff and their donkeys will go ahead and set up. They will find you when you get there, so don't worry about that. If you are not on a tour you need to find your own spot and pay whoever owns the land.
Bring a towel. For obvious reasons. Microfibre, quick-dry ones are best.
Only carry what you need. Lighter the better.
Bring layers. You may be sweating during the day but it gets cold at night.
Bring earplugs if you are a light sleeper. The donkeys can be noisy during the night.
Bring walking sticks. There are steep and loose ground sections.
Best Time to Go
The best time to trek in the Fann Mountains is during the Tajik summer which is July and September.
Outside of this period there is likely to be snow on the high passes, making them difficult to cross or impossible to cross all together.
Do be aware that in springtime and early summer river levels are high, making stream and river crossings more dangerous or sometimes impossible. Please be careful and have a back up plan.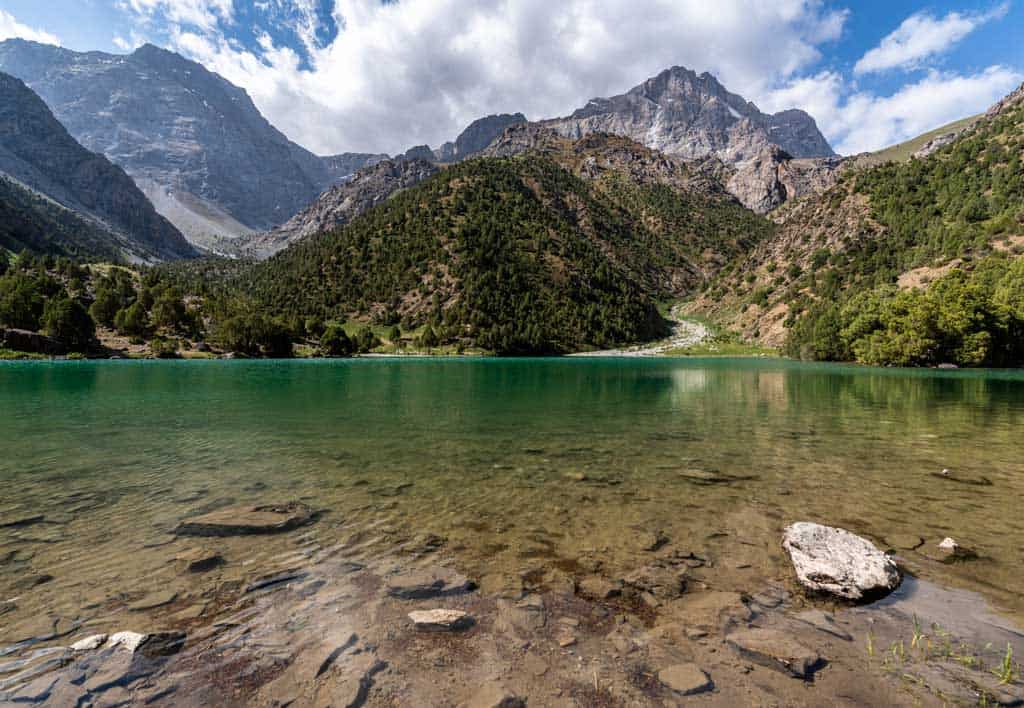 The Lakes Loop Hike Itinerary – Day by Day
Now that you know all of the tips and advice for how to complete the Lakes Loop Hike in Tajikistan, it's time for me to share with you the itinerary.
This is based on my own experiences in 2019, doing a one-way hike in 3 days.
Day 1 – Artuch Alplager to Kulikalon Lakes via Laudden Pass
Distance – 9.9km
Elevation gained – 1000m
You need to make your way to Artuch Alplager and spend the night at the guesthouse, the day before because you have an early start for the Lakes Loop Hike.
It was a busy guesthouse, but they provided everything we needed – a shower, a bed and food.
All of the guests staying at this guesthouse would have either just come back from the hike, or they are leaving to start.
It's a great opportunity to talk to them about what it's like, and check conditions.
If you need to organise anything such as pack donkeys, guides or food, this is the spot to do it.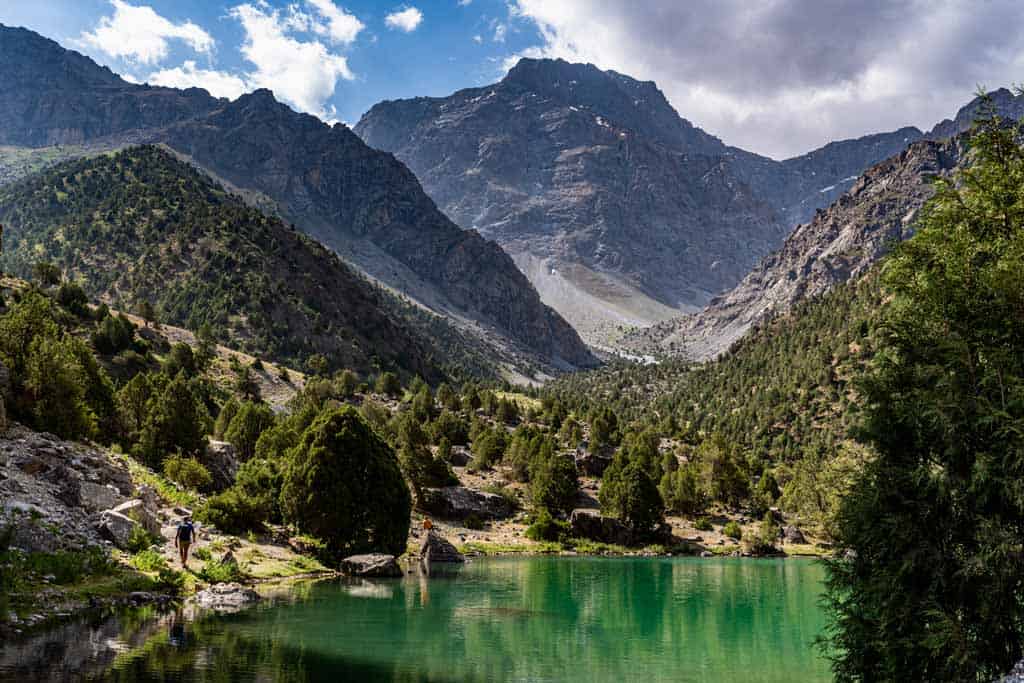 The start of the track is very easy to find, as it is right next to the guesthouse. If you need help, just ask one of the staff.
On the first day we hiked 9.9km with an elevation gain of 1000m.
As you head up the first section you will see two lakes and a shepherd's camp.
From here you walk up to the left and keep climbing towards Laudden Pass.
This was a challenge for me, especially coming from Australia where we are at sea level. But I took my time, and eventually made it.
The smells heading up the pass were lovely, but the trees thinned out as we climbed in altitude.
The top of the pass was at 3200m and the view was magnificent on both sides of the mountain. It was all worth it.
We could see the Chukurak and Kulikalon Lakes from here, and wow, it was beautiful with turquoise water.
We headed down and as we got to the bottom a shepherd was moving his sheep.
At one stage we were surrounded by sheep and goats. There were literally hundreds.
We moved on towards the back of the lakes to our camp, which was at the bottom of Alovaddin Pass.
This was the pass we were doing the next day, and we were glad to be sleeping here and having a break.
We passed the area's convenience store, which was just a simple tent. They carry in all of their supplies by donkey and the family live there.
Things are more expensive than town of course, but you need to keep in mind they carry it in and there is nothing else in the area.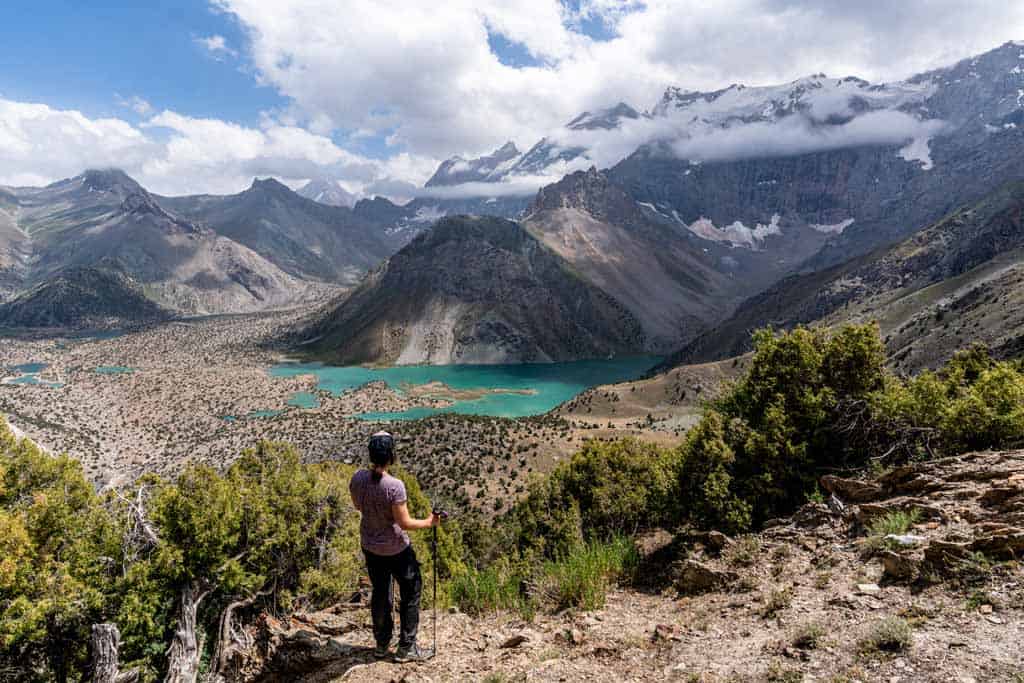 While we were at camp I met a young guy and his donkey. We chatted for a bit as he practised his English.
The relationship between the owner and his donkey is strong, as it can be the man's livelihood.
It was great talking to this man, as he was learning English to become a guide and was eager to practice.
We were asking him some questions and at one stage he said to us, "You go on, I need to talk to my donkey." It was very sweet.
We arrived at camp and everything was already set up for us. And boy did the team spoil us.
They cooked us a warm delicious meal and set our tents up. It was more than what we all were used to, as we're pretty independent travellers.
Once the sun went down it got pretty cold, so we lit a fire. We ended up singing songs and swapping stories.
The Tajiks outdid us in the singing department though, and they jumped in to plenty of local classics. All we could think of was Disney songs.
Eventually we settled in for the night as we were planning to wake up for sunrise.
Crawling into our tents felt so good after the nearly 10km of hiking.
Note – You can camp at the shores of Kulikalon, Bibidzhonat or Kulisiyekh Lakes in this big bowl. We camped on the shores of Bibidzhonat Lake.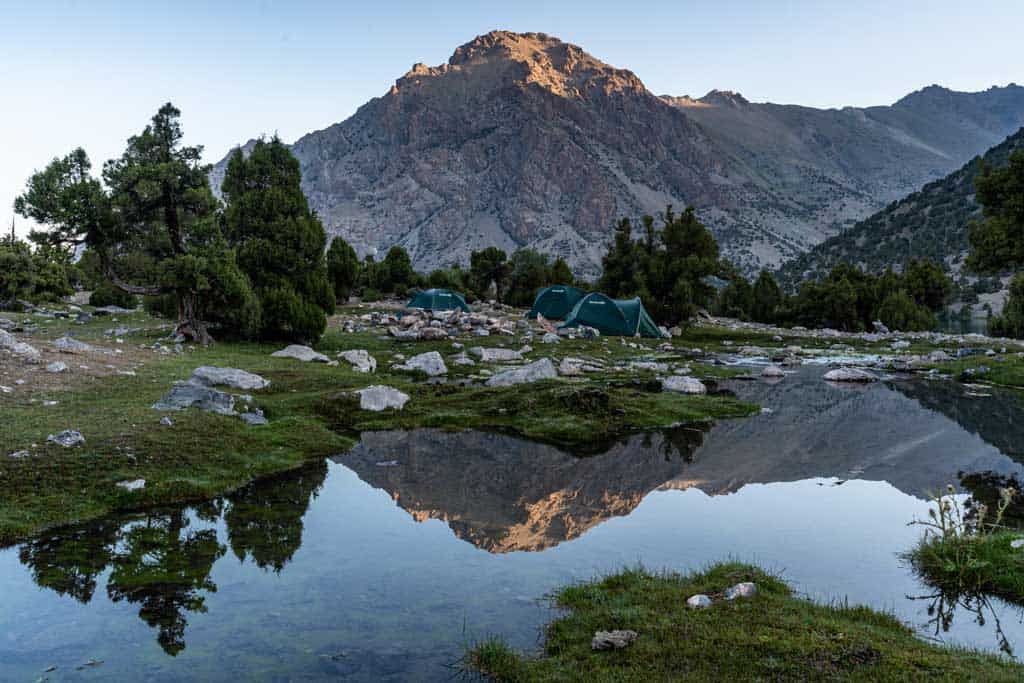 Day 2 – Kulikalon Lakes to Alaudin Lakes via Alaudin Pass
Distance – 7.5km
Elevation gained – 900m
The 5am alarm went off and I peaked outside. The sky was clear and the mountains were just appearing.
I knew it would be a great sunrise before it happened.
Out of our group, all of our heads were popping out of our tents to get a glimpse of the colours in the sky.
I found a great spot with a reflection on the lake and some of our tents in the photo.
I sat there for hours watching the colours change on the mountains. It was beautiful.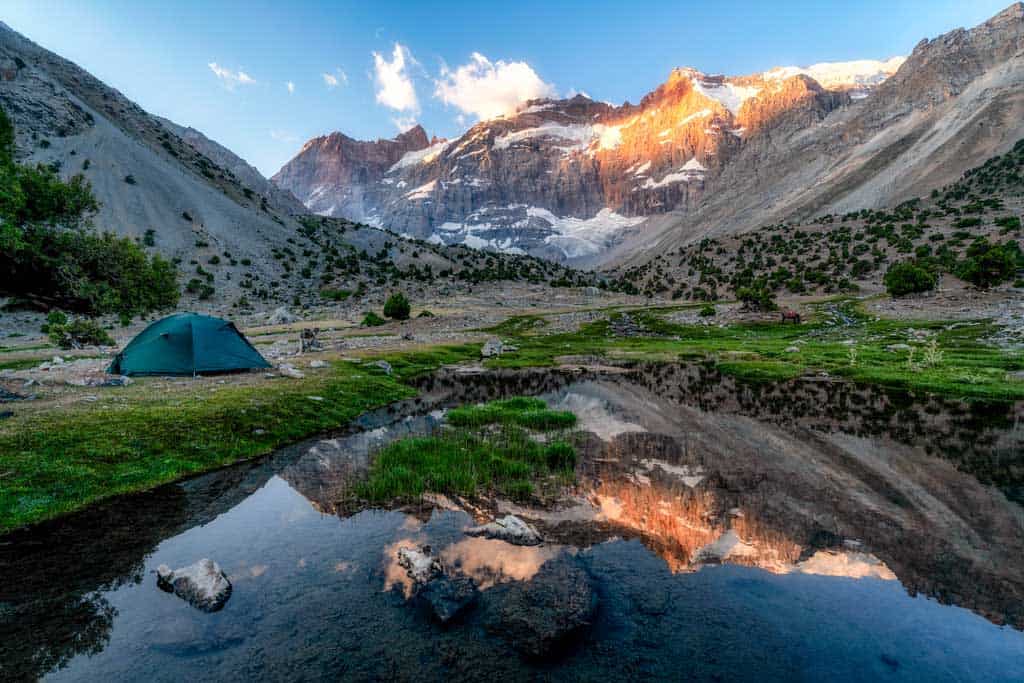 After the early start, we started our hike for the day. It wasn't too bad, with just 7.5km to walk with an elevation gain of about 900m.
The first pass felt like it went on forever. We got to one section and looked to the left and were bummed to see we had to climb up even more.
It took me a while, and when I got near the top I could see the group dancing.
The air was thin and I felt like I couldn't get enough of it in my lungs. But as usual it was all worth it.
I was the last to get to the top but it was absolutely stunning. We had lunch up the top of Allaudin Pass at 3800m and enjoyed the view of both sides.
You look down on Alaudin lakes and it is so turquoise. It was hard to believe it was real.
We started to head down the mountain, and it was steep and with lots of loose ground.
I was so happy to have my walking sticks (highly recommend them). The descent was long and felt never-ending while the sun was quickly going behind the mountain.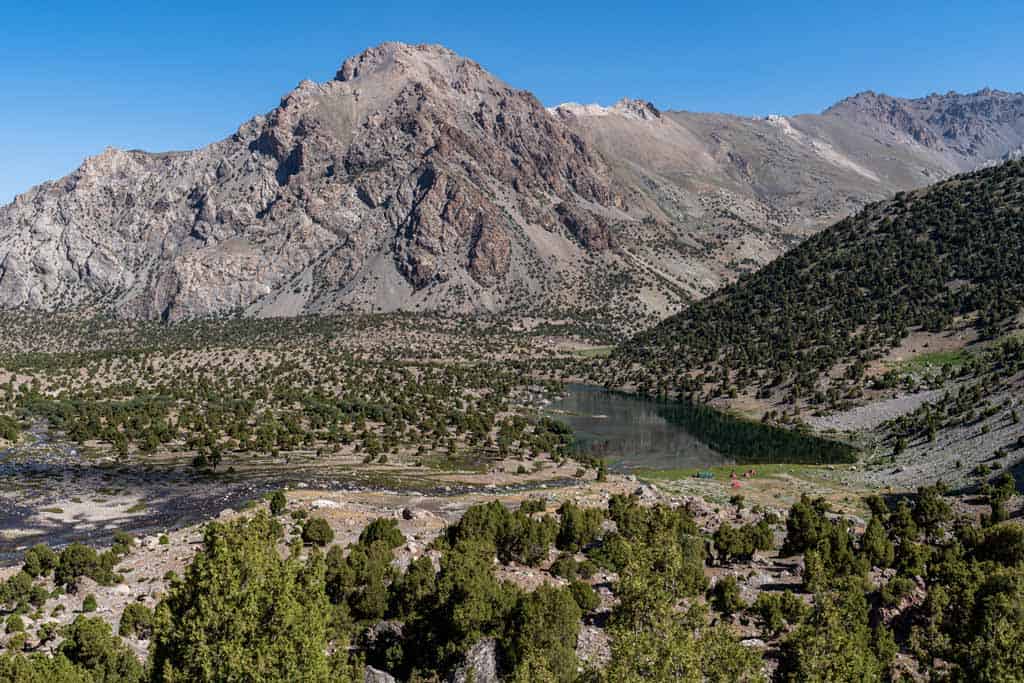 Once we got to the bottom of the pass it was time to head to camp, and I was so stoked to be finished for the day.
Our awesome helpers who take the donkeys had already set up our tents and were cooking our dinner.
Total glamping, not what we were used to at all
We were set up right on the lake, which was beautiful with a great reflection of the mountains.
Straight away we knew that another early morning for sunrise is definitely on the cards.
There are a couple of convenience stores at this lake. You can purchase simple Tajik meals, beer, water, soda and snacks here.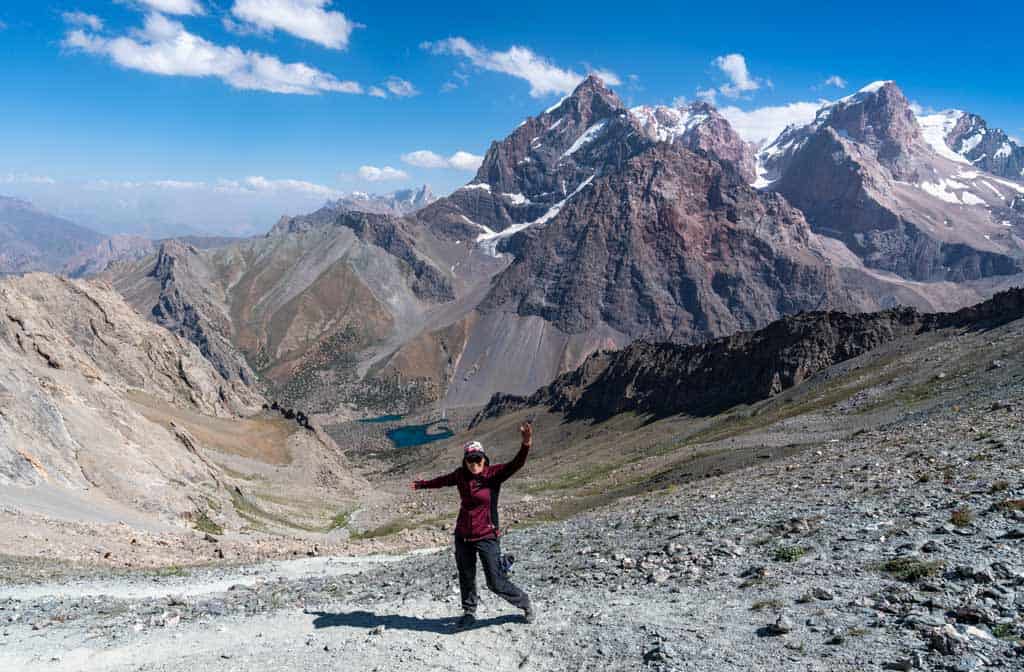 Day 3 – Alaudin Lakes to Vertical Lodging then car to Iskanderkul
Distance – 1.9m
Elevation lost – 170m
This morning we got up early for sunrise. These moments are not to be missed.
The reflection on the water was gorgeous and the silence was beautiful. The only other people up were the donkeys and cooks getting breakfast ready.
We had our meal and started the walk towards Vertical Lodging from camp, enjoying the beautiful and green the landscape along the way.
We passed about 3 more different lakes. Some would be great spots for sunrise if you are also into photography.
It is all downhill to Vertical Lodging, and if you prefer you can camp here as well.
We came to a flowing river, so we took our shoes off to cross the freezing cold water. The walking sticks really helped me here.
Before too long we made it to Vertical Lodging, and this is where our pre-organised car picked us up from. He was waiting for us just outside the main gates with our big bags.
This was the end of our Lakes Loop hike on day 3, and from Vertical Lodging we started our drive out towards the highway through a valley.
The road was windy but the landscape was beautiful. We stopped for a few photos but didn't waste any time to get to Iskanderkul, as we all needed showers badly.
The drive took us about 2.5 hours (57km) to get to Iskanderkul.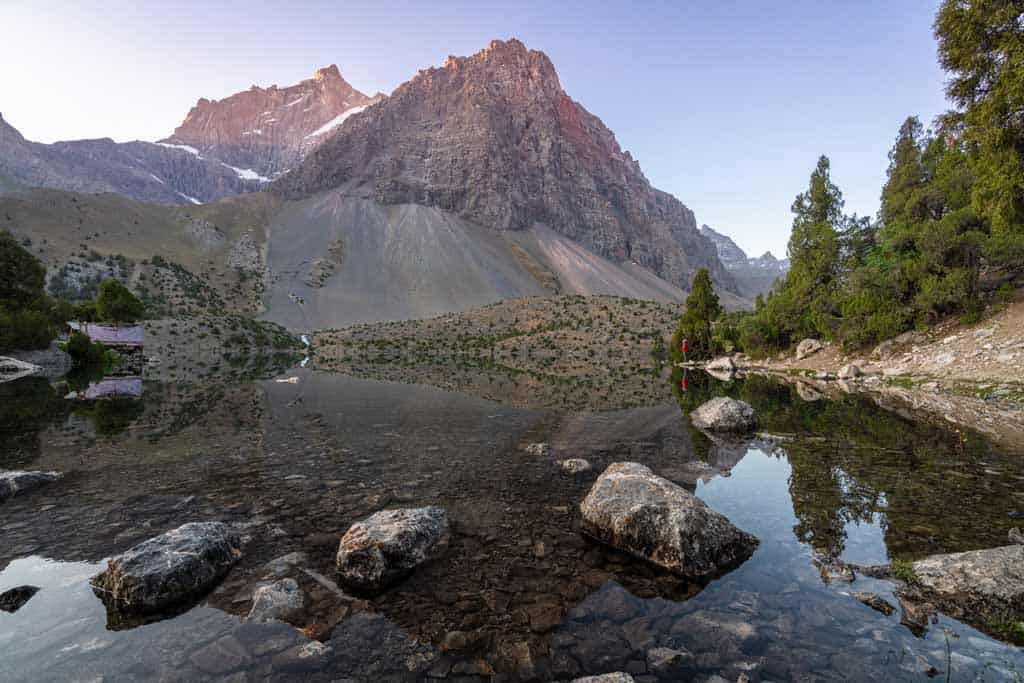 Days 4 & 5 – Completing the Lake Loop back to Artuch Alplager Camp
We didn't do this section but met many travellers that were doing it. This will add on another 2 days on your hike.
Once you get to Vertical Lodging, you can hike back towards Artuch Alplager Camp.
From Vertical Lodging there's a trail behind the accommodation that will lead you back to the Kulikalon Lakes. The elevation gain is about 990m.
Alaudin Lakes to Kulikalon Lakes – 13km (about 7 hours)
When you reach the Kulikalon Lakes, you can either stay at Kulikalon, Bibidzhonat or Kulisiyekh Lakes.
You can take the easier route or up over the Laudden Pass back to the camp. Both routes are located near Kulikalon Lake.
The easier trail from Kulikalon Lake will follow the Artuch River the whole way.
The elevation is about 550m and is the easier way to get back to Artuch Alplager Camp.
Kulikalon Lake to Artuch Alplager Camp – 5.7km (about 2 hours)
Going over Laudden Pass from Kulikalon Lake to Artuch Alplager Camp is the hardest route. You will gain an elevation of 1000m.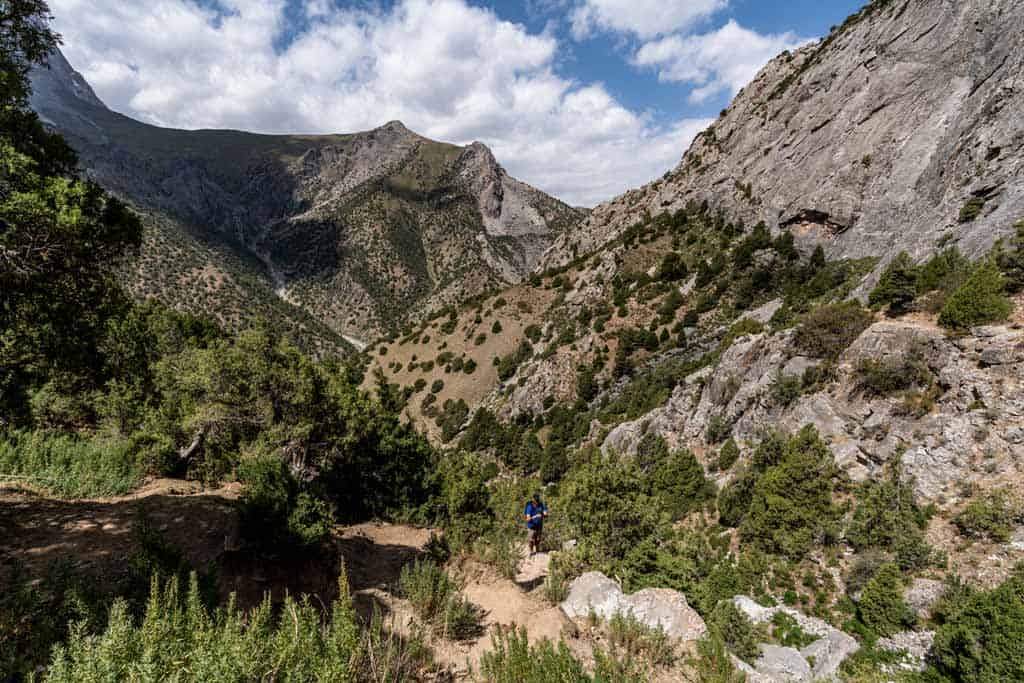 Lakes Loop Trek Extensions
There are a couple of really nice extensions you can do to add to the Lakes Loop Trek in Tajikisan.
If you want to make the most out of your hiking in the Fann Mountains experience, check these out.
Day Trip to Mutnoye Lake from Alaudin Lakes
Distance – 5.5km
Elevation gain and lost – 730m
You could spend an extra night at Alaudin Lake and hike out to Mutnoye Lake and before returning to your campsite.
This is a great alternative to see more but still be able to go back to Artuch Alplager Guesthouse if you have left your bags there.
Alaudin Lake to Iskanderkul
I did not do this section but it can be done if you want to add on to your hiking adventure. This will add on 4 more days to your hike.
Day 4 – Alaudin Lake to Mutnoye Lake
Distance – 5.5km
Elevation gain and lost – 730m
Day 5 – Mutnoye Lake to Kaznok River Camp via Kaznok Pass
Distance – 5.5km
Elevation gained – 730m
Day 6 – Kaznok River Camp to the 2nd Kaznok River Camp
Distance – 8.7km
Elevation lost – 720m
Day 7 – 2nd Kaznok River Camp to Sary Tag
Distance – 11km
Elevation lost – 250m
Day 8 – Sary Tag to Iskanderkul (following a road)
Distance – 8.9km
Elevation gain and lost – 250m
Lakes Loop Hike Tips
Here are some more of my tips for making the most of your organisation of the Lakes Loop Hike.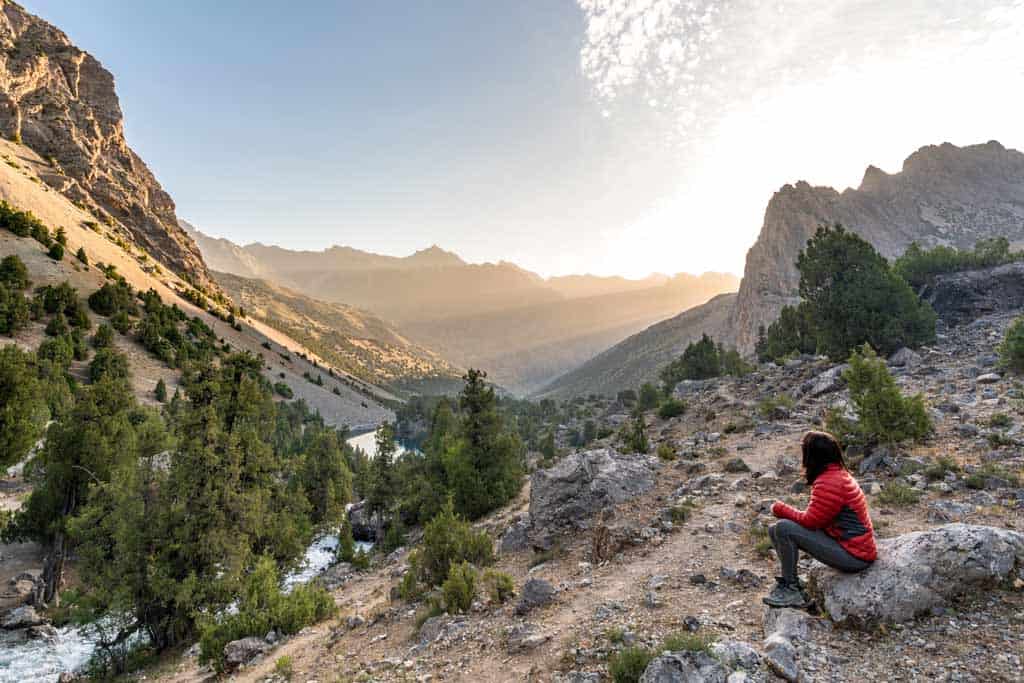 What to Pack
When trekking the Lakes Loop in the Fann Mountains, it's important to remember that you will be in a remote part of the mountains, sometimes at altitude, and weather can change rapidly at any time of year.
One minute it may be sunny and hot, the next minute it could be raining and chilly. You never know.
The most important thing to bring with you is good quality, light hiking clothes and warm gear that you can layer properly.
As they say, "Dress for the hour, not for the day".
We personally use and recommend the brand Kathmandu, as they offer high quality and technical clothing for all conditions.
You don't need to bring a lot with you on this trek. You can organise with the Artuch Alplager Camp to leave your big bags and unnecessary gear in their office until you're finished with the trek.
If you are continuing on to Iskanderkul and have a car organised, get your bags transferred with the car.
Remember you can hire pack donkeys for the entire trek, but just be sure to only bring what you need and not to overload them.
All you need on your body is a comfortable day pack that you can fit a rain jacket, your camera, pants and a sweater, as well as some snacks.
Make sure your day pack has a decent waist harness to distribute the weight.
Good hiking boots – Goretex is waterproof and lightweight. Make sure you have worn them in before going hiking though.
Trekking poles – These were very useful as the terrain can be rocky and steep. (You can rent them from Visit Alay)
Two t-shirts – One for trekking during the day, and one for wearing at night.
Trekking pants – this is to protect you from the sun and bushes.
One lightweight fleece or packable down jacket.
One lightweight waterproof/windproof shell jacket.
Thermal top and pants – We recommend merino wool. Great for the evening and the night for sleeping.
Water purification tablets or SteriPEN
Three pairs of socks – One for trekking, one for wearing at night, and a spare pair in case your trekking ones get too wet. You'll really want to look after your feet on this trek!
Sandals to wear around camp.
Any medication you need, as well as bandages in case you get blisters or cut yourself. If you have a travel first aid kit keep it with you. Don't forget diarrhoea
A 1L water bottle, preferably with a wide mouth for filling up out of rivers and streams. I recommend another litre bottle as days can be very warm.
Headlamp or torch.
A good camera to take lots of photos!
Portable battery pack to keep your phone/camera charged. Electricity is rare and by solar and generator.
Bring extra snacks for energy along the way – protein bars, nuts
Sunscreen – the sun is strong
Lip balm with sun protection
Hat and sunglasses
Towel, soap, wet wipes (biodegradable ones) and anti-bacterial gel
Silk liner – especially if you aren't using your own sleeping bag.
A 'Buff' bandana
Headphones – If you love music to keep you motivated while hiking
Coffee – if you are a coffee lover bring your own coffee as only tea is provided.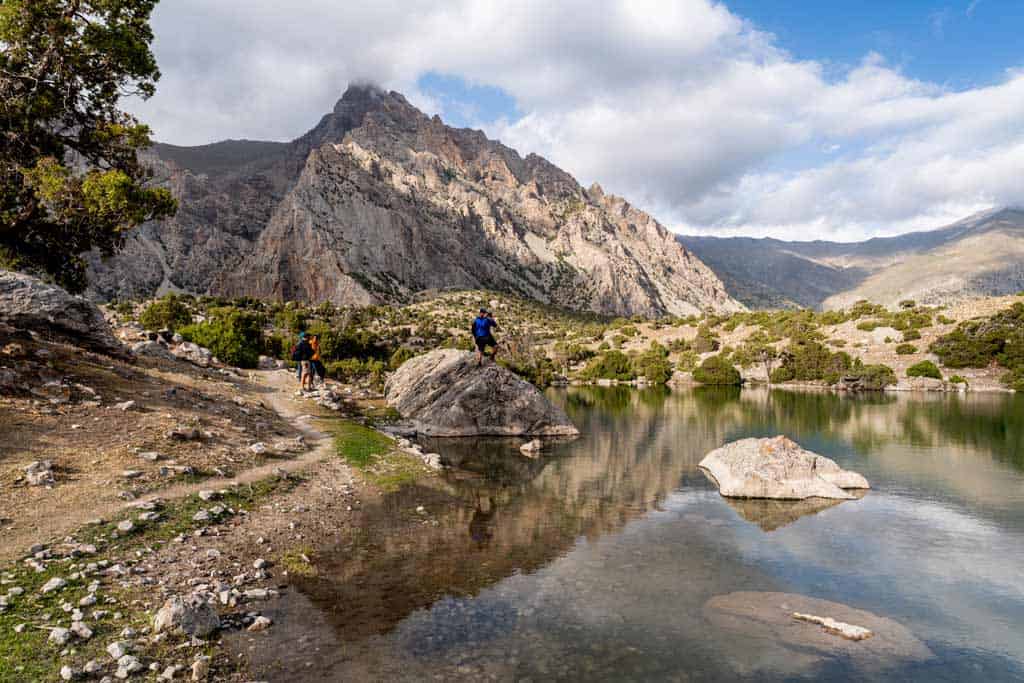 Where to Next?
After the hike, you have a few destinations you can head to. You could go to Panjakent, Iskanderkul or Dushanbe
Panjakent
A good option after the Lakes Loop Trek is to head to Panjakent. From here you can head over the border to Samarkand, Uzbekistan.
You can spend the morning exploring at the local bazaar and explore the Ancient Panjakent Town around sunset.
The bazaar is the busiest in the morning and you can pretty much buy anything here.
You can get all the local produce you want. I loved the dried fruits and they were so natural and tasty.
This is a great place to stock up if you land in Panjakent first before the hike.
The Ancient Panjakent Town are the ruins of a medieval city that was founded in the 5th century and was inhabited until the 770s.
Excavation on the site started in 1947. You can see rooms layouts, staircases, fireplaces and ancient brink work.
That is crazy to think it was once a busy town.
Ancient Panjakent was a town of the Sogdians. The Sogdians spoke the Iranian language and were considered to be one of the most important people in Central Asia.
They founded several cities in the Zarfshan Valley (mountain range between Tajikistan and Uzbekistan) and also along the Silk Road as far as China and Mongolia.
But in 722, the Arabs took over Panjakent city and the Sogdians fled into the mountains.
Ancient Panjakent was abandoned at the end of the 8th century. This is a great spot for a view over the city for sunset.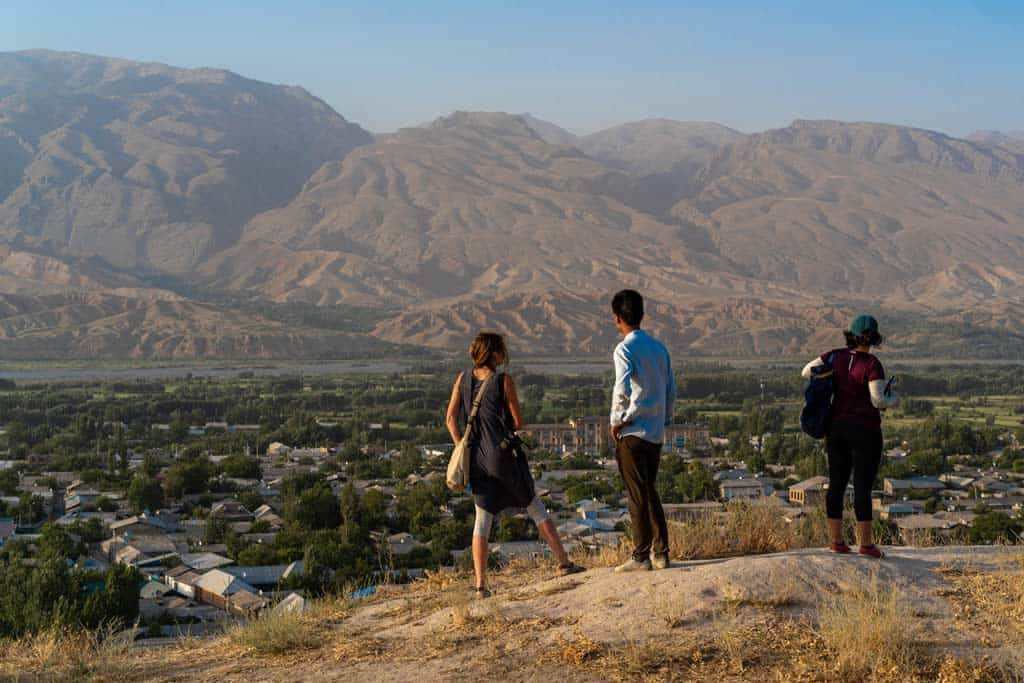 Iskanderkul
Iskanderkul is an absolutely stunning place, and well worth spending a day or two to chill out, enjoy a shower after the trek and explore the lake.
The lake is a beautiful turquoise colour. There are guesthouses spread out around one side with great views of the lake and the mountains.
The name Iskanderkul means the Lake of Alexander the Great. "Iskander" was how Alexander the Great was named in the East and "kul" means lake in Turkic languages.
Iskanderkul is a crater lake formed after a huge rockfall. It is nearly 100 meters deep and doesn't have much marine life as the water has high mineral content.
There are a few other sights near Iskanderkul that you can visit. One is Snake (Zmeinoe) Lake which has a large number of snakes due to its higher temperature of the water.
Yuck, not a fan of snakes, but the lake is pretty.
There is the 'Niagara Falls of the Fann Mountains' which is a 43-meter high waterfall located on the river flowing from Iskanderkul.
Or you can sit on the side of the lake and enjoy a beer or coffee and admire the mountains.
It is worth spending a night here at Iskanderkul. You can easily access this place from Dushanbe.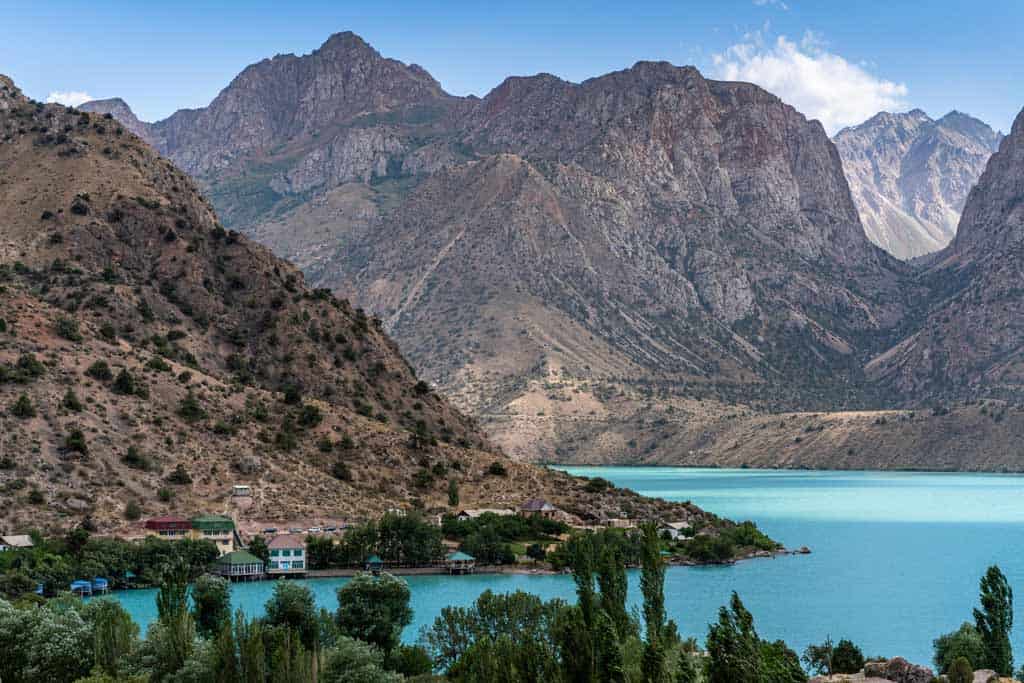 Dushanbe
People think there is not much to do here, and on my first visit in 2015 I barely spent a day, but turns out there are lots of attractions.
This time I was lucky enough to have 2 full days of exploring.
One thing I did was learn about the country's history at the Dushanbe National Museum.
I feel no matter where you travel, you should go to the national museum to learn about the country and its history.
Then we shot over to the Mekhrgon Grand Bazaar. This one was one of the fanciest bazaars I have seen in Central Asia.
People were lovely and you could get whatever you like here.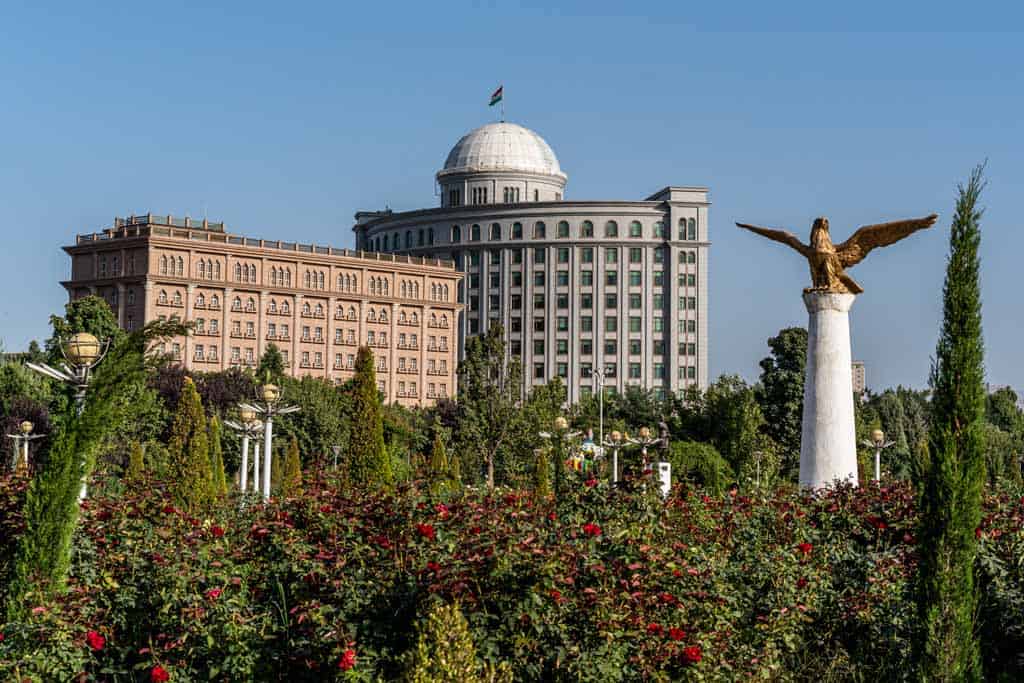 We had an afternoon stroll through the Rudaki Park (Rudaki was a famous classical poet) where you can find the world's 2nd biggest flag pole, the president's palace, a statue of Rudaki himself and the independence monument.
There are often families and friends hanging out everywhere.
After the stroll we needed something to quench our thirst. We went to Sim Sim Brewing Company where they brew their own beer.
Their beer was a delicious change to the standard Central Asian beer you get everwyere.
For less than $1, the pints kept rolling. This is a real local place. We did not see any other foreigners.
This city is really nice for a little break from travelling around the country. Great place for eating, exploring and relaxing.
This publication is made possible by the support of the American People through the United States Agency for International Development (USAID) Competitiveness, Trade, and Jobs Activity in Central Asia. The contents of this publication are the sole responsibility of NOMADasaurus and do not necessarily reflect the views of USAID or the United States Government.