Trying to find great activities and attractions in San Antonio? Our guide to the best things to do in San Antonio is all you need to plan the perfect trip!
San Antonio, Texas, is widely known for its Hispanic culture and historic Spanish colonial missions such as the Alamo. Every American's dream, San Antonio boasts mild winters, big-city amenities and some of the best things to do in Texas.
Founded through a Spanish mission and as a colonial outpost in 1718, San Antonio was the first chartered civil settlement in Texas in 1731. As a result, San Antonio boasts loads of Texas history from various cultures, including Spanish, Native American, and American.
San Antonio Missions National Historical Park is a highlight of the south. Many other historical sites, artifacts, and art are settled in museums and around San Antonio. But there are other cool attractions like Natural Bridge Wildlife Ranch and Six Flags Fiesta.
So, not only will visitors be able to learn more about history and culture, but they'll also be catching a significant thrill in San Antonio's many theme parks!
If you're looking for what to do in this unique Texan city, we highly recommend you read this article to discover the top 21 things to do in San Antonio.
Exploring more of the Lone Star State? Check out our 3 days in Dallas Itinerary!
The Best Things to Do in San Antonio, Texas
Our list features the top 21 things to do in San Antonio to participate in when visiting this corner of Texas.
From cruising down River Walk to going on an adventure for an up close and personal experience at the Natural Bridge Wildlife Ranch, San Antonio has much to offer!
1) Be Enriched Through Significant Arts At The San Antonio Museum Of Art
Displaying art that spans over 5,000 years of global culture, the San Antonio Museum of Art is housed in the historic former Lone Star Brewery in the Museum Reach of the San Antonio River Walk.
With a focus on enriching lives through art by collecting, preserving, exhibiting, and interpreting astounding artworks, the San Antonio's Museum of Art now represents a broad range of world cultures and history.
Before or after exploring the powerful artwork displays, check out the protected heritage live oak located in the Sculpture Garden outside, dating back to 1718, and bask in its encompassing shade.
Art lovers will not be able to pass up a visit to the San Antonio Museum of Art!
Address: 200 W Jones Ave, San Antonio, TX 78215
Hours: Tuesday – Sunday 10 am – 5 pm (closes at 7 pm on Tuesday and Friday)
Cost: $20
Read Next: Check out our post on all of the best things to do in Texas!
2) Explore Downtown San Antonio
A bustling district, downtown features eclectic bistros, historical museums, enigmatic musical and theater performances, local shops, and public artwork to bask in.
Roots run deep in San Antonio and the heart of downtown, where San Antonio's best attractions are waiting to be explored!
The Alamo Plaza houses are one of the city's five Spanish colonial missions and were designated as a UNESCO World Heritage Site. You can even go on a ghost tour of the city to learn about the dark and haunting past. A ghost tour is not for the faint-hearted, but it's a fun way to explore downtown at night.
Bask in San Antonio's art and history scene, which has many public artwork displays, museums, art schools, art galleries, and musical and theater performances.
Check out the San Antonio Fire Museum, Majestic Theatre, South Bank Shopping Mall, La Villita Historic Village, and more.
Sit down for food and drinks at the many local eateries and bistros lining San Antonio's downtown before hopping over to the Main Plaza, which hosts the oldest functioning religious community since 1731, the San Fernando Cathedral.
3) Feel The Thrill At Six Flags Fiesta
Formerly known as Fiesta Texas, Six Flags Fiesta is one of San Antonio's most popular amusement parks and is famous for its adrenaline-pumping rides.
Six Flags Fiesta Texas is a perfect San Antonio attraction for families, friends, and couples! Everyone can partake in unrivaled fun at this world-renowned theme park with all levels of rides ranging from kids to adults.
Looking to cool off? Six Flags Fiesta Texas boasts water rides and exclusive cabanas to bask in the welcoming relief of water rides like the Bahama Blaster, which features trap-door style launching capsules and intense tubes for only the best adrenaline rush or kid-friendly rides like the Bamboo Chutes.
Address: 17000 W I-10, San Antonio, TX 78257
Hours: 10:30 am – 7 pm (closing times vary daily, check the schedule here)
Cost: $60 for a one-day ticket
4) Smell The Roses At The San Antonio Botanical Garden
One of the top things to do in San Antonio, visiting the San Antonio Botanical Garden is a refreshing experience.
A 33-acre non-profit botanical garden, the San Antonio Botanical Garden is nationally recognized for its botanical diversity, awe-inspiring displays, environmental stewardship, education, and fun experiences that drive people to be connected to the natural world.
One of the top San Antonio attractions, we recommend visiting this museum of plants to invigorate the fresh scents and stunning displays.
In addition, the San Antonio Botanical Garden functions as a living classroom, a tranquil escape, a research and conservation center, and an entertainment venue where various arts are brought to life.
Housing over 35 endangered and rare species, the San Antonio Botanical Garden welcomes guests to come and learn about the natural world!
Address: 555 Funston Place
Hours: 8 am – 7 pm every day (close at 9 pm Thursdays) (November – February hours are 9 am – 5 pm)
Cost: $16
5) Check Out The Natural Bridge Wildlife Ranch and Natural Bridge Caverns
The neighboring Natural Bridge Caverns and Wildlife Ranch include some of the most fun things to do in San Antonio.
Certified by the State of Texas as a Texas Land Heritage, the Natural Bridge Wildlife Ranch spans over 400 acres and has been run by the same family for over 100 years.
Voted as USA Today's 10 Best Safari Parks, the Natural Bridge Wildlife Ranch takes visitors on a guided tour in a hands-on environment with adventure guide animal specialists.
This enhanced experience allows guests to get up close and personal while learning fascinating facts about the animals, management, and heritage, all while experiencing a new take on the African Safari with a Texan flair.
Right next to the ranch is Natural Bridge Caverns, a collection of massive limestone caverns. Within the caves, you can go on guided tours to learn about the ancient rock formations and explore hidden passageways.
Natural Bridge Caverns also offers fun activities like ropes courses and zip lines. Check out the tours on the website and plan your visit to the coolest underground activity in San Antonio, TX.
Read next: 21 Best Things To Do In Dallas Texas
6) Shop At The San Antonio Historic Market Square
The Historic Market Square, also known as the San Antonio Market Square, is a three-block outdoor plaza dotted with restaurants, shops, bars, and other fun attractions to explore downtown.
The largest Mexican market in all of the United States, the Historic Market Square hosts the "El Mercado" section, which houses 32 specialty shops. To pick the freshest local produce in Texas, stop at the "Farmer's Market Plaza" section, which homes 80 stalls and vendors selling delicious local produce.
With over one hundred locally owned businesses, the San Antonio Market Square has been a favorite of locals and tourists for many generations with its exceptional marketplace experience.
7) Learn About The Wild West At The Briscoe Western Art Museum
Explore one of the many top things to do in San Antonio by visiting the Briscoe Western Art Museum.
A modern space housing artifacts and arts that illuminate culture and history throughout the American West, the museum shares stories of the vaquero, the cowboy, and Native Americans.
Touring his museum, visitors will be subject to the expansive beauty of the Western landscape shown through various art such as sculptures, drawings, paintings, and sketches. This impressive museum is located on the banks of the San Antonio River Walk.
Fun facts: the main building of the Briscoe Western Art Museum once served as San Antonio's original public library in the 1930s and then the Hertzberg Circus Collection and Museum in the 1980s.
To this day, visitors can step into a branch of the San Antonio Public Library on the first floor, where the building's origins are honored.
Address: 210 W. Market Street, San Antonio TX
Hours: Thursday through Monday, 10 am – 5 pm
Cost: $12
8) Tour The Scenic River Walk
The heart of San Antonio, the San Antonio River Walk is the #1 attraction in Texas. Famous for hosting river parades that run throughout the year, the banks of the Riverwalk are decorated and filled with eager tourists basking in the boisterous flare of parade floats that drift down the river.
Go on a Scenic Night Tour & River Walk Cruise to experience the enigmatic nightlife of San Antonio from the Tower of the Americas, drift down River Walk on a relaxing cruise, and learn more about San Antonio's culture and history with a narrated drive that takes guests through San Antonio's captivating nightlife.
It all started with Robert H. H. Hugman, a young architect with an empowering vision to combine winding pathways and bridges that flanked the river to connect it with downtown.
With Hugman's efficient design, floods have been prevented to save lives and dollars so that the people of San Antonio and its many visitors may still enjoy this stunning location.
One of the top tourist attractions, River Walk is open every day, 24/7. It stretches fifteen miles, and five miles of it flow through San Antonio.
9) Walk Down King William Historic District
One of the top 21 San Antonio activities, walking down King William Historic District is a must.
Developed into an idyllic neighborhood of impressive architecturally designed Greek Revival, Italianate, and Victorian houses, the King William Historic District was named in honor of King Wilhelm 1, the King of Prussia, in the 1870s.
Listed as a National Register Historic District in 1972, the area attracts many people who admire the restoration and preservation of old houses and smaller cottages that date back to the 1800s.
The Guenther House is one of the oldest houses in the King William neighborhood, dating back to its original construction in 1859. See these impressive old homes and cottages in the King William Historic District.
Just a 4 minute walk away is the Blue Star Arts Complex, San Antonio's longest-running contemporary art space. Head here next to continue your sightseeing and grab some food and listen to live music!
You may also be interested in our guide to planning an awesome Texas road trip!
10) Witness The Impressive San Fernando Cathedral
Commonly referred to as the Cathedral of Our Lady of Candelaria and Guadalupe, the San Fernando Cathedral is a cathedral of the Roman Catholic Church located in downtown San Antonio.
Founded in 1731, the San Fernando Cathedral is the oldest functioning religious community in the State of Texas. It is the mother church of the Archdiocese of San Antonio as well as the seat of its archbishop.
The stunning architectural design of the cathedral faces the Main Plaza, where many bask in its historical and religious presence.
Be sure to check out the Main Plaza Cathedral Light show, when the cathedral lights up in colorful video art projections.
Address: 115 N Main Ave, San Antonio, TX
Hours: 9 am – 5 pm, but times vary based on Mass (find the schedule here)
Hours for Main Plaza Cathedral Light Show: Tuesday, Friday, Saturday, Sunday at 9 pm, 9:30 pm, and 10 pm (find more info here)
Cost: Free
Heading to more Texan cities? Read our list of the best things to do in Austin.
11) Stroll The Japanese Tea Garden
The Sunken Gardens in Brackenridge Park, also known as the San Antonio Japanese Tea Garden, is an abandoned limestone rock quarry transformed into a restored garden.
It features a lush year-round garden and floral display, koi ponds, a 60-foot waterfall, stone bridges, and shaded walkways to bask in during your stroll through the gardens.
Pet-friendly and free admission, the Japanese Tea Garden is a beautiful and relaxing setting to bask in for a lovely stroll alone or with others.
Its history has expanded over 90 years, allowing the gardens to masterfully shape and beautify the environment for guests to take part in an unforgettable and enjoyable experience.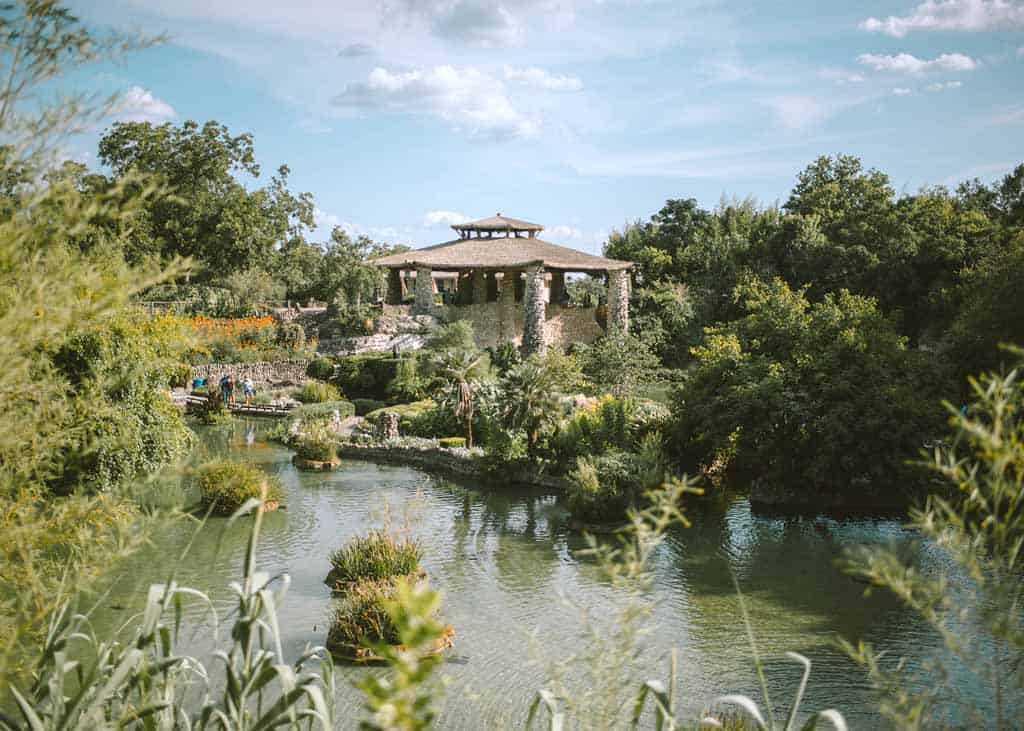 12) Take A Sip At Ranger Creek Brewing
An industrial brewstillery that offers tours and a wide selection of microbrews and craft whiskies, Ranger Creek Brewing boasts the award for San Antonio's award-winning brewstillery.
Featuring a notable Texas attitude combined with their hand-crafted whiskey and beer, Ranger Creek Brewing & Distilling knows how to combine love, attention, and quality into one refreshing drink.
Join them for a guided tour where guests can learn how to make beer and bourbon in an immersive experience and detailed tour – with samples provided!
Address: 4834 Whirlwind Dr, San Antonio, TX
Hours: Monday – Thursday 10am – 4pm, Friday and Saturday 12pm – 9pm
Cost: Tours cost $15 and run every Saturday at 1 pm and 3 pm
13) Learn Important History At The Witte Museum
San Antonio's premiere museum, the Witte Museum is the most-visited museum in San Antonio, reaching a diverse crowd with its transformative experiences.
Located between historic Broadway and the San Antonio River, the Witte Museum is a flourishing riverside campus with extensive open galleries that combines nature, science, and culture.
The San Antonio River flows through the 10-acre campus, exploring the natural history of the local area. At this museum, petrified specimens from the Cretaceous era and artifacts from the Archaic times can be discovered and learned about for an immersive experience.
Having been founded in 1926, the museum welcomes visitors from all over the world. The scientific specimens, historical artifacts, interactive exhibits, and overall impressive collection provide an informative learning experience.
Read more: The Perfect 3 Days in Austin Itinerary
14) Visit The McNay Art Museum
At the McNay Art Museum, American and European art from Medieval to Contemporary are featured in a 1929 Spanish Colonial Revival-style mansion that rests on 23 acres of land. The museum was founded in 1954 and is the first modern art museum in Texas.
Throughout the property, guests can explore the broad landscaped lawns with fountains, fish ponds, and Japanese-inspired gardens before or after exploring the inside of this impressive art museum.
In addition, guests can explore the Tobin Collection of Theatre Arts, which the McNay Art Museum homes as one of the premiere collections.
There is also a research library that houses over 30,000 volumes, including the glass-fronted gallery for sculptures, the light-filled galleries for special exhibitions, and the learning centers where guests can educate themselves more on the impressive history and information displayed in the McNay Art Museum.
15) View The Majestic Theatre
The oldest and largest atmospheric theatre in San Antonio, the Majestic Theatre is impressively recognized as one of the most ornate facilities in the United States.
A National Historic Landmark, the theatre is found in downtown San Antonio where it stands as the nation's finest and last remaining atmospheric theatre.
Archiving Texas theatrical and architectural history, the Majestic Theatre was built in 1929 and has since then stood proudly as Texas' largest theatre and second largest motion picture theatre in the country.
In addition, the theatre hosts comedians, concerts, Broadway shows, and other live events to which the public can buy tickets.
16) Explore San Antonio Missions National Historical Park and the Mission Trail
Spanning five mission sites and a historic ranch, this UNESCO World Heritage Site is a historical must-see when visiting San Antonio.
The five frontier historic mission complexes were established through Catholic religious orders to spread Christianity to the local natives. These territories then transformed the local area's way of life by introducing new farming methods, religion, and communities.
By creating new communities, Native Americans were able to receive religious education and instruction and were able to live in the missions. From there on, the Spanish established pueblos (towns) and presidios (forts) for protection.
On this UNESCO World Heritage Missions Tour, guests can discover more about the Spanish influence in San Antonio and its essential role in American history.
The best way to explore the San Antonio Missions National Historical Park is by tour, but another fun way is by hiking or biking. Missions Trails are hiking and biking trails that connect the five missions.
Start at the northern end of the Mission Trail at Mission San Antonio de Valero, popularly known as the Alamo. From there on out, witness the other four missions: Mission San Juan, Mission San Jose, Mission Concepcion, and Mission Espada.
Mission San Jose was the most successful mission and is known for its high-quality olive oil production.
17) Visit The San Antonio Zoo
One of the most fun things to do in San Antonio with the whole family is visiting the San Antonio Zoo.
Focusing on animal care, education, and conservation, the San Antonio Zoo is a nonprofit organization that cherishes wildlife.
The zoo hosts over 1 million visitors every year and is located in Brackenridge Park in Midtown. Here you can participate in events like giraffe feeding, 3D animal movie viewing, flamingo mingling, and breakfast with animals like kangaroos and hippos.
There is also a kiddie park for the young ones with rides and games. You can get combo tickets to the zoo and kiddie park.
Whether you're traveling with kids or you're a huge animal lover yourself, the San Antonio Zoo is a fun activity for everyone.
Address: 3903 N St Mary's St. San Antonio TX
Hours: 9 am – 5 pm most days but check the calendar for variations
Cost: $21.73 adults, $17.16 children
18) Shop At The North Star Mall
Only 10 miles from downtown San Antonio and 2 miles from the airport, the North Star Mall is a top luxury shopping destination in the Uptown District.
Open since 1960, this mall boasts over 200 specialty stores, including some that are exclusive to San Antonio.
In addition, the mall features a well-known and loved city landmark with its Texas-sized cowboy boots. These boots stand as the world's largest pair of cowboy boots in 1979, running at 40 feet tall in the mall's Loop 410 frontage.
This is a popular spot for shopping among San Antonio residents as well as tourists.
19) Get The Full Texas Experience at the Buckhorn Saloon and Texas Ranger Museum
One of the coolest museums in San Antonio is the Buckhorn Saloon and Texas Ranger Museum. The two authentic museums combine into one epic, Texas experience.
Showcasing the best of Texan history and culture, the two museums showcase the cowboy lifestyle and include a gift shop, cafe, and event space.
The Buckhorn is the oldest saloon in Texas where you can grab a drink, eat some hearty food, learn about history, and check out the exotic animal collection.
The Texas Ranger Museum hosts tons of cool historic artifacts from over 100 years of Texas ranger history.
With a real rustic, wild atmosphere and decoration, this attraction lets you live and breathe the Texas experience.
Address: 100 318 E Houston St, San Antonio, TX
Hours: Museum, saloon, and gift shop open every day from 10 am until anywhere from 2 pm to 7 pm. Check the website for closing times on your day of visit.
Cost: $22.99 for both museums
Next stop, Houston! Check out our 3 days in Houston itinerary.
20) A Theme Park For Everyone – Morgan's Wonderland!
The world's first Ultra-Accessible family fun park, Morgan's Wonderland is a 25-acre non-profit theme park that welcomes those of all ages and disabilities.
Morgan's Wonderland is designed to be accessible to any individuals with special needs in mind, though the theme park welcomes all who would like to join for a visit.
In 2018, Morgan's Wonderland was granted part of TIME Magazine's "World's Greatest Places" list.
Featuring 25 Ultra-Accessible attractions and a wheelchair-accessible Ferris Wheel at Morgan's Wonderland, everyone can partake and enjoy their time at this one-of-a-kind theme park!
21) Become A Spy At Semmes Foundation Spy Academy
The Semmes Foundation Spy Academy teaches its undercover operatives to surpass clues and challenges through tech-forward exhibits, a tremendous family-friendly San Antonio attraction. As a result, spies can crack codes, solve cases, and purchase their Spy Watch!
At Spy Academy, an emphasis on digital literacy and citizenship helps build skills to communicate information using digital platforms.
By incorporating a learning experience, these young spies can improve reading comprehension, observation, and problem-solving skills through an immersive setting.
Address: 2800 Broadway
Hours: Monday – Saturday 9am – 6pm, Sunday 12pm – 5pm
Cost: $14
Where to Stay in San Antonio, TX
Now that you know the best things to do in San Antonio to explore during your visit, it's time to see where to stay in San Antonio!
Best Hostel in San Antonio
Featuring all utilities free of charge, WaterWalk San Antonio at The Rim includes a washer and dryer in every suite, along with complimentary detergent and fabric softener.
In addition, the complimentary breakfast experience is delivered to your room to be enjoyed before going about your day in San Antonio!
Best Mid-Range Hotel in San Antonio
Only a fifteen-minute drive from the San Antonio International Airport, Drury Plaza Hotel San Antonio North Stone Oak features complimentary breakfast, free WiFi, and a 24-hour business center for guests that need to work during vacation. Soak in the hot tub or swim freely in the outdoor swimming pool in your free time!
Best Luxury Hotel in San Antonio
Only 1.3 miles from the Alamo, Hotel Emma at Pearl on the Riverwalk is an enigmatic hotel that boasts a desirable location to all of San Antonio's major attractions. Guests can sit on the sun terrace or grab a drink at the onsite bar before taking an evening stroll down Riverwalk!
DISCLAIMER: Some of the links in this article are affiliate links, which means if you book accommodation, tours or buy a product, we will receive a small commission at no extra cost to you. These commissions help us keep creating more free travel content to help people plan their holidays and adventures. We only recommend the best accommodations, tours and products that ourselves or our fantastic editorial team have personally experienced, and regularly review these. Thanks for your support, kind friend!