Our ultimate Tiger Leaping Gorge trekking guide in China's Yunnan province, and all the information you would ever need!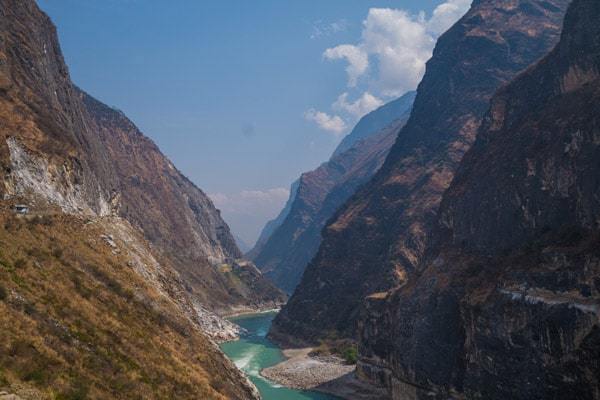 Vertical cliffs rise dramatically from the turquoise waterway to the glaciated peak of Snow Dragon Snow Mountain.
The Jinsha River, a tributary of the legendary Yangtze River, meanders its way through terraced farmlands and imposing limestone ridges, creating one of the most stunning backdrops to be found anywhere in China.
For years intrepid travellers have been making the voyage to the small town of Qiaotao to take part in the captivating hike that traverses the high hills of Tiger Leaping Gorge.
It is a worthwhile trek, and something that we stoked we completed during our time in China. We had heard varying tips about the trek and how many days to stretch it out over. In the end we opted to do the trek over 3 days (well, 2.5 to be exact) and found the way we did things to be just about perfect for us.
Rather than write about how incredible Tiger Leaping Gorge is and how the sights, smells, sounds and tastes are, we have put together this guide so you can find out for yourself.
General Information On Tiger Leaping Gorge
The Gorge runs for about 15km in length and at his highest point has a maximum depth of 3790m.
The people that live in the region are primarily of the Naxi (or Nashi) ethnic minority group, who can only be found in this particular area near the base of the Himalaya.
The legend of how Tiger Leaping Gorge got its name is illustrated and fascinating.
Apparently a hunter was chasing a tiger through the gorge many years ago. When it reached the narrowest point the tiger leapt across the Jinsha River, escaping the furious hunter. The rock where the tiger made its jump is now an iconic viewing point.
The Gorge was officially opened in 1993 to foreign tourists and is now one of the most popular adventure destinations in Yunnan.
Getting To Tiger Leaping Gorge
The town that serves as the starting point for the Tiger Leaping Gorge trek is Qiaotao (桥头) – a dusty village with not much going on for it besides its proximity to the Gorge.
While some tour companies in Lijiang do offer day trips and packaged deals, we recommend just getting to Qiaotao yourself. It is cheap and pretty easy.
Getting To Qiaotao From Lijiang
Make your way to the bus station on the south side of Lijiang by catching the number 13 public bus. We recommend buying your ticket the day before to ensure you get a seat. The bus leaves at 8.30am and they charged us 24RMB per ticket.
Make sure you tell the ticket lady and the driver you are going to Qiaotao, and not Tiger Leaping Gorge, otherwise you will end up going past the trail head.
Getting To Qiaotao From Shangri La
If you are making the mission to Tiger Leaping Gorge from Shangri La, you can jump on any long-distance bus that is going to Lijiang, Dali or Kunming. Cost should be around 30RMB.
Visiting The Upper Gorge
If you get dropped off in the town of Qiaotao, you are right near the starting point for the Upper Trail. When you enter town the driver will stop off at the ticket booth, where you will be charged 65RMB for entrance to Tiger Leaping Gorge.
This is valid throughout the duration of your stay in the area. It is possible to avoid this fee if you arrive early in the morning or late afternoon.
Another option would be to get dropped off before town and then walk around the main street. But in our opinion, the fee is very reasonable for what you get (especially compared to the rest of China's outrageously overpriced attractions).
One thing not to miss is the upper section of the Tiger Leaping Gorge. Located about 4km from town along the river road, the Upper Gorge has a series of boardwalks that lead you right down to the mighty Jinsha River. The view you get here is well worth the extra journey.
Your ticket includes entrance to this area, so you may as well use it. We hitchhiked from town to the Upper Gorge and back with minimal fuss. There are also taxis that will happily take you there.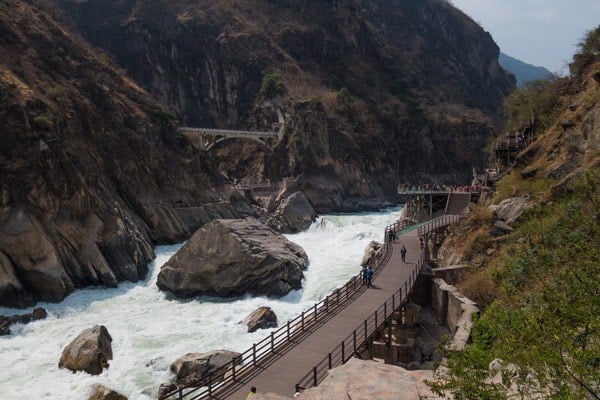 Leaving Your Luggage And Finding The Trail Head
If you have a large backpack that you don't want to take on the trek with you, Jane's Guest House will happily store it for the one-off cost of 5RMB, no matter how long for.
The guest house is about 100m past the ticket booth in the town of Qiaotao, and is a great place to stay either before or after the trek.
For the start of the Upper Trail, continue walking down the hill past Jane's Guest House past a large school. A bit further on, you will see a road leading uphill to your left and a sign saying, "Tiger Leaping Gorge Hiking High Way Thus Into".
Continue up that road (don't turn off it) for about 45 minutes and you will see a trail heading up a steep hill with another sign. There is the start of the Upper Trail.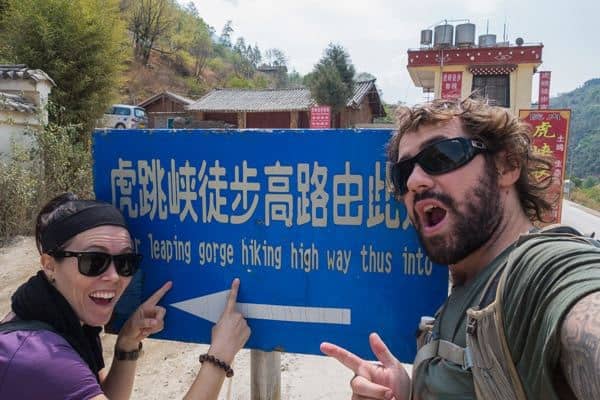 How Many Days To Complete The Trek?
Some people do it in 1.5 days, others have done it in one long day. If you are short on time, then this amount of time might be your only option.
But if you really want to take your time and appreciate every moment of the trek, we recommend doing it over 3 days – especially if you want to check out the Upper Gorge and Walnut Grove at the end of your Tiger Leaping Gorge trek.
There is also a lower trail which follows the other side of the river. This is NOT the trek you are looking for, although the views are meant to be quite nice as well.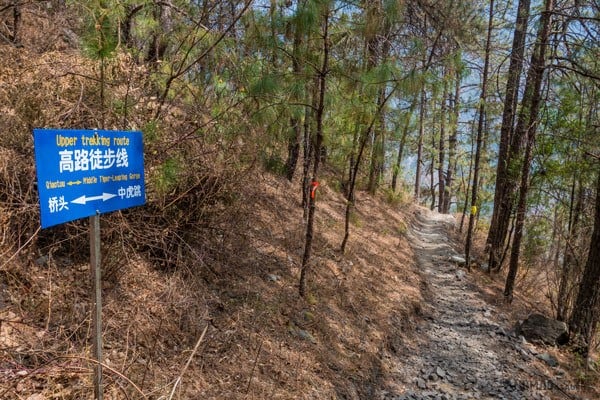 Our Itinerary
We chose to do the trek over three days and two nights, which in our opinion was a perfect amount of time.
Day 1
After arriving in Qiaotao at about 10.30am and dropping our big backpacks off at Jane's Guest House, we hitchhiked down to the Upper Gorge and spent just over an hour walking around that beautiful stretch of the area.
By the time we hitchhiked back to the trail head and were ready to begin our hike, it was about 1pm. When you turn off of the road and onto the proper trail, the hiking is quite steep. We found this first section to be the toughest of the whole trek.
There were a couple of men waiting with horses who offered us rides to the top for a fee. We just smiled, said "no thank you" and kept on walking. They didn't follow us. However in peak season we have heard they are quite persistent.
After photos and stopping for breaks, it was about 3.30pm when we showed up to Naxi Family Guest House. There was a storm rolling in, so we decided to call it a day here.
We are glad we did, because the very next section after Naxi Family Guest House was the infamous 28 Bends – steep, climbing switchbacks that have incredible views, but seem to go on forever.
The atmosphere and views at Naxi Family Guest House were amazing, and we are happy that we did stop there. The family is friendly and the food is decent and reasonably priced. No English was really spoken.
Naxi Family Guest House Prices
Twin room with shared bathroom: 60RMB (30 per person)
Standard double room with private bathroom: 100RMB
Deluxe double room with private bathroom (and mountain view): 120RMB
We felt the twin room with shared bathroom was more than adequate. The shared bathrooms are very basic, but had hot water.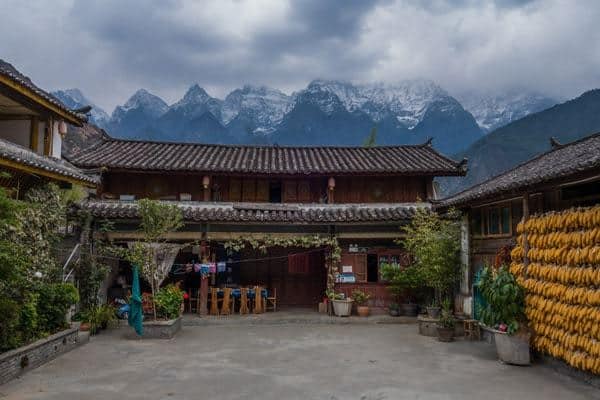 Day 2
After stocking up on a huge vegetable fried rice meal, we set off at about 8am and tackled the 28 Bends full of energy. In hindsight, this was a great idea as it meant we weren't that exhausted when we got to the top. In our opinion, the beginning of day 1 was tougher than the 28 Bends anyway.
We stopped for a quick lunch at the Halfway Lodge. Sitting on the top deck overlooking the towering snow-capped mountains was breathtaking – and not just because of the altitude. A basic fried noodle dish with vegetables was 15RMB.
Don't miss out on their 'Toilet With A View', even if you don't have to use it. The Halfway Lodge claims their lavatories have the best vistas of any other latrine in the world. Having tested the claim ourselves, it would be hard to dispute.
The rest of the trek after Halfway Lodge is pretty spectacular, and not as tiring as the first part of the day. The path narrowed right down to some slightly sketchy and rocky surfaces with tumbling cliffs on one side, but nothing too dangerous.
We hit the main road at about 3pm, and booked our bus ticket to Shangri La from Tina's Guest House for 3.30pm the next day for 55RMB. (NOTE – you can also purchase this from Halfway Inn and pick it up at Tina's, if you plan on leaving that same afternoon.)
They also have tickets to Lijiang. We felt that Tina's didn't have much of a nice vibe, so we were happy to move on while the daylight hours were still ahead of us.
We followed the road for about 45 minutes, taking in the sensational vistas, until we got to the Tibet Guest House in Walnut Grove. This place was lovely, with an affable Tibetan family running the place. We had heard rumours that the food at the Tibet Guest House was the best in all of Tiger Leaping Gorge. Well, we weren't disappointed.
Along with comfortable rooms, clean shared bathrooms, a cosy atmosphere and wifi, this place was a winner for us. Also in this area is Sean's Guest House and Chateau De Woody. Sean's seemed to have quite a lively ambiance and would be the place to have a few beers, if you felt like it.
Tibet Guest House Prices
Twin room with shared bathroom: 60RMB (30 per person)
Private room with private bathroom: 120-150RMB
Book your accommodation at Tibet Guest House on Hostelworld before arrive to avoid missing out.
Day 3
As our bus to Shangri La wasn't until mid-afternoon, we took our time in the morning and went for a walk to watch the sunrise over Tiger Leaping Gorge. We had a relaxed breakfast and set off to explore Walnut Grove at about 11am.
To get to the trail we walked further along the road to Woody's and followed the paved road down.
At one point the trail veers off in different directions, but follow the yellow and red arrows pointing the opposite direction (to Sean's and Woody's) and you will be fine.
Walnut Grove is stunning and should not be missed. Eventually you get to a point where a lady asks for money to continue onto the 'Ray Of Sunshine' trail. This is supposedly for 'maintenance' of the trail.
It was only 10RMB, so we happily paid and kept walking along the incredible stretch of pathway.
Eventually we got to another point where another lady asked for 15RMB to use her ladder. We said we had already paid the last lady, showed her a receipt and said we didn't want to use her ladder to get out – instead we wanted to keep walking along the river.
She became aggressive, yelled at us to turn around and then tried slamming a gate in our faces. In response to her aggressiveness, we just pushed through the gate and continued on.
From then on, just about every part requires some kind of 'maintenance' fee. Bridges, ladders, access to a viewing stone, everything. For one viewing rock we just didn't use the bridge, instead walking along the natural stones.
They weren't happy about this, but we weren't happy about being hassled every step of the way for fees on top of the original entrance fee we had paid.
If we forked over money every time we were asked, it would have come to more than the initial 65RMB. We had also been told that the people asking for money were not legitimate, and instead are just taking advantage of the thousands of Chinese tourists who happily hand over any amount of money asked of them.
It is up to you whether you want to believe that claim and pay the fees or not.
You can continue walking along the trail and it will eventually lead back to the road. We decided to climb up a series of 'sky ladders' to get to Tina's. 168 steep, sometimes vertical, but sturdy rungs will take you more or less out of Tiger Leaping Gorge.
(10RMB fee to be paid at the top…surprise surprise…)
We made it to Tina's at about 1.30pm and relaxed with a beer in hand to celebrate finishing the trek.
August 2016 Update: The "Extra Fees" In Tiger Leaping Gorge
One of our wonderful readers Mike has got in touch with some updates about the situation on Tiger Leaping gorge as of August 2016.
Here are his words:
I recently hiked Tiger Leaping Gorge and there have been some major (good) changes to the Ray of Sunshine trail.
Essentially, the touts you complain about on the blog have consolidated their efforts into 2 stations and nobody bothers you for money on the trail:
* one is at the entrance for 10 RMB – this gets you down the trail and to the river
* the other is just before you enter the bridge and Sky Ladder territory and costs 15 RMB
There are big signs at both stations explaining – in Chinese and English – that the trail charges a fee because is maintained by the locals:
The Sky Ladder was built by the folks who run Sandy's Guesthouse at the top (free admission to that section if you stay at Sandy's), as was the bridge that goes out to the big rock that the mythical tiger used when leaping across the gorge.
The bridge also has a 10 RMB fee if you want to use it, so it's a grand total of 35 RMB ($5) for everything on the trail.
The "refreshments" available en route are sold by old dudes who I guess might have once spent their days bothering hikers for money, but now sell fruit, water and cannabis at only slightly-inflated prices.
It was a much better experience than I expected after reading about your trip down the Ray of Sunshine trail and a perfect ending to the amazing 3 days we spent hiking the gorge.
Also, the bus now drops hikers off directly at the trail head instead of having you walk up the side of the highway for 45 min.
Other Tips For Tiger Leaping Gorge
Bring snacks with you if you tend to get hungry during treks. We took some dried fruits and nuts bought from a supermarket in Lijiang, and this was enough for us. Food can be bought at all the guest houses along the route.
Have at least 2 litres of water with you at all times. More is recommended. Again, you buy water at all the guest houses (5-10RMB per bottle). We carry a SteriPen, which allows us to sterilise tap and creek water, just to be safe.
Make sure you have wet weather gear, as it can change very quickly in Tiger Leaping Gorge.
If trekking in winter (October to March), the temperature can, and will, plummet. Wear layers and gloves.
It is almost impossible to get lost along the way. Red and yellow arrows pointing to various guest houses are painted on stones periodically along the trail, as well as blue sign posts.
We met a guy on the trail who hitchhiked from Tina's with no problem. This is another option if you don't want to pay for the bus.
If you do take the bus from Tina's, they will stop at Jane's Guest House so you can grab your other backpack.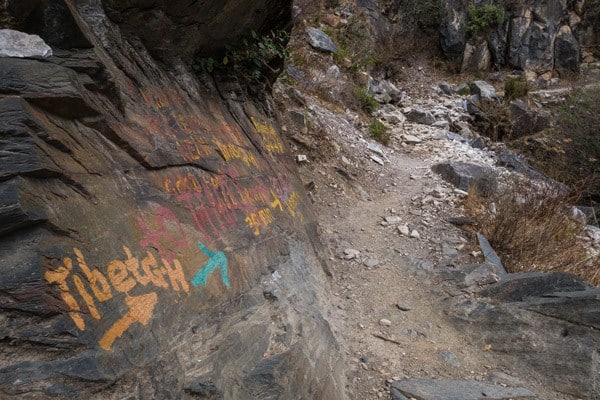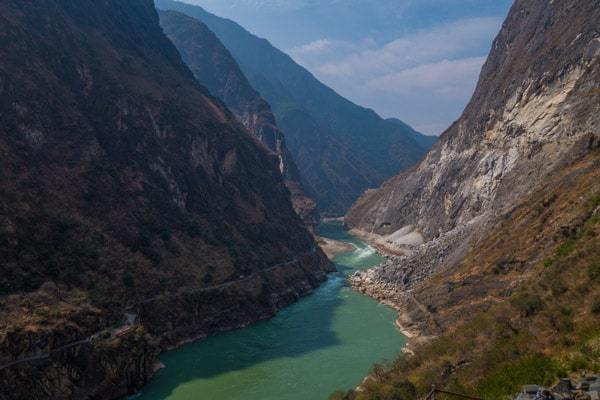 Save this Pin for later?