Singapore isn't just a transport hub – it has so many great things to offer! Why not consider staying in Katong, Singapore on your next visit?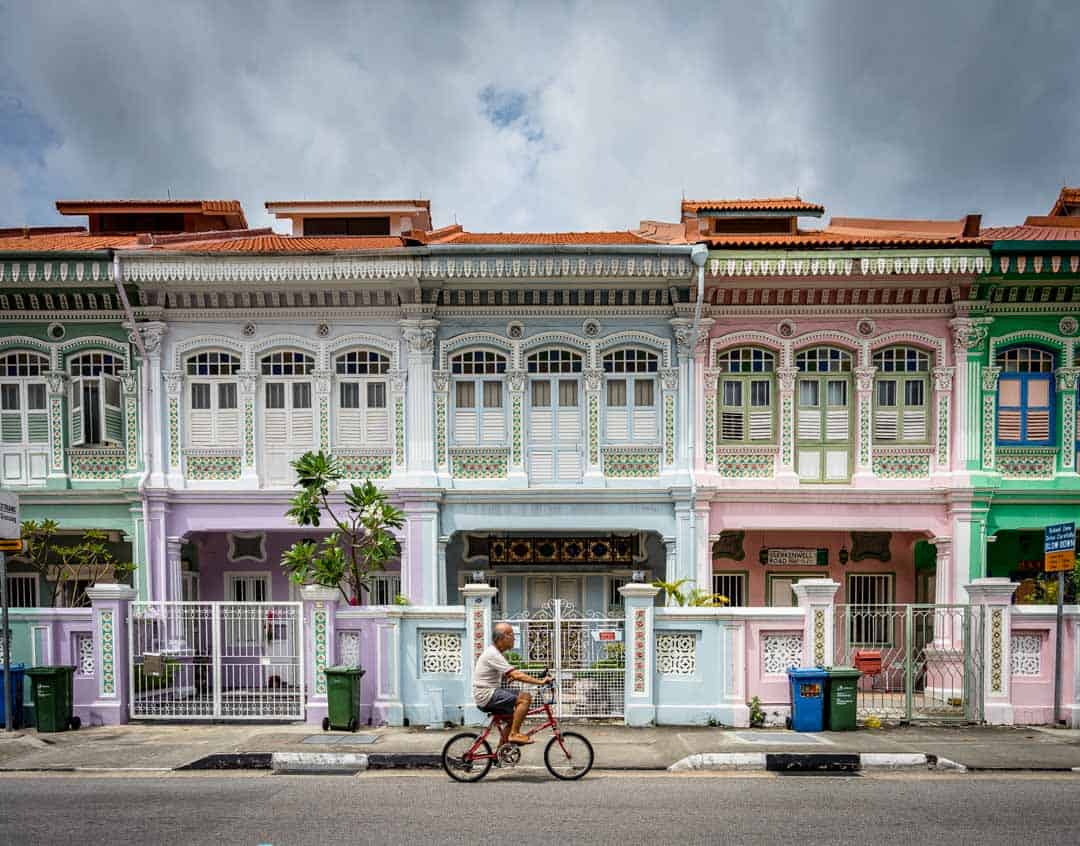 The tiny island-nation of Singapore has grown from being a traditional fishing port to one of the most economically-charged and vibrant countries in Asia.
It's strategic location and amazing airport has also resulted in Singapore being one of the best transport hubs in the entire world. For this reason millions of tourists spend at least a few days in the country every year.
Singapore has a few main attractions that most people want to see, so they end up staying near them. But for those that want to get more out of their visit, we recommend you stay in the funky Katong neighbourhood.
As local as local can be in a city filled with business and tourism, the amount of things to do in Katong, excellent places to eat and amazing luxury hotels to stay in ensure that it is one of the best neighbourhoods to be based in on your next trip to Singapore.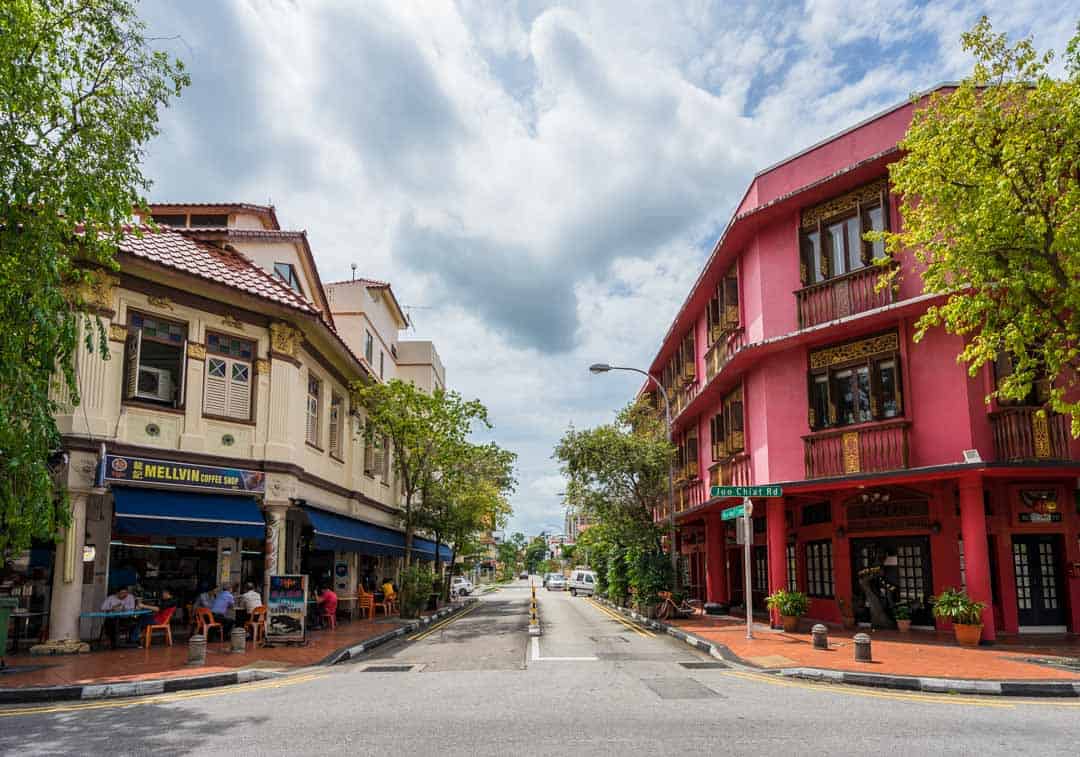 3 Reasons Why You Should Stay In Katong
Most people look to Chinatown or the area around the Marina Bay Sands to stay when they visit Singapore. They usually assume that these two popular areas are the only neighbourhoods worth staying in.
Totally understandable – we did the same when we first travelled to Singapore.
However for those who prefer to try something unique and would rather break away from the norm, there are plenty of great reasons why you should stay in Katong, Singapore.
Live Like A Local
Katong is one of the coolest neighbourhoods in Singapore, with a mix of high rise apartments and hotels sitting next to quaint, traditional houses.
Because relatively few tourists choose to stay in Katong, it's has a more authentic feel about it as you walk around the streets.
You get a real good feel for the awesome little cafes, bars and restaurants that are dotted around the place, and can see how many Singaporeans would visit the area to do their shopping.
You won't find the high-end luxury stores and tech shops here, like on Orchard Road, and you won't get hundreds of people taking selfies next to the Merlion. Instead you'll find life as it is for the majority of Singaporeans – living like a local.
Make sure to stay at least a week as there are many places to visit in Katong.
Get Away From The Hustle And Bustle
An extra benefit of 'living like a local' in Katong means it's much quieter than some of the other neighbourhoods around the city.
Katong is so peaceful and quiet, that sometimes we had to stop and ask ourselves, "Are we still in Singapore?"
One day we decided to just walk the empty, tree-lined streets and soak up the atmosphere. Compared to the busyness you get around downtown, it was awesome to make the most of Katong.
The best thing is that it's easily connected via bus and MRT to the rest of the city, so you can go and do all your sightseeing by day (or night), and return to chill for a few hours when you want.
Enjoy The Food
This may be the best (well at the very least the tastiest) reason to stay in Katong – It just has so many incredible food options!
Singapore is a foodie's paradise, and the hawker centres are famous the world over as the best places to get a cheap eat.
When you visit Katong you have some of the best hawker centres in the country at your doorstep, and the options just keep on rising from there!
Indian, Japanese, Korean, Thai, Malay, Italian, Mexican, no matter which country's cuisine you feel like sampling you'll have a good chance at finding it in Katong, Singapore.
Even with all those international selections though, don't miss out on trying the best local dishes as well such as seafood laksa (find out where to get that below).
Food is definitely one of the main Katong attractions and an integral part to get the full Katong sightseeing experience!
Top Things To Do In Katong, Singapore
It might not have the big ticket items Singapore is known for, such as the zoo and the Gardens by the Bay, but this is where the local atmosphere in Katong really picks up its game.
For a small neighbourhood there are a surprising amount of things to do in Katong, and you could easily spend a day (or more) checking them all out.
Visit Sri Senpaga Vinayagar Temple
This Hindu temple dedicated to Garnesha and is an attraction not to miss in Singapore.
Its history dates back to the 1850's, when a statue of Lord Vinayagar was found by the side of the pond near this site. It was sitting next to a Chempaka tree (Senpaga in Tamil), and that is how the name came about.
You will be draw in by this beautifully decorated temple from the road. There is two large Dwarapalakas standing 9 feet tall, each acting as guardians of the entrance. Visiting this temple at anytime of day you will feel a sense of peace and calmness.
There are many unique features to notice about this temple: Gopuram designed on the Chola traditions, the roof designed to see the Gopuram and the Vinayagar Vimanam, gold Covered Vimanam (the biggest in Singapore), kamlapaatham (a specially sculptured granite foot stone at entrance), four main granite pillars with 8 sculptures in each pillar and Senpaga Vinayagar, standing over 5 feet tall and designated as the largest sanctum Vinayagar in Asia.
Before going please respect the temple, obey the guidelines and of course the dress code.
Address: 19 Ceylon Rd, Singapore – You'll see it.
Opening Hours: 6am – 11pm daily
Price: By donation
Take A Stroll In East Coast Park
This park stretches along the water for kilometres. It is a great place to get away from the city's hustle and bustle, and enjoy some quiet time.
You can hire a bicycle, take a run or stroll along the well manicured paths. With cafes along the way you can stop and enjoy the view over the Singapore Straits.
There are plenty of amenities to enjoy as well, from barbecues to picnic tables by the water to children's playgrounds that entertain all members of the family.
It does get busy on the weekends (especially on Sunday) so keep that in mind when you visit.
Address: Along East Coast Parkway and East Coast Park Service Road
Opening Hours: Open 24/7
Price: Free of charge
Pick Up Some Souvenirs At Rumah Bebe
This little local shop is full of many beautiful Peranakan tableware and utensils. It was definitely an experience walking in and feeling like you have gone back in time to the old days.
People come to this store for the stunning batiks and large varieties of baju kebaya worn by the Nyonya. If you are looking for a real local gift, then look no further. There is a lot to choose from.
This is not just a souvenir store. You can also buy homemade Peranakan food (savoury and sweet) from here too. Try something sweet like nyonya kuih or a savoury dish like a yummy curry puff.
Address: 113 East Coast Road
Opening Hours: Closed Monday. Tuesday – Sunday : 9:30 AM – 6:30 PM
Price: Free to browse (No photos inside)
Website: https://www.rumahbebe.com/
Learn About History At The Eurasian Heritage Centre
The Eurasian people are one of the smallest communities in Singapore, but also one of the earliest. This museum takes you through their history and culture in 3 different galleries.
The galleries are very informative and leave you with a better understanding of the community. The 3 galleries are 'The Eurasian Showcase', 'Roots of Our Community' and 'World War II – The Eurasian Story'.
Enjoy learning about the origins, the different celebrations, their language, traditional music and their traditional dancing.
This is a definitely one of the best things to do in Katong if you are a history lover and are interested in learning more about some of the earliest people that settled in Singapore.
After the history lesson you can recharge with some local Eurasian food at the local restaurant on the property.
Address: Eurasian Community House, 139 Ceylon Road, Singapore
Opening Hours: Tuesday – Sunday: 9 AM – 6 PM (Closed on Monday)
Price: Free of charge (There is even a tour guide onsite to show you around)
Go Back In Time Katong Antique House
If you want to get deeper into the history and view some beautiful antiques, then this is your place.
Only by appointment you can view the house with Baba Peter Wee. He is the owner of Katong Antique House, is the President of the Peranakan Federation, and is one of Singapore's leading authority in the Peranakan Culture. He offers great insights into the beginnings of Peranakan culture and other cultures that influenced him.
There is some tasty and wonderful collection of Peranakan food sold at the front of the house, and if you are a serious collector then there is a comprehensive collection of Peranakan books and antiques available.
There is a fee of $15 per person to see the place (but check the price before you go) and the tour lasts about 45 minutes.
Address: 208 East Coast Road, Singapore
Opening Hours: By appointment only
Price: SGD $15 per person
Katong Travel Guide
Now that you know what to see in Katong, we compiled a list of accommodations and eateries to help you plan the most of your travel to Katong!
Best Places To Eat In Katong
Like we said in our 'what to do in Katong', one of the best things about this neighbourhood is the food! Make sure you set aside a lot of time (and space in your stomach) to stroll the streets enjoying the best places to eat in Katong!
328 Katong Laksa
Wow …… that is all we have to say. This place has the reputation as having one of the best laksas in Singapore, and we agree!
When the place has a queue out the door and everyone is eating the same dish, you know it's going to be good. We wandered in, not knowing it was famous (Gordon Ramsey ate there once), and were blown away with the food.
If you haven't tried seafood laksa (noodles in coconut milk-based curry broth) then let this place be your first time. Wash it down with some fresh lemon juice – Delicious! We will definitely return here when we are back in Katong.
Address: 51 East Coast Road
Opening Hours: Monday – Friday: 10 AM – 10 PM, Saturday – Sunday: 9 AM – 10 PM
Reviews: TripAdvisor
Quentin Eurasian Restaurant
This is a popular restaurant if you would like to try some Eurasian food. The portions are very generous so don't go crazy ordering every dish on the menu.
You have a choice of air-conditioned seating, or out on the verandah. We cannnot comment on the food as we unfortunately went there on the day it was closed. We will be sure to catch it next time.
Address: Eurasian Community House, 139 Ceylon Road, Singapore 429744
Opening Hours:

Closed on Mondays
Tuesday – Friday: Lunch 11 AM – 2:30 PM (last order at 2 PM), Dinner – 6:30 PM – 10:30 PM (last order at 10 PM)
Saturday – Sunday: Lunch – 11 AM – 2 PM (last order at 1 :30 PM), Dinner – 6:30 PM – 10:30 PM (last order at 10 PM)

Reviews: TripAdvisor
Eat At The Local Hawkers Stalls At Marine Parade Market
This is a great place to try the best local dishes Singapore is best known for. All prices are reasonable, quick, it offers a local environment and a great selection.
The portions aren't huge but the food is tasty. Local dishes start from SGD$3, coffee is $1, and cold bottled beer is $6. Try some local dishes like rojak or mee siam.
Address: Marine Parade Central Road, Marine Parade Promenade – Opposite Parkway Parade Shopping Centre
Some Other Ones We Never Got To Try But Heard A Lot About
Kim Choo Kueh Chang: This place has been making the traditional Nyonya Rice Dumplings with savory fillings like pork since 1945. It sounds wonderful and we can't wait to try these.
Address: 111 E Coast Rd
Opening hours: every day from 9 AM – 9 PM (Friday and Saturday until 9:30 PM)
Old Bibiks Peranakan Kitchen: Serving local, savoury, authentic Nonya and Peranakan dishes which are full of flavour. They are Halal certified.
Address: 328 Joo Chiat Rd
Opening hours: every day from 12 PM – 10 PM
Guan Hoe Soon Restaurant: They have been serving high quality and authentic Peranakan cuisine since 1953.
Address: 40 Joo Chiat Pl
Opening hours: every day from 11 AM – 3PM and 6 PM – 9 PM (except Friday – Saturday, in the afternoon they work from 5:30 PM – 9:30 PM)
Chin Mee Chin Confectionary: Café, some sweets or a yummy milkshake
Address: 204 E Coast Rd
Opening hours: Tuesday – Saturday from 8:30 AM – 4PM
Little Ice Cream Kafè: They have a range of about 25-flavoured ice creams are made in-house with the freshest ingredients, from fruity to nutty ones.
Address: 258 Tanjong Katong Rd
Opening hours: every day from 1 PM – 11 PM (except Friday – Saturday, they close at 12 AM)
Where To Stay In Katong
Katong has a decent selection of accommodation options, ranging from cheap backpacker hostels right up to 5-star luxury hotels.
Accommodation in Singapore is not cheap, but if you can afford to add a few more dollars to your budget for somewhere to stay you can get out of living in a small hostel and find yourself something nice and comfortable.
Best Hotel In Katong – Village Hotel Katong
We love hotels that have character, and the Village Hotel Katong simply oozes with it! From the moment you walk into the lobby your met with traditional Peranakan design and gorgeous lighting, and the theme stays throughout the hotel.
Even though we arrived late at night we checked in and experienced the famous Singaporean hospitality from the lovely receptionist, Ivory.
She gave us all the information we would need, without being over-the-top, and then surprised us by saying because the hotel was at high capacity and our room was allocated earlier that day to someone else, we had been upgraded to a suite. What a welcome!
Our room was simply enormous, and we couldn't believe when we walked in to find a separate bedroom, living area, kitchenette, dining room and a giant bathroom!
The bed was king-size and felt like sleeping on a cloud. We had a large TV in the bedroom, but to be honest we never turned it on.
Bathroom was spacious and had enough room to have both of us in there at the same time if need be.
The living area was a perfect spot to relax after a big day exploring, with a large couch, armchairs, coffee table and lots of light.
If there wasn't such excellent food options around Katong we would have made better use of the kitchenette area, but if you were planning on being in town long-term it would be a huge asset to have it.
We knew we were being spoilt by being in a suite, so we poked our head into a few other rooms that people had checked out of to make a comparison.
Even the standard rooms were spacious, and we would have been more than happy to stay in one of those as well!
The reason that this place is the best hotel in Katong doesn't end in the room though…
Bonuses Of Staying At Village Hotel Katong
Village Hotel Katong is part of the Stay Far East Hospitality Group, and being the experts in high-end and boutique accommodation in Singapore they have established quite a few excellent bonuses for staying in their hotels.
It starts with the breakfast, which is a huge spread featuring cuisine that every nationality would enjoy. There's the typical western style, with made-to-order omelettes, baked beans, bacon, sautéed mushrooms and all the usual staples.
For those that love the Asian breakfasts you'll find different types of noodles, stir fries, rice and soups. And if you prefer your breakfast light, there's heaps of mueslis, cereals, breads and jams. Oh, and don't forget the excellent coffee too!
If you're lucky enough to have their Peranakan Club Package (available with their higher-end rooms or as a separate upgrade) you'll get access to the private lounge with snacks, tea, coffee and drinks available free of charge 24 hours a day.
There was a free mobile handset with unlimited local calls and data that you could take with you when you're out and about around town. This was a really cool feature, and something we think more hotels should have.
What really topped it for us though was that members of the Peranakan Club are given airport lounge passes. This meant we could spend a few hours at Singapore Changi Airport sitting in absolute comfort with free food, drinks and alcoholic beverages at our beck and call.
Just to top things off Stay Far East offers free airport transfers between Changi International Airport and all of their hotels.
We had a chance to chat to the marketing director about some of the hotel's future plans, and we really loved how they are embracing the 'live like a local' mindset.
In the coming months they are developing an app to help visitors find some of the hidden gems of Singapore and creating a food tour that will take you to more of the secret hawker centres that are off the beaten track. Keep an eye out for these developments!
We absolutely loved our stay at Village Hotel Katong, and definitely recommend you check it out on your next visit to Singapore.
[box]Our accommodation in Singapore was hosted by Stay Far East Hospitality for the purpose of an unbiased review. All thoughts, opinions and bowls of delicious laksa consumed are, as always, our own.[/box]
DISCLAIMER: Some of the links in this article are affiliate links, which means if you book accommodation, tours or buy a product, we will receive a small commission at no extra cost to you. These commissions help us keep creating more free travel content to help people plan their holidays and adventures. We only recommend the best accommodations, tours and products that ourselves or our fantastic editorial team have personally experienced, and regularly review these. Thanks for your support, kind friend!