A detailed guide on our South Bohemia itinerary and road trip through Czech Republic.
If you've ever dreamed of getting off-the-beaten-path in Europe, then the south of Czech Republic is the place for you.
Filled with stunning forests, picturesque villages, friendly locals and plenty of activities to keep you busy, the South Bohemia region is popular for Czechs and tourists from neighbouring nations, but it is often overlooked by the general travelling population.
Almost every tourist visiting Central Europe spends a few days exploring the best things to do in Prague and visit the medieval city of Cesky Krumlov before heading to Vienna or Budapest, never to return again.
Such a shame, because Czechia has so much more to offer!
We've been lucky enough to spend about six weeks exploring some of Czech Republic's more offbeat destinations, such as the hiking mecca of Bohemian Switzerland National Park in the north and Ostrava in the east of the country, and the more we visit the more we fall in love with Czechia.
On our most recent trip we explored a new region to us, South Bohemia, and were blown away with just how beautiful this place is.
We were working with Czech Tourism to help promote some new sustainable tourism products that had been developed in South Bohemia and present our findings at the annual TravelCon conference.
It was a wonderful trip and we really were blown away at just how much opportunity there is in this part of Czechia.
It is still very much off the radar for most tourists, which only adds to its appeal.
For those who have visited Czech Republic before, or want to extend their trip outside of the capital city, we're pleased to share with you our guide for travelling South Bohemia.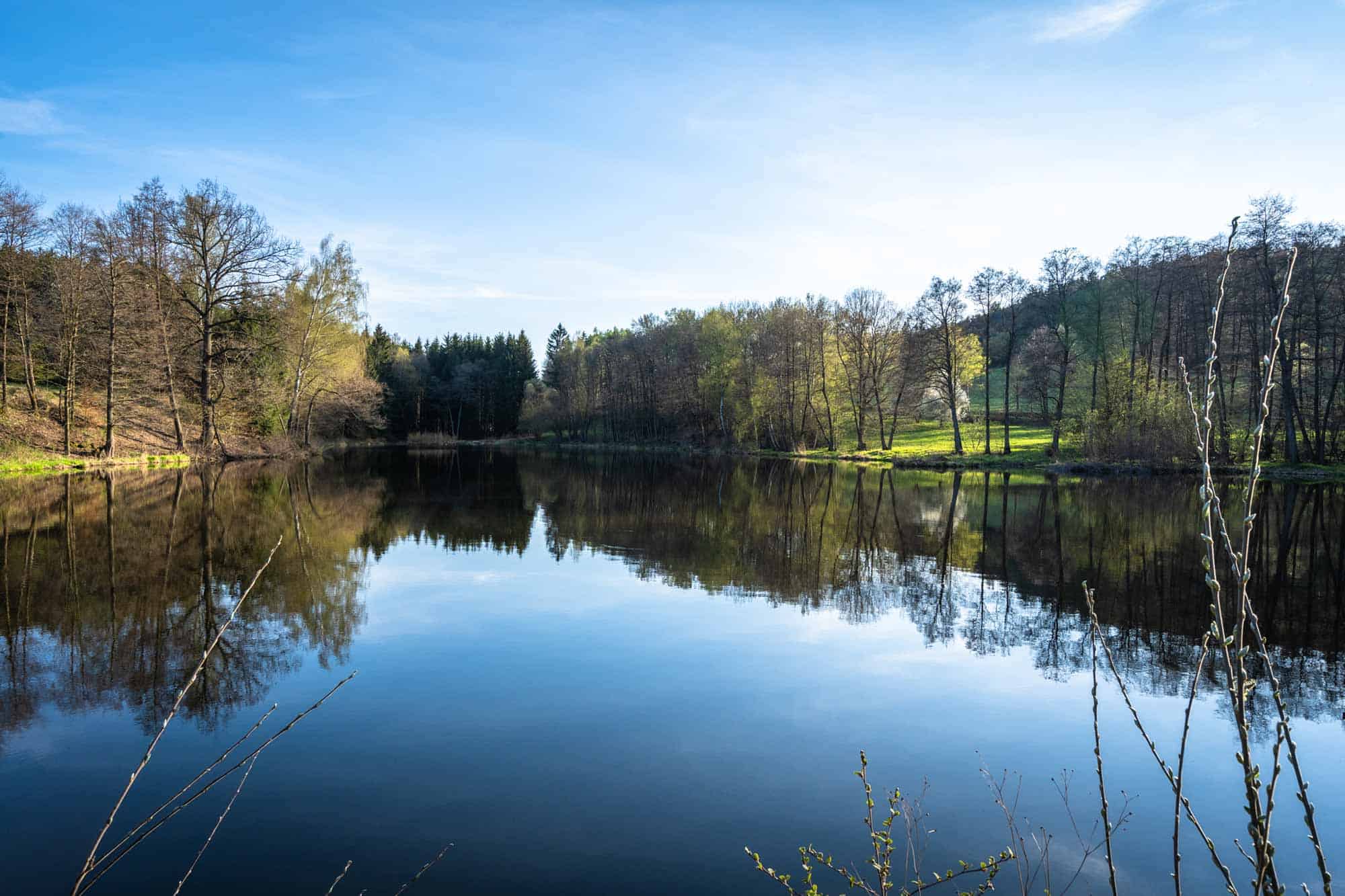 Our South Bohemia Itinerary
The best way to start your South Bohemia itinerary is to travel to the bustling city of Ceske Budejovice, which is a wonderful place to visit in its own right and makes a wonderful launching point for towns and villages in the area.
We travelled this area on a road trip, giving us greater flexibility get between places.
As a full disclaimer we travelled with some Czech locals as part of our campaign, which meant while our travels were made easier thanks to their ability to communicate, it also allowed us to discover more places to visit in South Bohemia.
We hope our insights allow you to really enjoy your travels in this part of Czech Republic and give you a perfect idea on what to include as part of your South Bohemia travels.
Day 1 – Ceske Budejovice to Slavonice
Take the train from Prague (or drive if you have a car) and start your awesome South Bohemia itinerary in Ceske Budejovice.
From here you can get to most points in the region within an hour or two.
Check Out the Bison Ranch
The first stop along our Southern Czech Republic road trip is going to be the Bison Ranch, a place that is famous for its, you guessed it, bison.
Before we came here we didn't even know you could see bison this easily in Central Europe, but the crew at the Bison Ranch have made a fantastic place where people of all ages can come and get up close to these massive, gorgeous animals.
It's also a great place to have some lunch, so grab a bite to eat before heading out for the afternoon's excursion.
Address: Roznov 1, 378 81 Cesky Rudolec
Website: https://www.bisonranch.cz/
Rent an E-Bike to Explore Bohemian Canada
The Bison Ranch is located right on the edge of what is known as 'Bohemian Canada', and they rent out e-bikes for people who want to explore this beautiful part of South Bohemia.
If you're like us and have never been on an e-bike before, they are very easy to figure out, and they assist greatly when it comes to peddling. It fact it's almost like cheating a little bit (but much appreciated after a big lunch of bison and beers).
Head out from the Bison Ranch and take a big loop through Bohemian Canada, exploring the picturesque pine forests that give the area its name.
It's a gorgeous ride down a mixture of dirt tracks and small village roads. Aim for a visit at the Landstejn Castle, a stunning medieval construction perched on a hill.
The little towns you ride through are really quaint, and you can also check out Cesky Rudolec castle and the historic Penikov monument, which is an original mill.
Eventually make your way back to the Bison Farm where you can drop your bikes off and head to the next destination.
Paint Your Own Ceramics with Keramika Mariz
We had dinner at Keramika Mariz, a lovely little traditional restaurant about 2.5km from the centre of Slavonice. The meals were very Czech, hearty and tasty, and coupled with some pilsners was the perfect way to end the day.
After dinner the owner took us out to her ceramic workshop, where we were able to pick our own ceramic mugs and paint them in any way we wanted.
Even though we were pretty tired after the big day out, it was surprisingly fun getting creative under the expert advice of the owner.
Once we'd finished painting our mugs we left them to be fired up in the kiln and told we could pick them up in the morning. As we were leaving early the next day we organised to collect them later in our road trip.
Address: Maříž 54, 378 81 Slavonice
Website: https://www.keramika-mariz.cz
Where to Stay in Slavonice – Hotel U Ruze
For the night we stayed in Hotel U Ruze, right on the old square of Slavonice. It was a beautiful hotel and the location couldn't be any better.
Our room was clean and comfortable, the bed was great, and they even had free breakfast in the morning.
Address: Hotel U Růže, nám. Míru 452, 378 81 Slavonice
Website: https://hoteluruze.cz/
Check Prices: On Booking.com
Day 2 – Slavonice to Mirkovice
In the morning we woke up for sunrise and went for a walk around Slavonice. The old town is absolutely gorgeous, with pretty alleyways and historic buildings to admire.
We wandered around for a bit, checked out some gardens as well, then had breakfast at our hotel. Soon enough it was time to hit the road.
Learn About Sustainable Tourism at Farm Alpaka
It's a short drive to the alpaca farm where you can learn all about sustainable farming and tourism initiatives from the friendly owners.
First of all, yes, they have alpacas (and they are adorable!), but they also have horses, goats, cows and other farmyard animals. It's a wonderful property and you could easily hang out here for an entire day.
We only hung around for a little while though to have some coffee and snacks. Tomas, the owner, asked us if we wanted milk with our coffee, and when we said yes he grabbed a goat and milked it right then and there. Doesn't get any fresher than that!
Tomas also took the time to explain to us his idea for keeping his property peaceful and sustainable. They have a number of accommodation options available, including a tepee and an old wagon, but he prefers not to advertise so he can keep control of how many people stay there at once.
He also welcomes RVs, but only one at a time. The whole reason is that he loves his farm and lifestyle, and wants to share it properly with every guest.
He knows that he could make much more money by opening up more rooms or letting additional campers stay, but he doesn't want the pressure, and is scared the quality of service with drop if there were too many people.
If you have the time (and he's open to it), the Farm Alpaka would be a great place to stay. For us though it was time to go do some hiking.
Address: Dobrá Voda čp 23, obec Číměř, 378 33 Nová Bystřice
Website: https://www.farmaalpaka.eu/
Lunch at Nove Hrady
We drove out to Nove Hrady, a state park that is very popular for domestic and neighbouring tourists. There's a number of mellow hikes and bike paths to enjoy, as well as a great place for lunch.
Penzion Hamr serves up traditional Czech food, and we filled our stomachs before heading off for a walk through the park.
Address: Penzion Hamr, Údolí u Nových Hradů 149, 374 01
Website: https://www.novehrady-penzionhamr.cz/
Walk to the Terčino Údolí Waterfall
You could spend all day walking around the park here, but we only spent an hour or so check out the Terčino Údolí waterfall, a short distance from the pension where we had lunch.
The walk was pleasant and very easy, following a small river before popping out at the base of the man-made waterfall. It's created by piping water down from higher in the mountains, and it's quite a sight to see.
We snapped our pictures then continued on our further up stream, crossing a bridge then coming back on the trail above the waterfall. Before too long we were back at the Pension and ready to move onto our next stop.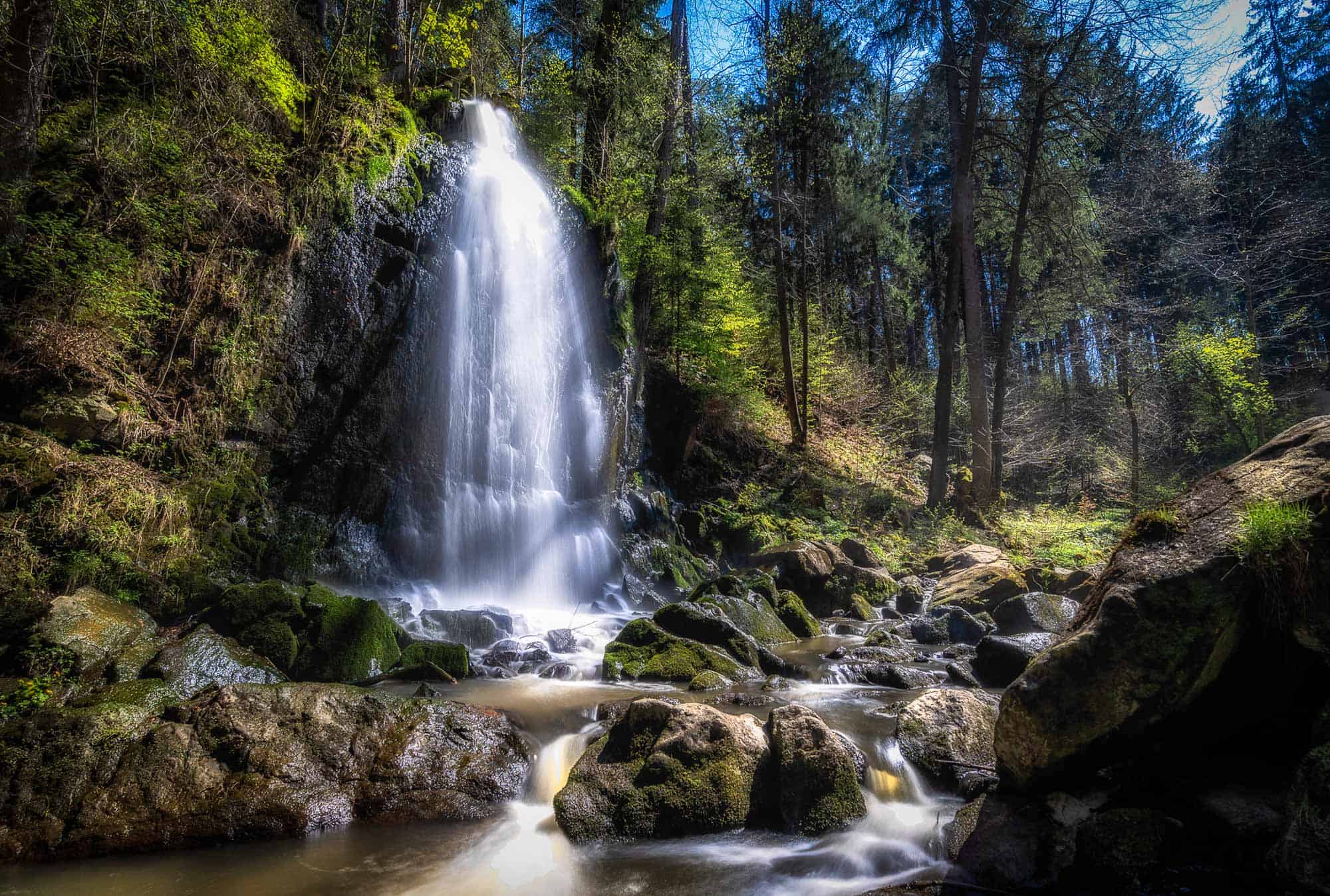 Breweries, Whiskey, Chocolate and Beer Spas at Svachovka Resort
We don't normally get excited about 'resorts', but this one was different.
Svachovka Resort manages to tick a whole bunch of boxes by having its own microbrewery, whiskey distillery and chocolate factory right there on site.
We spent the entire afternoon wandering around with one of the workers, sampling beers, tasting delicious liquor and trying to eat our weight in chocolate.
To say it was fun would be an understatement.
But another attraction they have which is sure to bring in visitors is a beer spa – basically a hot tub filled with beer!
We had two bathtubs in our room (!), and after our little tasting tour of the property we got back to find the tubs had been filled with hot beer.
Naturally we stripped down and jumped in, pleasantly surprised to find that we also had a beer keg situated right between us filled with, thankfully, cold pilsner.
It's kind of touristy, kind of gimmicky, but definitely worth doing at least once in your life.
The resort also has a bunch of other activities to check out besides drinking and bathing, including a golf course, a lake for fishing and more, but we didn't do any of these due to not having enough time.
Where to Stay – Svachovka Resort
Naturally the best place to stay is here at Svachovka Resort.
The food they serve in the restaurant is lovely, and best of all you can go on the brewery and distillery tours in between your beer baths!
Our room was enormous, and even had a beer spa right inside, which made it hard to want to leave the accommodation at all. Definitely worth spending at least a night here.
Address: Svachova Lhotka 1, 382 32 Mirkovice
Website: https://www.svachovka.cz/
Check Prices: Booking.com
Day 3 – Mirkovice to Nová Pec
Today is a fun-filled and jam-packed day, so it's best to try and get to bed early the night before (without consuming too much alcohol) so you can get up and go in the morning.
Watch Sunrise at Cesky Krumlov
The great thing about Svachovka Resort is that it's only 5 minutes from the stunning and popular medieval village of Cesky Krumlov.
There's a good chance that if you're planning a trip to the Czech Republic you already have Cesky Krumlov on your list of places to visit. But if you do it as a day tour from Prague, you're going to be swarmed with tourists.
We've been before, and know how crowded it can get during the day. But early in the morning? That's a different story.
As part of our South Bohemia itinerary we decided to head into Cesky Krumlov and explore the castle for sunrise. It's truly gorgeous, and to be there without any other people is surreal.
We took photos of sunrise from the castle before heading back to the resort for breakfast.
Check Out Lipno Resort
You might not know this, but the Czech Republic actually has a number of ski resorts around the country. We've been to a few in the Jeseniky Mountains in the north of the country, so this time we headed off to check out Lipno, the best one in South Bohemia.
Just because it's summer doesn't mean there's nothing to do at the ski fields. In fact some are even busier when the snow melts!
Lipno Resort has turned into a year-round destination, with hiking paths, mountain bike and scooter trails and the installation of a brand new Tree Top Walkway that twists its way above the mountain.
Rather than taking the chair lift to the top of the hill, we walked up, making the most of the gorgeous weather. It only took 20 minutes or so, and we took a quick rest before heading to the Tree Top Walkway.
This style of spiralling boardwalk has become quite popular throughout Czechia and parts of Central Europe as a great walk to get above the treetops and admire the stunning forests and lakes the region is known for.
In Lipno the walkway has a number of interactive exhibits along it so kids (and adults) can learn about the local wildlife and landscapes.
Once we got to the top we spent some time checking out the view, then made our way down. But here we didn't need to walk down…
The Tree Top Walkway has a long and steep enclosed slide through the centre that visitors can fly down. It's very enjoyable and a lot quicker than walking. Don't worry though, it's very safe.
After we had slid down the walkway we went and rented some downhill scooters to get back to the bottom.
These are an immense amount of fun, and you can really pick up some crazy speed if you feel comfortable doing so.
There's a great downhill dirt track that winds its way back to the ski base through a beautiful forest. We charged through as fast as we comfortably could, and we were thankful the scooters' brakes worked well or we would have been in real trouble – they are quick!
After a fun-filled morning we grabbed lunch at one of the nearby restaurants. The whole village really does have a traditional ski resort-vibe, and we really enjoyed sitting in the sun having a beer while we rested.
Address: Lipno nad Vltavou 87, 382 78 Lipno nad Vltavou
Website: https://www.lipno.info/en/
Learn Traditional Carpentry at Statek U Medvěda
It's a bit of a drive to Nová Pec, but well worth it, as it's one of the most picturesque areas in all of South Bohemia.
We arrived to the coolest guesthouse in the village, Statek U Medvěda, and the group checked in to our 3-bedroom traditional apartment.
It was one of the nicest places we've seen in Czech Republic, with amazing timber construction being the highlight of it. Each corner of the building was built with the finest attention to detail and expert craftsmanship.
After we relaxed for a bit we went outside and met the owner of the guesthouse, who was chopping wood in the backyard.
He owns a huge skateboard and snowboard shop in Lipno, and over the years he discovered that carpentry helped him alleviate the stress of running a successful business.
When he bought the old guesthouse he became fascinated with how it was constructed using ancient techniques, so he took it upon himself to learn these as well.
Now he has built an entire new wing and renovated the old house completely by hand. He chops down trees into shape using axes, carves them with hand planers and tries to never use any electric tools.
We spent an hour with him watching how he works, and he even let us have a go at it ourselves. Using an axe to chop down a pylon to millimetre-precision is incredibly hard, and we received a new-found respect for the techniques of yesteryear and how our apartment was built.
Visit the Schwarzenberg Canal
We took a short drive into the nearby Šumava National Park and went on one of the most popular trails to check out the Schwarzenberg Canal.
This manmade canal was built in the late 18th century to transport huge timber logs from up in the mountains to inland regions. It worked incredibly well and was considered a great feat of engineering.
You can follow the canals for a long way, but we just visited one of the old tunnels that it runs through and walked around the gorgeous forest. You could spend hours in the Šumava National Park.
Where to Stay – Statek U Medvěda
The best place to stay in Nová Pec is definitely Statek U Medvěda. The guesthouse is absolutely stunning, and if you're travelling in a group or with your family you can fit everybody inside the apartments and have your own kitchen to cook.
It's also a very short walk down to the river, and we actually borrowed some stand-up paddle boards from the guesthouse to go for a quick SUP before sunset.
It's the little touches like that, as well as having an amazing place to hang out at in the evenings, that makes Statek U Medvěda the best place to stay while here.
Address: Dlouhý Bor 12, 38462 Nová Pec
Website: https://www.statekumedveda.cz/
Check Prices: Booking.com
Day 4 – Nová Pec to Vlachovo Březí
Today is another awesome day with lots of outdoor activities planned, so get out of bed early and head off again into the Šumava National Park.
Go Hiking in Šumava National Park
Today we actually crossed the border into Germany. The Šumava National Park straddles both countries, and we were going to climb to one of the high points to look back into Czech Republic.
The great thing about travelling around the Schengen region in Europe is that you can cross borders with no hassles.
Our goal was to hike the mountain ridge to Třístoličník, known as Dreisesselberg in German, and after parking the car in a lot near the top of the hill we walked the last kilometre or so to the top.
There's a well-worn path up the mountain and some stairs to get you to the top of the highest points. The wind was crazy the day we hiked up, so we didn't spend much time in the exposed sections.
Once we'd seen the view, which was fantastic, we had an early lunch in the restaurant on the mountain (downed with some German beers of course) then made our way back to the car.
If you want additional information for this particular hike, here's a post with more details on how to do this yourself.
The Golden Trail from Bischofsreut to České Žleby
We drove back down to the village just below the Dreisesselberg called Bischofsreut and jumped out, sending the driver back into Czech Republic where we'd meet them later that afternoon.
The plan was to hike the Golden Trail from Bischofsreut in Germany to the little town of České Žleby in Czechia, and the trailhead starts right on the border.
This was a very important salt trading route back in the medieval times, and today it remains a wonderful historical trail for hikers of all abilities.
We hiked about 5km along the old road, through old farmland and forest, before finishing up at České Žleby. It was a great way to finish off our day of outdoor activities.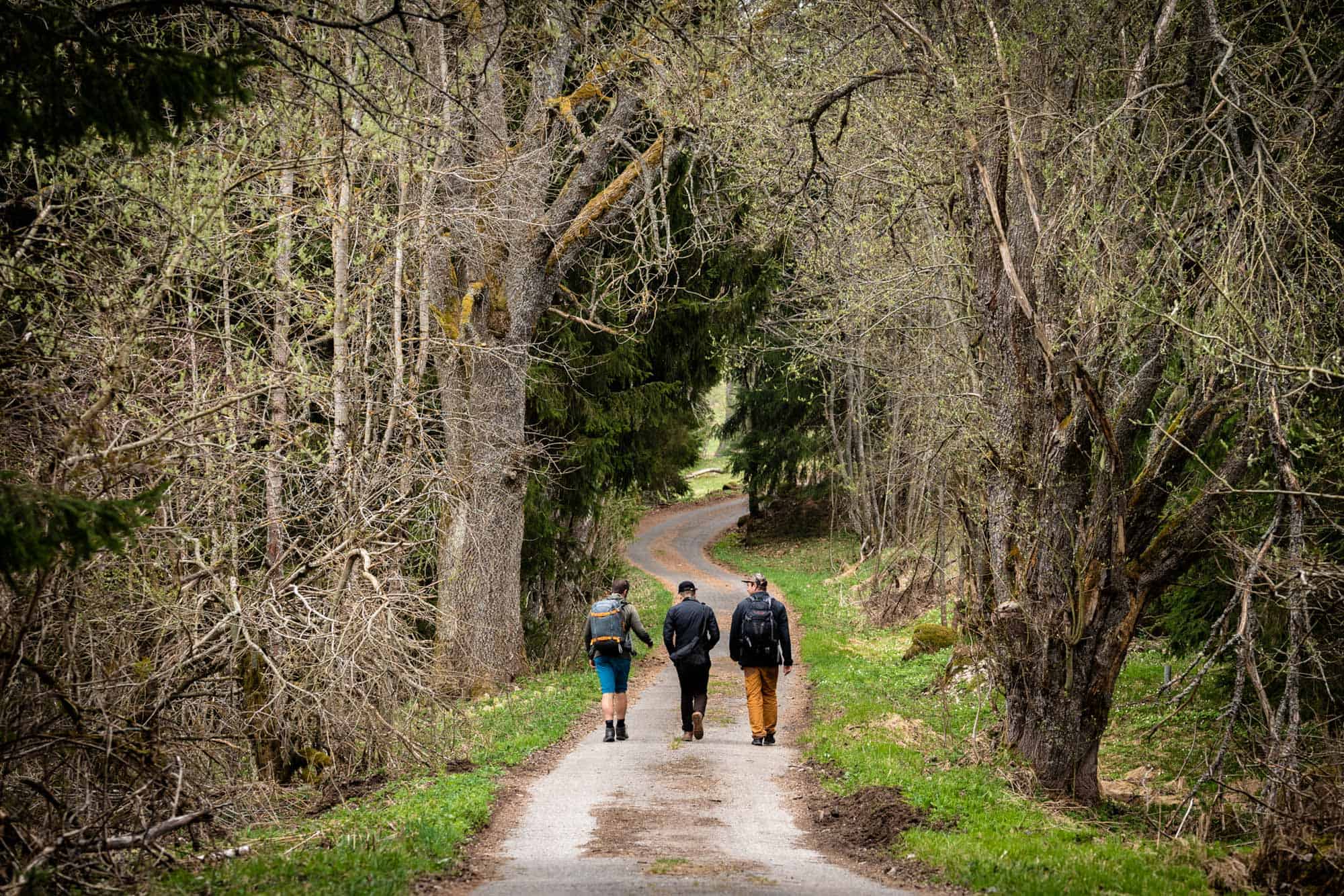 Where to Stay – U Vyšaty
We drove to the town of Chlumany and spent the night at the best accommodation of the entire trip, U Vyšaty.
This wonderful locally-run guesthouse had a large apartment with 3 bedrooms, a kitchen and living room and backs onto a superb garden.
We opted to have dinner with the family that night, and they served up the nicest traditional Czech food we have ever had, no exceptions.
After days of heavy, meaty meals, it was very refreshing to have some tasty vegetable dishes thrown in with the home-cooked spread. We're not normally foodies, but this was some of the most memorable in all of Central Europe for us.
Address: Chlumany 61, 384 22 Vlachovo Březí
Website: https://www.uvysaty.cz/
Day 5 – Vlachovo Březí to Ceske Budejovice
Today is the final day of our Southern Czech Republic road trip, and the plan is to check out some more sustainable businesses in the area before returning back to Ceske Budejovice.
Before you leave enjoy a world-class breakfast in the guesthouse, and if it's a sunny day take your barista-style coffee from the owners and drink it in their garden.
Visit the Goat Farm at Výrov
Once you've packed your bags it's a short drive to the first stop of the day, the award-winning Roddina Farma Vyrov and their super cute goats!
This place is famous in the region for producing the best goat cheeses on the market, and we couldn't wait to try them. But first we had the chance to have a little tour of their property.
We went out the back to the large pen, and the moment we reached the gate dozens of healthy-looking goats came running up to us. They weren't scared at all, and in fact seemed happy to see humans.
The owners explained how every single goat had a name, and they knew each one by sight. It was obvious that they truly loved their goats.
We spent about 20 minutes playing around with the farmyard animals before heading back inside to have a look at their milking station.
The place was spotless, and you'd almost never know that they milk their goats every single day in there. Not only did they love the goats, they took their business very seriously.
After the tour we went upstairs where we were treated to a tasting session of their best cheeses. There was a variety of flavours, from standard to experimental, and they were all delicious.
We tried our best to eat our weight in cheese, all downed with fresh goat milk, then it was time to move on. They had all of their cheese for sale, but as we were flying out soon we couldn't commit to getting any.
It's awesome to visit sustainable businesses like this in Czech Republic, where you are given a genuine insight into how family-run companies operate and survive in this growing age of mass development.
Address: Výrov 21, 384 21 Husinec
Website: https://www.farmavyrov.estranky.cz/
See the Bisons at Křišťanov
There were still plenty more animals to see this morning so we bid farewell to the goats and headed to Křišťanov to check out their herd of American and European bison.
The farmers here breed the bison for the purpose of research and introducing the European species back into the wild where they once thrived before being almost hunted to extinction.
We wandered around the property and joined the manager while he fed them. The bison came right up to the fence where the feeding troughs were, allowing us an up-close-and-personal view of just how enormous these beasts are.
It was a quick visit, but it was awesome to see these bison so close.
Address: Pivovarská 197, 383 01 Prachatice
Website: https://www.agrokomplex-sumava.cz/vracime-pratury-na-sumavu/
Lunch at Vodník Vimperk
For lunch we stoped by a famous restaurant known as 'The Picnick Restaurant Vodník' to enjoy some fish, which is something we hadn't really had the chance to sample properly on this trip so far.
The location was lovely, with the log cabin restaurant built on the edge of a large man-made lake filled with fish and surrounded by forest.
Outside was packed, so we grabbed a table inside by the bar and ordered a bunch of different platters.
The food was simply delectable, and was a welcome change from the heavy Czech meals we'd been eating so far. Plus they had their own beer on tap, making it a great spot to fill the stomach.
Address: Výletní restaurace Vodník, K Vodníku 614, 385 01 Vimperk
Website: https://www.vimperk-vodnik.cz/en/
Hang out with Donkeys and Buy Handmade Handicrafts at Na vlně
Our final stop for the day was the diverse farm of Na vlně, located in the bucolic village of Čkyně.
The owner Ivana took us up to her property at the end of the town where she introduced us to her pets – donkeys, goats, llamas and sheep!
Just like at the goat farm earlier that morning, the animals seemed incredibly happy and we spent the better part of 30 minutes playing with them, taking photos and seeing how they were treated like family members.
Once we'd had our donkey fix we headed back down to Ivana's shop, where she taught us all about how she makes a variety of handicrafts from scratch.
She is an expert when it comes to using a traditional loom, stretching out wool and turning it into carpets, clothing and souvenirs.
It's a labour-intensive process, and she's been working hard at it for years to create some of the most unique hand-made items in South Bohemia.
She shared with us though how hard it is to make a living from it, as the markets in Czech Republic are constantly being flooded with cheap Chinese-made products made en-masse, meaning most people are reluctant to pay a higher price for something that has been made by hand.
It's a touch industry to be in, which is why she also offers tours of her property and works full-time in another job. It's a common theme we found with businesses in South Bohemia, which is why it's so important to support them in every way possible.
We said our thanks to Ivana, bought a couple of souvenirs from her, and headed off to Ceske Budejovice.
Address: Bošice 45, 384 81 Čkyně
Website: https://www.navlne.com/
Where to Stay – Rezidence u Černé Věže
We stayed the night in the lovely, high-end property Rezidence u Černé Věže in Ceske Budejovice.
The location is perfect, only a few blocks from the old square which means it's close enough to be in the heart of Ceske Budejovice within in minutes while still being quiet enough to get a good night's sleep.
We had an entire apartment to ourselves, with a kitchenette, washing machine, big bed and sitting area. Well worth staying at!
Address:

U Černé věže 17, 370 01 České Budějovice

Website: https://www.ucerneveze.cz
South Bohemia Travel Guide
There's quite a few things to know about travelling in South Bohemia, and even though it's a fantastic region to explore, it's not the easiest place to get around.
Here's our South Bohemia travel guide to help you make the most of your trip.
Transport in South Bohemia
The first thing to know is that getting around South Bohemia can be quite difficult for foreign visitors, mostly due to the fact that a lot of the information is only provided in the Czech language.
It's not impossible though, and here's our best tips for transport in South Bohemia.
Trains
Despite first impressions, it's actually actually fairly easy to get around South Boehmia thanks to the excellent train network that navigates its way around the country.
It does take a bit of time to get between many of the villages, but almost every single one has a train station, so with a bit of commitment you can easily do this trip on public transport.
The people working in the train stations are very helpful, and if you get to Ceske Budejovice and use that as your jumping-off point you can get almost anywhere.
Bicycles
If you're comfortable riding a bicycle and want to get out to all of the main attractions we've listed in this South Bohemia itinerary, one way to do it is to rent (or bring) a bike to get around.
You can bring bikes on the trains, and by leaving your luggage at your accommodation in each town you can then use your bike to get around.
The most options for renting a bike are in Prague.
Rent a Car
By far the easiest and most convenient way to get around South Bohemia is to rent your own car and drive around.
Having the freedom to get around without restrictions on sticking to a schedule will make your trip here so much more enjoyable, so if you're comfortable renting a car from Prague or Ceske Budejovice, that's what we'd recommend.
The best place to check for car rentals in Czech Republic is on this website.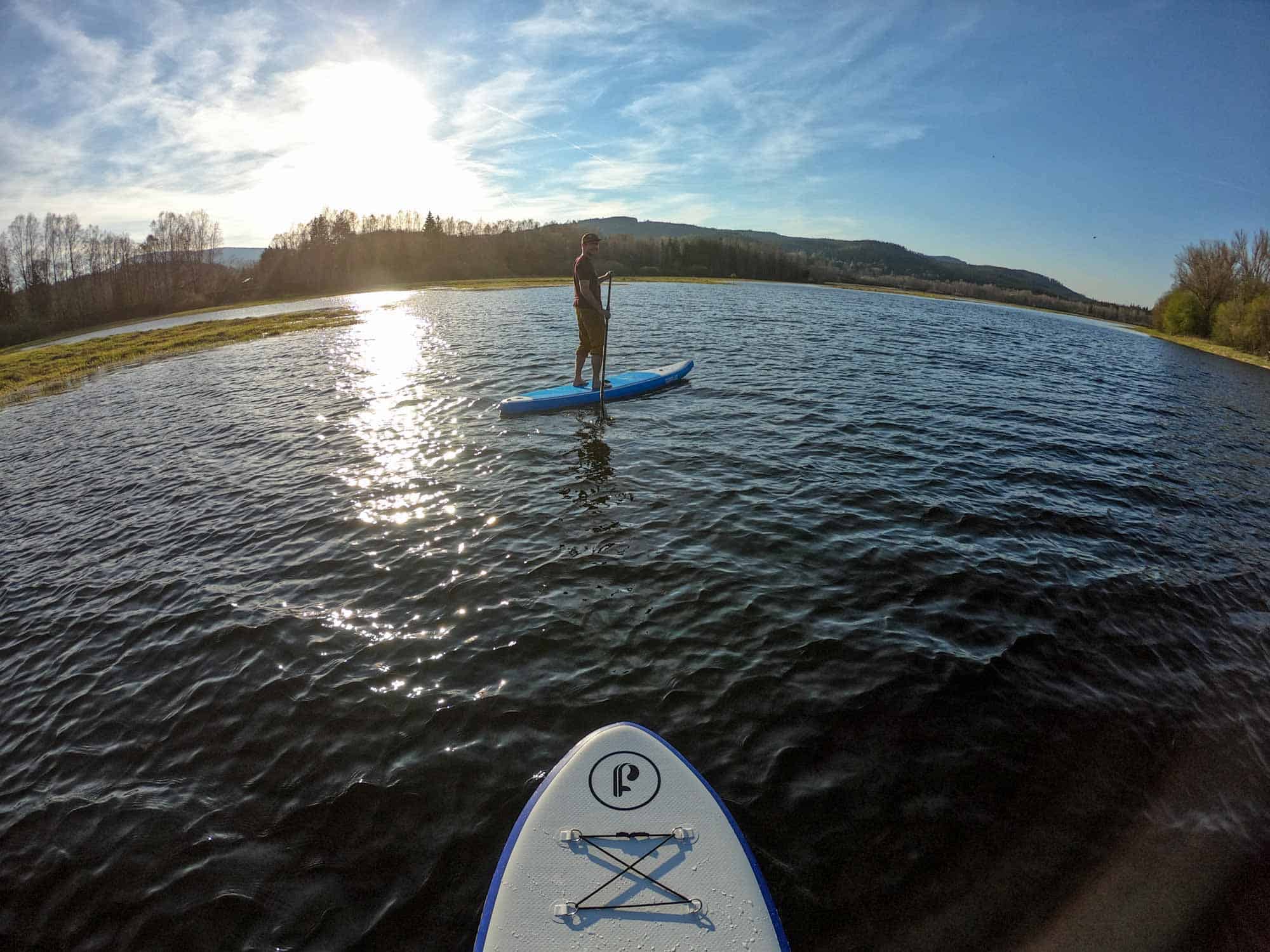 Language Barriers
We have to be completely honest here and say that unless you speak Czech or German, you're probably going to have a hard time communicating with a lot of the people who live in South Bohemia.
That doesn't mean you shouldn't travel here, it just adds an extra challenge.
The people are very warm and friendly (especially when compared to the capital Prague), and are more than happy to help if you need assistance.
Most people working in tourism will speak basic English, but if at all possible it's best to get a Czech phrasebook before you go.
We used Google Translate at times in South Bohemia, and while it worked pretty well, there were still some issues, such as the time we told the lady at the goat farm that we 'love her goats' using Google Translate, only to find out that 'goats' translates as a slang word for 'boobs' in Czech.
Embarrassing? A little bit. But isn't that the fun of travel?
South Bohemia Travel Tips
Here's some of our best South Bohemia travel tips.
Book Ahead: A lot of the accommodation is quite small and if you travel in the summer, they may be booked out a few weeks in advance.
Rent a Car: Yes you can get around with public transport and a bicycle. But we recommend renting a car for convenience and speed.
Travel Slow: At times our South Bohemia itinerary felt a little rushed. We probably could have added an extra day or two quite comfortably, and enjoyed a lot more of the hikes in the area.
Buy Fruits: Czech cuisine, while delicious, is notoriously meaty, starchy and heavy. We recommend stocking up on some fruits whenever you see a local market so you can get your vitamins.
Get a Local SIM Card: Life will be much easier for you if you have internet access while you travel around South Bohemia. Get yourself a SIM card with data in Prague or Ceske Budejovice before you head off into South Bohemia.
DISCLAIMER: Our road trip around South Bohemia was made in partnership with Czech Tourism. All thoughts, opinions and copious amounts of selfies taken with farm animals are, as always, our own.