Trying to find great activities and attractions in Houston? Our Houston itinerary is all you need to plan the perfect trip!
Houston, the fourth most populous city in the United States, has a little bit of everything for travelers, making it one of the best places to visit in Texas.
Perhaps its most known attraction is the Space Center. It lives up to its billing but it's not enough to fill a three-day itinerary.
Luckily, Houston is much more than meets the eye thanks to its range of cultural districts that present solo travelers, friends, couples, and families with plenty to see and do.
Start your day at any one of Houston's numerous gorgeous parks. Walk, ride or paddle to discover the natural side of the large, modern city.
Beyond the parks are fascinating museums, malls to scratch the shopping itch, and live sports in each direction.
Read Next: Don't forget to check out our list of the 21 best things to do in Houston before your trip as well!
How to Spend 3 Days in Houston Itinerary
Yep, Houston is a huge city. Neighborhoods are spread out, each with something great to offer. Thankfully, we've wrapped it up with a nice bow on top.
A few of the attractions in this itinerary cost money, such as the Space Center Houston, the Zoo, and a number of museums.
To save a bit of money on these amazing attractions, we highly recommend getting the Houston CityPASS.
The pass allows you to choose 5 Houston attractions and enjoy a discounted price. You can save 50% on the entry fees, so it's definitely worth it!
Day 1 in Houston
Your 3 days in Houston starts with a head of steam as you visit the Space Center Houston before kicking back for an evening in Hermann Park.
Day 1 Morning
For travelers, one of the top reasons for visiting Houston is because of its connection with the exploration of space. "Houston, we have a problem" isn't just a line from a movie.
So start your weekend in Houston with a bang and head straight to the Space Center Houston. The incredible complex offers both quality and quantity, so be sure to leave as much time as you like to get the most out of the experience.
Begin at the official visitor center where you'll embark on a hands-on experience. It's insightful and thrilling for young and old.
Within minutes you can wander inside a recreation of America's original space station known as the SkyLab. Your eyes will pop as you gaze upon the same instruments used by astronauts decades ago.
In addition to the fascinating gadgets, there is also a real rock taken from the moon!
The thrills don't end there. Jump on board the open-air tram and make your way across to the Johnson Space Center where you can see mission control, where the action goes down and history is made.
Book your ticket to the Space Center online in advance here!
Address: 2101 E NASA Pkwy, Houston, TX 77058
Hours: 10am-5pm (Mon-Fri) 10am-6pm (Sat-Sun)
Price: $29.95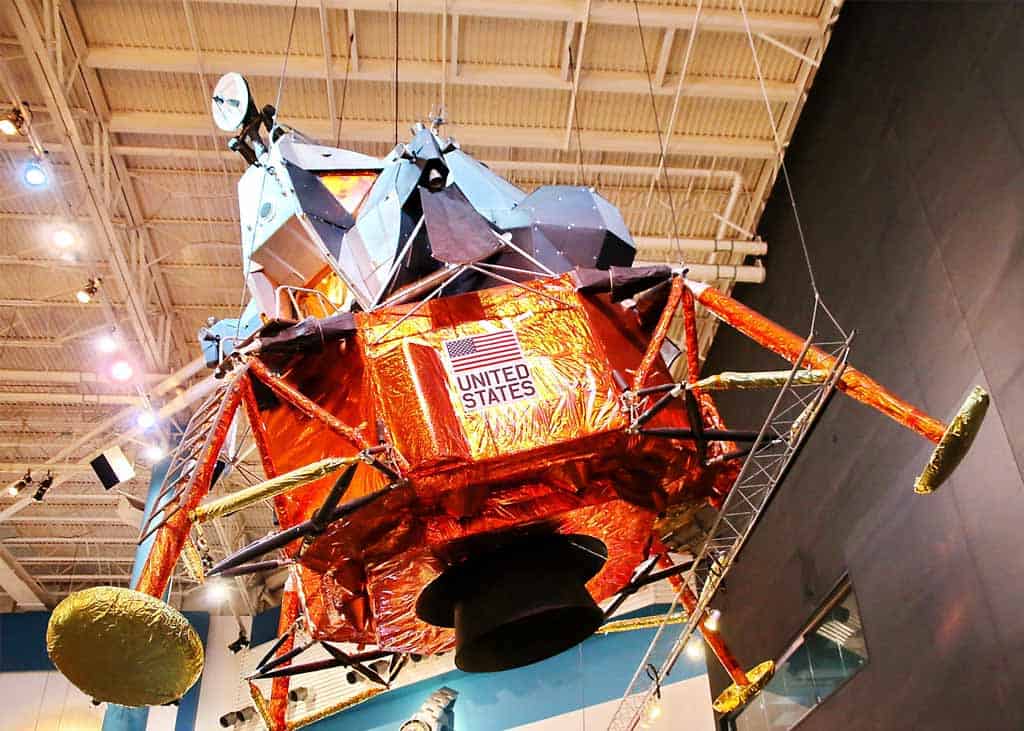 Day 1 Afternoon
There's a great chance that you'll spend more than just the morning exploring Space Center Houston. But whenever you feel like you're all spaced out, then next on the agenda is the wonderful Hermann Park.
The urban space is a highlight of the Houston Museum District, providing not just a place to picnic as you wander between the attractions, but plenty of its own fun things to do.
Related: Check out our post on all of the top day trips from Houston!
Hermann Park has similarities to San Diego's Balboa Park, with zoos, theaters, lakes, and ornate gardens.
After a big morning, you can just chill in the park or explore the Hermann Park Railway. On McGovern Lake, you can rent a small boat and see the natural treasures found along the water's edge. Travelers will also have the opportunity to explore the neighboring Rice University Campus.
Traveling families will want to check out the Houston Zoo. Spread across 55 acres, the zoo is home for 6,000 animals from around the world.
There are areas dedicated to native Texan wildlife, the African continent, where cheetahs and giraffes roam, and an elephant enclosure.
Address: 6200 Hermann Park Dr, Houston, TX 77030
Hours: 9am-5pm (Mon-Sun)
Price: $21+
Read Next: Don't miss out on our guide to an awesome 3 days in San Antonio Itinerary!
Day 1 Evening
As the sun falls over Houston, there's no need to depart Hermann Park for greener pastures. The urban park puts on events throughout the year that keep the fun going well into the evening.
The best example can be found at the park's Miller Outdoor Theatre.
At the park's northern end, the theater has a packed calendar of live performances, from plays to concerts. It makes for a romantic (and family-friendly) evening for all who visit Houston.
Also within Hermann Park, the Houston Zoo also runs nighttime events that allow you to explore the zoo under the stars, or even take part in a silent disco!
True night owls excited to experience the local nightlife will want to make their way to Downtown Houston. It offers the full gamut from happening sports bars, Texan honky tonks, and nightclubs.
Captian Foxheart's Bad News Bar has a charming difference that makes a night here the most memorable. Sample their delightful cocktail menu and the eye-catching decor before making your way to the rooftop to enjoy great views across the city skyline.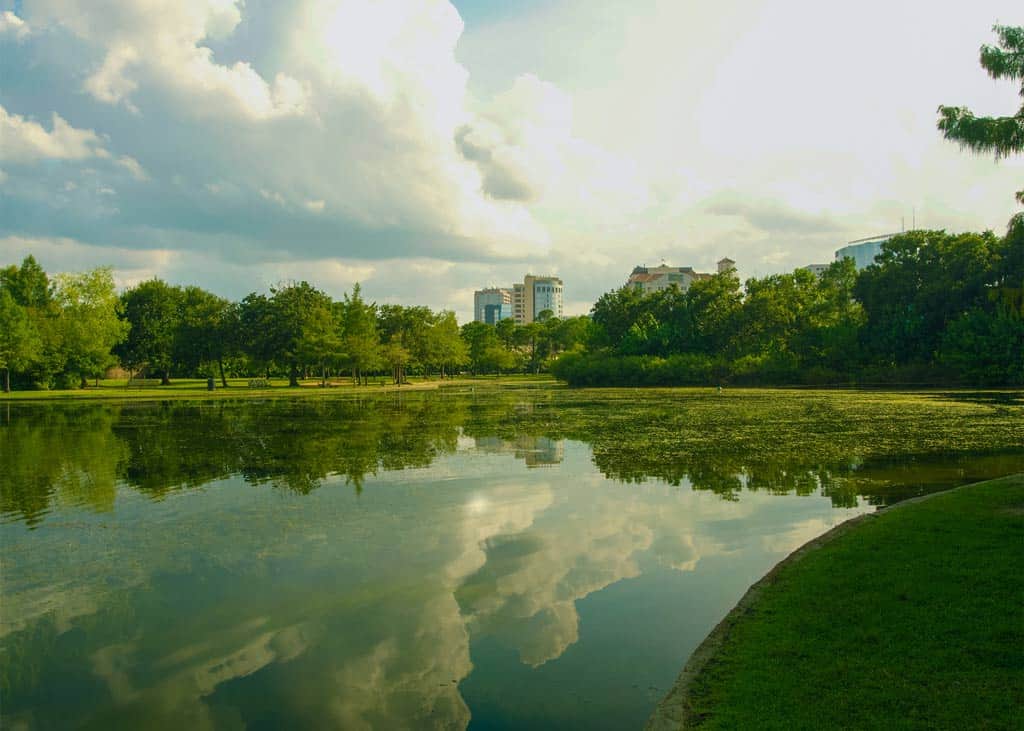 Day 2 in Houston
Day 2 on your Houston itinerary sees you venture into the city's biggest park, explore the Museum District, and hit up a live ball game!
Day 2 Morning
As your time in Hermann Park will have shown you, Houston has no shortage of green space to enjoy.
Its many urban oases provide a wonderful escape from the United States' fourth biggest city, allowing for a blissful time among the urban sprawl.
To begin the second day of your weekend in Houston, make your way to the best urban space in the city, Buffalo Bayou Park. Under the inevitable Houston sunshine, find yourself a spacious spot among the rolling lawns that stretch along the Buffalo Bayou stream.
Once you've taken in the sights and sounds and enjoyed your morning coffee, jump on one of the walking and cycling trails to explore the 160-acre park.
Aside from excellent city views, dog runs, and playgrounds, Buffalo Bayou Park is known for its public arts. It puts the space at the forefront of not just leisure, but the local arts culture.
The highlight of this is the park's famous Cistern. This was developed in the 1920s and is an underground reservoir that provided water for residents. Now, it hosts art installations both temporary and permanent. There are also tours you can take of the historic piece of engineering.
But if the sun is really beating down, get out on the water for a paddle. At the Lake Lost Visitor Center, you can grab a paddle and jump onboard a SUP or kayak.
Exploring more of Texas? Check out this list of the best things to do in Austin.
Day 2 Afternoon
After an eventful morning exploring Buffalo Bayou Park, get some respite from the Texan sun and make your way into Houston's fantastic Museum District.
You could fill an entire Houston itinerary with the district's 19 museums alone. Over half of them are free to explore, making it as budget-friendly as it is educational and fun. Whether you're traveling as a family, solo or with your partner, you'll find something that piques your interest.
Some of the top attractions in the Museum District include the Menil Collection, the Houston Museum of Natural Science, and the Contemporary Arts Museum.
But those that love their art can't pass up a visit to the Museum of Fine Arts Houston.
Covering two buildings with an additional sculpture garden, the museum boasts 6,000 worth of creative history with over 60,000 impressive works of art.
Address: 1001 Bissonnet St, Houston, TX 77005
Hours: 11am-5pm (Wed) 11am-9pm (Thur) 11am-6pm (Fri-Sat) 12.30pm-6pm (Sun)
Price: $19
If you've taken the kids along for the ride on your 3 days in Houston, then why not check out the Children's Museum of Houston?
The vibrant complex will keep everyone entertained as the little ones embark on a journey of interactive exhibits. Highlights include the SECRETS Spy Game, where they can solve mysteries as a detective.
Address: 1500 Binz St, Houston, TX 77004
Hours: 10 am-6 pm (Tue-Wed/Fri-Sat) 10 am-8 pm (Thur)
Price: $15
Read Next: Check out our post on all of the best things to do in Texas!
Day 2 Evening
In Downtown Houston, a baseball game at Minute Maid Park is a great way to start your second evening in Houston.
From March to October, the Houston Astros swing for the fences in front of an adoring home crowd and plenty of opposing supporters. The retractable roof ensures that the game is always fun and comfortable to watch.
You won't have to worry about the rain coming down, or the sun being too much. Simply kick back with a hot dog (and a tall boy) and watch the action unfold.
Speaking of sports, you can catch the NBA's Houston Rockets play at the Toyota Center and the NFL's Houston Texans at NRG Stadium.
Day 3 in Houston
Your weekend in Houston is quickly wrapping up. But don't worry, we have much more to see. Today, discover parks, underground tunnels, historic beach towns, and a man-made waterfall.
Day 3 Morning
In Downtown Houston, Discovery Green is the place to start the final day on your Houston itinerary. It's another example of Houston effortlessly blending nature into its urban sprawl, providing a lively spot to enjoy your morning coffee as the city slowly wakes up.
Discovery Green spans 12 acres and in the early hours, you'll find groups of residents enjoying yoga classes or admiring the many sculptures strewn around the greenery.
Other common events include reading sessions for the little ones. There is also an ice skating rink in the winter months.
A great alternative is the Market Square Park, which first opened when Houston was founded in 1836. Here, you'll find patios set around the small park, the famous Buster statue and a horde of surrounding cafes and restaurants.
As the sun ascends higher into the sky, escape the heat by exploring Houston's fascinating Underground Tunnel. It once connected two movie theaters but now it stretches for 6 miles of air-conditioned tunnel.
Places to stop on your subterranean adventure include the large underground food hall and the intriguing lower story in the Bank of America Building. Book a guided tour of the Underground Tunnel if you'd rather have a local show you around!
Read next: 3 Days in Austin Itinerary
Day 3 Afternoon
They say it's best to travel like a local. So if that's the case, then enjoy the hour drive to Galveston Island!
Galveston Island is Houston's go-to beach destination. The island itself is just shy of 30 miles long and is enveloped in golden beaches, historic piers, plenty of shopping and sunshine.
The barrier island has a fantastic story. One that you can read with a stroll through the East End Historic District, past historic mansions from the 1800s, old-time cafes, and boutique galleries that hold the key to the past. Among them, leafy trees paint the streets.
You'll find even more history and even better shopping in the Strand, a National Historic Landmark District. Aside from the on-point aesthetics, you'll discover a vibrant neighborhood and the impressive Grand 1894 Opera House.
But yes, you haven't escaped the city just to see old buildings. Galveston Island is what it is because of its powdery white sand.
Venture down to the Seawall for some time on Stewart Beach. With lifeguards watching on, trade the warm sands for the balmy waters of the Gulf of Mexico.
Travelers will be able to rent beach chairs and umbrellas. You'll also have easy access to several concession stands slinging your favorite beach treats and beverages. Finish off by checking out Galveston's answer to the Santa Monica Pier, the Historic Pleasure Pier.
Don't have a rental car? Check out this day trip to Galveston Island, departing from Houston.
Day 3 Evening
After returning to the Space City, take some time to reflect on your 3 days in Houston with a visit to the mesmerizing Gerald D. Hines Waterwall Park.
In a city of impressive art and public installations, the grandeur of this attraction still manages to stand out. Lay down a picnic blanket on the park's surrounded lawns and gaze upon the man-made waterfall.
The Waterwall is a semi-circle structure standing at 64 feet tall. Every minute, 11,000 gallons of water trickles down, creating a glistening sight and gentle sound. Add on the 200 towering oak trees in the park, and you have a stunning sight that is the best place to reflect on the previous 72 hours.
As the sun begins to set, admire the ever-changing colors before exploring what nighttime in Uptown Houston has to offer. In keeping with the laid-back vibe, you'll find plenty of chill bars, like Muldoon's the Patio, which serves up excellently potent cocktails.
If you want to go out with a bang, head to the West End where you'll find regular themed nights like karaoke, with DJs and live music on the weekend.
Read more: The 21 Best Things To Do In San Antonio!
Houston Travel Guide
Now that you know what to do in Houston, here is some information that will help you know the best time to visit, how to get around and where to stay.
When is the Best Time to Visit Houston
The best time to visit Houston is in the spring. As you've seen, Space City has some wonderful urban parks, and as the temperatures warm the city's flora bursts into life. With leafy trees and blooming azaleas, it's a vibrant time to be in Houston.
To add to the case of spring travel, the Texas Livestock Show and Rodeo occurs annually in March. Sure, you may not be into rodeos, but the enthralling carnival is as good as any with heart-stopping rides and plenty of big, boisterous Texan culture.
Given Houston's position on the map, it's no surprise the city gets hot in summer. But if that's the time you prefer to travel, then you'll still have much to look forward to.
Many of the city's top attractions are indoors, while the tunnels help you explore and Galveston Island is only an hour away.
Getting Around Houston
With the fourth biggest population of any American city, it's easy to say that Houston is a big city. But unlike New York, for example, it's not well set up for public transport.
Depending on where you stay, you may wish to hire a car in order to explore the attractions on the edges of town.
However, you can avoid a multi-day car hire by staying in Downtown Houston. There is a light rail system that runs through downtown and the Museum District. But you are more likely to find your next attraction within walking distance.
The best way to get around is to rent a car and explore on your own! We recommend Rental Cars, which has the largest range of vehicles for the best value on the market.
Where to Stay in Houston
Because of the light rail system, the best place to stay in Houston is downtown. Not only will you have sports stadiums, attractions, and parks within walking distance, but you can jump on the rail to visit the Museum District.
Uptown and Galleria are other options, with Galleria having some budget-friendly accommodation. However, you'll want to hire a car.
If you're wondering where to stay in the city, our recommendations for the best accommodation in Houston will help you choose the top spot for your budget!
Read Next: Don't miss out on our guide to an awesome 3 days in Dallas Itinerary!
Best Hostel in Houston: Wanderstay Houston
Wanderstay Houston places you close to Hermann Park with access to downtown via the light rail system.
The modern hotel has plenty of character, especially within its themed rooms, from sports to music and rodeo. The spacious communal area is great for meeting fellow travelers, with bike rentals also available.
Best Mid-Range Hotel in Houston: Cambria Hotel
Stay downtown and have much of Houston at your fingertips with a weekend at the Cambria Hotel Houston Downtown Convention Center?.
Enjoy upscale amenities, lush linens, and cable TV with an on-site gym, restaurant, and bar. From the lobby, you're just steps from Minute Maid Park and Main Street.
Best Luxury Hotel in Houston
So you want to treat yourself to some luxury? Well, it's time to head to the La Colombe d'Or.
Dive into the outdoor swimming pool, dabble in the delicious dining and revel in the Victorian-era decor before exploring the Museum District and Hermann Park.
DISCLAIMER: Some of the links in this article are affiliate links, which means if you book accommodation, tours or buy a product, we will receive a small commission at no extra cost to you. These commissions help us keep creating more free travel content to help people plan their holidays and adventures. We only recommend the best accommodations, tours and products that ourselves or our fantastic editorial team have personally experienced, and regularly review these. Thanks for your support, kind friend!