From diving into the Cajun and Creole food, music, and culture, to exploring the swamps, here are our top things to do in Lafayette, Louisiana.
When we locked in our trip to Lafayette in the southern state of Louisiana in the USA, there was one main thing we wanted to see – swamps!
As we started to research our adventure though we quickly realised there was a lot more to see and do than jump on a boat and cruise through the flooded plains.
Turns out Lafayette is a bit of a cultural gem, and we managed to fill an itinerary with plenty of activities.
White not as well-known as its neighbor, New Orleans, Lafayette offers an incredible glimpse into the multicultural roots of this corner of the USA's South.
Known for traditional Cajun and Creole culture, Lafayette opened our eyes and minds to amazing cuisine, traditional music, and world-class festivals which happen year round.
In addition to the rich culture, there are tonnes of interesting nature spots and wildlife to see near Lafayette.
There are numerous wildlife sanctuaries, islands, botanical gardens, bird colonies, and more scattered around the swamps of southern Louisiana.
You can tour the nature with a local guide via boat or kayak like we did, or just wander through the marked walking trails on your own.
Whether you're into culture, history, or nature, Lafayette is saturated with all three.
So if you're planning your own vacation to check out all the things to see in Lafayette, our latest travel guide is exactly what you need.
The Best Things to Do in Lafayette Louisiana
There are so many fun activities to do in the area that you'll find yourself wishing you had more time here!
Learn about Cajun culture through live music events, food tours, and historic villages.
Get your fix of science at the Lafayette Science Museum, or art at the Paul and Lulu Hilliard University Art Museum. Tour a swamp or eat some crawfish.
Whatever your interests are, you are sure to find something that excites you on this list of the best things to do in Lafayette.
1) Go on a Swamp Tour
One of the main things we wanted to do in Louisiana was check out the swamps. We had heard so much about them and seen them in movies, but wanted to know what they were really like.
So when we found out we were coming to Lafayette, we discovered that the largest swamp in the US, the Atchafalaya Basin, was a short drive away. Hell yea!
After doing some research on how we could best visit the swamp we found McGee's Swamp Tours, a family-run eco business that does boat tours out to the basin.
We signed up for a 90-minute slow boat swamp tour and it was sensational!
We cruised around looking for wildlife and exploring the huge delta basin. It was so much greener than we thought it would be, and was actually very beautiful. Nothing like what we expected.
There are people that live on the swamp in small houseboats, and our legendary guide Skip (who grew up on the swamp himself) told us all about the history, culture, and life of people here.
It was honestly so fantastic and we loved every second of it. This is one of the best guided boat tours you can find for the swamps.
If you find yourself in Southern USA definitely add a swamp tour to your bucket list.
2) Eat Some Crawfish
When you get to Louisiana, everybody will ask you if you have tried crawfish yet.
It's the number one meal here in the state, and crawfish boils are a massive part of the local culture.
There was no way we could leave Lafayette without seeing what all the fuss was about.
Kaylie, a Lafayette local, caught up with us for dinner and was willing to show us how to eat the favoured cuisine.
She rose to the challenge, and took us to a small yet popular diner called the Crawfish Spot to give it a go.
Curious to know what it was like? Check out our video from the experience and let us know if you'd give it a go too!
3) Tour the Tabasco Factory on Avery Island
Did you know that the original (and only) Tabasco Factory is found near Lafayette, on Avery Island in Louisiana?
When we found out you would have thought Jarryd was a kid going to Disneyland. He LOVES Tabasco sauce.
Tabasco sauce was invented right here in Louisiana in 1868, and is still the only place in the world where it's made.
You can tour the factory where all the magic happens, and wander the beautiful grounds.
We learned all about the famous hot sauce and how it was made, with the chili mash fermenting for three years in whiskey barrels before being mixed with vinegar for a month and then bottled and distributed.
The ingredients and recipe for this famous hot sauce is practically unchanged for 150 years.
Visiting the Tabasco Factory is easily one of the best things to do in Lafayette Louisiana.
Address: 32 Wisteria Rd, Avery Island, LA 70513
Opening Hours: 9am-4pm, 7 days a week
Price: $12.50 adults, $9.50 kids (includes Jungle Gardens and Tabasco Factory admission)
4) Get in Touch with Nature at Jungle Gardens on Avery Island
After getting your fill of hot sauce, explore more of Avery Island and head to the tranquil Jungle Gardens.
Located on Avery Island in South Louisiana, Jungle Gardens is a large green space home to some interesting attractions.
There are about 170 acres of botanical gardens and wildlife sanctuaries. There is also a bamboo grove and a historic Buddha statue.
Bird City is an egret colony and sanctuary designed to protect local egrets, as hunters used to kill them for their feathers to use in ladies' hats.
Nowadays, you can visit Bird City to admire these majestic, snowy white birds enjoying life in the marshes.
Jungle Gardens also hosts birding and wildlife tours so you can see all the wildlife that thrives in the marshes around Avery Island. Find more info on their website!
Address: Hwy. 329, Avery Island
Hours: 9am – 5pm daily
Price: $12.50 adults, $9.50 kids (includes Jungle Gardens and Tabasco Factory admission)
5) Stay in a Historical Plantation Home
While visiting Lafayette, you could always extend your sightseeing and cultural immersion to your accommodations.
Instead of staying in a normal hotel, why not stay in a historical plantation home?
There are some really lovely places to stay in and around Lafayette where historic buildings have been converted into locally-run bed and breakfasts.
One of the absolute best options is Maison Mouton B&B, which is where we stayed during our time in Lafayette.
This cozy, centrally-located bed and breakfast is set in a restored Creole house from the 1820s.
Surrounded by gardens and small cottages, and complete with charming, comfortable rooms, the B&B is filled with character, yet still has all the modern amenities you would ever need.
There is no better place to experience Southern hospitality and history than staying in a historic home such as Maison Mouton.
6) Explore Downtown Lafayette
On our list of things to do in Lafayette Louisiana, we had to include taking some time to explore the Downtown area and chat to locals.
Downtown Lafayette is a lively area that doesn't get nearly as much attention as it deserves.
With numerous unique local restaurants, live music venues, sporting events, museums, art galleries, and more, there are so many fun things to do downtown.
We'll get into more detail about some of the top attractions later on this list of the best things to do in Lafayette Louisiana.
But just meandering through the easily-walkable streets of Downtown is a great way to get a feel for the "Hub City".
But here's our top tip for now – if you love coffee, and we mean good coffee (we're Australians, trust us), check out Reve Coffee Roasters.
7) Broaden Your Mind at the Lafayette Science Museum
Visiting the Lafayette Science Museum is one of the most fun things to do downtown.
If you have any interest in science and the natural world, this museum is a must.
From geology, to marine biology, to paleontology, and more, you can learn so much when exploring this incredible museum.
There is a planetarium, a gift shop, sculptures and paintings about natural history, and plenty of interactive exhibits.
Visit the website to see what special interactive exhibits are on at the Lafayette Science Museum when you're in town.
Address: 433 Jefferson Street
Hours: Saturdays 10am – 6pm, Sundays 1pm – 6pm
Cost: $12 Adults, $8 kids
Exploring more of Louisiana? Check out this 3 Days in New Orleans Itinerary!
8) See the Lafayette Museum (The Alexandre Mouton House)
The Lafayette Museum is a historic home and garden that preserves the history and culture of the town.
Constructed around 1800 by some of the first settlers in South Central Louisiana, the house is known for housing Alexandre Mouton in 1825.
Mouton was the first Democratic Governor of Louisiana. His home has been preserved as a museum so that visitors to downtown Lafayette can catch a glimpse of what life was like back then.
For more information about events and admission, as well as photo galleries and stories about the history of the museum, check out the website.
Address: 1122 Lafayette Street
Hours: 10am – 4pm Tuesday – Saturday
Cost: $5
9) Visit the Acadian Cultural Center
Visiting the Acadian Cultural Center is another one of the best things to do in Lafayette Louisiana.
Acadian history is a huge part of the local life in Lafayette, and it's worth learning a bit about it.
"Acadians" refers to the group of people who migrated from France to Nova Scotia and other parts of northeastern North America in the 17th and 18th Centuries.
Some of them also settled in Louisiana, and the descendants of the Acadians eventually became known as "Cajuns".
The Acadian Cultural Center used exhibits, films, art, and events to educate visitors about the history, movements, and culture of the Acadians and their descendants, the Cajuns.
It's free to visit, so if you're interested in the culture and history of the area, it's worth checking out the Acadian Cultural Center.
Address: 501 Fisher Road
Hours: 9:30am – 4:30pm, Tueday – Saturday (closed on holidays)
Cost: Free
The best way to get around is to rent a car and explore on your own! We recommend Rental Cars, which has the largest range of vehicles for the best value on the market.
10) Step Back in Time at the Acadian Village
For more education about the history of Cajun country, also consider visiting the Acadian Village.
The Acadian Village sits on 32 acres of land just a 15 minute drive outside downtown Lafayette.
Designed to preserve Cajun culture, the village is an impressive replica of an authentic 1800s Cajun village.
There are 11 buildings in total, 7 of which are actual homes that have been donated to the Acadian Village by descendents of the original inhabitants. There is also a blacksmith shop and lush farmland, all with a peaceful bayou running through the village.
To see what a Cajun community really looked like hundreds of years ago, definitely see the Acadian Village when you visit Lafayette.
Address: 200 Greenleaf Drive
Hours: 10am – 4pm, closed Sundays
Cost: Free
11) Tour the Vermilionville Living History Museum
Vermilionville Historic Village, also known as the Living History Museum, is a unique place to visit in Louisiana Bayou Country.
Dedicated to educating visitors about the history of the area's native people, Vermilionville Historic Village offers an enriching and interactive learning experience.
The village celebrates and appreciates the culture of Native Americans, Creoles, Acadians, and other groups of people who thrived in the area throughout history.
Learn about the tools of Cajun and Creole music, browse through historic artifacts, tour 17th, 18th, and 19th Century homes, and more.
Address: 300 Fisher Road
Hours: 10am – 4pm, Tuesdays – Sundays
Cost: $10 adults, $5 students
12) Explore Cypress Island Nature Preserve on Lake Martin
One of the most fun things to do in Lafayette Louisiana for nature lovers is head out to Lake Martin and tour the Cypress Island's Nature Preserve.
This is a great place to see native flora and fauna, especially because it's less swampy than other nature preserves in the area.
You can easily drive there and explore the swamp via walking, canoeing, or kayaking without any trouble.
Located in between Lafayette and the small town of Breaux Bridge, Lake Martin is home to lots of reptiles, amphibians, and birds.
A stroll along the walking trails of Cypress Island will most likely provide you with views of thousands of nesting shorebirds. It's also likely you'll spot some alligators in the waters.
There is a kayak rental shop at the end of Lake Martin Road if you want to get out on the water and paddle around Lake Martin.
For guided tours by kayak or canoe, check out Pack and Paddle, a local company that runs tours of the area.
Cypress Island Nature Preserve is run by the Nature Conservancy, and their goal is to restore and preserve the wildlife and environment of the swamps in this corner of Louisiana.
You can visit Cypress Island Nature Preserve for free during daylight hours. The Visitor Center is open from 10am – 4pm on Wednesdays through Sundays.
13) Taste the Local Cuisine with Cajun Food Tours
One of the best things about traveling in Louisiana is indulging in plenty of authentic Cajun cuisine.
Made with fresh local ingredients and bursting with flavor, the Cajun food around Lafayette is mouthwatering.
Guided food tours are the easiest way to taste all the best dishes from the best local places.
Cajun Food Tours is a top-rated local company that takes its guests through the heart of Cajun country. Listen, learn, and most importantly, eat!
Cajun Food Tours combines history lessons with culinary expertise and allows you to sample the very best of the local cuisine.
You can join a walking food tour through downtown Lafayette or hop on a food tour by customized tour bus that travels to some further spots like Breaux Bridge.
They even have a full day Cajun experience that includes a swamp boat tour of Lake Martin and Cajun dance lessons, while of course featuring local Cajun dishes throughout the day.
14) Watch or Play Live Music at a Cajun Jam
One of the most fun things to do in Lafayette Louisiana is head to a Cajun Jam.
This is essentially a laid-back, informal live music jam where anyone can join in. Free to enter and open to all, a Cajun Jam is a lively and exciting way to experience Cajun music and local culture.
Some of the best musicians from the Lafayette area attend the Cajun Jams, so it can be super impressive to just watch. If you're a musician, join in the fun!
Two of the most popular live music events in Lafayette include:
Cajun Jam at the Moon
Location: Blue Moon Saloon
Date & Time: Every Wednesday from 7pm – 10pm
Cajun French Live Music Jam
Location: Vermilionville Living History Museum
Date & Time: Every Saturday from 1pm – 3pm
15) Catch Live Zydeco Music
Cajun culture and music is pretty well known in Lafayette among tourists, as the area is part of "Cajun Country".
But a lesser known type of music that is absolutely worth checking out is Zydeco Music.
This genre of music which originated in southern Louisiana is an intoxicating mix of black Creole, French Creole, and Native American sounds, language, and beats.
Accordian and guitar are popular instruments, and the music blends rhythym and blues with jazz and traditional folk music. It's extremely unique and beautiful.
Some of the best live music venues for hearing Zydeco tunes in Lafayette include El Sid-O's Zydeco and Blues Club and Blue Moon Saloon.
Read next: 21 Best Things to Do in Atlanta, Georgia
16) Attend a Free Music Festival
Because Lafayette is such a vibrant, multicultural, artistic place, the city often hosts incredible music festivals that are completely free!
So if you're a music lover and you've already hit up a Cajun jam or a live music venue, consider heading to Lafayette during one of these awesome festivals.
The most popular is the Festival International de Louisiane, hosted annually on the last weekend on April. This five-day festival celebrates French heritage through amazing live music performances and lots of delicious food.
Another one of the best festivals in Lafayette is the Festivals Acadiens et Creoles. Hosted on the second full weekend of October, this free music festival specializes in Cajun, Zydeco, and Creole music.
17) Tour the Paul and Lulu Hilliard University Art Museum
The Hilliard University Art Museum is a top attraction in Lafayette for art lovers.
Located at the University of Louisiana in Lafayette, the Hilliard Art Museum is a visual arts museum that focuses on education.
With three main galleries showcasing international art as well as American Southern Gulf Coast art through paintings, artifacts, sculptures and more, there is so much to see here.
See ancient Egyptian art, Japanese prints, and photography from local Louisiana artists. There are also rotating special exhibits, which you can learn more about on the website.
The museum was originally named the Paul and Lulu Hilliard University Art Museum, after Paul and Lulu Hilliard who donated $5 million to the construction of the museum.
Address: 710 East St. Mary Boulevard
Hours: 9am – 5pm Tuesday – Saturday (close at 8pm on Wednesdays and open at 10am on Saturdays)
Cost: $7.50
18) Bring the Kiddos to the Children's Museum of Acadiana
If you're traveling through downtown Lafayette with kids, this is the perfect place to entertain them for an afternoon.
The Children's Museum of Acadiana is for children ages 10 and under. It promotes education and community engagement, so it's a great way to get your kids involved in the local culture.
With a focus on interactive exhibits and activities, the Children's Museum will get your kids involved in local crafts, cultural classes, games, and other hands-on projects.
Address: 201 E. Congress Street
Hours: Time slots available on the website
Cost: $7 (Free for infants under 1)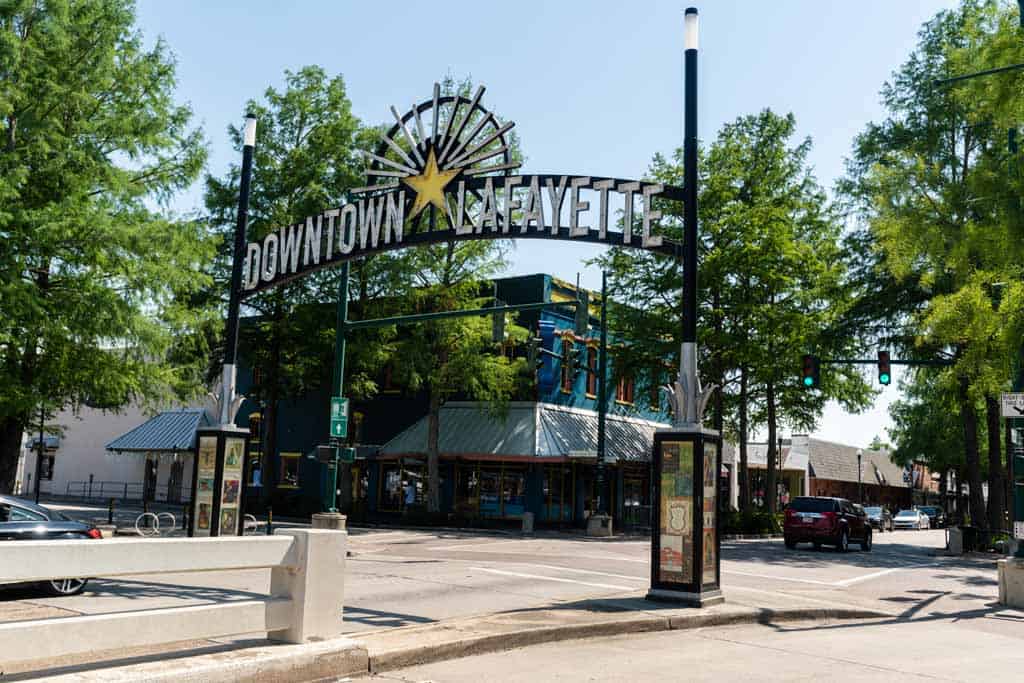 19) Visit the Rip Van Winkle Gardens at Jefferson Island
A quick 30-minute drive south of Lafayette will bring you to Jefferson Island, a lovely attraction full of nature and history.
Jefferson Island is named after Joseph Jefferson, an American actor who became famous for playing the role of Rip Van Winkle on stage. The role was based on the 19th Century short story of "Rip Van Winkle".
The southern plantation style home of Joseph Jefferson and the surrounding Rip Van Winkle Gardens are a magnificent attraction on Jefferson Island that makes a nice little excursion from Lafayette.
Wander through the semi-tropical gardens, admire the Victorian architecture of the mansion, and marvel at the trees that are over 300 years old.
Address: 5505 Rip Van Winkle Road
Garden and Gift Shop Hours: 9am – 5pm
Home Tours: 10am -4pm
Cost: $12
20) Indulge in Some Treats at a Local Bakery
If you're craving something a little different than crawfish and Cajun food, head to one of the cozy local bakeries in downtown Lafayette and enjoy some home baked goods.
Lafayette has some amazing bakeries that sell fresh bread and pastries, as well as meals and take away snacks.
A local favorite is Poupart Bakery. Opened in 1967, this is the oldest authentically french bakery in town.
Poupart Bakery is family-run and has daily specials available. Check out their instagram and try not drool over the gorgeous, colorful cakes!
Speaking of cake, Piece of Cake Lafayette is the best place to go for artisan cakes. This is a favorite among locals for elaborate, custom-order cakes, but you can also pop in for a delicious slice of cake or pastry to-go.
Another authentic french bakery is Keller's Bakery Downtown. Located in a historic building, the bakery was founded by the Keller family, a family of bakers who migrated to the USA from the Alsace Region of France in the 1700s.
Looking for more vibrant cities of the USA South? Check out this list of the Best Things to Do in Nashville, Tennessee
21) See a Show at the Acadiana Center for the Arts
Last on the list of the best things to do in Lafayette Louisiana is heading to the Acadiana Center for the Arts.
This cultural center has so many things to see and do, from ticketed performances to free public events to art galleries and more.
You could come for a live show, such as a dance recital, a play, or a musical. There is so much music that plays at the Acadiana Center as well, from rock bands, to folk groups, to opera singers.
There are always touring arts performances coming through the Acadiana Center. You could easily see a famous band one day and then see a small local artist the next.
The Acadiana Center for the Arts is also home to visual art exhibitions and galleries that you can see at any time. Stop in to browse, or book a show in advance for when you're in town.
Address: 101 W Vermilion St.
Hours: Galleries are open Tuesday – Saturday from 9am – 5pm
Cost: Depends on which events/exhibitions you are attending. Find more info on the website.
Where To Stay in Lafayette, Louisiana
Now that you know what to do in Lafayette, here are some of the top-rated accommodation options for your stay.
Unfortunately there are no hostels in Lafayette, as the city is not yet on the popular tourist trail of the USA.
But there are some great budget hotels and motels for those looking to save money. And there are lots of great mid-range accommodation options, as well as some pricier options for those with cash to spend!
Best Budget Accommodation: Woodspring Suites
For accommodation under $100 USD per night, Woodspring Suites has some of the best ratings.
It is not directly in the city center, so having a car could be handy as it is a few kilometers to most attractions. But this is a lovely, quiet place to stay with all the amenities you may need, like a fitness center, flat screen tv, and kitchen facilities.
Best Mid-Range Accommodation: Hilton Garden Inn
The Hilton Garden Inn is a top-rated hotel near downtown Lafayette that is still very reasonably priced.
With rooms costing around $150 USD per night, you get to enjoy high quality rooms and service without spending a fortune.
There is an on-site restaurant as well, and the hotel is close to all the highlights of downtown.
Best Luxury Accommodation: Maison Mouton B&B
We mentioned this incredible historic plantation home bed and breakfast earlier in the article. But if you're looking for the best accommodation in Lafayette, this is it.
The best thing about Maison Mouton B&B is that the prices are very reasonable for such a stunning place.
A stay in a gorgeous, cozy room with garden views surrounded by giant oak trees is only around $150-200 USD per night, depending on your dates. You also get a delicious home cooked breakfast, of course.
DISCLAIMER: Some of the links in this article are affiliate links, which means if you book accommodation, tours or buy a product, we will receive a small commission at no extra cost to you. These commissions help us keep creating more free travel content to help people plan their holidays and adventures. We only recommend the best accommodations, tours and products that ourselves or our fantastic editorial team have personally experienced, and regularly review these. Thanks for your support, kind friend!