On our recent trip to the adventure capital of Europe we managed to fit in so many incredible activities and attractions! In our personal list of the top things to do in Interlaken, Switzerland, we'll take you to underground waterfalls and caves along epic hiking routes, boat cruises, adventure sports, and more!
Look, there's just no other way to put it. Interlaken, Switzerland is one of the best places to visit in the world for adventure lovers.
Full of lakes, canyons, mountains, forests, and quaint villages, there is so much natural beauty to explore.
Last year we travelled to this mind-blowing destination as part of the GoPro Creators Summit, a massive event where the world's best GoPro creators and athletes get together for a few days of adventure and workshops.
So if Interlaken is good enough for GoPro to hold this exclusive event, trust us when we say it's pretty special!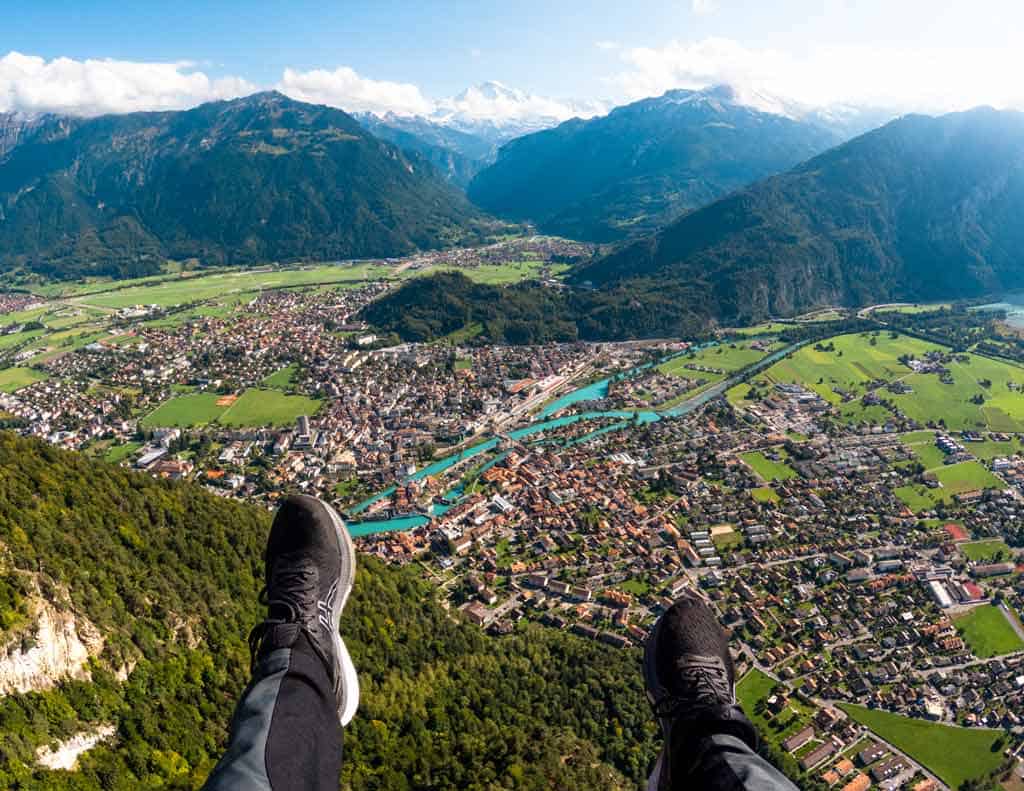 Interlaken literally translates to "between lakes", so you already have an idea of what the location will be like – A beautiful spot sitting between the gorgeous Lake Thun and Lake Brienz on either side of the town centre.
There are also countless incredible local tour companies that offer adventure sports and outdoor activities in the area.
You can go bungee jumping, horseback riding, skiing, snowboarding, hiking, kayaking, canoeing, sky diving, hang gliding, and so much more.
Interlaken is also a charming town that has delicious local food, cozy hotels and interesting shops.
So even if you're not a huge fan of outdoor adventures, you will still have plenty of things to do when you visit Interlaken.
Whether you're looking to skydive over the Jungfrau ski region, or indulge in the best Swiss chocolate at Funky Chocolate Club, here are the best things to do in Interlaken!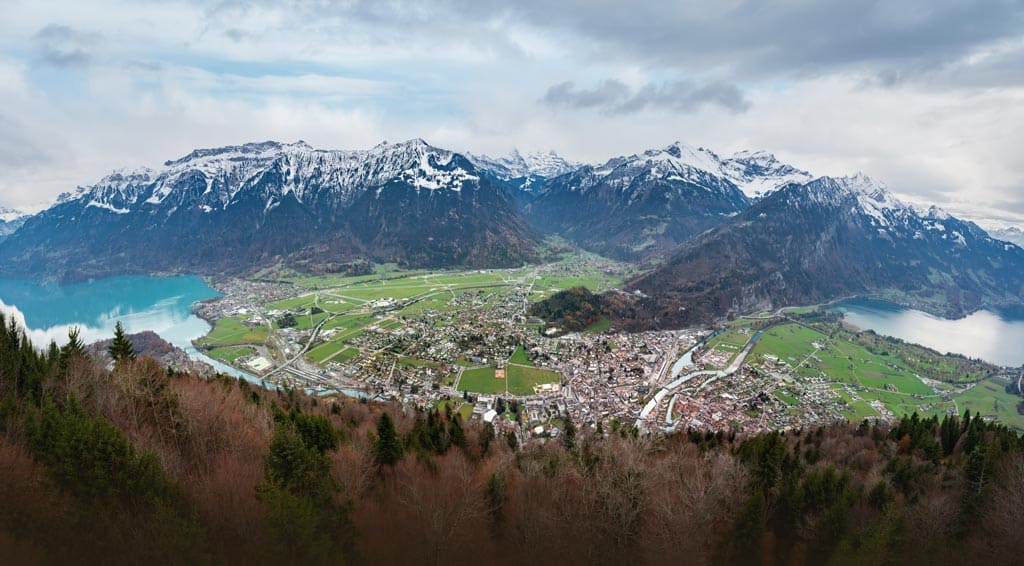 The Best Things to Do in Interlaken, Switzerland
When visiting Interlaken, you are spoilt for choice when it comes to activities.
Dine at a panoramic restaurant, hike in the nearby mountains, tour the St. Beatus Caves, or go on a boat ride on the two lakes next to town.
This article will explore the best Interlaken attractions that are suitable for all types of travellers!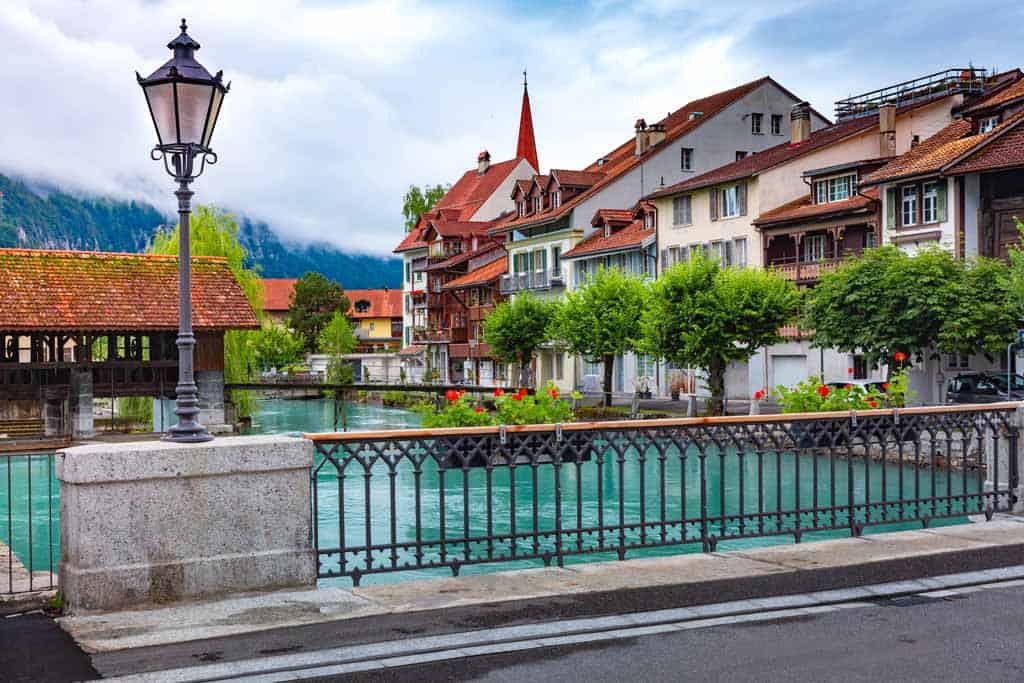 1) Get Wet and Go Canyoning
Canyoning is one of the top adventure activities to try in Switzerland.
Not sure what canyoning is? You literally explore canyons in any way possible.
Whether that is by climbing, rappelling, sliding, swimming, or rafting, you get to travel through massive gorges with a local guide.
We went with Outdoor Interlaken and had two awesome guides, Steph and Emil. They provided all the gear and waterproof suits so we could explore the canyon safely.
This is a great half day trip that takes around 4-5 hours, and the company does pick ups from your accommodation too.
Company – Outdoor Interlaken
Address – Hauptstrasse 15, 3800 Matten bei Interlaken
Opening Hours – 8am – 6pm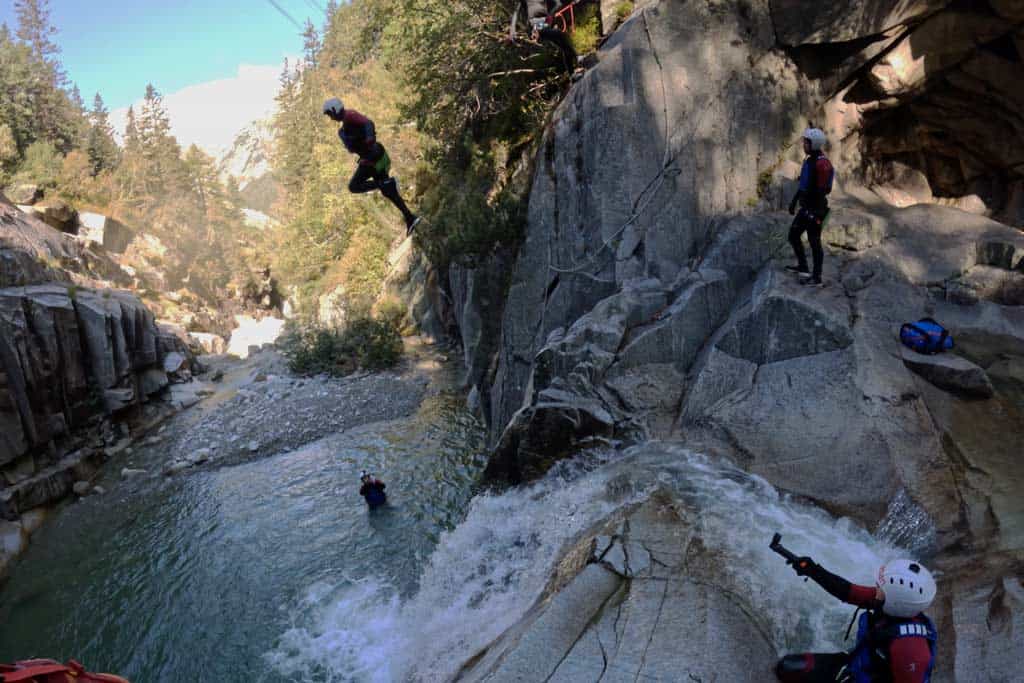 2) Visit a Castle
Aside from the majestic peaks of the alps, central Europe is also known for its castles.
There are a few historic castles to visit near Interlaken, which is a great sightseeing activity for those who want to take it easy between those action-packed days.
Burg Unspunnen is a castle from the early 12th Century. Though it is now in ruins, the castle is surrounded by lush green meadows and overlooks the city of Interlaken.
There are also five castles around Lake Thun: Castle Hunegg, Castle Thun, Castle Oberhofen, Castle Schadau, and Castle Spiez.
Castle Oberhofen is the most photographed castle on Lake Thun. Spend some time exploring the gorgeous castle grounds and the panoramic views of the lake.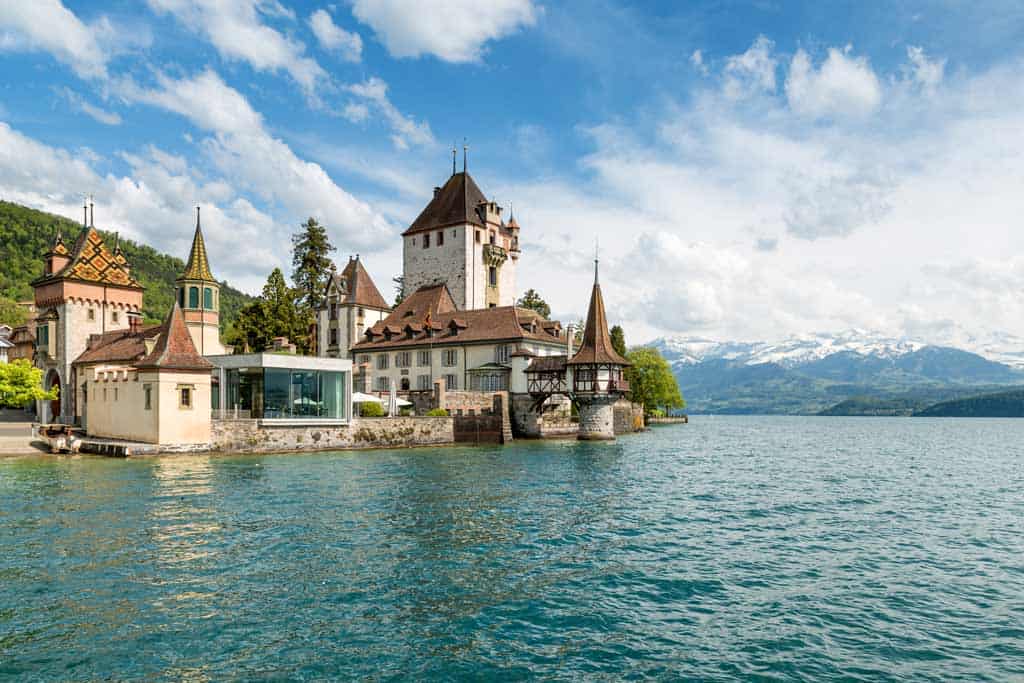 3) Go Kayaking or SUP boarding on Lake Thun or Lake Brienz
While visiting Interlaken, you absolutely have to get out on the deep blue waters of Lake Thun or Lake Brienz.
These two stunning lakes sit on either side of Interlaken town centre, so it's super easy to book any water activity.
Kayaking and stand-up paddleboarding are two of the most popular water sports to try.
Lake Thun and Lake Brienz are both very calm and peaceful, so you can leisurely paddle on the water and admire the views of the surrounding mountains.
If you're visiting Interlaken in winter, your company will equip you with heavy-duty wetsuits so you can stay dry.
Company – Hightide Paddlesports
Address – Lütschinenstrasse 24, 3806 Bönigen
Opening Hours – Friday – Wednesday, 9am – 6pm (Closed Thursday)
Website – hightide.ch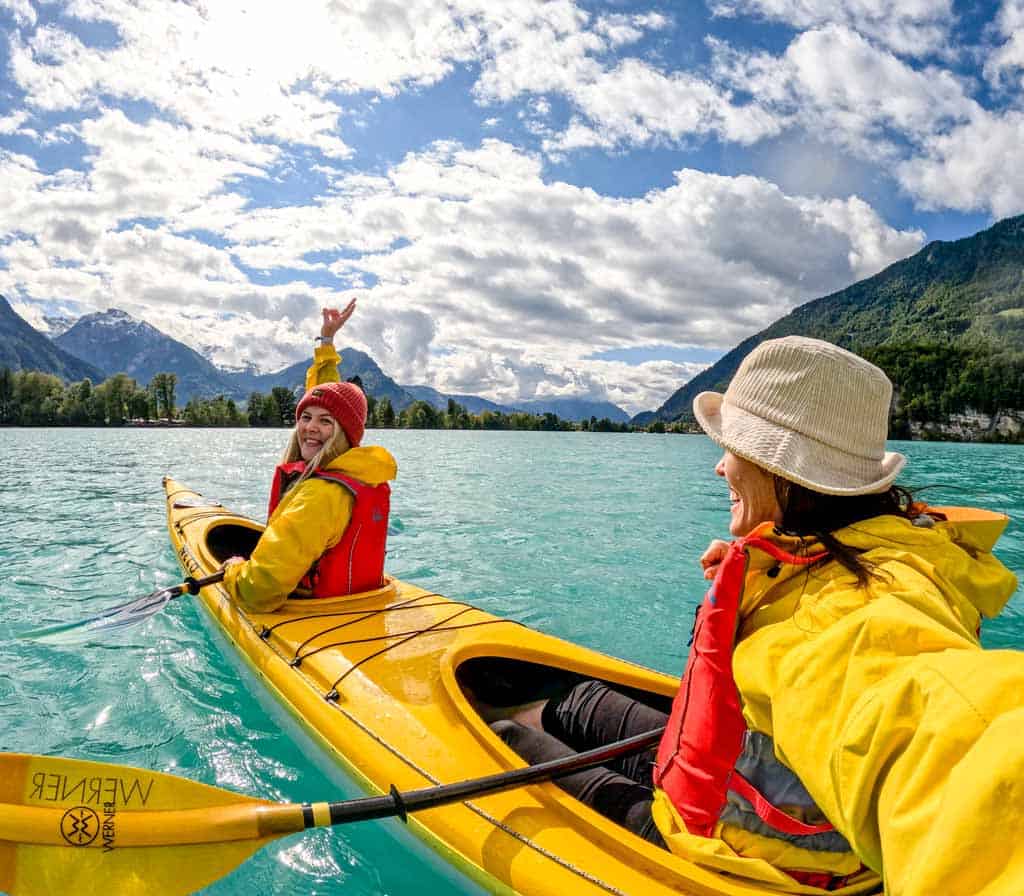 4) Walk the Sigriswil Panoramic Bridge
One of the best things to see in Interlaken is the jaw-dropping view from the Sigriswil Panoramic Bridge.
This impressive suspension bridge hangs over a deep gorge, and measures 340 meters long and 180 meters high.
The bridge connects two villages: Aeschlen and Sigriswil. While walking across the bridge, you'll get spectacular views of Lake Thun and the stunning scenery.
Address – Raftstrasse 31-33, 3655 Sigriswil, Switzerland
5) Go Paragliding over Interlaken
Paragliding is another one of the top activities to try in Interlaken, and it was one of our absolute favourite things to do in the country!
Imagine soaring over the beautiful scenery of Switzerland like a bird, with views of the two lakes and the mountains, all with complete silence around you.
This is what paragliding is like, and it's truly addictive.
There are a number of paragliding companies in Interlaken, but we went with Alpine Air Paragliding. Jarryd's pilots were Remy and Hayden (he went twice, lucky duck!), and Alesha's pilot was Christian who was brilliant.
It takes about half hour to drive up the mountain where they leave from, and it's a lovely trip.
You'll get a safety briefing too, but really all you need to do is sit back, listen to your pilots and enjoy the ride.
If you're feeling really adventurous you can even take control for parts of the flight!
After a 10-20 minute flight, you will land at Höhematte Park, right in the heart of the town.
Company – Alpine Air Paragliding
Opening Hours – Tours run everyday
Contact Number – +41 79 583 83 83
Website – https://alpinair.com/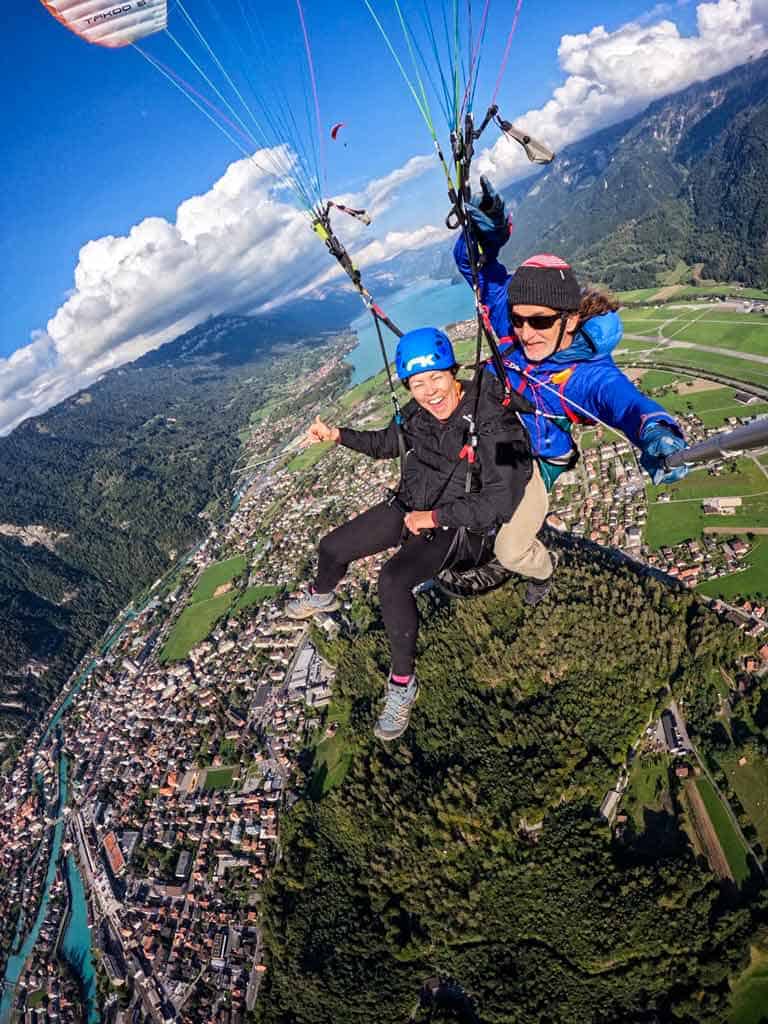 6) Make Swiss Chocolate at Funky Chocolate Club
Very few tourists leave Interlaken without stopping at the Funky Chocolate Club.
This chocolate shop, cafe, and workshop is a must-see in Interlaken.
You can take a chocolate-making workshop with experienced local teachers and learn all about the craft and process of making Swiss chocolate.
Be sure to grab some chocolate souvenirs on your way out, and definitely try some of the fresh strawberries coated in melted chocolate!
Company – Funky Chocolate Club
Address – Postgasse 10, 3800 Interlaken,
Opening Hours – 2pm – 10pm Wednesday – Sunday (Closed Monday and Tuesday)
Website – https://funkychocolateclub.com/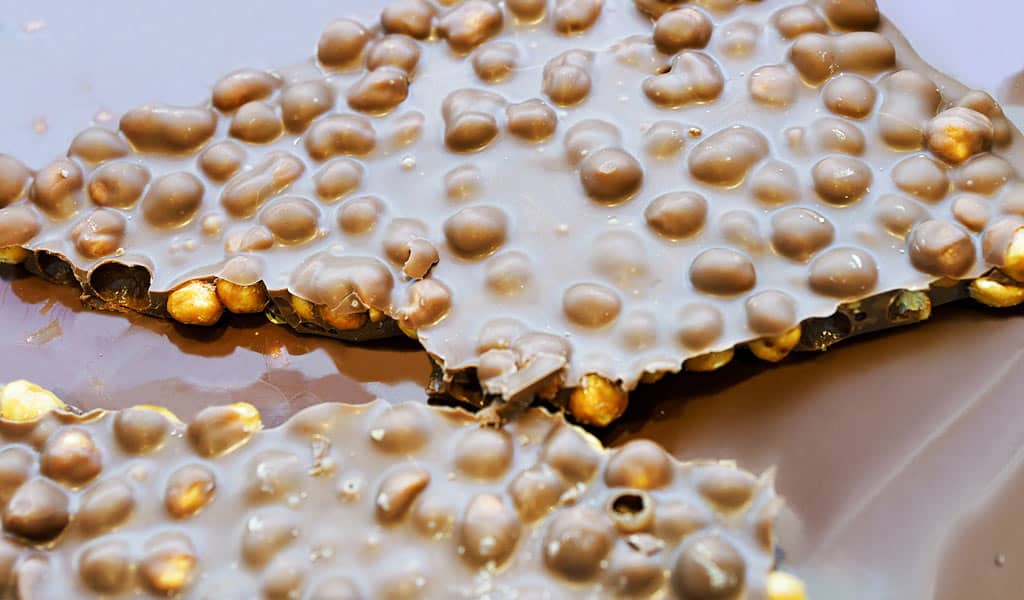 7) Go Hang Gliding
Hang gliding is another awesome unique activity to try in Interlaken!
If you want to soar over the natural beauty of Switzerland, but you're not up for something intense like sky diving, hang gliding is an excellent option.
Bumblebee Hang Gliding is one of the best local tour companies in Interlaken.
Toby and his team will pick you up and get you sorted with all your gear and preparation.
Then they will take you flying over the beautiful Eiger, Mönch, and Jungfrau mountains of the Bernese Alps. You can also see Lake Brienz and Lake Thun while you fly.
8) Hike in the Mountains
Another one of the best things to do in Interlaken is hiking.
Hiking is best done in the spring, summer, or autumn when the trails are dry and the weather is clear.
If you're visiting Interlaken in winter, the weather conditions for hiking can be a bit more unpredictable and snowy, so make sure you are prepared!
But hiking in the Swiss Alps is incredible.
Schynige Platte Mountain has lots of awesome hiking trails that suit all levels. The Panorama Ridge Trail is great for families, the Hike to First is the most challenging hike, and the Daube Viewpoint is the most popular trail.
The Valley of Lauterbrunnen also has lots of epic trails with waterfalls. Grindelwald is a small ski resort town in the Jungfrau region that also has amazing hikes, but you have to take the train to get up there.
Book the train to Jungfraujoch Mountain here.
9) Go for a Jet Boat Ride on Lake Brienz
Take your Interlaken sightseeing to the water with an epic jet boat ride.
Boat tours are one of the best ways to see the mountain views of the Bernese Alps from the water.
Outdoor Interlaken has an awesome jet boat tour on Lake Brienz. Your local guide will take you over the turquoise waters of the alpine lake while educating you about the local history and culture.
You can even do boat trips in the winter. The company will provide you with high-quality gear to keep you warm while you explore Lake Brienz in winter.
Company – Outdoor Interlaken
Address – Hauptstrasse 15, 3800 Matten bei Interlaken
Opening Hours – 8am – 6pm
Website – https://outdoor.ch/en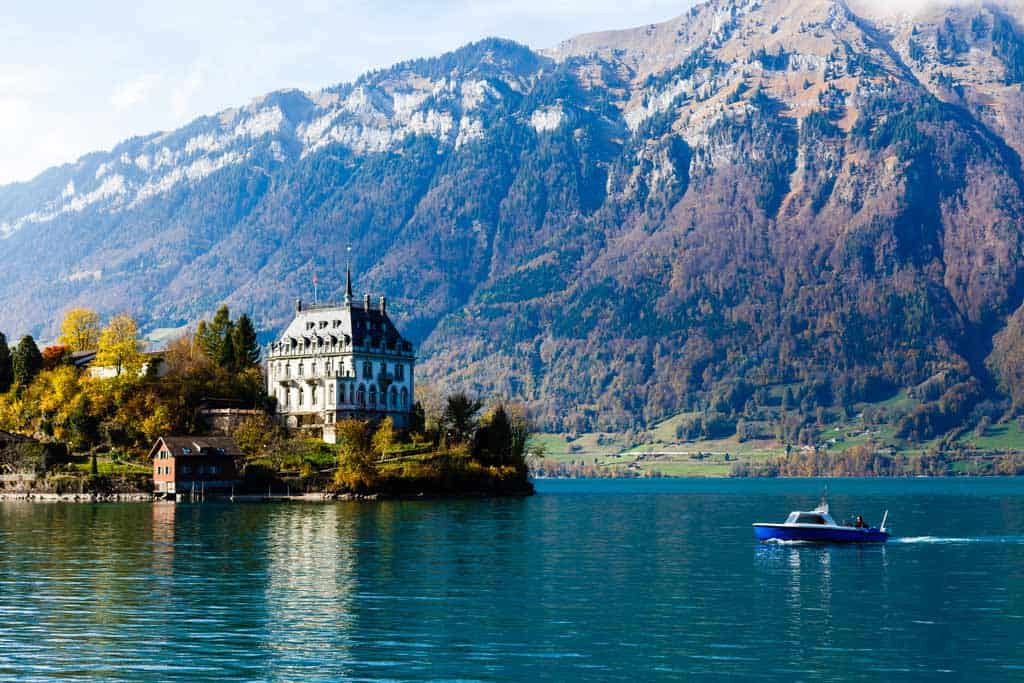 10) Visit the Interlaken Monastery
Another one of the best things to do in Interlaken is visit the monastery.
The Interlaken Monastery was originally a monastery in the early eleventh century but has served many purposes over the years such as a convent, a hostel, and a palace.
Check out this unique piece of Swiss history and admire the stained glass windows and the historic significance of the church.
READ MORE: Travelling elsewhere in Switzerland? Check out our guide to all the best things to do in Geneva!
11) Try a Canyon Swing
A canyon swing is another heart-pumping, adrenaline-filled activity for those who are daring enough.
Similar to bungee jumping, the canyon swing involves free falling from a 90-meter drop. Your harness will stop you from falling and swing you back and forth through an incredible canyon.
Local favourite, Outdoor Interlaken, is the best company to go with for a canyon swing. Guides Anna and Sue are so helpful and make you feel super comfortable.
Both Jarryd and I did this activity during our trip, and trust us when we say IT WAS AWESOME!!!!
I don't really know how else to put it. Just go do it. It's the most thrilling, scary and exciting thing I've ever done. Check out my video below haha!
Company – Outdoor Interlaken
Address – Hauptstrasse 15, 3800 Matten bei Interlaken
Opening Hours – 8am – 6pm
12) Walk through Glacier Canyon Grindelwald
One of the coolest things to see in Central Switzerland is Glacier Canyon near Grindelwald.
This jagged canyon above the Lütschine River is filled will tunnels, caves, and rock formations that took over 250 million years to form.
There are some fascinating trails inside the canyon that you can walk through.
If you have a car you can head out there and walk the canyon yourself. You just need to purchase the entry ticket.
If not, you can go on a tour with Outdoor Interlaken.
Company – Outdoor Interlaken
Address – Hauptstrasse 15, 3800 Matten bei Interlaken
Opening Hours – 8am – 6pm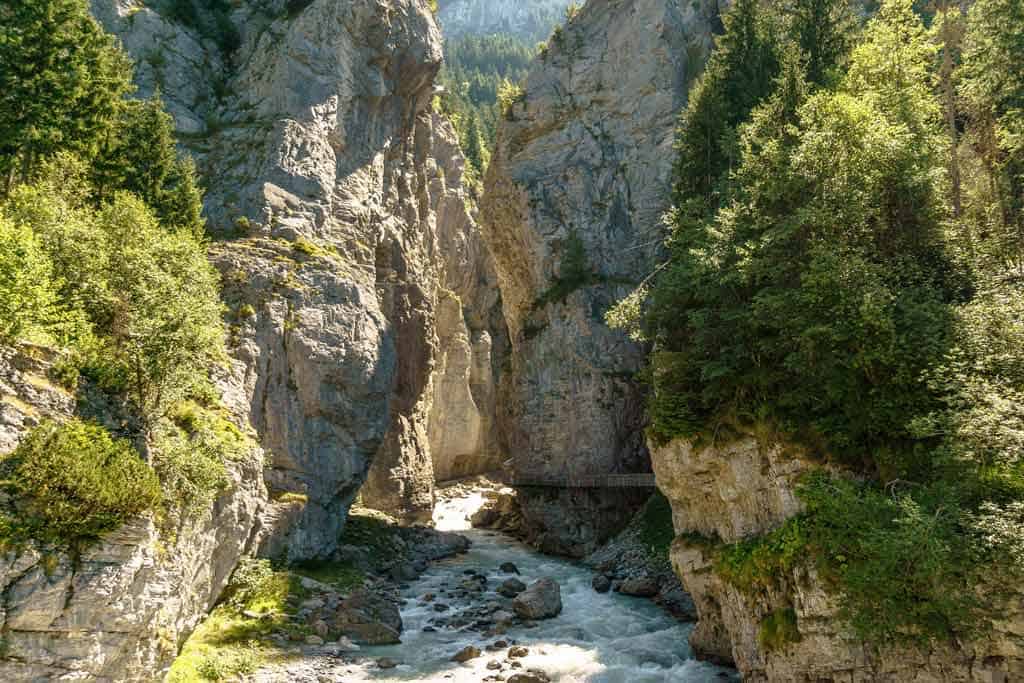 13) Visit the Town of Unterseen
Unterseen is a gorgeous little town near Interlaken worth visiting during your trip.
Translating to "Lower Lake", Unterseen is located right on Lake Thun and is just a quick, 5 minute drive or 20 minute walk from Interlaken.
The historic town centre is full of antique churches and monuments, as well as incredible restaurants and shops.
Spend an afternoon exploring Unterseen and admiring the architecture and the views of the Bernese Alps.
14) Do a Sunrise Hike & Fly Experience with Skywings
One of the coolest Interlaken activities to try is a sunrise hike and fly experience.
Skywings Paragliding is an awesome local company that runs these incredible tours. They do pick up at your accommodation, and get you all geared up and ready to fly.
Paragliding is similar to hang gliding, but you have a bigger parachute and you fly more slowly.
So if you want to fly over the picturesque village of Interlaken and the mountains of the Jungfrau region at a more relaxed pace, this is the tour for you.
Jarryd had an awesome time flying with Skywings Paragliding, captained by his pilot Hayden.
The whole experience is so different to doing it downtown too.
You start super early, take the cable car up the mountain and then hike for a few hours to the launch spot.
The scenery is out of this world, then when you reach near the peak you strap in and head off for a really long flight!
Jarryd was up in the air for nearly 45 minutes, which is absolutely crazy! He also got such a different view of Interlaken being so high up and approaching from a different angle.
After the flight, you will land at Höhematte Park. Before setting off to enjoy the rest of your day, enjoy the views from Höhematte Park because they are beautiful.
Company – Skywings Paragliding
Address – Höheweg 56, 3800 Interlaken
Opening Hours – Tours run every day
Website – https://skywings.ch/
15) Ride the Cable Car up to Heimwehfluh
An easy, scenic excursion to take when you visit Interlaken is the ride up to Heimwehfluh.
This funicular cable car takes you up to the summit at Heimwehfluh at 662 meters above sea level.
You can find the cable car just a few minutes walking distance from Interlaken West Train Station.
After a quick 4-minute funicular ride up the mountain, you will find yourself in Heimwehfluh where there is a playground for kids and a panoramic restaurant for adults.
This is a nice, easy way to soak in the views of the Jungfrau peaks and the surrounding natural beauty.
Address: Heimwehfluh 60, 3800 Interlaken, Switzerland
Hours: 10am – 5pm
Ticket cost: 23 Swiss Francs for adults, 14 for kids
16) Go to the Highest Railway Point in Europe
The Jungfraujoch Railway Station is the highest railway station in Europe, situated at around 3,500 meters above sea level in the Swiss Alps.
From Interlaken Ost Railway Station in the central town of Interlaken, you can catch the train up to Jungfraujoch Railway Station.
The Interlaken Line is more than 100 years old! So not only are you seeing stunning mountain scenery on this day trip, you are on a train that is an important piece of history.
Ride the cogwheel train up into the Jungfrau Region, and stop off at the Top of Europe Building high in the Swiss Alps. It is an incredible experience.
17) See the Aletsch Glacier
For an epic day out of the town centre, take an Interlaken day trip up to the Aletsch Glacier.
Covering 31.5 sq. miles, this meandering ice mass is the largest in the Alps. It is also a UNESCO Natural World Heritage Site.
Strap on your hiking boots and get ready to explore the glacier!
You can drive or take the train to Fiesch, then ride the gondola to Fiescheralp where the hiking trails to the Aletsch Glacier begin.
Enjoy your day trip out of Interlaken hiking on the largest glacier in the Alps!
18) Ride the Historic Brienzer-Rothorn Railway
For more scenic railways rides in the Interlaken region, hop on board the Brienzer-Rothorn Railway.
This tourist track leaves from Brienz Railway Station and chugs through the mountains for 7.6 km.
If you're not keen on hiking or paragliding or anything like that, this train ride is a relaxing way to see some of the best views of the area.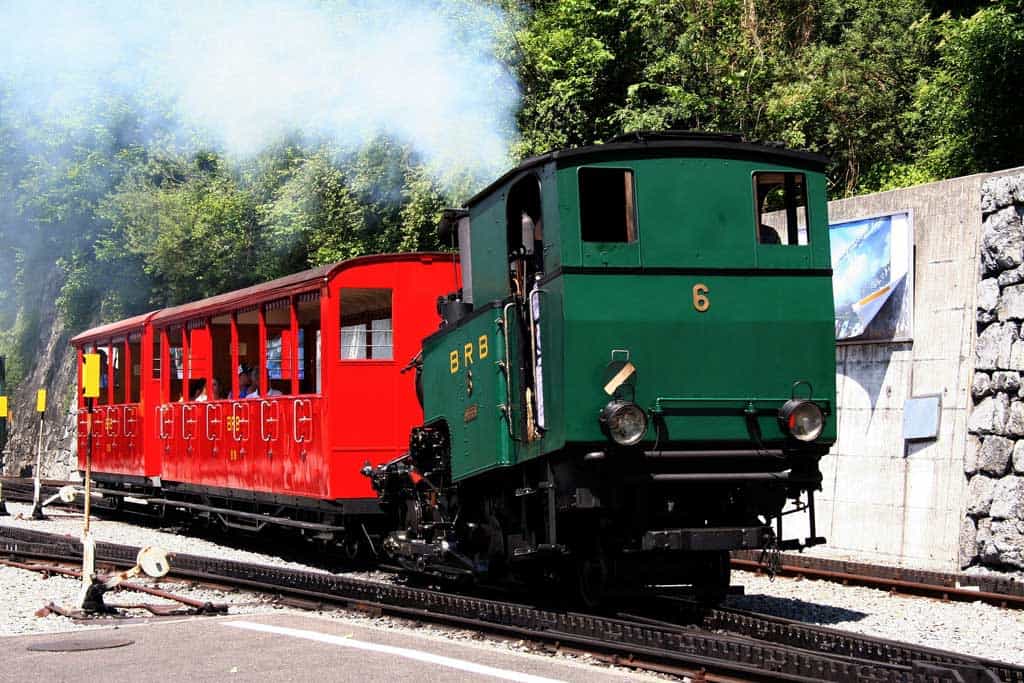 19) Go Bungy Jumping
One of the most extreme adventure activities to try near Interlaken is bungy jumping.
Outdoor Interlaken offers the most epic bungy jump experience where you go out to the stunning location in the Swiss Alps via gondola.
Once you arrive, you get to fling yourself off of the platform for a 134-meter jump.
The Stockhorn Bungy Jump is not for the faint-hearted! But if you love a thrill, this may be one of the coolest things you ever do.
Company – Outdoor Interlaken
Address – Hauptstrasse 15, 3800 Matten bei Interlaken
Opening Hours – 8am – 6pm
20) Sled Down Grindelwald First
Just 40 minutes away from Interlaken by train is the charming town of Grindelwald.
There are so many mountains around here that are perfect for skiing or snowboarding, but the best thing to do in the area is visit Grindelwald First.
Mount First is a mountain of the Bernese Oberland. The best way to experience the mountain is the First Mountain Cart, which is like a cross between a sled and a go-kart.
You can ride around the mountain over different types of terrain on wheels! The cart was created because sledding on the mountain is too much fun to only do it in winter.
Company – Rail Info Interlaken
Address – Höheweg 35, 3800 Interlaken
Opening Hours – 10am – 12pm, 1:30pm – 6pm on Mondays – Fridays OR 10am – 1pm, 1:45pm – 5pm on weekends
21) Go Skydiving
For the adrenaline junkies out there, skydiving is one of the best things to do in Interlaken!
And Interlaken is arguably one of the best places in the world to skydive.
The Jungfrau region is so beautiful and full of mountains, lakes, and rich natural colors. So while you're soaring through the sky, you'll get to see some of Europe's most beautiful scenery.
Skydive Switzerland is the best company in the country, and that's exactly who Jarryd booked his experience with.
Their experienced staff will organise your pick-up and then help you prepare for your 12,000 feet jump. You can dive out of a plane knowing you are in safe hands!
Company – Skydive Switzerland
Address – Hauptstrasse 26, 3800 Matten bei, Interlaken
Opening Hours – Tours run daily from 8am – 5pm
22) See a Swiss Cow at the Justistal Alpine Dairy
Seeing the daily life of an alpine dairy farmer is a super interesting way to spend a morning in Interlaken.
On this unique tour, you will wake up early and hike to a cabin in the countryside.
Here you will learn all about the cheese making process and have the opportunity to ask questions to the local dairy farmer.
You'll also get to taste some delicious cheese and check out the rural countryside.
This tour is an awesome way to learn about the culture and cuisine of this area of Switzerland.
Company – Beatenberg Tourismus
Address – Spirenwaldstrasse 168, 3803 Beatenberg, Schweiz
Hours – Tours run on Tuesdays from June to September
23) Simply Relax and Explore Interlaken Downtown
While most of the adrenaline activities are found in the surrounding mountains, just spending time in the charming village of Interlaken is something that all travellers need to experience.
Check out the souvenir shops, buy some local chocolate from a sweet shop, stroll through the parks, and just soak it all in.
Eat at some local restaurants, admire the quaint architecture, and if you're visiting in winter, admire all the Christmas decorations!
Interlaken is beautiful, so do some shopping, dining, and sightseeing in between all your adventure activities.
24) E-biking around Interlaken
A great way to sightsee around Interlaken is renting an electric bike.
Flying Wheels is a reputable company in downtown where you can rent a bike from Frank and his team.
They offer standard town bikes as well as mountain bikes, so you have options for whatever you are planning for the day.
You don't need to do an organsed tour, so you can ride your bikes as little or as long as you want to. Go for a leisurely ride around town or bike around Lake Thun or Lake Brienz.
Company – Flying Wheels
Address – Höheweg 133, 3800 Interlaken
Opening Hours – 7 days a week from 9am – 6pm
Website – flyingwheels.ch
25) Try Via Ferrata
Via Ferrata is an exciting way to experience the natural beauty of Interlaken.
Translating to "Iron Path", Via Ferrata is like rock climbing but you are wearing a harness which you can strap into the metal rungs and wires that are permanently fixed into the rock.
So you are climbing cliffs and mountains, but you are safely strapped in and you feel safer than just freely rock climbing.
The Via Ferrata tour with Outdoor Interlaken takes you through the Lauterbrunnen Valley. As you climb, you'll get gorgeous views of the village of Mürren below.
Company – Outdoor Interlaken
Address – Hauptstrasse 15, 3800 Matten bei Interlaken
Opening Hours – 8am – 6pm
26) Boat Tour on Lake Thun and Lake Brienz
Taking a boat tour on Lakes Thun or Brienz is easily one of the best things to do in Interlaken.
The lakes are so beautiful that you really can't appreciate them until you are actually out on the water. Glide over the crystal clear water and admire the views of the Eiger, Mönch, and Jungfrau mountain peaks in the background.
There are lots of incredible tours to choose from on the official Interlaken tourism website.
I recommend visiting their website and browsing through all the boat tours available. There are winter cruises, steamboat cruises, evening cruises, fondue cruises, and more.
You can even ride on a historic paddle steamer across the lakes.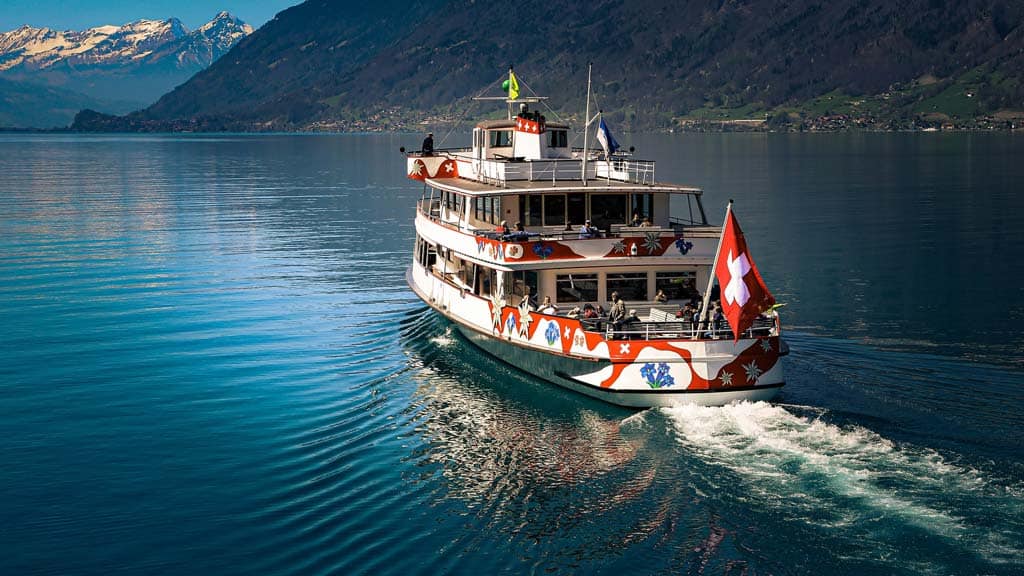 27) Sample some Local Cuisine
You have to try some of the local cuisine while staying in Interlaken! Swiss cuisine has influences from neighbouring French and German cuisines; the food is hearty and filling.
Probably the most famous part of Swiss cuisine that you have to try is cheese fondue.
Picture a huge pot of thick, melted cheese where you can dip various breads, pickles, veggies, and more. It's so delicious and you can't leave Switzerland without trying it.
Hotel Bahnhof, Restaurant Taverne, Restaurant Baren, Balmer's Hostel, and Fondue Villa & Garden are some of the best places to get an authentic cheese fondue as well as other classic local dishes.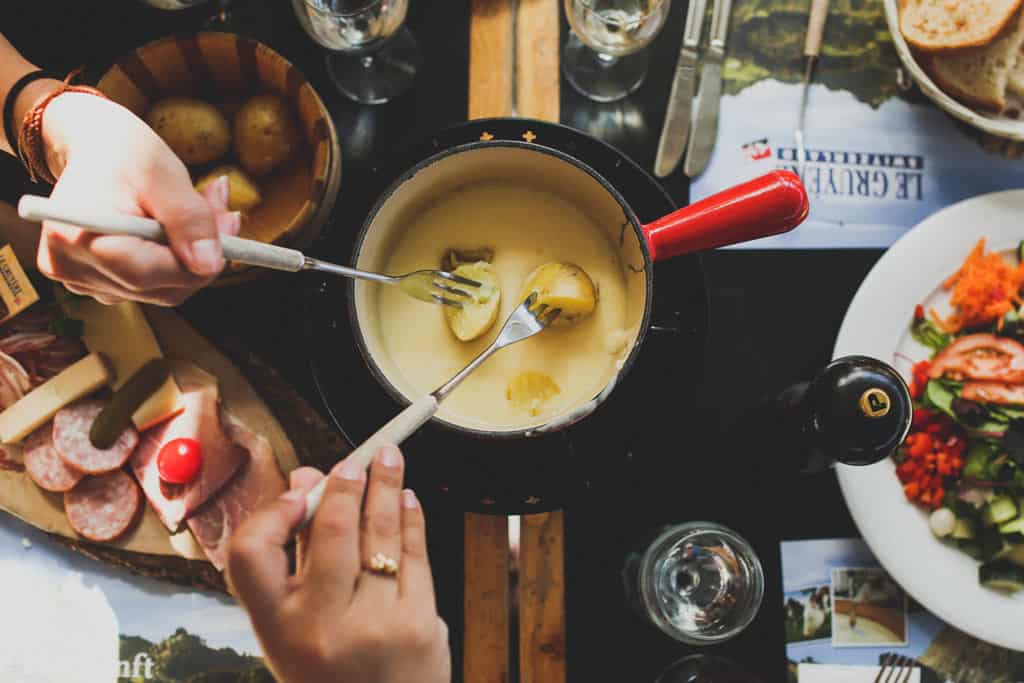 28) Do a Ropes Course
A challenging outdoor ropes course is another awesome way to spend an afternoon in Interlaken.
You can do this at Ropes Park located just outside of central Interlaken.
After listening to the safety instructions from the staff and getting all the gear and equipment you may need, you can spend a few hours enjoying all the different challenges.
The ropes course is basically a forest playground with wooden bridges, Tarzan swings, and zip lines. There are 9 courses of varying difficulty and height, and there are more than 120 different challenges from ground level up to 20 meters.
If you're looking for one of the top things to do in Interlaken with kids, this is a great place to check out!
Company – Outdoor Interlaken
Location – Adventure Park Interlaken
Opening Hours – 2pm – 10pm Wednesday – Sunday (Closed Monday and Tuesday)
29) Go Waterfall Chasing
In the nature around Interlaken, you can find some beautiful waterfalls hidden amongst the forests and mountains.
Giessbach Falls is right near Lake Brienz. You can access these falls by boat and watch the waterfall tumble right into the bright turquoise water.
Trummelbach Falls is about a 25-minute drive outside Interlaken. This gorgeous series of glacier-fed waterfalls are inside a mountain and you can only access them via tunnel.
Staubbach Falls is a tall waterfall in the Lauterbrunnen Valley in the Bernese Highlands. It is fed by the Aare River and is almost 300 meters in height.
Those are just a few of the waterfalls you can visit on an Interlaken day trip!
30) Tour the St. Beatus Caves
St. Beatus Caves near Lake Thun is a well-known attraction in this corner of the Bernese Oberland.
Descend into a fascinating underground world and see stalactites and stalagmites scattered throughout the caves.
After exploring the wonders of St Beatus Caves, head up to the cave museum and restaurant featuring fresh local food and produce.
31) Visit the Ballenberg Swiss Open-Air Museum
A great way to step back into the history of Switzerland is by visiting the Swiss Open-Air Museum known as Ballenberg.
The grounds of this outdoor museum are full of traditional buildings and homes. All the architecture is well preserved and has been transported here from its original locations.
Walk through historic buildings, gardens, and fields and feel like you've stepped back in time!
Address – Museumsstrasse 100, 3858 Hofstetten bei Brienz, Switzerland
Hours – 10am – 5pm
Ticket cost – 28 CHF for adults, 14 CHF for kids
Website – https://www.ballenberg.ch/en/
32) Head up to Harder Kulm Viewpoint
Anyone wondering what to see in Interlaken for the best views of the scenery should definitely head up to Harder Kulm.
This viewpoint in the Bernese Oberland is about 1,322 metres high and offers stunning views of the surrounding valleys, mountains, villages, and lakes.
The view is gorgeous at any time of day, though sunset is particularly popular.
You can reach Harder Kulm Viewpoint by taking a 10-minute funicular from Interlaken. It is located near Interlaken Ost Station.
Company – Rail Info Interlaken
Address – Höheweg 35, 3800 Interlaken
33) Take a Gondola Up to the Summit of Mt. Pilatus
For more stunning views of the Swiss Alps, drive about an hour out of Interlaken to Mt. Pilatus.
This jagged mountain peak overlooks the Swiss town of Lucerne. Take the cable car ride up the mountain with ease and enjoy all the views.
From the town of Kriens you can board the gondola and glide over the Alps towards Fräkmüntegg station.
It's an easy way to see some unforgettable views.
34) Do the First Cliff Walk
If you visited Grindelwald First to go sledding on the First Mountain Cart, you also have to walk along the Cliff Walk.
While you're out there, the First Cliff Walk is one of the most scenic things you can do near Interlaken.
It's a suspended metal walkway that towers high above the ground. It isn't for those who are afraid of heights, but it offers some of the most spectacular views.
Take the 25-minute gondola ride from Grindelwald to First Mountain, and then walk along the 300-meter First Cliff Walk. It only takes about 15 minutes to walk the pathway in one direction.
Address – Bergstation First, 3818 Grindelwald, Switzerland
Hours – 10am – 4:30pm (opens at 9am on weekends)
35) Visit the Rosenlaui Glacier Gorge
To witness an incredible natural phenomenon near Interlaken, take a trip out to Rosenlaui Glacier Gorge.
The gorge is part of UNESCO World Heritage Jungfrau-Aletsch site, and it's truly a sight to see.
Follow the path through the gorge and admire waterfalls and whirlpools made of glacial water. See unique rock formations and witness the power of nature.
It's just under an hour's drive from Interlaken.
Address – Rosenlaui, 3860 Meiringen, Switzerland
Hours – 9am – 6pm
36) Go Mountain Biking at the Bike Park
In order to see all that Interlaken has to offer on two wheels, consider going mountain biking!
All around Lake Thun there are plenty of biking trails that are run and maintained by Bikepark Thunersee.
The trails suit bikers of all different levels, and there are even shuttles and buses to help you get around.
This is a super fun way to get some exercise and enjoy the natural scenery around Lake Thun.
Company – Bikepark Thunersee
Address – Berntorgasse 10, 3600 Thun, Switzerland
Hours: 10:15am – 4:15pm on Saturdays and Sundays
Website – https://bikepark-thunersee.ch/
37) Water Activities on Lake Thun
If you're itching to try more fun water sports on the turquoise lakes of Interlaken, head over to Lake Thun and try something new!
Honu Water Sports is a beloved local company that specialises in all things water sports.
Try windsurfing, wake surfing, windsurfing, foiling, canoeing, SUP-ing, and more.
There are so many fun ways to get out on the water, so definitely give one or two of these activities a try.
Company – Honu Wassersport Thunersee
Address – Strandweg 5, 3604 Thun, Switzerland
Hours – 10am – 8pm (Closes at 7pm on weekends)
Website – https://www.honu.ch/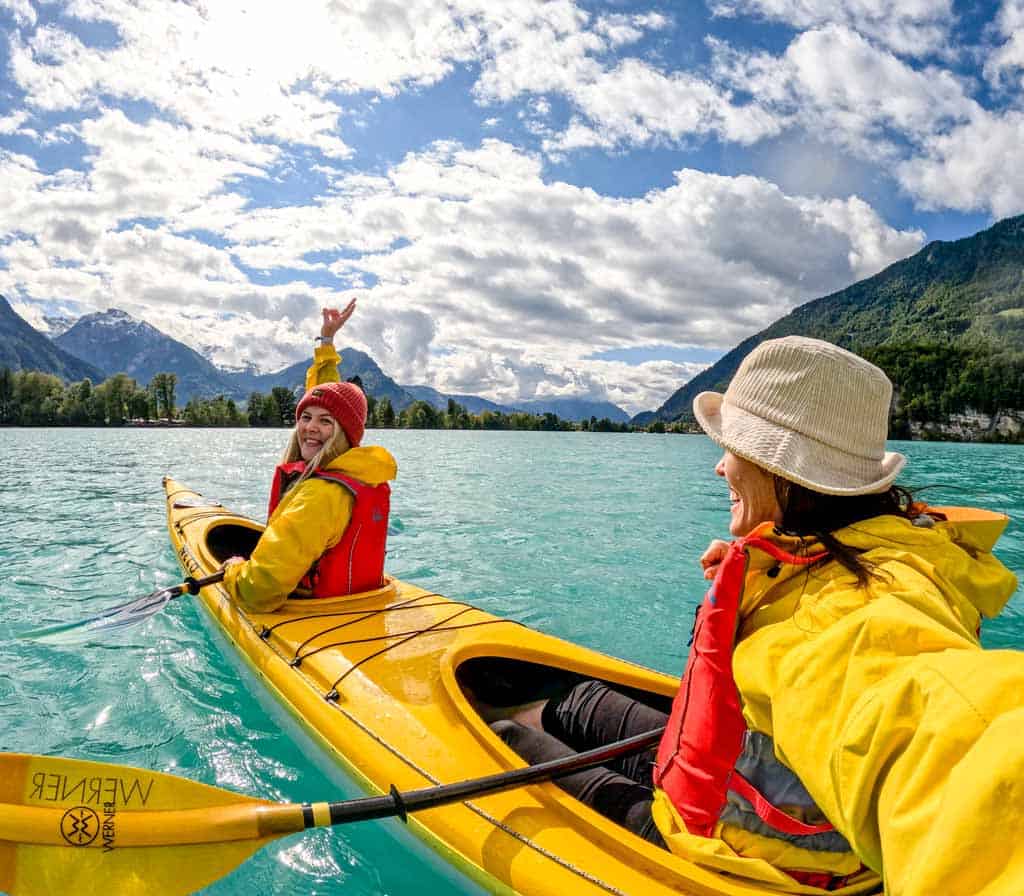 Where to Stay in Interlaken
Interlaken has a huge number of fantastic guesthouses, hotels and accommodation options to stay in, but we'll be honest with you – they are expensive!
Even a budget dorm bed in a hostel will set you back up to 60 Swiss Francs (60 Euro or USD$67), so be prepared for that.
Still, it's the price to pay in order to hang out in probably the best town in Europe for adventure and nature lovers.
Best Hostel in Interlaken – Backpackers Villa Sonnenhof
Discover the best hostel in Interlaken, Backpackers Villa Sonnenhof, offering a perfect blend of comfort, convenience, and adrenaline-pumping activities.
Revel in the stunning Swiss Alps with adventures like skydiving and paragliding, while enjoying top-notch accommodation, free Wi-Fi, breakfast, linen, towel, lockers, and access to local attractions.
Their welcoming, multilingual staff will help make your stay unforgettable. With a new co-working space, climate-neutral commitment, and no age restrictions, Backpacker's Villa is your ideal home away from home.
Best Hotel in Interlaken – HEY HOTEL
Experience the best alternative, centrally-located hotel in Interlaken at the HEY HOTEL.
Unwind in newly renovated, air-conditioned and heated rooms, and savour scrumptious meals, including vegetarian options, at the on-site Lisi restaurant.
Located just 400m from Interlaken-West Train Station, HEY HOTEL offers a blend of Swiss ambiance and modern design, catering to individuals, couples, families, and groups.
This is where we stayed on our trip to Interlaken, and we would 100% recommend it and stay here again!
Getting to Interlaken
The easiest way to get into Interlaken from elsewhere in Europe is by train or bus.
Interlaken doesn't have an international airport, though you can fly into Zurich or Basel and then take the train or bus to Interlaken.
There are plenty of buses and trains that go right to Interlaken from other European cities.
Interlaken Ost Railway Station is the main railway station in town. If you're traveling to Interlaken from elsewhere in Europe, your train will most likely bring you here.
Interlaken West Station is a slightly smaller station and will probably only be used for short train journeys within the region.
If you buy a Swiss Travel Pass, you can book your pass for unlimited travel for a certain number of days. That means you can travel by train, bus, or boat as many times as you want for the days your pass is valid.
You can also rent a car, which is a great way to travel around Switzerland!
The best way to get around is to rent a car and explore on your own! We recommend Rental Cars, which has the largest range of vehicles for the best value on the market.
DISCLAIMER: Some of the links in this article are affiliate links, which means if you book accommodation, tours or buy a product, we will receive a small commission at no extra cost to you. These commissions help us keep creating more free travel content to help people plan their holidays and adventures. We only recommend the best accommodations, tours and products that ourselves or our fantastic editorial team have personally experienced, and regularly review these. Thanks for your support, kind friend!