From dancing in the streets in the historic French Quarter to searching for alligators in the bayou here is our list of the best things to do in New Orleans!
New Orleans is by far the United States' most unique city, mostly due to its multicultural history.
It is most widely known for its extravagant annual Mardi Gras celebration and the vibrant nightlife in the French Quarter.
Yet this eclectic city offers more than just beer stands and partying on Bourbon Street.
New Orleans is the most populated city in the state of Louisiana. The city is actually a barrier island, as it lies along the banks of the mighty Mississippi River with Lake Pontchartrain to the North, completely surrounded by water.
As New Orleans is located in the southeastern United States and its close proximity to the Gulf of Mexico, the city has a humid subtropical climate with short mild winters and hot, humid summers.
From its French and Spanish-inspired architecture in the French Quarter to the live music, jazz clubs, and delicious creole cooking, New Orleans has a culture that's uniquely its own.
A diverse mixture of French, Spanish and African American influences has created the Creole heritage that you can't experience anywhere else.
This is what makes New Orleans one of the best United States cities to visit. Along with the vibrant city life and the excitement of Bourbon Street, there is an abundance of outdoor activities, city parks, and great museums to explore.
If you're planning on spending a few days here though, check out our perfect '3 days in New Orleans' itinerary guide to help you nail that trip!
The Best Things to do in New Orleans
Whatever you choose to travel to New Orleans for, you will be sure to find something amazing for anyone to enjoy in America's most unique city!
But there is a lot more to explore in and around New Orleans than just the beer and daiquiri vendors lining the streets of the French Quarter and Fat Tuesday celebrations.
Like many U.S. cities, New Orleans offers several museums, parks and historic sites to enjoy, all with its own unique creole flavour, within its city limits.
You could easily spend a day or two checking out places such as the National WWII Museum, New Orleans Museum of Art, Pharmacy Museum, and the Jean Lafitte National Historical Park and Preserve.
Or you could spread out your trip with more leisure by strolling through the Garden District, watching street performers at Jackson Square, and touring a historic haunted cemetery.
The city is often called the "Crescent City" because it is shaped like a crescent moon on the banks of the Mississippi River. This also means it is quite large and packed with fantastic things to do!
From living it up in the streets with a to-go cup in hand at the French Quarter or watching an exciting Saints game at the Superdome, here is our list of cool and fun things to do in New Orleans.
READ MORE: After New Orleans, head elsewhere in Louisiana and check out the wonderful town of Lafayette.
1) Wander Through the French Quarter
The best way to get acquainted with the vibrant city of New Orleans is to explore the historic French Quarter.
This is where all the action is, from the dive bars with to-go cups and second-line parades to the creole cottages and wrought iron gates and balconies.
The French Quarter is a National Historic Site and most of the buildings date back to the 1790s.
And while there is plenty of shopping and eating to do up and down many of its streets, the French Quarter is most known for Bourbon Street.
Whether you are in New Orleans to party, or just want to check it off your bucket list, Bourbon Street is a must-see in New Orleans!
Magazine Street is another famous thoroughfare in the city that runs through the French Quarter and on for six miles. Magazine Street is famous for its quirky shops and intriguing architecture.
Check out the Historic New Orleans Collection, a museum and research center that showcases the history and culture of the area.
Also just across from the French Quarter in the Treme Neighborhood is Louis Armstrong Park, a lovely green space that honours the famous jazz musician.
No list of what to do in New Orleans would be complete without the French Quarter.
READ MORE: Plan the perfect 3-Day itinerary for New York City!
2) Be Amazed by Street Performers and Artists at Jackson Square
Located inside the French Quarter, Jackson Square is a can't miss destination!
It is the heart and soul of the French Quarter and is where in 1803 Louisiana was made a US territory.
Originally designed in the 1720s after the Place des Vosges in Paris, France, and then called the Place d'Armes, the square was renamed in 1815 following the Battle of New Orleans after war hero General Andrew Jackson.
Come to the square to get your palm read or a caricature drawn by one of the many fortune tellers and artists.
Or be entertained by live music and watch the street performers who line the walkways.
One side of the square is bordered by the historic Cabildo and Presbytère buildings, along with the magnificent St. Louis Cathedral.
Grab a cafe au lait and some famous beignets at Cafe du Monde at the eastern end of the square before browsing the vendors that line the square.
Whatever you end up doing at Jackson Square, you'll be sure to have a great time at New Orleans' most famous park!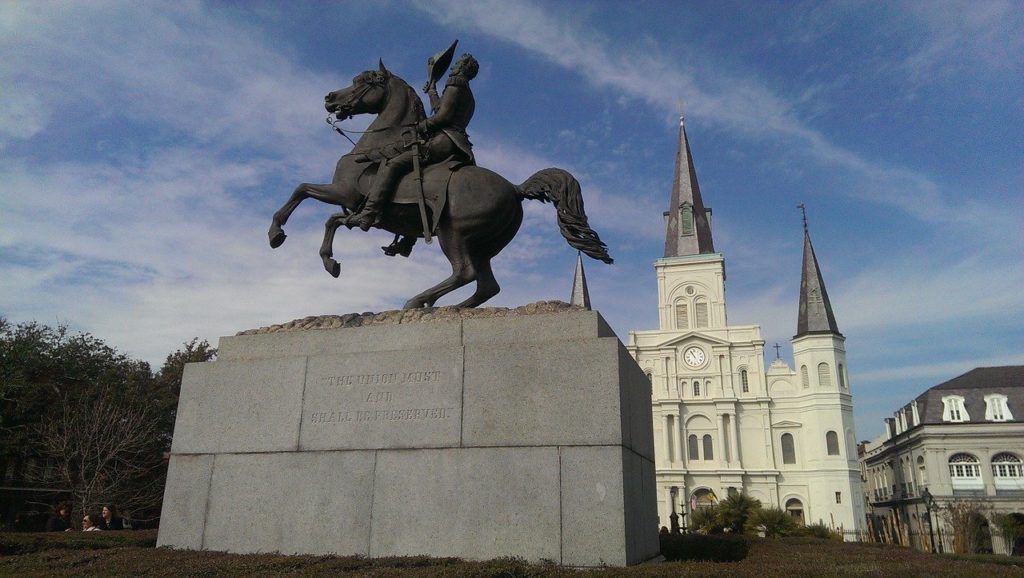 3) Visit the National WWII Museum
By far one of the top things to do in New Orleans is to see the National WWII Museum in the Warehouse District.
New Orleans was where the Higgins landing craft was designed and built.
These boats were used in the amphibious landing invasion of Normandy in 1944 and are the reason why America's only official WWII museum is located in New Orleans.
You will see these boats, along with aircraft, artillery, tanks, and many other WWII artifacts.
Journey through six permanent exhibits, each brilliantly narrating how the war was fought, won, and what the war means to us today through personal stories, artifacts, interactive, and media exhibits.
There is also a superb 4-D film to be watched!
You could easily spend an entire day touring this museum. Afterwards, visit one of the many trendy cafes or restaurants in the Warehouse District.
4) Go on a Pleasant Stroll Through the Garden District
Looking for an alternative to the hustle and bustle of the French Quarter?
Then you will surely enjoy strolling through the quieter Garden District!
This is where the wealthy population of New Orleans built their homes because they did not want to live with the Creoles in the French Quarter.
Developed in the mid-1800s, the Garden District earned its name because each mansion was surrounded by a large garden.
But by the 1900s most lots were subdivided and the gardens are now gone, the Garden District now being widely known for its grand architecture.
Most of the mansions you will see are designed in a Neoclassical and Greek Revival style with large two-tiered porches.
Go on an in-depth guided tour of the neighbourhood, or do a self-guided tour of the Garden District at a more leisurely pace.
On your tour, you may come across the homes of Sandra Bullock or John Goodman, the childhood home of Eli and Peyton Manning, the George Washington Cable House, and even the house that's featured in the film The Curious Case of Benjamin Button.
5) Take a Ride Through History on a Streetcar
One of the best ways to go New Orleans sightseeing is to hop on a historic streetcar.
Streetcars first came about in New Orleans in 1835 and became a fundamental part of New Orleans's public transportation.
Though almost becoming obsolete in the 1940s when replaced by buses, the St. Charles line on St. Charles Avenue continued in operation and is now the oldest continuously operating street railway system in the world.
Since then, three other lines have been brought back into operation; Canal Street, Riverfront and Rampart lines.
But by far St Charles line is the most popular streetcar to ride on. Each car is considered a Historic Landmark and takes you on a tour through beautiful Live Oak shaded streets starting at the French Quarter all the way to St. Charles Avenue and South Carrolton Ave.
A one-way fare will cost you $1.25 or you can buy a 1-5 day jazzy pass.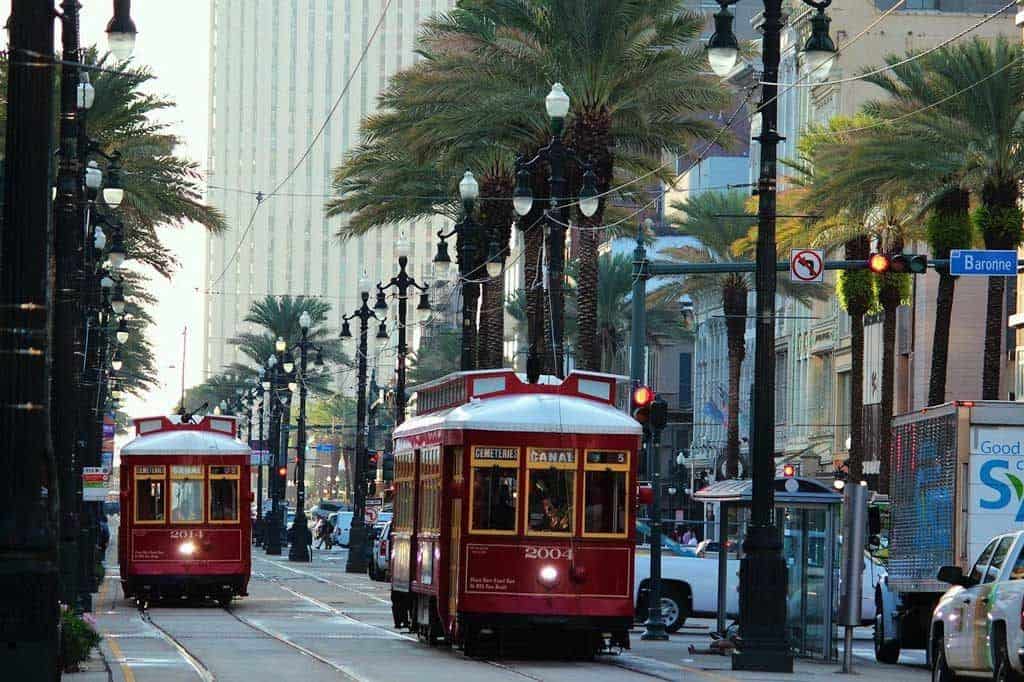 6) Enjoy the Peace and Quiet at St. Louis Cathedral
One of the most notable landmarks in the French Quarter of the city, and one of my best things to do in New Orleans, is the St. Louis Cathedral.
It is the oldest continuously active cathedral in the U.S. and was founded in 1720, though the cathedral standing today was not completed until 1850.
The cathedral is open daily for tours and there is also daily mass if you desire to attend.
The building itself is a sight to see, with its three spires, intricate stained glass windows and Spanish colonial architecture.
Once inside you will be wowed by murals on the ceiling and walls, the light streaming through the coloured stained glass windows and the gilded altar.
You will quickly discover why the St. Louis Cathedral is one of the top New Orleans attractions!
7) Spend a Whole Day at New Orleans City Park
Take a break from the hustle and bustle of the French Quarter and revel in the beauty of the must do in New Orleans' City Park.
The park is a favorite New Orleans attraction by both locals and tourists and is a massive 1300 acres located on what used to be a swamp in the middle of the city.
The park was founded in 1854 but was originally the spot where men would duel under the shade of the large oak trees until duelling was outlawed in 1890.
This spot came to be known as "duelling oaks" and one of the two duelling oaks is still standing today!
Enjoy a picnic lunch underneath one of the many ancient Live Oaks draped in Spanish moss or rent a bicycle or paddleboat at the big lake.
Smell the roses at the botanical garden, ride the historic carousel at the Carousel Gardens Amusement Park, play a round of golf, practice your tennis swing, attend a concert, or just take a leisurely walk through the park.
The options are endless and there's fun to be had by everyone young or old!
8) Take a Swamp Tour
The southern portion of Lousiana is almost exclusively swampland.
And the best way to get up close and personal with a gator or other swamp life is to take a guided tour on a swamp boat.
Experience the beautiful Louisiana wetlands teeming with flora, fauna and wildlife.
You will be sure to see gators and other animals such as boars, turtles, minks, osprey, herons, and maybe even a bald eagle!
You will also learn about the local Cajun culture and the New Orleans history of the bayous from your tour guide.
Most swamp tours last around two hours and are definitely one of the top things to see in New Orleans!
9) Experience the Local Music Scene and Culture of New Orleans at Preservation Hall
Giving authentic live music Jazz concerts 350 days out of the year, Preservation Hall is one of the best venues in New Orleans to hear Traditional New Orleans Jazz.
Preservation Hall is first a music venue. But it is also a non-profit organization dedicated to preserving New Orleans's culture of traditional Jazz.
It also continues the tradition by teaching kids the art of true New Orleans's Jazz from the best of the best Jazz musicians.
When enjoying the live music know that the price of your ticket is helping to keep the historic venue open but also going towards a great cause!
If you are passionate about Jazz, also consider checking out the New Orleans Jazz Museum, which is full of exhibitions, history, and information about Jazz.
10) Jean Lafitte National Historical Park and Preserve
The park is named after the heroic pirate whose crimes were pardoned when he helped the United States fight for Louisiana in the War of 1812.
Jean Lafitte National Historical Park and Preserve is a swamp, nature preserve, battlefield, prairie, and bayou all rolled up into 22,421 acres protecting Louisiana's Mississippi River Delta region.
In the park, there are six different areas you can visit.
The Barataria Preserve, Louisiana's wetlands are made up of bayou, marsh, and swamp where you can find Alligators, snakes, and turtles.
The Chalmette Battlefield is where the battle of New Orleans in 1815 was fought.
The French Quarter Visitor Center is where you will learn about the rich culture and history of New Orleans and how it became such a unique city.
And the three other areas are about the Acadians and how they became the Cajun's of Louisiana.
There is much to discover and learn about the history, culture, and nature of Louisiana at Jean Lafitte National Historical Park and Preserve!
11) Stuff Your Face Full of Beignets at Cafe Du Monde
A French Quarter fixture since 1862, Cafe du Monde is the place to eat fresh beignets and cafe au lait.
You can not come to New Orleans and not stop to eat at Cafe du Monde!
A beignet is a square doughnut drenched in powdered sugar and pairs great with a steaming hot cup of chicory coffee, a New Orleans staple.
Make sure to order it "au lait"!
Open 24/7, it is the perfect place for breakfast or a midnight snack.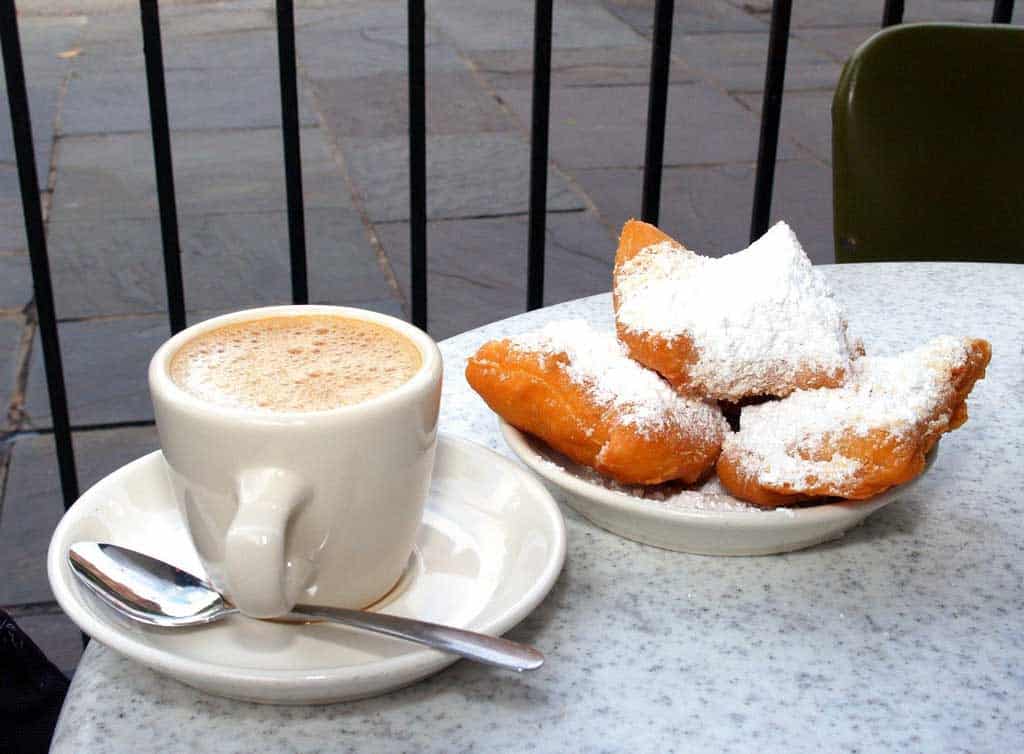 12) Enjoy the Sydney and Walda Besthoff Sculpture Garden at NOMA
When visiting the City Park you can't pass up seeing the Sydney and Walda Besthoff Sculpture Garden.
A twelve-acre sculpture park that is within New Orleans's City Park, there are 64 modern and abstract pieces set among ancient Live Oaks and beautiful Magnolia trees.
Amidst the works of art, you will find sculptures created by such big names as Antoine Bourdelle, Henry Moore, and Ossip Zadkine.
There is also an incredible tower sculpture standing in a reflection pond.
Not just for the art enthusiasts, everyone who visits this park will be charmed by the unique and fascinating sculptures.
Hours: 10am-5pm
Cost: FREE
Location: One Collins Diboll Circle, City Park
13) Be Inspired at the New Orleans Museum of Art
After walking through the Sydney and Walda Besthoff Sculpture Garden, you must stop and visit the New Orleans Museum of Art.
It is one of the finest art galleries in the southern United States and opened its doors in 1911, also making it one of the oldest art museums in the country.
The museum has a permanent display of over 50,000 works of art, from 19th and early 20th-century French paintings, including works by Edward Degas and Monet, to impressive American, African, and Japanese pieces.
The museums traveling exhibits are also not to be missed!
Visit the New Orleans Museum of Art website for more info on exhibitions.
Hours: 10am-5pm; Closed Mondays
Cost: Adult $15/Senior (65+) $10/College Student $8/Under 18 FREE
Location: One Collins Diboll Circle, City Park
14) Get Spooked at a Haunted Cemetery
You can't travel to New Orleans and not visit one of the city's iconic haunted cemeteries!
Because most of the city is at or below sea level, almost all of the graves are above ground and reside in decorative vaults, which makes visiting the cemeteries here a very unique experience.
Just one block away from the French Quarter is New Orleans's most famous Cemetery, St. Louis Cemetery #1.
It is the oldest cemetery in the supposedly haunted city and opened in 1789.
To see this cemetery you must hire a guide, as it is now closed to the public.
But it's worth the money to hear the ghoulish stories and history of some of the famous people buried at St. Louis #1, like the voodoo priestess Marie Laveau.
If you don't want to shell out the extra cash for a tour, you can still visit St. Louis Cemetery #2 or Lafayette Cemetery #1 on your own time.
Lafayette Cemetary is a popular stop in spooky haunted cemetery tours in New Orleans!
15) Ride the Historic Steamboat Natchez Down the Mississippi River
One of the best ways to take in the sights and history of the mighty Mississippi River is by steamboat.
SS Natchez has been cruising up and down the Mississippi since 1823.
But the current steamboat has only been in operation since 1975.
The steamboat offers two daily cruises as well as dinner and Sunday brunch cruise, all offering a Jazz performance while on board.
A cruise on the Steamboat Natchez is by far one of the best New Orleans activities and certainly one that is unique to this part of the country!
16) Check Out the New Orleans Pharmacy Museum
Many people don't know that New Orleans is the home of America's first licensed Pharmacist, Louis J. Dufilho, Jr.
His apothecary shop is located in the middle of the historic French Quarter.
A National Historic Place, the shop is now a museum and showcases hundreds of glass apothecary bottles full of old remedies, medical instruments, and surgical tools, Voodoo potions.
On the second floor, there is an odd collection of spectacles of Dr. J. William Rosenthal's.
Arrive at 1 pm during the week for a free guided tour.
If you are into the history of pharmacy and healthcare or just like strange and unique experiences, then this is the place for you!
Hours: 12 am – 5 pm Wed-Sat
Cost: Adults $5 / Seniors & Students $4 / Child under 6 FREE
Location: 514 Chartres Street
17) Be in Awe of the Mercedes Benz Superdome
A rather fun and unique New Orleans activity is to watch the Saints play professional football at the Mercedes Benz Superdome.
The Superdome was built in the 1970s and is the largest fixed domed structure in the world.
The Saints were a major letdown in professional football for over 20 years and came to be known as the "Aints."
But in 2009, that all changed when the Saints went on to become the Superbowl champions.
Along with NFL games, the Superdome also hosts other sporting events you can attend and it even holds regular live music and concert events with performers like the Rolling Stones, Taylor Swift, Beyonce, and Guns N' Roses!
If you can time your trip, going to a game is one of those activities in New Orleans you won't forget.
READ MORE: Plan the perfect 3-Day itinerary for Las Vegas!
18) Gawk at the Giant Floats and Decorative Costumes at Mardi Gras World
If you can't make it to New Orleans for Mardi Gras and the famous Canal Street parade, do not fret, for you can find Carnival year-round at Mardi Gras World!
On the outside, this warehouse down by the Mississippi River looks deceivingly plain.
But inside lies a world of fun! Most of the floats and costumes used in the parades are designed and created in this warehouse and it's open to the public for tours.
Get a behind-the-scenes look at what it takes to build these extravagant floats, try on costumes and learn the history of this festive tradition.
You will even get to try a slice of King Cake after the tour, which can normally only be found during the festival.
So come hungry and ready to be impressed!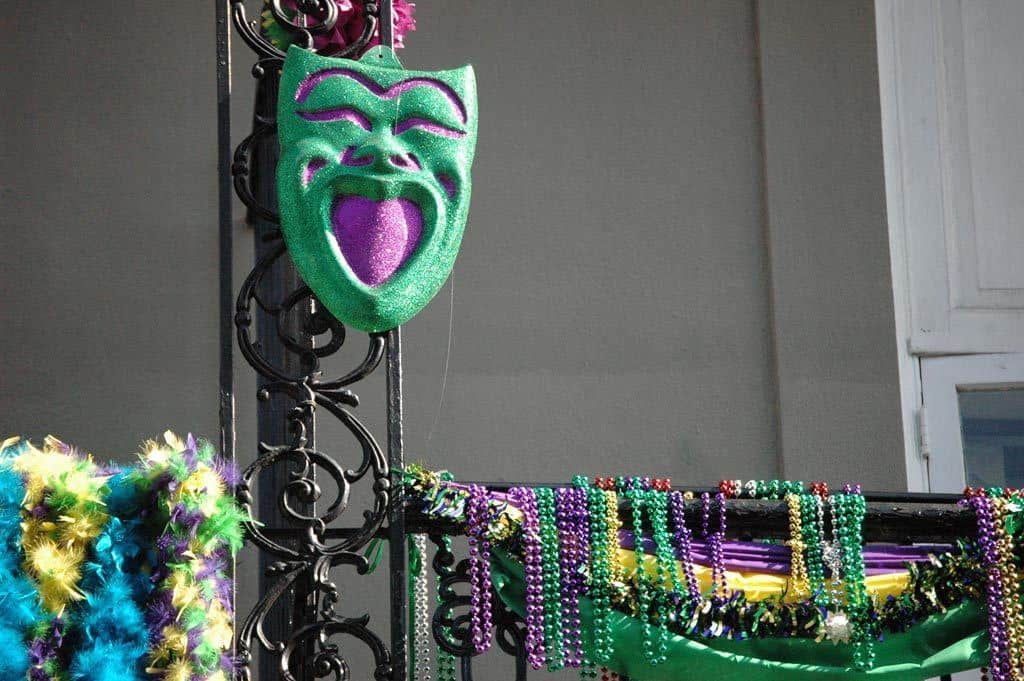 New Orleans City Guide
Now that you know what to do in New Orleans, we want to help you make your other plans as well by sharing the best accommodations and places to eat in the Crescent City.
Best Accommodation – Where to Stay in New Orleans
If you are wondering where to stay in New Orleans, you have a lot of options!
Depending on your travel style, taste and budget you can find any number of hostels, hotels and Airbnbs that offer a variety of amenities.
New Orleans is very backpacker-friendly. And though the U.S. can be quite expensive for traveling, those on a budget can still find cheaper accommodations sharing a room with others at a number of hostels in the city.
Or if you are looking to splurge, celebrate a special event with your significant other or simply live a little there are plenty of options to stay in more upscale accommodations.
With that said, these are a few of the best options you will have as you spend time in New Orleans sightseeing and exploring the city.
The Best Hostel in New Orleans – Auberge NOLA Hostel
Rated the #1 Hostel in the U.S. for 2018 and 2016, you can't choose a better hostel in New Orleans to stay at!
Located in the Lower Garden District and just one block away from city transportation, the location can't be beaten as well.
The list of amenities are enormous, with key points being free WiFi in all rooms, free breakfast, cinema room, two kitchens, free towels and linens, free parking and free lockers and luggage storage.
You can even join in on the fun nightly parties and events! The hostel is rated highly for its very friendly staff and clean rooms.
With rooms ranging from USD$25 – USD$55 for 4-10 person mixed/female dorms, you can expect great value considering all the amenities Auberge NOLA Hostel has to offer.
They also have private rooms available with private ensuites if you are looking to spend a little extra on nicer accommodations.
Enjoy the fun atmosphere. Make friends. And even go on pub crawls with staff and guests from the hostel.
Best Budget Accommodation for Couples – Super 8 by Wyndham
For those looking for a private room on a budget, the Super 8 by Wyndham is an excellent choice.
The hotel offers great value in terms of affordability and amenities and in a location not far from the central city.
Rated highly for its extremely friendly staff and value for amenities offered.
Each room comes standard with free wifi, cable t.v., mini-fridge and breakfast included.
Additionally, there is an outdoor pool and fitness room for those wanting to stay fit while traveling.
When you stay at the Super 8 by Wyndham you are within a few minutes driving distance by taxi or Uber to key attractions such as City Park, Royal Street, Frenchman Street and the French Quarter.
With rates starting around USD$55 you won't be able to beat the value for the amenities offered.
Best Mid-Range Hotel in New Orleans – Pontchartrain Hotel
Stay at the historic and recently updated Pontchartrain Hotel, located in the much quieter Garden District, yet still close to the hustle and bustle of the French Quarter.
Rated high for its location, cleanliness, comfort and service there is very little more that you could ask for.
All rooms include free WiFi, flat-screen T.V. with bathrobes and toiletries provided.
The hotel boasts a rooftop bar with 270-degree views of downtown and the Mississippi River, two on-site restaurants to choose from and a fitness center to work off the extra calories from all the beignets you've eaten.
Right outside is the St. Charles streetcar to take you all the nearby New Orleans attractions like the WWII Museum and Jackson Square.
Rooms range in price and start just over USD$100. But depending on the time of year you plan to stay prices can change drastically.
You won't feel more comfortable with the price anywhere else in the city!
Best Luxury Hotel in New Orleans – Hotel Monteleone
Built in 1886, the Hotel Monteleone is a luxury hotel at its finest and the place to stay in New Orleans. Located right in the middle of the historic French Quarter, you couldn't ask for a better place to stay in regards to location and amenities.
And who wouldn't want to stay at a hotel where the likes of Tennessee Williams, Ernest Hemmingway, William Faulkner and Truman Capote have stayed?
You may even get to book a suite that has been named in their honour!
Exceptionally rated for room comfort, cleanliness, service and location. And if you are looking for a place to relax, this is one of the best options you have.
With a rooftop swimming pool, full-service spa and state of the art fitness room within the hotel you can expect to set back and enjoy your stay.
The Hotel Monteleone also features a restaurant and the iconic Carousel bar. It also offers room service if you aren't in the mood to go out or want to relax in your room watching television after a long day exploring New Orleans.
Rooms start around USD$165 and offer you the opportunity to book king or double beds in each room.
You can also upgrade to an executive suite if you're feeling particularly luxurious!
Best Restaurants in New Orleans
New Orleans is full of delicious options for places to eat while you enjoy your stay in the city.
From Po Boy and Gumbo stands to luxurious fine dining experiences, you can expect a range of dining atmospheres.
New Orleans is of course known for its Cajun and Creole specialties. And you can't leave the city before trying a bowl of spicy Gumbo or a large helping of cajun crawfish or oysters.
There is also another famous food staple in the city, the delightful beignets!
It's quite possible to make New Orleans a destination for the food alone, especially on the famous Bourbon Street!
Budget Eats
Serving up the best Po' Boys in New Orleans! You can't go to New Orleans without having an authentic Po' Boy and the Parkway Bakery & Tavern whips up some of the best Po' Boys in the city.
Mid-range Munchies
Enjoy authentic New Orleans cuisine at Mambo's in the heart of the French Quarter on Bourbon St. The atmosphere is festive and New Orleans inspired decor covers the walls and ceilings inside.
Try the signature crab cakes for dinner, then enjoy a cocktail on the rooftop deck. It's the only rooftop bar on Bourbon Street!
High-End Cuisine
Established in 1893 and world-renown for its delicious Creole dishes, Commander's Palace is New Orleans fine dining at its best and the dress code is strictly enforced.
They serve up New Orleans favorites such as turtle soup and Creole Seafood Bouillabaisse. And if you go for lunch don't forget to order a $0.25 martini!
DISCLAIMER: Some of the links in this article are affiliate links, which means if you book accommodation, tours or buy a product, we will receive a small commission at no extra cost to you. These commissions help us keep creating more free travel content to help people plan their holidays and adventures. We only recommend the best accommodations, tours and products that ourselves or our fantastic editorial team have personally experienced, and regularly review these. Thanks for your support, kind friend!