If you have a long weekend or just have a few days in passing through the area, check out our recommendation for the perfect 3 days in New Orleans itinerary.
The Big Easy, as New Orleans is casually known, gets its reputation for being both a place where you can party all night or find plenty of ways to relax for a few days.
New Orleans, in particular, provides a great place to enjoy life.
I can guarantee it will be one of the most unique and eclectic cities you've ever visited, as it is a melting pot of several different cultures – a mix of French, Spanish, African American and a dash of Caribbean.
There are so many great things to see and do in New Orleans that you could easily spend a few weeks here.
But most travellers only have a few days so we have come up with the perfect 3-day itinerary that will check off most of the boxes on your must-see list for New Orleans.
READ MORE: Check out our brand new guide to the best things to do in New Orleans!
How to Spend 3 Days in New Orleans Itinerary
To give yourself the best opportunity to enjoy all that New Orleans has to offer, you're going to want to start by finding accommodation that is relatively close to the activities that you will want to do.
Since much of the city's attractions are within walking distance of downtown French Quarter, this makes an excellent place to start each of your 3 days in New Orleans.
So this New Orleans itinerary will assume that each day will start in or near the French Quarter. We've got some great recommendations below on where to stay at any budget.
But don't worry, transportation is relatively quick and inexpensive in New Orleans. And unlike some of the major cities in the US, New Orleans is, well, it's a bit easier to navigate.
So if you end up staying a little out of town to save a few bucks you should have very little difficulty finding your way back to the French Quarter.
Wherever you stay and however you choose to travel around the city, know that you're going to have a great 3 days in New Orleans!
READ MORE: After New Orleans, make sure you check out how to spend 3 days in New York City!
Day 1 – Exploring the Famous French Quarter
Your 3 day New Orleans itinerary will begin (each morning!) at the world-famous Cafe Du Monde on Decatur Street. Regardless of where you choose to stay in New Orleans, you can't go wrong with this place to start your day.
With world-famous beignets and coffee or hot chocolate, you're starting the day off on the right foot.
It might be a good idea to grab a few extra beignets to carry with you throughout the day.
But rest assured, there are plenty of great places to eat throughout the city. So as we propose items for your 3 days in New Orleans itinerary know that anytime you want to stop and grab a bite to eat you will not be disappointed.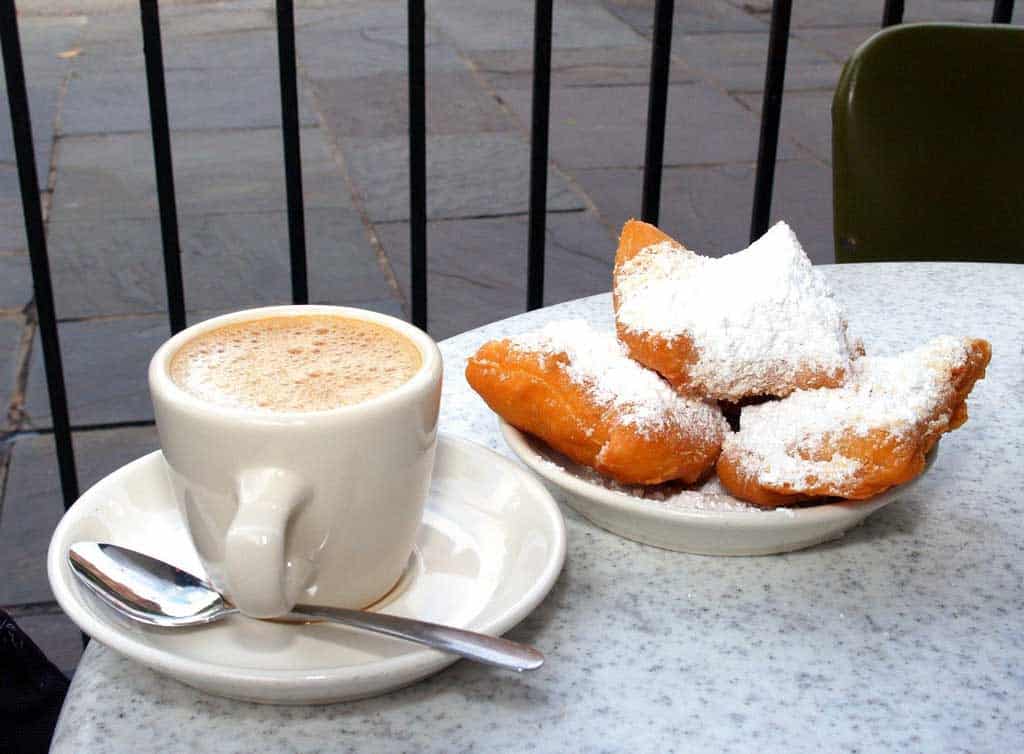 Explore Jackson Square
From Cafe Du Monde you are already on the corner of Jackson Square, and well, the square is the best place to start getting acquainted with the French Quarter.
Pick out a park bench and choose to people watch, or stroll around the square and browse the many artists' artwork that set up shop there.
You can even find a fortune teller to have your palm read or if you aren't into that sort of thing just stop and enjoy the performers and musicians.
Be in Awe at St. Louis Cathedral
Once you've crossed the square you will have arrived at the beautiful St. Louis Cathedral, it is the focal point of Jackson Square and is the most well-known landmark in New Orleans.
The doors are always open and welcoming tourists inside so go on in and have a look around.
You will be in awe of the intricate stained glass windows and murals on the ceiling and walls of this stunning Spanish Colonial cathedral.
Stroll the Streets of the French Quarter
From there, start your stroll down one of the streets in the area.
The historic French Quarter is lined with quaint creole cottages and ornate buildings with wrought-iron balconies.
Royal Street is known for its boutiques, art galleries, antique stores and fantastic eateries. The street is 13 blocks long and has lots of scenic buildings, so those into photography and architecture should stroll along Royal Street.
Or check out Frenchmen Street, a classier version of Bourbon Street. Frenchmen Street has great jazz venues, book stores and record shops and of course great food.
The French Market is another cool place to explore. This market hall covers six blocks and has a wide array of local vendors selling food, souvenirs, handicrafts, and more. The French Market is supposedly one of the oldest market halls in the USA.
Walk Through the New Orleans Pharmacy Museum
If you're into weird and unique history then definitely check out the New Orleans Pharmacy Museum.
It is the United State's first licensed pharmacy and you'll also learn a little history of voodoo and old fashioned remedies used in New Orleans.
READ MORE: Head on over to the west coast with this perfect San Francisco itinerary!
Get Spooked in St. Louis Cemetery No 1
You can't come to New Orleans and not go on a walking tour of a cemetery, as it's considered one of the most haunted cities in the USA. The most popular cemeteries are located just outside the French Quarter.
St. Louis Cemetery No.1 is closed to the public, so booking a tour is a must to visit this popular attraction. Going on a guided tour will also give you an in-depth look into the history of the graveyard and ghoulish tales behind the most famous tombs.
Lafayette Cemetery is another popular cemetery to visit in New Orleans.
If you're really into spooky stuff, there are other local guided tours that uncover the secrets and legends about New Orleans's history of witchcraft, voodoo, vampires, ghosts, and more. Whether the mysteries are real or not cannot be proven, but believing in the supernatural is part of the fun of exploring New Orleans.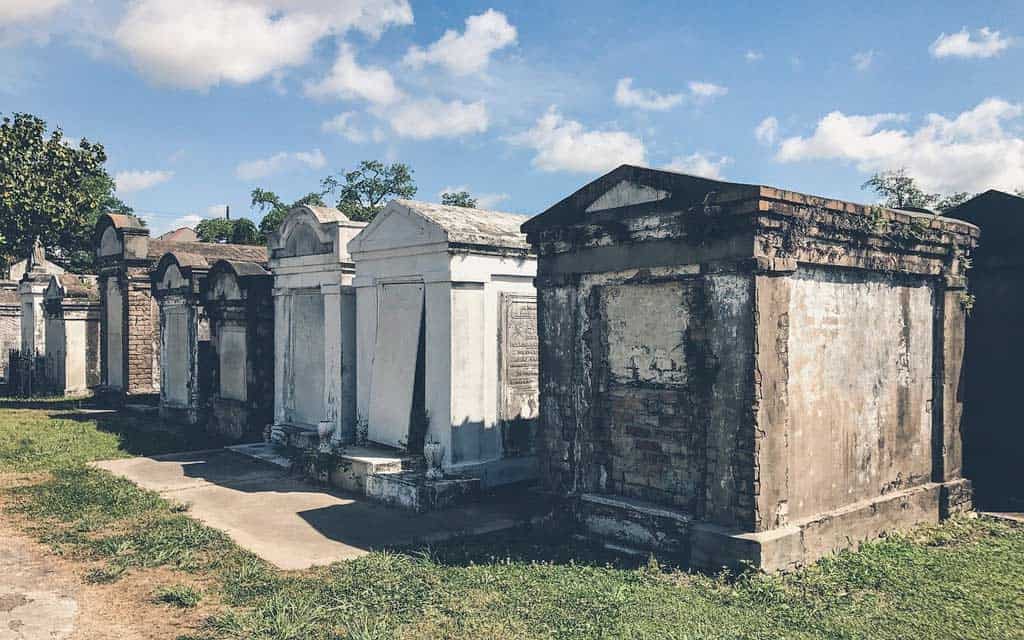 Enjoy Some Authentic New Orleans Jazz
At this point, you can grab a bite to eat for dinner in the French Quarter before your next stop.
I recommend the Gumbo Shop, where you can fill up on a hearty bowl of gumbo or red beans and rice.
Then head right down the street to Preservation Hall, a historic live music venue that has been entertaining guests with incredible authentic New Orleans Jazz since 1961.
The best musicians in the city perform nightly shows, so get in line early for the upcoming set to make sure you get a good seat for the live jazz music. Or you can reserve a seat by purchasing Big Shot tickets in advance.
The venue doesn't serve food or drinks so eat dinner before you go and grab a drink at a nearby beer stand to enjoy while listening to some of the best Jazz in the city.
This is a nice, mellow way to wrap up a very busy first day of your 3 days in New Orleans.
READ MORE: Make the most of your 3 days in Chicago with our detailed itinerary guide!
Day 2 – The Garden District and Surrounding Areas
The second day of your 3-day New Orleans itinerary will revolve around exploring and enjoying the Garden District
If you're like me, you're going to skip the complimentary continental breakfast offered by your hotel and head back to Cafe Du Monde for some more beignets and hot coffee!
Visit the Most Thorough WWII Museum in the US
From here, head towards to Garden District. If you are tired from all the walking you did yesterday then hop on the St. Charles streetcar.
Go ahead and purchase a 3 Day Jazzy Pass as you will need it for tomorrow's stops.
The St. Charles Streetcar will drop you off right outside your next destination, The National WWII Museum.
The Higgins landing craft that was used in the amphibious landing invasion of Normandy in 1944 was designed and built right here in New Orleans, and you will see one of those boats and many more WWII artifacts at this incredible museum.
There is not another WWII museum as in-depth as this one located anywhere else in the United States and it is a must-see while you are in New Orleans.
Get Ready to Party at Mardi Gras World
Not far from the WWII Museum and on the way towards the Garden District is Mardi Gras World.
If you happen to be visiting New Orleans outside of the Carnival season, then you must stop and tour this warehouse located along the Mississippi River.
Inside you will discover the giant decorative floats and costumes used in the Mardi Gras parades.
Here you'll get a behind the scenes look at what it takes to build these extravagant floats, try on costumes and learn the history of the Fat Tuesday celebrations.
And if you're hungry, they also give out a slice of King Cake at the end of the tour!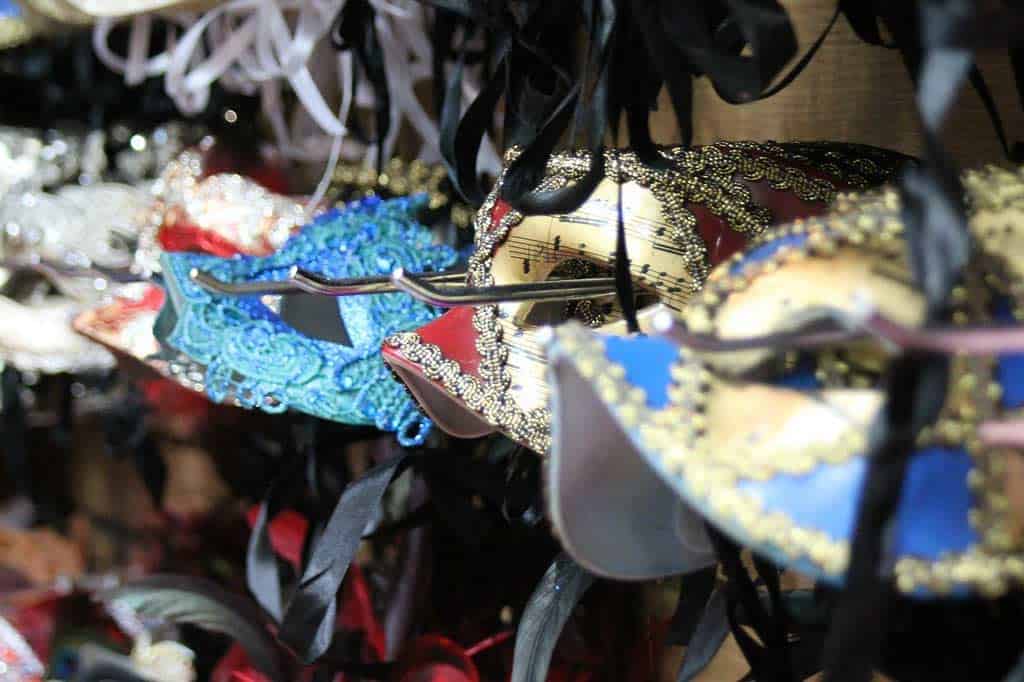 Stroll Past the Mansions of the Garden District
The last destination on the St Charles line is the Garden District. Multi-storied victorian mansions with large porches and balconies line the streets of this beautiful neighbourhood.
Large ancient Live Oaks dripping with Spanish moss line each street and adds to the magical ambience of the area.
In the Garden District, you'll find the home of Anne Rice, the famous author who wrote Interview With the Vampire. The childhood home of Peyton and Eli Manning. And the home of actress Sandra Bullock.
After all the walking you've done, you have probably worked up quite an appetite.
Make sure to pop into Joey K's a casual restaurant serving up good New Orleans home cooking like Jambalaya and fried catfish.
The Garden District is also home to the Commander's Palace, a famous dining room that offers high-quality, fancy food and a decadent jazz brunch. Book a spot here if you feel like treating yourself!
READ MORE: Heading elsewhere in Louisiana? Check out our top recommendations for all the great things to do in Lafayette, just up the road!
Pop into the Superdome
Also around the Garden District area is the Caesars Superdome (formerly known as the Mercedes Benz Superdome).
If you'd rather spend less time at the WWII museum or you want to skip any other attractions mentioned, depending on the time of year you could choose to watch the Saints play a game of pro football at the Superdome.
You can check the Superdome events calendar for when you are in town, you may also find that your favourite musician is performing at the Superdome during your 3 days in New Orleans.
Whatever you choose to do, it's definitely worth taking a look at as you head back to the French Quarter for the evening.
Party Your Butt Off on Bourbon Street
From here, hop back on the St. Charles streetcar heading towards the French Quarter.
You will end your second day in New Orleans on the infamous Bourbon St.
Known for being a wild and raunchy part of the French District, you can't come to New Orleans and not at least catch a glimpse of this famous street.
At night Bourbon street gets really loud and lively, and there's always some form of party or entertainment going on.
Beer and daiquiri stands line the streets handing out to-go cups and bright flashing neon signs. Grab a drink to enjoy while taking in the sights and watching the street performers before calling it a night.
It would be very easy for Day 2 and Day 3 of your 3-Day New Orleans itinerary to blend together at this moment! Enjoy!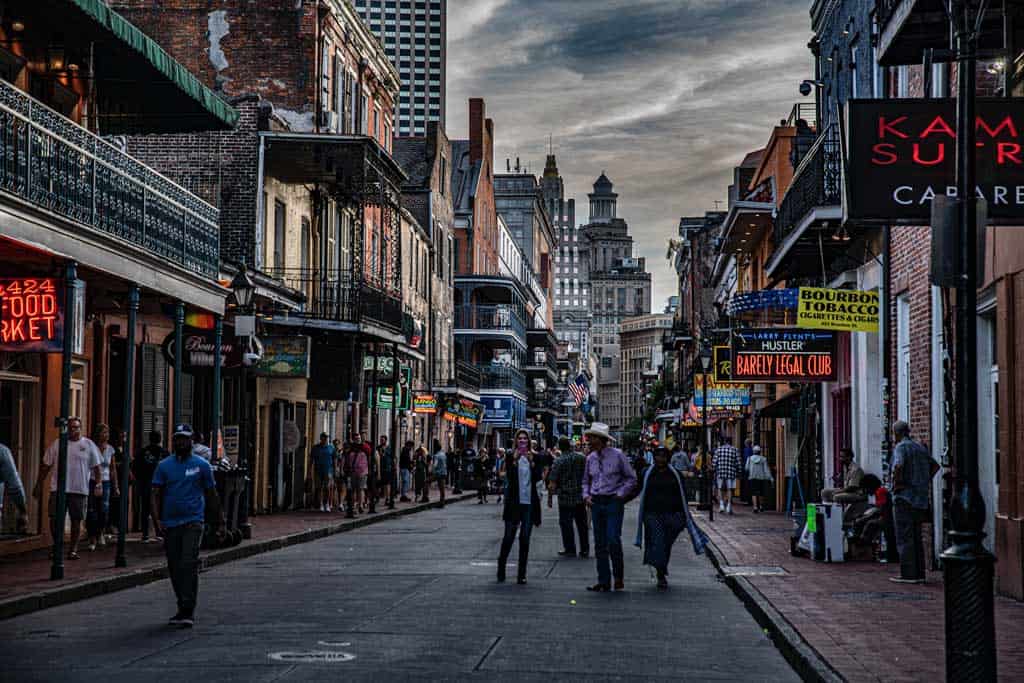 Day 3 – A Day to Play in New Orleans City Park
When you wake up on your final day in New Orleans you are likely already addicted to beignets from Cafe Du Monde.
So head on over to savor these tasty morning treats and grab a handful to tuck away for your travels.
If you're over beignets by this time, then pick up a bite to eat at the Ruby Slipper Cafe on Decatur St. and order their signature eggs benedict or banana fosters french toast. You won't be disappointed!
Explore the New Orleans City Park
After breakfast, hop aboard the Canal St. streetcar. This is where the New Orleans 3-Day Jazzy Pass you bought will come in handy!
The Canal St. streetcar will take you all the way to your next destination, City Park.
You could spend an entire day here and not see and do everything this massive park has to offer. The park is over 1300 acres and is home to the oldest grove of mature Live Oaks in the south.
You can pick from a number of things to do in the park from renting a bicycle or paddleboat to riding a Ferris wheel in the amusement park Carousel Gardens.
I recommend starting out at the Sydney and Walda Besthoff Sculpture Garden before entering the New Orleans Museum of Art.
The sculpture garden is a must-see and boasts over 80 sculptures by a number of talented artists strategically placed throughout the park's 11 acres.
Once you are done meandering through the garden, head-on into the New Orleans Museum of Art.
The building itself is a sight to behold, and inside you'll see over 40,000 exquisite works of art. By some of the best French and American artists.
It is one of the oldest and finest art galleries in the southern United States and whether you are into art or not, it should be on your shortlist of things to do in New Orleans.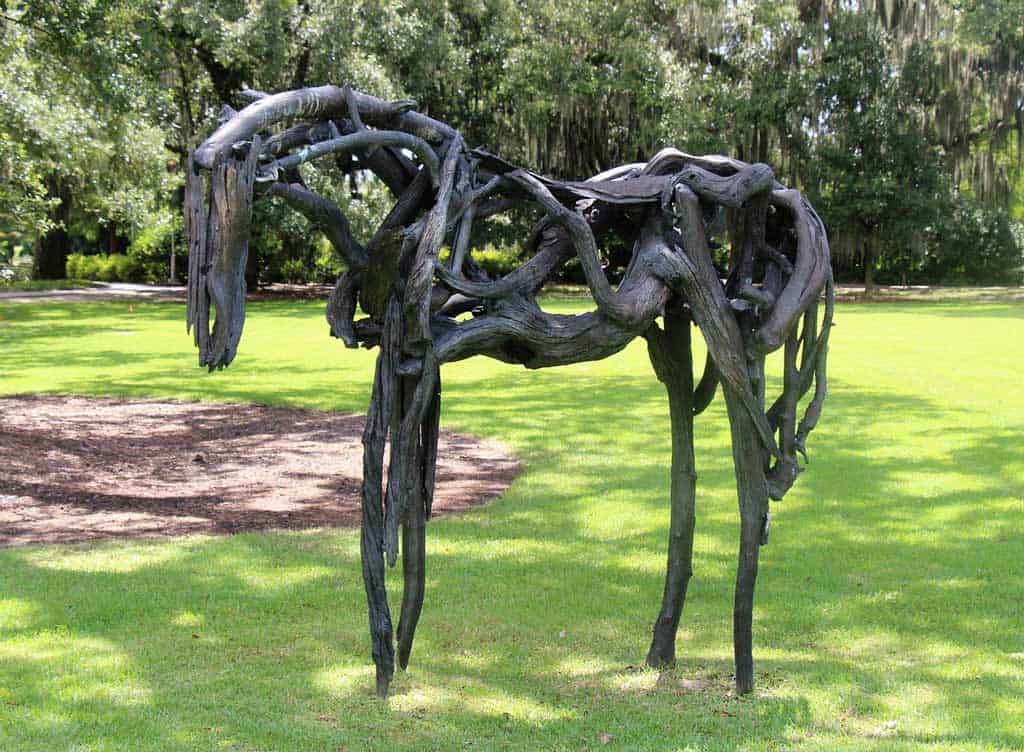 Choose Your Own Adventure
Next, you can take your pick of what you'd like to do. At Big Lake, you can rent a kayak, paddleboat or canoe and enjoy a leisurely paddle through the lakes bayou's and lagoons.
Or rent a bicycle and go for a cruise on 4 miles of bike paths or just ride around Big Lake.
If amusement rides are more your style then check out Carousel Gardens. This family-friendly amusement park has 17 different rides to enjoy including a roller coaster, Ferris wheel and the most popular ride of all the historic carousel that is over 100 years old.
There are only 100 others like it in the country with hand-carved wooden horses that have real horse hair mane and tails. The carousel is so popular, some people come to the park just to see and ride it!
Included in the entrance to Carousel Gardens is another park, Storyland. And if you have kids, this is the perfect place for them to run, jump and play around large storybook sculptures!
If you have less than 3 days in New Orleans, you may not have time to get out here to the park. But if you have time, it's definitely worth it.
Continue Exploring the Park
You could go to the Botanical Gardens next, a 10 acre garden with a variety of 2,000 different plants from around the world.
Or even enjoy a round of golf at one of the two golf courses located in the park.
If you are already worn out from your adventures the past two days then sit down and relax in the shade under one of the large Live Oaks and enjoy your surroundings as you take it easy in the Big Easy.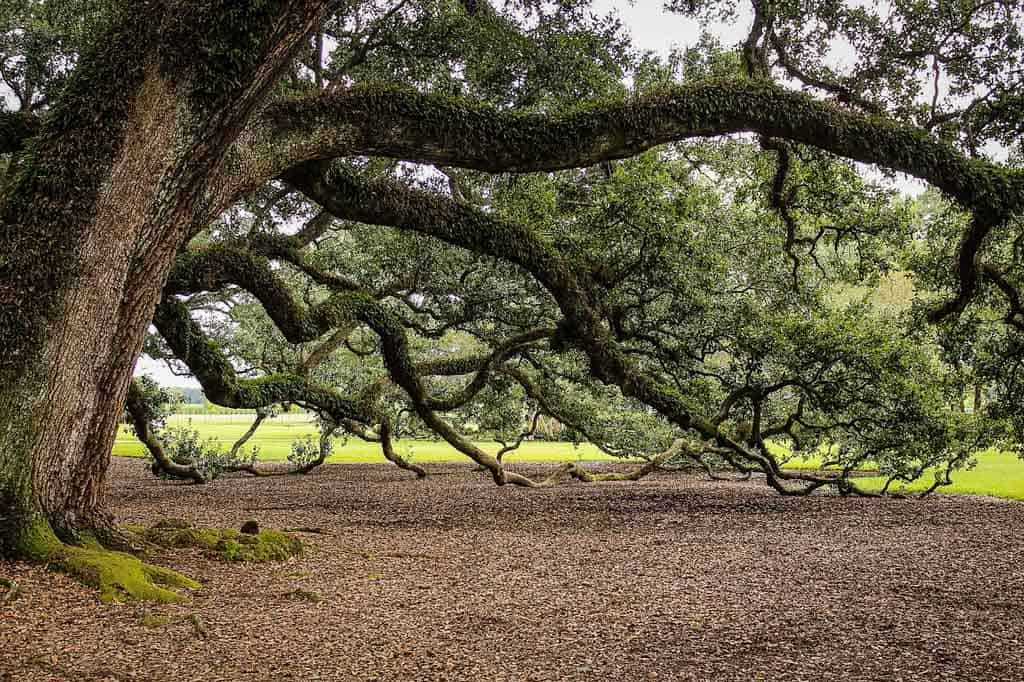 Catch an Evening Cruise on the Mississippi River
Now that we've worn you out, head back down towards the French Quarter and stop at Toulouse Street on the Mississippi River to board the historic Steamboat Natchez.
Relax on this evening cruise down the Mississippi River while enjoying the tunes created by the live Jazz band.
A buffet-style dinner is served on board with your choice of two dinner seatings.
Stroll around the decks of this historic steamboat, tour the engine room and then dance the night away to the Grammy-nominated band "Dukes of Dixieland."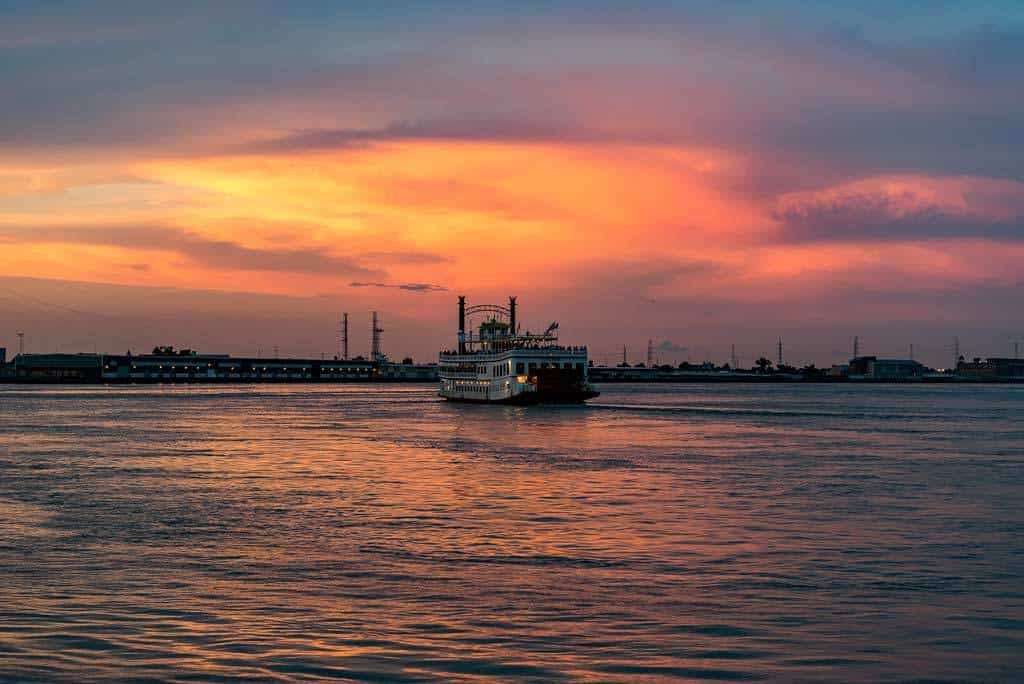 Tips and Advice for Your New Orleans Itinerary
Now that you know what to do in during your New Orleans itinerary, it's time to find out some more information about where to stay, when to visit, and most importantly where to eat!
When to Visit New Orleans
Any time of year is a great time to visit New Orleans.
By far the most popular time to spend 3 days in New Orleans is from February to May because the temperature is cooler and less humid in Spring in the south.
Also, Mardi Gras is in February, so if you plan to visit then make sure to plan well ahead and book accommodations in advance.
December and January is a much quieter time to visit and hotel prices will be cheaper. During the summer months, New Orleans gets very hot and humid and you can expect rain almost every afternoon.
From June through November is hurricane season which can be hit or miss in terms of the weather, so be ready for things to not go as planned if you have a tour or excursion booked.
Getting Around New Orleans
For 3 days in New Orleans, it's relatively easy to get around. A rather compact city, the most popular way to get around is by walking, and most of the top attractions are within walking distance of each other.
If you'd rather not walk, then hop on one of the historic streetcars that can take you from the French Quarter to other destinations around New Orleans.
And it's a great way to see the city if you're on a tight budget as a one-way ticket is only $1.25 or buy a full day pass for $3.
Or for a quicker way to get around, just call an Uber or taxi. New Orleans is a very popular place and finding an uber shouldn't be a problem.
If you're interested in seeing as much of the New Orleans attractions as you can in a short period of time, consider taking the hop-on-hop-off double-decker bus around town.
Not only will you have magnificent views as you are shuttled around the Big Easy, but also you'll be able to get on and off whenever you come across something of interest!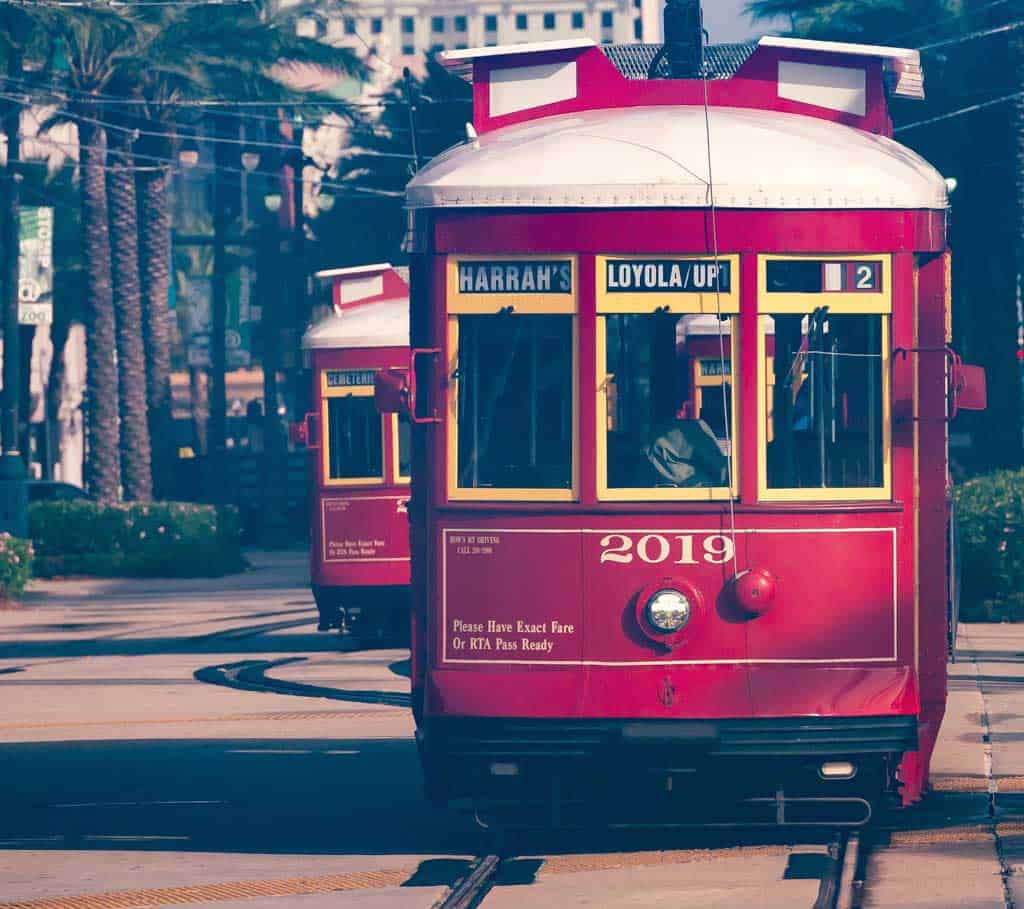 Where to Stay in New Orleans
There are tonnes of great places to stay during 3 days in New Orleans.
Whether you are on a budget and looking for dorm-style accommodations or celebrating a special occasion and looking for a hotel with a more upscale feel, you will have options.
Because New Orleans revolves around the French Quarter, and because each day of our New Orleans itinerary begins there, we're recommending places to stay in the French Quarter for every budget.
The Best Hostel in New Orleans – IHSP French Quarter House
The French Quarter House is the only hostel located in the French Quarter. With both dorm-style and private rooms at a budget price, you can't find accommodation this cheap anywhere else in the French Quarter.
Put yourself close to where all the fun is and let your budget go toward Bourbon Street instead of a hotel!
Best Budget Accommodation for Couples – Four Points by Sheraton
It's hard to find a budget hotel located in the historic French Quarter. But with price in mind, you can't beat the Four Points by Sheraton for the location and amenities offered.
Included in your stay are free wifi, breakfast, cable t.v., and an outdoor pool and bar.
Best Mid-Range Hotel in New Orleans – Bourbon Orleans Hotel
Stay at the European styled Bourbon Orleans Hotel located right in the middle of the French Quarter.
With a lovely outdoor swimming pool, restaurant and bar on-site, and room service means you may never want to leave the hotel property.
Best Luxury Hotel in New Orleans – Royal Sonesta Hotel New Orleans
Rated one of the top luxury hotels in the French District. Royal Sonesta Hotel has a multitude of room choices from a simple double-bed room to a king suite with a balcony overlooking Bourbon St.
Each room has free wifi and cable t.v. along with 24hr room service. With three restaurants on-site, including one of the best fine dining venues in New Orleans, a cafe and live jazz venue means everything you could need or want is right outside your hotel room.
Best Restaurants in New Orleans
Want to know where to eat in New Orleans? Of course you do! Eating is one of the highlights of a 3 days in New Orleans itinerary.
There are lots of incredible places to eat in the area, as it's home to a wide array of Cajun food and is definitely one of the culinary capitals of the USA.
Real foodies should consider joining a local food tour. New Orleans has many local walking tours that take you to all the best food spots. So if you don't want to do the research and just want to be led to all the best eateries, consider a food tour.
You can choose a Garden District food tour or a French Quarter food tour!
Aside from an amazing food walking tour, here are the best restaurants in New Orleans.
Budget
The Ruby Slipper Cafe on Magazine Street is known for their amazing breakfast, which is served all day. Serving up creative takes on the classic eggs benedict and french toast and adding their own New Orleans flavor to shrimp and grits!
Definitely also check out the French Market for some delicious and cheap quick meals.
Mid-range
Joey K's is cooking up the best jambalaya and po'boys in the middle of the Garden District. You really can't go wrong with anything on the menu here, as long as you're looking for some tasty Cajun and Creole! It's also located on Magazine Street, which is a hub for amazing food.
Acme Oyster House is another classic Cajun and Creole spot that offers incredible seafood and a fun, lively atmosphere.
High-End
Restaurant R'evolution offers a unique dining experience serving up classic creole and cajun dishes with a twist right to your table. Enjoy a higher-end gumbo prepared with quail, andouille sausage and oysters and a sweet side of beignets to tamper the cajun heat a little!
Also, the Commander's Palace in the Garden District is an iconic New Orleans spot, as mentioned earlier.
DISCLAIMER: Some of the links in this article are affiliate links, which means if you book accommodation, tours or buy a product, we will receive a small commission at no extra cost to you. These commissions help us keep creating more free travel content to help people plan their holidays and adventures. We only recommend the best accommodations, tours and products that ourselves or our fantastic editorial team have personally experienced, and regularly review these. Thanks for your support, kind friend!