Wondering what activities and attractions you can't miss in the Music City? Our guide to the best things to do in Nashville is just what you need!
Thanks to great weather and famous nightlife, Nashville, Tennessee is a year-round destination.
It's an exciting place to be morning, afternoon, or night. How many cities can boast the same quality live music at 10 am versus 10 pm?
Of course, much of your time in the Tennessee State Capitol will revolve around music.
But if you give yourself enough time, you'll be able to discover a well-rounded city.
Nashville's culinary scene will rock your socks off.
Its beautiful parks make for a relaxing balance and the handful of historic buildings and neighborhoods help show life in Nashville beyond the bright lights of Broadway.
Let's get rockin!
The 21 Best Things to Do in Nashville
The Music City can be a place to let your hair down and boogie to six-string guitars.
But it also has plenty to offer when you want to rest up your dancing legs.
1) Downtown Nashville
Nashville's rise to an international destination is on the back of its famous Broadway.
Otherwise known as the Honky Tonk Highway, this is downtown Nashville's main thoroughfare and is lined with pubs, clubs, and bars, filled with amazing musicians and adoring crowds.
It's a scene you'd expect to find cover charges. Such is the quality of the live music performances. Yet each door opens early and closes late, never charging you a single dollar to listen to some of the best up-and-coming musicians in the country.
It's not just country music you'll find either. Intimate acoustic sets, DJs, and classic rock are found readily along the highway.
Beyond the tunes of six-string guitars, you'll have some of the city's best restaurants serving mouthwatering Southern fare (hello, chicken and waffles) not to mention shops to pick up some cowboy boots, the Opry, and the Cumberland River.
2) The Grand Ole Opry House
Before the rowdy madness of Broadway put Nashville on the tourist trail, the Grand Old Opry House put the Tennessee city on the radar of music lovers across the United States.
The now world-famous Opry is a live music venue but also the home of America's longest-running radio show. The venue is often called the Church of Country Music, and visitors from across the globe make the pilgrimage.
The Grand Ole Opry first opened in 1925 and today it's the dream of musicians to be invited (yes, invited) to play on the hallowed stage. In Nashville, playing here is the definition of "making it".
If you aren't up for a show, you can tour backstage, and retrace the footsteps of America's biggest stars. Explore the stage, the green room and hear some unforgettable tales.
Heading east? Check out this list of the best things to do in Asheville, North Carolina
3) Centennial Park
After a night out on the Honky Tonk Highway, it's time to kick back and relax at Nashville's Centennial Park.
The beautiful urban oasis is a quick bike ride from the boisterous street and provides the perfect place to experience some peace and quiet.
The wide-open lawns attract locals and travelers alike in great numbers. It's a vibrant place to be, yet the shade under the old oak trees and space on offer means it's easy to find your own patch of tranquility.
As you enjoy the scenes or tuck into a good book, you'll notice a rather recognizable building. This is the Parthenon. No, not that one. But an exact replica of the Athens' equivalent and was built in 1897.
Now it functions as an art museum and is an intriguing centerpiece of the wonderful park.
4) The Cumberland River
For all the chaotic good along the Honky Tonk Highway, it can be easy to overlook the natural splendor just feet away. At the end of Broadway, you'll find the Cumberland River coursing through the city on its way to connect with the Ohio River.
You can enjoy the river from various points in downtown Nashville, including from the John Seigenthaler Pedestrian Bridge, our tip for the best sunset spot in Nashville.
But since Nashville is all about the revelry, why not get out on the water and bring the fun of Broadway on this pontoon party cruise?
On the other side of the river is Cumberland Park. Like Centennial Park, this is a popular place to gather with friends and family, but this time you'll have wonderful views of the Nashville skyline.
5) The Country Music Hall of Fame
Life in Nashville isn't all dancing and sing-alongs, after all for many, music is serious business. In the center of downtown Nashville, you'll find the Country Music Hall of Fame where legends are immortalized and never to be forgotten.
From the outset, you'll admire the building's unique architecture, whose towering windows are just like piano keys.
After learning about some of the world's top country musicians, explore the museum's true highlights, exhibits, and memorabilia.
Visitors can live out their dreams and step onto a replica of a real tour bus and even record their own song. The Hall of Fame also features Elvis' Cadillac, epic concerts from the past, and costumes worn by your favorite artists.
Address: 222 Rep. John Lewis Way S, Nashville, TN 37203
Hours: 9 am – 5 pm (Mon-Sun)
Price: $24.95
Book your ticket online in advance on Get Your Guide
6) Johnny Cash Museum
The notorious Johnny Cash led a wild life. His rise to stardom is showcased by the range of artifacts on display at the remarkable Johnny Cash Museum.
Although small, you get a great feel for the "Man in Black" and the method behind the madness in this museum.
Throughout his historic career, Cash recorded over 1,500 songs. Some of his handwritten lyrics are on display, including I Walk the Line and Folsom Prison Blues, two of his most iconic hits.
Alongside these lyrics, you'll discover clothes worn by Cash, old instruments, various artworks, plus his old high school yearbook and even his marriage certificate with June Carter Cash.
After learning all about Johnny, check out the adjacent Johnny Cash Restaurant for a great feed.
Address: 119 3rd Ave S, Nashville, TN 37201
Hours: 9 am – 7 pm (Mon-Sun)
Price: $22.95
READ NEXT: Plan the ultimate 3 days in Nashville with our Nashville itinerary!
7) Distillery Tour
If you've ever listened to a country song, then you'd have heard the words "Jack and coke" at least a dozen times. It's a staple of the genre. It's rather fitting then that Nashville is well placed for you to tour the Jack Daniel's Distillery.
On this full-day distillery tour, you'll not only go behind the scenes at Jack Daniel's but also Dickel Whiskey.
Alongside your tour guide, you'll head to Lynchburg and peel back the curtain on the craftmanship behind two of the US' top spirits and learn all about Tennessee's interesting history with whiskey.
If you prefer your craft beer, then don't worry, you won't miss out with this golf cart tour of Nashville
8) The Ryman Auditorium
In 1974, Grand Ole Opry moved to its current location, leaving what is now known as the Ryman Auditorium.
The striking building remains the location of the Opry's radio shows, has live performances of its own, plus an amazing museum that showcases its rich history.
Visitors are able to embark on a self-guided tour of the Ryman Auditorium. This gives you the chance to experience "the soul of Nashville". Along the way, hear from such stars as Sheryl Crow and Darius Rucker.
Of course, live music is king, and the Ryman has no shortage of touring artists play throughout the year. Alongside its regular country and bluegrass, you can also find theater productions and classical tunes.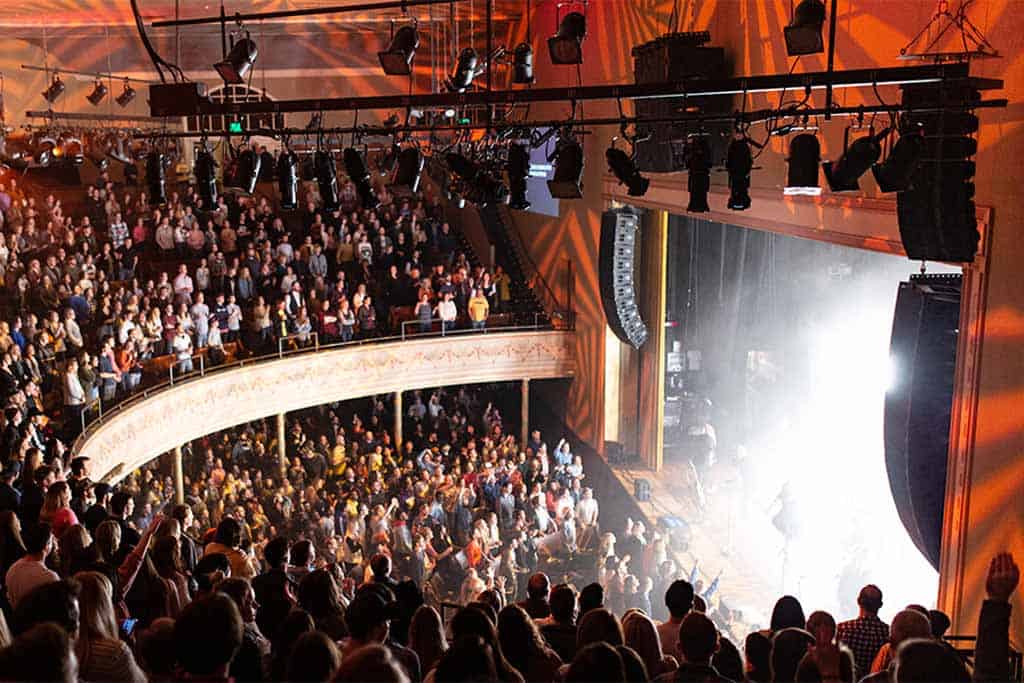 9) The Bluebird Cafe
Dancing to country music on Broadway may be one of the best things to do in Nashville.
But true music fans can't pass up a night at the Bluebird Cafe. Far more than just a regular cafe, this is a haven for singer-songwriters and is where the one and only Taylor Swift got discovered.
Although it's a live music venue, there are only 90 seats on offer. It's an intimate setting, which is fitting for such an insightful musical experience.
As you can expect, getting a seat isn't always easy. Their packed calendar has a balance of reservable seats and first-come, first-serve tickets.
If you can't get your hands on a ticket, arrive early before the Bluebird Cafe fills out.
Heading north? Read our list of the top things to do in Chicago!
10) Explore East Nashville
If you fell in love with Nashville and decide to move to Music City, then East Nashville could well be on your radar.
Travelers often overlook the neighborhood as it's on the other side of the Cumberland River. But its distance from Broadway, residential vibe, and eclectic culture provide the perfect balance.
East Nashville just oozes cool. East Nasty is laden with boutique art galleries, some of the city's best street art, plus cute cafes and a nightlife that is local and communal.
Here, you can enjoy some of Nashville's best eats and treats, including chocolate at Olive and Sinclair and the sub-district of Five Points.
After your delicious treat, check out Raven & Whale along with the Bryant Gallery for two of the best independent art spaces in Nashville.
Read Next: When planning your time in the Volunteer State, be sure to check out our guide on all the best things to do in Tennessee.
11) Music Row
Found on Music Square West, south of downtown, Music Row is where it all began. The tunes may now be found on the radio, on your phone, and at the bar, but many started right here.
Music Row is a collection of historic recording studios and is one of the top Nashville attractions.
The street is the centerpiece of Nashville's rise to country music mecca, one that picked up steam in the middle of the 20th century and would define the Nashville "sound".
The top attraction along Music Row is RCA Studio B, where Elvis Presley recorded 200 tunes followed by such names as Dolly Parton and Chet Atkins.
Tours of the studio depart each day from the Country Music Hall of Fame.
You can also ride along the row on a bike. Combine the trip with a visit to Vanderbilt and Centennial Park.
12) Nashville Farmers Market
The year-round Nashville Farmers Market is the place to go to load up the picnic basket ahead of an afternoon at Cumberland Park.
The farmers market has been in operation for over 150 years and, alongside serving fresh regional produce, has become a vital part of the community fabric.
As you enjoy an authentic slice of Nashville life, you'll see up to 1000 vendors slinging meat products, cheese treats and farm-fresh vegetables that will have you creating the picture-perfect charcuterie board.
But the fun doesn't end there. The bustling marketplace has over 15 restaurants and boutique shops for some sit-down eats and eye-catching shopping.
Speaking of shopping, complement your farmers market experience with a trip to the Nashville Flea Market southeast of downtown.
Address: 900 Rosa L Parks Blvd, Nashville, TN 37208
Hours: 8am-4pm (Sun-Thur) 8am-6pm (Fri-Sat)
Price: Free
Touring the South? Check out The 21 Best Things To Do In Atlanta, Georgia
13) The Tennessee State Museum
To learn about the history of Nashville and Tennessee as a whole, you'll have to put down the pint and take off your dancing shoes for a visit to the Tennessee State Museum.
You'll find the Tennessee State Museum alongside the Bicentennial Capitol Male State Park. It's split up into various sections that take you on a journey down the timeline of Tennessee history and well beyond the Civil War.
The war itself is a big focus. You'll learn about the many prominent battles that took place, check out historic weaponry, and gaze upon period furniture.
In addition, the Tennessee State Museum has a section dedicated to Tennessee's unique place in America's music scene.
Address: 1000 Rosa L Parks Blvd, Nashville, TN 37208
Hours: 10am-5pm (Tue-Sat) 1pm-5pm (Sun)
Price: Free
14) Frist Art Museum
The glistening white marble of downtown Nashville's old post office is a sight to behold. Among modern skyscrapers and classic brick buildings, the art déco architecture stands out. But it's no longer where you go to send letters to your grandparents.
The post office is long gone, having been replaced by the Frist Art Museum. The gallery places an emphasis on rotating exhibitions that ensures there's always something fresh and thought-provoking to admire.
Every month or so, the temporary exhibits are replaced and always be something as arresting as the last. Previous exhibits include photos from the civil rights movement and explorations of many cultures.
Address: 919 Broadway, Nashville, TN 37203
Hours: 10am-5.30pm (Thur-Sat) 1pm-5.30pm (Sun)
Price: $15
READ NEXT: Don't miss all of the best things to do in Memphis while you're in the area!
15) Radnor Lake State Park
One of the top Nashville activities is to, well, get out of Nashville. Before you get too confused, this is only to balance the inner-city splendor with some of the natural kind.
Not far from downtown Nashville, the Radnor Lake State Park goes beyond a mere day at the park. Instead, you can embark on hiking and explore various ecosystems splashed around the 1,368-acre state park.
Alongside hiking, you'll have biking trails. Both lead to beautiful lake views.
But if the water keeps calling your name, you can also get out on a kayak or SUP and explore the highlight of the park.
Visit the official state park website for more info about trails and activities.
16) The Adventure Science Center
Nashville may have a reputation for being a destination for bachelor and bachelorette parties, but that doesn't mean there's nothing for kids to do here.
Museums and parks aside, Nashville is also home to the Adventure Science Center.
The non-profit museum has just shy of 200 interactive exhibits that will keep your kids' attention long past leaving time. These displays form the museum's broad spectrum of topics, from earth science to life in space.
Each room comes with a distinct experience that will take your kids on a thrilling educational journey and get their minds working overtime.
Highlights include the planetarium, flight simulator, and an exhibit all about beekeeping.
Address: 800 Fort Negley Blvd, Nashville, TN 37203
Hours: 10am-3pm (Sun-Mon, Thur) 10am-6pm (Fri-Sat)
Price: $18
READ NEXT: While you're in Nashville, consider taking a short drive to check out the best things to do in Louisville, Kentucky.
17) The Nashville Zoo
Another example of the best things to do in Nashville with kids is the Nashville Zoo. Here, you can trade science for an up-close experience with some of the world's most incredible wildlife.
The Nashville Zoo boasts just under 3,000 animals that are from 350 species from around the world. You'll find them in appropriate habitats such as the Plains of Africa, the South American Rainforests and the many ecosystems found in the Asian continent.
The whole family can jump on the Wilderness Express Train to explore the park. This will bring you to hundreds of animals such as tigers, leopards and rhinos. The zoo is also home to a Jungle Gym playground and a zip line!
Address: 3777 Nolensville Pike, Nashville, TN 37211
Hours: 9 am-6 pm (Mon-Sun)
Price: $16-$25
18) The Hermitage
First built in 1819, the Hermitage became the home of former president Andrew Jackson from the years 1837 to 1845.
Although the years brought much change to the estate, it has been restored to its original look when the president called it home.
Andrew Jackson's Hermitage is around 15 miles from the heart of Nashville. It replaces the skyscrapers with an elegant estate and a beautiful home that now functions as a museum.
You can learn about Jackson's political and private life on a guided tour before enjoying a wagon ride through the lush surrounding grounds.
On the way, you may pass the burial site of Andrew Jackson and his wife, Rachel.
Address: 4580 Rachels Ln, Hermitage, TN 37076
Hours: 9 am-6 pm (Thur-Mon)
Price: $18
19) Belle Meade Plantation
Historic sites in Nashville don't end at the Hermitage. The Belle Meade Plantation was built in the 1840s in the Greek Revival style.
It was here that the Civil War Battle of Nashville took place across two days in 1864.
As you explore the historic antebellum estate, you'll notice signs of this prominent battle, including gunfire marks in the towering columns that somehow remain standing today.
Today, the estate is as grand as ever and you can explore on a variety of tours. For a different perspective, visit the plantation on a guided tour through the eyes of slaves that lived and worked here.
Address: 5025 Harding Pike, Nashville, TN 37205
Hours: 9 am-5 pm (Sun-Thur) 10am-5pm (Fri)
Price: $24
20) Gaylord Opryland Resort
The Gaylord Opryland Resort is one of the most interesting Nashville attractions.
It's part resort, part entertainment mecca that features dozens of restaurants, shops and an elegant rainforest.
Plus, you can even take a boat ride through the resort. Yep, it's not like anything else in Nashville.
Sure, it can be easy to get lost thanks to the array of attractions. But that's all part of the fun. Its centerpiece is the rainforest, which is a collection of thousands of tropical plants.
The kaleidoscopic colors are splashed across the scene, interrupted only by beautiful waterfalls. It's no surprise the space is managed by 20 horticulturists.
Beyond that, experience Soundwaves where you can meander down the lazy river.
Read next: The Ultimate 3 Days in Asheville Itinerary
21) Printer's Alley
Printer's Alley was once, you guessed it, at the heart of Nashville's printing industry. That field may be long gone, but like any smart city, Nashville has transformed the warehouses into a hip destination.
Now a National Historic District, Printer's Alley is a vibrant place to be during the day with restaurants and cafes.
But at night, it truly comes to life. Clubs opened here in the 1940s and were home to some of Nashville's most iconic names. I'm looking at you, Waylon Jennings and Hank Williams.
Today, the entertainment district makes the perfect foil for life on Broadway.
Where to Stay in Nashville
Now that you know what to do in Nashville, how about where to stay in the Music City?
Best Hostel in Nashville
For those who want to experience Nashville on a budget, you can't pass up a stay at the Music City Hostel. Enjoy shared and private rooms, a spacious kitchen, and social area while being steps from all the action.
They have a partner hostel, Nashville Downtown Hostel, which is currently closed for repairs but will be reopening soon.
Best Mid-Range Hotel in Nashville
Stay right on the banks of the Cumberland River at Nashville Riverfront Lofts. Wake up to splendid views, a balcony and cook up a feast in the full kitchen before enjoying a short walk to some of the best things to do in Nashville.
Best Luxury Hotel in Nashville
Like your country music with a side of luxury? Then stay at the Hermitage Hotel. Make the most of your upscale experience with concierge service, spa treatments, on-site restaurant and bar.
DISCLAIMER: Some of the links in this article are affiliate links, which means if you book accommodation, tours or buy a product, we will receive a small commission at no extra cost to you. These commissions help us keep creating more free travel content to help people plan their holidays and adventures. We only recommend the best accommodations, tours and products that ourselves or our fantastic editorial team have personally experienced, and regularly review these. Thanks for your support, kind friend!