Wondering what activities and attractions you can't miss in the capital of the Peach State? Our guide to the best things to do in Atlanta is just what you need!
Home to around 500,000 people, Atlanta is a growing city from both an economical and tourist perspective. But let's focus on the latter. The southern city and capital of the Peach State, has much to offer travelers.
We all know about the lovely weather that envelopes this part of the United States, but without beaches, Atlanta offers amazing parks, both natural and man-made.
From Piedmont to Fourth Ward and beyond, there's rarely a reason not to be outside.
In each era of American history, Atlanta has a habit of playing a vital role. Once an old military base, Atlanta played a major role in the Civil War as it switched from a vital Confederate refuge to wreckage thanks to the efforts of the Union.
From there, it was at the center of the civil rights movement and today finds itself at the forefront of cultural issues and progression.
This history, both old and new, makes the many museums and galleries far more poignant.
When you aren't enjoying outdoor adventures or learning about local and national history, you'll be tucking into the mouthwatering local cuisine or enjoying the many family-friendly attractions.
READ NEXT: Check out our Perfect 3 Day Atlanta Itinerary for more inspiration!
The Best Things to do in Atlanta, Georgia
Georgia's biggest city has a prominent place in US history. It's also where a certain iconic drink was invented. It has sports galore and some beautiful parks.
Read on to find all the things to see in Atlanta and more! But before we get into the list, we just want to mention the Atlanta CityPASS.
As many of the best museums and attractions in Atlanta have an entry fee, you can purchase the Atlanta CityPASS to get discounted prices on select attractions.
You can save up to 44%! So it's definitely worth getting if you'll be visiting any of the 5 attractions on their list.
1) Piedmont Park
Spanning more than 200 acres, Piedmont Park is one of the top Atlanta attractions, especially when the sun is out.
On those warm, sunny days, the local community descends upon the sprawling park. But such is the size and space, it doesn't feel cramped.
Instead, Piedmont Park offers a delightful atmosphere, a great place to enjoy a picnic or throw the ball around.
The park rolls over several hills, providing a number of separate levels and viewpoints. Paved trails roam throughout, making it easy to get around or to enjoy a leisurely bike ride.
There are specific areas for your furry friends, a swimming pool, playgrounds and public art.
After a day in the sun, wandering down to Park Tavern for a lively dining space that even has ice skating in the winter. From Park Tavern, you can simply wander across the road and begin the Beltline.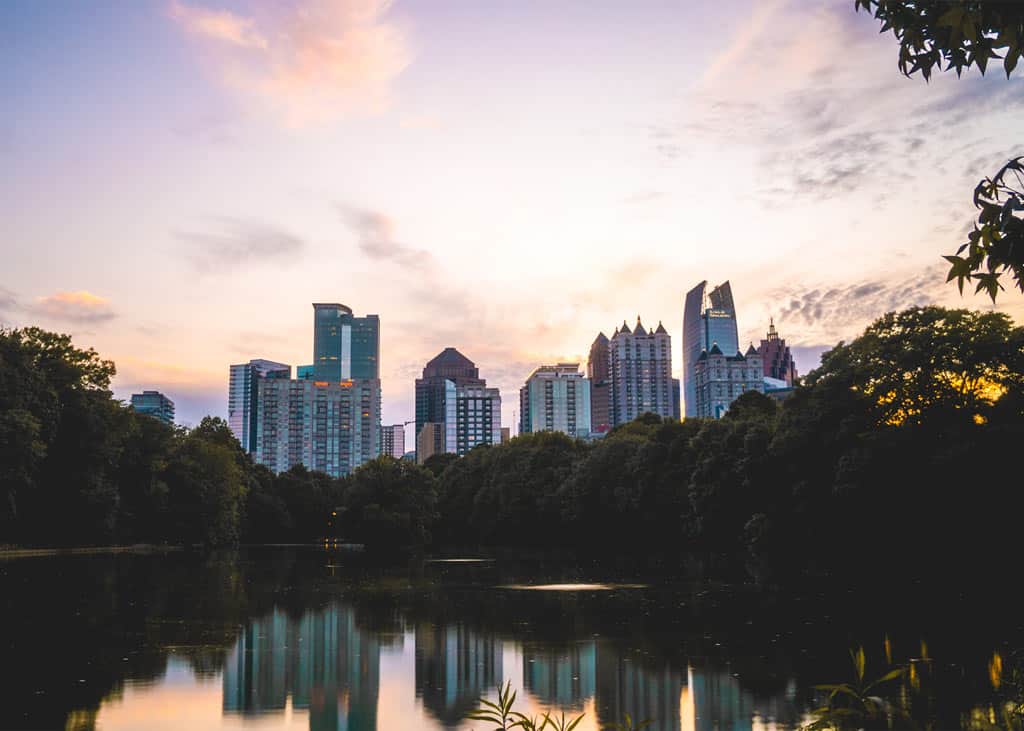 2) The Atlanta Beltline
Running 30 miles around the city (more paths are added each year), the Beltline is a hodge podge of accessible trails that will take you all around Atlanta sightseeing.
It's an impressive example of urban renewal with long-abandoned railroad tracks turned into a great place to exercise or enjoy the nice weather.
There are several major sections of the Atlanta Beltline. The Eastside Trail is one of the best and begins from the aforementioned Park Tavern. The trail skirts along the edge of Piedmont Park and downtown Atlanta, bringing you all the way to the famous Ponce City Market.
After exploring that beloved attraction, continue on to pass breweries, the Historic Fourth Ward Park and eventually Ladybird Grove and Mess Hall.
This outdoor bar and the nearby Krog Street Market are lovely spots to grab a drink and a feed before the return journey.
Real foodies could also consider booking a food tour of the Atlanta Beltline. With a local guide, you'll get to see all the highlights and historic landmarks on a walking tour, while stopping in some of the best eateries and tasting the classic local dishes.
3) Krog Street Market
Along the Beltline, Krog Street Market is the best spot to experience Atlanta mouthwatering southern cuisine and international eats.
After your morning walk, you'll have earned whatever feast lays in store for you in the former stove factory.
Before you step into the market, you'll note the splendid atmosphere. It's always a happy place to be, as it's full of excited patrons who can also sample some small-batch ice cream, delightful chocolate and a range of craft beer.
You'll be able to get your hands on some delicious dumplings at Gu's, settle in for some classic southern far at Fred's before picking up a treat for the road at Sweer Inman's Candies.
Across the street is a relocated cottage slinging retro clothes and eclectic home decor.
Location: 99 Krog St NE, Atlanta, GA 30307
Opening hours: 7am-9pm (Mon-Thur) 7am-10pm (Fri) 8am-10pm (Sat) 8am-9pm (Sun)
Price: Free
READ NEXT: Consider checking out our post on all the best things to do in Charleston, South Carolina while exploring the southeastern US!
4) Martin Luther King Jr National Historic Park
On Auburn Avenue are two historic sites that form the protected Martin Luther King Jr Historic Park. These are the Ebenezer Baptist Church and the birthplace of the famed leader of America's civil rights movement.
This alone makes it one of the best Atlanta activities. It's an opportunity to look into the childhood of MLK along with the church where he became a minister and laid the foundations that changed the course of US history.
Travelers will be able to enjoy a free tour of his childhood home, led by NPS rangers.
Afterwards, you can explore the Freedom Hall Complex or head to Fire Station No. 6, which features volunteers that offer stories of the street that shaped King's early years.
Location: 450 Auburn Ave NE, Atlanta, GA 30312
Opening hours: 9am-5pm (Mon-Sun)
Price: Free
5) Atlanta History Center
The home and church of MLK is just a glimpse into the rich history of this southern city.
To get the full picture, you'll have to spend some time exploring the wonderful Atlanta History Center.
It's here that you can truly appreciate Atlanta's involvement in several prominent events from the Civil War to the Civil Rights Movement, while remaining at the forefront of cultural change in the 21st century.
But it's not just 19th and 20th century history that you'll learn about. The center takes you beyond European settlement, as you look into the lives of the Cherokees and Creeks. Gaze upon ancient artifacts and explore the complexities of the region's first inhabitants.
Other highlights include a focus on the Great Wars and the railroads that helped build Atlanta.
Location: 130 W Paces Ferry Rd NW, Atlanta, GA 30305
Opening hours: 9 am-4 pm (Tues-Sun)
Price: $25
Read Next: Check out our guide so you don't pass up the chance to visit the charming Georgia town of Savannah!
6) Atlanta Botanical Garden
In the northwest corner of Piedmont Park, the Atlanta Botanical Garden is an exceptional acreage of colorful flora.
There are a handful of beautiful sections that bring something unique to the experience, making it a space meant for more than just flower aficionados.
If you enjoy walking through parks, then you'll love the tranquility and color to be found in the gardens. At any time of year, you'll find something blooming, ensuring the gardens remain prismatic at all times.
Some of the themed gardens you'll want to explore include the Tropical High Elevation House, the Children's Garden and the Edible Garden. One of the highlights, however, will be the natural hardwood forests, which are one of just a few remaining in the region.
Check the website to see what's on, as the gardens are always hosting special events and exhibitions for people of all ages.
Location: 1345 Piedmont Ave NE, Atlanta, GA 30309
Opening hours: 9 am-8 pm (Tues-Sun)
Price: $22.95
Heading down to Florida after Georgia? Check out this Ultimate 2 Week Florida Road Trip Itinerary!
7) Mercedes Benz Stadium
In 2017, the spectacular Mercedes Benz Stadium opened its doors for the first time. The ultra-modern space is one of the best stadiums to watch either an NFL or MLS game.
Year-round there are sports and one-off events at the stadium, providing you with a great opportunity to check it out.
The arena regular packs out for Atlanta Falcons games from September through to January, with a lively atmosphere and clear views even from the upper decks.
If you've arrived outside of football season, then you can watch Atlanta United FC play the World Game from February until October. Alongside baseball at Truist Park, this is the best spot to enjoy live sport in Atlanta.
8) Ponce City Market
Visiting the Ponce City Market is one of the best things to do in Atlanta, with a mix of delicious eats, arresting architecture and regular events.
The market is within an old Sears warehouse and its lower levels form a food hall slinging all sorts of international cuisine, Southern fare and mouthwatering treats. You'll also find cute boutique stores and independent art galleries.
However, the real fun begins at Skyline Park. This is a large space set up on the building's rooftop. Throughout the year, there are regular events, including carnivals on Halloween and ice skating in the winter.
You'll also find an upscale restaurant, where you can dine next to a fire pit and enjoy vast views across the city.
Location: 675 Ponce De Leon Ave NE, Atlanta, GA 30308
Opening hours: 10am-9pm (Mon-Sat) 11am-8pm (Sun)
Price: Free
9) National Center for Civil and Human Rights
In the heart of downtown is the National Center for Civil and Human Rights, and one of the best things to do in Atlanta.
Two previous attractions have shed light on this era, but the National Center takes things a step further and will help you learn about these years and modern-day issues in more detail.
The complex covers 42,000 square feet of space, with a trio of permanent exhibitions complemented by an insightful series of traveling exhibits.
Both work together to create a vivid and memorable experience for guests, shining a light on the mid-20th century, Jim Crow laws and human rights issues that remain ongoing around the world.
However, it's the Voice to the Voiceless and Fragments exhibits that will have the biggest impact. These include artifacts from MLK along with his various writings.
Those really interested in the history of the Civil Rights Movement and the life of MLK could also book a guided walking tour. A knowledgable local guide will take you to all the significant sights and landmarks, while teaching you all about the important history.
Location: 100 Ivan Allen Jr Blvd NW, Atlanta, GA 30313
Opening hours: 12pm-5pm (Th/Fr/Sun) 10am-5pm (Sat)
Price: $16
10) Fernbank Museum of Natural History
After exploring the human history in Atlanta, take some time to learn about the region's natural past. At the Fernbank Museum of Natural History, you can get a look in on the evolving geography of Georgia along with some incredible dinosaur fossils.
It's a fun attraction for families who can make the most of the many interactive experiences along with the impressive 4K theater that is five stories tall.
Visitors should begin with A Walk Through Time exhibit that explores Georgia's natural world across more than a dozen galleries. Follow up with the Dinosaur Plaza and the Great Hall that boasts the 47 foot long giganotosaurus, the largest ever found.
You can then visit the live animal space or learn about Georgia's ethnography. The exhibits are constantly changing, so check the website to see what's on during your stay.
Location: 767 Clifton Rd, Atlanta, GA 30307
Opening hours: 10am-5pm (Mon-Sun)
Price: $24.95
Continuing north up the USA East Coast? Check out this list of the best things to do in Asheville, North Carolina.
11) Zoo Atlanta
If you're wondering what to do in Atlanta with kids, then alongside the Natural History Museum, make your way to Zoo Atlanta.
As it's included in the price of your Atlanta CityPASS, you should definitely make time for it.
There are only four museums in the country that are home to giant pandas. Zoo Atlanta is one of them. Alongside the adorable pandas, you'll be able to get up close with intimidating gorillas, lemurs and other primates.
In the African section, spot lions, giraffes, elephants and rhinos. The adjacent aviary also boasts a wide range of birds from the continent.
Visitors who love reptiles won't be left disappointed as the zoo features over 100 types of snakes, lizards and tortoises from all around the world.
For more insight, sign up for the daily tours, which includes the chance to feed some of the animals.
Location: 800 Cherokee Ave SE, Atlanta, GA 30315
Opening hours: 9am-3.30pm (Mon-Fri) 9am-1.30 (Sat) 9am-4.30 (Sun)
Price: $25.45
12) World of Coca Cola
Like a lot of famous inventions throughout time, Coca Cola was an accident. It began as a cure for headaches, but when mixed with carbonated water, it became arguably the most popular drink of all time.
It was here in Atlanta that this all went down. So it's appropriate that the World of Coca Cola is stationed right here in town.
The attraction may be fun for kids, but if you've ever enjoyed a sip of Coca Cola in your life, then there's a reason to visit.
It first opened in 1990 and offers the chance to create your own soft drink, experience a real bottling plant and a movie that explores the history of the drink and the many attempts to steal the recipe.
Entrance to the Coca Cola museum is included in the price of your Atlanta CityPASS.
Location: 121 Baker St NW, Atlanta, GA 30313
Opening hours: 10am-5pm (Mon-Thur) 10am-7pm (Fri-Sun)
Price: $19
13) Stone Mountain Park
There are several great outdoor experiences to be had in the hills surrounding Atlanta. But one beloved by locals and travelers alike in Stone Mountain Park.
It's one of the busiest Atlanta attractions, owing to its captivating monzonite dome that measures 5 miles in circumference. The rock is an impressive structure which you can walk up from the western side. Or, if you'd rather relax, you can take the Skyride gondola instead.
From the top, embark on a 4 mile scenic railroad that provides visitors with exceptional views on board a diesel locomotive. You'll see well beyond the surrounding hills towards downtown Atlanta.
Throughout the year, Stone Mountain also has annual festivals, making it one of the more popular tourist attractions in Atlanta.
Maybe you're heading further west after visiting Atlanta? Check out this Ultimate 3 Days in New Orleans Itinerary!
14) Fox Theatre
As you look upon the Fox Theatre for the first time, it quickly captures your imagination. Like many theaters built in the Roaring 20s, the Fox Theatre has an effortless charm, yet it's quite different from others around the United States.
Before it began welcoming theatergoers, the complex was a Yaarab Temple Shrine Mosque. The gorgeous designs have remained while the interior has received an elegant facelift to create one of the best entertainment experiences in Atlanta.
The Fox Theatre welcomes guests throughout the year with a packed calendar featuring stand up, live music and performing arts.
There are also two event spaces, the Grand Salon and the opulent Egyptian Ballroom, that are used for upscale affairs. See what's playing on their website.
15) Centennial Olympic Park
In 1996, Atlanta play host for the Olympic Games. The Centennial Olympic Park was the heart of that event, but remains at the center of local culture today.
The highlight of the park is the beautiful fountain. The water feature puts on a magical show throughout the day, yet it's even more breathtaking at night when it's all lit up. In the summer, the fountain becomes a splash pad and is a popular place for families to cool off.
The park consistently brings the community together for weekend concerts along with the happening annual Christmas market.
But whenever you visit, you can enjoy lovely city views that are even better from the top of the SkyView Ferris Wheel.
16) Children's Museum of Atlanta
Whenever kids grow restless in the city, the Children's Museum of Atlanta is always a great option.
You'll find the museum within Centennial Olympic Park and thanks to a recent revamp, there are plenty of fresh experiences to embark on.
The Children's Museum of Atlanta is broken up into six sections that are designed to stoke curiosity and get the little ones thinking about the world around them. It blends fun and education to a tee.
An example of one of the themed areas is the Tools for Solution. This is all about problem-solving and will see kids answering a series of questions using interactive methods.
Location: 275 Centennial Olympic Park Dr NW, Atlanta, GA 30313
Opening hours: 9:30 am-4:30 pm (Thur-Tue)
Price: $15.95
17) High Museum of Art
Set inside the Woodruff Arts Center, the High Museum of Art is the foremost gallery in Atlanta. It harbors a wonderful collection of works that cover contemporary art all the way back to the Medieval era.
For art lovers, you'll be able to find a great number of Old Masters and European luminaries. These include Monet, Tiepolo and Heade.
Perhaps the most interesting part of the museum is its incredible collection of photography from around the United States. This offers a raw look into the last century, capturing many parts of the nation through film.
As always, you'll find some wonderful temporary exhibitions which you can look up on the art museum's website.
Location: 1280 Peachtree Rd NE, Atlanta, GA 30309
Opening hours: 10am-5pm (Tue-Sat) 12pm-5pm (Sun)
Price: $16.50
18) College Football Hall of Fame
Home to the Peach Bowl, one of the semi-finals in the College Football Playoffs, Atlanta has a long and storied connection to the sport. It's fitting that after 17 years, the College Football Hall of Fame moved to the city from South Bend, Indiana.
If you love your college football, then a visit here is one of the best things to do in Atlanta. It's thrilling for young and old as it tells not just the history of the game but offers a range of exciting interactive experiences.
After finding some of your favorite players in the Hall, explore the two-stories of high-tech displays. These include augmented reality experiences and the chance to sit on the College GameDay desk.
Location: 250 Marietta St NW, Atlanta, GA 30313
Opening hours: 10 am-5 pm (Thur-Mon)
Price: $24.99
If you're thinking about heading west from Atlanta be sure to check out The 21 Best Things To Do In Austin, Texas
19) Georgia Aquarium
Featuring one of the largest such spaces in the United States, the Georgia Aquarium isn't just your average fishbowl. All who visit will be able to find over 100,000 marine species and hands-on experiences.
The Georgia Aquarium offers a welcoming insight into life beneath the surface. Of the thousands of species, none will grab your attention quite like the enormous whale shark.
The entire family can wander through the glass tunnel that essentially places you underwater without having to get wet. Stand and watch sharks and fish roam above.
For more thrills, you can scuba dive with sharks or play with the resident sea lions.
Location: 225 Baker St NW, Atlanta, GA 30313
Opening hours: 9 am-8 pm (Mon-Wed) 9am-5pm (Thur) 9am-9pm (Fri-Sun)
Price: $39.95
Book your ticket to the Aquarium on Get Your Guide, and for a few extra dollars, you can skip the line!
20) Jimmy Carter Presidential Library
Regardless of what you think of Jimmy Carter's time in office, it's not hard to be impressed by the work he's done in the years since. This includes winning a Nobel Peace Prize in 2002.
But to learn more about his presidency and childhood, check out the Jimmy Carter Presidential Library. This opened in 1986, a few years after he left office. It begins with a dive into his early years, life as a peanut farmer and role in the civil rights movement.
Like other presidential libraries around the United States, you'll also get a look into a replica of his Oval Office, along with memorabilia from those years.
Location: 441 John Lewis Freedom Pkwy NE, Atlanta, GA 30307
Opening hours: 10 am-4 pm (Tue-Sat)
Price: $12
21) Atlanta Symphony Hall
As you explore the High Museum of Art, you may come across the Atlanta Symphony Hall. Home to over 1,700 seats, the hall presents the impressive Atlanta Symphony Orchestra on a regular basis.
This is the same orchestra that played at the beginning and end of the 1996 Olympic Games and has continued to impress crowds in the years since.
If you're not up for a night of Western classical music, the hall also hosts family-friendly movie nights.
The Atlanta Symphony Orchestra also plays twice each summer at Piedmont Park.
Where to Stay in Atlanta
Now that we've covered what to do in Atlanta, let's check out some of the best accommodations in town.
Best Hostel in Atlanta: Stone Mountain Manor
At the Stone Mountain Manor, you'll have easy access not just to the famous attraction but the historic village.
The hostel has an old-time charm with modern amenities, an outdoor swimming pool and a free breakfast. From the manor, you'll be under 30 minutes from downtown Atlanta.
Best Mid-Range Hotel in Atlanta: Hotel Claremont
Set in the downtown area, Hotel Claremont provides a great location and upscale amenities without an exorbitant price.
The hotel boasts family-friendly rooms, an on-site restaurant, a bar and a fitness center. Guests will also be within walking distance of Piedmont Park and several historic sites.
Best Luxury Hotel in Atlanta: Waldorf Astoria
In the charming neighborhood of Buckhead, Waldorf Astoria is our choice for resplendent luxury in Atlanta. Each room comes with an opulent layout, separate seating area and cable TV.
The hotel has on-site dining, a beautiful garden and pool, while breakfast is provided each morning.
DISCLAIMER: Some of the links in this article are affiliate links, which means if you book accommodation, tours or buy a product, we will receive a small commission at no extra cost to you. These commissions help us keep creating more free travel content to help people plan their holidays and adventures. We only recommend the best accommodations, tours and products that ourselves or our fantastic editorial team have personally experienced, and regularly review these. Thanks for your support, kind friend!