I don't know the exact moment when the idea of jumping off of a building with a giant elastic band strapped to my legs first manifested in my slightly delusional mind. Perhaps it was sometime between hitting my head on a snowboarding trip in Canada and that time in Utila where I drank my weight in Mexican liquor on an infamous 'Tequila Tuesday'. Either way it doesn't matter. The desire to satisfy my addiction to adrenaline has always led me to trying things that other, more intelligent people would call 'stupid'. Somewhere along the road I saw video of someone doing a bungy jump and exclaimed, "HELL YES!!!", knowing that one day I had to try it. So when we realised that we were going to be heading to Macau, home to the world's highest bungy jump run by the international company with gonads the size of boulders, AJ Hackett, I got giddy with excitement. Surely that would quench my thirst for epinephrine!
Having hopped on a ferry from Hong Kong, we found ourselves in the gambling haven that Macau has turned into and could spot the soaring Macau Tower in the distance. We beelined our way to the base, two hours early for my scheduled bungy jump. In my head I was doing a great job of acting nonchalant and carefree. If you ask Lesh I was twitching like a meth addict having withdrawals. Either way, staring skyward at the 338m tall Macau Tower was a little bit intimidating, I have to admit.
After procrastinating for a while pacing around the lobby, it was finally time to head up to the observation deck and get ready for the moment of truth. I was still feeling confident about the whole scenario as we stood in the elevator that whizzed us up to the 61st floor. The glass doors opened and we stepped onto the observation level straight into a hive of activity outside the AJ Hackett office.
We were met by a cheerful Kiwi man named Tony and the affable assistant executive manager, Henrique. Sensing that I had nerves of steel and nothing could ever bring fear into my heart, they suggested that we stop wasting time and throw me off of the building. Trying to keep up appearances, I squeaked out a timid, "ok" and shuffled over to the harness fitting section.
The marketing guru, Ryan from the Philippines, wandered over and introduced himself. He was going to make sure that everything went smoothly during our time with AJ Hackett, and it was much appreciated on our part. Ram from Nepal kitted me up in my harness, weighed me and did an excellent job of proving that he knew what he was doing. Ram gave a thorough briefing of the process I would go through as I tumbled towards solid ground from a dizzying height. At no point did he mention that crapping your pants was somewhere in the order of events.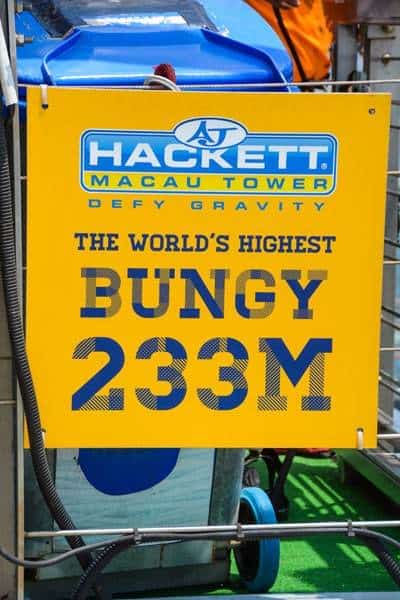 Before I had much of a chance to think about what exactly I was getting myself into, I was guided to the outside of the Macau Tower and promptly secured to the building with a lanyard. A Chinese man was next in line to try his hand at bungy jumping and looked quite calm about the whole situation (not as calm as me, obviously). Within seconds the staff of AJ Hackett had counted him down and he disappeared. Faster than he could say, "You know what guys, I'm having second thoughts about this," he had fallen over the edge and vanished. It suddenly occurred to me that that was about to be me.
A British guy by the name of James moved me over to a chair so he could complete my harness setup and inspection. The latex rubber bungy cord was connected to my chest and run down to the velcro straps on my feet. James and I made idle chit chat, as though we had just been introduced by a mutual friend at a dinner party and were discussing rising interest rates, while I did my best to quickly wipe the sweat that was beading on my brow. A final check was done and it was time to step up to the ledge.
As I edged my way closer to the platform jutting out from the Macau Tower, Henrique called out to me, "Have fun mate! Don't forget to keep your eyes open!" Ha, like an intrepid adventurer with zero fear would ever close his eyes!
The jump masters put me in position, got me to wave like a manly man towards the camera up high and towards the GoPro on my wrist. I followed their instructions: Arms up, legs straight, look out at the sensational Macau skyline, and it is time. Without any more hesitation, the countdown began.
"5, 4, 3, 2, 1, GO!"
I leaned forward, straight as a rod, allowed gravity to take over and began plummeting towards the ground.
For a moment my heart completely stopped and I began flapping my arms like a bird trying to take flight. I quickly approached a speed of 200km/h, which had the wonderfully frightening effect of bring the concrete below hurtling towards me at an astonishing pace. At 2.5 G forces, time seemed to come to a standstill. At some point my heart realised that it needed to pump oxygen for me to survive, and it got back to doing its one and only job of beating.
Before my face could make contact with the earth, the bungy cord began to take tension and my brain started to function again. As the elasticity, gravity, velocity and kinetic energy all reached a collective end, I was shot back up towards the deck of the Macau Tower. I was now bouncing like a yo-yo at the end of a very, very long string. Having realised that I had survived the initial part of the bungy jump, I let out a jubilant scream and adrenaline filled my veins.
Staring out at the city of Macau while dangling off of the Tower was even more beautiful than admiring it from the top. I ricocheted back on a second bounce, and the winch on the upper deck began to lower me down.
Two workers from AJ Hackett were waiting for me at the bottom, and I was carefully placed on an enormous inflatable mat. The guys unstrapped me from the confines of my harness and high 5s were handed out all around. I had ticked off the world's highest bungy jump and joined the elite club of people who have no fear (or at least do a great job of pretending).
After all this time of dreaming about bungy jumping, finally having the chance to do it in Macau was one of the most incredible experiences of my life. I've been sky diving a bunch, scuba dived in caves, trekked in jungles and snowboarded some of the best backcountry terrain in Canada, but nothing compares to the sheer thrill of launching off of a 233m high building with a rope tied to your feet. It was absolutely worth the mess in my underwear.
About Bungy Jumping In Macau
The man himself, AJ Hackett, was the very first person to try modern bungy jumping by leaping off of the Eiffel Tower in 1986. Since then, his company has been the leading bungy jumping organisation in the world, officially opening in 1988. In their 27 year history, they have never had a single incident, and this is due to their meticulous safety inspections and protocols.
The world's highest bungy jump in Macau is located on the Macau Tower, at a tremendous height of 233m. The cost is $386 USD for your first jump (subsequent jumps are discounted). A full package, including HD video and photos is US$474. For those who aren't sure about doing the bungy jump, AJ Hackett Macau also have a bunch of other activities such as the Skywalk and Skyjump, so you have no excuse not to take part in the best adventure in Macau!
Need accommodation in Macau? Check out Agoda.com
The cost of my bungy jump were covered by the legends at AJ Hackett, and they also provided the photos. All thoughts, opinions and the issue of dealing with soiled underwear are my own.