Make the most of your next trip to the Maritimes with this awesome guide to the best things to do in Halifax, Canada!
As the capital city of Nova Scotia, Halifax is packed with interesting tourist attractions and cool things to see and do.
Halifax boasts the world's second-largest ice-free natural harbour, making it an economically important seaport for Eastern Canada.
It sits centrally on the east coast of Nova Scotia and was given the nickname "Warden of the North" because of its strong military presence.
There is a very strong maritime influence and culture in Halifax, and on the city's many beaches pirates were hung until 1844.
The city was established by the British in 1749 when Edward Cornwallis arrived and brought 2,500 settlers.
The British were lured there by the large port and hopes of great fishing. Halifax was aptly named after the 2nd Earl of Halifax and then became the capital of Nova Scotia.
Winters are mild and summers are cool due to the gulf stream currents in the Atlantic Ocean.
Year-round precipitation is high and most days the city is covered in coastal fog.
But don't let that keep you from visiting this beautiful city in Nova Scotia!
READ MORE: Check out our Canada travel guide to help you make the most of your visit to the Great White North.
Halifax is a very unique city and although one of the lesser travelled to cities in Canada, it shouldn't be left out!
It has a multicultural population, a median age of 39, and a huge college scene.
The nightlife is plentiful, the music scene is abundant, and Halifax has more pubs per capita than any city in Canada.
You will find plenty of things to see and do for all ages.
From museums rich in maritime history and immigration, the friendly Haligonians who welcome you, to the historic landmarks and beautiful waterfront.
The 12 Best Things to Do in Halifax Nova Scotia
Just a short trip away from all the top-visited attractions in Nova Scotia, like Peggy's Cove and the Bay of Fundy, Halifax is the perfect resting place between day trips to these spectacular destinations in Nova Scotia.
Some of the best attractions are right on the Halifax waterfront boardwalk. There are strategically placed forts in several of Halifax's city parks.
Regardless of your interests, plan to build out a great itinerary from our list of what to do in Halifax Nova Scotia.
1. Go on a Free Walking Tour of the City Along the Halifax Waterfront Boardwalk
The best way to get acquainted with what to do in Halifax Nova Scotia is to go on the free walking tour offered by the city!
Learn about the history and culture of Halifax while seeing a few of the best sites the city has to offer.
You will start at the entrance to the famous National Historic Citadel, a fort built to protect the city.
From there you will see the city's iconic three-story-tall clock tower that was built in the 1800s.
Heading towards the coast, you will walk along the Halifax waterfront, one of the longest waterfront boardwalks in the world.
No doubt one of the best things to do in Halifax is strolling around its beautiful waterfront!
Be on the lookout for the vibrant art murals and the beloved drunken lampposts. The boardwalk is lined with many shops, cafes, patios, restaurants and beer gardens.
You will be sure to find something to visit or do later on your trip!
The tour lasts around 60 mins and covers all the highlights of downtown Halifax.
Cost: Donation
Location: Entrance to the Halifax Citadel
Hours: 10 am and 3 pm, June – September 5th. Winter hours by appointment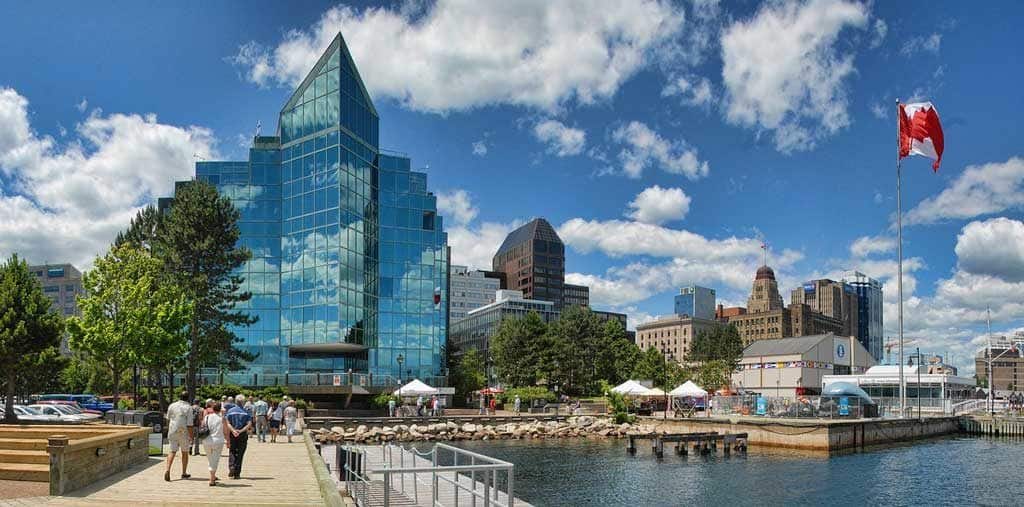 2. Spend Time in the Maritime Museum of the Atlantic, Canada's Oldest and Largest Maritime Museum
Explore many maritime exhibits and view over 30,000 artifacts at Halifax's most popular museum: The Maritime Museum of the Atlantic inside the Nova Scotia Museum.
The Maritime Museum of the Atlantic was conceived by several Canadian Royal Navy officers. They wanted a place to preserve navy artifacts and share its history.
The museum plays host to a variety of model ships and portraits throughout maritime history.
One of the more popular exhibits is the Shipwreck Treasures of Nova Scotia.
There you can find many artifacts recovered from the RMS Titanic.
Nova Scotia played a major role in helping recover bodies from the sinking of the famous ship. Also visit the Fairview Lawn Cemetery, a memorial to those who died in the Titanic.
If you are into history, this museum in downtown Halifax is definitely worth a visit. You could easily spend a few hours browsing the several exhibits.
You will gain an understanding of Nova Scotia's maritime heritage, and how events and the sea played a part in shaping the culture of this amazing city!
Cost: Adult $5.15, Senior $4.40, Youth (6-17) $3.10, Child Free
Hours: 9:30am – 5:30pm, Sunday 1pm – 5pm, Tuesdays close at 8pm
Location: 1675 Lower Water Street
3. Visit the Halifax Citadel National Historic Site
When you climb Citadel Hill and walk through the gates of the Halifax Citadel, you will see why the fort was built here to protect the city.
The expansive views of the city and the Halifax Harbour from Citadel Hill will take your breath away!
Though it never saw a battle, the fort was still strategically important to the city and its people and holds plenty of Halifax history behind its walls.
Go at noon to watch the changing of the guards and hear the blast of the cannons.
Along with barracks, period rooms and watching 78th Highlanders in their uniforms, there is also a museum to explore at the Halifax Citadel National Historic Site!
Cost: Adult $11.70 – Senior (65+) $10.05 – 17 and under Free
Hours: 9 am – 6 pm
Location: 5425 Sackville St
READ MORE: Don't miss our list of what to do in Winnipeg!
4. Stroll Through the Halifax Public Gardens
Take a break from the hustle and bustle of the boardwalk and revel in the beauty of Halifax's national historic Victorian Gardens.
Located on Spring Garden Road, the gardens are a favourite Halifax attraction by both locals and tourists.
Enclosed by an ornate wrought iron fence, the gardens span 16 acres in the middle of the city.
Wander over beautiful bridges, through hundreds of trees, past ponds and lush colourful flower beds.
The gardens are definitely one of the prettiest spots in downtown Halifax! Other attractions are just nearby as well, like the Halifax Central Library and the Halifax Citadel National Historic Site.
Cost: FREE
Location: 5665 Spring Garden Road
Hours: 7:00am – 7:30pm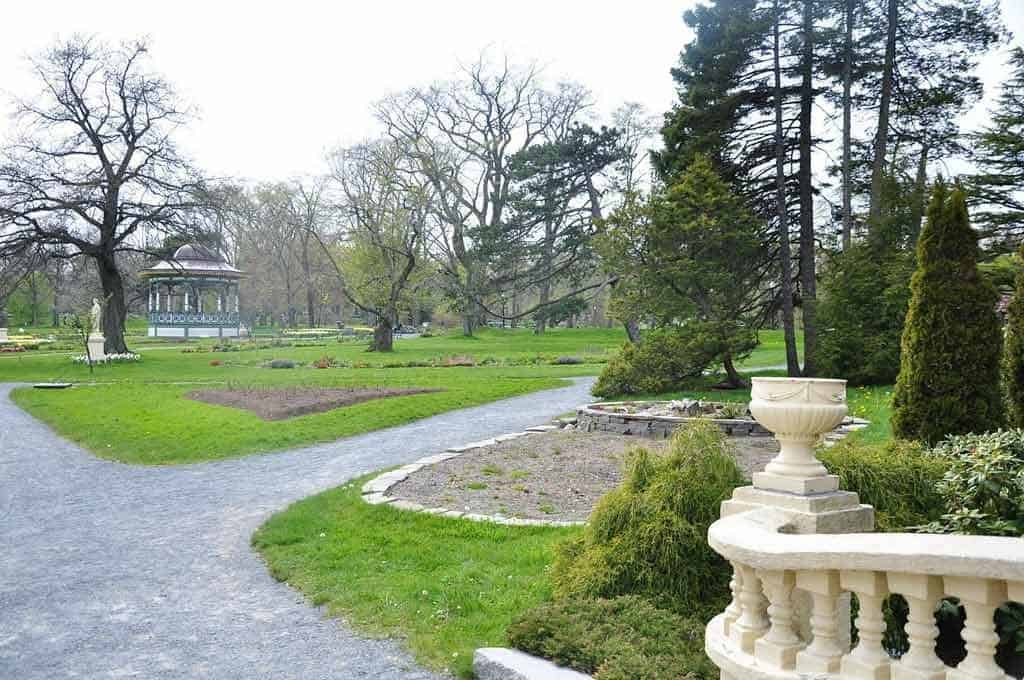 5. Enjoy Alexander Keith's Brewery Tour
Would you like a little history to go along with your beer? If so, you can't miss grabbing a pint at Alexander Keith's Brewery in Halifax Nova Scotia!
Founded in 1820 by the Scottish Alexander Keith himself, it is one of the oldest breweries in North America.
Go on an unforgettable tour where you will be led along by a guide dressed in 1820's attire and taught the history and brewing process of the company.
You will also witness musical storytelling and are guaranteed a Nova Scotian good time! Of course with plentiful amounts of ale.
Alexander Keith's Brewery is definitely one of the top Halifax attractions!
6. Wander Through the Halifax Seaport Farmers Market
Right on the waterfront, you will find the Halifax Seaport Farmers Market, North America's longest-running farmer's market.
Originally started as a meat and cattle market in 1750, it now hosts over 250 vendors and has a variety of crafts, flowers, seafood, meat and locally grown produce.
There are even celebrations held there, like the Canada Day Kitchen Day, and live music!
If you are looking for a cheap lunch when visiting Halifax, the Halifax Seaport Farmers Market is the place!
Grab some tasty local fare like a donair or a mouth-watering lobster roll while browsing the different vendors.
Hours: 8am – 2pm on Saturday, 10am – 2pm on Sunday
Location: 1031 Marginal Road
7. Take in Scenic Views of the Halifax Waterfront While Riding the Halifax Harbour Ferry to Dartmouth
Hop on the longest-running saltwater ferry in North America and cross the beautiful Halifax harbour to Dartmouth.
There are two different ferry routes and at just $2.50 each way, a ride on the ferry is the best way to see the harbour and it's easy on the wallet.
If you want to explore further, ask for a free bus transfer and take the bus from Dartmouth to the historic Fisherman's Cove.
When you decide to return, hop on a different ferry to complete a full loop of the harbour.
The public ferry is the best cheap way to see the Halifax waterfront!
Visit the website for more info on the Halifax Dartmouth Ferry schedules and prices.
Cost: $2.50
Hours: Ferrys run every 15 mins from 6:30 am – 11:30 pm
Location: 88 Alderney Dr
8. Check Out the Canadian Museum of Immigration at Pier 21
Similar to New York's famous Ellis Island, Pier 21 was once the ocean liner terminal where over one million immigrants passed through from 1928 to 1971.
A National Historic Site, it is now home to the Canadian Museum of Immigration.
Established in 1999, the museum was started to celebrate the 1.5 million immigrants who passed through its gates into Canada.
When you step inside the museum, you will go on a journey through different halls and experience what it was like to immigrate to Canada through Pier 21.
There are thousands of artifacts and stories to be seen and read at the Canadian Museum of Immigration.
There are also interactive exhibits for young and old to enjoy!
Book your ticket online here.
Cost: Adult $12.61, Senior $9.78, Youth (6-16) $8.04, Child Free
Hours: 9:30 am – 5:30 pm
Location: 1055 Marginal Road
9. Ice Skate at Emera Oval
Skating at the Emera Oval is one of the most fun things to do when visiting Halifax during any season.
And best of all it's entirely free!
The oval is an outdoor skating rink that is as large as 3 NHL hockey rinks.
In the summertime, rollerblading/skating and bike riding are popular activities.
In the winter the oval is frozen and you can go ice skating.
Free rentals include everything you would need like helmets, bikes, skates, scooters and even sleds!
All you have to bring is yourself and a government-issued ID to get in on all the fun! Visit the Halifax Oval website for more info about events and skate times.
Location: At the corner of North Park and Cogswell Street
Hours: 11:00 am – 9:00 pm (hours can vary due to day and weather)
10. Pay Respects in St. Paul's Church
Certainly one of the best things to see in Halifax is St. Paul's Church.
Dating back to 1749, the church is the oldest building in Halifax. And it is the oldest Protestant church in Canada!
The church has a simple appearance, but it was actually modelled after the St. Peter's Church in London.
When you tour the church you will notice some interesting details.
There is a metal shard embedded in one of the walls and if you look closely at one of the stained glass windows you will see a silhouette of a man, all remnants of the famous Halifax Explosion of 1917.
It's creepy yet definitely worth taking a look at when sightseeing in downtown Halifax.
Cost: FREE
Location: 1749 Argyle St
Hours: 9 am – 5 pm
READ MORE: 17 reasons to plan to visit Quebec City!
11. Watch a Shakespearean Play on the Water at Point Pleasant Park
Want to enjoy a local outdoor event? Then grab a blanket or chair and head on down to Point Pleasant Park in downtown Halifax Nova Scotia.
Every day (except Monday) in the summer you can catch a live Shakespearean play or another popular classic.
Go for a hike in the park in the morning and then settle down for a matinee performance that will be sure to delight you.
Shakespeare by the Sea Theatre Society is a not-for-profit organization that started in 1994 with hopes of providing classic Shakespearean entertainment to audiences at Point Pleasant Park.
They are also committed to the development of Canadian theatre artists.
The plays are free, but they will gladly accept donations; it goes to a good cause!
Location: Point Pleasant Park
Hours: Tuesday-Sunday 7:00 pm, Weekend Matinee 1:00 pm
Cost: Free (or donation)

12. Observe the Views from Peggy's Cove
Peggy's Cove can't be passed by when you're just a short drive away.
One of the most visited destinations in Nova Scotia, the famous red and white lighthouse that resides there is still in use today by the Canadian Coast Guard.
Peggy's Point Lighthouse, built in 1915, has become one of the most photographed lighthouses in the world!
Local folklore says the cove was named after a young shipwreck survivor who was adopted by a family who had settled there.
The little girl was too young to remember her name so the family decided to call her Peggy. She then became known as "Peggy of the Cove".
The tiny fishing village is a must-see from the rustic houses and buildings that line the cove to the colourful fishing boats bobbing in the harbour.
And you can't leave before capturing the iconic photo of Peggy's Point Lighthouse!
Halifax Nova Scotia Travel Guide
Now that you know what to do in Halifax, we want to help you make your other plans as well by sharing the best accommodation and places to eat in the city.
Best Accommodation – Where to Stay in Halifax Nova Scotia
Depending on your travel style, taste and budget you can find any number of hostels, hotels and bed and breakfasts that offer a variety of amenities.
While not as cheap as travelling in a third world country, Halifax is one of the cheaper Canadian cities for accommodations.
If you are a budget-savvy traveller you will find a few traditional hostels in the area or you can even rent an empty dorm room at a local university.
If you don't mind splurging on a nicer hotel, you will find many options right in the middle of downtown Halifax or one with an expansive harbour view.
With that said, these are a few of the best options you will have as you spend time in Halifax sightseeing and exploring the city.
The Best Hostel in Halifax Nova Scotia – HI-Halifax Heritage House Hostel
Stay right in the middle of the hustle and bustle of the city in a historic old house!
HI-Halifax Heritage House Hostel is one of the best hostels to stay at because of its proximity to both the bus and train stations and the top things to do in Halifax are literally just a short walk down the road!
HI Halifax offers both private and dorm-style rooms. Dorm choices are for either male/female or mixed dorms with at most 6 beds.
The amenities offered are top-notch, with key points being a large well-equipped kitchen that is self-catered, free wifi, a tidy common area, coin-operated laundry and security lockers.
Rated high for location, value, security and cleanliness, HI-Halifax is the perfect hostel for the outgoing traveller looking to be close to all Halifax has to offer.
With rooms starting at USD$26 for a 6 person mixed/male/female dorms, you can expect great value considering all the amenities HI-Halifax has to offer.
Best Budget Accommodation for Couples – Atlantica Hotel Halifax
An exceptional value for its location and amenities offered, the Atlantica Hotel Halifax is a great option for any couple seeking both comfort and accessibility during their stay in Halifax.
There is a variety of room selection, ranging from a superior king room or two double beds.
Amenities include an indoor swimming pool and hot tub, free wifi in rooms and common areas and a breakfast buffet.
And a bonus is that the hotel is pet-friendly so if you are travelling with your fur baby you can plan to stay here without worrying about sneaking him or her in!
There is a bar on-site where you can grab a drink before heading out for a night on the town.
When you stay at the Atlantica you are within walking distance to key attractions such as the Citadel, Halifax public gardens and the Museum of Natural History.
Or hop on a city bus or request a taxi or Uber ride to take you to nearby sites. With rates starting around USD$68 you won't be able to beat the value for the location.
Best Mid-Range Hotel in Halifax – Barrington Hotel
For those looking for a great value while exploring the best Halifax activities, the Barrington Hotel is everything you could need or want.
Rated high for its historic charm, location, comfort and friendly service there is very little more that you could ask for.
All rooms are clean and well furnished, with free WiFi, flat-screen tv, large ensuite bathroom and comfy beds.
There is also a swimming pool, spa, and fitness center for those who want to treat themselves.
Best Luxury Hotel in Halifax – Prince George Hotel
If you want to feel like royalty during your stay in Halifax, the Prince George Hotel gives you the opportunity to splurge a little without breaking the bank.
Exceptionally rated for room comfort, cleanliness, amenities and location.
Situated near Halifax Harbor in the city centre, the top things to do in Halifax Nova Scotia are literally right outside your front door.
But if you'd like to stay at the hotel and relax, this is one of the best options you have.
With a hot tub and an indoor heated pool within the hotel, you can expect to set back and enjoy your stay.
And if you'd like to throw in a little exercise, there's a fitness centre as well.
The Prince George Hotel features a great restaurant and bar.
There is also room service if you aren't in the mood to go out or want to relax in your room watching television after a long day of Halifax sightseeing.
Rooms start around USD$130 and offer you the opportunity to book a deluxe queen room, king or double beds.
You can also upgrade to a king suite if you're feeling particularly luxurious while staying in Nova Scotia's capital city!
Best Restaurants in Halifax Nova Scotia
Halifax is full of delicious options for places to eat while you enjoy your stay in the city.
From casual quick bites to luxurious fine dining experiences you can expect a range of dining atmospheres.
Halifax is of course known for its delicious seafood.
And you can't leave the city before trying a famous lobster roll or a tasty plateful of haddock fish and chips.
There is also another famous food stable in the city called a donair.
It's possible to make Halifax a destination for the food alone!
Here are a few of our favourite places to eat in Halifax Nova Scotia.
Budget
You can't say you've visited Halifax Nova Scotia without trying the city's official snack, the Halifax donair!
King of Donairs was the first restaurant in Halifax to offer the delicacy in 1973 and it's still located in the same building today. The sandwich closely resembles a gyro, but without the lamb and tzatziki sauce.
Instead, its shaved spit-roasted beef with a sweet yet garlicky sauce. Perfect hangover food!
Mid-Range
One of the top-rated restaurants in Halifax Nova Scotia, Edna is sure to offer up tasty Canadian fare with great ambiance. Try some local seafood like the steamed mussels or seared scallops.
If you're not in the mood for seafood, their pork chops come highly recommended! Pair the meal with a delicious cocktail or beer and your tastebuds will definitely be delighted.
Prices start at $10 for an appetizer to $38 for a large ribeye.
Stories Fine Dining
Stories Fine Dining has consistently rated the #1 restaurant in Halifax Nova Scotia for good reason!
With specialties such as ahi tuna and sea scallops, duck, and beef striploin you are stepping into fine dining at its best.
You will certainly be paying top dollar for what you get. But if you are looking for a fantastic dinner with exceptional service in a great atmosphere, you won't be disappointed here.