If you're looking for the best itinerary for how to spend 3 days in Montreal look no further! This is my hometown, and I want to make sure you have the best Montreal itinerary imaginable.
Visiting Montreal in 3 days can be done, and you will definitely be able to tick off a ton of things from your Montreal bucket list too.
From the cobbled streets of Old Montreal to the french inspired restaurants all across the city Montreal has been tricking visitors into thinking they're in Europe for decades.
With a fantastic underground transport system, you're never going to be too far away from something amazing.
Check out the murals of St-Laurent, the charming houses and cafes of Le Plateau Mont Royal or even the bustling shopping of St-Catherine street.
No doubt about it, there's no shortage of amazing things to do in Montreal.
While the underground is perfect for those cold winter days, there's nothing better than exploring the city on foot under the sunny skies.
One of the most walkable cities in Canada, Montreal is one of those cities which easily allows its visitors to wander their way through the streets to see the sights.
Visited by millions every year, Montreal is a hot spot for anyone looking for an amazing festival, a fantastic food scene and a magical music and arts scene.
No matter what you're looking for you'll be able to find it in this 3 day Montreal itinerary.
READ MORE: Plan your trip to Canada with our robust Canada Travel Guide.
How to Spend a Perfect 3 Days in Montreal
Montreal, the city that makes you feel as if you've been transported to Europe without having to clear customs out of Canada.
As one of the oldest cities in Canada, Montreal is full of incredible things to do, museums to visit, restaurants to indulge in and so much more.
To find out what to do in Montreal in 3 days read on!
Day 1 – Explore Old Montreal & Beyond
Kicking off the first of your 3 days in Montreal itinerary is definitely best done by heading to Old Montreal.
Grab a coffee and a pastry to go from any of the amazing cafes before hopping on the metro.
Or if you can keep your hunger at bay wait until you arrive in Old Montreal and grab breakfast at Tommy Montreal, the menu and decor are to die for.
Visiting in the morning you'll avoid the midday crowds and be able to explore in the quiet which lends a magical feel to the area.
Explore down all the little streets and alleyways, pop into the numerous galleries and boutiques that line the streets and then make your way down to the Old Port.
In the winter months, you'll find a lovely skating rink right in front of the impressive Ferris wheel with skate rentals onsite.
In the summer this is the perfect spot for people-watching.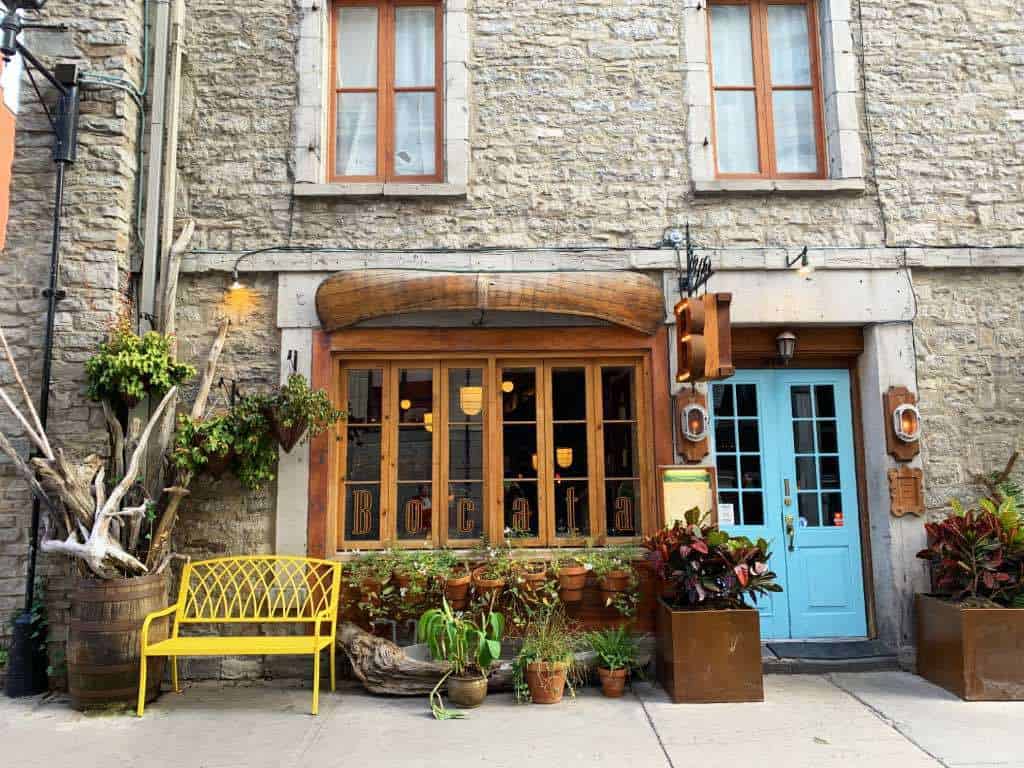 There are tons of food trucks and market stalls to be found down here and also the Montreal Science Center and IMAX cinema.
If the weather is hot enough you can take to lounging in the sun at Clocktower Beach. Although swimming is not permitted, it's a great spot to watch all the boats on the Saint Lawrence River.
If you are keen to get out on the water, consider a St. Lawrence River sightseeing cruise. You can see all the best sights of Montreal while peacefully gliding along the river.
No trip to Old Montreal is complete without visiting Notre Dame Basilica.
This Gothic revival style basilica is covered in stunning stained glass, ornate wood carvings and an altar draped in candles.
It's not hard to see why over 11 million visitors come to see the Basilica every year. For more details visit their website here.
Located just around the corner from Notre Dame Basilica, The Bank of Montreal Museum is housed in the oldest bank in the city which has now been turned into a museum housing exhibits and historical artifacts from the bank.
From Old Montreal, it's a quick metro ride under the river to Parc Jean Drapeau.
Covering nearly 290 hectares of land right on the other side of Old Montreal, this is the city's playground.
For everything from summer festivals, light shows, a race track, beaches and more.
This is the site of the Canadian Formula 1 Grand Prix which is also open outside of race days to cyclists, runners, walkers and cross-country skiers in the winter.
During the summer months, Parc Jean Drapeau plays host to several epic music festivals including the annual Osheaga and Picnic Electronik, a daytime rave happening every Sunday with fun for all.
The Biosphere is another awesome part of Parc Jean Drapeau.
This is the only museum in North America dedicated to the environment and it is housed in the coolest looking building in the city that was originally built for Expo 67.
As the sun begins to set one of the best places to see the sunset is from the top of La Grande Roue.
Built for the 375th anniversary of Montreal, this Ferris wheel is the tallest in Canada and will give you the best aerial view of Old Montreal and beyond.
You can buy your 'Skip the Line' ticket here for La Grand Roue, so you won't waste any precious time standing in a queue.
There are tons of amazing restaurants and bars in Old Montreal to discover and you'll get a whole new feeling for this neighbourhood when night falls and all the twinkly lights come on.
READ MORE: Check out these awesome things to do in Quebec!
Day 2 – Mont Royal & Le Plateau
The second day of your 3 day Montreal itinerary should definitely kick off by visiting St-Viateur Bagel & Cafe Mont Royal.
Grab a fresh from the oven bagel and coffee to go because there is a lot to see today!
St-Josephs Oratory is Canada's largest church and is a must-see in Montreal.
From the lush gardens behind the oratory, the catacombs below and the incredible interior, you'll be able to spend a few hours here.
As you stroll through the neighbourhoods making your way to Mount Royal you'll be seeing some of the city's most beautiful homes and parks.
Mount Royal Park is one of the top places to visit on your 3 days in Montreal for all it has to offer.
Walk up through Summit Woods and get some incredible views over the city and of the Olympic stadium.
Stop at Beaver Lake at the base of Mount Royal to relax and take in the view or to skate in the winter.
Or head over to Little Italy afterwards to shop and eat at Jean Talon Market, one of the oldest public markets in Montreal.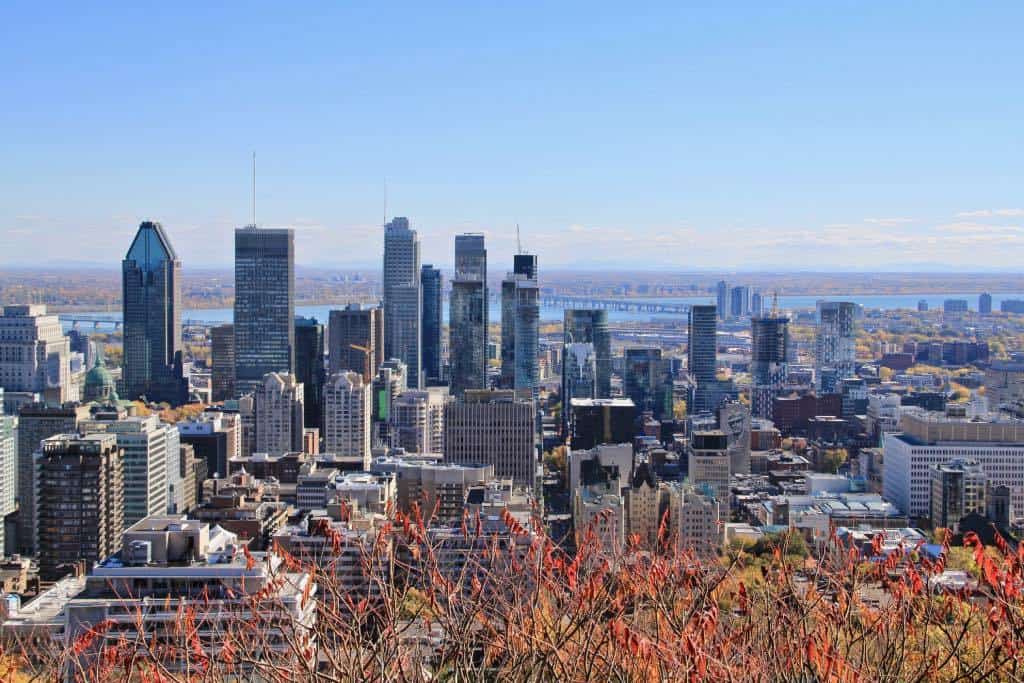 This is a great part of the city to pack a picnic and post up in the sun watching the little sailboats in the manmade lake at the bottom.
You'll find tons of trails to walk, cycle and even cross country ski at Mount Royal and the summit is the perfect place to get the best view of the city.
Hop on the bus or walk on down towards The Plateau to find one of the most photographed neighbourhoods in the city.
St-Louis Square is one of the most photo-worthy parts of the neighbourhood with vibrantly coloured Victorian homes.
The park across the street has a lovely fountain and often you'll find brilliant buskers playing music in the warmer months.
Wander around the surrounding streets and do a little window shopping for your dream home here.
You're a quick ride on the metro from The Plateau to the heart of the shopping district of Montreal.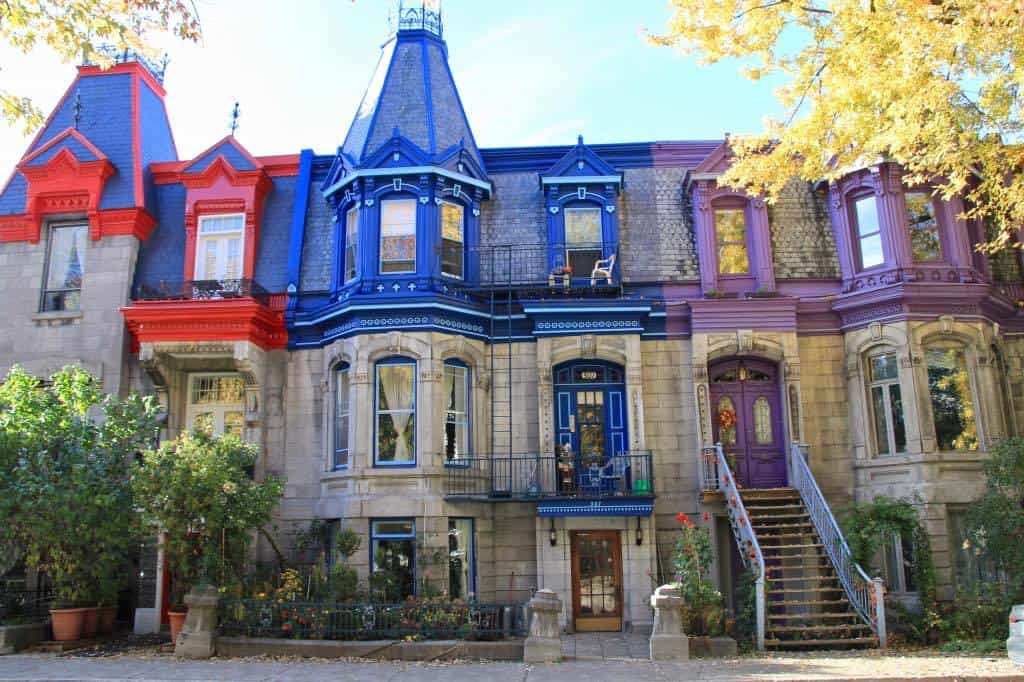 No 3 day Montreal itinerary is complete without a little shopping on St-Catherine Street.
From the major shopping quarter of The Eaton's Center to gorgeous boutiques on the side streets, this is where you'll find it all.
When you've shopped until you've dropped it's time to check out a museum or two nearby.
A classic itinerary for 3 days in Montreal will definitely include the Montreal Museum of Fine Arts, The Redpath Museum and the McCord Museum.
Find more info about the special exhibits and art galleries at the Montreal Museum of Fine Arts on their website.
You're in the perfect neighbourhood to end your day with a hockey game.
Head to the Bell Center to watch The Montreal Canadiens and if that is out of your budget grab dinner at Cage Aux Sports attached to the arena.
To find tickets visit the website here.
Whether you're celebrating the win or coping with a loss post-game the best bars to check out can be found on Crescent Street.
Choose from cozy pubs like McKibbons a night of dancing at Winnies or an awesome beer selection at Brutopia.
READ MORE: Head across the border and check out these awesome things to do in Toronto!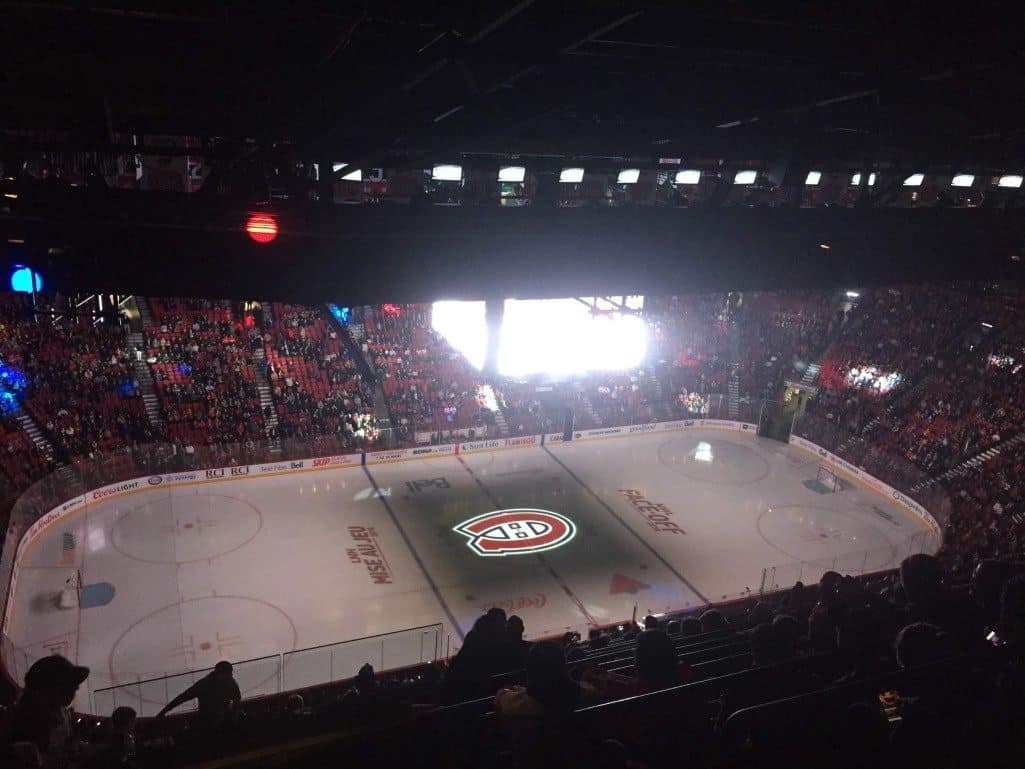 Day 3 – Olympic Park & St-Laurent
If you think you've exhausted what to do in Montreal in 3 days, better get another coffee in you and remember you still have 1 day to go.
So grab your camera, put on those walking shoes and head out for your 3rd and final day in the city.
Gardens, Street Art & A Show
On the green line of the Metro, you're aiming for the Pie-IX station to start the day.
This is where you'll find the Olympic Stadium, The Montreal Botanical Gardens, The Insectarium, The Planetarium and The Biodome.
All of these can be found in the Olympic Park area in the Hochelaga Maisonneuve neighbourhood and tickets to each location, except the Olympic Stadium can be purchased here.
Opened in 1976 Montreal's Olympic Stadium is often referred to as The Big O for its shape.
Guided tours of the stadium are offered daily and if you want to get the full experience head there to catch a Montreal Impact (soccer game).
The Montreal Tower is attached to the stadium which is the tallest inclined tower in the world and gives you an incredible view over the city for miles to see.
During the Summer months, The Esplanade here is open to market stalls, vendors and even live music on the weekends which is such a fun part of the city to visit.
The Botanical Gardens host additional seasonal events throughout the year including incredible light and lantern exhibits around Halloween.
If you can't make it for that, the 75 hectares of gardens are still well worth exploring.
With sections for a stunning Chinese Garden, an Aquatic Garden, and an Alpine garden just to name a few.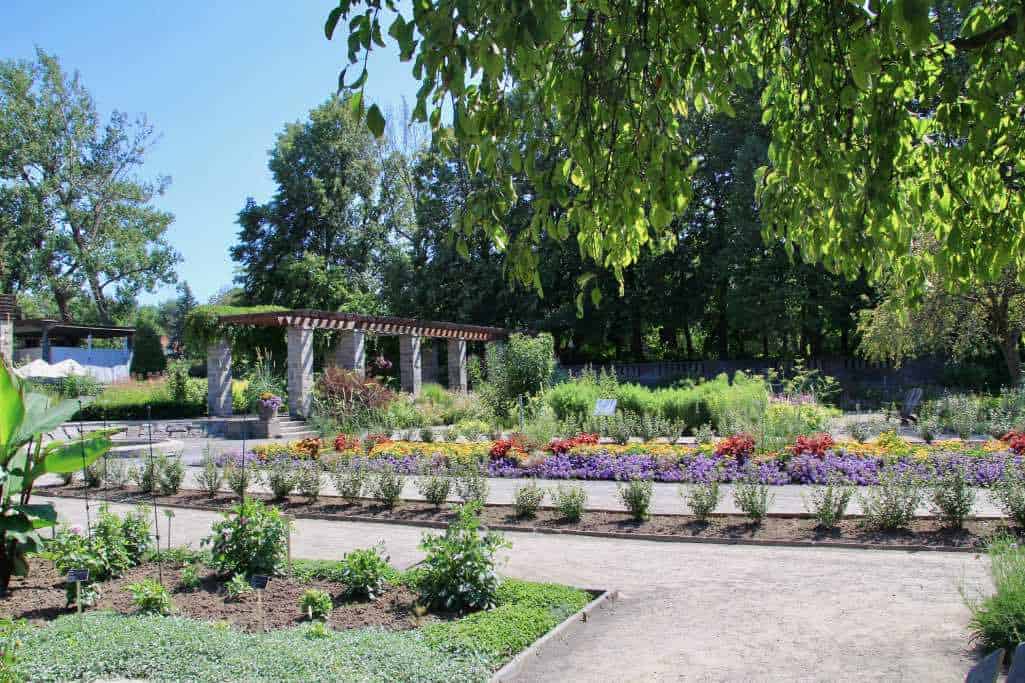 You'll likely be getting hungry after exploring Olympic Park so your next stop should definitely be St-Laurent Boulevard, aka The Main.
Head straight to Schwartz's Deli for authentic and delicious smoked meat sandwiches before exploring the neighbourhood.
The Main runs North to South and is a cultural hub in the city and home to some awesome festivals throughout the year.
MuralFest is a street art festival happening every summer, but the murals stay up all year round.
Even if you miss the event you'll still be able to check out all the amazing murals as you wander along the boulevard which is one of the longest streets in the city.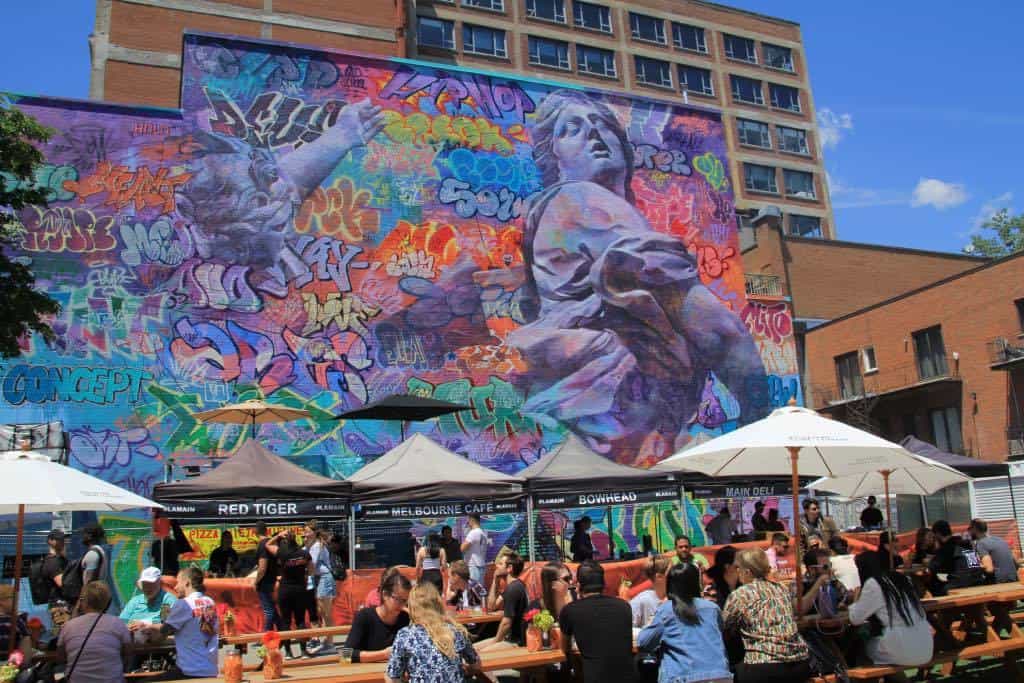 The internationally known Just For Laughs festival takes place at its namesake theatre on St-Laurent and if you can get tickets to a show here you'll be in for a treat!
Tons of great shops and galleries line the streets here, anything from cool vintage shops to trendy independent boutiques.
An entire afternoon can be spent ducking into shops, stopping for coffees and stepping into side alleys to see the incredible murals.
It won't be long before the sun starts to set on your final evening of 3 perfect days in Montreal.
The Quartier Spectacles is Montreal's major cultural and entertainment hub.
At the heart of it is Place Des Arts with a major concert hall and outdoor venues which also play host to Montreal's International Jazz Festival every summer.
There are public art displays, interactive exhibitions and light shows erected here during the rest of the year which make it just a fun place to hang out whether you're taking in a show or not.
To find out what is on during your 3 days in Montreal visit the website.
There are tons of bars and restaurants in the area to enjoy before or after the show that will be the icing on the cake to your 3 awesome days in Montreal.
READ MORE: Check out these 9 day trips from Toronto!
Montreal Travel Guide
Now that you know what to do in Montreal here is some information that will help you know the best time to visit, how to get around, where to stay and what to eat when you visit.
When to Visit Montreal
When it comes to planning your 3 days in Montreal itinerary and when you should visit there are a few things that could help in making that decision easier for you.
Winter in Montreal is known for being quite snowy and extremely cold, especially in January and February.
While this makes it feel like you've entered a winter wonderland, the snow can keep you from doing everything you want to.
But it could be great if you're looking to spend your 3 days in Montreal visiting museums, finding great cafes and maybe even doing a bit of skating.
On the flip side, summer is when the city truly comes alive. Any kind of festival you can imagine comes to Montreal during the Summer months which means there is always going to be something fun to check out.
The second best time to visit Montreal, especially if you're hoping for a quieter visit with fewer crowds, is definitely September – early November.
With the tourists gone and the students back to class the mass crowds completely disappear leaving you to explore the city covered in red and gold leaves.
Getting Around Montreal
If you're looking at how to tour downtown Montreal in 3 days then look no further than your own two feet.
Really and truly one of the best ways to get around in Montreal is on foot. Most of the neighbourhoods in the city are compact enough that on any given excursion you can tick off a few in a row.
The city is also known for its bike-sharing program. Bixi Bike stations are located throughout the city and by downloading an app you'll be able to find tons of rides around the city to get you from point A to point B just a little bit faster.
For those days when the weather just won't cooperate there is also the STM, the Metro System in Montreal.
Connecting virtually the entire city underground you can get a 1-day pass for $10 that works for unlimited trips on both the metro and bus systems.
For more, visit the STM website here.
Another option is booking this hop-on hop-off bus ticket that lasts for two days. You can hop on and off the bus at your convenience, and the bus heads to all the best tourist attractions in the city.
The best way to get around is to rent a car and explore on your own! We recommend Rental Cars, which has the largest range of vehicles for the best value on the market.
Where to Stay in Montreal
Exploring Montreal in 3 days means you'll be on the go all day, so you'll want somewhere relaxing to come back to.
Depending on the location of your accommodation you may end up being right in the heart of the action or in a quieter trendy neighbourhood.
There are dozens of different neighbourhoods to choose from all over the city.
From hotels with rooftop pools and gorgeous interiors in the heart of downtown to hostels with an awesome bar and awesome onsite amenities in Old Montreal.
Accommodation in Montreal
Whether you're travelling on a strict budget or looking for the best place to stay for a special occasion there are so many options to choose from.
The Best Hostel in Montreal – Auberge Saintlo
Auberge Saintlo is located right on the metro line making this hostel the perfect spot to base yourselves to go off and explore.
Offering a free pancake breakfast, hostel organized events every day and great dorm or private rooms to book this is the perfect place for anyone on a budget.
Occupying the top 2 floors of Place Bonaventure, Hotel Bonaventure is a great hotel for any occasion.
Being based in the cultural hub of Montreal this hotel has a variety of rooms and suites to book, a heated pool on the roof that's open year-round and even 2.5 acres of garden to be enjoyed and taken advantage of.
Best Luxury Hotel in Montreal – Ritz Carlton Montreal
Live the life of luxury during your 3 day trip to Montreal. The iconic Ritz Carlton Montreal is the epitome of class and elegance no more than a stone's throw from the Montreal Museum of Fine Art.
Several World-class restaurants exist on-site and the St-James spa which is one of the most beautiful in the city.
Best Restaurants in Montreal
When it comes to 3 perfect days in Montreal they would not be complete without indulging in some amazing food. From high-end dining to 24-hour diners the city has it all.
Budget – La Banquise
No trip to Montreal is complete without a visit to La Banquise.
Dive into 2 dozen different types of poutine (a Montreal favourite of fries, gravy and cheese curds), amazing breakfast dishes all in a fun diner atmosphere open 24/7.
Mid-Range – Jardin Nelson
Jardin Nelson is in Place Jacques Cartier in the heart of Old Montreal and has one of the best outdoor patios in the city.
Amazing atmosphere paired with a varied menu and some of the best sangria you've ever had. The perfect spot on a sunny afternoon after a day of exploring.
High-End – Garde Manger
Opened in 2006 by iconic chef Chuck Huges, Garde Manger offers high-quality french dining in Montreal.
With delicious seafood options, a long wine list and a beautiful ambiance this is the perfect place to indulge in amazing food prepared in a World Class kitchen.
DISCLAIMER: Some of the links in this article are affiliate links, which means if you book accommodation, tours or buy a product, we will receive a small commission at no extra cost to you. These commissions help us keep creating more free travel content to help people plan their holidays and adventures. We only recommend the best accommodations, tours and products that ourselves or our fantastic editorial team have personally experienced, and regularly review these. Thanks for your support, kind friend!