All of the best things to do in Edmonton, Canada in our comprehensive guide. You'll be amazed at what to do in Edmonton, no matter your travel style!
Edmonton was first established as a fur trading outpost by the English in 1795.
Because fur trading was such a lucrative industry at the time, the city was first created as a fort to protect the interests of the traders.
Edmonton also grew in importance and size throughout its history as both oil booms and gold rushes brought people and investments into the area. Over time the city became an important part of the Canadian country.
Now, Edmonton is Alberta's capital city and sits on both sides of the North Saskatchewan River.
Edmonton is rich in history and culture! There are historic buildings, art galleries, and landmarks. The city was even given the nickname "Festival City" and has over 2 dozen festivals each year.
This is one of the many reasons why Edmonton is a favourite city to visit among travellers.
READ MORE: Check out our ultimate guide to the best things to do in Calgary!
In Edmonton you can find Canada's largest Living History Museum, the largest historical park and North America's largest shopping mall.
Whether you want to visit for the culture and history of the city, or you are looking for outdoor activities to enjoy, here is our list of incredible things to do in Edmonton.
The 13 Best Things to Do in Edmonton
Edmonton is centrally located in the Canadian province of Alberta. As such, there is a mixture of outdoor adventure and culture.
Being just a short drive from nearby Calgary to Edmonton, and even closer to the incredibly popular national parks of Banff National Park and Jasper National Park, the city is a great place to continue your Canadian experience.
Additionally, because the area was such a strategic point in Edmonton's early history for its original settlers, there are many different museums to explore.
But even more exciting than the culture and outdoor activities are the locals who make up the city.
Known for bringing in some of the most creative and entertaining festivals, the people of Edmonton are very proud of the events that they host.
Whether you come to experience one of the many amazing festivals, or you want to explore the city's history and culture, make sure to add these activities to your list of things to do in Edmonton!
1) Spend Time With All Sorts of Critters at the Edmonton Valley Zoo
The Edmonton Valley Zoo is situated on the North Saskatchewan River and is home to over 350 animals.
With plenty of mammals, birds, amphibians, and reptiles in the zoo, you will get to see a variety of wildlife in a more intimate setting than most zoos.
From local Canadian animals such as the arctic wolf, bighorn sheep, and caribou to more exotic animals like a Siberian tiger and a two-toed sloth there are plenty of animals to enjoy.
There is even an elephant from Sri Lanka! Whether you love animals big or small a trip to the Edmonton Valley Zoo will not disappoint!
Address: 13315 Buena Vista Road (87th Avenue)
Hours: Daily 10 am – 4 pm
Cost: Adult (18-64) $10.95, Child (2-12) $7.75 , Youth (13-17) / Senior (65+) $9.95
READ MORE: Here's our ultimate Canada travel guide to help you make the most of your trip!
2) Enjoy a Segway Tour of the Edmonton River Valley
One of the more unique ways to go sightseeing in downtown Edmonton is by segway.
Edmonton is home to the largest urban park in Canada!
With over 150 kilometres of pathways and trails, touring the Edmonton River Valley by Segway is a fantastic way to see the city sights and over 20 city parks that line the North Saskatchewan River.
Learn about the rich history of Edmonton from a local tour guide as you meander on your segway through botanical gardens, cross over the river on wooden bridges, and stop to take in the amazing views of the Edmonton River Valley.
You'll also pass by the Alberta Legislature Building. A majestic building in the city, the Alberta Legislature Building is a stunning piece of architecture that you can also tour to learn about the government processes in the city.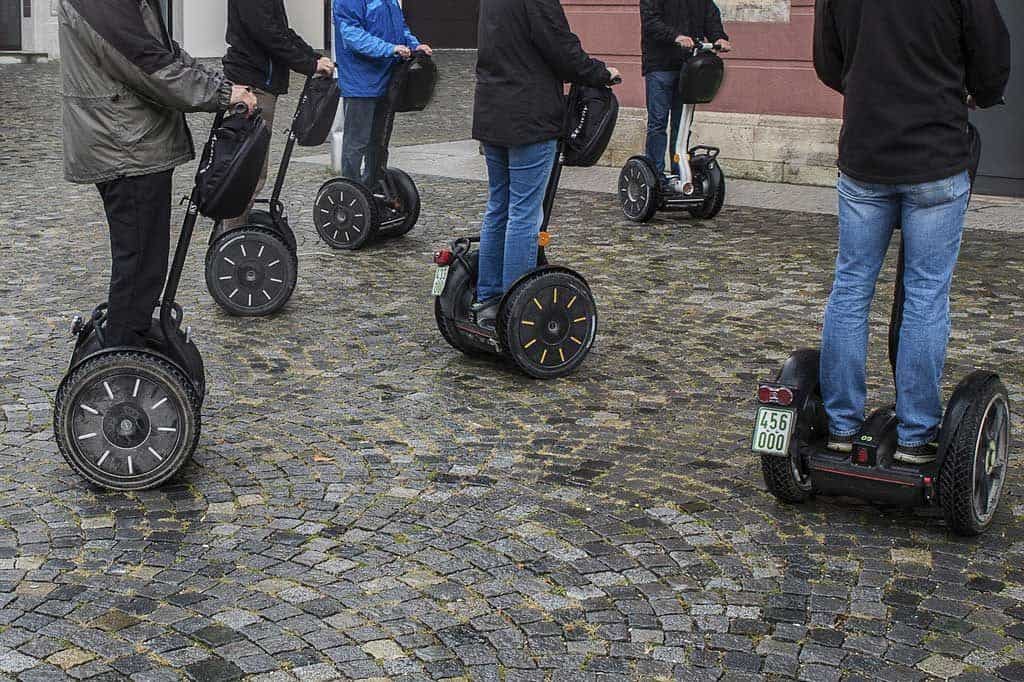 3) Take a Leisurely Stroll Through Mill Creek Ravine Park
One of the favourite parks to bike, jog, and walk by both locals and tourists is Mill Creek Ravine Park.
Get lost amidst the trees that line Mill Creek as you leave the city's urban sights behind.
The creek that runs the length of the park was named after a flour mill that was built in 1878.
A part of the Edmonton, Yukon and Pacific railway once ran the length of the creek. The railway is now the park's pedestrian and bike path.
When walking or biking the trail you will cross four wooden railway trestles, the largest one being Mill Creek Trestle at 76 Avenue. In 2004 that trestle became recognized as a Municipal Historic Resource.
Pack a picnic lunch and start your journey at Connors Rd. Stop and take a break at Historic Whyte Ave to eat your lunch and birdwatch for Chickadees, nuthatches, waxwings redpolls and pine siskins.
Continue on down to 63 Ave where the park ends and then loop back. The entire loop is around 10 kilometres.
Hours: 5 am-11 pm
Cost: Free
4) Go to One of the Many Festivals Held at William Hawrelak Park
Whether you visit Edmonton in the spring, summer, fall or winter, you will be sure to find a fun festival to attend!
There are over 50 festivals held annually so you will be sure to find a festival that suits your fancy.
From Shakespeare plays and films in the park to exploring ice castles in the winter, there's never a shortage of exciting festivals and local food and drink to relish.
After all, Edmonton prides itself on being THE Festival City!
Some festivals to keep an eye out for include: The Edmonton Film Festival (late September), Edmonton Comedy Festival (mid-October), Luminaria (December), Edmonton Craft Beer Festival (late May) and the Freewill Shakespeare Festival (June to July).
Also check out the Edmonton International Fringe Festival. Hosted in August every year by the Fringe Theatre, the Edmonton International Fringe Festival is one of the most famous arts festivals in Western Canada.
5) Explore the Alberta Aviation Museum
The Alberta Aviation Museum is one of the top Edmonton attractions.
Built in the last remaining World War II-era hangar, the museum plays host to a variety of aeroplanes throughout history.
Don't let its wonky hours throw you off. If you are into aerospace history this museum is definitely worth a visit.
With more than 30 aircraft on display, many restored from the ground up, you will gain an understanding of the region's flight history and the role that these planes played throughout the development of Alberta.
The Alberta Railway Museum is another interesting place to visit. If you're interested in trains and ground transport in addition air transport, head to the Alberta Railway Museum after the aircraft museum!
Cost: Adults $15 / Students $12 / Youth $10.50 / Children (6-12) $9.50
Hours: Open Daily 10am – 4pm (close at 5pm on weekends and during the summer months)
Address: 11410 Kingsway NW
READ MORE: Don't miss this list of the top Banff attractions if you're heading that way (and you should)!
6) Shop (or Play!) at the Largest Indoor Mall in North America
One of Edmonton, Canada's points of interest that is most unique is the West Edmonton Mall.
Dubbed "North America's Largest Mall," the West Edmonton Mall boasts over 20,000 parking spots to accommodate huge crowds of visitors.
Aside from offering dozens upon dozens of high-quality name brand shops, the mall is more of a theme park than a shopping centre.
Attractions include World Waterpark, Galaxyland, Marinelife, Iceland, Dragon Tale, Alien Outbreak and both bowling and a mini-golf course.
Visiting the West Edmonton Mall could be a trip in itself as you can also book hotel rooms in the mall itself!
Whether you've come to play, shop or simply take in the massive size of the West Edmonton Mall itself, you will find plenty of things to do to keep you entertained!
Hours: Daily 10 am – 9 pm
Address: 8882 170 Street NW
READ MORE: Find out tons of things to do in Quebec City!
7) Go for a Ride on the High Level Bridge Streetcar
Take a ride on a historic streetcar and see views of Edmonton you won't find elsewhere.
The High Level Bridge Streetcar is the world's highest streetcar river crossing!
Travel from downtown Edmonton to the historic Old Strathcona district.
The trolleys are over 100 years old and each has its own history.
Buy a round trip pass and try to catch a ride in each trolley and then visit the streetcar museum for free!
Edmonton #1 is the original trolley that left service in 1951. It wasn't until 1979 when the trolley was brought back into service and trips across the high level street bridge began.
The streetcars are run by local volunteers who do a great job providing information about Edmonton and the history of the streetcars and area.
Make sure to carry cash with you as they don't accept cards.
Cost: Age 6 and over: $7.00 (round-trip) or $4.00 (one-way) Family: $25.00 (round-trip)
8) Enjoy the Great Outdoors at Elk Island National Park
If the great outdoors is more your style then plan to visit Elk Island National Park.
It is located just 35 minutes east of Edmonton.
Originally founded in 1906 as an Elk refuge, it was Canada's first wildlife preserve.
Though it started as a refuge to protect one of the last big elk herds in the area, Elk Island National Park became an important area for the protection of American Bison.
It is home to over 700 Bison, 400 plain Bison and 300 wood Bison.
There are many different species of mammals that you can see there including, mule deer, whitetail, moose, coyote, lynx, beaver, porcupine and sometimes black bear and wolves.
You can also find over 250 bird species.
With over 80 kilometres of trails, hiking is one of the best things to do in Elk Island, you may even come upon a herd of Bison or Elk!
The park is a part of the Beaver Hills Dark Sky Preserve, making it a great place to stargaze!
Elk Island National Park is open 24hrs so no worries about when to arrive, the later the better.
You may even catch a glimpse of the Northern Lights while there!
There are numerous outdoor activities you can do while there.
From cross country skiing and ice skating in the winter to windsurfing, kayaking and swimming in the summer!
Great fun is for sure to be found by all in Elk Island National Park.
9) Do Some Hands-On Science at the TELUS World Of Science
The TELUS World of Science is a non-profit interactive facility with the goal of inspiring people to embrace science as a way to change the world.
With the slogan, "celebrating science," the facility has a variety of activities and entertainment designed to make science fun.
While some of these are seasonal activities that rotate periodically, plan to experience the RASC Observatory, IMAX movies and interactive science experiments.
There are also exhibits on Marvel's Universe and the real universe via a space-themed gallery.
Whether you are travelling with kids or are a kid at heart, the TELUS World of Science should definitely be on your list of what to do in Edmonton.
Cost: Adults $33.95, Child (3-12) $25.25, Youth (13-17) / Senior (65+) $29.95
Address: 11211 142 Street NW
Hours: Open daily 10am – 5pm
READ MORE: 15 amazing things to do in Winnipeg.
10) Visit the Royal Alberta Museum
If you want to learn about Alberta's rich history and culture, then a visit to the newly designed Royal Alberta Museum is a must!
The Royal Alberta Museum vividly tells the story of its people, culture and history and gives visitors an experience they won't find anywhere else.
There are natural and human history exhibits narrating the history of Alberta's landscapes, people and animals.
You will also learn about the Indigenous, whose history can be found in all six human history halls.
Children will enjoy the museum as well with a hands-on exhibit and a bug gallery.
Address: 19810 103a Ave NW
Hours: Open daily 10am – 4pm (Closed Tuesdays)
Cost: Adult (18-64) $21, Child (under 6) Free , Youth (7-17) $10 Senior (65+) $14
11) Watch the Oilers Play at Rogers Place
A rather fun and unique Edmonton activity is to watch the Oilers play professional hockey at Rogers Place arena.
Founded in 1971 by W.D. Hunter and Dr. Chuck Allard, the Oilers are one of the first twelve professional hockey teams.
The Oilers dominated the Stanley Cup in the 1980s, winning a record (tied only with the Penguins) 5 championships.
They haven't won since, but don't let that stop you from seeing a game!
In the 2016/17 season, they made the playoffs and have since drafted some of the best hockey players.
Rogers Place is a newer arena, built in 2016.
12) Take a Step Back in Time at Fort Edmonton Park
By far, one of the top things to do in Edmonton is to visit Fort Edmonton Park. Fort Edmonton is Canada's largest living history museum.
The park has four areas representing the history of Edmonton from the fur trade in 1846 to the Metropolitan era in 1920.
In the summer you'll be entertained by costumed historical actors that walk each street. The different areas include both original and rebuilt structures.
The idea of Fort Edmonton Park began when the remains of the original fort was demolished in 1915. The fort has since been rebuilt to scale and went on display when the park opened in 1974.
At the entrance, you will board a steam train that will take you to the fort.
From there you can walk to each street representing a different era, 1846 street, 1885 street, 1905 street and 1920 street.
There's not just history at this park. There are many events held there annually, including live theatre and concerts at the Capitol Theatre.
Grab a tasty beverage at the Mahogany Room Bar on 1920 street before going to Midway to ride the Ferris Wheel or Carousel or play a round of miniature golf at Tom Thumb.
There is plenty of fun to be had at Fort Edmonton Park!
Currently Closed for Renovation but is reopneing in May 2022! Check the website for updates.
13) Tour the Art Gallery of Alberta
The Art Gallery of Alberta is one of the top attractions in Edmonton.
The building itself is super modern and unique, and the art gallery inside hosts an impressive display of visual arts.
You'll find lots of special exhibitions showcasing local artists, as well as art displays that include a wide variety of genres and styles.
If you're a fan of art, the Art Gallery of Alberta is a must do!
Address: 2 Sir Winston Churchill Square
Hours: Daily 11am – 5pm, close at 7pm on Thursdays, Closed Mondays/Tuesdays
Cost: $14 General Admission, $10 students/seniors
Edmonton Travel Guide
Now that we've shown you all the best things to do in Edmonton, and the top Edmonton attractions, it's time to find out where to stay and where to eat!
We've put together this mini travel guide to help you make the most of your time in the city.
Best Accommodation – Where to Stay In Edmonton
After you have figured out what to see in Edmonton, now it's time to determine the best place to stay the night.
Canada is not the most affordable country in which to travel.
However, like many places around the world, there are always options for the budget-savvy traveller.
Accommodations in Edmonton will range from traditional hostels to a variety of choices in hotel quality.
Each will offer you the opportunity to enjoy your time wandering through the city whilst knowing that you have a great place to return for the night.
With that said, these are a few of the best options you will have as you spend time in Edmonton sightseeing and exploring the city.
The Best Hostel In Edmonton – HI Edmonton
HI Edmonton is a unique hostel located in a quiet neighbourhood close to the historic district of Old Strathcona.
The area offers up plenty of art, culture and entertainment making this hostel one of the best places to stay!
HI Edmonton is also close to the River Valley where there is a hiking and biking trail system.
HI Edmonton offers both private and dorm-style rooms. Dorm choices are for either male or female and you can choose between 2 or 8-bed dorms.
There is a private courtyard with a BBQ and picnic tables. Other amenities include free wifi, a great common area with a ping pong and pool table, laundry services and security lockers.
Guests that have stayed here rave about the friendly staff, cleanliness, and being close to shops and nightlife.
Prices start at $26 for a shared dorm and $58 for a private room.
Best Budget Accommodation For Couples – Comfort Inn Edmonton West
Although part of a large chain hotel, the Comfort Inn Edmonton West offers a great value in terms of affordability and amenities.
There is a variety of room selections, ranging from a single king or queen bed to double beds.
Each room comes standard with a kitchenette complete with a microwave, coffee, refrigerator and minibar.
Additionally, rooms and common areas have fast WiFi available for guests and satellite/cable television.
There is a restaurant on-site or you can splurge on room service as well.
When you stay at the Comfort Inn Edmonton West you are within walking distance to key attractions such as Deep Sea Adventure, West Edmonton Mall and the World Waterpark.
Or request a taxi or Uber ride to take you to nearby sites.
With rates starting around USD$60 you won't be able to beat the value for the location.
Best Mid-Range Hotel – Staybridge Suites West Edmonton
For those looking for a great value while exploring the Edmonton attractions, the Staybridge Suites West Edmonton is everything you could need or want.
Rated high for its location, cleanliness, comfort and service there is very little more that you could ask.
All rooms include free WiFi and a complimentary breakfast. The hotel boasts a bar (serving free cocktails Tuesday – Thursday evenings), an indoor swimming pool and gym facility.
You'll also find a kitchenette in your room with a microwave and refrigerator.
If you need to get a little work done on the side, each room also comes with a desk and workspace and the hotel has business amenities through its business centre.
If you are travelling with your own vehicle, parking is free and many of the best things to do in Edmonton are within minutes away.
Or you can arrange for an airport shuttle or taxi services throughout the city.
And a bonus is that the hotel is pet-friendly so if you are travelling with your fur baby you can plan to stay here without worrying about sneaking him or her in!
Rooms range in price and start at just over USD$100. But you will have more of an independent living sort of feel, rather than a hotel feel, as each room is a studio with a variety of bed options.
You won't feel more comfortable with the price anywhere else in the city!
Best Luxury Hotel In Edmonton – Fairmont Hotel Macdonald
If you want to feel like royalty during your stay in Edmonton, the Fairmont Hotel Macdonald gives you the opportunity to splurge a little without breaking the bank.
Exceptionally rated for room comfort and cleanliness, and location.
Situated in the city centre, the top things to do in Edmonton are literally right outside your front door.
But if you'd like to stay at the hotel and relax, this is one of the best options you have. With a garden, hot tub, sauna and steam room within the hotel you can expect to set back and enjoy your stay.
And if you'd like to throw in a little exercise, there's a fitness centre and indoor pool within the hotel and hiking paths just outside.
The Fairmont Hotel Macdonald also features a restaurant and bar.
It also offers room service if you aren't in the mood to go out or want to relax in your room watching television after a long day exploring Edmonton.
Rooms start around USD$160 and offer you the opportunity to book queen, king or double beds in each room.
You can also upgrade to a king suite if you're feeling particularly luxurious!
Best Restaurants in Edmonton
As the capital of Alberta, downtown Edmonton has a lot of variety in the types of cuisine offered.
From traditional Canadian dishes like poutine to international flavours of all kinds, you won't need to worry about what to eat while you are busy enjoying the top things to do in Edmonton.
Budget: La Poutine
You can't say you've visited Canada without enjoying a delicious meal of poutine.
As its name suggests, La Poutine specializes in offering affordable versions of the potato, cheese and gravy dish for all manners of preference.
Mid-range: Homefire Grill
The Homefire Grill offers affordable traditional Canadian and Native American meals with key local ingredients such as bison and elk.
With affordable prices, you can enjoy a tasty beer or cocktail while enjoying the atmosphere of the restaurant.
High-End: RGE RD
With specialties such as duck, bison, pork bellies and perogies you are stepping into fine dining at its best with a meal at Rge RD.
You will certainly be paying top dollar for what you get. But if you are looking for a fantastic dinner with exceptional service in a great atmosphere, you won't be disappointed here.