Everything you need to know to discover the best Banff hikes in our ultimate trekking guide!
The Banff National Park may just be the most beautiful place in all of Canada, and if you love getting outdoors as much as I do, then you'll absolutely need to have a read of this guide to the best hikes in Banff!
I have to admit, the first time I went to Canada I fell instantly in love. It was like nothing I had ever seen before.
Mountains pierced the sky as snow glistened on top while steep slopes of lush forests met with fields of wildflowers as waterfalls with an endless supply of crystal clear water cascaded past me.
Hiking in Canada is becoming increasingly popular, even more so in Banff National Park, as it is becoming the 'go to' place for those seeking a heavy dose of nature.
My comprehensive guide to the best hikes in Banff includes these epic trails:
Bow Falls Trail
Brewster Glacier Skywalk
Karst Spring Hiking Trail
Redearth Creek to Shadow Lake
Sunshine Meadows
Johnston Canyon
Wapta Icefield Hike
Parker Ridge Trail
Tunnel Mountain
Sulphur Mountain Trail
Stanley Glacier Trail
Cascade Amphitheatre
Bourgeau Lake and Harvey Pass
Centennial Ridge Trail
Cory Pass and Mount Edith Circuit
Mount Assiniboine
Don't miss our complete list of the best things to do in Banff while you're in town.
The Best Banff Hikes for Every Traveller
Why is Banff the place to go for hiking and trekking you may be asking?
Banff is literally like a slice of heaven on earth…that might be the best way to describe this place as lakes of turquoise water reflect perfect mountains upon their surface while trails endlessly take you from waterfall to waterfall via blankets of wildflowers.
If you like a thing called 'switchbacks' then Banff is the place for you as they are bound to test out your hiking abilities.
I have put together a comprehensive list of hikes in Banff, and hikes around Banff National Park, ranging from a simple 2-hour stroll to the more demanding full-day treks which can be found within the park and its surrounds.
Best Time to Go Hiking in Banff
It's always nice to go hiking in good conditions such as blue skies and nice cool breeze, but the problem with this is that trails and huts often become severely overcrowded.
High season runs from June to August, where you can expect a whole lot of sunshine and warm weather.
Shoulder season is the best time to go hiking in Banff National Park as you will find temperatures a few degrees below of what you would experience during the high season.
As an added bonus accommodation is slightly cheaper and easier to book for most places like the town of Banff, while you are less likely to see hordes of people on trails in the national park giving, you a bit more peace.
For those who love the snow and colder conditions, some hikes are open all year round. Low season begins in November and ends in April.
Hiking in Banff National Park is something that can be enjoyed all year round so it's completely up to you when you go or how you want to enjoy your time on the trails of Banff.
The Best Day Hikes in Banff
There's no shortage of day hikes in Banff National Park, and you could literally spend years trying to explore all of them.
However I'm going to take a guess and say you probably don't have years. So in that case let me narrow down some of the best Banff day hikes for you.
Bow Falls Trail
Distance – 3 kilometres
Start / Finish – Bow River Bridge
Time – 1 to 2 hours
Difficulty – Easy
Bow Falls Trail is rapidly becoming a popular hike in Banff and that's because this place is just incredible!
Most of Bow Falls Trails is an easy stroll along the calm, emerald Bow River with a backdrop of native pines and rocky peaks.
There are so many photo opportunities along this trail; the walk for some may take longer than the recommended 1 hour if you are taking photos along this stunning Banff hiking trail.
At the end of the trail, Bow Falls makes itself prominent but don't expect anything too big. Bow Falls is only 9 metres high but in winter, things freeze over making it even more spectacular!
Brewster Glacier Skywalk
Distance – 500 metres
Start / Finish – Columbia Icefield Glacier Discovery Centre
Time – 1 hour
Difficulty – Easy
This may be one of the hikes on this list that'll get your legs shaking (if you are scared of heights) but don't let that put you off, the views which can be seen from along the Brewster Glacier Skywalk are seriously incredible.
The platform puts you right over the Sunwapta Valley, which gives life to stunning lakes, forests of pines and some of the most majestic mountains you will see in Canada.
If you are pressed for time while in Alberta and want to catch a glimpse of what Alberta is all about, take this stroll.
This is one of the easy hikes in Banff, and is sure to give you a buzz whether it is the shear height or the view of the mountains you are going to see!
READ MORE: Once you're finished hiking, check out the official NOMADasaurus guide on how to design the best Banff itinerary!
Karst Spring Hiking Trail
Distance – 9.5 kilometres
Start / Finish – Mount Shark trailhead
Time – 4 to 5 hours
Difficulty – Easy
Just another one of those hikes where mountains and lush forest dominate the Canadian landscape which has often being described as the most scenic place in North America.
This is one of the more easy hikes near Banff that you can try, but sometimes easy is a good thing.
Karst Spring Trail is full of goodies such as wildflowers (Canada is full of them) to endless forest trails which leads to Karst Spring that originates from Shark Mountain where water flows as a warm trickle.
This is one of those hikes that is a must during the winter months due to the magnificent ice sculptures that form to the sides of the trail.
Redearth Creek to Shadow Lake
Distance – 14.5 kilometres
Start / Finish – Redearth Creek carpark to Shadow Lake Lodge
Time – 3.5 to 4.5 hours
Difficulty – Easy
Not one of the most popular hikes in Banff, meaning that you get a bigger dose of nature all to yourself!
The Redearth Creek to Shadow Lake is an impressive 14.5km slog through forest trails where glimpses of the 3,311 metre Mount Ball peak in and out of the tree line as you get closer and closer to Shadow Lake.
What makes this hike so awesome is that you do not need to do it all in one day instead there is the option to stay at a true Canadian log cabin called Shadow Lake Lodge which is a series of cabins surrounded by stunning forests.
After sunrise, make your way back the way you came. Despite the lack of people on this trail it could be considered as one of the best day hikes in Banff National Park.
Sunshine Meadows
Distance – 8 kilometres return
Start / Finish – Sunshine Village
Time – 2 hours
Difficulty – Easy
This hike definitely has the best name out of all the hikes I have seen…anywhere. Sunshine Meadows lives up to its name with fields of alpine wildflowers to Golden Larches reaching from the lakes right to the alpine line in winter.
Want an easy day hike near Banff? Sunshine Meadows is the one!
Sunshine Meadows is a hike you will just want to take your time with as there is a pretty good chance you will be mesmerised by Mount Assiniboine, which a spire type mountain is reaching a staggering 3,618 metres.
It's pretty much guaranteed that this will be the most scenic hike you will do in Banff National Park.
Johnston Canyon
Distance – 5 kilometres return
Start / Finish – Johnston Canyon parking lot
Time – 1.5 to 2 hours
Difficulty – Easy
This short hike in Banff can be used as an information walk to gain knowledge on the area or can be used as an access hike to some of Banff's hidden waterfalls which in winter are quite popular with ice climbers.
The Johnston Canyon hike winds its way one of the most photographed places in the world…you know that massive cave with a big chunk of rock surrounded by cascading water?
Well if you don't know what I am talking about then you must see this place for yourself, its breathtaking!
Johnston Canyon is truly amazing and is even better during the off peak season. If you could only do one hike near Banff this would be it!
Wapta Icefield Hike
Distance – 13 kilometres
Start / Finish – Numtijah Lodge to Peyto Lake
Time – 3 days
Difficulty – Moderate
One of a few hikes in Banff that will allow you to actually go and stand on an icefield as the majority of this trek consists of snow trails and ice which makes it all more the fun!
What makes this trek even more stunning is the surprise that you get towards the half way mark.
As you ascend through stunning forests you eventually find yourself surrounded in an alpine zone completely surrounded by glorious mountains.
At the top of the trail is Bow Hut sitting at an altitude of 2,350 metres where you can stay the night or longer if you plan to continue towards Peyto Hut.
From Bow Hut there are a few short side treks which you can take including Polaris Peak which offers fine views of Canada's finest mountains making this on of the best Banff hiking trails that this amazing place has to offer.
If you decide venture on to Peyto Glacier, you're going to need experience with crampons and mountaineering equipment.
If you have mountaineering experience, you can continue onto Peyto Glacier followed by a tricky traverse leaving you at Peyto Lake.
Parker Ridge Trail
Distance – 5 kilometres
Start / Finish – Parker Ridge trailhead
Time – 2 hours
Difficulty – Easy to moderate
The Parker Ridge Trail although not very long and demanding is a must do hike if you are in the northern areas of Banff National Park.
Why so? The Parker Ridge Trail is full of switchbacks (sharp turns in the track) which are surrounded by patches of wildflowers often left with old patches of ice scattered throughout.
Banff hikes don't get much better than the Parker Ridge Trail.
Once you leave the forest, you enter the higher alpine zone and make way for a ridgeline which is fascinating with the harsh environment that it is.
The higher you climb the chillier it can get so always be prepared for mountain climates as they can change quickly.
At the end of the trail, views allow you to see Saskatchewan Glacier, which is a massive 9 kilometres in length that feeds into the North Saskatchewan River.
And if you are lucky enough, the view point allows you to see Castleguard Mountain and an array of smaller peaks which is quite a beautiful spot to capture stunning sunset and sunrise photos.
Definitely bring your camera on this stunning Banff hike.
Tunnel Mountain
Distance – 4.8 kilometres
Start / Finish – St. Julien Road at the Banff Centre
Time – 1 to 2 hours
Difficulty – Moderate
A relatively easy hike which may spur your interest in what the best hiking trails in Banff National Park are all about. With a few steep climbs and switchbacks, this small hike takes you to an epic view over the town of Banff while producing stunning views of Mount Bourgeau.
If you are thinking of getting a bit closer or want to summit Mount Bourgeau, opt for the hike that takes you to Harvey Pass which is listed a bit further down in the article.
Sulphur Mountain Trail
Distance – 11 kilometres return
Start / Finish – Banff Upper Hotsprings Parking Lot
Time – 4 hours
Difficulty – Moderate
Want some stunning views of Bow Valley? This beauty of a trail takes you right to the spot but first you have to take on switchback after switchback as it weaves its way up the mountainside through forest and alpine sections to an altitude of 2,451 metres.
Sulphur Mountain trail is one of the best hikes in Banff National Park that gives you stunning views all year round of The Bow Valley.
Once you are at the top, be sure to visit the Cosmic Ray Station which is a World Heritage Site followed by a short stroll along a boardwalk which explains the importance of the mountain and the man behind the Cosmic Ray Station.
When it comes to Banff walks that are decent and beautiful, this one is a must.
Stanley Glacier Trail
Distance – 10.5 kilometres
Start / Finish – Stanley Glacier carpark
Time – 3 hours
Difficulty – Moderate
I couldn't help but include this one when talking about where to hike in Banff!
A stunning 3 hour hike through pristine forests leading to High Mountain trails. The Stanley Glacier Trail has since recovered from terrible wild fires which occurred both in 1993 and 2003.
One of the factoring things leading to wildfires in Canada is climate change. The warmer and dryer our National Parks get, the higher the chance of wildfires.
What makes this trail so unique is Stanley Peak itself which is basically the point at which you are hiking to but to get there you have to endure quite a few switchbacks and loose rocky trails which makes it all more the fun.
I mentioned earlier how this particular trail has been affected by wildfires so there is an opportunity to see how these forests recover from such natural disasters.
Guidebooks say that the trail is 10.5 kilometres return but there are certain sections of the trail to which you can just keep meandering on until you reach the tip of the glacier (at a safe distance).
The further you go along the trail the harder it gets but when it gets harder, usually things become excitingly fun! Well worth checking out this one on the list of best hiking trails near Banff.
Cascade Amphitheatre
Distance – 15.5 kilometres return
Start / Finish – Mount Norquay ski area
Time – 4 to 6 hours
Difficulty – Moderate
If you are keen to get some solid kilometres under your feet, hit the trail to the Cascade Amphitheatre which places you at the heart of towering limestone cliffs which are met by meadows of wildflowers.
There are a few options on extending the hike and if you are the really adventurous type definitely have a crack at Cascade Mountain which is 2,998 metres in height making this particular trail one of the best day hikes in Banff.
If you plan to head to the summit, make sure to be well prepared as some of the ridges can be quite narrow with a few sketchy drop-offs otherwise opt to sit back and watch the sunset around you.
Bourgeau Lake and Harvey Pass
Distance – 14.5 kilometres return
Start / Finish – 13 kilometres west of the Mount Norquay Interchange on Trans-Canada Highway
Time – 5 to 6 hours
Difficulty – Moderate
This hike is another opportunity to view the majestic Mount Assiniboine from a whole new angle. Harvey Pass is a culmination of forested tracks, lush meadows of wildflowers, crystal blue lakes such as Bourgeau Lake and a fair few steep sections which eventually take you to Harvey Pass.
Despite taking 5 to 6 hours to complete the return trip, why not set out during early morning for one of the best sunrises from Harvey Pass?
If you are looking for a bit of inspiration and want to know what Banff National Park hiking looks like, there is a guy by the name of Paul Zizka who is guaranteed to have you book a one way ticket to Banff and get you out exploring Banff's awesome trails after seeing the images he produces.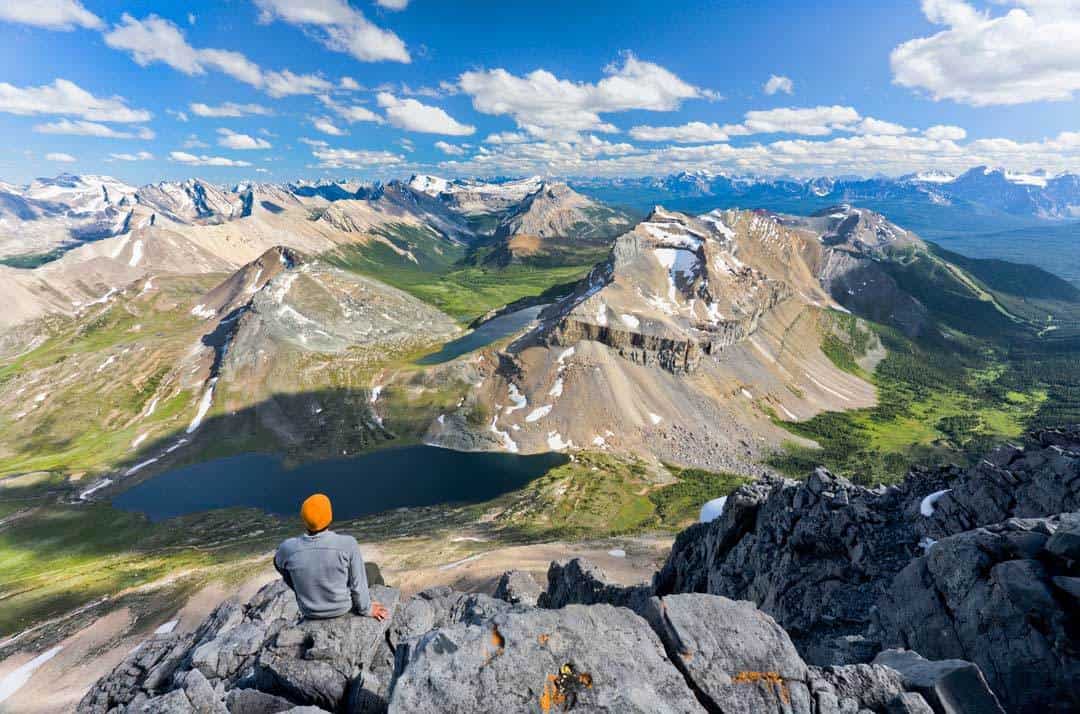 The Best Difficult Hiking in Banff National Park
Some of the below hikes are more difficult and take much longer.
Depending on the season you decide to attempt this treks there is always an option to camp or stay in huts if available.
I have listed the below hikes as 'multi-day' even though they are under 12 hours (apart from Mount Assiniboine).
Centennial Ridge Trail
Distance – 16 kilometres
Start / Finish – Ribbon Creek Trailhead
Time – 10 hours
Difficulty – Hard
Looking at this place gives you the feeling that you are surrounded by a cathedral of snow covered mountains and you would be quite correct.
The Centennial Ridge Trail is one of Canada's highest ridge treks taking you over 16 kilometres of meadows full of wild flowers to alpine environments.
Hiking the Centennial Ridge Trail is certainly going to leave you wanting more trail time under your feet and I don't blame you if you have this feeling, Centennial Ridge Trail is one of the most appealing treks you can do in Alberta and probably the best Banff day hike.
This is quite a challenging hike especially for your knees with lots of loose rock and a thing called 'switchbacks' which are like sharp corners, one after another so watch out for those! Other than that, this hike is truly captivating from start to finish and is a must do hike in Banff!
Cory Pass and Mount Edith Circuit
Distance – 13 kilometres return
Start / Finish – The Fireside Picnic Area
Time – 5 to 6 hours
Difficulty – Hard
Getting to Cory Pass can be a bit tricky so come prepared and make sure you are up to the challenge with nearly 1,000 metres of elevation gain over the course of 5 hours.
Cory Pass can turn into a scramble in some parts followed by long lengths of rocky, loose tracks which makes it all more the fun.
From Cory Pass you can choose to return the same way you came or descend down to the Mount Edith Circuit Track to complete your hike in Banff National Park from a different point to where you started.
Mount Assiniboine
Distance – 30 kilometres return
Start / Finish – Mt Shark or Sunshine Meadows
Time – 12 to 15 hours from Hind Hut
Difficulty – Expert
Before starting this section, please keep in mind that climbing Mount Assiniboine is some serious stuff and should NOT be taken lightly, previous experience in the mountains is a must.
Climbing Mount Assiniboine can be done through the Association of Canadian Mountain Guides who are qualified mountain guides.
The climb begins at Hind Hut which is near the North Ridge of the mountain which requires a series of difficult ridge climbs although not technical.
The main components of this climb are trekking through steep gullies, rock climbing some sections followed by the summit ridge taking you to an altitude of 3,618 metres.
It's a difficult one, but definitely one of the best hikes near Banff if you have the experience to attempt it!
Banff Hiking Tips
Hiking in the mountains is probably one of my most enjoyable things to do like ever but I always go prepared even if I plan to go on a small 5 to 10 kilometre hike.
Mountains are notorious for changing weather which at one moment there can be clear skies with gorgeous temperatures and the next moment it could be snowing or you could become inundated with thick fog and mist.
Here are a few tips to ensure your experience in the mountains is a safe one!
Invest in an Eperb which is a small device that in an emergency you can activate to let emergency services know your location.
Write a note or text someone on whereabouts you are going with a date, time and location.
Always carry a sufficient supply of water and snacks.
Pack an emergency blanket. You know those things that look like tin foil? They are brilliant at keeping you warm at night when things get chilly.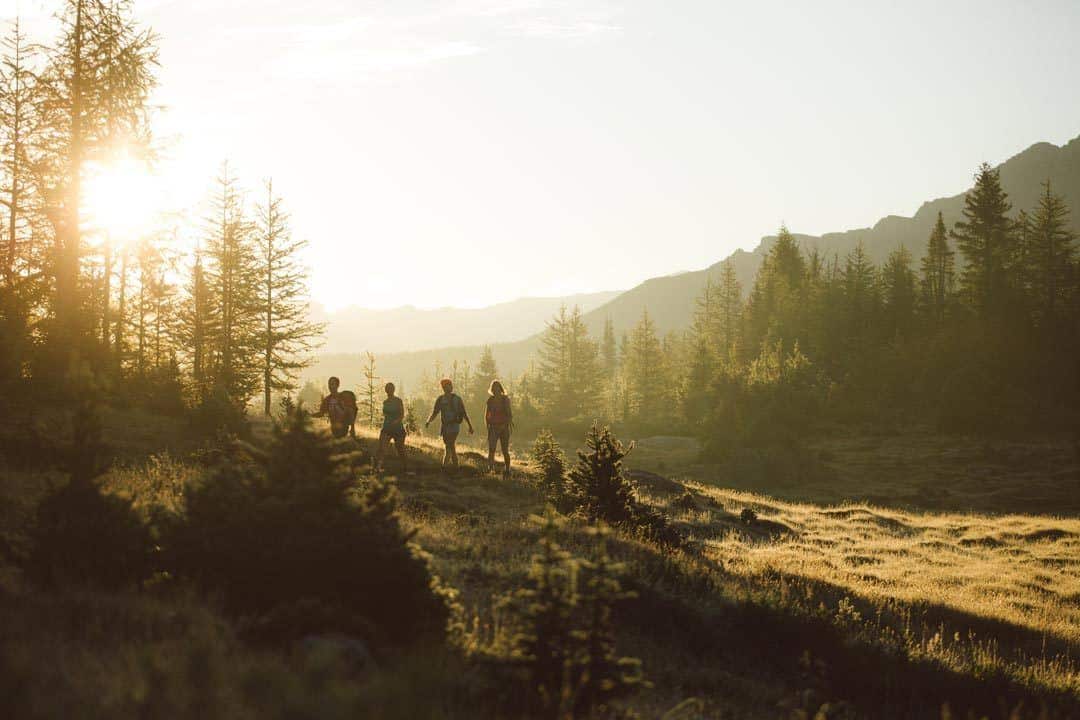 Packing List for Banff Hikes
From short 1 to 2 hour hikes to overnight to multi-day hikes, it is always important to sit down, write a list and discuss what you will need for your adventure well in advance of heading out.
The below list is based on hiking in the colder months and remember, when hiking in mountainous and alpine areas, weather can change almost instantly so it's better to be marginally over prepared than to be underprepared.
Tent – sometimes huts can be full so a light and compact tent is ideal
Sleeping bag and silk liner
Waterproof hiking boots
Hiking pants and shorts
Breathable shirts
Down jacket for cold nights
Wind breaker jacket
Emergency blanket – super compact sheet that looks like tin foil
Rain jacket
Thermals both top and bottom layers
Lots of socks – you can never have enough when hiking
Underwear
A hat for sun protection (UV is stronger the higher you are up)
Buff for protection from the wind and sun
Hiking poles come in handy when hauling larger loads to help distribute weight
Camera gear – pack extra batteries and memory cards
Portable power packs including portable solar panel, GoalZero products are the best
Emergency beacon – you never know when one of these will come in handy
Portable gas burner with compact pots and pans
Cutlery
Coffee cup
Enough food for the hike (I like to throw in a few extra meals in case the hike is extended)
Water – 2-3 litres must be on you at all times
Going Beyond The Banff Hiking Trails
Banff is a mecca for serious mountaineers, alpinists and rock climbers and there's almost certainly a few of you reading this post looking for the next extreme adventure.
All year round, Banff National Park boosts amazing trails to run, mountains to climb even waterfalls when they freeze over.
If you are considering doing anything that is beyond the trail itself, always check with local guides before heading out on an adventure.
I have listed 3 links which are derived from Parks Canada to which relate to warnings and trail conditions within Banff National Park.
[box] That's it for my list of the best Banff hikes! If you found this article useful, or have some other top hikes in Banff you want to add, leave a comment below and let me know![/box]