On our recent travels around Africa we spent a week at Pangolin Chobe Hotel, which is globally renowned for being the best African safari for photographers. But does it deliver? Dive into our Pangolin Photo Safaris review as we unravel the essence of this luxury experience and discover what makes Pangolin so unique.
For many, an African safari sits at the pinnacle of their bucket list – a dream woven with the golden threads of sunset savannahs, the roaring crescendos of lions at dawn, and the majestic procession of elephants against the backdrop of an acacia skyline.
While the raw beauty of Africa is undeniably breathtaking, capturing these fleeting moments through the camera lens, immortalising them in a photograph, is no easy feat.
The elusive dance of light and shadow, the unpredictability of wildlife, and the vastness of the landscape can pose formidable challenges even to seasoned photographers.
Enter Pangolin Photo Safaris.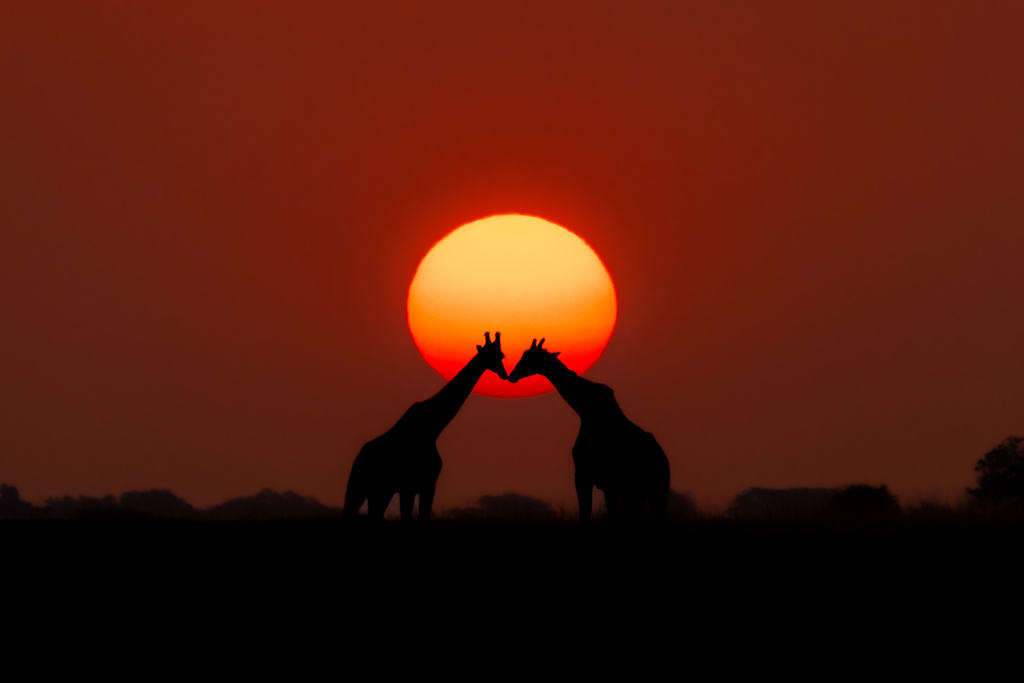 Nestled in the heart of Kasane, Botswana, on the edge of the legendary Chobe National Park, this unique company doesn't just promise an African safari; it ensures that every heartbeat of the wilderness is artfully captured, transcending the barriers of photography and turning dreams into tangible memories.
We had first heard about Pangolin when we met the co-founder, Guts, on a photography symposium in South Georgia in 2018, and had made it a personal goal to visit the safari lodge whenever we finally realised our dream of stepping foot on the African continent.
In the years that followed we met dozens, if not hundreds, of photography enthusiasts who had visited Pangolin and sung its praises.
"If you like taking photos, you have to spend time there," we were constantly told. "There's no other place like it in Africa."
Check out our full African safari wildlife photography video from Pangolin Photo Safaris!
So this year we made that dream a reality, spending 2 months wandering around Southern Africa with the final adventure being a week enjoying the iconic photo safari experiences of Pangolin in Botswana.
We had set ourselves some lofty goals in terms of the artistic imagery we hoped to create, and knew that if we were really to elevate our wildlife photography to the next level, Pangolin would be the place to do so.
From the moment we arrived, we knew we had made the right choice.
READ MORE: Check out our comprehensive guide to the best travel photography tips!
Our Pangolin Photo Safaris Review – Is This Africa's Premiere Wildlife Photography Experience?
What sets Pangolin Photo Safaris apart from other lodges in Africa is that at its heart, it's designed purely for photographers to improve their craft and capture the best images possible.
It's not the most luxurious lodge in Africa, nor is it on a private concession granting exclusive encounters.
But neither of those things are necessary for Pangolin's target market – namely people who love photography and want to get better at it.
Pangolin is still luxury though, offering all-inclusive stays in 4-star Kasane accommodation for up to 28 people at a time, and it's still exclusive with small group experiences on dedicated photography boats.
BREAKING NEWS: We're absolutely thrilled to announce that we are running a very special small group tour right here at Pangolin Photo Safaris in October 2024! If you're keen to join this exclusive Botswana wildlife photography tour check out the page and drop us a message. Spots are limited to 8 people max, so get in quick.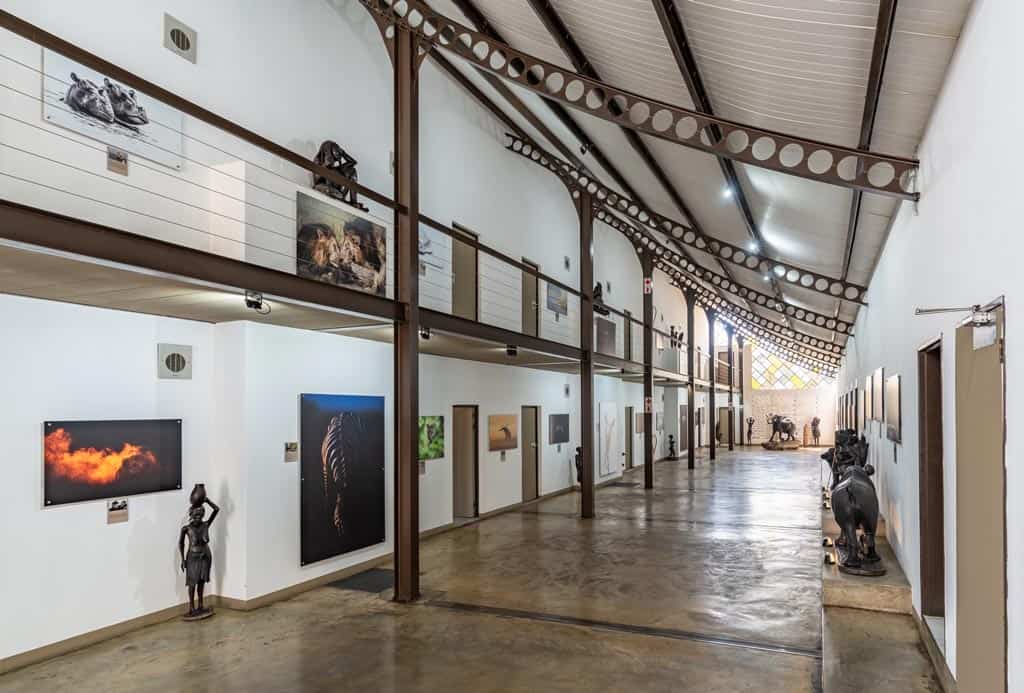 However there is another element to a safari with Pangolin that few other companies offer and no one else matches – unrivalled access to some of the best wildlife photographers in Africa with comprehensive mentoring and workshops.
The ethos of Pangolin were born out of frustration that photography workshops were often marketed to hardcore enthusiasts or professionals who paid exorbitant amounts of money to travel alongside their favourite photographer.
This traditional design made these workshops our of reach for most people, because the dates were entirely dependent on when the host wanted to lead the group (if those dates didn't work for you, you're out of luck), were very expensive and you needed to provide your own gear.
And anyone who has gotten into photography knows just how pricy it can be.
Guts and Toby, the two founders of Pangolin, flipped the industry on its head by creating a product where anybody could visit at any time of year and have access to world class photographers and even borrow camera gear if desired.
It was a revolution, and Pangolin Photo Safaris has been taking the photography world by storm ever since.
Even though we've been professional photographers for almost a decade and been fortunate enough to travel to some of the world's best wildlife destinations, such as Antarctica, the Galapagos and Alaska, we learnt more in one week and captured our best images ever all thanks to the team at Pangolin.
If you're a photographer, whether amateur or professional, and always wanted to travel to Africa with your camera, our Pangolin Photo Safaris review will go deep into what makes this place so incredible, and help you decide whether or not it is the right experience for you.
Let's dive into it!
Quick Fire – 10 Things We Love About Pangolin Photo Safaris
Mentoring by a professional wildlife photographer on every safari throughout your entire stay.
The Pangolin boats are designed specifically for photographers with centre-row swivel seats and fully articulating tripod mounts.
High quality Canon cameras and Sigma 150-600mm telephoto lenses for use by guests at no additional cost.
The hotel staff are absolute legends, being some of the nicest people we met in Africa (plus being funny as hell when you chat with them).
The lodge is luxurious and comfortable without being pretentious, complete with a permanent photo art exhibition
All-inclusive high quality food and drinks, including premium wine, spirits and cocktails, as part of your stay.
Communal meal times mean you get to know all the other guests staying at Pangolin, creating long-lasting friendships.
Chobe National Park is an absolute mecca for wildlife, with the largest population of African elephants on the continent.
The team are also safari planners with a wide network, and can help you book other lodges and safaris around Africa, including the wildebeest migration in Kenya or fly-in safaris in the Okavango Delta.
A portion of the profits goes towards protecting the critically endangered pangolin species through their Pangolin.Africa non-profit organisation.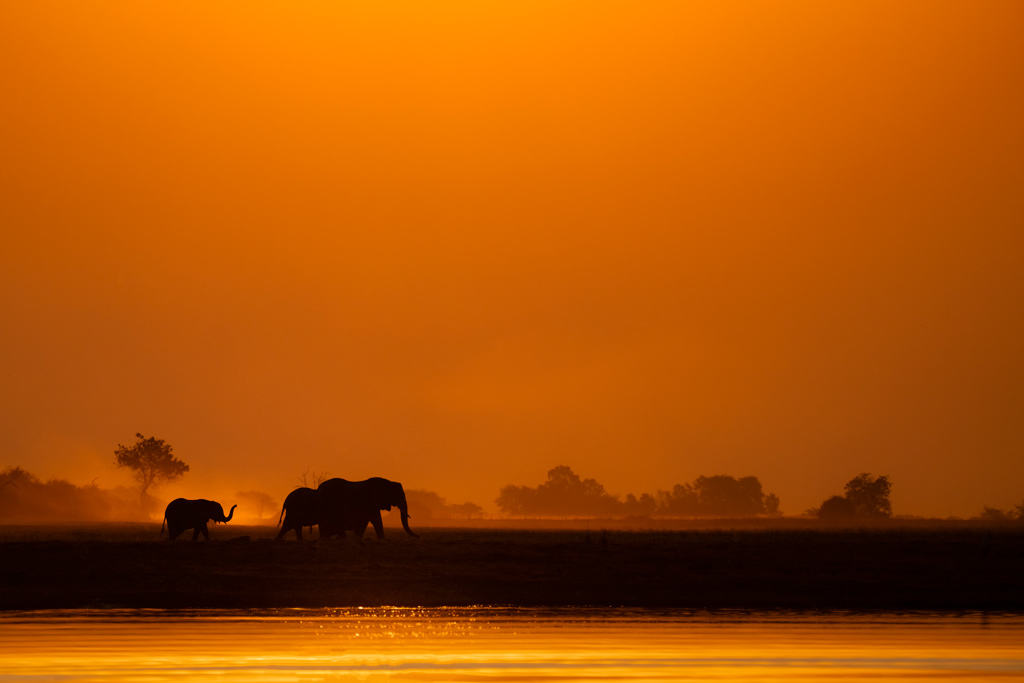 Where is Pangolin Photo Safaris?
Pangolin Photo Safaris is based in Kasane, Botswana, right on the edge of the Chobe National Park.
Just a short drive away from the Chobe River, the main lodge is on the outskirts of town, making it quite peaceful and also regularly visited by wildlife including baboons, antelope and even elephants and lions.
The Chobe National Park is a wildlife enthusiast's paradise, boasting a remarkable diversity of animals, including 4 of the Big 5.
It's home to the largest population of elephants on the African continent, as well as an abundant amount of hippos, crocodiles, lions, leopards, giraffes, buffalo, impala, sable, water buck, other antelopes and of course a massive variety of bird life.
Pangolin's location makes it an exceptional destination for game drives and Chobe River cruises, perfect for safari enthusiasts and photographers who a re looking for incredible encounters with Africa's remarkable wildlife in their natural habitat.
READ MORE: Hitting the road in search of epic photography experiences? Check out our latest guide to the best cameras for travel right now!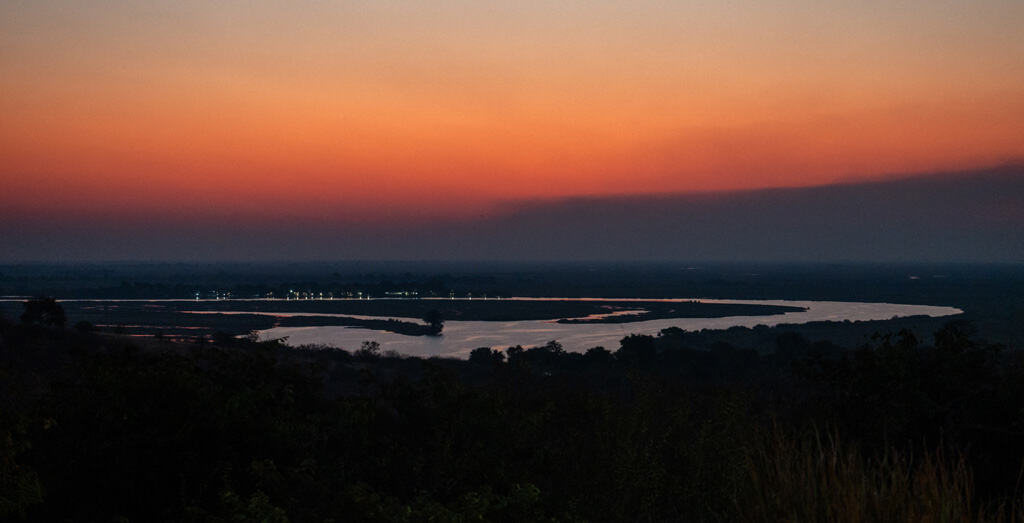 How to Get to Pangolin Photo Safaris?
Pangolin is only a few minutes away from Kasane International Airport, meaning you can fly directly into the town and somebody from the team will pick you up and drive you back to the lodge.
However Kasane isn't the most well-connected airport in Africa, so a more convenient option is to fly into Victoria Falls, Zimbabwe or Livingstone, Zambia, and have Pangolin organise your short transfer from there.
We personally did the short transfer from Livingstone, and it was absolutely seamless from hotel pickup (we just told the sales team where we were staying beforehand) to crossing the Botswana and Zambian borders and arriving to the lodge.
It's about a 2-hour drive from either location.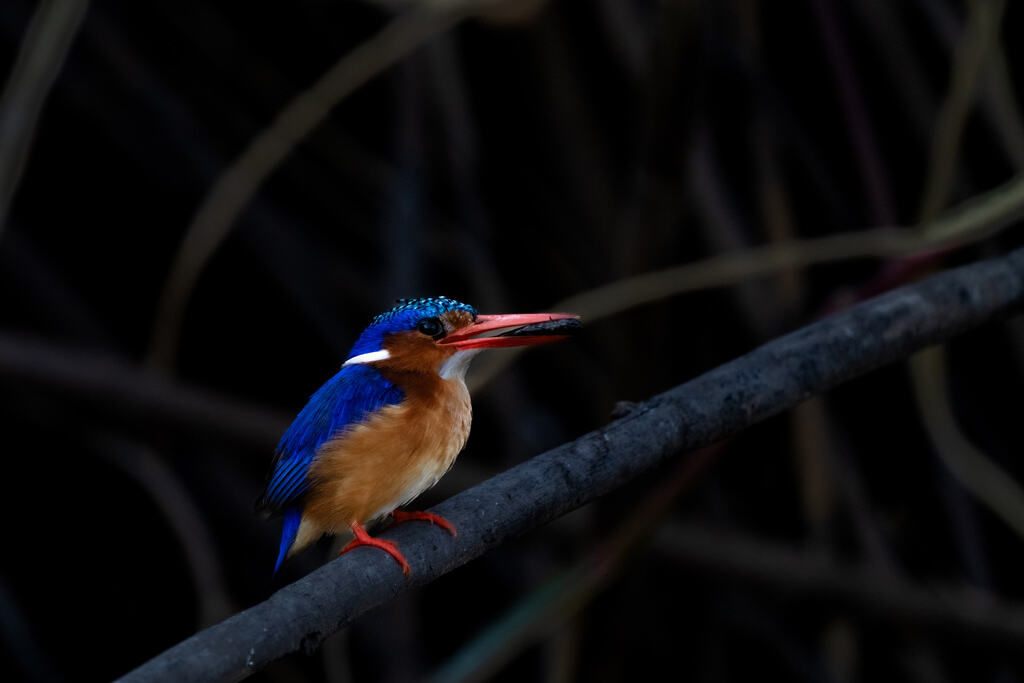 The Accommodation – Pangolin Chobe Hotel Review
Pangolin Photo Safaris operate two different accommodation options out of Kasane – the original Pangolin Chobe Hotel, and the latest addition, Pangolin Voyager houseboat.
The Pangolin Chobe Hotel is a luxury lodge in Kasane, Botswana, right on the edge of the Chobe National Park boundary and minutes away from the Chobe River.
It's the perfect blend of high-end comfort, quality amenities and homeliness, encouraging guests to enjoy time with each other rather than maintain a celebrity-style exclusiveness.
Personally, we love that style.
We only stayed at the hotel so will discuss that here in our review. But there's a little write-up about the houseboat further down our article.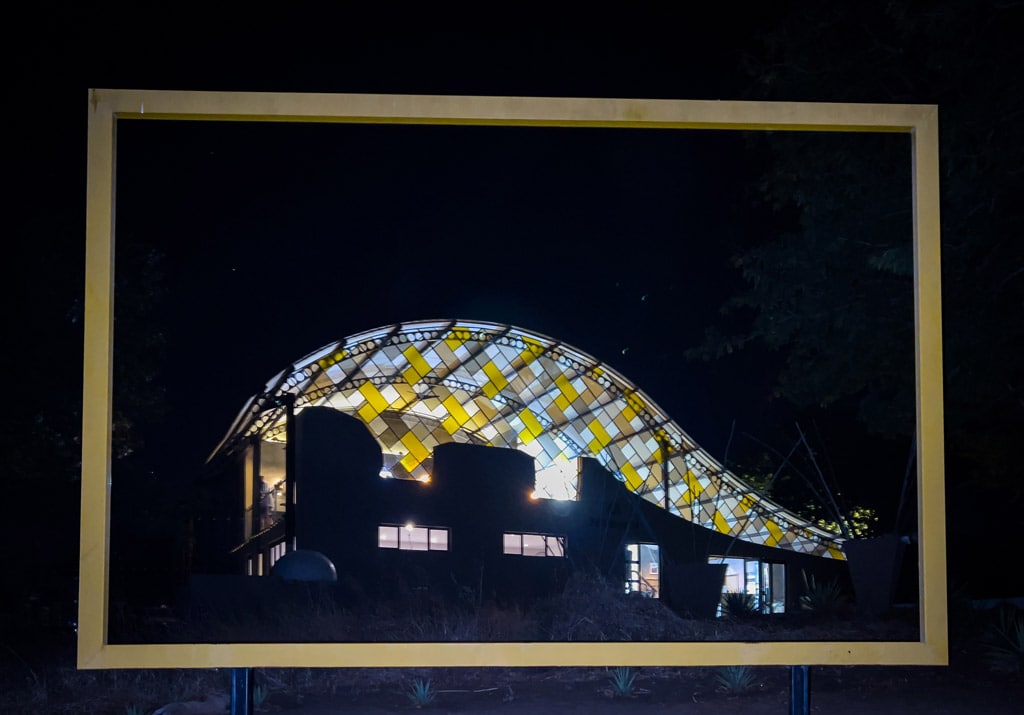 The Rooms
The rooms at Pangolin are designed for comfort and practicality, along with a suitable dose of epic art and photo prints, ensuring guests have everything they need for their stay.
There are enormous windows and balconies, providing ample natural light and a view of the Chobe River in the distance.
Some of the top floor rooms also look down over the watering hole, so if you're lucky you'll be able to spot wildlife right from your balcony.
The rooms come with all the essential amenities that travellers appreciate. The oversized beds are incredibly comfortable, ensuring a good night's sleep after a massive day of safari adventures.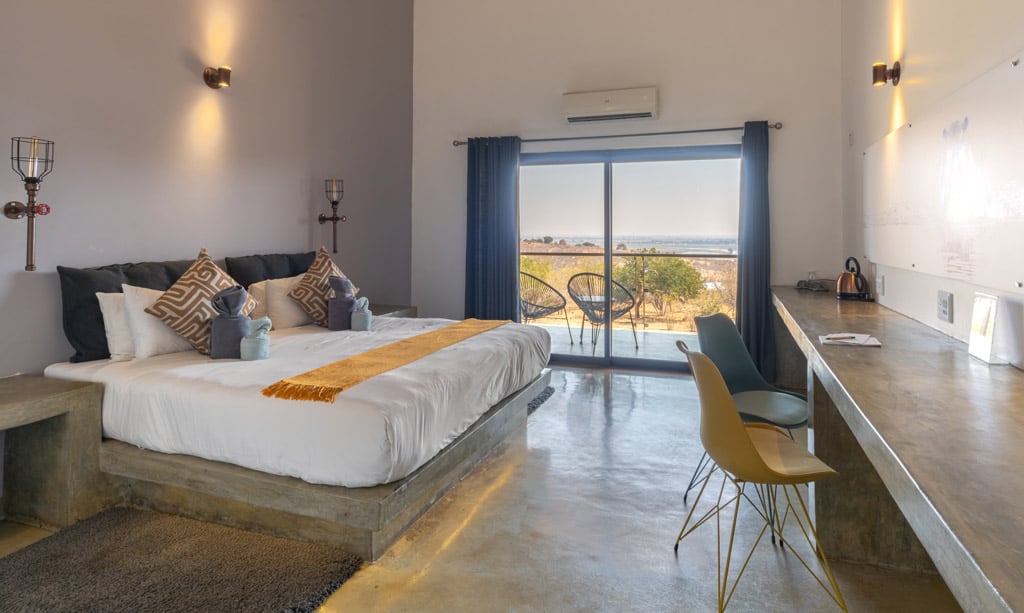 Of course it's air conditioned and heated to keep the African weather at bay, and complimentary Wi-Fi, so you can stay connected or share your experiences with family and loved ones.
The bathrooms have a clean, industrial style to them, with exposed pipes and lots of hooks and bench space along with the large shower.
Finally there's no forgetting that there are photographers staying here, and photographers tend to have a lot of gear. Cameras, batteries, lenses, chargers, accessories, laptops and more.
Knowing that, every room has a huge, solid bench that runs against the far wall with plenty of universal power outlets and USB points so you can spread your gear all over the place and keep everything charged.
Wildlife Photography Gallery
The Pangolin Chobe Hotel features a wildlife photography gallery through their halls that showcases some of the most incredible, inspiring images you've ever seen.
There are powerful images of big game to intricate shots of birds and even landscapes from around the world printed in large formats around the lodge.
The photos are taken by Pangolin's photo hosts and a handful of photography guides that have brought groups to the Chobe on a Pangolin safari. (Hopefully us one day?)
We must have walked around the lodge dozens of times becoming mesmerised by all the shots hanging up, and becoming more inspired than ever to get out and create.
The Upstairs Lounge and Bar
On the top floor of Pangolin Chobe Hotel is the large lounge area, which is the place to be in between safaris or after dinner when the stars come out and the cocktails are flowing.
You'll find plenty of seating space, with sprawling couches and chairs to kick back on and a decent collection of wildlife and landscape photography books scattered around to read.
The bar runs the full length of the lounge with a formidable bronze pangolin statue in the middle, and there's a barista coffee machine along with every type of drink you'd like.
In the evenings a bartender is on hand to whip up signature cocktails or pour any type of drink you'd like, and the rest of the time you're free to help yourself behind the bar for any of the pre-made drinks like soda, beers, etc.
If you'd like anything else like a coffee or mixed drink just ask one of the friendly staff who are always around.
The lounge has a great view over the downstairs dining area, watering hole and all the way out to the Chobe River, making it an awesome place to chill.
The Editing Room
Downstairs you'll find the dedicated photo editing room for workshops hosted by your photography guide in between safaris.
The dark room has a projector setup so the guide can broadcast their screen for everybody to see while they go through step by step what their editing workflow is like.
There are also a couple of PC and Apple computers available for guests to backup their own images or edit photos, in case you didn't bring a laptop.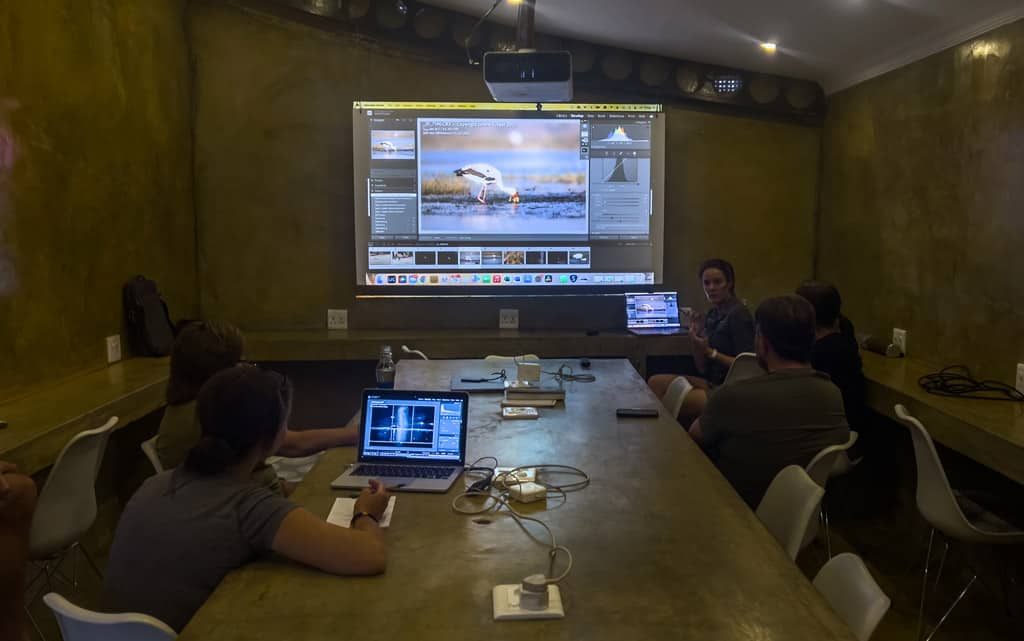 Dining Rooms
There are two places where meals are served at the lodge, both on the downstairs floor.
For breakfast, morning tea and afternoon tea, a buffet is laid out in the inside dining room, with a number of tables to spread out.
There's a coffee and tea station, snacks and fresh lemonade to enjoy at any time.
In the evenings the fun moves outside, as all sunsets in Africa should, with a fire being lit for sundowner drinks.
Dinners are prepared by the executive chefs, with entrees being served directly to your table and mains in buffet style. Desserts, of course, follow the mains.
Waiters wander around collecting drink orders too, so you don't have to run upstairs to grab another one when your glass is empty.
We absolutely loved our outdoor meals, and one of the photography guides always hosts the meal too, sharing interesting stories and engaging with the guests.
Food
Oh boy, where do we start with the food? All the meals we ate at Pangolin were simply divine!
You're served 4 meals a day – a light breakfast before your morning safari, a large morning tea when you return around 11am, a light afternoon tea before the next safari, and a massive dinner in the evening.
All dietary requirements are catered for, including vegetarians and vegans, as well allergies being looked after.
In the evenings there are often different themes, such as pizza night or a braai, and during our week at Pangolin we never were served the same dinner twice.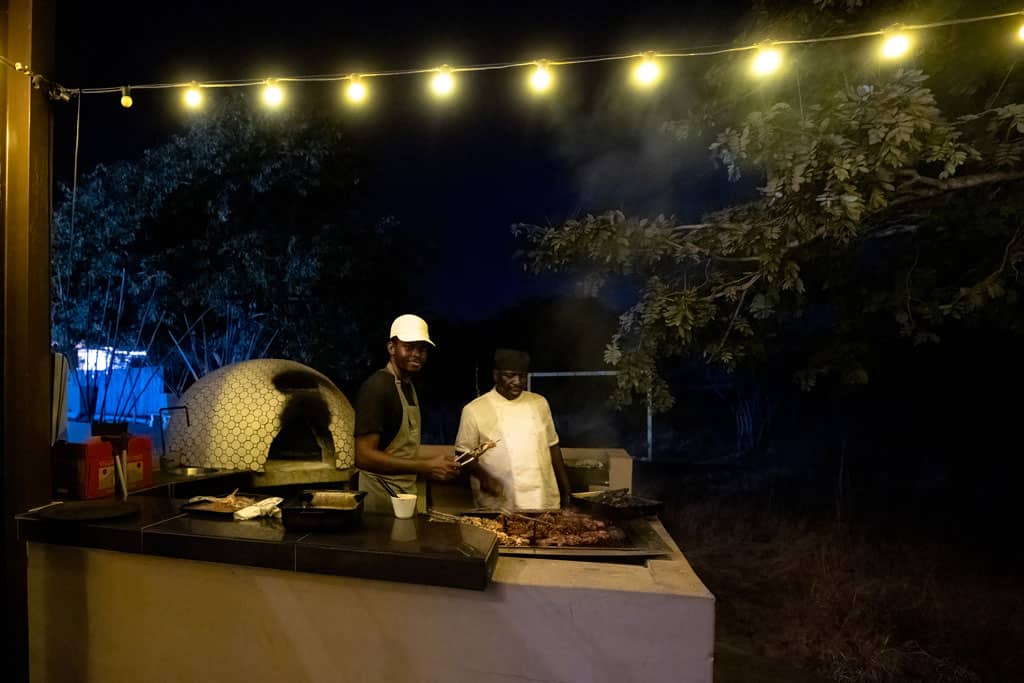 The Watering Hole and Hide
Finally one of the most amazing features of the Pangolin Chobe Hotel is the watering hole located right outside the rooms.
With recycled water being pumped into it constantly, the watering hole becomes a bit of a gathering point for a lot of wildlife, including antelopes, elephants and even lions.
You can watch the watering hole from the comfort of your balcony, but the best place to go is the underground bunker, or hide, that gives a water-level view.
READ MORE: Check out our full review of one of our favourite lodges in South Africa, Jaci's Lodges in Madikwe!
You access the hide through a concrete tunnel, and once you're down there you'll find seats, power outlets, a bench and of course a narrow, open window for incredible vistas at the edge of the water
If you're lucky and get down there with a few animals you can capture some remarkable photos. Unfortunately for us the wildlife always seemed to appear while we were on safari or sleeping (Pangolin has a web camera set up so they can monitor it), but hopefully you'll have better luck than us.
Pangolin Voyager – The Chobe Houseboat
In addition to the hotel, Pangolin now owns and operates a Chobe River luxury houseboat on the Namibian side, with four cabins housing up to ten guests and its own dining room.
Guests who choose to book the houseboat stay onboard for anywhere from 2-5 days, with 3-4 being the most common.
The entire experience is supposedly epic, as you can get much deeper into the Chobe National Park then you can on day excursions, opening up a whole new landscape and wildlife hub, such as Namibia's Caprivi floodplains.
The safaris are the same as when based on land, with the same photo boat being towed behind which you head out on for sunrise and sunset on the river directly.
The difference is rather than going back to the hotel, you sleep and eat on the floating lodge.
We didn't have the chance to stay here as it was already booked out (seriously consider booking early if you want to stay there, it's popular!), but we'll definitely plan better next time to have a few nights onboard.
The Safaris
Pangolin Photo Safaris offers two different types of excursions twice a day; river-based and land-based.
When you sign up for a photo safari in Chobe National Park with Pangolin you're assigned to a group and photo host (unless you're already travelling as part of a group) so these excursions are usually scheduled for you.
But if you want to do one instead of the other you can do as you please.
That being said most guests opt to spend most of their time on the river, and that's what Pangolin focuses on, as the photography opportunities are usually more diverse and interesting from the water.
Photographers know that the absolute best time to take pictures is during golden hour, the time just after the sun has rose and just before the sun is setting, but sadly 95% of safaris you do in Africa don't prioritise taking photos during this spectacular golden light.
At Pangolin though the entire excursions are designed to have you in the best place for optimum light, so you're not going to find yourself suddenly stopping for a gin and tonic in a featureless plain during sunset.
Instead you're chasing light and capturing animals at the exact time you want to be!
There's also no time limit when you do spot an animal you'd like to photograph. While other safaris are often about quantity, rushing from one animal to the next, with Pangolin you have as much time as you'd like with whichever animal you want to photograph.
Stumbled across a herd of elephants that look like they might cross the river? The guys will move the boat into position for the best lighting and angles, and then simply wait to see what happens.
READ MORE: Don't forget that you need to carry your gear somehow! Find the right bag for you with our detailed guide on the best camera backpacks for travel.
See a pack of baboons playing in a tree? Why not wait a while to see what kind of behaviour you see.
Miss the shot on your first attempt? No worries, let's try again.
After all, as any experienced wildlife photographer will tell you, it's all about patience and watching the animals.
Here are what the two different Pangolin safaris in Chobe National Park are like: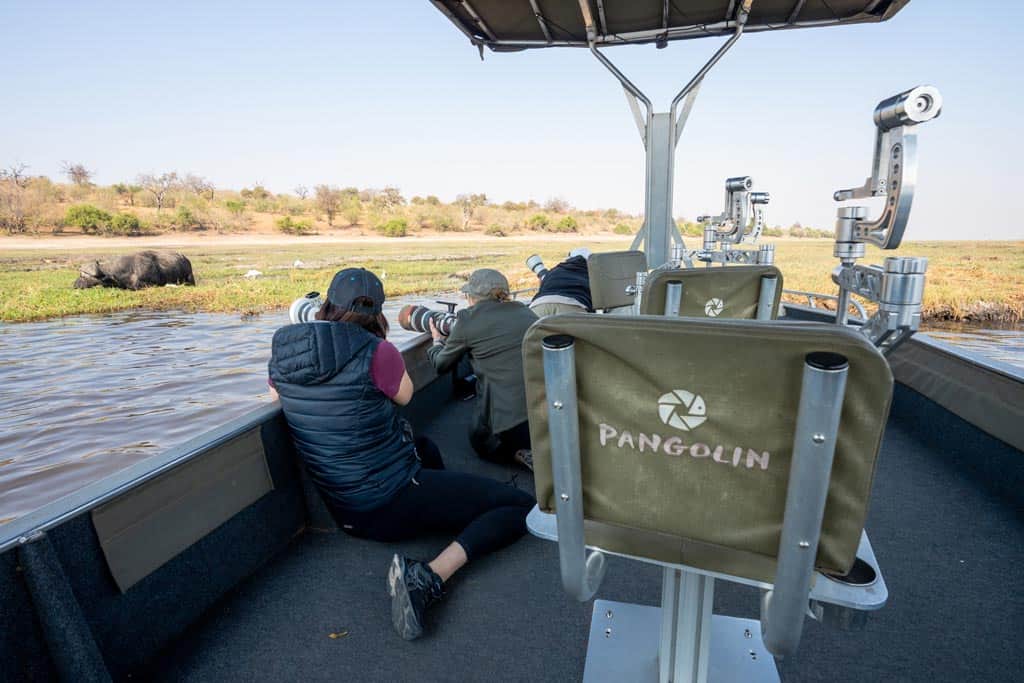 Chobe River Safaris
The real highlight, and style that originally launched Pangolin, are the river safaris that take place on the Chobe River.
There are two timings for the river safaris – one leaving about 30 minutes before sunrise and staying out for around 4 hours (depending on what you see), and another heading out around 3 hours before sunset and returning about 30 minutes after the sun dips below the horizon.
After a quick five minute transfer to the dock with your group you jump into your specialised photography boats (more on those below) and then head out in search of animals.
Most other safari companies in Kasane do land safaris in the morning and sunset cruises in the evenings, so the boat activity on the river is real minimal first thing.
In the mornings the river is often incredibly still with mirror-like reflections, and while the larger game aren't usually active then it's a perfect time to chase bird life.
The boat drivers and photo guides will often go searching for malachite kingfishers, bee-eaters, storks, herons and other types of birds, and even if you're not necessarily a birder it's a wonderful experience watching and trying to photograph these gorgeous species.
Once the sun gets higher and the light turns from a golden glow into a harsher white it's a great time to practice high key and low key photography, keeping everyone on their toes while getting creative with hippos, crocodiles, buffalo, antelope and elephants.
After a few hours you stop for a freshly brewed coffee and toilet (bushy bushy) break then continue the search for photographic opportunities before making your way back to the lodge around 10:30ish.
The afternoon trips operate in much the same way, except the big game sightings are often much more abundant.
Heading out around 3pm the group usually heads west, encountering huge herds of elephants along the way.
The guides have a number of places that they know are reliable for particular wildlife encounters and great photos, and depending on what the guests are looking for or what they've seen previously, the guides will loosely structure the safari to increase new opportunities.
For example there's a little island that Africa skimmers often nest, and in the afternoons they are very active, flying around and fishing which makes for fun and challenging photography.
Then there's Ele Bay, and with a name like that you can already guess what you'd expect to find there.
Huge numbers of pachyderms wander down most afternoons to drink from the water and play.
It's also a great spot for hippos and baboons.
And finally as the sun starts to set most of the Pangolin boats will make a dash to Namibia's Caprivi floodplains where you never know what animal will wander across the far horizon as the sun dips down.
For 3 different nights in a row we saw a herd of elephants, a tower of giraffes and a pride of lions. Pretty remarkable, and our absolute favourite images captured came from here.
The Pangolin Photography Boats
The boats that Pangolin owns and operates are a massive drawcard for why you should book a trip with them, and when out on the water they often have tourists from other cruise companies snapping photos of them.
The long, narrow aluminium boats were personally designed and built by Pangolin co-founder Gerhard 'Guts' Swanepoel, and were what initially kicked off Pangolin Photo Safaris before the lodges and tour company were developed.
There are 8 comfortable chairs lined down the centre that swivel 360 degrees, ensuring there's no such thing as the 'bad side' of the boat.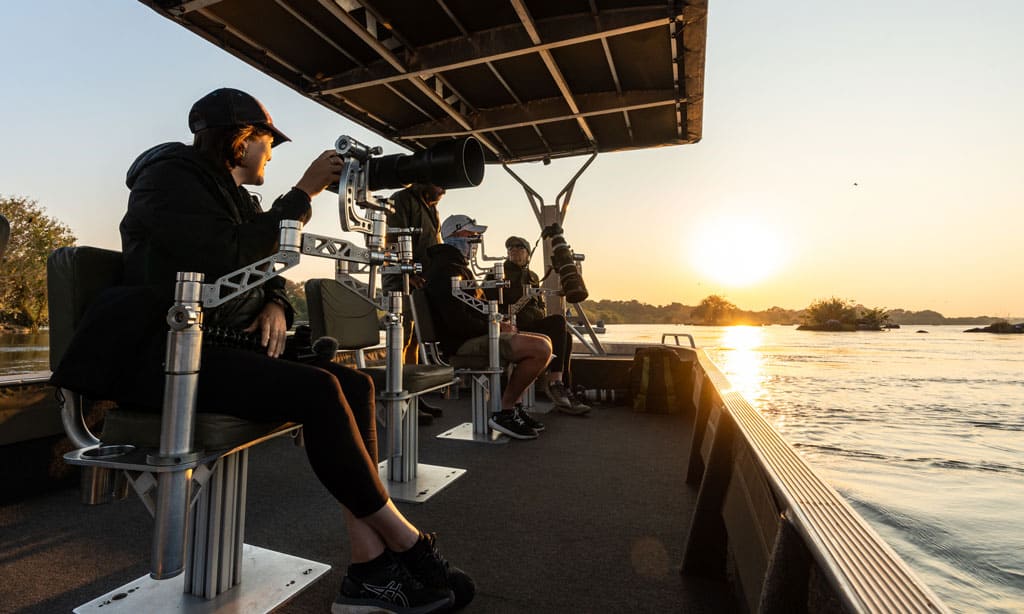 On the port and starboard side as well there is lots of floor space so you can jump out of the chair and get down low or move around if you'd like a different angle.
The thing you'll first notice though that sets Pangolin's boats apart from the rest are the heavy duty camera mounts that are attached to each set.
These fully adjustable arms have a standard tripod mount on the top and articulate in just about an infinite amount of ways, so you can put your heavy telephoto lenses on the mount and save your arms from burning.
They also allow for much sharper images when shooting at long focal lengths as it minimises camera shake, and improves video stability.
Another benefit of being on the Pangolin boats is the opportunity to get your camera nice and low for unique perspectives, which in wildlife photography is essential for more intimate images.
The boats have a shallow draft as well so they can get closer to the shore and between narrow channels as well, but are still more than stable enough for any type of conditions.
Land Safaris
While the main attraction is usually the river safaris on the Chobe, the land safaris in the national park are well worth experiencing.
There's a lot to see in the park, including lions, giraffes, elephants and if you're really lucky leopards.
Jumping into one of Pangolin's comfortable open-air Land Cruisers you head out into the park either morning or night, and while you're usually not the fist vehicle in the park, the guides make a conscious effort to avoid most of the other trucks.
Photography is the name of the game, so if the choice is go see a male lion along with 20 other cars with poor angles, or go find giraffes drinking from a water hole with no one else around, the quieter option often wins (unless it's something none of the guests have seen before like a leopard.
The land safaris with Pangolin do result in great photos, and you absolutely should head out on at least one during your time at the lodge.
The Photo Hosts
You've heard us talk about the Pangolin photo hosts a bunch by now, but we're going to dive a little deeper into them to explain a) why they're so awesome and b) why they really make your visit to Pangolin so much more complete.
The company was co-founded by Guts Swanepoel, one of the world's best wildlife photographers, on the premise that wildlife photography should be enjoyed by everybody, regardless of skills and gear, and that with just a little bit of guidance anybody can walk away with incredible images of animals.
The other co-founder, Toby Jermyn, is more of a hobbyist photographer with a passion for the African bush and animals, and in this style is the exact reason why a company like Pangolin exists and is so successful – come one come all, bring your camera, or borrow one, and capture beautiful images and discover a newfound appreciation for African wildlife.
Every single safari would be lead by Guts, who imparted all his knowledge on how to capture exquisite images and get better at using your camera, and the formula started to gain worldwide recognition.
As Pangolin grew in popularity there was a need to hire more photo hosts, and Guts and Toby set off on the difficult task of selecting professional photographers who were not only exceptional in their craft, but also fantastic teachers and selfless guides.
Fast forward to today and Pangolin has achieved just that, with a whole team of photo hosts that are the absolute best in the business.
When you check in at Pangolin you'll become part of a group that's led by one of the experienced photo hosts, and they'll become your personal mentor throughout your stay.
On every safari you'll be joined by them, and their job is to ensure you capture mind blowing photos.
They rarely take a photo themselves (partly because their portfolios are already enormous), and instead walk up and down the boats or give guidance from the Land Cruisers to make sure you're doing ok.
If you have a question about your camera, they are there to help.
Need some ideas for which settings to use? The photo hosts will chat about what they would select and why, giving suggestions on how to capture high or low key images, birds in flight, slow panning shots, or whatever else you'd like to create.
READ MORE: Thinking about joining a small group photography workshop? Check out our international photo tours!
The hosts though aren't overpowering, and are more than happy to stand back and let the guests do their own thing if they're feeling confident.
Back at the lodge the photo hosts head to the editing room to work on some of their images, and also those of the guests if they wish, to show exactly what they're workflow is and teach some of their tricks of the trade.
During our time at Pangolin we actually had the chance to bounce between a few different photo hosts as we weren't part of any one group.
We were privileged enough to have Jaco, Janine, Pusetso and even Guts as our guides on our visit and thanks to them came away with not only the best wildlife photos we've ever taken, but also an entire new skill set and appreciation for this art form.
Having the opportunity to spend time with and learn from some of Africa's top wildlife photographers is something that cannot be taken for granted.
Do I Have to Be a Professional Photographer to Join?
You might think that because Pangolin run 'photo safaris' that the only way to join is if you're a professional yourself.
That is not the case at all!
In fact most people who travel with Pangolin, either to their lodge or houseboat in Kasane or on any of their other African safaris, are beginner or hobbyist photographers who just have a desire to capture great images of animals or improve their skills.
Some people bring their own camera gear, while others will use the equipment supplied by Pangolin.
Some guests also have no interest in photography at all, and on our particular safari one of the ladies didn't even touch a camera, and instead just used binoculars to observe the animals.
While each safari is designed with photographers in mind, this is not on an exclusive basis and a benefit of travelling with Pangolin as a non-photographer is that you spend much more time with individual species than other companies in Chobe National Park do, and you have a very experienced local guide and wildlife photographer with you to talk about animal behaviours and facts.
Pangolin.Africa – Pangolin's Conservation Charity
The story of how Pangolin got its name is a fascinating one (if Guts is there when you stay, ask him about it), and for anyone that is aware, the pangolin is one of the most endangered species in Africa thanks to illegal poaching.
Because some cultures wrongly believe pangolin scales have medicinal benefits (spoiler alert: they don't! A pangolin scale is made of keratin, the exact same substance your finger nails are made from) a massive black market trade has emerged around hunting these fascinating animals.
Toby and Guts have decided to take charge of this disastrous crime by launching a not-for-profit organisation called Pangolin.Africa that is dedicated to the conservation and protection of the four African species of pangolin.
When you book a stay here $5 per night is donated to the charity which creates initiatives for locals to protect not harm pangolins and raise awareness.
As of this year they have also launched the 'Pangolin Champions' programme which is a fun, interactive online course you can do either at home or at the lodge.
With education comes awareness, and if Toby, Guts and their entire team have their way the pangolin will bounce back and be around for many generations to come.
A Typical Day at Pangolin Photo Safaris
So what exactly is a typical day like at Pangolin?
If you're working your way through our Pangolin Photo Safaris review and still wondering if it's for you, this is what you can expect on your visit.
Morning
You wake up at 5:30am (during the winter months) and head down for a light breakfast and coffee at 6am.
Around 6:30am you jump in a minivan or car and head down to the dock to board your boat (or take a Land Cruiser into the Chobe National Park for a game drive).
For the next few hours you'll chase the light, being guided by what the local guides and photo host see, having plenty of opportunities to photograph the wildlife.
Around 9am you'll stop for a coffee break, and the photo host will whip up fresh batches of tea, coffee and biscuits.
If you need the bathroom the boat driver will also find somewhere on land that is safe to go in the bush.
At about 10:30am you'll start making your way back to the lodge.
Afternoon
It's 11am and time for brunch, which is served in the downstairs dining room buffet style. There's a great variety of healthy, filling food to tuck into, as well as more coffee and tea of course.
Once you've finished eating you have the next few hours to relax. It's a perfect opportunity to back-up your photos, clear your SD cards and maybe have a bit of a nap or read in the lounge.
If you're interested in doing a bit of an editing workshop your photo host will book in a time at the editing room so you can sit down and learn how the best in the business use Adobe Lightroom, Photoshop, Topaz and other software to make their images pop.
For us we'd usually head in around 1:30pm with our host and dive into their workflow. It really is a wonderful, interactive opportunity, and you have the option of working together on some of your own images, or watching our the host edits their own photos.
For beginners you can also go through an 'Introduction to Photography' workshop where the photo host dissects all things photography such as the Exposure Triangle, focus modes, basic editing, etc.
At 2:30pm there's afternoon tea in the dining room so you can get some energy before the next activity.
3pm it's time to head out on the last safari for the day. This will either be on the boat or a game drive, depending on what you or the group would like to do.
The afternoon safari is much the same as the morning, with a different focus on the types of animals you'll encounter and more chances to get creative with your pictures.
Along the way there'll be a short toilet break if required, otherwise the cooler is always open for soda, beer, wine or anything else you feel like drinking while photographing wildlife.
When golden hour approaches your photo host and driver will head to the perfect spot to catch sunset. As mentioned earlier this isn't about where is prettiest to enjoy a cocktail – it's about where the best animal encounters will be!
The Chobe National Park has a strict closing time for when everybody needs to leave the park, and this is just before it gets dark.
As a result most boat cruises are already well on their way back to the boat dock before the sun has set to beat the deadline, meaning for photographers you're missing the best light.
However the Pangolin boats are a lot faster than the majority of other companies, so they can stay a lot deeper in the park after the sun has dipped below the horizon and still get back to the dock before the park closes.
Once you've captured some absolute bangers you'll zoom back to the dock with a drink in hand and take the transfer back to the lodge.
Evening
Back at the hotel around 6:30pm the fire is now roaring outside and cocktails are free flowing from the bar.
Grab yourself a glass of your favourite beverage and join your new friends and other likeminded people for a laugh and share stories of what kind of experiences you had out on safari.
At 7pm dinner is served outside, and you can pick a seat anywhere you'd like on the communal tables.
The chef comes out and talks about the meals their team have been busy whipping up, accompanied by a healthy dose of laughs and banter.
3 courses are served up, the waiters continue to bring the drinks out, and then the rest of the evening is free for you to do as you please.
Some retire early after a massive day while others head up to the bar to continue the socialising. The bar is open as long as there are guests wanting to have a drink, so there's no bedtime to adhere to (although out of respect to the other guests they ask for noise to be kept to a minimum after 10pm.
Hit the sack and grab some sleep so you're ready for another big adventure tomorrow!
Our Review of Pangolin Photo Safaris – 9/10
We absolutely loved our time at Pangolin Photo Safaris in Botswana. After two months travelling Africa and going on more safaris than we can count, we can honestly say that our visit to Pangolin was our absolute highlight of the entire trip.
There were so many fantastic elements that made up this being our favourite place in Africa.
The guidance from the photo hosts, the beautiful accommodation, divine food, fantastic staff, unique photography boats and of course the wildlife – it all added up to making a superb experience even more exceptional.
Thanks to Pangolin we came away with the best wildlife photos we have ever captured, and we know that if it wasn't for the encouragement and mentorship from Guts, Janine, Jaco and Pusetso we wouldn't have grown so much as photographers.
Their insightful ability to share their knowledge and push our creativity has reignited our love of photo art.
So was Pangolin perfect? Well, no, nothing is perfect.
For us the wifi was a little slow in the rooms (fine in the lounge), but this is Africa after all. What do you expect?
Really though, that's pretty much the only thing we could fault it on.
We enjoyed our time at Pangolin Photo Safaris so much that we're already planning our return next year, and will be looking to run a NOMADasaurus Photography Tour here in Botswana in 2025!
What did you think of our Pangolin Photo Safaris review? Have you stayed here before or thinking about staying here in the future?
Drop a comment below with your thoughts, or drop us an email if you have any questions. Always happy to help.
Trust us – you'll be hard pressed to find a better photo safari in Africa than with Pangolin.
Who owns Pangolin Safaris?
Pangolin Safaris is owned by Gerhard 'Guts' Swanepoel and Toby Jermyn, two friends with entirely different backgrounds. Guts is an award-winning wildlife photographer who is very hands on and loves nothing more than helping guests have the best African safaris imaginable while also improving their photographic abilities. Toby is a hobbyist photographer who thrives on growing Pangolin to be the best photo safari company in Africa. Combined they make a perfect partnership.
What does a 'photo safari' mean?
A photo safari is a one-day or multi-day experience in the African wilderness that is heavily geared towards people who like taking photos. These are often led by professional wildlife photographers who provide guidance and advice to guests, and excursions are structured around creating unique images with the best light.
How much does a photo safari cost?
A photo safari at Pangolin in Botswana ranges in price depending on the time of year you visit, how long you stay and where you would like to visit. At Pangolin Chobe Hotel in Kasane prices start at around $3,250 for 7 days of hosted photo safaris. This includes accommodation, all meals and drinks, two safaris a day and a dedicated photo host on each safari.
What is the best time of year to go on a safari in Botswana?
The best time to go on a safari in Botswana is in the winter months from June to September, when temperatures are at the coolest and less rain means animals congregate around watering holes and are easier to spot amongst the vegetation. But a Botswana safari can really be enjoyed at any time of year, as each month has its own unique wildlife experiences.
Pangolin Photo Safaris Review
In our Pangolin Photo Safaris review we break down whether this lodge in Chobe, Botswana really is the best African safari for photographers.
Pros
Comfortable luxury lodge
Dedicated photography boats
Award-winning photography guides
Excellent food and drinks included
Cons
The heavy photo focus might not be suitable for non-photographers