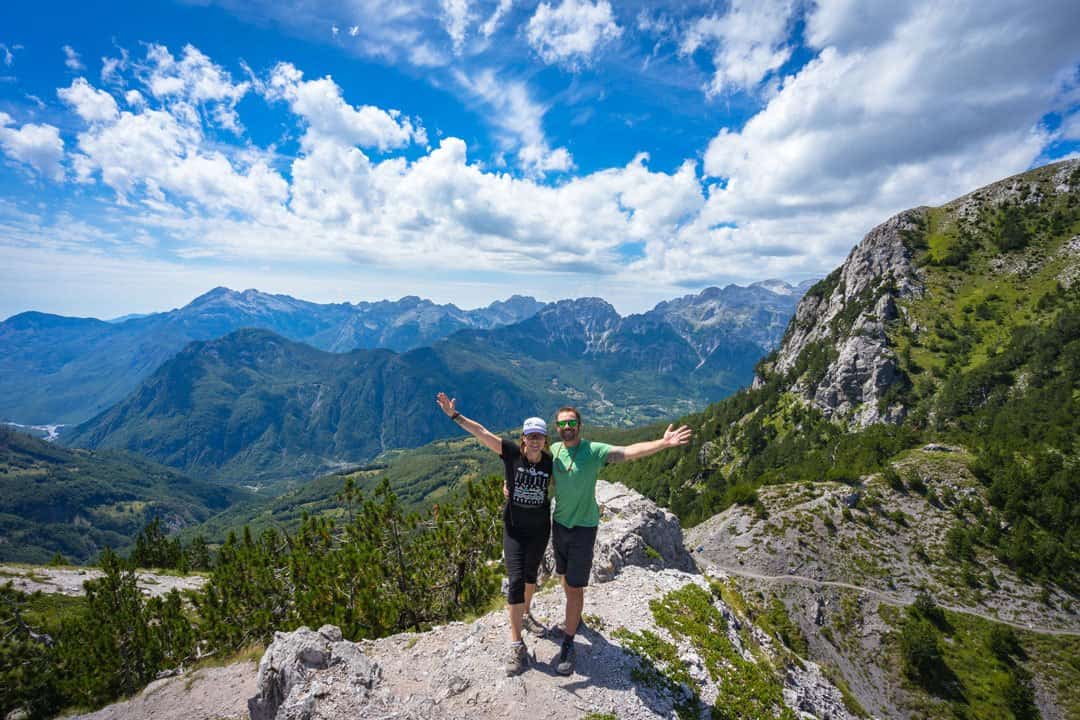 Picture of us hiking in Albania…Coming soon: Pics of us hiking in South America!
Sometimes plans change, and sometimes they do a complete reversal. That's why we try to never stick to plans!
We didn't really expect to be jetting off to South America in 2017, but that's what has happened. Through some magical twist of fate (which we have no idea how it happened), we're now landing in Buenos Aires in ten days.
To be honest, we haven't been this excited about travelling to a new place for a long time. South America is somewhere that we have always wanted to explore after our 8 month trip around Central America in 2011, but we had put it at the back of our thoughts for the longest time.
We were more focussed on the Middle East and Africa, day dreaming about what we'll see there. But when we reached Turkey during our no-flying trip we lost the excitement in travel and became burnt out. That's why we've put the rest of that journey on hold and spent the last year in Europe, Australia and Thailand.
At some point on the road we started talking a lot about South America with other travellers, and we could see their eyes light up when talking about the trekking in Patagonia or the jungles of Colombia. "Damn, maybe we should try South America for a while," we found ourselves saying.
Eventually we decided to just go for it. And now, on February 12th, we're flying off to Argentina!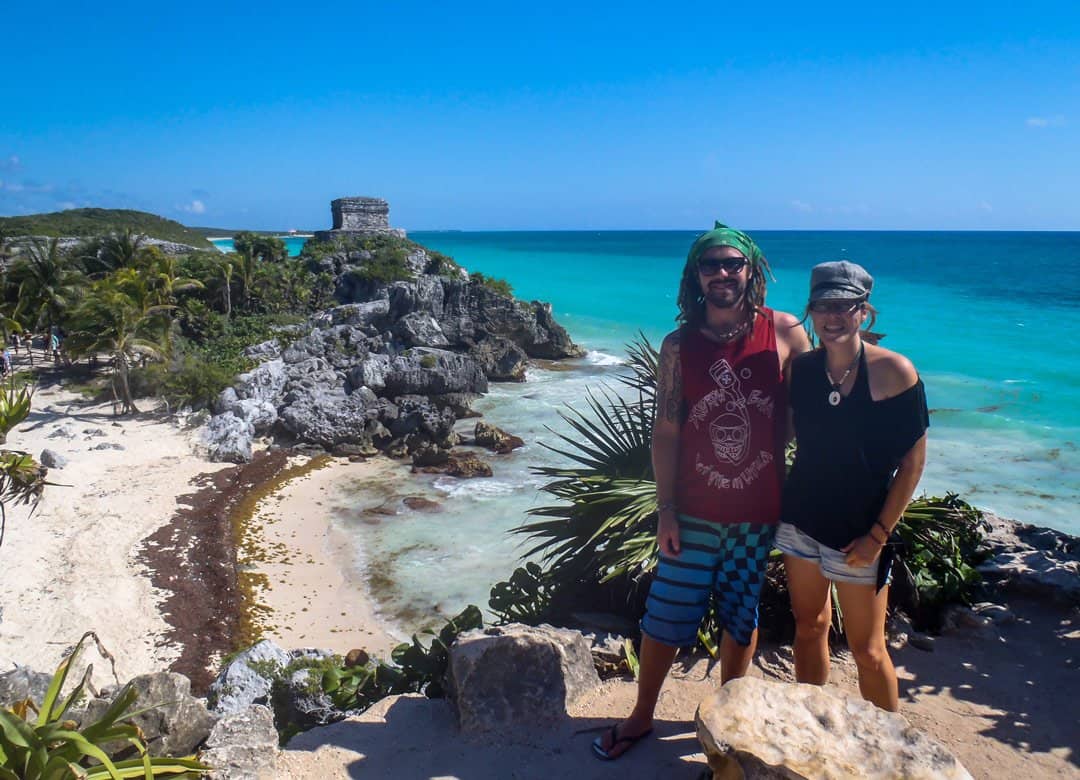 The Plan
This is always the million dollar question for us, as we usually never know what we are doing when we travel some place new. For the first time ever though, South America is different for us…
While most places are very easy for spontaneous travel, in our research we found that South America was a little different. Budget travel in Patagonia in particular is notoriously busy and difficult in the peak season, and many things need to be booked ahead (such as campsites in Torres del Paine).
We also rarely write posts about our future travels, because we know how susceptible to change we are. But seeing as so much in South America is now in motion we thought it'd be fun to note it all down.
Note – If you've got tips for us or are going to be in any of these places this year leave a comment below!
Buenos Aires
Our first stopover in South America will be the Argentinian capital, Buenos Aires. We've heard so much about this bustling, vibrant city and we're pretty ecstatic to be starting our trip there. The very knowledgable in-country experts Destino Argentina have been helping us come up with some fantastic things to see and do in the country.
Normally we like to relax in cities, enjoying cafes and finding offbeat experiences, and BA won't be any different. We're doing a bike graffiti tour (because we love street art) and hitting up a great dinner with the Argentine Experience.
Unfortunately this initial trip to BA will be a short one (only 3 nights) as we have to start heading south for the first leg of the adventure.
Overlanding Eastern Argentina
We are huge advocates for overland travel. To us there's no better way to experience a country than to cross it by land. Sure, flying gets you there quicker, and in some ways might be cheaper, but you lose out on so much more by skipping all the places in between.
That's why we've decided to head from Buenos Aires all the way to Ushuaia by bus. Yea, the flight would have us there in a few hours. But what's the fun in that?
Bus transport in Argentina and Chile is famous for being high quality, so for 3098km we're going to be cruising in style! Also as we're travelling in the middle of the peak season, we actually need to book transport ahead of time if we want to be guaranteed a departure.
We've teamed up with Busbud, a bus booking aggregator that makes searching for a cheap overland route incredibly easy, to bounce down south. Rather than visit a bunch of random transport websites trying to figure out how to get to Ushuaia, we just used the Busbud website to find all the companies and options with a few clicks. Made our task of booking buses so much simpler!
Note – If you are looking to book a bus journey in South America or anywhere else, check out the Busbud website and use the coupon code "BUSBUDNOMAD10" for 10% off your journey! They operate in 63 countries.
From Buenos Aires we're breaking up the trip in Bahia Blanca then heading to Puerto Madryn – a place we couldn't be more excited about!
Puerto Madryn is a playground for marine life, and we're going to explore as much of it as humanly possible! We'll be scuba diving with sea lions, chilling with penguins, boating with dolphins and four wheel driving across the landscapes! The best adventure tour company in town is Argentina Vision, so we've lined up all the excursions with them. It's going to be a fun few days!
From there it'll be stopovers in Comodoro Rivadavia and Rio Gallegos before finally arriving at the world's southernmost city, Ushuaia!
Antarctica
Far and away the absolute best adventure we may ever tackle is going to happen on February 25th – an 11-day expedition to Antarctica!
To say we're excited about this would be a sad underuse of the word…We are absolutely pumped!
We'll be departing Ushuaia at the end of February with the polar region experts One Ocean Expeditions, and motoring the entire way to Antarctica on a modern research vessel.
There'll be kayaking, hiking, camping, zodiac tours, whales, penguins, scientific talks and a whole bunch of other amazing things to document down there. We wrote a post about our trip to Antarctica in November, so click here if you want to read more about it.
Patagonia
Even though the world is covered in spectacular places (and they all deserve exploration), one region has always stood out to us more than any other – Patagonia.
The striking peaks, immense glaciers and pristine landscapes at the end of the earth have stirred our imagination for years, and we're finally going to be exploring it!
Returning from Antarctica we'll spend a few days in Ushuaia at Arakur Hotel to check out the Tierra del Fuego National Park before heading north into Chile.
We're meeting up with our good friends Nick and Dariece from Goats on the Road in Punta Arenas, and travelling with them to Puerto Natales. Why? Because we're going to do some trekking together!
Torres del Paine
Torres del Paine is one of the most esteemed national parks in the world, and is famous for its jagged mountains and sprawling ice fields. One of the most well-known treks in South America is the "W" circuit in Torres del Paine, but we've decided to take it a step further…
The four of us are going to trek the "O" Circuit – 135km over 8 days, camping every night of the hike. This is going to be a real challenge for us as we haven't done any trekking since Europe, but we're going to try our best!
When we finish the O Circuit we're actually sticking around Torres del Paine for another week, but this time we're trading the tent for some domes!
EcoCamp is Patagonia's first fully sustainable accommodation, running completely on green energy. Besides having awesome and eco-friendly places to stay, they also offer epic tours around Torres del Paine. Seeing as we would have already completed the O Circuit on our own, we're going to check out their "Wildlife Safari".
It'll be a bunch of daily walks, cycle tours, boat trips, horse rides and animal spotting around some lesser-known parts of Torres del Paine, and from everything we've heard this is an amazing package. Can't wait to document it!
Puerto Natales And Glaciers
We have always loved glaciers, and Patagonia has a lot of them! After Torres del Paine we're going to be chilling in Puerto Natales for another couple of days, catching up on all the photos and stories we would have gathered from our time in the national park!
There's a great hotel in town called Remota Lodge that also offers adventure programs around the surrounding hills, and we'll be checking it out in the lead up to another awesome experience.
Skorpios have a 3-night cruise out of Puerto Natales that explores some bays and glaciers that can only be reached by boat. We're jumping on board for their final trip of the season!
Hitchhiking The Careterra Austral
After Puerto Natales we're going to make our way to El Chalten, Argentina's trekking capital, and will probably make a base here for a week or so to check out the best hikes and attractions in the town. Then we'll make our way to the small Chilean village of Villa O'Higgins for a new trip!
We've hitchhiked all over the world, and it just so happens Patagonia has one of the most famous hitching journeys around – the Careterra Austral.
The Careterra Austral is a mostly gravel road that winds up Chilean Patagonia for 1240km from Villa O'Higgins to Puerto Montt. Our plan is to stick our thumbs out and try and hitch the entire length of it, wild camping along the way and finding some cool towns to trek around.
It'll be getting towards the end of autumn at this point so we have no idea how cold it will be or if there'll be many cars at all, so this is going to be a "see what happens" kind of adventure.
May To July – More Argentina And Chile?
Once we get out of Patagonia we have a few months to kill, so we're not exactly sure what to do. But that's exactly how we like it!
There's so much to see and do around Argentina and Chile, so we'll probably just work our way around the different areas to see what we can find.
The lakes around San Carlos de Bariloche look amazing, so we might rent a car there to explore them. San Pedro de Atacama in Northern Chile is another landscape we'd love to see, and we'll probably end up there at some point as well.
We love wine, and Northern Argentina is famous for it. Guess we better go that way to and taste our way around the region!
By mid-July we'll be back in Buenos Aires (hopefully for longer this time), as we get ready to hit the road once again.
Brazil
We're going to be travelling from Buenos Aires to Cusco, through Brazil, with our all-time favourite overland tour company, Dragoman!
Dragoman doesn't run your ordinary trips – these are off the beaten path adventures filled with wild camping, self-catering and spontaneous itineraries. We explored parts of the Silk Road with them and loved it.
For just under 6 weeks we'll be checking out Iguazu Falls, exploring the Pantanal region of Brazil, the Peruvian Amazon and a whole lot of other places along the way.
There are times where we believe independent travel is hands down the best way to go, and there are other times that we see the huge benefits in group tours. Brazil is a great example of where we think a group tour is the way to go.
The sheer amount of places we're going to be visiting in the time frame we have would not be possible without having our own transport (not to mention the costly buses and taxis between towns). Plus the Drago tours are a lot of fun and having logistics sorted is a huge bonus. This part of South America is going to be simply awesome!
September Onwards – Who Knows?
Once we jump off the Drago trip in Cusco, Peru, we have nothing planned. But seeing as we're so close to Machu Picchu there's no doubt we'll be heading there as soon as possible!
Bolivia is so close we'll definitely check it out as well. Then there's Ecuador, Colombia, Venezuela….Hmm, perhaps we'll finish off the year in South America?
Sitting here in Chiang Mai and having rough plans all the way to September is really strange for us. We're never usually this prepared, but for a place like South America (and especially Patagonia) we really wanted to lock some things down.
If you're going to be in any of these places around the same time as us please reach out – we'd love to meet up for a beer on the road
Also if you have any tips or suggestions on what else to do leave a comment below and let us know. We love hearing personal recommendations from people.
Here's to a fun-filled time in South America!