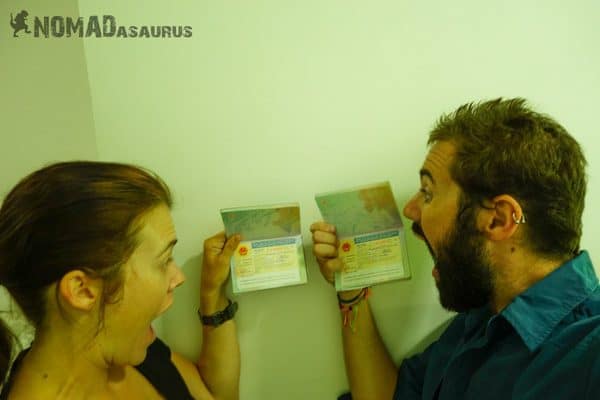 We must say this is by far the easiest visa we have got yet.
Unfortunately the best way to do this visa is through an agency. Do not do this visa yourself in Phnom Penh. Unlike getting a Myanmar visa or Cambodian visa, we have read blogs and met people who tried to do this themselves and had an absolute nightmare. They also charge you more for doing it independently instead of using an agent. Normally we hate not doing things for ourselves, but this is the best way in Phnom Penh.
Cambodia is also the cheapest country in South East Asia to get your Vietnam visa.
Do shop around to different agencies as the price might differ.
The Mad Monkey Hostel
We went through The Mad Monkey Hostel. We were staying there so it was very convenient for us. When it came to trusting someone to hand our passports over, the staff at the Mad Monkey Hostel were our first pick.
Address: Number 26, Street 302, Phnom Penh
Telephone: +855 23 987 091
Email: phnompenh @ madmonkeyhostels.com
Book your accommodation at the Mad Monkey Hostel.
For a 3 month single entry visa the cost was $100 US each. For a 1 month single entry visa the price was $70 US, for 2 day processing. If you are in Siem Reap, Kampot or Phnom Penh and are running out of time, The Mad Monkey Hostel will do your visa for you and have it bought back to The Mad Monkey Hostel of your choice. This way you can continue your travels and have your passport waiting for you down the track ready with your Vietnam visa. Saves time and hassle! They are very professional with your passport and know how important it is to you.
They required NO passport photos, forms to be filled out or any other documentation. Just the date you wish to enter Vietnam (as this is stamped on your visa) and the US dollars in cash.
Lucky! Lucky! Motorcycle Shop
Another option that came highly recommended to us is the Lucky! Lucky! Motorcycle Shop.
Address: No. 413 Eo, Preah Monivong (St. 93), 12258 Phnom Penh, Preah Monivong Blvd
Telephone: +855 23 220 988
Email: luckymotorcyclerental @ yahoo.com
We have never used these guys, but have heard they are good from other travellers and expats. These were their prices they quoted over the phone, but they are subject to change.
For 2-day processing, we were quoted:
1 month single entry visa: $60
1 month multiple entry visa: $85
3 month single entry visa: $95
3 month multiple entry visa: $130
They can have your visa ready in just one hour for an additional $13.
Lucky! Lucky! Motorcycle Shop also does not need much from you. Just your passport, payment, your dates of entry and sometimes a single passport photo. They will do the rest. You just need to pick up your passport in a day or two, depending on what your require.
These are the two companies that came highly recommended to us and who we would confidently suggest to other travellers. We can only personally comment on the service from the Mad Monkey Hostel, but it was top notch.
Getting Your Vietnam Visa Independently
***UPDATE***
One of our great readers, Suzanne, has written to us informing of her recent experience (mid-October, 2014). She told us she visited the Phnom Penh embassy and completed the visa application herself. A 3 month, single entry visa cost $80 US, and was ready within an hour and a half. She may have gotten lucky, but perhaps things are changing in at the Vietnam embassy in Phnom Penh. Thanks so much for passing this information on to us, Suzanne.
Sihanoukville is the cheapest place to do the visa, but only marginally. Long gone are the days when a Vietnam visa would cost $30 in Sihanoukville. Now it is almost the same as Phnom Penh and Battambang.
If you absolutely must try and do the visa yourself, here are the addresses of the embassies:
Vietnam Embassy in Phnom Penh
Address: 436 Preah Monivong Blvd, Phnom Penh, Cambodia
Phone:+855 23 726 274
Vietnam Embassy in Sihanoukville
Address: Ekareach St, Krong Preah Sihanouk, Cambodia
Phone: +855 3493 4039
Vietnam Embassy In Battambang
Address: Road Number 3, Battambang, Cambodia
Phone: +855 536 888 867